PJ Roper Under 16 Tournament 2007
Aodh Ruadh ran the 2007 PJ Roper u-16 Tournament on Saturday, 12 May. Participating in the tournament along with Aodh Ruadh were Devenish of Garrison, Melvin Gaels of Kinlough and Saint Molaise Gaels of Grange. For the third weekend in a row Ballyshannon was favoured with wonderful warm weather, if rather close and humid.
Melvin Gaels and Aodh Ruadh got proceedings under way in Father Tierney park. The game was nip and tuck in the opening phases. Kinlough settled the quicker and capitalised with a fine goal midway through the first half from Barry McGeever. It was Melvin Gaels who held the upper hand at half time leading by two points, however Aodh Ruadh came out a different team in the second half quickly chipping over a point to cut the deficit to the minimum. That was followed by a rasping shot from Declan Anderson which came back off the upright. Melvin Gaels recovered from the aggressive opening by Aodh Ruadh to take control of the game. Packie Hill impressed as director-in-chief of the Kinlough outfit with his ball-winning and distribution skills. However the Gaels couldn't press home their advantage dropping balls into the keeper's hands and shooting some poor wides. Aodh Ruadh played a counter-attacking game and sniped off points with quick breaks up the pitch. An excellent point by Niall Thomas put Ballyshannon into a lead they didn't relinquish and the game ended with a Aodh Ruadh victory by 0-7 to Melvin Gael's 1-1.
In the other first round game it was Sligo against Fermanagh as Saint Molaise and Devenish went head to head. Grange were playing up the slope in soon to be redeveloped Munday's field. That didn't deter them though as they got off to a flying start with two quick-fire points. Devenish were sluggish and struggled to get possession. They found themselves trailing by 10 points to the sharp Sligo outfit. Devenish tightened up defensively in the second half and began to operate better as a team, but Grange still ran out 4-7 to 1-2 winners.
Devenish and Melvin Gaels both went into the second round of games looking for their first win. Devenish started brightly, but it was Kinlough who took first blood with a well-worked point. Devenish replied with a Gavin Gallagher free to level matters, but Packie Hill was making his influence felt once again and soon got his reward, blasting a goal to the back of the Garrison net. Devenish were starting to hit their stride though and working more effectively as a unit than Kinlough and a fine Vinnie O'Brien point on the Gaels kick-out saw them go in at half time only a goal behind and with the benefit of playing down the Munday's slope to come. Garrison duly pressed home their advantage in the second half rattling home three goals to seal victory by 3-4 to 1-4.
In the other second round game Aodh Ruadh were up against Grange. The first half was an edgy affair as each team probed for openings, but defences remained on top. Grange were ahead by two point to no score at half time, but the Sligo side upped the tempo considerably in the second half. James Brennan gave a sublime display of high fielding the centre of the park, where Grange were coming to dominate. Five minutes into the second half a long-range free floated in by Brennan eluded the Ballyshannon keeper and net dropped into the back of the net. That score knocked the stuffing out of Aodh Ruadh and Grange piled on the pressure with some slick moving and scoring marking them out as the tournament's 'team to beat'. In the end the Ballyshannon back six had done a great job to keep the score at 1-7 to 0-1.
The final round of games saw Melvin Gaels take on Grange in Munday's field. Kinlough threw caution to the wind and played with a considerable degree of freedom in the first half. Grange, on the other hand were strangely off the pace. The Sligo side registered the first score a point from play, but Melvin Gaels persisted and were rewarded with a well-worked goal, rifled low and hard into the Grange net. Grange came back with a point, but Kinlough were battling gamely, with Maurice Kane standing out at corner back. However with half-time looming Grange finally managed to penetrate the Kinlough rearguard with a rapid, crisp-passing attack finished to the Gaels net with clinical precision. Encouraged by this killer goal, Grange took greater control of the game in the second half. Their play wasn't as slick as it had been earlier in the tournament, but they continued tack on scores and eventually won by 2-6 to 2-0.
Aodh Ruadh against Devenish was now a game to see who would face Grange in the PJ Roper final. The first half was a very tight contest, with Devenish just shading it going into the break one point to the good. They started the second half very brightly with two well taken points putting a goal between themselves and the homesters. Aodh Ruadh fought back doggedly though. A David Dolan point was followed by a great Declan Anderson goal. The Anderson goal was created by a surging run by Ruairí Drummond who really put his shoulder to the wheel for the Ballyshannon cause in the second half. The closing stages were very fraught with each side scoring tit for tat, when the final whistle went, the teams were at a stalemate. With each side having recorded a win, a loss and a draw, it came down to score difference to decide who would take on Grange in the final. It was Aodh Ruadh who slipped through having a superior scoring difference of two points, Devenish paying the price for their heavy loss against Grange in the opening round of games.
After lunch in Aras Aoidh Ruadh Terrence McShea threw in between Aodh Ruadh and Saint Molaise Gaels for the PJ Roper final. Grange were first on the board with a beautiful effort from the cultured left boot of Keelan Watters. Aodh Ruadh responded quickly with David Dolan chipping over a good point. Grange were beginning to impose themselves on the game though and Peter Boyle was kept busy thwarting attempts on goal. A Keelan Watters free edged the Sligo team in front after a number of Grange wides and a Mark O'Hare attempt came back of the post for John Gilsennan to slot over the bar. Grange now entered their most fruitful phase of the match with a goal pushing them five points ahead. A great full-stretch Peter Boyle save was claimed by James Brennan who off-loaded to Mark O'Hare. O'Hare instantly blasted the ball to the net. That goal was followed by a lovely lofted point by Keelan Watters. The half ended disastrously for Ballyshannon when Chris 'Spanny' Goan was sent to the line for backchat after Terrence McShea had awarded Grange a penalty. Peter Boyle was equal to the task though and pulled off an outstanding Premiership-style save to deny Grange from the spot.
Grange opened the second half with a quick fire point. This was followed shortly by an excellent point by Eamon Burns. The game began to slack off at this stage with wide expanses of space opening up all over the park. John Gilsennan concluded the Grange scoring midway through the second half with a point from a poor kick-out. With Grange playing more lax football, Aodh Ruadh found the space to work a move up the pitch and David Dolan was rewarded for his tireless contribution throughout the competition with a great goal. The action concluded with Sean and Peter Boyle combining well to foil a goal attempt by Grange. When Terrence McShea blew for time Saint Molaise were able to celebrate retaining the PJ Roper trophy on a scoreline of 2-7 to 1-1.
Aodh Ruadh Bord na nÓg Chairman, Jim Kane, gave a speech praising the efforts of all involved and then handed over to PJ Roper's wife, Mary Roper, and his son, county star Brian Roper, to make the presentations. After the presentations the Grange manager James Watters spoke to congratulate Aodh Ruadh on the running of the tournament and comment on the amount of effort that had been invested in the Grange team to take them to this achievement.
Aodh Ruadh would like to extend their sincere thanks to the participating teams, to those who officiated the matches, those who provided the refreshments, the stewards and to all those who gave of their time and effort to make the event such a success.
Round Robin Results
Father Tierney Park
Aodh Ruadh
0-7
Melvin Gaels
1-1
Aodh Ruadh
0-1
Saint Molaise Gaels
1-7
Aodh Ruadh
2-4
Devenish
1-7
Munday's Field
Saint Molaise Gaels
4-7
Devenish
1-2
Melvin Gaels
1-4
Devenish
3-4
Melvin Gaels
2-0
Saint Molaise Gaels
2-6
Round Robin League Table
Team
Won
Draw
Lost
For
Against
SD
Points
Saint Molaise Gaels
3
0
0
41
12
+29
6
Aodh Ruadh
1
1
1
18
24
-6
3
Devenish
1
1
1
28
36
-8
3
Melvin Gaels
0
0
3
17
32
-15
0
PJ Roper Final Vital Statistics
Teams
Aodh Ruadh
Peter Boyle; Liam Devaney; Niall Walsh, Anthony McCann; Ryan Hoey, Ronan Drummond; Nathan McGarrigle; Gerard Kelly, David Dolan; Declan Anderson, Christopher 'Spanny' Goan, Shane Carty; Ruairí Drummond, Conor Gallagher, Patrick Meehan.
Substitutes
Sean Boyle, Brendan McElwaine, Niall Thomas and Luke Toland.
Saint Molaise Gaels, Grange
Declan Currid; Jason Brennan, Merlin Cummins, Eoin Mulgrew; Niall Keegan, Liam Kennedy, Sean Kelly; Jonathan Kelly, James Brennan; Christian McLeod, Keelan Watters, John Gilsennan; Mark O'Hare, Gavin Kee, Eamon Burns.
Substitutes
Eoin Brady, Paul Kelly, Sean Grennan, Shane Herity, James Melody.
Referee
Terrence McShea
PJ Roper Final
Saint Molaise Gaels Grange
2-7
Aodh Ruadh
1-1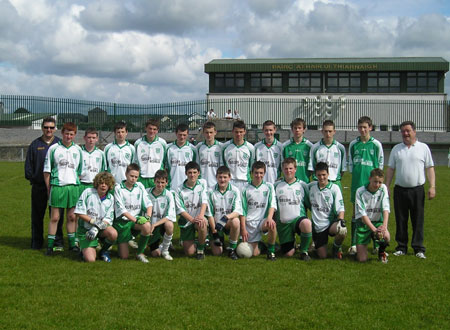 The Aodh Ruadh team which took part in the PJ Roper Under 16 tournament in Ballyshannon last Saturday.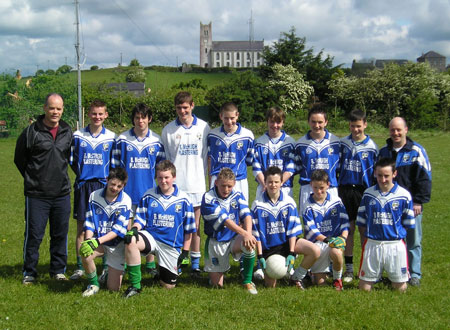 The Devenish team from Garrison, County Fermanagh which took part in the PJ Roper Under 16 tournament in Ballyshannon last Saturday.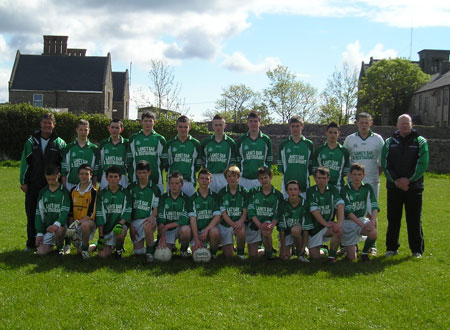 The Saint Molaise Gaels team from Grange, County Sligo which took part in the PJ Roper Under 16 tournament in Ballyshannon last Saturday.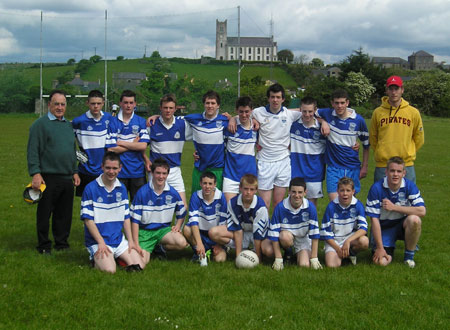 The Melvin Gaels team from Kinlough, County Leitrim which took part in the PJ Roper Under 16 tournament in Ballyshannon last Saturday.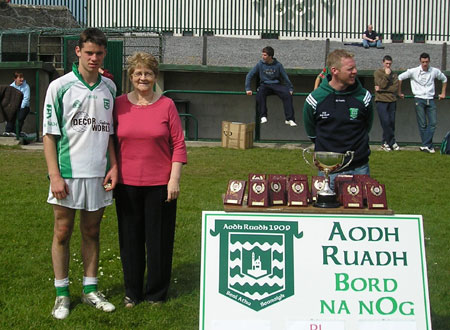 Mary Roper with the Aodh Ruadh captain, David Dolan, after the final of the PJ Roper under 16 tournament in Ballyshannon last Saturday. Brian Roper is to the right of the picture.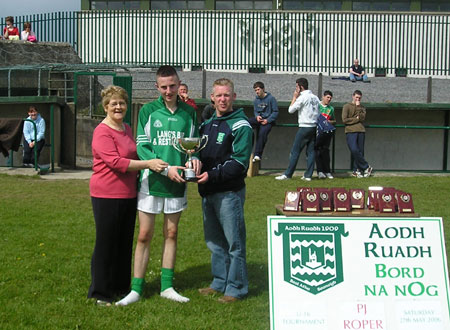 Mary Roper (left) and Brian Roper (right) present the PJ Roper trophy to James Brennan, the captain to the victorious Grange team, after the final of the PJ Roper under 16 tournament in Ballyshannon last Saturday.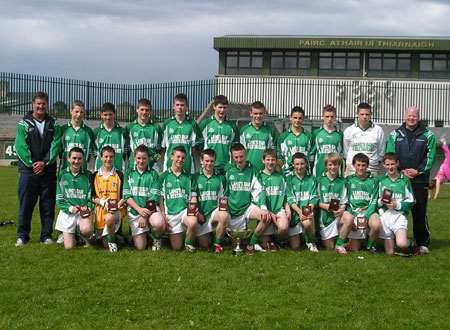 The Saint Molaise Gaels team from Grange celebrate after victory in the final of the PJ Roper Under 16 tournament in Ballyshannon last Saturday.
Report Filed: 13 May 2007