Kit and Crest
The current club strips were unveiled at a special event held in Aras Aoidh Ruadh on 21st April, 2005. The event presented a good opportunity to formally thank those who provide sponsorship for our all teams.


More on the new kit launch.
Images supplied by O'Neill's of the club's new kit.
Front View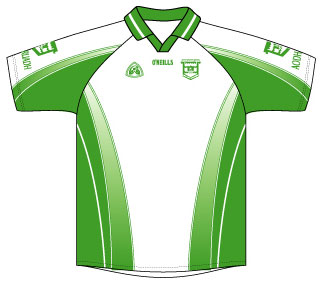 Rear View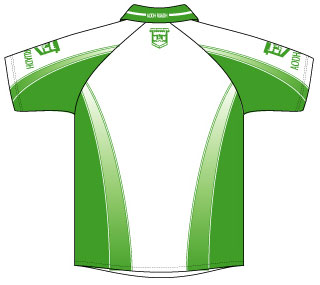 Crest
Evolution of the Aodh Ruadh Crest


Original crest: Mid-1980s - 2008.
---


Centenary crest: 2009.
---


Current crest: 2010-present day.
The original club crest was designed by Dermot Carney, brother of Martin, in mid-1980s. The crest called on the various topographical elements around the town and surrounding areas. The clock tower is a prominent land mark in Ballyshannon. It was built in 1878 near by the Belfast Banking Company near the house of the speaker of the Irish House of Commons, William Conolly, one of the most wealthy and powerful figures in ascendency Ireland in his time. The waves represent the river Erne which flows through the town before spilling into the Atlantic. The club name and year of the club's foundation, 1909 is prominent at the top, with the Béal Atha Seanaigh, the Irish for Ballyshannon incorporated at the bottom.
John Hughes updated the crest with a more contemporary look for the club's centenary celebrations. It drew strongly the elements used in Dermot Carney's crest to emphasise continuity. Once again the year of the club's foundation, 1909 is prominent, while the club centenary is explicitly acknowledged with the addition of 'Céad Bliain' to the foot of the crest.
After the club's centenary celebrations it was decided to retain the refurbished club crest minus the 'Céad Bliain' section as the club's official crest.
All three versions of the club crest have been officially and formally copyrighted by the club and are the club's exclusive legal property. Anyone seeking to use these crests in a commercial setting or in a for profit manner is required to contact the club executive to obtain permission and, where necessary and/or suitable, agree appropriate financial arrangements.
Subject to the relevant permissions the club's crest can be downloaded below. Select the version that best suits your needs. If you are having problems, try right-clicking on the link text and selecting the "Save Target As..." (Microsoft Internet Explorer) or "Save Link As..." (Firefox) options and using a package such as Adobe Photoshop to open the downloaded file.
For screen


RGB JPEG format crest [247 KB] Click to view / download

For print


CMYK EPS format crest [553 KB] Click to view / download


CMYK JPEG format crest [858 KB] Click to view / download