Welcome to Aodh Ruadh
Lotto
24th April 2020
1
2
5
5
7
10
There was no winner of the lotto jackpot of €2,300.
Next draw is Sunday at 7pm with a jackpot of €2,400
In the lucky dip €25 went to John Rooney and Carmel Gillespie.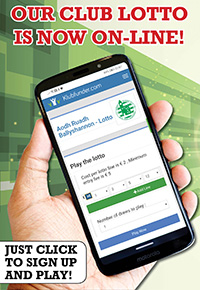 More Lotto information
---
What's new
6 December 2010
Celebrating a year to remember with a night to remember at the Aodh Ruadh Dinner Dance


More
3 November 2019
Under 18 ladies football
Aodh Ruadh show true grit, but magnificent fightback falls just short


More
2 November 2019
Aodh Ruadh celebrates a year of underage football


More
26 October 2019
Under 21 football championship quarter-final
Aodh Ruadh second best in last eight clash


More
26 October 2019
Aodh Ruadh celebrates a year of underage football


More
20 October 2019
Under 18 ladies football
Historic first minor title for Aodh Ruadh ladies


More
25 July 2019
Intermediate Football Championship Group B
Brilliant Boyle drives Aodh Ruadh to victory


More
6 September 2019
Under 14 football
Aodh Ruadh take under 14 title


More
5 September 2019
Under 12 hurling
Aodh Ruadh and Gaoth Dobhair hurlers serve up a cliff-hanger


More
31 August 2019
Junior Hurling Championship
Aodh Ruadh claim Junior Hurling crown


More
25 July 2019
Senior Division 2
Aodh Ruadh burn off Glenfin with sprint finish


More
20 July 2019
Senior Division 2
Aodh Ruadh see off Four Masters with sensational second half


More
7 July 2019
Under 18 football
Decider proves a bridge to far for Aodh Ruadh


More
2 July 2019
Under 16 ladies football
Under 16 girls make it two from two


More
25 May 2019
Senior Division 2
Aodh Ruadh see off determined Termon challenge


More
6 May 2019
Under 14 hurling
Ballinascreen take Finn Larkin title back to Derry


More
3 May 2019
Junior Hurling League
Ernesiders too strong for Letterkenny Gaels


More
30 April 2019
Under 14 ladies football
Three on the trot for under 14 girls


More
19 April 2019
Senior Division 2
Good Friday for Ballyshannon as they get the better of Naul's


More
7 April 2019
Senior Division 2
Aodh Ruadh up and running with convincing win


More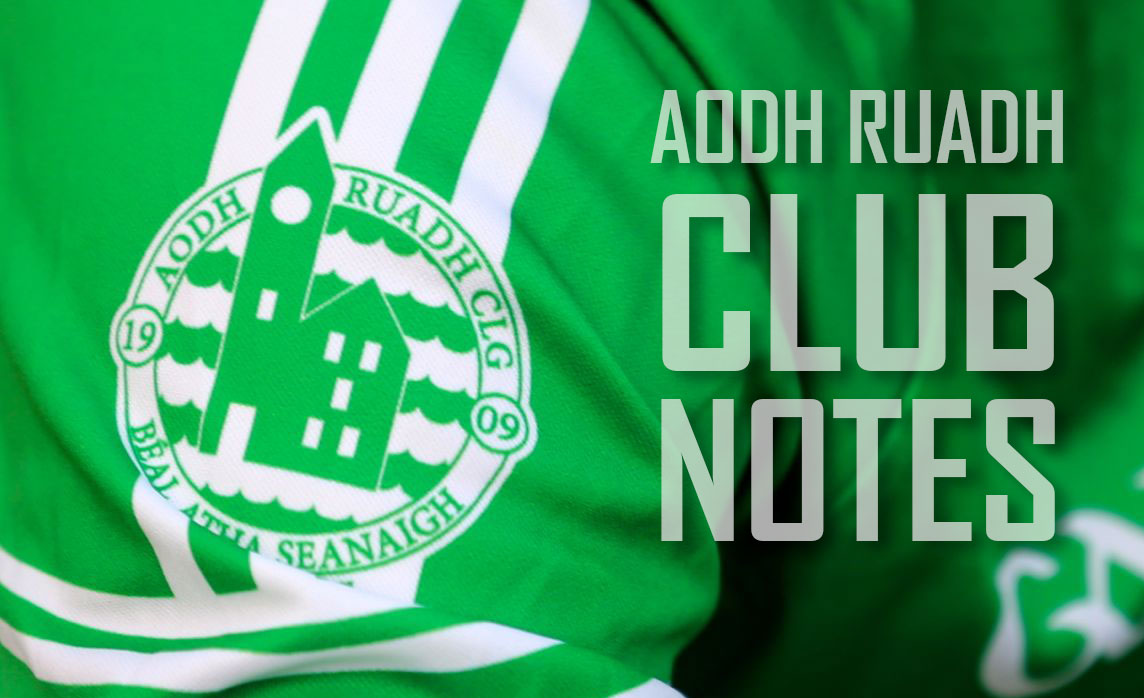 26th May 2020
Club executive meeting
The monthly club executive meeting will take place via teleconference this Thursday at 9pm. Any executive member who would like to dial in is asked to text Lisa and she will forward on details. Minutes from last month's meeting will also be circulated to those dialling in.
Coaching corner
Ulster GAA are running a webinar this Wednesday on fitness with the ball through games and game-related drills with Tony Scullion. The webinar is suitable for coaches from all codes from under 12 up to senior. Registration is now open and closes at 5pm on Wednesday. The session will commence at 7.30pm on Wednesday at https://tinyurl.com/yavuppzl. The webinar will consist of a number of video and animated games and drills which can be used to improve fitness while improving various aspects of team-play. The content can be used for all codes.
Elsewhere Donegal GAA are staging a coach education webinar on Wednesday with 2012 All-Ireland winners Rory Kavanagh, Colm McFadden, Frank McGlynn and Eamon McGee taking questions on a range of topics. Numbers are limited for this online event so ensure you register online early to receive your link for the webinar.
Meanwhile the LGFA are running their first female linesperson training webinars. This is an excellent opportunity for females to get involved as match officials. The training takes the form of an hour long interactive webinar, and will ensure that officials doing the line know their role. The webinars will take place on Thursday 26th May at 7pm; Thursday 11th May at 7pm; and Monday 22nd June at 7pm. The webinars are open to women aged over 18. To register visit the ladiesgaelic.ie website to book your place.
Training and insurance
All GAA training and playing facilities are closed until the 20th July. Should an individual sustain an injury and incur medical costs while taking part in an on-line training session or an individual training programme prior to that date, the individual will be personally responsible for all such costs. The GAA Public Liability Insurance stands suspended until July 20th. Return to train and return to play protocols are currently being drawn up by the GAA Covid-19 Advisory group and will be published in June.
Health, safety and security of club property
From May 18th with the easing of restrictions on outdoor work and construction our grounds have become a workplace again, with some of our workers back. The return of our workers has allowed us start to deal with a significant backlog of maintenance works due to the absence of help for the past few months. A good start has been made and it is good to see people back working.
The lockdown of our club grounds and buildings continues until further notice. The National Ambulance Service continue to use Aras Aoidh Ruaidh for staff training purposes.
The Park / Development Committee has a rota of seven members in place who do a full daily check on all of our facilities, during the current lock-down. We appreciate their voluntary time and input. If any issues arise in relation to our facilities during this time please make direct contact with Tom Daly, David McLoone or Conal Gallagher.
Condolences
Our sympathies go to John Gillen and his family and the extended Gallagher family on the death of Noelle Gillen RIP, whose funeral takes place this Wednesday. Noelle worked with us as an administrative support to our Community Employment Scheme for several years and served the club and our community very ably in that capacity.
Leaving Certificate graduation
Aodh Ruadh extends our congratulations to all the Coláiste Cholmcille Leaving Certificate students who graduated virtually last Tuesday on Facebook. Not the way anyone would have expected it to happen, but a major milestone nonetheless. We wish all students the greatest of success in whatever path they chose to take with their lives and careers from here on.
Aodh Ruadh lotto
The lotto draw was once again performed live on the club Facebook page. Many thanks for everyone who helped to sell tickets this week, and if more club members could sell a couple each week it would be much appreciated. Even though we are closed there are still monthly outgoings which need to be covered. There was no winner of last week's Aodh Ruadh Lotto jackpot of €2,300. The winning numbers drawn were 1, 2, 5, 7, 8 and 10. In the lucky dip €25 went to John Rooney and Carmel Gillespie. The next draw is for a jackpot of €2,400 on Sunday at 8pm. Given the on-going guidance on social distancing we encourage club members to play the lotto online at klubfunder.com. The usual lotto envelopes can however also be obtained in Kernan's Spar and Pearse O'Neill's. Just leave the ticket in the shop and these will be collected prior to the weekly draw. The club appreciates all support members can offer during this ongoing pandemic.
We're here to help
If you find yourself needing assistance - be it collecting and delivering groceries, prescriptions or any other such daily essentials, just let us know and we can arrange help. It doesn't matter if you are not a member of the club. Contact us on 1800 928 982.
---
Last modified: Monday, 25 May 2020 at 9:11pm

Read more in the club notes archive.