Welcome to Aodh Ruadh
Lotto
12th November 2017
5
8
9
12
17
18
There was no winner of the lotto jackpot of €5,400.
Next draw is Sunday at 8.30pm in The Bridgend Bar with a jackpot of €5,500
Lotto Rota:
- Reserve Footballers
- Bord na nÓg
- Senior Footballers
- Ladies
- Juvenile Hurlers
- Senior Hurlers
The lotto team for the McCosker's Centra on Saturday is:


Juvenile Hurlers.



In the lucky dip €20 went to Margaret McCauley, Mulleek; Nuala Melanaphy, West End, Bundoran; Mary Egan, West Port; Tony Flanagan, c/o McGinley's; Alice Bowring, Higginstown.

More Lotto information
---
Twitter
Tweets by @aodhruadh
What's new
12 November 2017
Under 16 football
Aodh Ruadh do it at the death to take county title


More
10 November 2017
Under 10 football
Winter League finals bring curtain down on a successful season


More
5 November 2017
Under 21 Football
Aodh Ruadh well adrift of hungrier Naomh Conaill


More
5 November 2017
Under 16 football
Super second half sends Aodh Ruadh into championship decider


More
4 November 2017
Under 13 football
MacCumhaill's take county title


More
15 October 2017
Under 13 ladies football
Back-to-back titles for the Ballyshannon girls


More
1 October 2017
Senior Division 2
Division one, here we come!


More
1 October 2017
Senior Reserve Division 2
Reserves too hot for Malin


More
1 October 2017
Under 16 hurling
Easkey take Alan Ryan Cup as Aodh Ruadh claim the Seamus Grimes trophy


More
24 September 2017
Under 12 hurling
Keady claim Aodh Ó Dálaigh title


More
10 September 2017
Underage football
Euro-Shot Challenge 2017


More
2 September 2017
Under 14 football
Ballyshannon book semi-final spot


More
26 August 2017
Intermediate Football Championship
Aodh Ruadh ease into knock out stages


More
26 August 2017
Intermediate Reserve Football Championship
Reserves make long trip to Inishowen worth while


More
20 August 2017
Intermediate Football Championship
Patton the hero as Ernesiders prevail


More
20 August 2017
Intermediate Reserve Football Championship
Reserves take big step to knock out stages


More
19 August 2017
Under 16 football
PJ Roper trophy returns to Fermanagh


More
18 August 2017
Under 14 football
Aodh Ruadh go the extra mile to do the double


More
15 August 2017
Under 16 hurling
Ballyshannon battle to victory over Setanta


More
29 July 2017
Senior Division 2
Aodh Ruadh do it the hard way against Glen


More
29 July 2017
Senior Reserve Division 2
Reserves romp to points againt Glen


More
29 July 2017
Under 16 hurling
Donegal claim Peter O'Keefe Cup


More
17 July 2017
Under 8 / Under 10 ladies football
Summer sun smiles down for young ladies stars


More
15 July 2017
Under 10 football
Double joy for Ballyshannon at Mick Shannon tournament


More
14 July 2017
Under 14 football
Under 14s through to county semi-final


More
13 July 2017
Under 16 hurling
Gaeltacht boys get the better of Ballyshannon


More
13 July 2017
Under 16 ladies football
First league outing for under 16 ladies


More
7 July 2017
Under 14 football
Classy Aodh Ruadh claim Southern title


More
17 June 2017
Under 14 ladies football
Aodh Ruadh miss out on county crown


More
8 June 2017
Under 14 hurling
Aodh Ruadh book final place


More
6 June 2017
Under 10 ladies football
Under 10 girls enjoy Mountcharles blitz


More
3 June 2017
Senior Division 2
Reserves tough it out for victory against Ardara


More
2 June 2017
Senior Division 2
All out attack, but Aodh Ruadh come up short


More
28 May 2017
Senior Division 2
Aodh Ruadh earn tough win in the sunshine


More
28 May 2017
Senior Reserve Division 2
Reserves record fourth win on the trot


More
14 May 2017
Senior Division 2
Aodh Ruadh sweep three clear at the top with win in Glen


More
14 May 2017
Senior Reserve Division 2
Superb second half seals points for reserves


More
30 April 2017
Senior Division 2
Victory takes Aodh Ruadh top of the table


More
30 April 2017
Senior Reserve Division 2
Reserves give Fishermen blues


More
26 April 2017
Under 16 football
Naomh Ultan push Ernesiders all the way


More
23 April 2017
Senior Division 2
Aodh Ruadh crush under-strength Cloughaneely


More
21 April 2017
Senior Reserve Division 2
Reserves edge to victory over Cloughaneely


More
16 April 2017
Senior Division 2
Five star performance sees Ernesiders continue victorious


More
16 April 2017
Senior Reserve Division 2
Emphatic Glenfin eclipse reserves


More
9 April 2017
Senior Reserve Division 2
Termon too hot for reserves


More
19 March 2017
Senior Division 2
Second half grit sees Aodh Ruadh through again


More
19 March 2017
Senior Reserve Division 2
First points for reserves after win over MacCumhaill's


More
17 March 2017
Aodh Ruadh at the Saint Patrick's Day Parade


More
17 March 2017
Under 16 football
Four Masters give under 16s good test


More
12 March 2017
Senior Division 2
Perfect return to second tier for Aodh Ruadh


More
12 March 2017
Senior Reserve Division 2
Tough start for reserves in Ardara


More
24 February 2017
Under 12 football
Under 12s launch new jersey


More
21 January 2017
Celebrating a year to remember with a night to remember at the Aodh Ruadh Dinner Dance


More
7 January 2017
Cheques presented to Kickabout for Colman good causes


More
6 January 2017
Underage hurling
Galway star David Burke makes presentations at Aodh Ruadh


More
28 December 2016
Fifth annual Colman Kerr charity match raises funds for good causes


More
3 December 2016
Aodh Ruadh celebrate a year of underage football


More
18 November 2016
Nomination papers for Aodh Ruadh AGM 2016


View/Dowload
8 October 2016
Under 14/12 football
Eugene Doherty captures Bakery Cup


More
6 November 2016
Under 16 ladies football
Brave Aodh Ruadh denied by Termon


More
5 November 2016
Under 13 ladies football
Aodh Ruadh defeat gallant Downings to take county title


More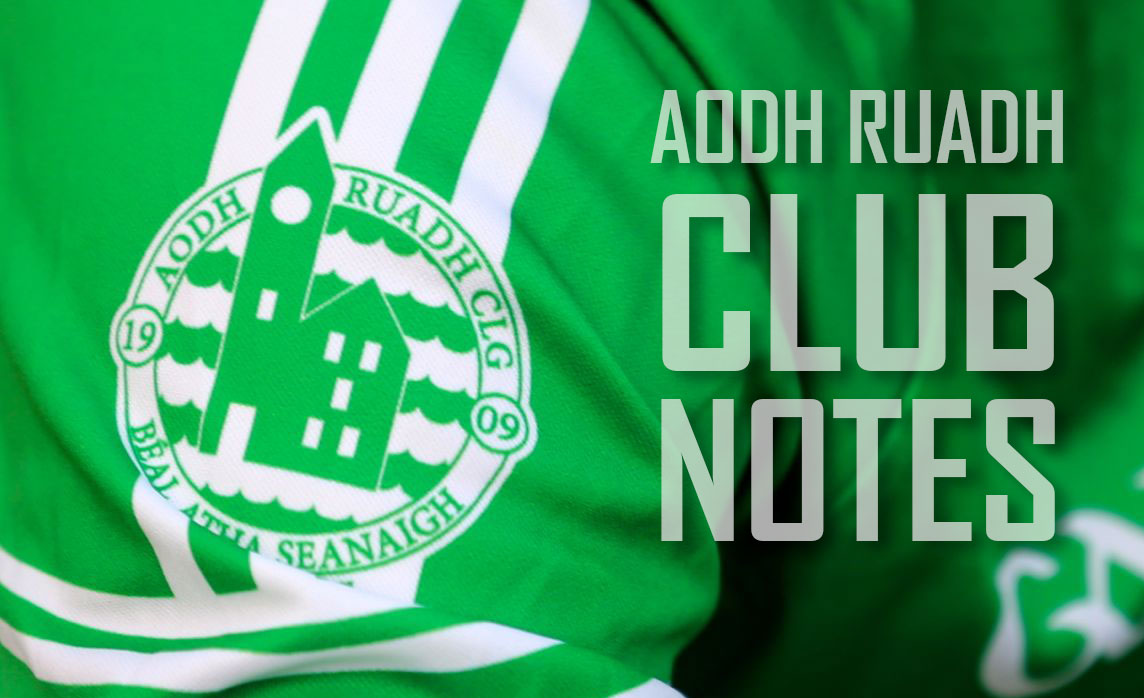 14th November 2017
RIP John Larkin
The many hundreds who made their way to Assaroe View last week for the wake and who then turned out on Thursday for the Requiem Mass of John Larkin in St Patrick's Church told their own story. John lived a full life and he touched and enriched many people. He left an enduring and positive legacy and people wanted to make sure that was recognised and attempt, in some small way, to help the Larkin family in this time of their profound loss. The Aodh Ruadh club were fortunate to be one of the principle beneficiaries of John's diverse talents and desire to see people be the best they could be. We remember his contribution with fondness and gratitude and it was a privilege to have an Aodh Ruadh guard of honour on duty as John made his final journey to Abbey Assaroe. It will take some time yet to fully come to terms with his sudden passing, but we should reflect that if the measure of a life well lived is the quantity of good you left behind, then John lived very well indeed, and will richly merit his eternal reward. Ar dheis Dé go raibh a anam uasal.
Football
What a final. The under 21 decider between Aodh Ruadh and Gaoth Dobhair was widely judged one of the games of the season last year. The under 16 B final played between Aodh Ruadh and Red Hugh's on Sunday wouldn't have been far behind for entertainment, quality, commitment and honesty. On this occasion though, it was the Ballyshannon men who came out on the right side of a narrow result against an excellent Killygordon outfit. The Crossroads men were quickest out of the blocks, hitting two points, but Aodh Ruadh had it back level after seven minutes. Red Hugh's kicked on again to go into a 1-3 to 0-4 lead at the end of the first quarter. Points from Shane Brady and Shane Gillespie reduced the margin to the minimum before a blistering shot from Harry Howarth put the Ernesiders into a two point lead. Red Hugh's responded well though, hitting the last three scores of the half to go in leading by a point. Ballyshannon fair tore the doors off the dressing room heading out for the second half and they hit Red Hugh's for six unanswered points to take a 1-12 to 1-7 lead into the final quarter. However Killygordon struck for 1-3 in a four minute spell to retake the lead with nine minutes left to play. Twice Aodh Ruadh levelled, only for Red Hugh's to edge back in front. Then deep into added time Shane Gillespie hit another equaliser and quickly followed that up with the lead point. Aodh Ruadh controlled play after that to see out the win. The final whistle was met with pandemonium. Fittingly, it was Shane Gillespie who gathered the trophy for Aodh Ruadh following a majestic midfield performance alongside the tireless Senan Rooney. That said, there wasn't a corner of MacCumhaill park where there wasn't a hero in this massively intense game of football. Matt Gillespie going through the pain barrier for much of the second half and still sticking his kick out. Kyle Murray proving on the biggest stage just what an exciting prospect he is. Adam Clarke making a battle of every ball that went into the Aodh Ruadh rearguard. Nathan Owens Kelly taking care of business in the corner. Tiernan Flood Dolan giving everything for the cause, just as he has all year, a class act. Eugene Doherty inflicting the most spectacular exhibition of half back play MacCumhaill Park has seen in some time. David 'The Catch' Doherty, the greatest warrior on the team. Odhran McGarrigle rising to the challenge in terrific fashion, using possession smartly. Mark McGlynn putting the body on the line all over the park and hungry for the battle. Harry Howarth, what a goal. Cian Barden a constant menace in the Red Hugh's defence. Shane Brady calming everything down with his cool free taking. Eoin Doherty, what is there to say, if he could have given a kidney to get Aodh Ruadh the win he would have done it. Game of his life. Then Cian Rooney and Aaron Neilan come on, each putting the ball over bar in a game where there was only the narrowest of margins between the teams. The bench quite literally won Aodh Ruadh this game. Later Marty McGarrigle and Ryan Keenaghan came on to a pitch populated with physically larger lads, but didn't let that deter them one iota. They got stuck into the exchanges with determination and a manliness which belied their age and physique. We can't forget the lads who played their part along the way, but who didn't get on the pitch. Niall Monaghan, one of the steadiest, honest and most committed men on the team, he was unfortunate to miss out on a starting place. Frankie McGinley who will forever be remembered for carrying Senan Rooney on his back in Dunkineely against Naomh Muire. Jack McCaffrey whose return to the squad later in the season helped add bite to training sessions and who will hopefully feature more strongly next year, as he certainly has the potential to do so. Colm McGloin likewise showed well in training and will be a big part of the under 16s in 2018. Finally a thought for JJ Goan, as committed a lad as you could get, a tenacious and stylish defender, his loss was felt in the semi-final and final as he was ruled out following surgery. Every man who takes to the field across a season plays their part in the ultimate outcome and in this case happily, it was a seven game unbeaten championship run which brought two pieces of championship silverware back to Ballyshannon. All players can take huge pride in what they have achieved this year and the memories they have made together. We have a full match report and pictures from the game up on aodhruadh.org.
The under 13s won the Southern divisional Title on Saturday, making it two in a row as they also claimed the under 12 Divisional Championship last year. It was a tight competition this year with Dungloe, Ardara and Aodh Ruadh in a three way tie at the top of the table with ten points each at the end of the round robin stage. The three teams met in Ardara for a winner takes all decider series. There were three games of 15 minutes a side with Ardara prevailing over Dungloe in the first game. The Ernesiders then defeated Dungloe 2-7 to 0-5 to leave the final game of the day as the outright Divisional Final.
The Dungloe game was Ballyshannon's first outing since their disappointing performance in the county final a week earlier. They were quick to put it all behind them and get back to doing what they do best. Their passing was much improved and goals from Cian McKenna and Robbie Murphy and points from Shane McGloin, Danny Breen and Aaron Neilan lifted the hopes of the travelling Ballyshannon supporters.
It was Ardara in the final and following a number of great games against the Pearse Park lads over the past few years this game again proved to be a tight battle and was there for the taking for both teams. Aodh Ruadh were solid in defence and limited Ardara to only two points in the first half. Ryan Keenaghan and Damian Weber read the game expertly in the backs and snuffed out many of the Ardara attacks in their infancy. Ryan Daly got a lovely point and Aonghus Sweeny and Robbie Murphy both rattled the net to leave us five points up at half-time. The second half started well for Ardara who opened their scoring with a goal which nearly lifted the roof of the locals stand. Both teams traded points and Aodh Ruadh showed the grit which was lacking the week before to squeeze out the win that meant so much to the players.
Aaron Neilan, Aaron Cullen, Damian Weber and Danny Breen really lifted their game and showed real character. Some of the younger players were outstanding too with James Gallagher, Ryan Daly, Jack Gallagher, Robbie Murphy and Mr Determination - Shane Delahunty nailing their colours to the mast. Some 21 players were available to play on the day and everyone got on and played their part. Special thanks to all the supporters who followed the team so loyally all year. It was a great end to the under 13 season and the boys were a credit to the club and their families.
The under 10 league finished up last Friday night with two great games under lights in Páirc Aoidh Ruaidh. The Shield Final saw Oran Gillespie's team beat Ted O'Donnell's team in a competitive game to lift the Shield. Oran's team were three points up at half-time and they finished the second half strongly to claim victory. In the Cup Final Barry Campbell's team got the better of Dara McGloin's team. In the first half there was only a point separating the teams, however Barry's team took control in the second half and won by a few scores. Afterwards presentations of medals were made to all players by Gus Culkin of Ballyshannon Shoe Company. The shield was presented to Oran Gillespie's team by Gus Culkin. The cup was presented to Barry Campbell's team by Paddy Kelly who sponsored the cup. Management would like to thank Ballyshannon Shoe Company for sponsoring the league and Paddy Kelly for sponsoring the cup. Thanks also to parents for a great spread of food on the night. We have a great gallery of pictures from the finals up on aodhruadh.org.
Ladies
Recent weeks have seen the underage county squads taking shape for 2018 and Aodh Ruadh are proud to have quite a number of players called up to county colours. Congratulations to Briana Maher, Ana Keon and Cáit Gillespie who were selected on the 2018 provisional minor squad; Caoimhe Keon who will be on the under 16 squad; Eilish Gallagher, Orla Keon and Sarah Jane Keon who have made the provisional under 15 league squad; and Aoibhínn McGarrigle, Caoimhe Hughes O'Brien, Katie O'Brien and Lucy McGlynn who were selected for the next phase of the Donegal under 13 development squad. Well done to our players on their selection and our commiserations to those who did not make it. Anything worth having is worth fighting for, so try and use any disappointment you may feel to drive you on.
The Ladies AGM has been rescheduled and will take place in Aras Aoidh Ruaidh on Thursday 23rd November at 8pm. Any team managers who have yet to submit reports are reminded to do so at their earliest convenience.
Scór na nÓg
The Scór na nÓg county semi-final took place last Friday in Moville. The Tráth na gCeist team of Beth Flood, Laoise Kelly, Lauren McHugh and Clodagh O Connor performed well and narrowly missed out on a place in the county final, losing out by a single question. This is a team with a lot of potential and considering they were nearly three years younger than the other teams, the future is bright. Eva Carney was also unlucky to miss out in the recitation section. She performed an enthralling version of William Allingham's The Fairies and really brought the famous poem to life. Dáithí and Fódhla Sheerin will be performing in the other county semi-final in Glenfin this Friday in the Ceol Uirlise section and we wish them the best of luck.
Bring and buy sale
Thank you to everyone who supported our Bring and Buy Sale/ Craft Fair Fund-raiser for the u12 Girls team's new jerseys. Especially the local businesses An Colleen Deas, MacCoueran Music, Maddy's Sweet Treats, Andrea Whelan Photography, Seclusion Spa and Essential Healing and all the local crafters. A big thank you for their kind donations to Mary at A Novel Idea, Rory at Pearse O'Neill's Newsagents, Liam at Mr G's, Nuala at Nuala Foley Massage Therapy, Gabby McGloin, Louise Foy, Karen Vaughan-Doherty, AIB Ballyshannon and Chris Kelly. The winner of the Guess the Marbles competition, correctly guessing the correct number of 313 was Rebecca Downey. She won a €30 voucher for Mr G's. Enjoy your winning's Rebecca. Thanks also to Frances Daly for her lovely bakes, they went down a treat. Thank you to all who helped on the day Leia, Jake, Clare, Danielle, Rhiana, Kaila, Amy and Emma. We are nearly at the final figure for the jerseys and are now seeking a sponsor willing to provide the final bit of funding and have their name on the jerseys. Contact Karol Foley on 086-8780164 if interested.
Running track fund-raiser
To maintain momentum on gathering the funds to have the running track at Páirc Aoidh Ruaidh available early in 2018, a further fund-raiser will take place in Seán Óg's on Friday December 1st. About 20 club members will sell entries for a race night and club members are asked to generate as much support as they can for this venture. Anyone interested in sponsoring one of the 12 races or in taking an advert for the night can make contact with Tom Daly on 087-2390410.
Inter-county Season Tickets
Season Ticket pricing for 2018 has been confirmed by Croke Park. Adult Club+ season tickets are price €200. Adult season tickets are €120. Juvenile season tickets are €30. As in the season just past, The Club+ season ticket allows the owner to attend club fixtures within the chosen county. The grades and codes of club fixtures covered by the Club+ element of the ticket are determined by the individual county. Once the season ticket is correctly maintained throughout the season, the Club+ version will also guarantee the ticket holder an All-Ireland Final ticket should their county qualify, regardless of their attendance percentage. Clubs will receive €100 for every Club+ season ticket purchased by club members. Renewals and sales are now live.
National Draw 2018
The National Club Draw returns once again for 2018 and tickets are out now. The prizes are, as ever, spectacular. They include a new Renault Dynamique, a €2,000 travel voucher, various All-Ireland final ticket packages, and shopping vouchers ranging from €1,000 to €250 in value. To increase your chances of winning further there is also a Donegal County Board draw and an Aodh Ruadh draw for €100. Once again, Aodh Ruadh keeps 100 percent of monies raised by the club. Tickets are available from Lisa McTernan and Gerard Ferguson and committee members.
Five Kinds Of Silence
Ballyshannon Drama Society have qualified for the All-Ireland One Act Finals with their production of Five Kinds Of Silence by Shelagh Stephenson. The finals take place in An Grianán Theatre in Letterkenny from December 1st to 3rd. The Society have won their three festivals to date, Ballina, Mullagh and Kiltymagh with Rachel O'Connor winning best actress and Michael McMullan best actor in all three Festivals. Anne McHugh won best Director in Ballina and Kiltymagh and Audrey Davitt and Louise Larkin won the adjudicator's award in Mullagh. Moya Ferguson and Terence complete an excellent cast. The final two festivals are in Tubbercurry on Friday 17th November and Manorhamilton on Sunday 19th November. The last performance before the finals is in the Abbey Centre on Sunday 26th November at 8.30pm. So don't miss this award winning production.
Diary dates
A few dates for your diaries. The underage football presentation night will take place in the Abbey Centre on Saturday 25th November. The Bord na nÓg AGM will take place on Tuesday 28th November. All team managers should have reports submitted to Lisa McTernan by Friday 17th November. The annual club dinner dance will take place on Saturday, 20th January 2018.
Abbey Centre Bingo
Last week's €400 bingo jackpot was won by Philomena Ferguson, Garrison. Richie Newell of Ballyshannon took the stand up prize of €160. The snowball survived another week so it rises to €725 on 50 numbers or less. Bingo as usual this Friday at the Abbey Centre at 9pm. Books cost just €10 with a €2,400 prize fund up for grabs.
---
Last modified: Tuesday, 14 November 2017 at 1:36am

Read more in the club notes archive.