Welcome to Aodh Ruadh
Lotto
5 December 2022
1
7
8
9
13
15
There was no winner of the lotto jackpot of €8,800.
Next draw is Sunday at 8.30pm in Pat's Bar with a jackpot of €8,900
Lotto Rota:
- Bord na nÓg
- Juvenile Hurlers
- Senior Footballers
- Senior Hurlers
- Reserve Footballers
- Ladies

The lotto team for the McCosker's Centra on Saturday is:


Reserve Footballers



In the lucky dip cash prizes of €20 went to Hazel Travers, John Thomas, Cormac McCusker, Ciaran Rami and Nellie Blake.

Play Club Lotto Online


More Lotto information.
---
What's new
15 October 2021
Senior Football Championship
St Michael's prove a bridge too far


More
11 October 2021
Senior Reserve Football Championship
Ardara deny reserves at the death


More
19 September 2021
Senior Football Championship
Polished Aodh Ruadh have too much for Four Masters


More
28 August 2021
Senior Division 2
Ernesiders sign off on Division 2 in style


More
27 June 2021
ACFL Division 2
Workmanlike Aodh Ruadh see off Convoy


More
20 June 2021
ACFL Division 2
Cool, calm, controlled Aodh Ruadh make it two on the bounce


More
29 November 2020
Chairman's Address to the 2020 Club AGM


More
29 November 2020
Secretary's Address to the 2020 Club AGM


More
26 September 2020
Intermediate Football Championship Final
The famine is over as classy Aodh Ruadh claim IFC title with finishing flourish


More
17 September 2020
Under 14 hurling championship final
12-year-old Corey a scoring star for well balanced Aodh Ruadh side


More
5 September 2020
Intermediate Football Championship
Sprint finish takes Aodh Ruadh into last four


More
30 August 2020
Junior Hurling Championship
Aodh Ruadh book semi spot in style


More
16 August 2020
Intermediate Football Championship
Late Cloich Cheann Fhaola surge sinks Aodh Ruadh


More
16 August 2020
Ladies Intermediate Football Championship
Ladies denied at the death by Fanad smash and grab


More
15 August 2020
Under 14 ladies Division 1 Shield Final
Extra-time heart break for brave under 14 ladies


More
1 August 2020
Intermediate Football Championship
Aodh Ruadh off to a winning start


More
19 July 2020
Intermediate ladies football championship
Ladies come up short against Naul's in championship opener


More
19 July 2020
Junior Hurling Championship
Revenge for Carn in Father Tierney Park


More
8 June 2020
Covid-19: Safe return for Gaelic Games


More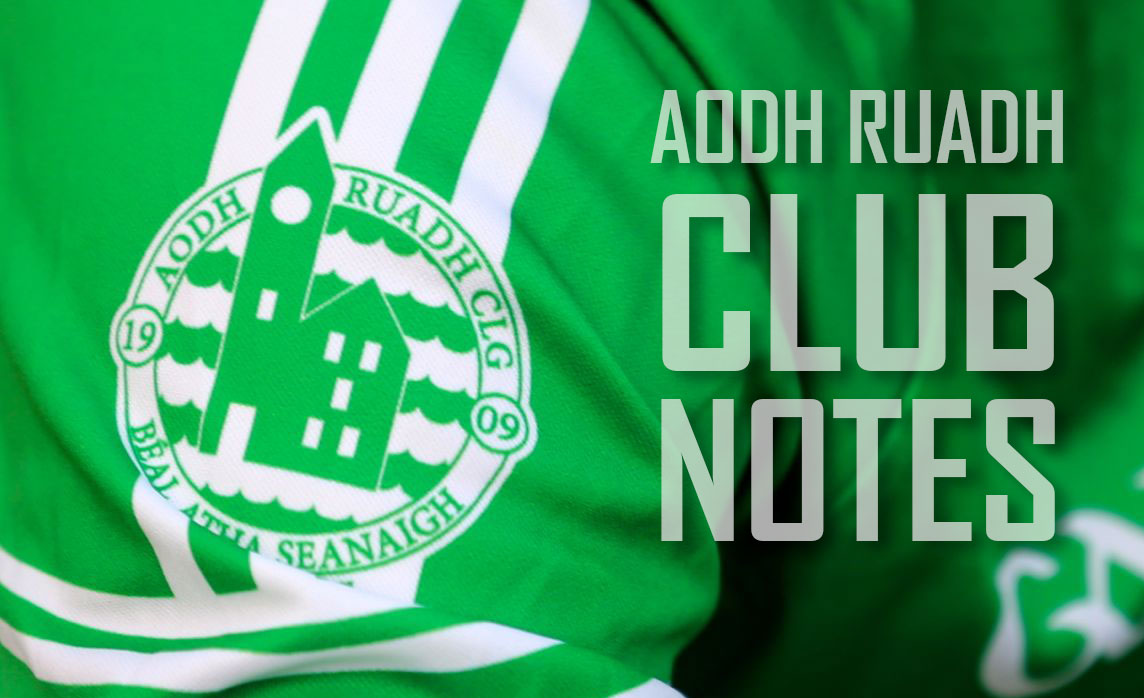 6 December 2022
Football
Aodh Ruadh booked their place in the last four of the under 21 B Championship thanks mainly to an authorative second half where they outscored their opponents 0-9 to 0-1. Conditions were cool and little heavy underfoot in Killygordon and Gaeil Fhánada made the better fist of things in the first half, with Liam McGrenaghan their go-to man for scores and creativity in open play. It took Aodh Ruadh eight minutes to get off the mark, and that came courtesy of a classy effort by Shane Delahunty which levelled the game at a point a piece. Fanad were edging matters and tagged on the next two points before Harry Howarth cut the deficit after some good work by Senan Rooney. A Cian Rooney free then squared things up with six minutes of the half remaining, but the Gaels registered two further points with only a Colm McGloin point in reply to leave it Aodh Ruadh 0-4 Gaeil Fhánada 0-5 at the turnaround. Fanad picked up where they left off on the restart with Liam McGrenaghan popping over a free a minute in. However, that was to be the last time the Blues troubled the score board operator, and from there to the final whistle Aodh Ruadh dominated. The introduction of the electric Jack Gallagher had a big impact, and Aodh Ruadh reeled off four points in a two-minute spell which effectively finished the game. The first of the foursome was a Cian Rooney free which was swiftly followed by a thumping effort by Odhran McGarrigle. Jack Gallagher then hit two in quick succession as the Ernesiders introduced Mark McGlynn to really turn the screw. From there to the finish Ballyshannon were able to work their scores and Cian Rooney was a big beneficiary, converting three frees and adding another from play. Eoghan Kelly was on the mark too, while the injury time coup de grace was delivered in fine fashion by Darragh Flood Dolan, a lad who is clearly eating his Weetabix. It was an assured display by Barry Gallagher's charges and very much a team performance. Mitch McLaughlin had a very good outing and wasn't afraid to help out the attack. Colm McGloin put himself about to good effect in midfield, while up front Cian Rooney's consistency from dead ball was a great asset. The subs also made a great contribution to the victory. The Aodh Ruadh team and scorers were as follows. Aaron Cullen; Ryan Keenaghan, Shane Gillespie, Mitchell McLaughlin; Shane Delahunty (0-1), Kyle Murray, Daire Gallagher; Odhran McGarrigle (0-1), Colm McGloin (0-1); Cian Rooney (0-7, 6f), Senan Rooney, Harry Howarth (0-1); Damian Weber, Matt Gillespie, Eoghan Kelly (0-1). Substitutes: Jack Gallagher (0-2) for Matt Gillespie 34 minutes; Mark McGlynn for Damian Weber 38 minutes; Eoin Doherty for Howarth 48 minutes; Darragh Flood Dolan (0-1) for Mitch McLaughlin 54 minutes; David Roper for Cian Rooney 57 minutes. Aodh Ruadh will now take on Glenfin in the semi-final which takes place this Sunday in Donegal Town's Tir Chonaill Park at 12 noon, with the winners facing either Glenswilly or Malin in the decider.
The Bakery Cup finals took place on Saturday night under the floodlights of Páirc Aoidh Ruaidh. It was a lovely night for football and the four teams didn't disappoint.
First up was the Shield Final, with Eoghan Gallagher's troops taking on Joe Gibbions' team. Joe's side took an early lead and managed to keep in front for much the game, but were regularly reigned in to within a score or two. Their six-point half-time lead was maintained until the final quarter before they were able to pull away and win out on a scoreline of 8-13 to 6-8. Some great performances in this match, with both captains showing real leadership qualities and landing quality scores from outfield. Again, some of the youngest players on the pitch caught the eye, with Ciaran McGuinness landing a hat-trick of goals for the winners.
Next up was the Bakery Cup final, and it lived up to its billing as both teams really fancied their chances. And for good reason too, as they were very evenly matched with a strong midfield, good defensive shape and plenty of firepower. Again, both captains stood out in leading their teams throughout the match and delivering some magnificent scores. Corey's team held a two-point half time lead of 0-8 to 1-3, and looked to be on top. However, Gareth's lads rallied in the second half and notched up some lovey scores to bring the game level. Both teams traded points and there was nothing to separate the sides until a late winner from Gareth's side saw them over the line by the narrowest of margins, winning 2-8 to 0-13. It was a really enjoyable evening of football with the crowd treated to two great games. Roll on Bakery Cup 2023!
The squads across the semi-finals and finals were as follows:
Joe Gibbions' team: Joe Gibbions (C), Finn Doogan (VC), Antoin Duffy, Cole Connolly, Anthony Duffy, Oisin McCadden, Dara Vaughan, Alex Kerrigan, Micheál McGrath, Ciaran McGuinness and Joseph Devanny.
Eoghan Gallagher's Team: Eoghan Gallagher (C), Bobby Melly (VC), Callum Dorrian, Darragh McCready, Eoghan McCadden, Daithi Sheerin, Jack Hassett, Eoghan McNulty, Oisin McGrath, Liam Merrifield and Thomas O'Loughlin.
Gareth Brennan's Team: Gareth Brennan (C), Fionn Hartin (VC), Eoghan Blake Gallagher, Jack Gormley, Manus Conlon, Ethan Kerrigan, Iarla Hartin, Cian Doherty, Alfie McGowan, Senan Ward and Alex Hoey.
Corey Sheridan's Team: Corey Sheridan (C), Max Roper (VC), MJ Ward, Markko Branley, Aaron McLoone, Shaun McGarrigle, Conor Greenan, Conor Grimes, Conor McGloin, Daniel McLoone, Ciaran.
Club Calendar 2023 on sale
The 2023 Aodh Ruadh Club Calendar is hot off the presses and is now on sale. You can grab your copy in Kernan's Spar, A Novel Idea and Pearse O'Neill's. You can also book them with Lisa McTernan. At just €10 they are a lovely stocking filler and a great memento of the season.
Tying the knot
Two Aodh Ruadh stars on the pitch are getting hitched off it! Best wishes to Ciaran Slevin and Kate Cunnigham on their nuptials this coming weekend!
Question time in Seán Óg's
On Thursday 15th December Seán Óg's will be staging a quiz night. Peter Gallagher will be quiz master on the evening and the questions start flying at 9pm. The proceeds from this fun night will go towards the purchase of a new pitch lining machine for the Aodh Ruadh playing facilities. There'll be loads of prizes up for grabs on the night, including four rather fetching Donegal GAA tops for the winners.
Santa Party
A date for your festive diaries! On Sunday, 18th December, Aodh Ruadh ladies host a Santa Party in Dorrian's Imperial Hotel. There will be a live DJ, plenty of fun and games, a free selection box for each child and, of course, the chance to meet big man himself, Santa Claus! The event will run from 3pm to 6pm and tickets, priced €12, are available now from Klubfunder.com.
Millstone reunited
One more date for your Christmas schedule! The Millstone Reunion night takes place on Friday, 30th December with the usual mayhem and craic in store! More details in due course.
Suim agat sa Ghaeilge?
Interested in using your own level of Irish in a relaxed, enjoyable conversation group? Aodh Ruadh GAA Club invite you to GAEILGE DO GACH DUINE. Join us in Owen Roe's, Ballyshannon where we will meet every Tuesday for six weeks commencing Tuesday 15th November from 8.30pm to 9.45pm. All levels of Irish are welcome to join in, speak, listen, or just do whatever you are comfortable with. This event is free of charge. Bain triail as, beidh fáilte romhat.
Ballyshannon Bingo
Bingo has moved to Tuesday nights starting 6th December at the earlier time of 8.30pm. We play for a great prize fund of over €2,300 including the €600 snowball and €500 Jackpot. Players can either play online over Zoom, or at the Abbey Centre. Online players must buy their books before 4.30pm Tuesday at the Aodh Ruadh on KlubFunder.com page. Doors open at the Abbey Centre at 7.45pm. We hope to see a good crowd so please spread the word and bring along a friend.
---
Last modified: Monday, 5 December 2022 at 10:17pm

Read more in the club notes archive.