Welcome to Aodh Ruadh
Lotto
4 August 2020
4
6
8
9
11
18
There was no winner of the lotto jackpot of €3,300.
Next draw is Sunday at 7pm with a jackpot of €3,400
Lotto Rota:
- Senior Footballers
- Juvenile Hurlers
- Bord na nÓg
- Senior Hurlers
- Reserve Footballers
- Ladies

The lotto team for the McCosker's Centra on Saturday is:


Ladies.



In the lucky dip a €100 Donegal GAA House Draw Ticket went to Kathleen O'Neill.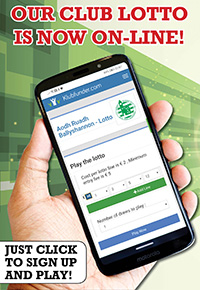 More Lotto information
---
What's new
1 August 2020
Intermediate Football Championship
Aodh Ruadh off to a winning start


More
19 July 2020
Intermediate ladies football championship
Ladies come up short against Naul's in championship opener


More
19 July 2020
Junior Hurling Championship
Revenge for Carn in Father Tierney Park


More
8 June 2020
Covid-19: Safe return for Gaelic Games


More
6 December 2010
Celebrating a year to remember with a night to remember at the Aodh Ruadh Dinner Dance


More
3 November 2019
Under 18 ladies football
Aodh Ruadh show true grit, but magnificent fightback falls just short


More
2 November 2019
Aodh Ruadh celebrates a year of underage football


More
26 October 2019
Under 21 football championship quarter-final
Aodh Ruadh second best in last eight clash


More
26 October 2019
Aodh Ruadh celebrates a year of underage football


More
20 October 2019
Under 18 ladies football
Historic first minor title for Aodh Ruadh ladies


More
25 July 2019
Intermediate Football Championship Group B
Brilliant Boyle drives Aodh Ruadh to victory


More
6 September 2019
Under 14 football
Aodh Ruadh take under 14 title


More
5 September 2019
Under 12 hurling
Aodh Ruadh and Gaoth Dobhair hurlers serve up a cliff-hanger


More
31 August 2019
Junior Hurling Championship
Aodh Ruadh claim Junior Hurling crown


More
25 July 2019
Senior Division 2
Aodh Ruadh burn off Glenfin with sprint finish


More
20 July 2019
Senior Division 2
Aodh Ruadh see off Four Masters with sensational second half


More
7 July 2019
Under 18 football
Decider proves a bridge to far for Aodh Ruadh


More
2 July 2019
Under 16 ladies football
Under 16 girls make it two from two


More
25 May 2019
Senior Division 2
Aodh Ruadh see off determined Termon challenge


More
6 May 2019
Under 14 hurling
Ballinascreen take Finn Larkin title back to Derry


More
3 May 2019
Junior Hurling League
Ernesiders too strong for Letterkenny Gaels


More
30 April 2019
Under 14 ladies football
Three on the trot for under 14 girls


More
19 April 2019
Senior Division 2
Good Friday for Ballyshannon as they get the better of Naul's


More
7 April 2019
Senior Division 2
Aodh Ruadh up and running with convincing win


More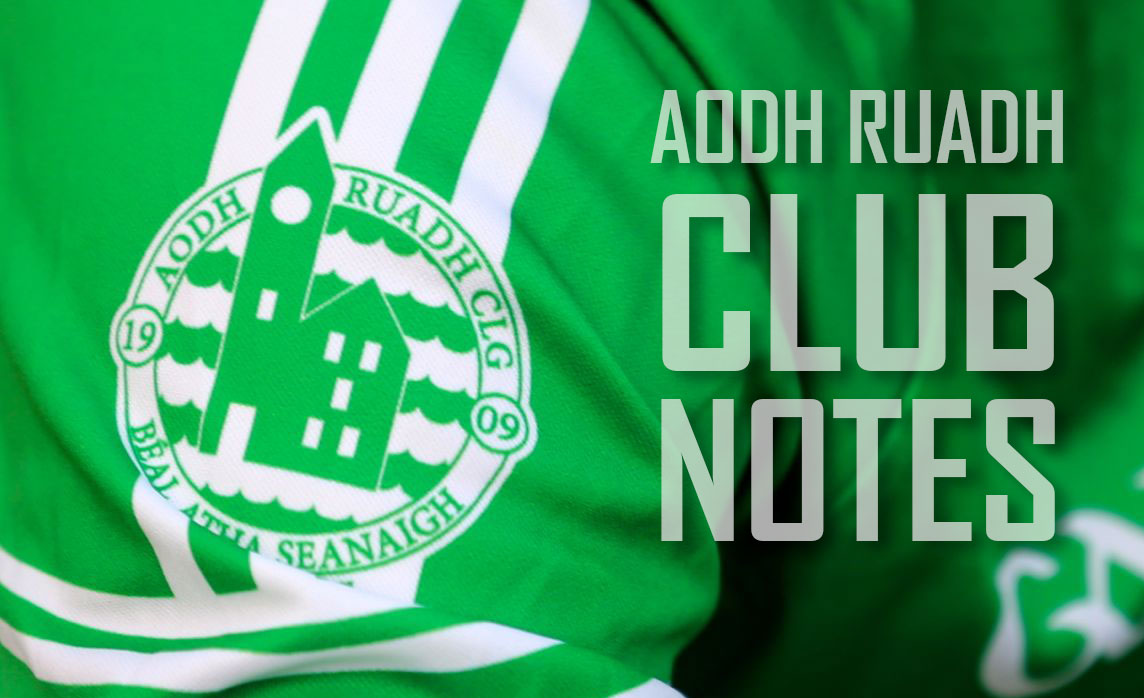 4th August 2020
Football
Aodh Ruadh got their intermediate championship campaign off to the perfect start with a six point victory in a wet Father Tierney Park on Saturday evening. The Ernesiders played their best football in the first half when Sean Taylor, Colm Kelly and Eddie Lynch were excellent in defence. Points from Johnny Gethins, Diarmaid McInerney, Darren Drummond, Philip Patton (3), Eamonn McGrath, and Nathan Boyle (2) had Ballyshannon comfortably clear at the break 0-9 to 0-1. The second half was much quieter with Aodh Ruadh held scoreless in normal time, and a great save by Peter Boyle proved vitally important in keeping Burt at bay. Injury time points from Philip Patton and David Dolan eventually put the seal on a merited opening championship win for Barry Ward's men. Cian Dolan brought great solidity around the centre of the park, while up front, Philip Patton's scoring consistency was again a huge asset, with Diarmaid McInerney, Nathan Boyle and Darren Drummond causing the Inishowen men plenty of problems. It finished 0-11 to 0-5 and Aodh Ruadh now face Naomh Bríd in Ballintra this Sunday at 3pm. We have a full match report and pictures from the game live now on aodhruadh.org.
The reserves are in regional league action this Tuesday, 4th August, with Saint Eunan's the visitors to Father Tierney Park at 7pm.
The minors made it two wins from two for Ballyshannon sides travelling to Bundoran last week when they demolished the Gaelic Park men on Wednesday evening. It looked like a competitive tussle was in the offing when Realt na Mara landed the opening point and Aaron Horan had to be at his acrobatic best to deny a gilt-edged goal chance. However Matt Gillespie hit a point after a couple minutes and quickly followed that up by taking the ball around the keeper to net and settle things for the Ernesiders. Bundoran's centre back answered with a point, but points from Cian Rooney (2) Mark McGlynn and Marty McGarrigle (3) had Aodh Ruadh eight clear by the first water break. Ballyshannon kept up the pressure on the resumption with an early Bundoran point being rapidly cancelled out by a superb goal from the visitors. Harry Howarth was the architect with some wondrous passing and Matt Gillespie finished with a real flourish, chipping the keeper with an audacious lob. A Mark McGlynn point was followed by Aodh Ruadh's third goal, tucked home by Diarmaid Flood Dolan from a rebound. McGlynn and Bundoran swapped points before Marty McGarrigle netted a deserved goal after sublime pass from Matt Gillespie. Further points from Harry Howarth (2) and Cian Rooney saw Aodh Ruadh basically home and hosed by the interval, 0-4 to 6-11 the score at the turnaround. Cian Rooney fisted a quick point on the restart, and while Bundoran came back with two points of their own, Aodh Ruadh continued to dictate matters, Mitch McLaughlin and Harry Howarth finding the net and Rooney taking his tally to 1-3 for the day. Bundoran won the final quarter, hitting 1-2, but the final say went to Peter Boyle's men, with Kyle Murray slotting home to put the seal on a 1-8 to 9-13 victory. This was a very complete performance from the Ernesiders, with the forward division and midfield in exceptional form. Matt Gillespie, Marty McGarrigle, Mark McGlynn and Harry Howarth gave an exhibition. Further back Kyle Murray didn't allow Bundoran any opportunity to hit their stride, while Eugene Doherty was a tiger at full back, until forced to exit the fray after sustaining a heavy hit as he went for the ball. We wish Eugene the best for a full and speedy recovery. Next up for the minors is the visit of Saint Naul's to Father Tierney Park this Wednesday at 7pm.
Under 16 training continues on Wednesdays and Mondays at 4.30pm in Páirc Aoidh Ruaidh.
It was the under 14s who got a good week for our underage footballers off the mark with a 3-6 to 6-9 win over Bundoran last Tuesday. Like their minor comrades, Aodh Ruadh had the bulk of the hard work done in the first half and hit the break leading by 11 points. The second half was more evenly fought fare, but Ballyshannon edged it to secure an opening day win. Killian Bradshaw had a great outing in goals, with Ronan Delahunty at corner back and centre back James Monaghan taking care of anything that came their way. James Ward also impressed, sweeping up a lot of ball. Aodh Ruadh were well served by Tommy Clyne and Rian McCauley in midfield, while up front the half forward line of Barry Campbell, Hugh Óg Maguire and Oran Gillespie were in dominant form. At the cutting edge Darragh McGloin and Garvey Meade took some excellent scores. The team will be aiming to build on that opening win when they host Saint Naul's this Tuesday in Father Tierney Park at 6.15pm. Training continues on Saturdays from 4pm to 5.30pm.
The under 12s got their season up and running in Páirc Aoidh Ruaidh on Saturday morning against Bundoran. Stephen Ward had a panel of 28 to select from, and with the game being played in three thirds, every player got a good amount of game time. The under 12 season is being played in Go Games format so results aren't recorded, but it was a very positive outing for the Ballyshannon lads. It was a great team performance, with some excellent performances in every sector. Many thanks to Val Murray who reffed on the day and kept the game flowing well. Training continues on Tuesday evening at 7pm. The team are on their travels this Saturday when they take on Saint Naul's at 11am in Mountcharles.
Under 10 training continues every Tuesday and Thursday at 5.45pm.
Under 8 training continues as normal this Friday from 6.15pm to 7.15pm.
Also on Friday the under 6s will be training on the top field in Páirc Aoidh Ruaidh at 6pm.
Ladies
The senior championship match against Carndonagh and the under 14 league match against Gaoth Dobhair on Sunday were both postponed at late notice. A very disappointing and frustrating turn of events for all concerned.
The minor ladies sank to defeat against Saint Naul's in Father Tierney Park last Tuesday. The first quarter was nip and tuck, with a Caoimhe Keon goal keeping the hosts in contact after Mountcharles made light of the facing breeze to hit four early points. Grainne Maguire added a point in the second quarter, but Saint Naul's continued to score more freely and in the run up to the break they hit two goals to go in with a 1-1 to 2-5 lead. Aodh Ruadh had their best spell in the third quarter with scores from Grainne Maguire helping to make it a four point game, 1-5 to 2-6. However a goal for Saint Naul's just before the water break gave them breathing space heading down the stretch. Aodh Ruadh were unable to add to their tally in that period, but Mountcharles struck for another goal after the water break and were able to add three further points to run out 1-5 to 4-9 victors. Best for Aodh Ruadh was keeper Bridín Maguire who thwarted a number of dangerous chances for the visitors. Síofra Hughes and Ciara Caldwell also tried their best in an overworked defence. Caoimhe Keon gave everything in midfield, while up front Grainne Maguire won a lot of ball and took some good scores.
Under 12 training continues on Tuesdays at 7pm at the top field in Páirc Aoidh Ruaidh.
The under 10 ladies train on Wednesdays at 7pm at the top field in Páirc Aoidh Ruaidh. The under 8 ladies train on Wednesdays at 6pm at the top field in Páirc Aoidh Ruaidh.
We ask all players, parents, guardians and mentors to ensure they have updated their return to play questionnaires prior to each session and match.
Hurling
The seniors had their first win of the Junior Championship on Bank Holiday Monday away to Letterkenny Gaels. The Ernesiders found it hard to get going and it was only in the last 15 minutes they pulled away to claim the win. They will need a much improved performance against Four Masters in Father Tierney Park on Friday evening if they are to get their second win of the season. Throw in for that game is 7.30pm
Our under 14s and minors were in action last Thursday. The minors were at home to Saint Eunan's. We fielded 14 players who put in a battling performance. We were nine points down early in the game, but credit to the lads they never gave up. It was a high scoring game with the Eunan's lads winning 3-18 to 2-13. We play Burt in the Cross this Thursday.
The under 14s travelled to Ballybofey to take on MacCumhaill's. This was another close affair and our young squad put in a great performance. Goals proved the difference and the home team ran out winners 3-3 to 0-8. The lads are at home to Setanta this Thursday.
Condolences
The club extends sincere condolences to the McGovern family on the passing of Paul McGovern, Bunhovil, Bundoran. Paul played football for Aodh Ruadh before emigrating to the US. Laid to rest in Saint Mary's Cemetery, Cashelard on Monday, he is deeply regretted by his wife Diolinda and Daughter Elli. Sadly missed by his Parents Pat and Anne McGovern, Sister Kelly, Brothers Philip and Patrick and extended family and friends. Ar dheis Dé go raibh a anam uasal.
Mizen to Malin
Local women Julie McMullin and Loretta Cullen are currently well into their training to run from Mizen Head to Malin Head over five days from 18th to 22nd August to raise funds for The Donegal Hospice, The Northwest Hospice and the Irish Cancer Society. Both lost their mothers to cancer and know first hand the wonderful work the hospice movement and the Irish Cancer Society do and their ongoing need for donations. This is another great cause well worthy of your support. If you would like to sponsor the pair, please visit their GoFundMe page to make a donation.
Aodh Ruadh Golf Classic
The club are hosting a Golf Classic in Bundoran Golf Club on Friday, 28th August. Places can be booked through the golf club on 071-9841302, or on the Aodh Ruadh Klubfunder page. We have eight team prizes, as well as prizes for the longest male and female drives, and nearest the pin. Up for grabs are fourballs at Portnoo, Murvagh, Ballyliffin, and Slieve Russell; Vouchers for Druids Golf, Fletcher Golf and Bundoran Golf Club, plus loads more prizes. To obtain a tee sponsorship contact William on 087-2799855.
Sanitising stations
Hand sanitisers are in place inside the entrance area and at the toilet block in Páirc Aoidh Ruaidh. At Father Tierney Park hand sanitisers are in place at the changing rooms, Aras Aoidh Ruaidh and the entrance tunnel to the playing field. For spectators they are located near the entrance turnstiles and at the entrance to the stand. Social distancing signage has been put in place and should be observed. As Covid regulations require separation of players and spectators, entry to Father Tierney Park for spectators is via the upper turnstiles at the original main entrance to the grounds.
---
Last modified: Monday, 3 August 2020 at 9:16pm

Read more in the club notes archive.