Welcome to Aodh Ruadh
Club Draw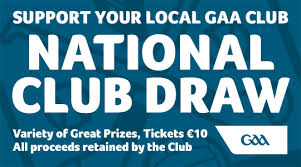 The National Club Draw is effectively three draws in one with a massive range fantastic prizes for just €10 a ticket. Prizes include a car, all-Ireland final tickets, hotel packages, shopping vouchers and many, many more.


See the full schedule of prizes.


Buy a ticket online
Lotto
31st November 2019
1
3
6
12
13
15
There was no winner of the lotto jackpot of €9,200.
Next draw is Sunday at 8.30pm in Pat's Bar with a jackpot of €9,300
Lotto Rota:
- Reserve Footballers
- Bord na nÓg
- Senior Hurlers
- Senior Footballers
- Ladies
- Juvenile Hurlers
The lotto team for the McCosker's Centra on Saturday is:


Bord na nÓg.



In the lucky dip €20 went to Philip McLoone, Audrey O'Mahoney, Margaret McCauley, Mary Egan, and Barry McLaughlin.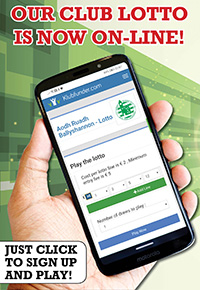 More Lotto information
---
Twitter
Tweets by @aodhruadh
What's new
6 December 2010
Celebrating a year to remember with a night to remember at the Aodh Ruadh Dinner Dance


More
3 November 2019
Under 18 ladies football
Aodh Ruadh show true grit, but magnificent fightback falls just short


More
2 November 2019
Aodh Ruadh celebrates a year of underage football


More
26 October 2019
Under 21 football championship quarter-final
Aodh Ruadh second best in last eight clash


More
26 October 2019
Aodh Ruadh celebrates a year of underage football


More
20 October 2019
Under 18 ladies football
Historic first minor title for Aodh Ruadh ladies


More
25 July 2019
Intermediate Football Championship Group B
Brilliant Boyle drives Aodh Ruadh to victory


More
6 September 2019
Under 14 football
Aodh Ruadh take under 14 title


More
5 September 2019
Under 12 hurling
Aodh Ruadh and Gaoth Dobhair hurlers serve up a cliff-hanger


More
31 August 2019
Junior Hurling Championship
Aodh Ruadh claim Junior Hurling crown


More
25 July 2019
Senior Division 2
Aodh Ruadh burn off Glenfin with sprint finish


More
20 July 2019
Senior Division 2
Aodh Ruadh see off Four Masters with sensational second half


More
7 July 2019
Under 18 football
Decider proves a bridge to far for Aodh Ruadh


More
2 July 2019
Under 16 ladies football
Under 16 girls make it two from two


More
25 May 2019
Senior Division 2
Aodh Ruadh see off determined Termon challenge


More
6 May 2019
Under 14 hurling
Ballinascreen take Finn Larkin title back to Derry


More
3 May 2019
Junior Hurling League
Ernesiders too strong for Letterkenny Gaels


More
30 April 2019
Under 14 ladies football
Three on the trot for under 14 girls


More
19 April 2019
Senior Division 2
Good Friday for Ballyshannon as they get the better of Naul's


More
7 April 2019
Senior Division 2
Aodh Ruadh up and running with convincing win


More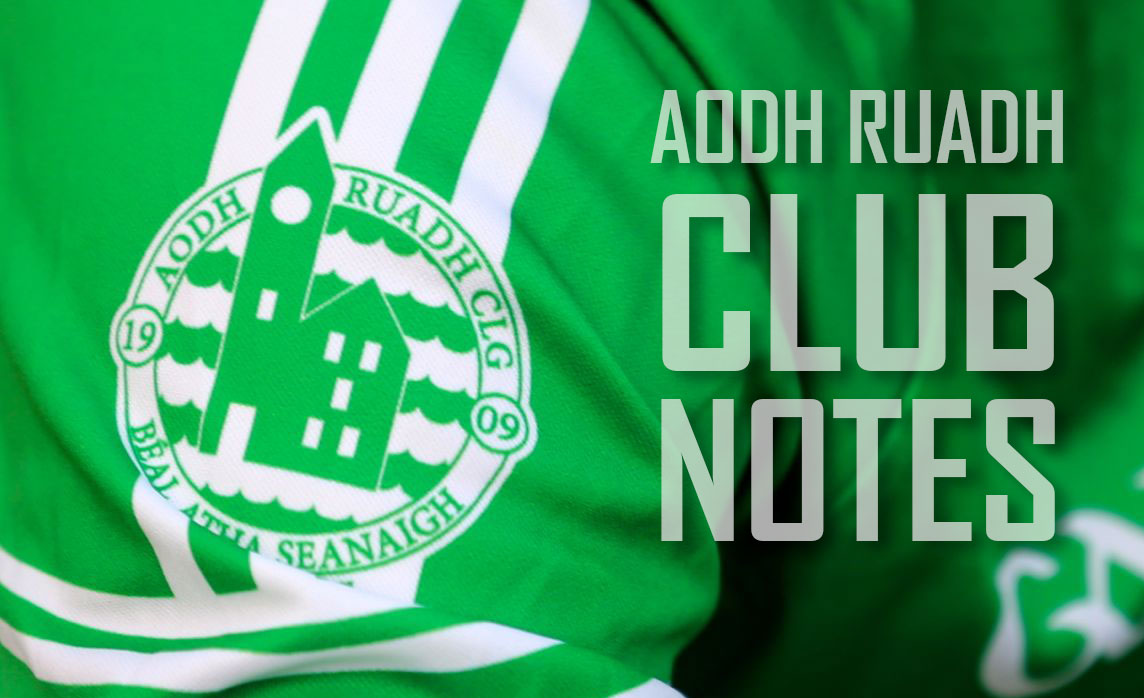 3rd December 2019
Club AGM
The Aodh Ruadh AGM took place on Sunday in Aras Aoidh Ruaidh. There a good crowed present as we looked back on a successful 2019 and made plans for the coming season. Detailed reports were submitted by all sub-committees and these were followed by an address from club chairman William Doogan, reflecting on his first year in office, thanking all those who had made it such an enjoyable experience. That was followed in turn by an address from our club President, Owen Roe O'Neill. He congratulated all sections of the club for their dedication in promoting our national games and continuing the proud tradition Aodh Ruadh has had for many decades. He reflected that he had been involved with the club since the 1950s as a player, administrator, coach and manager and seen lean times as well as successful ones, but he highlighted that the activity was, successful or otherwise, was the most important part of any club and thankfully Aodh Ruadh continues to be a very active club on and off the field. Owen spoke about some of the high points of 2019 before concluding his address by remembering club members and families connected with the club who lost loved ones during the year and remembering all the great Gaels who played their part in making the club what it is today who are no longer with us.
Motions were then considered. Motion one, to bring under 21 football football under the Bord na nÓg structure failed to pass. Motion two, that all Aras bookings come through the Club Secretary was passed. Motion three, that the Club Treasurer is responsible for pricing and sourcing transport for club activities was ruled out as proposer was not present. Motion four, that we formally request the LGFA to bring membership affiliation fees and insurance costs in line with CLG, and that if there is no movement by 1 January 2022 that we charge Ladies GAA for the use of club facilities was ruled out as proposer was not present. Motion five, that Aodh Ruadh become a smoke free club was passed.
The AGM then proceeded to the election of officers with the following posts being filled. Patrons: Father Ó Fearrai and Canon McGroarty; President: Owen Roe O'Neill; Vice Presidents: Peter Conlon, PJ Buggy, John Magee, Michael McLoone, Tom Gallagher, John Murphy and Alan Kane; Chairman: William Doogan; Vice-Chairman: Diarmaid Keon; Secretary: Lisa McTernan; Assistant Secretary: Brian Gillespie; Treasurer: Sabrina Brosnan; Assistant Treasurer: Sarah Daly; PRO: John Hughes; Oifigeach na Gaeilge: Alan Sweeny and Eamonn Martin Maguire; Substitute County Board Delegates: Diarmaid Keon; Health and Well-being Officer: Philip McLoone; Child Protection Officer: Paul Touhy. The only post left unfilled was that of Director of Coaching. It was hoped to have this position filled for the first meeting of the new committee in January.
Also voted onto the committee on the evening were those present at the AGM, with allowance made for further members to be appointed at the January executive meeting.
Congratulations and best wishes to all those who have taken up a post for 2020. The club extends its gratitude to those outgoing officers who have stepped down from posts after working hard for the club over the past season and beyond.
Dinner Dance
The annual club Dinner Dance takes place this Friday in the Sandhouse Hotel, Rossnowlagh, proceedings getting under way at 7pm sharp. Kevin Byrne will be running a bus to the Sandhouse from the Day Centre at 6.30pm, €3 per person. He will be doing runs home also. The meal will be followed our awards presentations with music by The Show Offs bringing down the curtain on the evening's festivities. Tickets, priced €25, are ONLY available online through the Aodh Ruadh page on Klubfunder.com and are strictly limited to 160, with a significant number having already been snapped up. If anyone is having difficulty with the online purchasing, they should give Lisa McTernan a call on 086-2338636. It has been a successful year for the club on a number of levels so please book early to avoid disappointment.
Relive the OsKaRs magic!
Aodh Ruadh OsKaRs DVDs are on sale once more. Remember a great night of craic and savour those spectacular acting talents once again in the comfort of your own home! DVDs are only €10 each. You can message or text Lisa McTernan (086-2338636) or Sabrina Brosnan (086-8241297) to book your copy!
Festive stocking fillers
Chris Kelly has some nice Aodh Ruadh gear available for purchase. He has Aodh Ruadh branded mugs available for €9 each. In addition Chris is selling light puff jackets, black with white club crest. These are available in sizes from six-years-old to at €40 euro; And in extra small adult to XXXL adult at €50. They would be nice present for members living abroad or coming home for Christmas and all profits goes back to the club. If you would like to order either item just message Chris on Facebook.
Hurling
Ulster GAA are delivering coaching workshops focusing on the fundamentals of underage hurling. This is the perfect chance for parents, guardians and new comers to learn the basics of hurling as well as a refresher for all youth coaches. One of these workshops will be run locally, at Creevy National School on Tuesday 10th December at 7pm.
The juvenile hurlers annual Christmas fun quiz will take place on Thursday, 19th December, in Owen Roe's, always a great night of craic. Also coming soon is Last One Standing. Once again sponsored by Liam Gallen of Mr G's, there's €300 to be won with cards out soon.
National and Local Draw
Tickets are currently being distributed for the annual National Club Draw. This is effectively three draws in one with fantastic prizes in all three draws for just €10 a ticket. See aodhruadh.org for full details of the prizes available. Proceeds from this draw are ring fenced to build a new playing surface on Father Tierney Park in 2020. This year marks the 65th anniversary of the opening of the ground. Our Park / Development Committee has already secured €100,000 in grant aid towards the project costs and the draw is a critical part of providing matching funding. Initially, we need as many people as possible taking one or two books of five tickets to sell. Any club member can provide tickets or contact anyone of the Draw Committee of Tom Daly, William Doogan, Conal Gallagher, Gerard Ferguson, Paul Gillespie, David McLoone, Sarah Daly, Philip McLoone and Michael Daly. For those not living locally who wish to support the Father Tierney Park project, tickets can be purchased on the Aodh Ruadh page on Klubfunder.com.
Abbey Centre Bingo
Congratulations to Angela Gaye of Bundoran who is the latest bingo thousandaire taking home the €1,000 jackpot. Regina Dolan took the stand up game of €160. Damian McGurran won €200 and €150 houses went to John McFadden and Mary Sweeney. Winners of the €100 houses included Patricia Conlon, Eileen Doherty, Hanna Heron, Noelle Newell, Ellen Maguire and Mary McMahon. The snowball survived its first month so rolls to €450 on 45 numbers this week. Bingo as usual at the Abbey Centre this Friday at 9pm. Books just €10, prize fund €2,150.
---
Last modified: Sunday, 8 December 2019 at 8:25pm

Read more in the club notes archive.