Welcome to Aodh Ruadh
Lotto
26 October 2020
2
11
12
14
15
17
There was no winner of the lotto jackpot of €4,600.
Next draw is Sunday at 7pm with a jackpot of €4,700
Lotto Rota:
- Bord na nÓg
- Juvenile Hurlers
- Senior Footballers
- Senior Hurlers
- Reserve Footballers
- Ladies

The lotto team for the McCosker's Centra on Saturday is:


Ladies.



In the lucky dip a €100 Donegal GAA House Draw Ticket went to Rosemarie Bradshaw.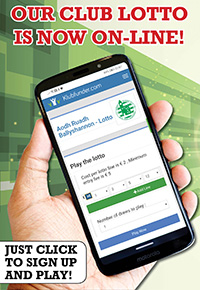 More Lotto information
---
What's new
26 September 2020
Intermediate Football Championship Final
The famine is over as classy Aodh Ruadh claim IFC title with finishing flourish


More
17 September 2020
Under 14 hurling championship final
12-year-old Corey a scoring star for well balanced Aodh Ruadh side


More
5 September 2020
Intermediate Football Championship
Sprint finish takes Aodh Ruadh into last four


More
30 August 2020
Junior Hurling Championship
Aodh Ruadh book semi spot in style


More
16 August 2020
Intermediate Football Championship
Late Cloich Cheann Fhaola surge sinks Aodh Ruadh


More
16 August 2020
Ladies Intermediate Football Championship
Ladies denied at the death by Fanad smash and grab


More
15 August 2020
Under 14 ladies Division 1 Shield Final
Extra-time heart break for brave under 14 ladies


More
1 August 2020
Intermediate Football Championship
Aodh Ruadh off to a winning start


More
19 July 2020
Intermediate ladies football championship
Ladies come up short against Naul's in championship opener


More
19 July 2020
Junior Hurling Championship
Revenge for Carn in Father Tierney Park


More
8 June 2020
Covid-19: Safe return for Gaelic Games


More
6 December 2010
Celebrating a year to remember with a night to remember at the Aodh Ruadh Dinner Dance


More
3 November 2019
Under 18 ladies football
Aodh Ruadh show true grit, but magnificent fightback falls just short


More
2 November 2019
Aodh Ruadh celebrates a year of underage football


More
26 October 2019
Under 21 football championship quarter-final
Aodh Ruadh second best in last eight clash


More
26 October 2019
Aodh Ruadh celebrates a year of underage football


More
20 October 2019
Under 18 ladies football
Historic first minor title for Aodh Ruadh ladies


More
25 July 2019
Intermediate Football Championship Group B
Brilliant Boyle drives Aodh Ruadh to victory


More
6 September 2019
Under 14 football
Aodh Ruadh take under 14 title


More
5 September 2019
Under 12 hurling
Aodh Ruadh and Gaoth Dobhair hurlers serve up a cliff-hanger


More
31 August 2019
Junior Hurling Championship
Aodh Ruadh claim Junior Hurling crown


More
25 July 2019
Senior Division 2
Aodh Ruadh burn off Glenfin with sprint finish


More
20 July 2019
Senior Division 2
Aodh Ruadh see off Four Masters with sensational second half


More
7 July 2019
Under 18 football
Decider proves a bridge to far for Aodh Ruadh


More
2 July 2019
Under 16 ladies football
Under 16 girls make it two from two


More
25 May 2019
Senior Division 2
Aodh Ruadh see off determined Termon challenge


More
6 May 2019
Under 14 hurling
Ballinascreen take Finn Larkin title back to Derry


More
3 May 2019
Junior Hurling League
Ernesiders too strong for Letterkenny Gaels


More
30 April 2019
Under 14 ladies football
Three on the trot for under 14 girls


More
19 April 2019
Senior Division 2
Good Friday for Ballyshannon as they get the better of Naul's


More
7 April 2019
Senior Division 2
Aodh Ruadh up and running with convincing win


More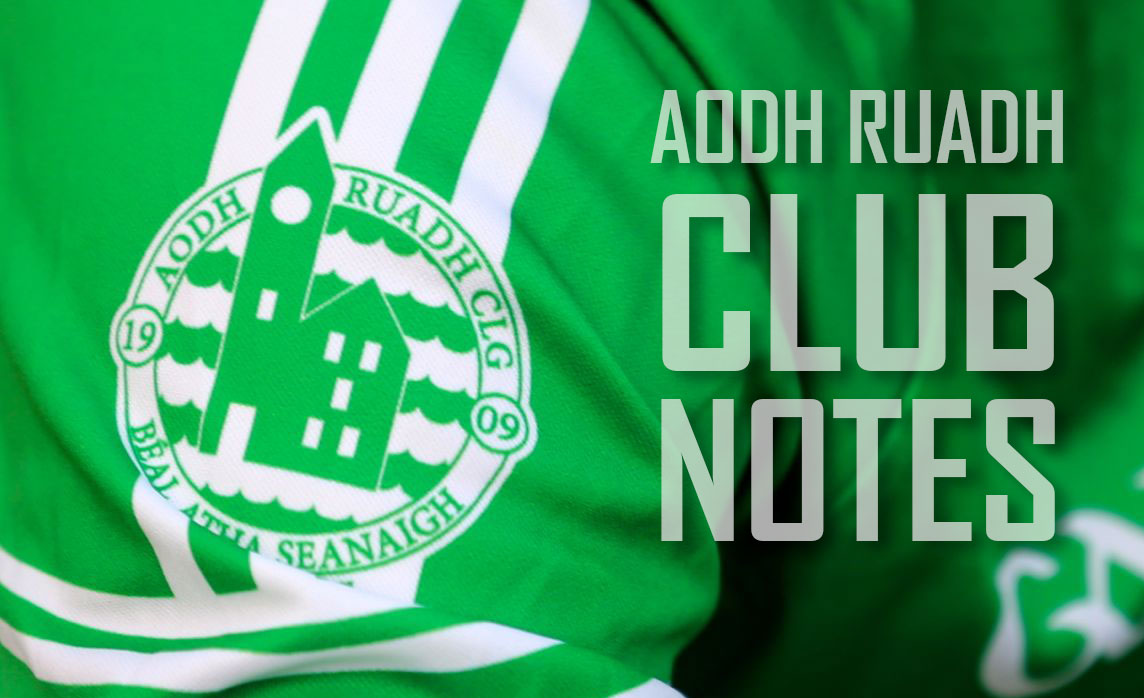 27th October 2020
Test your Premiership smarts
With the Premiership up and running now, there's a fair bit of form to go on now. So, no better time to sign up for a Premiership Snowball fund-raiser being run by senior and reserve footballers. Cards can be obtained from any player, from Lisa McTernan or on the Aodh Ruadh CLG Facebook page. It's €10 to enter - payments can also be made through our page on www.klubfunder.com in the general payments section, with the teams being texted to Lisa on 086-2338636. The rules are simple. You pick one team per week, and you can't pick the same team twice. We are grateful for €500 sponsorship generously donated by Colin at MR OIL MAN! All monies raised will go straight back into the club.
Last one standing
Jordan Morris scored a last-minute equaliser for Meath against Monaghan which eliminated 27 entrants from our competition. So, as we head for the championship, we now have 15 left standing in our fundraiser sponsored by Liam Gallen of Mr G's. All left standing will be contacted to get their picks for provincial winners and All-Ireland winners. Entrants and picks will be posted the Aodh Ruadh CLG Facebook page on Friday, 30th October.
Lighting up for Christmas
A large number of club members are taking part in the Virtual Halloween 5k being organised by Ballyshannon Business Chamber to help light the town this Christmas. Over the past number of years the businesses in town have done a superb job making the town look festive in the run up to Christmas. With Covid 19 having hit local business so hard the local community are rowing in to help make the Christmas lights happen by taking part in the Virtual Halloween 5k. To play your part just complete a 5k between Wednesday 28th October and Saturday 31st October, fancy dress optional! Younger runners / walkers can split the 5k into relays over a few days. When you're done, send your photo to the Ballyshannon Business Chamber Facebook page where they will share it. Then make a donation at the event's GoFundMe.com page. There will be spot prizes available too.
Supporting mental health
We invite members to support a fund-raiser organised by our senior player, David McGurrin on behalf of Connect Mental Health. He is running the distance from where he currently lives in Dooradoyle, Limerick back home to Ballyshannon, a distance of approximately 270km. This will be completed within a 5 km radius over the duration of the Level 5 Restrictions ending on December 1st. David will be posting updates online on his progress. Connect Mental Health is a community mental health organisation promoting positive mental health in Donegal through an annual programme of events, online workshops and supports delivered directly to young people and adults in the local community. To donate go to the GoFundMe.com page for this event.
Coaching corner
Donegal GAA's Games Development Manager Aaron Kyles is staging a weekly webinair over the run up to Christmas. The first of these, on Wednesday, November 4th, will be an introduction to Donegal GAA Club Support Programme. The webinairs will be via Microsoft Teams. The Club Support Programme is there to assist clubs in developing a club coaching plan alongside developing and mentoring of club coaches through coach the coach's workshops. Check out the Donegal GAA website for full details on the programme of webinars.
Upcoming AGMs
The Bord na nÓg AGM will take place via Zoom on Sunday, 8th November at 5pm. Anyone with an interest in the development of underage football in Ballyshannon is warmly invited to attend. The Club AGM will take place on Sunday 29th November. Whether this year's AGM will take place in the form of a face to face meeting or remotely will be determined by what Covid alert level we are at nearer the time. All sub-committee reports should be with Club Secretary, Lisa McTernan, by Friday 20th November. The Ladies AGM will take place on Sunday 15th November via Zoom. Those who wish to take part in the AGM should email Patricia McShea Hill at rusheen50@gmail.com as soon as possible. All managers are asked to please forward their team report by 1st November as all paperwork has to be gathered and emailed to those taking part in the AGM.
County action
Best of luck to Donegal as they take on Tyrone in the Ulster Senior Football Championship Quarter-Final at 1.30pm in MacCumhaill Park this Sunday.
Win a house in Dublin!
We renew our invitation to our members to support Donegal GAA's house draw. You could win a semi-detached home in Dublin with Club Donegal. With over 134 square metres of living space, this four-bed residence is located in Brownsbarn, adjacent to Citywest. On 4th December one very lucky person will win this brand-new house in our capital. Second prize in the draw is a brand-new Mazda 2. Tickets, priced €100, are available to buy online now at winyourhouseindublin.com.
---
Last modified: Monday, 26 October 2020 at 10:32pm

Read more in the club notes archive.