Welcome to Aodh Ruadh
Lotto
19th November 2018
6
7
8
11
13
16
There was no winner of the lotto jackpot of €3,800.
Next draw is Sunday at 8.30pm in the Bridgend Bar with a jackpot of €3,900
Lotto Rota:
- Reserve Footballers
- Bord na nÓg
- Senior Footballers
- Ladies
- Juvenile Hurlers
The lotto team for the McCosker's Centra on Saturday is:


Ladies.



In the lucky dip €20 went to Olga Brennan, Lawne Park; John Flaherty, Portnason; Barry Ward, Askill; Sarah Mahon, c/o The Lantern Bar; and Bridget Shiels, Dunmuckrim.

More Lotto information
---
Twitter
Tweets by @aodhruadh
What's new
8 July 2018
Senior Division 1
Deadlock again for Ernesiders


More
2 June 2018
Senior Division 1
Rooney gets Aodh Ruadh deserved share of the spoils


More
29 April 2018
Senior Division 1
Aodh Ruadh earn important win against Dungloe


More
28 April 2018
Under 12 ladies football
Aodh Ruadh entertain Letterkenny


More
15 April 2018
Senior Division 1
Economical Gaoth Dobhair take the spoils in Ballyshannon


More
14 April 2018
Under 8 football
Aodh Ruadh host Four Masters for blitz


More
7 April 2018
Under 12 ladies football
Aodh Ruadh girls get league off to a great start


More
1 April 2018
Senior Division 1
Late McGettigan strike snatches point from Ballyshannon


More
1 April 2018
Senior Reserve Division 1
Reserves chalk up first win of the new season


More
22 March 2018
Under 14 hurling
Aodh Ruadh hurlers get off to the perfect start against Setanta


More
17 March 2018
Aodh Ruadh at the Saint Patrick's Day Parade


More
20 January 2018
Celebrating a year to remember with a night to remember at the Aodh Ruadh Dinner Dance


More
28 December 2017
Annual Colman Kerr matches raise cash for charity


More
25 November 2016
Aodh Ruadh celebrates a year of underage football


More
25 November 2017
Great turn out for Billy Finn Memorial Concert


More
12 November 2017
Under 16 football
Aodh Ruadh do it at the death to take county title


More
10 November 2017
Under 10 football
Winter League finals bring curtain down on a successful season


More
5 November 2017
Under 21 Football
Aodh Ruadh well adrift of hungrier Naomh Conaill


More
5 November 2017
Under 16 football
Super second half sends Aodh Ruadh into championship decider


More
4 November 2017
Under 13 football
MacCumhaill's take county title


More
15 October 2017
Under 13 ladies football
Back-to-back titles for the Ballyshannon girls


More
1 October 2017
Senior Division 2
Division one, here we come!


More
1 October 2017
Senior Reserve Division 2
Reserves too hot for Malin


More
1 October 2017
Under 16 hurling
Easkey take Alan Ryan Cup as Aodh Ruadh claim the Seamus Grimes trophy


More
24 September 2017
Under 12 hurling
Keady claim Aodh Ó Dálaigh title


More
10 September 2017
Underage football
Euro-Shot Challenge 2017


More
2 September 2017
Under 14 football
Ballyshannon book semi-final spot


More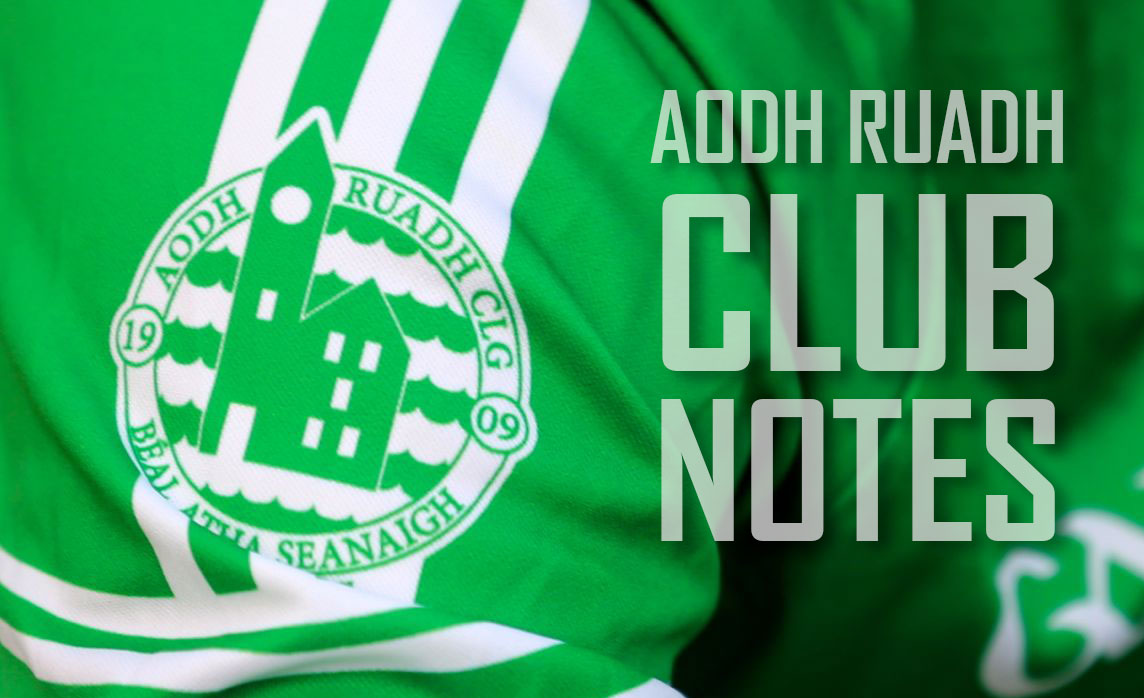 20 November 2018
National Club Draw launched, now with big local prizes
The club is asking all members, players, former players and supporters at home and abroad to help it maximise the sale of Club National GAA Draw tickets over the next eight weeks. There is an array of wonderful prizes in the National Draw. This year they will be complimented by a fantastic range of prizes exclusively for those purchasing from Aodh Ruadh ticket sellers. Many sponsored, these include two overnight stays in a classic room and breakfast with one dinner in The Croke Park Hotel for two people; A trailer load of firewood; A pair of tickets for either 2019 hurling or football finals; Overnight and breakfast in Wellington Park Hotel, Belfast; Two tickets for the 2019 All-Ireland camogie final; A €250 his and hers hamper from Cara Pharmacy; Four tickets for the 2019 Rory Gallagher Festival; Two tickets for the 2019 All-Ireland Ladies Football Final; A White Hotel Group voucher for three nights B&B and two dinners for two people your choice of Lisdoonvarna or the Earl of Desmond, Tralee.
Tickets are €10 each with five in a book. We urgently need people to step forward and push the sale of this draw as ALL proceeds stay within the club. The funds raised will be retained to provide initial partnership funding to match the €100,000 grant aid negotiated for the provision of a new sand-based playing surface on Father Tierney Park, such a central part of GAA life in the northwest.
Club AGM
The Aodh Ruadh Club AGM takes place on Sunday 25th November in Aras Aoidh Ruaidh at 7pm. All interested in the pursuit and development Gaelic games and culture in Ballyshannon are warmly invited to attend. Please note, only those registered by the 31s March deadline are eligible to vote on motions and appointments at the Club AGM.
Bord na nÓg AGM
The Bord na nÓg AGM will take place on Wednesday 21st November at 8pm in Aras Aoidh Ruaidh. The committee would like to invite all parents and guardians of our underage players to the AGM as well as anyone with an interest in football in Ballyshannon.
Draw Committee
The initial Steering Committee for the National Club Draw is Gerard Ferguson, Tom Daly, Lisa McTernan, David McLoone, Conal Gallagher and Sarah Daly. There is an open invitation to all members and supporters to come forward and join this group as draw promoters at a meeting in Aras Aoidh Ruaidh at 9.30pm this Wednesday night after the Bord na nÓg AGM. It is important that representatives of all aspects of the club and its many teams take part.
Ladies
There was an excellent attendance at the Ladies AGM on Thursday, 8th November. After a full review of activities in 2018, matters proceeded to the election of officers. The following posts were filled. Chairperson, Patricia Hill; Secretary, Sabrina Breen-Brosnan; Vice-Secretary Jo Jo Warnock Under 6 managers, John Britton and Jo Jo Warnock; Under 8 managers, Caroline McGrath and Eamonn O'Donnell; Under 10 Lorraine McPhelim and Andrea Rogers; Under 14, Sandra Sheerin, Anton McGloin and Thomas O'Brien; Under 16 Paul Gillespie, Sylvester Maguire and John Hughes. The posts of under 12 manager and minor manager remain vacant. If interested in these posts please contact a member of the Ladies committee. It was decided to defer discussion regarding the future of the senior team until a specifically convened meeting to address the matter.
Presentation evening
The closing event of the underage football season, the presentation evening, takes place this Saturday at the Abbey Centre. All players are to be at the Abbey Centre for 6.30pm sharp with proceedings getting underway at 7pm.
Scór na nÓg
The quiz team of Beth Flood, Laoise Kelly, Lauren McHugh and Clodagh O'Connor performed superbly in the quiz section of the Scór na nÓg semi-final in Drimarone on Sunday 11th November. They won their semi-final with an excellent score of 25 out of 30. They proceed to the county final on Sunday 25th November at 3pm in the Amharclann theatre in Gaoth Dobhair. Roís Cleary made her Scór na nÓg debut and performed a beautiful rendition of Táimse im Chodladh in the solo singing, but just missed out on qualification for the final. Dáithi and Fódhla Sheerin represented the club in the instrumental group and the young duo played Planxty Irwin and Aaron's Key. They were also unlucky not to qualify, but have many years left at this age level. Big congratulations to all who participated as a lot of work is put into preparing for Scór na nÓg and the best of luck to the quiz team on Sunday as they seek to win the county title.
Aodh Ruadh gear
We have a few items of Aodh Ruadh gear available to purchase at the minute. Aodh Ruadh hats in adult or kids sizes are now available to order and you can see samples on the Aodh Ruadh CLG Facebook page. These are €20 each or five €90. Orders for these can be placed with Lisa Mc Ternan, Kerry Ryan or Alan Sweeny or on Facebook. Order now for Christmas delivery. Profit from sales of hats will go to Bord na nÓg. Coláiste Cholmcille company Tharr an mbarr Sports are also offering Aodh Ruadh socks. Kids sizes from 1-5 are priced €10 while adult sizes from 6-12 are priced €12. Place your order on the Tharr an mbarr Sports page on Facebook.
Christmas is coming
With Christmas just around the corner Ballyshannon Business Chamber is gearing up for its festivities. The town is being dressed with beautiful lights and decorations and the Christmas tree, always spectacular, should be in place soon. Santa Claus will come to town on Saturday 1st December and the Town Christmas lights will be switched on. On the day there will be plenty to do with a market planned for the Gables and music and song from the Samba band, Ballyshannon Brass and Reed band as well as the Bel Canto choir. We are inviting people to come along to enjoy the day and browse our shops or enjoy some food and drink in one of our fine local establishments. We also hope to launch our Christmas draw and giveaways shortly with free entry with every purchase. This is to thank you, our loyal customers who keep it local this Christmas. Happy Christmas from Ballyshannon, Ireland's Oldest Town.
Diary date
The annual Aodh Ruadh dinner dance will take place on January 19th in Dorrian's Hotel.
Abbey Centre Bingo
Last week's €400 jackpot was won by Donna McGarrigle of Ballyshannon. The stand up game prize this week was €130 with a single winner. Winners of the €100 houses included Amanda Byrne, Caroline Finnerty, Barney Cullen, Bridie Patterson and Mary Kane. Winners of the €70 houses included Kevin O'Connor, Mary Cleary, Celine McGrath and Patsy Downey. Rita Touhy took home a house and a line. There was no winner of the winter snowball so it rises to a juicy €500 next week. Bingo as usual this Friday night at the Abbey Centre at 9pm, books priced just €10 with a great €2,200 prize fund to win.
The €400 bingo jackpot for Friday November 9th was won by Anne Grey of Belfast. The stand up game prize of €140 was won by Dolores Kelly of Limerick. Our new winter spot prize teddy 'Snowy', went on the first night. We'll have to get another one!
Aodh Ruadh Lotto
There was no winner of the Aodh Ruadh Lotto jackpot of €3,700 drawn on Sunday 11th November. The winning numbers drawn were 3, 4, 9, 10, 16 and 17. In the lucky dip €20 went to Gary Morris, Kinlough; Mary E Patton, Lower Creevy; Ita Doherty, Cluain Barron; Deirdre A McGonigle; and Gary Carty, c/o McGinley's.
---
Last modified: Monday, 19 November 2018 at 11:28pm

Read more in the club notes archive.