Welcome to Aodh Ruadh
Lotto
14th April 2019
2
7
9
15
17
18
There was no winner of the lotto jackpot of €5,800.
Next draw is Monday at 8.30pm in Dorrian's Hotel with a jackpot of €5,900
Lotto Rota:
- Reserve Footballers
- Bord na nÓg
- Senior Hurlers
- Senior Footballers
- Ladies
- Juvenile Hurlers
The lotto team for the McCosker's Centra on Saturday is:


Ladies.



In the lucky dip €20 went to Mai Kennedy, Saint Benildus Avenue; Catherine McLoone, The Abbey; Caroline Patton, Lower Creevy; Gregory Sweeney, Tullyhorkey; and Murt Cullen Cluain Barron.

More Lotto information
---
Twitter
Tweets by @aodhruadh
What's new
19 April 2019
Senior Division 2
Good Friday for Ballyshannon as they get the better of Naul's


More
7 April 2019


Senior Division 2


Aodh Ruadh up and running with convincing win


More
8 July 2018
Senior Division 1
Deadlock again for Ernesiders


More
2 June 2018
Senior Division 1
Rooney gets Aodh Ruadh deserved share of the spoils


More
29 April 2018
Senior Division 1
Aodh Ruadh earn important win against Dungloe


More
28 April 2018
Under 12 ladies football
Aodh Ruadh entertain Letterkenny


More
15 April 2018
Senior Division 1
Economical Gaoth Dobhair take the spoils in Ballyshannon


More
14 April 2018
Under 8 football
Aodh Ruadh host Four Masters for blitz


More
7 April 2018
Under 12 ladies football
Aodh Ruadh girls get league off to a great start


More
1 April 2018
Senior Division 1
Late McGettigan strike snatches point from Ballyshannon


More
1 April 2018
Senior Reserve Division 1
Reserves chalk up first win of the new season


More
22 March 2018
Under 14 hurling
Aodh Ruadh hurlers get off to the perfect start against Setanta


More
17 March 2018
Aodh Ruadh at the Saint Patrick's Day Parade


More
20 January 2018
Celebrating a year to remember with a night to remember at the Aodh Ruadh Dinner Dance


More
28 December 2017
Annual Colman Kerr matches raise cash for charity


More
25 November 2016
Aodh Ruadh celebrates a year of underage football


More
25 November 2017
Great turn out for Billy Finn Memorial Concert


More
12 November 2017
Under 16 football
Aodh Ruadh do it at the death to take county title


More
10 November 2017
Under 10 football
Winter League finals bring curtain down on a successful season


More
5 November 2017
Under 21 Football
Aodh Ruadh well adrift of hungrier Naomh Conaill


More
5 November 2017
Under 16 football
Super second half sends Aodh Ruadh into championship decider


More
4 November 2017
Under 13 football
MacCumhaill's take county title


More
15 October 2017
Under 13 ladies football
Back-to-back titles for the Ballyshannon girls


More
1 October 2017
Senior Division 2
Division one, here we come!


More
1 October 2017
Senior Reserve Division 2
Reserves too hot for Malin


More
1 October 2017
Under 16 hurling
Easkey take Alan Ryan Cup as Aodh Ruadh claim the Seamus Grimes trophy


More
24 September 2017
Under 12 hurling
Keady claim Aodh Ó Dálaigh title


More
10 September 2017
Underage football
Euro-Shot Challenge 2017


More
2 September 2017
Under 14 football
Ballyshannon book semi-final spot


More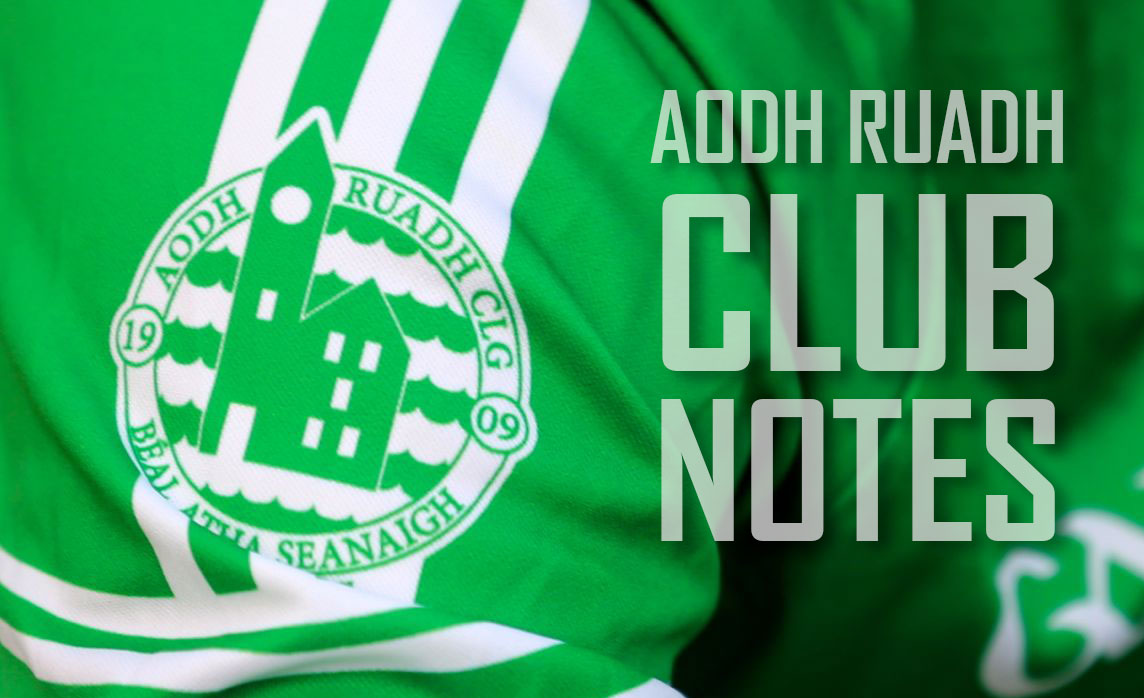 16th April 2019
Football
Following a fine win over Buncrana, Aodh Ruadh were brought back to earth with a bump on Sunday. After scorching out into a 1-3 to no score lead against Killybegs, the Fishermen reeled the visitors back in to lead at the break. They preserved their lead over the second half to run out 2-12 to 1-9 victors. There was less between the sides in the reserve game, but Killybegs still ran out winners, 0-12 to 2-2 the final score there.
It's a double-header weekend ahead for senior and reserves. On Good Friday Saint Naul's are the guests in Father Tierney Park. The reserves get things going at 5pm and are followed by the seniors at 6.30pm. Then on Easter Sunday Aodh Ruadh travel to Ardara. The reserves throw-in at 1.30pm with the seniors going off at 3pm. It's early days, but these double header weekends can have a big say in the final league table so come out and support the team.
Championship takes centre stage at under 16 level now. Aodh Ruadh have two big games in quick succession. The first is against Termon this Wednesday at 6.45pm in Father Tierney Park. A good vocal showing of Ballyshannon support would be much appreciated for that one. Then on Easter Monday the team are down to travel to Carndonagh for a 6.45pm throw-in.
The under 12s are in action this Friday at 6.30pm against Four Masters. Players to be at the Park for 5.45pm.
Commiserations to Donegal, Cian Rooney and Kyle Murray on narrow defeat to Derry in the Buncrana Cup Ulster final.
Ladies
Killybegs traveled south to Father Tierney Park on a cold and blustery Sunday morning for the latest round of the Ladies Football Division 2 Shield South competition. It was 13-a-side as Killybegs had the bare minimum, but that didn't stop them dominating the first 15 minutes. They looked like they were in for a goal three minutes in, but a great stop from Orlaith Gillespie who was in nets for the day denied them. As the game moved into the second quarter the visitors lead 0-5 to no score. Aodh Ruadh finally got off the mark with two successive points from Áine Gilmore and Elaine Dorrian. Then with ten minutes to go to the break a foul on 21 metre line was brought forward to the 13. Killybegs took their free quickly and hit the net. In the last few minutes of the first half the sides swapped scores, but it was the visitors who lead 0-3 to 1-7 at the turnaround. After a hectic first half the second was a bit of a slow burner. Aodh Ruadh had three changes and Killybegs lost a player through injury. The first few scores went the way of Killybegs and then with Aodh Ruadh breaking through a strong defensive screen Elaine Dorrian scored a fine goal to make it 1-3 to 1-10. However, three minutes later Killybegs struck back with a goal of their own to keep them arm's length from the chasing Ballyshannon side. The full time score was Aodh Ruadh 1-5 Killybegs 2-11. Best for Aodh Ruadh was Orlaith Gillespie in goals who pulled off some great saves. Up front Anna Rafferty, Mary Flora Scott and Áine Gilmore who covered every blade of grass. The team's next outing is the long trip to take on Saint Michael's in Dunfanaghy on Easter Monday. Senior and minor ladies training continues on Wednesday at 7.30pm.
The under 16 girls had a good run out against Derrygonnelly on Monday evening. In defence Dearbhla Hughes-O'Brien was very strong, Niamh Hughes did some good work around the middle of the pitch and up front Katie McMullin and Laoise Kelly were good outlets. Training resumes on Easter Monday.
The under 14s played Letterkenny Gaels away last Tuesday. Despite a big effort from all the girls, we met a very good and well drilled Letterkenny side and they ran out winners in the end. We were ahead by a point with 10 minutes to go, but the hosts rallied back and their determination together with a match winning performance from their free taker saw them take the victory and the points. Aodh Ruadh are at home for our third game in the league this Tuesday with a 5.30pm throw-in against Moville in Father Tierney Park. All support would be greatly welcomed.
If the first round of the under 12 mini league was played in glorious conditions the second was played in a rather less favourable set of meteorological circumstances. Once again we had two really well contested games. The Jaguars needed two late Pearl McHugh points to get the better of the Pumas. Meanwhile the Tigers prevailed against the Lions after an entertaining clash. As things stand the Tigers are on four points, the Loins and Jaguars are on two points and the Pumas are yet to get off the mark. This Saturday at 4pm is the last of the group games with the Tigers v Jaguars and Pumas v Lions. If there is a tie in places after the round robin, we will resolve it with a free kick competition. The third Saturday we will play finals and do presentations. Training as usual this Wednesday at 7pm in Páirc Aoidh Ruaidh.
Training for under 10s continues this Wednesday from 6pm to 7pm at Páirc Aoidh Ruaidh [Munday's field].
Under 8 girls training continues this Wednesday at 5.45pm in Páirc Aoidh Ruaidh [Munday's field].
A reminder that there will be no under 6 girls training on Good Friday.
Good luck to Megan Kane and the under 14 Donegal girls on Saturday when they contest the Ulster final on Saturday against Armagh in Lurgan.
Hurling
Aodh Ruadh returned to competitive adult hurling in fine style with a convincing 4-17 to 1-6 win over Omagh Saint Enda's on Friday evening. The team will be looking to continue their good run of form in the Junior Hurling League going when they make the trip to Inishowen this Easter Saturday to take on Carndonagh. Throw-in down it Carn is at 6.30pm.
Last Thursday saw our minors claim their first win of the season after a great battle with Burt in Father Tierney Park. Victories over Burt are rare for Aodh Ruadh and this was one to be savoured as our young team ran out winners on a 3-16 to 2-8 scoreline. The lads have another tough game this Thursday at home to a strong Setanta team.
The under 14s traveled to Ballybofey and had a comfortable victory over MacCumhaill's. Thanks to the parents who drove the lads to the game. The under 14s have a busy week ahead. On Tuesday they are at home to neighbours Four Masters and on Thursday they head for Letterkenny to take on table toppers Saint Eunan's.
Underage hurling training continues on Sunday for all teams at 12 noon.
OsKaRs
There is a Texas Hold 'em Poker night in McGinley's bar on Good Friday at 9pm Tickets are €30 with buy backs and top ups available. There is also a raffle on the night with mega prizes to be won.
Booked games
Booked games for the coming week are as follows.
Tuesday
Father Tierney Park, 5.30pm
Under 14 ladies football - Aodh Ruadh v Moville
Father Tierney Park, 7pm
Under 14 hurling - Aodh Ruadh v Four Masters
Wednesday
Father Tierney Park, 6.45pm
Under 16 football championship - Aodh Ruadh v Termon
Thursday
Father Tierney Park, 7pm
Minor hurling league - Aodh Ruadh v Setanta
Friday
Father Tierney Park, 5pm
Division 2 Reserve Football League - Aodh Ruadh v Saint Naul's
Father Tierney Park, 6.30pm
Division 2 Football League - Aodh Ruadh v Saint Naul's
Páirc Aoidh Ruaidh, 6.30pm
Under 12 Football League - Aodh Ruadh v Four Masters
Saturday
Páirc Aoidh Ruaidh, 9.30am to 2.30pm
Football Skills Event
Páirc Aoidh Ruaidh, 4pm
Under 12 Ladies Football League
Easter Camp
Aodh Ruadh are hosting our annual Easter Camp from this Tuesday to Thursday 18th April. Camp runs from 10am to 2.30pm on each of the three days. The camp costs €30 per child and €50 for two children. For further information and bookings call Brian Roper on 087-6139065.
Park Committee Annual Table Quiz
This annual Park Committee table quiz takes place in Owen Roe's this Holy Thursday. There has been a lot of refurbishment works at our club buildings over the past few months and this is an important fund-raiser to meet some of the costs involved. As there is daily use of our facilities by hundreds of players across all codes in the club, this is an opportunity to help meet costs by putting in a team of four. It is always a good night as we get a lot of people coming back for Easter. Please confirm participation ASAP by texting David McLoone, Tom Daly or Conal Gallagher.
Abbey Centre Bingo
Last week's €400 bingo jackpot was won by Sarah O'Shea. The stand up game prize of €120 was won by Regina Dolan. House winners included Molly Kerrigan, Margaret Meehan, Angela Gaye, Teresa Campbell, Julie Kane, Mary B Kerrigan and Monica Quinn. There was no winner of the spring snowball so it rolls to €375 this week. We'll have our Easter Bingo this Good Friday at 9pm with an Easter Egg give away during the night! Books priced just €10.
---
Last modified: Monday, 15 April 2019 at 11:54pm

Read more in the club notes archive.