Welcome to Aodh Ruadh
Lotto
29 November 2020
2
5
7
9
10
11
There was no winner of the lotto jackpot of €5,100.
Next draw is Sunday at 7pm with a jackpot of €5,200
Lotto Rota:
- Bord na nÓg
- Juvenile Hurlers
- Senior Footballers
- Senior Hurlers
- Reserve Footballers
- Ladies

The lotto team for the McCosker's Centra on Saturday is:


Reserve Footballers.



In the lucky dip the €50 Turkey voucher winner was Aine Neilan (Kenneth Neilan), while the shop local voucher winners were Patricia Mealiffe and Deirdre Donagher Kerr.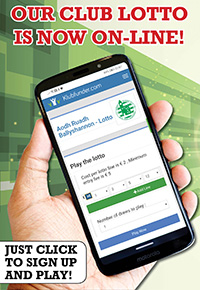 More Lotto information
---
What's new
26 September 2020
Intermediate Football Championship Final
The famine is over as classy Aodh Ruadh claim IFC title with finishing flourish


More
17 September 2020
Under 14 hurling championship final
12-year-old Corey a scoring star for well balanced Aodh Ruadh side


More
5 September 2020
Intermediate Football Championship
Sprint finish takes Aodh Ruadh into last four


More
30 August 2020
Junior Hurling Championship
Aodh Ruadh book semi spot in style


More
16 August 2020
Intermediate Football Championship
Late Cloich Cheann Fhaola surge sinks Aodh Ruadh


More
16 August 2020
Ladies Intermediate Football Championship
Ladies denied at the death by Fanad smash and grab


More
15 August 2020
Under 14 ladies Division 1 Shield Final
Extra-time heart break for brave under 14 ladies


More
1 August 2020
Intermediate Football Championship
Aodh Ruadh off to a winning start


More
19 July 2020
Intermediate ladies football championship
Ladies come up short against Naul's in championship opener


More
19 July 2020
Junior Hurling Championship
Revenge for Carn in Father Tierney Park


More
8 June 2020
Covid-19: Safe return for Gaelic Games


More
6 December 2010
Celebrating a year to remember with a night to remember at the Aodh Ruadh Dinner Dance


More
3 November 2019
Under 18 ladies football
Aodh Ruadh show true grit, but magnificent fightback falls just short


More
2 November 2019
Aodh Ruadh celebrates a year of underage football


More
26 October 2019
Under 21 football championship quarter-final
Aodh Ruadh second best in last eight clash


More
26 October 2019
Aodh Ruadh celebrates a year of underage football


More
20 October 2019
Under 18 ladies football
Historic first minor title for Aodh Ruadh ladies


More
25 July 2019
Intermediate Football Championship Group B
Brilliant Boyle drives Aodh Ruadh to victory


More
6 September 2019
Under 14 football
Aodh Ruadh take under 14 title


More
5 September 2019
Under 12 hurling
Aodh Ruadh and Gaoth Dobhair hurlers serve up a cliff-hanger


More
31 August 2019
Junior Hurling Championship
Aodh Ruadh claim Junior Hurling crown


More
25 July 2019
Senior Division 2
Aodh Ruadh burn off Glenfin with sprint finish


More
20 July 2019
Senior Division 2
Aodh Ruadh see off Four Masters with sensational second half


More
7 July 2019
Under 18 football
Decider proves a bridge to far for Aodh Ruadh


More
2 July 2019
Under 16 ladies football
Under 16 girls make it two from two


More
25 May 2019
Senior Division 2
Aodh Ruadh see off determined Termon challenge


More
6 May 2019
Under 14 hurling
Ballinascreen take Finn Larkin title back to Derry


More
3 May 2019
Junior Hurling League
Ernesiders too strong for Letterkenny Gaels


More
30 April 2019
Under 14 ladies football
Three on the trot for under 14 girls


More
19 April 2019
Senior Division 2
Good Friday for Ballyshannon as they get the better of Naul's


More
7 April 2019
Senior Division 2
Aodh Ruadh up and running with convincing win


More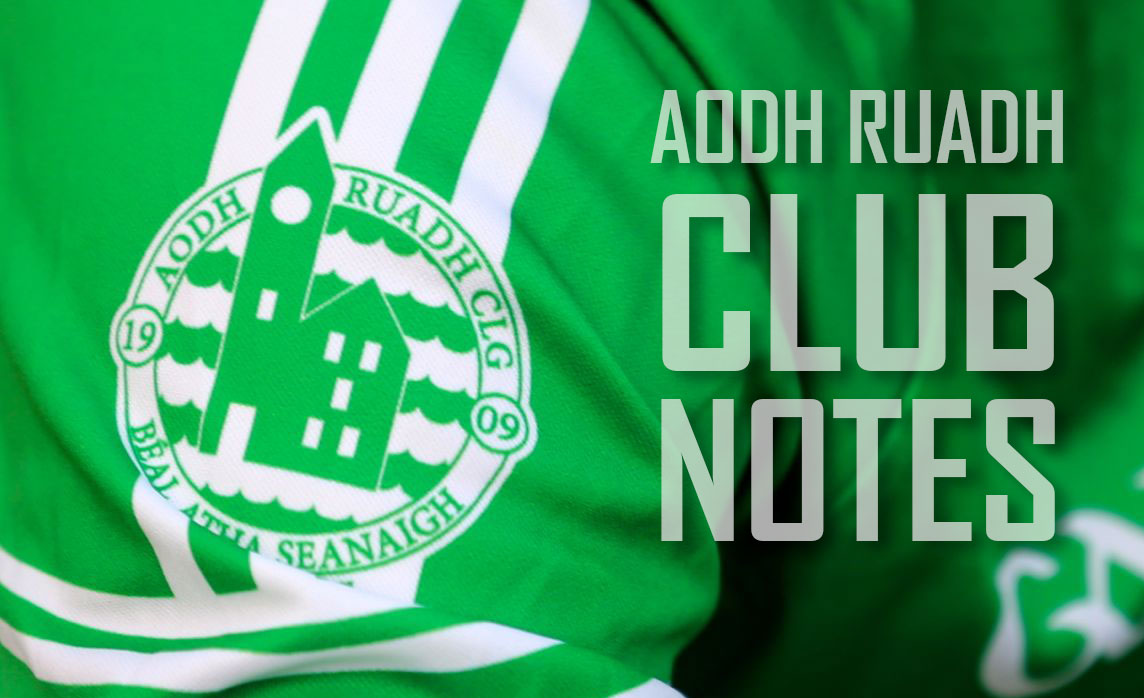 1st December 2020
Club AGM
The Aodh Ruadh AGM took place virtually on Sunday. Almost 50 logged on as we looked back on a successful 2020, crowned by our senior footballers' intermediate championship victory, and made plans for the coming season. Detailed reports were submitted by all sub-committees and these were followed by an address from club chairman William Doogan, reflecting on what had been an unusual and at times difficult season, and thanking all those who had played a role in steering the club successfully through the various challenges created by the coronavirus pandemic.
Motions were then considered. Motion one, permitting an extension of the three-year term for the club chair person was passed on to a workshop in January for further debate and consideration. Likewise, Motion two, relating to the establishment of a third adult football team was passed on to the January workshop.
The AGM then proceeded to the election of officers with the following posts being filled. Patrons: Father Ó Fearrai and Canon McGroarty; President: Owen Roe O'Neill; Vice Presidents: Peter Conlon, PJ Buggy, John Magee, Michael McLoone, Tom Gallagher, John Murphy and Alan Kane; Chairman: William Doogan; Vice-Chairman: Diarmaid Keon; Secretary: Lisa McTernan; Assistant Secretary: Vacant; Treasurer: Sabrina Brosnan; Assistant Treasurer: Vacant; PRO: John Hughes; Oifigeach na Gaeilge: Vacant; Substitute County Board Delegates: John Travers; Health and Well-being Officer: Philip McLoone; Child Protection Officer: Paul Touhy. Coaching Officer: Packie McGrath and Brian Gillespie. Also voted onto the committee on the evening were those present at the AGM, with allowance made for further members to be appointed at the January executive meeting.
Congratulations and best wishes to all those who have taken up a post for 2021. The club extends its gratitude to those outgoing officers, John Rooney, Patricia Hill, Kathleen McGarrigle and Conal Gallagher who have stepped down from posts after working hard for the club over the past season and beyond.
Ladies
The senior, minor and under 16 ladies are planning to take part in a festive 5k on Saturday, 28th December as a fundraiser for the coming season while adhering to HSE guidelines. Our ladies will doubtless get plenty of socially distanced preparation in ahead the 5K! There are even whispers that some of the coaches will put on a Santa hat and complete the 5km too, with one coach boasting that he has three marathons under his belt so it would be a walk in the park for him! Please support the ladies as generously as you can with their sponsorship cards.
Bingo is back!
We are delighted to confirm that Drive-in Bingo will return this Friday night at the back Market Yard car park, Ballyshannon. We'll continue from where we left off, so car park will be attended and books being sold from 6pm onwards for a first game start at 7pm. Books priced just €10. As the full event will run during darkness, it is advisable for players to bring additional lamps or torches for inside their cars, plus an extra layer if you don't plan on leaving your engine running for heat! Looking forward to welcoming you all back on Friday! Beep beep!
Well done David!
Big congratulations to our own David McGurrin who, after 31 hours and 12 minutes of running - plus a few sore knees and ankles, has managed to run the virtual 271.1km from Limerick to Ballyshannon. David thanks everyone for all the donations and support over the past six weeks. His fund-raiser has pulled in nearly €3,500 for Connect Mental Health, and the GoFundMe page stays live until Sunday 8th December if there's anybody who still wishes to donate to this great cause.
Premiership snowball
Last weekend saw the first weekend of game play in our Premiership Snowball competition. We had over 200 entrants, but that was quickly trimmed back after Leicester contrived to lose to Fulham on Monday evening accounting for 98 fallers, among them our secretary and our treasurer. On the upside our chairman is among the 62 entrants still standing as we head into game week two. This competition has been generously supporter by €500 in sponsorship from Colin at MR OIL MAN.
Last one standing
We had nine winners in our Last One Standing competition which was again very kindly sponsored by Liam Gallen of Mr Gs this year. The last ones standing were Niamh McGrath, Aisling and Jayden McGrath, Paul Bannon, Mike Lynch, Mark Tansey, Oisin Rooney, Diarmuid Doherty, Brendan Devane and Shane Harron. Well done all and thanks to everyone who entered the competition.
---
Last modified: Monday, 30 November 2020 at 10:50pm

Read more in the club notes archive.