Welcome to Aodh Ruadh
Club Draw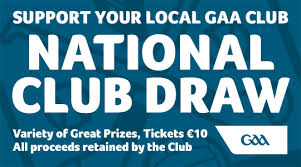 The National Club Draw is effectively three draws in one with a massive range fantastic prizes for just €10 a ticket. Prizes include a car, all-Ireland final tickets, hotel packages, shopping vouchers and many, many more.


See the full schedule of prizes.


Buy a ticket online
Lotto
10th November 2019
2
8
9
12
13
18
There was no winner of the lotto jackpot of €8,900.
Next draw is Sunday at 8.30pm in McGinley's Bar with a jackpot of €9,000
Lotto Rota:
- Reserve Footballers
- Bord na nÓg
- Senior Hurlers
- Senior Footballers
- Ladies
- Juvenile Hurlers
The lotto team for the McCosker's Centra on Saturday is:


Ladies.



In the lucky dip €20 went to KJ Graham, James O'Donnell, Cian Dolan, Margaret Gahan, and Chloe and Sophie Whoriskey.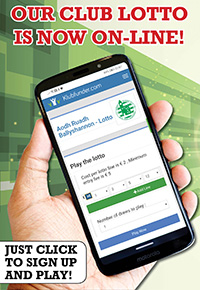 More Lotto information
---
Twitter
Tweets by @aodhruadh
What's new
3 November 2019
Under 18 ladies football
Aodh Ruadh show true grit, but magnificent fightback falls just short


More
2 November 2019
Aodh Ruadh celebrates a year of underage football


More
26 October 2019
Under 21 football championship quarter-final
Aodh Ruadh second best in last eight clash


More
26 October 2019
Aodh Ruadh celebrates a year of underage football


More
20 October 2019
Under 18 ladies football
Historic first minor title for Aodh Ruadh ladies


More
25 July 2019
Intermediate Football Championship Group B
Brilliant Boyle drives Aodh Ruadh to victory


More
6 September 2019
Under 14 football
Aodh Ruadh take under 14 title


More
5 September 2019
Under 12 hurling
Aodh Ruadh and Gaoth Dobhair hurlers serve up a cliff-hanger


More
31 August 2019
Junior Hurling Championship
Aodh Ruadh claim Junior Hurling crown


More
25 July 2019
Senior Division 2
Aodh Ruadh burn off Glenfin with sprint finish


More
20 July 2019
Senior Division 2
Aodh Ruadh see off Four Masters with sensational second half


More
7 July 2019
Under 18 football
Decider proves a bridge to far for Aodh Ruadh


More
2 July 2019
Under 16 ladies football
Under 16 girls make it two from two


More
25 May 2019
Senior Division 2
Aodh Ruadh see off determined Termon challenge


More
6 May 2019
Under 14 hurling
Ballinascreen take Finn Larkin title back to Derry


More
3 May 2019
Junior Hurling League
Ernesiders too strong for Letterkenny Gaels


More
30 April 2019
Under 14 ladies football
Three on the trot for under 14 girls


More
19 April 2019
Senior Division 2
Good Friday for Ballyshannon as they get the better of Naul's


More
7 April 2019
Senior Division 2
Aodh Ruadh up and running with convincing win


More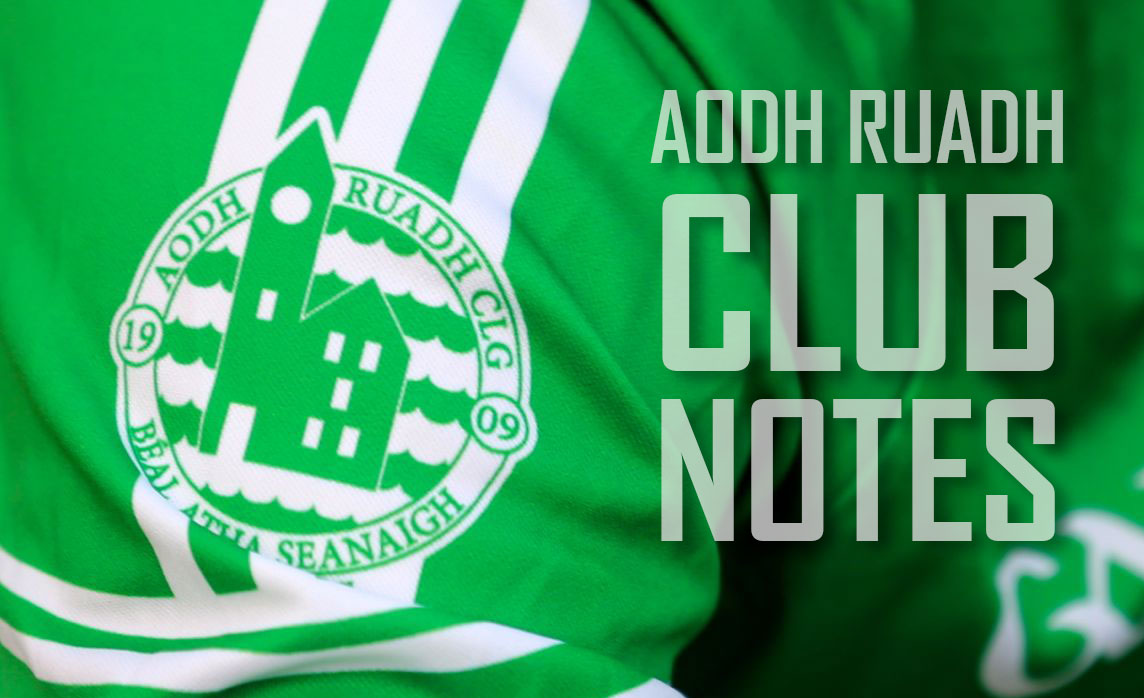 12th November 2019
Hurling
Aodh Ruadh Juvenile Hurling Committee's AGM takes place in Aras Aoidh Ruaidh at 8pm this Thursday, 14th November. We will review a busy 2019 and look ahead to 2020. All interested in underage hurling in the club are welcome and encouraged to come to this meeting.
Coaching course
The child protection and foundation coaching course due to take place on this Friday and Saturday have had to be postponed due to unforseen circumstances. However, a coaching workshop will still take place on Saturday from 10am to 1.30pm. This is open to all club coaches, those interested in getting involved in coaching, or any parent willing to help out in the year ahead. To register your interest contact Packie McGrath on 08-79794696.
Ladies
There was a healthy attendance at the Ladies AGM last Saturday evening. After a full review of activities in 2019, matters proceeded to the election of officers. The following posts were filled. Secretary, Kathleen McGarrigle; Under 8 management, Caroline McGrath and Eamonn O'Donnell; Under 12 manager, David Downey; Under 13 manager, John Hughes; Under 14 management, Sandra Sheerin, Anton McGloin and Thomas O'Brien; Under 16 management, Paul Gillespie and Sylvester Maguire; Minor and senior management, Paul Gillespie, Sylvester Maguire and Teddy Kane. The posts of under 6 manager, under 10 manager and Chairperson were not filled on the night, although 2018 appointees were to be contacted to see if they intended to continue in post. If interested in these posts please contact a member of the Ladies committee.
Club AGM
The Aodh Ruadh Club AGM takes place on Sunday 1st December in Aras Aoidh Ruaidh at 5.30pm. Club members can obtain nomination forms and motion forms by contacting club secretary Lisa McTernan. The deadline for submitting both these forms is Friday 22nd November. All committee officers are notified that the deadline for reports is also Friday, 22nd November. Any other business should be notified to Lisa by Thursday 28th November.
National and Local Draw
Tickets are currently being distributed for the annual National Club Draw. This is effectively three draws in one with fantastic prizes in all three draws for just €10 a ticket. See aodhruadh.org for full details of the prizes available. Proceeds from this draw are ring fenced to build a new playing surface on Father Tierney Park in 2020. This year marks the 65th anniversary of the opening of the ground. Our Park / Development Committee has already secured €100,000 in grant aid towards the project costs and the draw is a critical part of providing matching funding. Initially, we need as many people as possible taking one or two books of five tickets to sell. Any club member can provide tickets or contact anyone of the Draw Committee of Tom Daly, William Doogan, Conal Gallagher, Gerard Ferguson, Paul Gillespie, David McLoone, Sarah Daly, Philip McLoone and Michael Daly. For those not living locally who wish to support the Father Tierney Park project, tickets can be purchased on the Aodh Ruadh page on Klubfunder.com.
Dinner Dance
The annual club Dinner Dance will take place on Friday, 6th December. This year we will be in the Sandhouse Hotel, Rossnowlagh, proceedings getting under way at 7pm sharp. The meal will be followed our awards presentations with music by The Show Offs bringing down the curtain on the evening's festivities. Tickets, priced €25, are ONLY available online through the Aodh Ruadh page on Klubfunder.com and are strictly limited to 160, with a significant number having already been snapped up. If anyone is having difficulty with the online purchasing, they should give Lisa McTernan a call on 086-2338636. It has been a successful year for the club on a number of levels so please book early to avoid disappointment.
Abbey Centre Bingo
A hearty congratulations to Caroline Bushell of Garrison who won the €1,700 snowball at last week's bingo. That topped off a fabulous give-away night with €3,400 in prizes heading out the door. The €400 jackpot was won by Noel Cunningham of Ballyshannon. Hugo Gilmartin won the stand-up game for €150. Winners of the €100 houses included Margaret Kilmartin, Mary B Kerrigan and Kathleen Flanagan. Winners of the €70 houses included Regina Dolan, Sheena Newell, Vincent Keon and Margaret Gilmartin. Bingo returns to the Abbey Centre this Friday night at 9pm with a new snowball starting at €300 as part of an overall prize fund of €2,000. First game at 9pm, books only €10.
---
Last modified: Monday, 11 November 2019 at 10:51pm

Read more in the club notes archive.