Welcome to Aodh Ruadh
Lotto
21 February 2021
7
8
10
12
13
16
There was no winner of the lotto jackpot of €6,200.
Next draw is Sunday at 8.30pm with a jackpot of €6,300
Lotto Rota:
- Bord na nÓg
- Juvenile Hurlers
- Senior Footballers
- Senior Hurlers
- Reserve Footballers
- Ladies

The lotto team for the McCosker's Centra on Saturday is:


Senior Hurlers.



In the lucky dip prizes of €25 went to Vera Cassidy and Ita Doherty.

More Lotto information
---
What's new
29 November 2020
Chairman's Address to the 2020 Club AGM


More
29 November 2020
Secretary's Address to the 2020 Club AGM


More
26 September 2020
Intermediate Football Championship Final
The famine is over as classy Aodh Ruadh claim IFC title with finishing flourish


More
17 September 2020
Under 14 hurling championship final
12-year-old Corey a scoring star for well balanced Aodh Ruadh side


More
5 September 2020
Intermediate Football Championship
Sprint finish takes Aodh Ruadh into last four


More
30 August 2020
Junior Hurling Championship
Aodh Ruadh book semi spot in style


More
16 August 2020
Intermediate Football Championship
Late Cloich Cheann Fhaola surge sinks Aodh Ruadh


More
16 August 2020
Ladies Intermediate Football Championship
Ladies denied at the death by Fanad smash and grab


More
15 August 2020
Under 14 ladies Division 1 Shield Final
Extra-time heart break for brave under 14 ladies


More
1 August 2020
Intermediate Football Championship
Aodh Ruadh off to a winning start


More
19 July 2020
Intermediate ladies football championship
Ladies come up short against Naul's in championship opener


More
19 July 2020
Junior Hurling Championship
Revenge for Carn in Father Tierney Park


More
8 June 2020
Covid-19: Safe return for Gaelic Games


More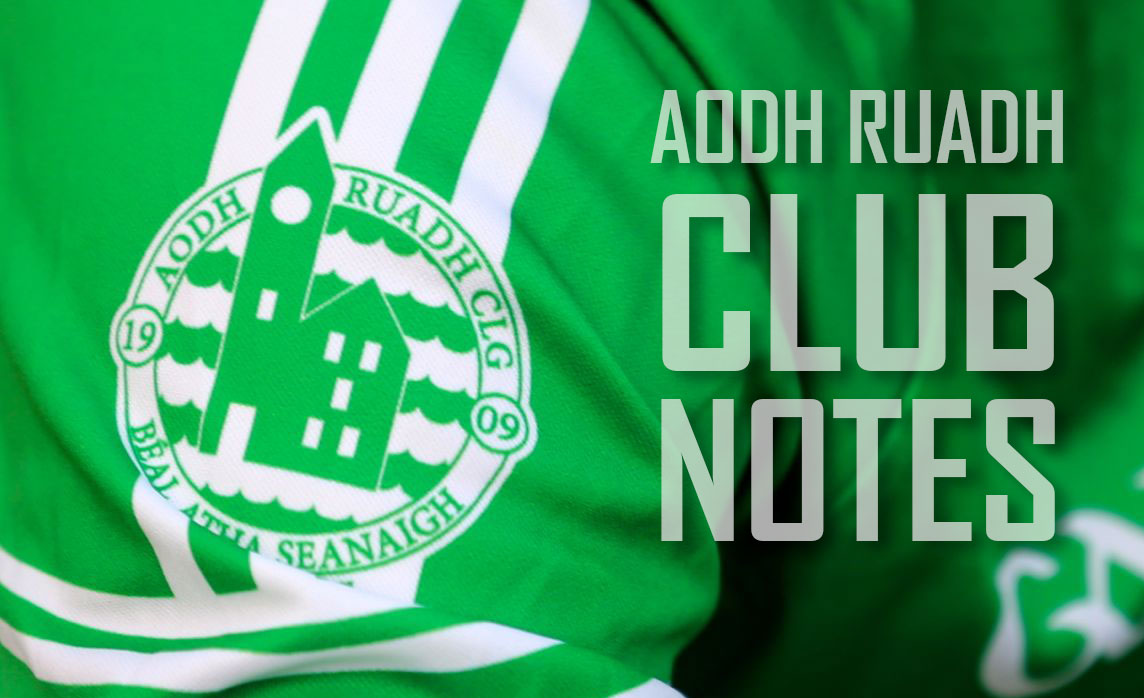 16 February 2021
Monthly club meeting
The Aodh Ruadh Monthly Club Executive Meeting will take place this Thursday at 9pm via Zoom. All committee members are asked to attend. Any committee member wishing to receive the link for the Zoom meeting should text Lisa McTernan on 085-1061456 by 3pm on Wednesday.
Garda vetting reminder
Our Children's Officer, Paul Tuohy, reminds all club members involved with the club's teams in any capacity that they must complete their Garda Vetting by the end of February in order to be permitted to undertake their role in 2021. The vetting system has now gone online and is more streamlined. It can be accessed at gaa.flowforma.com. Two forms of identification are requested during the vetting process. People can either scan and upload direct their documentation directly or they can take a picture on their phone and send this to Paul Tuohy or Lisa McTernan, who will then process this as appropriate. If you have any other issues or would like assistance, please contact an executive member of your relevant sub-committee.
Ballyshannon Bingo
Last Friday saw night two of the virtual version of Ballyshannon Bingo and I think it's fair to say we're starting to get the hang of this. We have the technical gremlins on the run now and a great crowd enjoyed a bumper night of bingo craic. Congratulations to our house winners on the night Frances Daly, Aisling Newell, Rosie Branley, Patrice Warnock, Sally Heraty, Jo Jo McNulty, Teresa McGloin, Aisling Newell and Teresa McGloin. Our €450 snowball survived and will rise to €500 next week. With numbers playing increasing we are also delighted to announce an enhanced prize pot of €2,000 for this Friday's session. Hopefully numbers playing will continue to rise and we'll be able to keep nudging the fund up further as the weeks go on.
Once again this Friday's session will be staged via Zoom so if you weren't there last week, make sure you have the Zoom app downloaded to your smart phone, tablet, laptop or computer ahead of time. You'll receive an email with your book(s) prior to the bingo. There will also be a Zoom link in that email to join the bingo on Friday. When the bingo starts, our host for the evening, David McLoone, will call out the numbers and you mark them off. Please remember to mute your microphones on Zoom as the numbers are being called. Once you have circled all the numbers in a line, unmute yourself and call, 'Check!', to stop the game. It's the same process for subsequent lines and houses.
It is best if you can print out your bingo card ahead of time and circle the numbers as they are called out. If you don't have access to a printer, Mary in A Novel Idea can print your book for a small fee. However, if you are using a smartphone or tablet, you can also take a screenshot of your bingo ticket and save it to your photos. You can then mark the numbers on your device. Our recommendation is to print the bingo card as it better replicates the real bingo experience.
One innovation with the online version of the game is that the caller will know via their interface when any card in the game has checked. This means if you have bought a book you can win even if you are not online to claim. Prizes can be claimed up to 12 noon on the Wednesday following each bingo session. Unclaimed prizes will go into the following week's prize pot.
Books are available to buy on our Klubfunder.com page right now.
Click this link to buy a SINGLE BOOK for €10.
Click this link to buy a DOUBLE BOOK for €15.
Books bought before Thursday 3pm will be emailed Thursday evening. Books bought between 3pm Thursday to 3pm Friday will be emailed Friday evening. If you have not received your book in good time prior to the bingo please check your spam folder. If you are using a work mail address, it is possible bingo mail will be caught by the company firewall. For this reason, we recommend using a personal address for your bingo.
Give the ladies a lift with your Lidl shop
Lidl have launched a club rebate initiative which offers clubs the opportunity to raise up to €20,000 by using the Lidl Plus app. It works like this. You download the app on to your mobile phone, follow the prompts, and then select the club you want to support - in our case Aodh Ruadh Atha Seannaigh. Then whenever you spend over €30 in store and scan your Lidl Plus card you earn a stamp. Spend over €60 you earn two stamps, and so on. Collect six stamps and submit your completed stamp card by Sunday, April 11th. Users can submit multiple completed stamp cards.
National Club Draw
All who have tickets sold for the National Club Draw are asked to return their ticket stubs and fees this weekend. Returns should be made directly to Tom Daly, David McLoone or Michael Daly. As we are reaching a vital stage in the process to renovate the Father Tierney Park playing surface those with remaining tickets to sell are asked to redouble their efforts over the next few weeks. Many thanks to those who have already made their returns.
The National Prize fund is underwritten by the GAA at National level, with an impressive array of prizes including a car and All-Ireland Final packages. Our Park Development Committee have put together an attractive array of prizes for a Local Draw which is also included in the €10 ticket price, with a further chance to win a cash prize in a draw at County Board level. All of these local prizes have been generously sponsored by supporters of the Father Tierney Park project from our area. Please support those who support us. Because the prizes are fully underwritten all income from the draw stays locally and helps to build the match-funding required to draw down the €100,000 grant aid already sourced by our Park / Development Committee.
We are really asking everyone in the club to 'up the ante' on this over the coming weeks, to make their returns quickly and if you haven't got a book to sell yet, contact any of the three organisers mentioned above. For those not living locally, a call or e-mail to any one of the organisers or a purchase online via our Klubfunder page is an option. Now is the time to put your shoulder to the wheel so that this ambitious project, with all that it offers for the future of our players and our games is delivered with works commencing in 2021.
Auto renew your Lotto
The online lotto has been a real lifeline for the club over the past year, and we are very grateful to all our online players. We are pleased to announce that our online lotto providers, Klubfunder.com, have now enhanced their service to allow auto renewal of lotto subscription. This means, when you pay using Stripe you will get the option to play the same line every week until you decide to stop. This will save time and effort for many of our online lotto players who play faithfully every week. Why not head along to our page on Klubfunder.com if you'd like to sign up for the auto-renew option?
Coast to Coast
The Coast to Coast challenge officially wrapped up on Sunday. There were people of all ages and fitness abilities, from different places across the globe taking part and it was a great boost to see so many pictures and accounts of people's virtual journeys. A serious effort by everyone and a huge thanks for taking part. You never know, we might see you all again next year! We know people are still waiting on gear, and we expect the last of it will be out by the end of this week.
Fitness Trail at Páirc Aoidh Ruaidh
The fitness trail at Páirc Aoidh Ruaidh continues to remain open during daylight hours. This is subject to the facility being used only for individual exercise and with appropriate observance of social distancing. There are hand sanitisers available at fixed points which must be used on entrance and exit. The club hope to maintain this facility open for as long as it is safe to do so, as it is used regularly now by many in our community. All users are asked to turn to their RIGHT when they enter the fitness trail as you should always exercise there in an anti-clockwise direction.
---
Last modified: Monday, 22 February 2021 at 7:00pm

Read more in the club notes archive.