Welcome to Aodh Ruadh
Lotto
9 May 2021
3
5
8
9
14
15
Congratulations to ROISIN GILLESPIE who won this week's lotto jackpot of €7,300. Next draw is Sunday at 8.30pm with a jackpot of €1,000
Lotto Rota:
- Bord na nÓg
- Juvenile Hurlers
- Senior Footballers
- Senior Hurlers
- Reserve Footballers
- Ladies

The lotto team for the McCosker's Centra on Saturday is:


Senior Footballers.




Play Club Lotto Online


More Lotto information
---
What's new
29 November 2020
Chairman's Address to the 2020 Club AGM


More
29 November 2020
Secretary's Address to the 2020 Club AGM


More
26 September 2020
Intermediate Football Championship Final
The famine is over as classy Aodh Ruadh claim IFC title with finishing flourish


More
17 September 2020
Under 14 hurling championship final
12-year-old Corey a scoring star for well balanced Aodh Ruadh side


More
5 September 2020
Intermediate Football Championship
Sprint finish takes Aodh Ruadh into last four


More
30 August 2020
Junior Hurling Championship
Aodh Ruadh book semi spot in style


More
16 August 2020
Intermediate Football Championship
Late Cloich Cheann Fhaola surge sinks Aodh Ruadh


More
16 August 2020
Ladies Intermediate Football Championship
Ladies denied at the death by Fanad smash and grab


More
15 August 2020
Under 14 ladies Division 1 Shield Final
Extra-time heart break for brave under 14 ladies


More
1 August 2020
Intermediate Football Championship
Aodh Ruadh off to a winning start


More
19 July 2020
Intermediate ladies football championship
Ladies come up short against Naul's in championship opener


More
19 July 2020
Junior Hurling Championship
Revenge for Carn in Father Tierney Park


More
8 June 2020
Covid-19: Safe return for Gaelic Games


More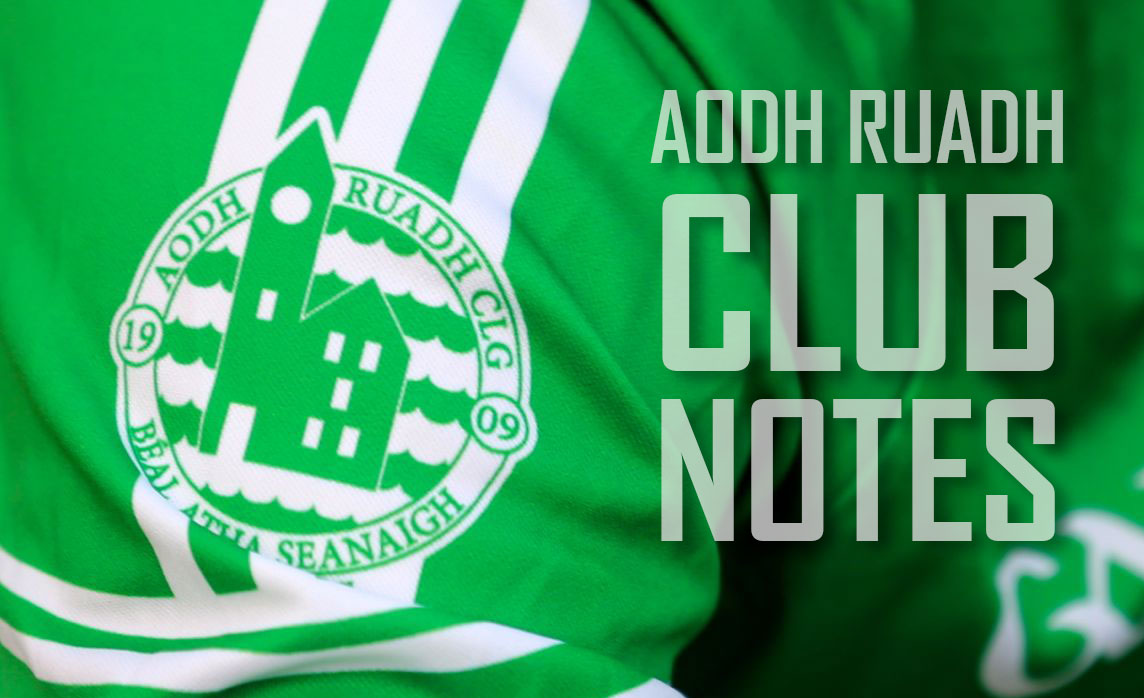 11 May 2021
Fáilte ar ais!
We would like to issue a big welcome back to our adult players as they prepare to return to on-field action. It's hard to believe our adult players haven't been able to get out on the pitch since last September, but it's a long road without a turn, and we are delighted to see our footballers, hurlers and ladies footballers lacing up the boots once again. All players, adult and underage, should have now paid their membership. The club does not permit non-members to participate in any form of on-field activity, and this includes training. Membership can be paid online at our Klubfunder page. Non-playing members should also note that they will need to have their membership paid by May 31st in order to have a vote at the club's annual general meeting, as well as to be eligible for consideration for All-Ireland final tickets should Donegal make the decider at the end of August.
Hurling
Training continues next week for our older groups at the times outlined below.
Under 13 - Tuesday, 6.15pm to 7.15pm @ Páirc Aoidh Ruaidh Top Pitch; Sunday, 10.30am to 11.30am @ Páirc Aoidh Ruaidh Top Pitch.
Under 15 - Tuesday, 6.30pm to 7.30pm @ Páirc Aoidh Ruaidh Main Pitch; Thursday, 6.15pm to 7.15pm @ Páirc Aoidh Ruaidh Top Pitch.
Under 17 - Tuesday, 5pm to 6pm @ Páirc Aoidh Ruaidh Top Pitch; Sunday, 12.45pm to 1.45pm @ Páirc Aoidh Ruaidh Top Pitch.
Sunday morning saw another great turnout for our younger hurlers, with our under 9, under 7 and under 5s all out again for their second session of the year. In total we had 50 youngsters in action and we look forward to seeing even more new faces! If any parent would like their child to join any of our younger age groups, please contact John Larkin on 086-1076883. Children born in the years 2016 will be under 5; 2015 and 2014 are under 7; And those born in 2012 and 2013 are under 9.
School sports days
It's that time of year when the schools are organising their sports days and availing of our facilities. Scoil Caitriona are in Páirc Aoidh Ruaidh from 11am to 1pm on Thursday 20th and Friday 21st May and will also use the Fitness Trail there. Other bookings can be made via Tom Daly. We can also accommodate schools in Father Tierney Park at certain times.
Ballyshannon Bingo
Yet another enjoyable night at the Ballyshannon Online Bingo with 32 different winners of the €2,200 paid out. Well done to Mark Newell winning the €500 jackpot and Mary Gregg taking the €250 mini jackpot. Our other house winners included Tracy McGlone, Ailish Ward, Denise McGlinchey, Grace Martin, Elaine McLoone, Carmel McCadden, Diane Travers and Tracey Fitzpatrick. The snowball evaded capture again so rolls to €1,100 this Friday night on 47 numbers or less. Once again we will be back broadcasting to the world from Bingo HQ via Zoom at our new time of 9pm. There will be single line, double line and house prizes on all games. If you haven't already played, you can find full details on the Ballyshannon Bingo Facebook page. Books are available to buy on our Klubfunder.com page right now. Remember, if you don't have access to a printer, Mary in A Novel Idea will be happy to print your book for a small fee.
Click this link to buy a SINGLE BOOK for €10.
Click this link to buy a DOUBLE BOOK for €15.
Please note, we have revamped the delivery schedule for Ballyshannon Bingo books as follows:
Books bought by 4pm on Wednesday will be emailed by lunchtime Thursday.
Books then bought by 8am on Friday morning will be emailed before lunchtime on Friday.
Books bought by Friday's final 4pm deadline will be emailed before 6pm on Friday.
It is very important players enter the email address they need the book to be sent to. Late changes are problematic and we cannot guarantee they will be facilitated. Look forward to seeing you all again this Friday evening!
Aodh Ruadh 2021 Golf Classic
The club are hosting a Golf Classic in Bundoran Golf Club on Friday, 11th June. Tee Times are still available, but they are now filling out fast. Book through the golf club on 071-9841302 at your earliest opportunity to be sure of your slot. Entry is €120 per team. We have eight team prizes, as well as prizes for the longest male and female drives, and nearest the pin. Up for grabs are fourballs at Ballyliffin, Murvagh and Slieve Russell; vouchers for Bundoran Golf Club and Druids Golf, four golf bags, golf shoes, golf hats, plus loads more prizes. To obtain a tee sponsorship contact William on 087-2799855.
Covid-19 Club Education eLearning Module
We ask players, parents and guardians, team mentors and indeed anyone thinking of being in the environs of a GAA pitch in the next few months to complete the GAA's online Covid-19 Club Education eLearning Module. This eLearning module aims to inform those involved with GAA, LGFA and Camogie Association clubs on their roles and responsibilities for the safe resumption of Gaelic games activities. It is particularly aimed at Covid supervisors and officers, players, team personnel, and the parents and guardians of underage players. However, anyone present at training sessions or games should complete it to gain an understanding of the Safe Return Guidelines.
---
Last modified: Friday, 14 May 2021 at 5:41pm

Read more in the club notes archive.