Welcome to Aodh Ruadh
Lotto
15th October 2017
1
7
8
9
12
17
There was no winner of the lotto jackpot of €5,000.
Next draw is Sunday at 8.30pm in McGinley's with a jackpot of €5,100
Lotto Rota:
- Reserve Footballers
- Bord na nÓg
- Senior Footballers
- Ladies
- Juvenile Hurlers
- Senior Hurlers
The lotto team for the McCosker's Centra on Saturday is:


Reserve Footballers.



In the lucky dip €20 went to Gary Melly, c/o Pat's Bar; Margaret Gahan, Tirconail Street; Vivienne McCabe, Cluain Barron; Pat Gruddy, c/o Pat's Bar; Síofra, Niamh an Sadhbh Hughes, The Mullans

More Lotto information
---
Twitter
Tweets by @aodhruadh
What's new
15 October 2017
Under 13 ladies football
Back-to-back titles for the Ballyshannon girls


More
1 October 2017
Senior Division 2
Division one, here we come!


More
1 October 2017
Senior Reserve Division 2
Reserves too hot for Malin


More
1 October 2017
Under 16 hurling
Easkey take Alan Ryan Cup as Aodh Ruadh claim the Seamus Grimes trophy


More
24 September 2017
Under 12 hurling
Keady claim Aodh Ó Dálaigh title


More
10 September 2017
Underage football
Euro-Shot Challenge 2017


More
2 September 2017
Under 14 football
Ballyshannon book semi-final spot


More
26 August 2017
Intermediate Football Championship
Aodh Ruadh ease into knock out stages


More
26 August 2017
Intermediate Reserve Football Championship
Reserves make long trip to Inishowen worth while


More
20 August 2017
Intermediate Football Championship
Patton the hero as Ernesiders prevail


More
20 August 2017
Intermediate Reserve Football Championship
Reserves take big step to knock out stages


More
19 August 2017
Under 16 football
PJ Roper trophy returns to Fermanagh


More
18 August 2017
Under 14 football
Aodh Ruadh go the extra mile to do the double


More
15 August 2017
Under 16 hurling
Ballyshannon battle to victory over Setanta


More
29 July 2017
Senior Division 2
Aodh Ruadh do it the hard way against Glen


More
29 July 2017
Senior Reserve Division 2
Reserves romp to points againt Glen


More
29 July 2017
Under 16 hurling
Donegal claim Peter O'Keefe Cup


More
17 July 2017
Under 8 / Under 10 ladies football
Summer sun smiles down for young ladies stars


More
15 July 2017
Under 10 football
Double joy for Ballyshannon at Mick Shannon tournament


More
14 July 2017
Under 14 football
Under 14s through to county semi-final


More
13 July 2017
Under 16 hurling
Gaeltacht boys get the better of Ballyshannon


More
13 July 2017
Under 16 ladies football
First league outing for under 16 ladies


More
7 July 2017
Under 14 football
Classy Aodh Ruadh claim Southern title


More
17 June 2017
Under 14 ladies football
Aodh Ruadh miss out on county crown


More
8 June 2017
Under 14 hurling
Aodh Ruadh book final place


More
6 June 2017
Under 10 ladies football
Under 10 girls enjoy Mountcharles blitz


More
3 June 2017
Senior Division 2
Reserves tough it out for victory against Ardara


More
2 June 2017
Senior Division 2
All out attack, but Aodh Ruadh come up short


More
28 May 2017
Senior Division 2
Aodh Ruadh earn tough win in the sunshine


More
28 May 2017
Senior Reserve Division 2
Reserves record fourth win on the trot


More
14 May 2017
Senior Division 2
Aodh Ruadh sweep three clear at the top with win in Glen


More
14 May 2017
Senior Reserve Division 2
Superb second half seals points for reserves


More
30 April 2017
Senior Division 2
Victory takes Aodh Ruadh top of the table


More
30 April 2017
Senior Reserve Division 2
Reserves give Fishermen blues


More
26 April 2017
Under 16 football
Naomh Ultan push Ernesiders all the way


More
23 April 2017
Senior Division 2
Aodh Ruadh crush under-strength Cloughaneely


More
21 April 2017
Senior Reserve Division 2
Reserves edge to victory over Cloughaneely


More
16 April 2017
Senior Division 2
Five star performance sees Ernesiders continue victorious


More
16 April 2017
Senior Reserve Division 2
Emphatic Glenfin eclipse reserves


More
9 April 2017
Senior Reserve Division 2
Termon too hot for reserves


More
19 March 2017
Senior Division 2
Second half grit sees Aodh Ruadh through again


More
19 March 2017
Senior Reserve Division 2
First points for reserves after win over MacCumhaill's


More
17 March 2017
Aodh Ruadh at the Saint Patrick's Day Parade


More
17 March 2017
Under 16 football
Four Masters give under 16s good test


More
12 March 2017
Senior Division 2
Perfect return to second tier for Aodh Ruadh


More
12 March 2017
Senior Reserve Division 2
Tough start for reserves in Ardara


More
24 February 2017
Under 12 football
Under 12s launch new jersey


More
21 January 2017
Celebrating a year to remember with a night to remember at the Aodh Ruadh Dinner Dance


More
7 January 2017
Cheques presented to Kickabout for Colman good causes


More
6 January 2017
Underage hurling
Galway star David Burke makes presentations at Aodh Ruadh


More
28 December 2016
Fifth annual Colman Kerr charity match raises funds for good causes


More
3 December 2016
Aodh Ruadh celebrate a year of underage football


More
18 November 2016
Nomination papers for Aodh Ruadh AGM 2016


View/Dowload
8 October 2016
Under 14/12 football
Eugene Doherty captures Bakery Cup


More
6 November 2016
Under 16 ladies football
Brave Aodh Ruadh denied by Termon


More
5 November 2016
Under 13 ladies football
Aodh Ruadh defeat gallant Downings to take county title


More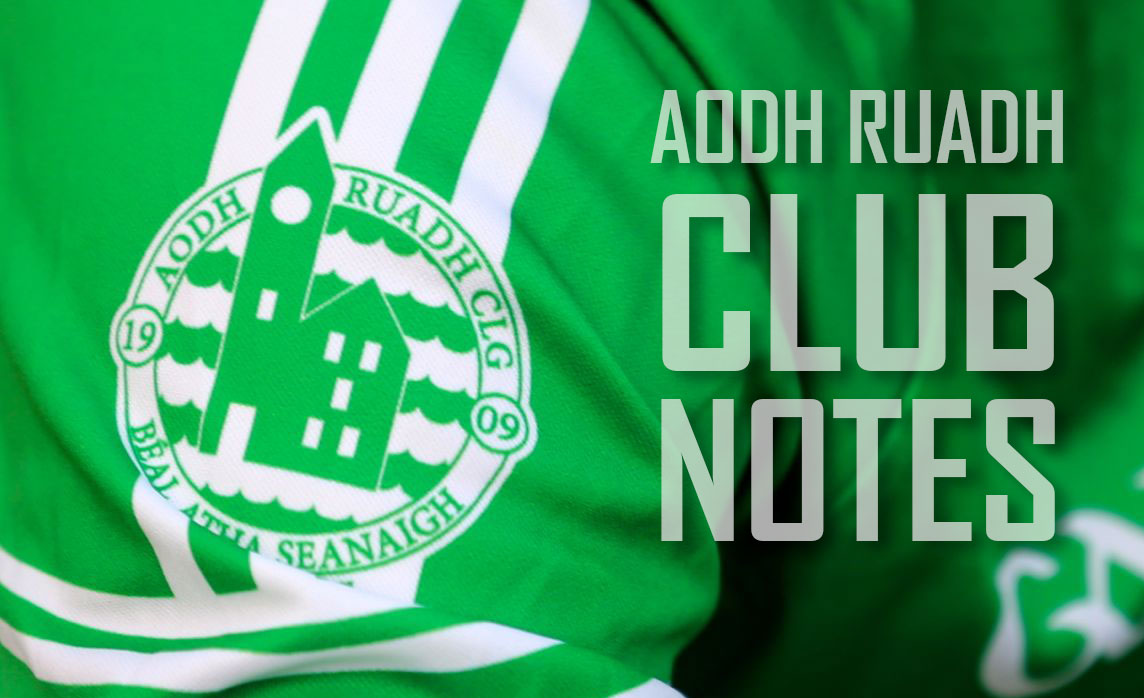 17 October 2017
Football
It's official. A second successive promotion and a second successive league title for the senior footballers of Aodh Ruadh. Cloich Cheann Fhaola needed to beat Ardara on Saturday to force the destination of the league title to a final day shoot out against Aodh Ruadh back in Falcarragh. They were up against it after Ardara went in at the break leading 1-5 to 0-2 in Pearse Memorial, however the visitors made a mighty battle of it in the second half only to come up short by the minimum, 1-7 to 1-6 the final scoreline. Well done to James O'Donnell, the back room team and every player who pulled on a senior jersey in 2017 for all their hard work over the course of the year. The town couldn't be prouder of you.
The final games of the division 2 season take place this Sunday in Cloich Cheann Fhaola. With the league decided our joust with the hosts at Páirc Naomh Fionain will be purely a celebration of football. The reserve game throws in at 1.30pm, followed by the seniors at 3pm.
Elsewhere, comhghairdeas to Anthony McGrath on his recent appointment as Donegal senior team psychologist.
The under 16s booked their place in the county B championship semi-final with a 4-10 to 2-5 victory against Glenfin on Sunday afternoon. The squad continue to develop and progress and Sunday's victory was another major step along the path. Glenfin were a solid defensive side, but the Ernesiders chipped away with early points before Eoin Doherty picked out Martin McGlynn with a divine ball and the centre forward made no mistake with a cracking shot to make it 1-4 to no score. Further goals from Cian Barden and a real beauty from Senan Rooney (He definitely meant it), saw the hosts holding the lead at the break, but coming out to face the wind in the second half. Aodh Ruadh got off the mark three minutes in with a cracking Eugene Doherty point, but after that things became more attritional. Ballyshannon continued to hold the edge though and well deserved goal for Shane Gillespie seven minutes from time followed by Shane Brady's third point shortly after proved to be the insurance scores. Elsewhere Glenswilly beat Buncrana 2-11 to 2-10 and Red Hugh's got the better of Naomh Columba 5-13 to 2-7. The last remaining quarter-final between Malin and Kilcar will be played this Sunday.
The under 13s came up short against Dungloe in their clash on Saturday evening, 3-7 to 2-6 the final score. They now have a three way tie at the top of the league with Dungloe and Ardara. The Southern Minor Board will announce arrangements on Tuesday. Details will be circulated to the team via the WhatsApp group.
Details have been confirmed for the Ballyshannon Shoe Company under 10 league. Teams are as follows.
TEAM A: Oran Gillespie (C), Garvey Meade (VC), Garreth Brennan, Killian McPhelim, Eoghan Gallagher, Fionn Hartin, Sean Maguire, Cádhla Dolan, James Gallagher, Darragh McCready, Eoghan (Blake) Gallagher, Markko Branley, Jack Gormley, Shaun McGarrigle, Eoghan McNulty.
TEAM B: Ted O'Donnell (C), Liam Doogan (VC), Corey Sheridan, Donagh Kelly, Max Roper, Stephen Doran, Patrick Reynolds, Jessica O'Mahoney, Rossa McCauley, Eoghan McCadden, Conor Grennan, Dara Vaughan, Anton Duffy, Cathal Kelly, Patrick Clarke.
TEAM C: Dara McGloin (C), Eoin Cassidy (VC), Darragh O'Mahoney, Lauren Foy, Fionn Doogan, Daithi Sheerin, Cormac Finnegan, Ben Daly, Tomas Keown, Oisin McCadden, Manus Conlan, MJ Ward, William Ryan, Aaron Reynolds, Callum O'Neill
TEAM D: Barry Campbell (C), Rian McCauley (VC), Sean O'Neill, Alan Vaughan, Joseph Gibbions,Bobby Melly, Kian Dykes, Roise Conlan, Jayden Clyne McGrath, Sam Davitt, Callum Dorrian, Anthony Duffy, Ethan Kerrigan, Joey Daly, Aaron McLoone.
Fixtures are as follows.
League games
Friday 20th October: A v B; C v D.
Monday 23rd October: A v C; B v D.
Friday 27th October: A v D; B v C.
Monday 30th October: Semi-finals - 1st place v 4th place; 2nd place v 3rd place.
Friday 3rd November: Cup Final: Winner semi-final 1 v winner semi-final 2; Plate Final: Runner up semi-final 1 v Runner up semi final 2.
Games will be played according to Go Games rules. Two touch, goals and points count the same.
Players to be up each at 6.15pm for a 6.30pm throw in and to bring €1 to cover the cost of the lights.
The Bord na nÓg AGM will take place on Tuesday 28th November. All team managers should have reports submitted to Lisa McTernan by Friday 17th November. The committee would like to take this opportunity thank the White Hotel Group for sponsoring the Euro Shot Challenge weekend away.
Ladies
Aodh Ruadh made it back-to-back under 13 county titles on a lovely afternoon for football in Burt. They did it in dominant style too, excelling in every sector of the pitch against a brave Gaeil Fhánada team. They hit the ground running with a fine early point from Aoibhínn McGarrigle. However with Gaeil Fhánada defending resolutely it took time for the scores to come. Niamh Hughes hit the net with goals in the sixth and ninth minutes. That gave Ballyshannon some breathing space, but it wasn't until the 22nd minute before the next score arrived. Once again it was Aoibhínn McGarrigle finding the range with a quality shot. Ciara Gillespie then tucked over a free before Gaeil Fhánada struck for a point. The Blues pushed hard for further scores just before half-time, but Áine Hill was alert and the defence never gave the opposition any time at all to settle on the ball.
It was 2-3 to 0-1 at the break, and there were 11 minutes gone in the second half before the next score arrived. Again it was another lovely shot from Aoibhínn McGarrigle. That was followed two minutes later by a goal for Ciara Gillespie. Lucy McGlynn raided up from centre back for a deserved point before Aoibhínn McGarrigle hit her fifth point of the day with the game into the final quarter. Niamh Hughes showed her strength to fire home her hat trick goal as Aodh Ruadh pushed for the finish. Grainne Maguire made a great run up the pitch and took a lovely left footed point before midfield warrior Emer O'Brien drew the curtain down on proceedings with a fine point.
After the game Donegal Ladies chairman Liam Skelly presented the division 1 championship trophy to Aodh Ruadh captain Caoimhe Hughes-O'Brien. Caoimhe made a great speech paying tribute to her fellow players, management, parents and sponsors. She then called for three cheers for Gaeil Fhánada. Then it was back to Ballyshannon for a beep around the town before refreshments in Aras Aoidh Ruaidh and a watch of the match video where Pearl McHugh showed Marty Morrissey would want to watch his back. A superb team performance and impossible to pick any players out for individual praise on a day when everyone stood up to the mark. The under 14 league in 2018 followed by a second crack at winning All-Ireland honours at Féile are the next targets for this special bunch of players. We have teams, pictures and the presentation video up on aodhruadh.org.
Hurling
There will be a Hurling Foundation Coaching Course on Friday 10th and Saturday 11th November in Ballybofey. The child protection course will take place on the Friday night. For underage hurling to survive in the club we need some new people to get involved in helping out with teams. Anyone interested in doing this course is asked to contact John Rooney on 086- 2587793 before Tuesday 17th October.
Celebrating 1992
The 1992 All-Ireland title winning team jubilee celebration banquet will take place in the Abbey Hotel Donegal Town on Friday October 20th. Tickets can be purchased online at donegalgaa.ie or by contacting the Donegal GAA county administrator, Noreen Doherty, at administrator.donegal@gaa.ie or by telephone 074-9190761. Tickets are also available in the Abbey Hotel Donegal town and locally from Sylvester Maguire. Proceeds from the event will go to Pieta House, Donegal Hospice and the Inishowen Flood Relief Fund.
National Draw 2019
The National Club Draw returns once again for 2019 and tickets are out now. The prizes are, as ever, spectacular. They include a new Renault Dynamique, a €2,000 travel voucher, various All-Ireland final ticket packages, and shopping vouchers ranging from €1,000 to €250 in value. To increase your chances of winning further there is also a Donegal County Board draw and an Aodh Ruadh draw for €100. Once again, Aodh Ruadh keeps 100 percent of monies raised by the club. Tickets are available from Lisa McTernan and Gerard Ferguson and committee members.
Bring and buy sale
There will be a Bring and Buy Sale in the Mercy Hall on Sunday, 12th November from 11am to 3pm. Have you some unused gifts you want to rehome? Are there things about the house you bought, but never used? Any used items you no longer need? Books piling up on shelves? Clothes you won't be wearing again? This is an excellent opportunity to declutter your home or shed and make a few pounds too. It would also be a great opening to sell seasonal produce. If you would like to hire a stall please contact Karol Foley on 086-8780164. The charge for stalls is a modest €20. Proceeds will go towards getting jerseys for under 12 girls.
Club gear
This Saturday 21st and Sunday 22nd from 1.30pm to 3.30pm Chris Kelly will be holdING a sizing session for Christmas orders in Aras Aoidh Ruaidh.
Diary dates
A few dates for your diaries. The Ladies AGM will take place in Aras Aoidh Ruaidh on Saturday 18th November at 6pm. The underage football presentation night will take place in the Abbey Centre on Saturday 25th November. The annual club dinner dance will take place on Saturday, 20th January 2019.
Abbey Centre Bingo
Last week's €400 bingo jackpot was shared by Bernie O'Shea and Vincent Keown. There was one winner of the stand up game for a €150 pot. The snowball survived another week so it rises to €625 on 49 numbers. Bingo as usual this Friday at the Abbey Centre at 9pm. Books cost just €10 with a €2,400 prize fund up for grabs.
---
Last modified: Monday, 16 October 2017 at 10:52pm

Read more in the club notes archive.