Welcome to Aodh Ruadh
2020 Aodh Ruadh registration form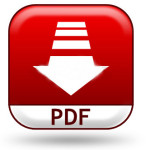 View/Download the 2020 Aodh Ruadh registration form. [100KB]
---
Club Draw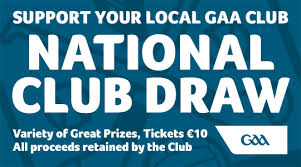 The National Club Draw is effectively three draws in one with a massive range fantastic prizes for just €10 a ticket. Prizes include a car, all-Ireland final tickets, hotel packages, shopping vouchers and many, many more.


See the full schedule of prizes.


Buy a ticket online
Lotto
23rd February 2020
1
4
10
12
14
16
There was no winner of the lotto jackpot of €1,500.
Next draw is Sunday at 8.30pm in the Bridgend Bar with a jackpot of €1,600
Lotto Rota:
- Senior Footballers
- Bord na nÓg
- Senior Hurlers
- Reserve Footballers
- Ladies
- Juvenile Hurlers
The lotto team for the McCosker's Centra on Saturday is:


Bord na nÓg.



In the lucky dip €20 went to Paul Hegarty, Joan Gallagher, Kevin O'Connor, Carmel Gillespie, and Pat Gruddy.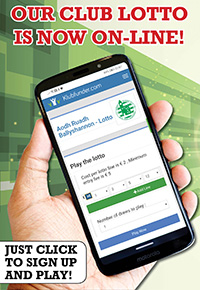 More Lotto information
---
Twitter
Tweets by @aodhruadh
What's new
6 December 2010
Celebrating a year to remember with a night to remember at the Aodh Ruadh Dinner Dance


More
3 November 2019
Under 18 ladies football
Aodh Ruadh show true grit, but magnificent fightback falls just short


More
2 November 2019
Aodh Ruadh celebrates a year of underage football


More
26 October 2019
Under 21 football championship quarter-final
Aodh Ruadh second best in last eight clash


More
26 October 2019
Aodh Ruadh celebrates a year of underage football


More
20 October 2019
Under 18 ladies football
Historic first minor title for Aodh Ruadh ladies


More
25 July 2019
Intermediate Football Championship Group B
Brilliant Boyle drives Aodh Ruadh to victory


More
6 September 2019
Under 14 football
Aodh Ruadh take under 14 title


More
5 September 2019
Under 12 hurling
Aodh Ruadh and Gaoth Dobhair hurlers serve up a cliff-hanger


More
31 August 2019
Junior Hurling Championship
Aodh Ruadh claim Junior Hurling crown


More
25 July 2019
Senior Division 2
Aodh Ruadh burn off Glenfin with sprint finish


More
20 July 2019
Senior Division 2
Aodh Ruadh see off Four Masters with sensational second half


More
7 July 2019
Under 18 football
Decider proves a bridge to far for Aodh Ruadh


More
2 July 2019
Under 16 ladies football
Under 16 girls make it two from two


More
25 May 2019
Senior Division 2
Aodh Ruadh see off determined Termon challenge


More
6 May 2019
Under 14 hurling
Ballinascreen take Finn Larkin title back to Derry


More
3 May 2019
Junior Hurling League
Ernesiders too strong for Letterkenny Gaels


More
30 April 2019
Under 14 ladies football
Three on the trot for under 14 girls


More
19 April 2019
Senior Division 2
Good Friday for Ballyshannon as they get the better of Naul's


More
7 April 2019
Senior Division 2
Aodh Ruadh up and running with convincing win


More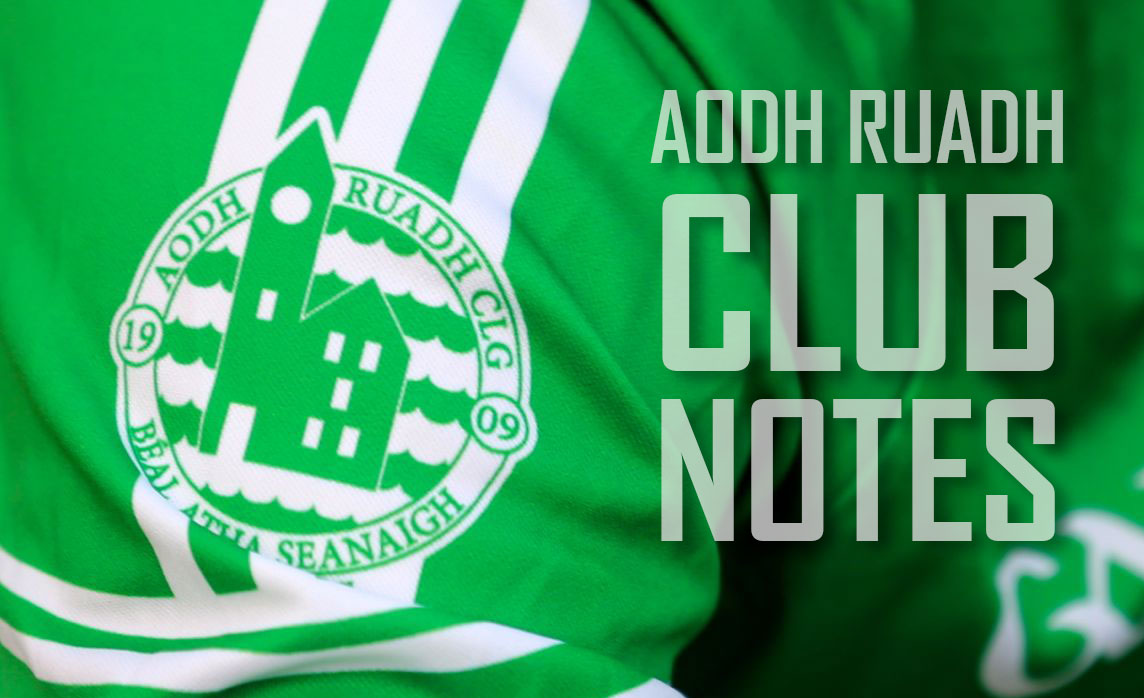 25th February 2020
Club meeting
The monthly club meeting takes place this Thursday at 9pm in Aras Aoidh Ruaidh. All committee members are asked to attend.
Football
Our under 16 and minor footballers and management travelled to Dublin last Saturday. All-in-all 33 players spent the afternoon at the GAA National Games Development Centre at Abbottstown. Making the most of the excellent facilities, and making light of the strong wind on the day, all who travelled took part in a good pitch session for a little under two hours. After their training session the players took part in a self-analysis session and identified their own areas to work on over the coming months. It was then off to Croke Park - with a detour to Krispy Kreme Doughnuts, to watch Donegal take on the All-Ireland Champions. Although the result didn't go Donegal's way it was great to be at such an entertaining game where Donegal were on top for long periods. Management would like to thank all 33 players for training exceptionally hard in the afternoon and for representing the club in the proper manner through their behaviour for the entire day. See the Aodh Ruadh CLG Facebook page for some pictures from the day's craic.
Indoor football training continues this week for under 6 boys [2014 and 2015], under 8 boys [2012 and 2013] and under 10 boys [2010 and 2011]. The under 6s are in the Mercy at Coláiste Cholmcille from 6pm to 7pm. The under 8s are in the new hall at Coláiste Cholmcille from 6pm to 7pm. The under 10s are in the new hall at Coláiste Cholmcille from 7.15pm to 8.15pm. We remind all boys to wear their academy jersey and bring their O'Neill's football with them to training. Please note, there is a €3 charge for indoor training, to cover the cost of the halls. Membership forms and fees can be returned to managers at training.
Training for under 12 boys continues on Thursday at the Breesy Centre, Cashelard at 7pm. Please note, there is a €3 charge to cover the cost of the Breesy Centre pitch.
Under 14 training continues at the Breesy Centre from 6pm to 7.15pm on Fridays. Please bring €2 to help cover pitch hire. Strength and conditioning training continues on Sundays at Pro Fitness from 1.30am to 12.30pm.
Ladies
Training continues for senior, minor and under 16 ladies in the Mercy Hall on Monday evenings from 8pm to 9pm. Players are asked to bring €2 to cover the cost of hall hire. Training also continues at Pro Fitness on Friday evenings from 8.30pm to 9.30pm.
Under 14 training continues at the Breesy Centre from 6pm to 7pm on Tuesdays. Girls should dress warmly, arrive by 5.50pm, bring their own water bottle and have €2 to help cover pitch hire.
Training for under 8s and under 10s commences this Tuesday in the Mercy Hall at Coláiste Cholmcille. The under 8 session runs from 6pm to 7pm, and is followed by the under 10 session from 7pm to 8pm. Players should bring their own water bottle and have €3 to help cover the cost of hiring the hall.
Hurling
Under 8 hurling training continues on Sunday at 12 noon in Páirc Aoidh Ruaidh (Munday's field). Under 10 hurling training commences on Sunday 8th March at 12 noon in Páirc Aoidh Ruaidh (Munday's field). All returning players and new-comers welcome. Hurls and helmets will be provided.
Mobile phone quiz night
Ballyshannon's first ever Mobile Phone Quiz Night takes place this Friday in Dicey Reilly's at 9pm. We've had a few test runs already and it looks like it's going to be brilliant craic. It's really easy to play. Just bring an Apple or Android device (Phone or tablet) and we'll talk you through it. If you want to help expedite set-up on the night, you can head along to where you usually get your apps and download and install the SpeedQuizzing Virtual Buzzer ahead of time. Entry is €5 per player. Teams of two, three, four or five. The ladies senior squad are due to attend after Friday night training so it's highly unlikely you'll finish last. Proceeds will support ladies football in the club.
National League fixture
All those available to assist with arrangements for the NFL Division 1 meeting of Donegal v Monaghan on Sunday are asked to come to Aras Aoidh Ruaidh at 8.30pm this Tuesday night for a short meeting. Key stewards should report to the Park no later than 11am on Sunday and all other helpers no later than 12 noon. As there will be a large crowd in attendance club members are asked to park away from the grounds. The Ladies NFL Division 1 fixture between Donegal and Cork which had been planned as a double header for this Sunday and has been deferred to Sunday, March 8th as Cork have back-logged games to catch up on.
Ulster Minor League
Sunday's big game is not the only county match the town will be hosting at the weekend. On Saturday Donegal will be taking on Sligo in Páirc Aoidh Ruaidh in the Ulster Minor League. Throw-in at 12 noon.
Scheduling meeting
All team managers in all codes and age groups are invited to a meeting with the officers of the Park / Development Committee this Tuesday, February 25th, at 8pm to arrange outdoor training slots for the 2020 season. Please bring changing room keys as some key exchange may be necessary.
Training facilities
All club teams are encouraged to follow the example of our senior and reserve footballers and use the fitness trail, including the 100m sprint section for pre-season training. This new facility at Páirc Aoidh Ruaidh is a valuable all weather resource, particularly during this time of year and with the persistent adverse weather we are enduring. Just short of eight laps on the track is a 5k run, and the track has distance markers to aid training individual and team programmes. Thanks to Eamonn Harvey of Tirconaill AC who supervised the marking out of the trail. The floodlit training field is reserved for club adult teams.
History made at Páirc Aoidh Ruaidh
Donegal's win over Monaghan in the Ulster under 20 Football Championship at Páirc Aoidh Ruaidh on Saturday made a bit of history with the game eventually decided on penalties, 3 to 1 in Donegal's favour. It was level at the end of normal time and after 20 minutes of extra-time the sides could still not be separated. Aodh Ruadh was asked to host this game as both MacCumhaill Park and O'Donnell Park were unplayable and Ulster GAA switched the fixture to Páirc Aoidh Ruaidh late on Wednesday. As this was a championship match we owe a debt of gratitude to our workforce at our grounds and to some of our volunteers who spent Thursday and Friday working in dreadful weather conditions to put arrangements in place.
Club registration
We ask all club members to submit their registration form and fee at their earliest convenience. To facilitate registration we have an online option on Klubfunder.com available. Click on the link or search for 'Aodh Ruadh Ballyshannon' on the Klubfunder.com site. Membership can also be paid to Gerry Ferguson at Ferguson's Jewellers. Players can also download registration forms from aodhruadh.org and submit this along with the relevant fee directly to their manager. It is essential all players are signed up club members. Non members are not covered by the GAA's injury insurance scheme and cannot line out for the club. Adult members will receive first priority for the club's allocation of All-Ireland final tickets in the event of Donegal contesting the decider. Only adult members registered by 31st March may vote at the club AGM.
Coaching workshop
We will be hosting an outdoor coaching workshop with Joe McBrearty in Páirc Aoidh Ruaidh on Saturday 7th March from 10am to 12pm. All club coaches at all levels, from under 6 and up, are invited to attend in what should be an enjoyable and informative workshop.
Scór success
Congratulations to Sylvester Maguire, Paddy Kelly, Eamonn Martin Maguire and John Hughes who won the Donegal Scór Sinsir Tráth na gCeist title on Friday evening in Ballybofey's Balor theatre. Hopefully just the first of many county titles coming to Erneside in 2020.
Drugs and alcohol education programme
The drug and alcohol education and prevention programme in partnership with Foróige for 13 to 16-year-olds will begin this Thursday. If you have not already registered your interest please contact Philip McLoone on 086-4053008, or attend on the evening. Please note, we will be requesting parents sign a consent form in advance of any minor beginning the programme. Everyone registered at the end of the first evening will be entered into a draw for a €50 Ballyshannon Shoe Company voucher. The programme will run for six weeks each Thursday from 5pm to about 6pm.
Last one standing
Kerry were the safe pick this week, Galway continued their good form with a big win over Tyrone. Not for the first time Mayo supporters were left disappointed as they lost away to Monaghan, Roscommon knocked out a lot of our entrants with a big win over Kildare. As we head for week five of our competition sponsored by Liam Gallen of Mr G's we now have 71 left standing.
Win a house
We invite our members to support Donegal GAA's house draw. You could win a four bed semi-detached home in Dublin with Club Donegal. With over 134 square metres of living space, this four bed semi-detached home is located in Brownsbarn, adjacent to Citywest. On 9th May one very lucky person will win this brand new house in our capital. Second prize in the draw is a brand new Mazda 2. Tickets, priced €100, are available to buy online now at winyourhouseindublin.com, or you can pop into the Bridgend Bar where County Chairman Mick McGrath will be more than happy to sort you out.
February Big Bingo
The February big bingo takes place this Friday at the Abbey Centre. The €1,000 super jackpot has to be won and a new Spring Snowball will be in play, starting at €300. All houses either €150 or €100, with a total of €3,000 in the prize fund. First game at 9pm.
Abbey Centre Bingo
Congratulations to Agnes Hastings of Bundoran who won the €1,000 winter snowball checking out on just 44 numbers. Hugh McNulty of Donegal Town took the €400 jackpot, with the €140 stand-up game prize going to Mary Fletcher of Sligo. A great night in all, with €2,700 paid out in prizes.
---
Last modified: Monday, 24 February 2020 at 10:38pm

Read more in the club notes archive.