Welcome to Aodh Ruadh
Lotto
28 November 2021
2
9
14
15
16
17
There was no winner of the lotto jackpot of €3,700.
Next draw is Sunday at 8.30pm with a jackpot of €3,800
Lotto Rota:
- Bord na nÓg
- Juvenile Hurlers
- Senior Footballers
- Senior Hurlers
- Reserve Footballers
- Ladies

The lotto team for the McCosker's Centra on Saturday is:


Juvenile Hurlers



In the lucky dip cash prizes of €25 went to Gary Walsh and Liam Hassett.

Play Club Lotto Online


More Lotto information
---
What's new
15 October 2021
Senior Football Championship
St Michael's prove a bridge too far


More
11 October 2021
Senior Reserve Football Championship
Ardara deny reserves at the death


More
19 September 2021
Senior Football Championship
Polished Aodh Ruadh have too much for Four Masters


More
28 August 2021
Senior Division 2
Ernesiders sign off on Division 2 in style


More
27 June 2021
ACFL Division 2
Workmanlike Aodh Ruadh see off Convoy


More
20 June 2021
ACFL Division 2
Cool, calm, controlled Aodh Ruadh make it two on the bounce


More
29 November 2020
Chairman's Address to the 2020 Club AGM


More
29 November 2020
Secretary's Address to the 2020 Club AGM


More
26 September 2020
Intermediate Football Championship Final
The famine is over as classy Aodh Ruadh claim IFC title with finishing flourish


More
17 September 2020
Under 14 hurling championship final
12-year-old Corey a scoring star for well balanced Aodh Ruadh side


More
5 September 2020
Intermediate Football Championship
Sprint finish takes Aodh Ruadh into last four


More
30 August 2020
Junior Hurling Championship
Aodh Ruadh book semi spot in style


More
16 August 2020
Intermediate Football Championship
Late Cloich Cheann Fhaola surge sinks Aodh Ruadh


More
16 August 2020
Ladies Intermediate Football Championship
Ladies denied at the death by Fanad smash and grab


More
15 August 2020
Under 14 ladies Division 1 Shield Final
Extra-time heart break for brave under 14 ladies


More
1 August 2020
Intermediate Football Championship
Aodh Ruadh off to a winning start


More
19 July 2020
Intermediate ladies football championship
Ladies come up short against Naul's in championship opener


More
19 July 2020
Junior Hurling Championship
Revenge for Carn in Father Tierney Park


More
8 June 2020
Covid-19: Safe return for Gaelic Games


More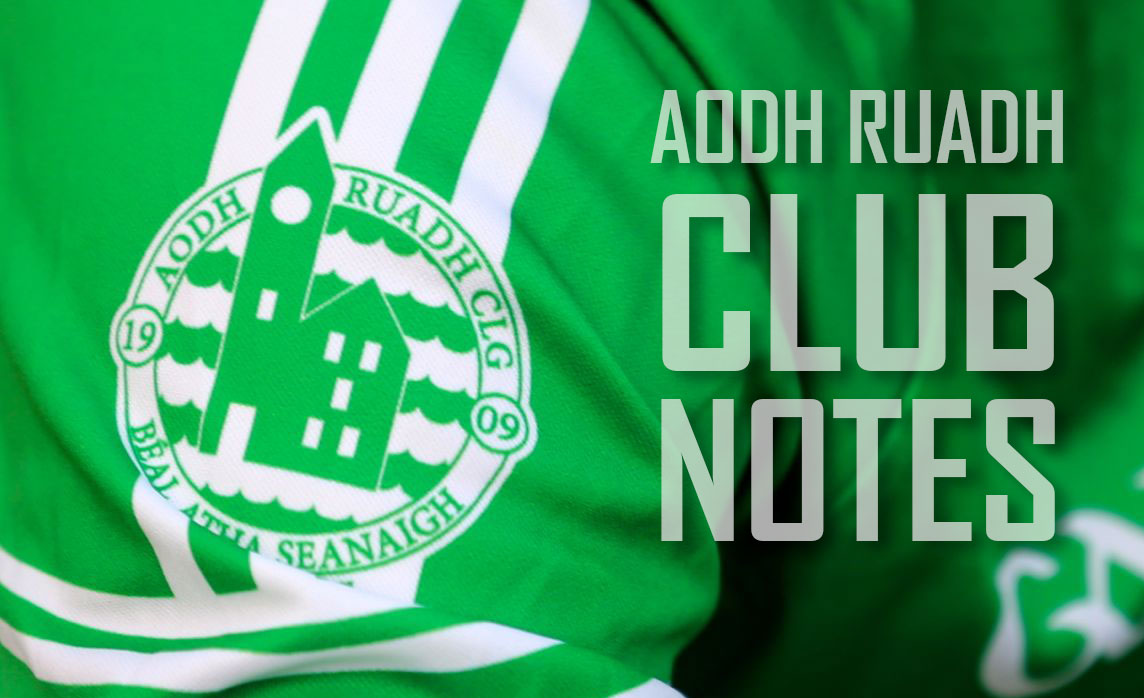 30 November 2021
Football
Aodh Ruadh came off second best in their under 21 county quarter-final against Saint Eunan's in Convoy on Sunday afternoon. The concession of two early goals were heavy blows, and any thoughts there may have been of an upset against a side liberally manned with senior panellists was snuffed out with those concessions. Aodh Ruadh found themselves 4-5 to 0-2 adrift at the break Dylan Gallagher and Cian Rooney with the points. The Ernesiders went a considerable stretch of the second half without troubling the score board while Saint Eunan's steadily extended their lead. When Cian Rooney managed to clip over some nice points in the final quarter it was just a case of playing out time, Eunan's progressing on a scoreline of 4-10 to 0-5. Colm McGloin was his side's man of the match, with a courageous display around the half back line. A good display from Aaron Cullen helped keep mitigate the scoring damage wrought by the lively Letterkenny attack, while up front Cian Rooney did well with the very limited ball which came his way.
The coming weekend will see the conclusion of the 2021 edition of the Bakery Cup competition. The Cup finals will see James Monaghan's side taking on Eoghan Doogan's outfit. Meanwhile the Shield final between Morgan McNamee and Caolan McCauley promises to be a close fought contest. Keep an eye on the club's social media output this week for fixture details and build up ahead of finals day.
Coaching Girls in Sport
The Coaching Girls in Sport workshop has been developed by Sport Ireland Coaching to provide a professional development opportunity for coaches working in the area of sport and physical activity, and is specifically aimed at those coaching girls aged between 12 and 17. This workshop series is aimed at coaches working in the area of children and youth sport. Although the workshops have been specifically designed for those working with 12 to 17-year-old females, coaches working younger girls may also benefit from attendance. Previous coaching experience is required and candidates must have a foundation level qualification at the very least to attend the course. Sport Ireland Coaching strongly recommends that candidates complete the relevant National Governing Body (NGB) qualification before they start coaching in the field. Go to the Eventbrite website and click on the green 'Tickets' button to register for these workshops. The cost of the programme is €5 plus fees. The workshops take place on Tuesday 30th November and Thursday 2nd December from 7pm to 8.30pm. Participants must attend both workshops in order to gain certification from Sport Ireland Coaching.
Sports nutrition presentation
Many thanks to sports nutritionist for an interesting and informative session on sports nutrition on Sunday afternoon. Thanks also to Packie McGrath for organising, and all who attended the event. Ronan's presentation can be viewed in our coaching corner section.
Ballyshannon Bingo
What a great night of bingo on Friday night! Huge Congratulations to Marion Matthews, winner of the €1,100 Bingo Snowball. Congrats too to Mary McGloin of Kinlough on taking €250 in the Jackpot game! Other house winners were Willie Deacon, Mary Cleary, Mary Flannelly, James Sweeney, Jude Concannon, Aoife Branley, Caroline Javed and Carrie O'Brien. Winners of the line prizes were Mary Griffin, Margaret Meehan, Mary Travers (twice!), Josie Lynch, Lisa Coughlin (twice!) Laura Griffin, Patrice Cox, Aislinn Quinn, Mary Roper, Kathleen McGee, Sally Burrows and Nyoka Walker. Free books went to Doreen Payton, Maureen Connolly, Caroline Javed and Margaret McGarrigle. Keep an eye out for our like and share competition during the week for your chance to win a free book for next week's bingo!
We're looking forward to doing it all again this Friday night at the same time of 8.30pm with a total of over €2,500 up for grabs. Be sure to follow our like and share competition during the week to be in with a chance to win free books! We will play 10 games of bingo including our snowball, jackpot and lucky numbers games. Books are now available and can be purchased up to 4.30pm on Friday. Click this link to buy a SINGLE BOOK for €10.
Click this link to buy a DOUBLE BOOK for €15.
As before, books bought by 9am Thursday morning will be emailed at lunchtime on Thursday. Books bought by 9am Friday will be emailed at Friday lunchtime. Books then bought before the 4.30pm deadline will be emailed by 6pm Friday. The Zoom invite will be circulated with your books. The Zoom call will open at 8pm with the first game starting at 8.30pm. Make sure to check your spam or junk folder if you don't think you received your books. We're looking forward to meeting you all again and thank you as always for your continued support!
Sponsor A Sod, how do to do it, and who to contact
Those with returns to make are asked to get them to Tom Daly, Michael Daly or David McLoone by Friday of this week. This will help with the administration of this important fund-raiser which is quite time-consuming. Thanks to all who have supported this venture so far and to our committed group of sellers. We encourage anyone interested in viewing the project to use the safe viewing area which we have provided for this purpose.
Aodh Ruadh have launched one of their biggest fund-raising efforts in decades, asking the public to 'Sponsor A Sod' at €50 each to help meet the costs of this ambitious plan. A permanent display bearing the names of donors will be erected in a prominent position at the Park. More than 25 Aodh Ruadh club members have joined the working group to actively promote this fund-raising campaign and to sell sods. The working group is as follows: Sabrina Brosnan, Michael Daly, Sarah Daly, Tom Daly, William Doogan, Gerard Ferguson, Conal Gallagher, Johnny 'Mannix' Gallagher, Paul Gillespie, Jim Kane, Donagh Keon, Diarmaid Keon, Patsy Kilgannon, John Larkin Jr, Dinny Loughlin, Sylvester Maguire, Brian Murray, Val Murray, Mick McGrath, Packie McGrath, Pat McGrath, David McLoone, Philip McLoone, Pauric McShea, David O'Donnell, Sean O'Mahoney, Barry O'Neill, John Patton and Gregory Sweeney.
Please contact any of the following if you wish to volunteer: Tom Daly (087-2390410), David McLoone (087-7760172), Philip McLoone (086-4053008), Conal Gallagher (086-2112812), Patsy Kilgannon (087-2372128), or Michael Daly (086-9171949).
Those living away from Ballyshannon, whether in Ireland or across the world, should note that they can purchase sods, and little bit of club immortality, on Klubfunder.com. Any questions or enquiries can be sent to aodhruadhbuyasod@gmail.com.
For further information on any aspect of the Sponsor A Sod please contact the Aodh Ruadh Park / Development Committee officers - Tom Daly (087-2390410), David McLoone (087-7760172), Philip McLoone (086-4053008), Conal Gallagher (086-2112812), Patsy Kilgannon (087-2372128), or Michael Daly (086-9171949).
RIP Michael McCafferty
The club extends our condolences to the family and friends of Michael McCafferty on his passing last Saturday. Mickey played a central role in the capture of Aodh Ruadh's last senior county hurling title in 1977, putting in a starring performance at wing back. He continued his commitment to the GAA after his playing days, refereeing across the county for number of years. Ar dheis Dé go raibh a anam uasal.
Premiership Snowball
Our Premiership Snowball rolled into match week two and after the first week bloodbath it was a rather less sanguinary few days for our competitors. Just three exited the race, leaving 126 still standing as we go into week three of the ten week event.
Christmas Market
The Creevy Community Group are having a Christmas Market on Saturday 4th December from 12pm to 4pm in the Creevy Pier Hotel. We would ask club members to come out and support this worthy cause.
---
Last modified: Monday, 29 November 2021 at 7:20pm

Read more in the club notes archive.