Welcome to Aodh Ruadh
Lotto
17 October 2021
1
5
6
9
13
16
There was no winner of the lotto jackpot of €3,100.
Next draw is Sunday at 8.30pm with a jackpot of €3,200
Lotto Rota:
- Bord na nÓg
- Juvenile Hurlers
- Senior Footballers
- Senior Hurlers
- Reserve Footballers
- Ladies

The lotto team for the McCosker's Centra on Saturday is:


Juvenile Hurlers.



In the lucky dip cash prizes of €25 went to Phena Drummond and Celine Downey.

Play Club Lotto Online


More Lotto information
---
What's new
15 October 2021
Senior Football Championship
St Michael's prove a bridge too far


More
11 October 2021
Senior Reserve Football Championship
Ardara deny reserves at the death


More
19 September 2021
Senior Football Championship
Polished Aodh Ruadh have too much for Four Masters


More
28 August 2021
Senior Division 2
Ernesiders sign off on Division 2 in style


More
27 June 2021
ACFL Division 2
Workmanlike Aodh Ruadh see off Convoy


More
20 June 2021
ACFL Division 2
Cool, calm, controlled Aodh Ruadh make it two on the bounce


More
29 November 2020
Chairman's Address to the 2020 Club AGM


More
29 November 2020
Secretary's Address to the 2020 Club AGM


More
26 September 2020
Intermediate Football Championship Final
The famine is over as classy Aodh Ruadh claim IFC title with finishing flourish


More
17 September 2020
Under 14 hurling championship final
12-year-old Corey a scoring star for well balanced Aodh Ruadh side


More
5 September 2020
Intermediate Football Championship
Sprint finish takes Aodh Ruadh into last four


More
30 August 2020
Junior Hurling Championship
Aodh Ruadh book semi spot in style


More
16 August 2020
Intermediate Football Championship
Late Cloich Cheann Fhaola surge sinks Aodh Ruadh


More
16 August 2020
Ladies Intermediate Football Championship
Ladies denied at the death by Fanad smash and grab


More
15 August 2020
Under 14 ladies Division 1 Shield Final
Extra-time heart break for brave under 14 ladies


More
1 August 2020
Intermediate Football Championship
Aodh Ruadh off to a winning start


More
19 July 2020
Intermediate ladies football championship
Ladies come up short against Naul's in championship opener


More
19 July 2020
Junior Hurling Championship
Revenge for Carn in Father Tierney Park


More
8 June 2020
Covid-19: Safe return for Gaelic Games


More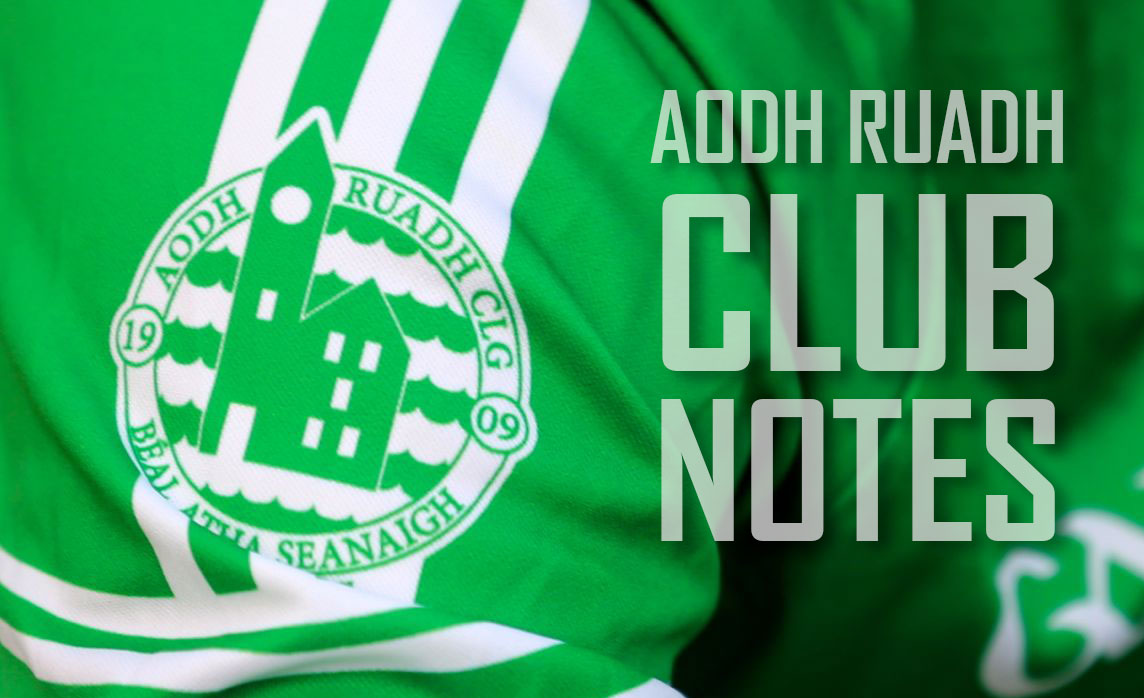 19 October 2021
Football
Aodh Ruadh exited the championship with a whimper as St Michael's dominated Friday evening's SFC quarter-final from beginning to end. Barry Ward was forced into a number of personnel shifts with Shane McGrath and David Dolan unavailable at late notice. Ballyshannon's chances took a further blow when Michael McKenna was also forced off with injury early in the game and Jason Granaghan had to sit out ten minutes on a black card. As it transpired, they were blows which St Michael's were absolutely primed to capitalise on. They hit 1-6 before Aodh Ruadh finally got off the mark on 20 minutes. Ballyshannon then had their best spell of the game to leave it at 0-5 to 1-7 at the interval, but St Michael's were about to take things up a gear. Niall Murray got the first score of the new half, but when St Michael's came back with a 1-3 salvo Aodh Ruadh were in Hail Mary territory. Aodh Ruadh did pull three points back in the run up to the second half water break, but those were cancelled out with a hammer-blow third St Michael's goal, and after that it was a matter of playing out time on a chilly night in MacCumhaill Park. It finished a sobering 3-13 to 0-10 defeat for an Aodh Ruadh side who were never afforded the opportunity to hit their stride. Mark McGlynn was Aodh Ruadh's best player on the night, wilfully carrying the fight to St Michael's. At the other end of the age spectrum Johnny Gallagher rolled back the years and gave a battling display on his introduction. In truth though, a seasoned St Michael's side were full value for their semi-final place. Despite the nature of this defeat, it has been an encouraging season for Aodh Ruadh and there will be considerable anticipation and optimism as we look forward to Division 1 and senior championship football in 2022. We thank Barry, the back-room team and the whole squad for all their efforts in 2021. We have a full match report and pictures from the quarter-final up on aodhruadh.org.
Best of luck to the Donegal Masters who are into the All-Ireland Shield Final after a 2-11 to 0-8 victory over Kildare with Dermot Slevin scoring 1-1. Kerry Ryan is also part of the squad now planning for a final date in early November.
The Bord na nÓg AGM will take place on Tuesday 2nd November. Nominations being sought for the positions of Chairperson and Secretary. These should be submitted to secretary.aodhruadh.donegal@gaa.ie by Friday, 22nd October. Anyone with items for discussion on the evening should have these submitted to Lisa McTernan by Wednesday 27th October.
Hurling
This weekend sees Aodh Ruadh taking on Dungloe / Gaoth Dobhair in the final of the Junior Hurling Championship. Date, venue and time remained to be confirmed at time of going to press, but we would urge a big showing of Ballyshannon support whenever and wherever this game is to get behind the lads as they aim to reclaim the title they last captured in 2019.
Our under 17s are gearing up for another county final, after their comprehensive victory over Saint Eunan's on Sunday in Páirc Aodh Ruadh. The action started at 2pm and our lads raced into an early lead – one they kept through-out the whole game. Saint Eunan's were a weakened outfit compared to the team that lined out in the league semi-final a couple of weeks ago, and in the end we were just too strong for the men from the Cathedral town. We have a gallery of pictures from the game up on aodhruadh.org. It was fantastic to see a large support, young and old, and we hope to see another large turn-out for their final, which is provisionally fixed Wednesday 3rd November in the Donegal Centre of Excellence in Convoy.
Our under 15s had their league final at the Centre of Excellence on a damp and drizzly Thursday evening. Playing with a strong wind, MacCumhaill's started much stronger than the Ernesiders and had built up an early lead scoring three points without reply. A goal on the 15 minute mark left us six points down going into the water break. For much of the remainder of the contest there was very little between the sides, and our boys came into the game as it wore on. We had goal chances towards the end of the first half which could have given Ballyshannon a great platform to drive on in the second half, but the MacCumhaill's defence held strong. The second half saw the Ballybofey lads hit the net again early on, and that left Aodh Ruadh with a mountain to climb. Our players fought doggedly right up to the final whistle, but unfortunately on the night, MacCumhaill's were just that little bit better. This brings the curtain down on the under 15's season, and although it wasn't the result we wanted, the players gave it their all. Thank you to the players for their commitment over the year and to the parents for all their support.
Our under 13s are continuing their training for their county final this Thursday in Convoy. On Sunday morning they had what was by all accounts a fiercely contested internal game as competition for places heats up before the final. Throw-in for their final is at 6.30pm, and as always, it would be great to see plenty of support for the team. Best of luck to the two Pauls, Mark and the whole panel.
Our under 11s completed their year on Sunday with a challenge game against Four Masters. It has been a huge positive to be able to field at this level as at the start of the year we only had one under 11 player. We now have nine under 11 players and a number of our under 9 team played alongside them. We hope to grow this number over the next 12 months with a view to making sure we are not only in a position to field in two years at under 13, but to be competitive within the county.
The Juvenile hurling AGM will be held on Monday 1st November at 8pm in Aras Aoidh Ruaidh.
Anyone who would like to get involved with underage hurling is welcome to attend and we look forward to seeing some new faces as well as the not so new!
Ladies
The final item of on-field action for the senior ladies has been scheduled for Sunday, October 31st when the team travel to Annagry to take on Naomh Muire in their last remaining league fixture.
The Ladies Football AGM will take place on Tuesday 26th October at 8pm. It is initially pencilled in for Aras Aoidh Ruaidh, but may revert to an online format should circumstances require. Details will be circulated closer to the time.
Ballyshannon Bingo is back!
We are delighted to announce that our online bingo returns this Friday night at 8.30pm. We will play 10 games of bingo including our snowball, jackpot and lucky numbers games. Books are now available and can be purchased up to 4.30pm on Friday. Click this link to buy a SINGLE BOOK for €10.
Click this link to buy a DOUBLE BOOK for €15.
As before, books bought by 9am Thursday morning will be emailed at lunchtime on Thursday. Books bought by 9am Friday will be emailed at Friday lunchtime. Books then bought before the 4.30pm deadline will be emailed by 6pm Friday. The Zoom invite will be circulated with your books. The Zoom call will open at 8pm with the first game starting at 8.30pm. Make sure to check your spam or junk folder if you don't think you received your books. We're looking forward to meeting you all again and thank you as always for your continued support!
Support the Ladies
The Aodh Ruadh Ladies are currently out and about selling tickets for the Donegal club draw. There are some great prizes up for grabs including a 55 inch smart TV, two All-Ireland 2022 football final tickets with overnight hotel stay, two All-Ireland 2022 hurling final tickets with overnight hotel stay, hotel breaks, vouchers and cash prizes. ALL returns will go to support Aodh Ruadh Ladies Football. The draw takes place on 31st October with a closing date of 25th October for returns. All support for this fund-raiser is very much appreciated. Anyone with returns can make them to Sara Gallagher, Anna Rafferty, Amanda Mahon or Sarah Daly.
Heart Screening session
Aodh Ruadh will be staging a heart screening service on Sunday, 7th November. Healthy Hearts / Healthy Lives, a company operated by Crossmaglen star and cardiologist Tony McEntee, will be on site for the day. This service is available to players and members aged between 14 to 35. Please note, the minimum age of 14 is strictly enforced. The screening involves a questionnaire, an electrocardiogram (ECG), and a review by a cardiac consultant. Should further examinations or investigations be required Healthy Hearts / Healthy Lives will arrange for this. The aim of the screening is to detect any cardiac abnormalities. These can often be entirely symptomless. Most sporting organisations recommend periodic heart screenings. These screenings can be availed of at a club-subsidised rate of €50 per person.
AGM Season
The Annual General Meeting (AGM) of the Aodh Ruadh club has been set for Sunday, 21st November. Nomination papers and motion forms have been circulated and should be returned by Friday 29th October.
Father Tierney Park redevelopment
Those with returns to make are asked to get them to Tom Daly, Michael Daly or David McLoone by Friday of this week. This will help with the administration of this important fund-raiser which is quite time-consuming. Thanks to all who have supported this venture so far and to our committed group of sellers. We encourage anyone interested in viewing the project to use the safe viewing area which we have provided for this purpose.
Sponsor A Sod. How do to do it and who to contact
To fund the development at Father Tierney Park, Aodh Ruadh have launched one of their biggest fund-raising efforts in decades, asking the public to 'Sponsor A Sod' at €50 each to help meet the costs of this ambitious plan. A permanent display bearing the names of donors will be erected in a prominent position at the Park. More than 25 Aodh Ruadh club members have joined the working group to actively promote this fund-raising campaign and to sell sods. The working group is as follows: Sabrina Brosnan, Michael Daly, Sarah Daly, Tom Daly, William Doogan, Gerard Ferguson, Conal Gallagher, Johnny 'Mannix' Gallagher, Paul Gillespie, Jim Kane, Donagh Keon, Diarmaid Keon, Patsy Kilgannon, John Larkin Jr, Dinny Loughlin, Sylvester Maguire, Brian Murray, Val Murray, Mick McGrath, Packie McGrath, Pat McGrath, David McLoone, Philip McLoone, Pauric McShea, David O'Donnell, Sean O'Mahoney, Barry O'Neill, John Patton and Gregory Sweeney.
Please contact any of the following if you wish to volunteer: Tom Daly (087-2390410), David McLoone (087-7760172), Philip McLoone (086-4053008), Conal Gallagher (086-2112812), Patsy Kilgannon (087-2372128), or Michael Daly (086-9171949).
Those living away from Ballyshannon, whether in Ireland or across the world, should note that they can purchase sods, and little bit of club immortality, on Klubfunder.com. Any questions or enquiries can be sent to aodhruadhbuyasod@gmail.com.
For further information on any aspect of the Sponsor A Sod please contact the Aodh Ruadh Park / Development Committee officers - Tom Daly (087-2390410), David McLoone (087-7760172), Philip McLoone (086-4053008), Conal Gallagher (086-2112812), Patsy Kilgannon (087-2372128), or Michael Daly (086-9171949).
---
Last modified: Monday, 18 October 2021 at 9:46pm

Read more in the club notes archive.