Welcome to Aodh Ruadh
Lotto
17 September 2023
4
8
9
10
14
15
There was no winner of the lotto jackpot of €10,000.
Next draw is Sunday in The Bridgend at 8.30pm with a jackpot of €10,000
Lotto Rota:
- Bord na nÓg
- Juvenile Hurlers
- Senior Footballers
- Senior Hurlers
- Reserve Footballers
- Ladies
- Camogie

The lotto team for the McCosker's Centra on Saturday is:


Camogie



In the lucky dip cash prizes of €20 went to Fiona O'Shea, John Donagher, Anthony Reynolds, Fiona O'Doherty and Conor and Jessica O'Mahoney.

Play Club Lotto Online


More Lotto information.
---
What's new
15 October 2021
Senior Football Championship
St Michael's prove a bridge too far


More
11 October 2021
Senior Reserve Football Championship
Ardara deny reserves at the death


More
19 September 2021
Senior Football Championship
Polished Aodh Ruadh have too much for Four Masters


More
28 August 2021
Senior Division 2
Ernesiders sign off on Division 2 in style


More
27 June 2021
ACFL Division 2
Workmanlike Aodh Ruadh see off Convoy


More
20 June 2021
ACFL Division 2
Cool, calm, controlled Aodh Ruadh make it two on the bounce


More
29 November 2020
Chairman's Address to the 2020 Club AGM


More
29 November 2020
Secretary's Address to the 2020 Club AGM


More
26 September 2020
Intermediate Football Championship Final
The famine is over as classy Aodh Ruadh claim IFC title with finishing flourish


More
17 September 2020
Under 14 hurling championship final
12-year-old Corey a scoring star for well balanced Aodh Ruadh side


More
5 September 2020
Intermediate Football Championship
Sprint finish takes Aodh Ruadh into last four


More
30 August 2020
Junior Hurling Championship
Aodh Ruadh book semi spot in style


More
16 August 2020
Intermediate Football Championship
Late Cloich Cheann Fhaola surge sinks Aodh Ruadh


More
16 August 2020
Ladies Intermediate Football Championship
Ladies denied at the death by Fanad smash and grab


More
15 August 2020
Under 14 ladies Division 1 Shield Final
Extra-time heart break for brave under 14 ladies


More
1 August 2020
Intermediate Football Championship
Aodh Ruadh off to a winning start


More
19 July 2020
Intermediate ladies football championship
Ladies come up short against Naul's in championship opener


More
19 July 2020
Junior Hurling Championship
Revenge for Carn in Father Tierney Park


More
8 June 2020
Covid-19: Safe return for Gaelic Games


More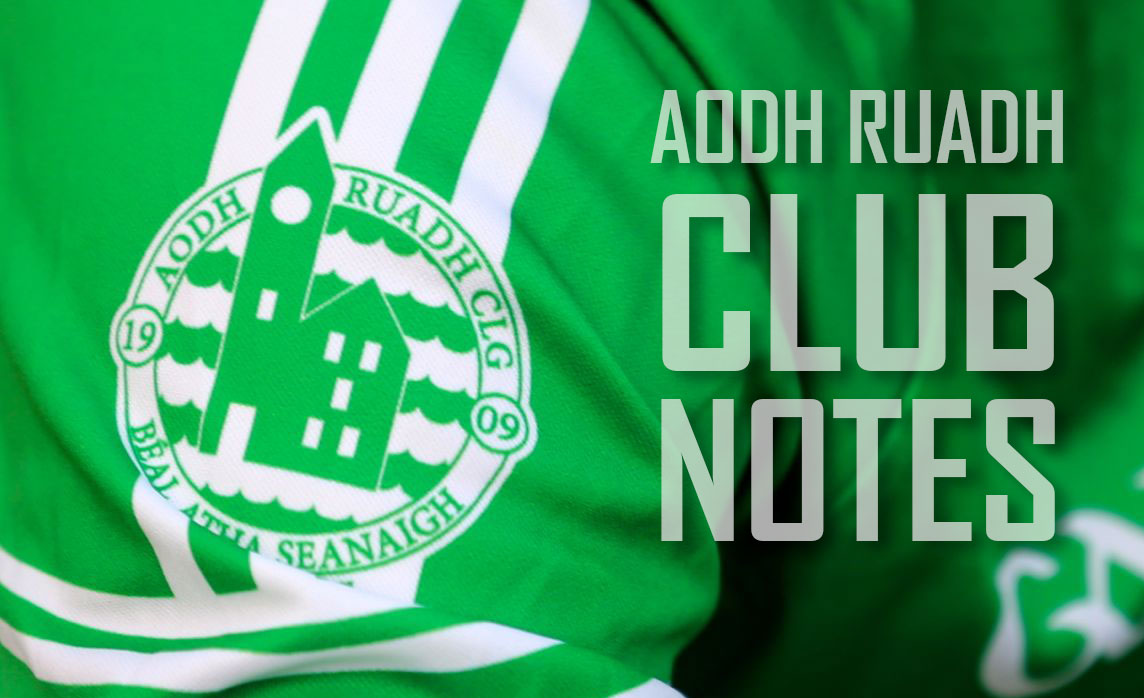 19 September 2023
Football
Our seniors are hard at work on the training field at the moment as they prepare for their championship quarter-final. In the mean-time the reserves are awaiting word on their preliminary quarter-final opponents this coming weekend. We'll have the details up on our social media output when these are released.
The Aodh Ruadh minors put in a powerful performance against Saint Naul's on Monday evening to seal their place in the Division 2 Championship Shield Final. The sides had met twice previously this season with the record reading one win apiece. The Ballyshannon lads got off to a flier in this one with Tommy Clyne firing over a fine effort before Barry Campbell tapped over a free. The Ernesiders then got a big shot in the arm when MJ Ward picked out Liam Doogan with a peach of a pass and Doogan let fly with a rasper which nearly took the net off the posts. Barry Campbell added a point from play before Saint Naul's opened their account in the seventh minute. The hosts quickly added a second, but that good work was undone when Eoin Cassidy was allowed to tap home Aodh Ruadh's second goal in the tenth minute. There was an extended stoppage for a bad injury to a Saint Naul's player at that point and we wish the player all the best for full and speedy recovery. On the resumption the sides went score for score with Garvey Meade, James Monaghan and Barry Campbell on the mark as Aodh Ruadh took a 2-6 to 0-7 advantage in at the break. Ballyshannon had a strong start to the second half with MJ Ward and Eoin Cassidy registering before Saint Naul's struck back with a free. The hosts continued to hang in in the contest up to the 40th minute, with scores from Eoin Cassidy and Oran Gillespie being answered in kind. However they were unable to add to their tally from there on, and with MJ Ward, Barry Campbell (2), James Monaghan and Eoin Cassidy (2) all raising white flags Aodh Ruadh convincingly booked their place in the final. There was a lot of good football from the Ballyshannon lads, with some slick passing moves and quality shooting on show. The defence was very disciplined and effective with Corey Sheridan keeping things well organised, Rian McCauley strong under the high ball and James Ward providing great cover further out the pitch. Around the centre of the pitch James Monaghan and Tommy Clyne, Ted O'Donnell got on a lot of ball and made great use of it. Up front MJ Ward and Barry Campbell were immensely creative, with a great spread of scorers on show for the Ernesiders. Aodh Ruadh will now face Malin in the decider, keep an eye on the club's social media output across the course of the week for fixture details.
The under 13 Division 1 team earned a very impressive win against Gaoth Dobhair on Wednesday night by the narrowest of margins on a scoreline of 6-14 to 6-13, which saw our boys getting their first run out on the reopened Father Tierney Park, a new pitch fitting to host such a brilliant game. This was the team's best performance of the season especially considering the heavy defeat the previous week. The winner of the encounter was never certain until the final whistle. Darragh McCready led the team by example taking some quality scores throughout, with Jack Hassett, Anthony Duffy, Manus Conlon, Dylan Cullen, Alfie McGowan and Conor McGloin all putting their names on the score sheet. Twin brothers Oisin and Micheál McGrath both had superb games, helped in a defence that also had strong showings from Iarla Hartin, Alex Kerrigan and Darragh Patton. Aodh Ruadh were trailing by a goal at half-time, a lead that extended to seven points early in the second half, but the boys weren't to be deterred pegging the Gaeltacht boys back and going two points ahead in the final minutes. Gaoth Dobhair then pressed for a goal going into injury time with the young Aodh Ruadh lads holding out, with Alistair Cian deflecting the goal effort over his crossbar in the dying seconds to hold on for well deserved win. Next up for this team is a Sunday trip to Moville with action throwing in at 3pm in the last game of the group stages of the championship.
The under 13 Division 3 team was in action on Friday night against a strong Buncrana team. A highly entertaining game saw the lads come second-best after a hard fought battle. A flying start saw Donnacha Conlon and Dara McGuinness hitting the back of the net. Buncrana clawed their way back into it to make it all square at half-time with the scoreline 2-5 to 2-5. Endless amounts of work from Ciarán McGuinness, Louis Hassett, Tom Travers and Daniel McLoone in the midfield areas provided the platform for the boys to be one point ahead going into the closing minutes. Phelim Barron, Pauric McGrath, Conor Grimes, Aiden McGurrin, Senan Ward and Peter Mulligan dealt well with pressure and throwing their bodies on the line, massively encouraging the lads to keep on going until the very end. Despite the best efforts from John McHugh and Alex Hoey and the others in the forward line, the boys fell short in the end with the final scoreline of 3-7 to 4-9 which wasn't a fair reflection of the game on balance. Next up for this team is a Friday trip to Milford in the final group game of the cup, with action throwing in at 6.30pm.
Training continues for the squad this week on Monday evening at 7pm and Wednesday at 6.30pm.
The under 11 White squad travelled to Donegal Town on Wednesday evening for their final away game of the season. The boys put in their best performance of the year in two keenly contested games. This team continues to improve on a weekly basis. The under 11 internal league began on Saturday afternoon in Páirc Aoidh Ruaidh. Six teams of nine-a-side, comprising 49 under 11s and five under 9s will play off over the next five Saturdays. Week one saw wins for Tom Travers, Donnacha Conlon and Pauric McGrath. There was very little in any of the games with the boys leaving all friendships aside over the 90 minutes. Training continues on Wednesday evening from 5.45pm to 6.45pm. The Internal League will resume on Saturday morning from 11.30am to 1pm.
Ladies
Our senior ladies season came to an end in disappointing and controversial fashion on Sunday morning. The Shamettes made the long trip down to Moville for the Senior Championship shield semi-final anticipating a tough challenge against an established senior championship team. The visitors got off to a great start though with a smart pass from Annalisa Rabbitte releasing Cáit Gillespie to find the net. Moville hit back quickly though with a green flag of their own. The homesters then added a further 2-1 over the course of the following five minutes. Aodh Ruadh dusted themselves down though and an Eimear McMahon free in the 12th minute helped settle them. Orla Keon then came through for a fine score before Terri Gallagher raised another white flag and Annalisa Rabbitte registered a deserved point. Things settled down for a spell after that before Moville hit their next score, a point in the 23rd minute. Aodh Ruadh then got a real shot in the arm four minutes later through a Gillian Dufficy shot which dropped into the net. The Blues snatched the last point of the half, but with the scores reading Moville 3-4 Aodh Ruadh 2-4 at the interval, it was still very much a case of game on. It was first blood to Aodh Ruadh when play restarted thanks to an Eimear McMahon free, but Moville responded with three points on the spin. McMahon hit two further frees to leave it at 3-7 to 2-7 with the game moving into the final quarter. Over that closing period McMahon and Moville swapped scores twice more to bring it to 3-9 playing 2-9 before the game came to a bizarre conclusion. Aodh Ruadh were pressing hard for scores in the closing stages when a Moville player collected the ball in the area and came out and charged down an Aodh Ruadh player, injuring herself in the process. This Aodh Ruadh team have had more than their fair share of charging calls against them this year so it seemed a penalty would be the clear outcome in this instance. That wasn't to be the case though. The incident occurred with at least two minutes of playing time remaining, but with treatment to the injured player continuing for an extended spell the referee elected to simply blow for full time. Obviously this was a deeply frustrating end to the game for the Aodh Ruadh girls, who have given so much for the jersey this season. It was a really gutsy performance from the Ballyshannon girls and to have the game end in the manner it did was hard to take.
Our juniors continue to prepare for their final clash with Saint Michael's or Termon II in the Junior B Championship Shield decider on Sunday 1st October.
The minor ladies faced off against Gaoth Dobhair in Father Tierney Park in the Division 2 Shield semi-final last Tuesday. It was to be prove an absorbing game of football which went right down to the wire. Gaoth Dobhair were a big strong team and well able to take their scores, but it was Aodh Ruadh who made the early running. Ciara Larkin landed a point a minute in and then Niamh Duffy and Cadhla Dolan combined in a lovely move for Emily McNamee to point. After that the visitors took over though and hit five unanswered points before a Cadhla Dolan free made it 0-3 to 0-5 on the quarter-hour mark. That was just a brief respite though as another run of four Gaoth points was punctuated only by another Dolan free in the 21st minute. The Gaeltacht girls then underlined their dominance with a goal in the 24th minute. The Shamettes did finish the half well though and two more Dolan frees left the scores reading Aodh Ruadh 0-6 Gaoth Dobhair 1-9 on the turnaround. Ballyshannon quickly set about cutting the deficit on the resumption with Faye Gillespie firing over a point and Cadhla Dolan dropping a free into the net in the first minute. The Gaeltacht girls did come back with five points in reply, but three more Dolan frees ensured Aodh Ruadh stayed in contention at 1-10 to 1-14 with 52 minutes played. The closing stages were helter skelter stuff with Dáirín Sweeny teeing up Rachel Gillespie to leave just a goal between the sides with five minutes remaining. Gaoth Dobhair promptly went up the pitch and hit the net to leave Aodh Ruadh back at square one. Not for long though as Faye Gillespie first split the post with a point before placing a lovely shot past the Gaeltacht net-minder. And when Cadhla Dolan slotted a free in the 59th minute to make it a one point game the Father Tierney terraces were in full voice. Aodh Ruadh pushed hard for the next score to tie or win the game, however the visitors were able to lift the siege though and nicked a late point to secure a 2-15 to 2-13 after a superb game of football. It was a great team performance from the Ballyshannon girls who really gave it everything they had. Unfortunately this is the end of the road for them this season, so we take this opportunity to thank the girls for all their efforts, the parents and guardians for all their support and the management team and mentors for their work all season.
The under 13 girls started their league campaign last Thursday with a trip to Pearse Memorial Park to take on Ardara. The first half was very closely fought with the Aodh Ruadh rearguard of Lexi Mai Roper, Olivia Coyle, Kate McGrath and Niamh McGrath particularly impressive. The sides turned around with the hosts holding a slight two point advantage of 0-5 to 0-3. In the second half Ardara went up a gear and found it easier to get their scores and eventually ran out 1-10 to 1-5 winners. The girls are back in action this Thursday, on home turf this time, as they entertain Killybegs at 5.30pm.
Our under 10s are back training on Monday evenings. The under 8s will also start back training this Tuesday from 5pm to 6pm in Coláiste Cholmcille. The team have a blitz in Donegal town on Saturday, 23rd September.
Hurling
Aodh Ruadh will be taking part in the under 21 hurling championship this season. We would like to invite anyone interested in joining the squad to contact Daithi Breen on 087-9287965.
The minors will finish out what has been fantastic season by hosting the Seamus Grimes / Alan Ryan tournament this Sunday, 24th September. We have seven good strong teams travelling to take part and are very much looking forward to a great day of hurling up on the Rock. Proceedings will start at 10.45am and the parents will be on hand to feed the masses.
The under 15s returned with a bang to Father Tierney Park last Thursday for the first time in over two years. These lads were the last hurlers to play in the Park before the redevelopment began and good lord, there have been some changes amongst the panel since then! Corey Sheridan led out the large panel to take on Setanta and it wasn't long before the green and white were in the lead. The lads dominated the game throughout, much to the delight of the large crowd of supporters who turned out on what was a near perfect evening for some quality hurling. The game ended on a scoreline of 4-11 to 0-7. The boys will head through the Gap this Thursday to play MacCumhaill's in county grounds in their last round match in the league. We have a gallery of shots from the game live now on aodhruadh.org.
Our under 9s had a very enjoyable morning of hurling in Donegal town on Sunday. Aodh Ruadh had 1 young hurlers lining out, and took on teams from Four Masters, MacCumhaill's and Setanta. Thanks to under 15 player Antoin Duffy, who came down to give us a helping hand on the day! Also, thanks to Danny Hayden and everyone in Four Masters for a well organised morning and for the treats for all the players! This week the boys will take part in the last all-county blitz of the season as we come to the end their hurling activity for the year.
Our under 7s were also on the road to Donegal town, taking part in a blitz with Four Masters and MacCumhaill's. Ballyshannon entered two teams, and played both the other teams as well as an Aodh Ruadh Whites vs Greens game. Thanks to Four Masters for a great morning of hurling. Sunday marked the end of the year for the under 7s, so we'd like to thank everyone who helped out this year. Well done to all the players on the massive improvements they have made over the season, and thank you to all the parents for bringing them to training and games. We look forward to 2024, and to seeing some new faces take up the sport!
Camogie
Our younger girls enjoyed joining the hurlers as they travelled to Donegal town on Sunday morning for a blitz. They all had great fun and really enjoyed testing their skills against teams from Four Masters and MacCumhaill's. Our underage girls are back training again this Sunday at 11.45am with the seniors training on Wednesday at 7.15pm.
As we work hard to spread the Camogie gospel, we would appreciate any donations of hurls and helmets that anyone might have lying about the house which are too small and need a new home. The enthusiastic young girls in our underage camogie teams would love to have them!
Scór Sinsear success
Aodh Ruadh had great success at the county Scór Sinsear finals which took place at the Letterkenny Gaels club on Sunday afternoon. In Ceol Urlise - the trad group section, the huge work put in by Sean O'Brien, Cíarde Sheerin, Lorraine O'Brien, Michael McGrath and Rionach Sheerin over the past few weeks paid off as they took the county crown. Meanwhile Paddy Kelly, Sylvester Maguire, Eamonn Martin Maguire and Peter Campbell came out on top in a keenly contested Tráth na gCeist section to retain their county title. Both teams now progress to the provincial stages.
Clothes collection
The Juvenile Hurling committee have launched their annual clothes collection fund-raiser. All bags of unwanted clothes, shoes and bags - no pillows or duvets thank you, can be dropped to North West Floors and Doors in Portnason at any point during the month of September. You can also contact Orla on 086-8035316 to arrange collection.
Monthly Executive Committee
The September Monthly meeting of the Club Executive will take place on Tuesday, 26th September at 8.30pm in Aras Aoidh Ruaidh. All committee members are asked to attend. Items for Any Other Business should be with club Secretary Lisa McTernan by 2pm on Monday, 25th September.
AGM season
Annual General Meeting season is hoving into view on the horizon. The club AGM is set to take place on Sunday, 26th November. The deadline for sub-committee AGMs is Sunday, 5th November. Following that sub-committee and officer reports should be submitted to Secretary, Lisa McTernan, by Friday 17th November. Further information on nomination and motion forms will follow in due course.
Ballyshannon Bingo
Well done to all the winners at last week's Ballyshannon Bingo on Tuesday, 12th September. Big congrats to Denis Sheerin who took home the Jackpot prize. The House winners were Patricia Downey, Kathleen Keown, Majella Gettins, Derek Gleave (with a line too), Niamh Irwin, Maureen Coughlin, Robert Peake and Marian Deacon, with Catriona Connolly taking the €100 house. The Line winners were Teresa Hannon, Margaret Gallagher, Ellen Maguire, Mary Cleary, Melinda McManus, Mary Roper, Joseph Darcy, Joseph McGowan, Mary Coughlin, James Gettins, Patricia O'Connor, Margaret Meehan and Eoin Duffy took the €50 line. Marie Gallagher scooped the Stand Up game prize of €140. The €1,000 Autumn Snowball rolls on another number this week as again we play for up to €2,800 including the €500 50/50 Jackpot and the €300 lucky numbers game. Bingo at the usual time of 8.30pm Tuesday at the Abbey Centre. Doors open 7.45pm and books cost just €10.
---
Last modified: Monday, 18 September 2023 at 10:46pm

Read more in the club notes archive.