Welcome to Aodh Ruadh
Lotto
15th October 2018
1
2
5
9
11
13
There was no winner of the lotto jackpot of €3,300.
Next draw is Sunday at 8.30pm in Pat's Bar with a jackpot of €3,400
Lotto Rota:
- Reserve Footballers
- Bord na nÓg
- Senior Footballers
- Ladies
- Juvenile Hurlers
The lotto team for the McCosker's Centra on Saturday is:


Ladies.



In the lucky dip €20 went to Danny Reynolds, c/o McGinley's; Joshua and Dearbhla Gallagher; Aising Hannigan, Beal Na Mara, The Mall; Olga Brennan, Lawne Park; and Vivian McCabe, Cluain Barron.

More Lotto information
---
Twitter
Tweets by @aodhruadh
What's new
8 July 2018
Senior Division 1
Deadlock again for Ernesiders


More
2 June 2018
Senior Division 1
Rooney gets Aodh Ruadh deserved share of the spoils


More
29 April 2018
Senior Division 1
Aodh Ruadh earn important win against Dungloe


More
28 April 2018
Under 12 ladies football
Aodh Ruadh entertain Letterkenny


More
15 April 2018
Senior Division 1
Economical Gaoth Dobhair take the spoils in Ballyshannon


More
14 April 2018
Under 8 football
Aodh Ruadh host Four Masters for blitz


More
7 April 2018
Under 12 ladies football
Aodh Ruadh girls get league off to a great start


More
1 April 2018
Senior Division 1
Late McGettigan strike snatches point from Ballyshannon


More
1 April 2018
Senior Reserve Division 1
Reserves chalk up first win of the new season


More
22 March 2018
Under 14 hurling
Aodh Ruadh hurlers get off to the perfect start against Setanta


More
17 March 2018
Aodh Ruadh at the Saint Patrick's Day Parade


More
20 January 2018
Celebrating a year to remember with a night to remember at the Aodh Ruadh Dinner Dance


More
28 December 2017
Annual Colman Kerr matches raise cash for charity


More
25 November 2016
Aodh Ruadh celebrates a year of underage football


More
25 November 2017
Great turn out for Billy Finn Memorial Concert


More
12 November 2017
Under 16 football
Aodh Ruadh do it at the death to take county title


More
10 November 2017
Under 10 football
Winter League finals bring curtain down on a successful season


More
5 November 2017
Under 21 Football
Aodh Ruadh well adrift of hungrier Naomh Conaill


More
5 November 2017
Under 16 football
Super second half sends Aodh Ruadh into championship decider


More
4 November 2017
Under 13 football
MacCumhaill's take county title


More
15 October 2017
Under 13 ladies football
Back-to-back titles for the Ballyshannon girls


More
1 October 2017
Senior Division 2
Division one, here we come!


More
1 October 2017
Senior Reserve Division 2
Reserves too hot for Malin


More
1 October 2017
Under 16 hurling
Easkey take Alan Ryan Cup as Aodh Ruadh claim the Seamus Grimes trophy


More
24 September 2017
Under 12 hurling
Keady claim Aodh Ó Dálaigh title


More
10 September 2017
Underage football
Euro-Shot Challenge 2017


More
2 September 2017
Under 14 football
Ballyshannon book semi-final spot


More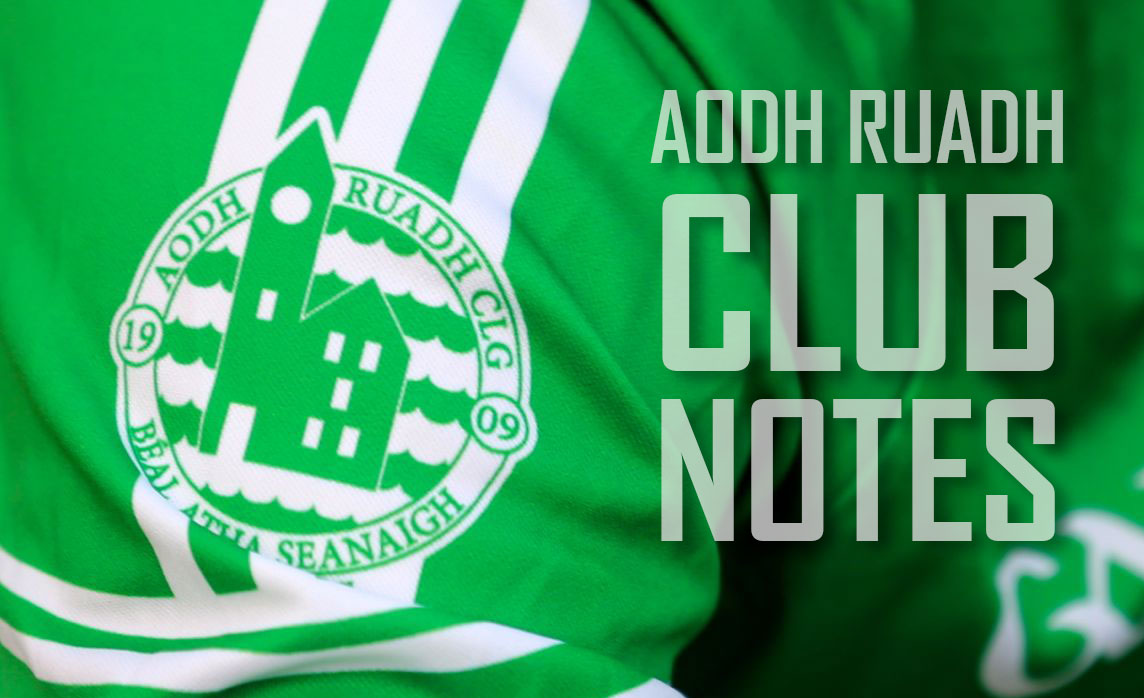 16 October 2018
Football
Sunday brought mixed emotions in MacCumhaill Park. The reserves carved out a well-deserved win against a dogged Cloughaneely side. Disappointment for the seniors though as an early Glenfin goal proved the killer score, giving them a cushion to protect as they ground their way to victory in the intermediate championship final.
In the senior decider Aodh Ruadh got off to a great start, a brave Oisin Rooney block showing we meant business. Shortly after Shane McGrath teed up David McGurrin to tap over the opener. Unfortunately that was more or less immediately followed by the key score of the game. The warning signs were there when Ciaran Brady burst through to net only to have the effort chalked off for a foul on Peter Boyle. On six minutes there were no arguments about the score, Karl McGlynn one twoing with Stephen Carr before slamming home. Having taken the lead, Glenfin's accomplished defence was going to be tough to breach. Two minutes on from the goal another costly feature was to make itself felt, as Gerard Ward sent over the first seven frees he would score. His accuracy from dead ball was a weapon Ballyshannon struggled to contain, not helped by misfiring from scoreable frees up the other end themselves. From there to the break it basically went point for point. A marvellous Conor Patton effort was answered by Gerard Ward's only score from play. A David McGurrin free put two points between the sides, but that was answered with interest by two Ward frees. Shane McGrath was again the creator for Ballyshannon as David McGurrin pointed to make it 0-4 to 1-4. The sides swapped further scores before the break, Ward with another free before good work from Jason Granaghan was matched by a superb finish from Nathan Boyle. James O'Donnell's men could fairly be said to have enjoyed the better of play in the third quarter. The problem was they just couldn't get the scores to match their dominance further out the pitch. David McGurrin landed a fine point six minutes, but that was to be the last time Aodh Ruadh troubled the score board operator for 24 minutes. In the interim Glenfin weathered the storm and restored their one goal advantage in the 43rd minute. Sticky Ward was introduced going into the last quarter, but a black card meant he lasted just two minutes before being replaced by Diarmaid McInerney. Points for Gary Dorrian, Daniel McGlynn, and the inevitable Gerard Ward helped Glenfin steadily open a two goal gap going into injury time. Diarmaid McInerney posted a late consolation point, but even that was to be erased by a Ward free to leave the final score at Aodh Ruadh 0-7 Glenfin 1-10. Players like Damien Cleary, Darren Drummond, Conor Patton, Oisin Rooney, David McGurrin, Shane McGrath and Nathan Boyle all worked hard. However Aodh Ruadh will be disappointed with this loss, knowing they didn't do themselves justice as a team on the day. Despite that, this is the sort of defeat that offers both valuable lessons and potent motivation for the future. Hopefully this group of young players can harness that and come back better and stronger for this experience. They have certainly shown they have the talent over the course of an excellent run to the intermediate decider. The Aodh Ruadh team and scorers were Peter Boyle; Johnny Gallagher, Damien Cleary, Eddie Lynch; Johnny Gethins, Darren Drummond, Jason Granaghan; Conor Patton (0-1), Eamonn McGrath; Oisin Rooney, Colm Kelly, David McGurrin (0-4, 1f); Nathan Boyle (0-1), Shane McGrath, Niall Murray. Subs: Michael 'Sticky' Ward for Murray 45m; Philip Patton for Ward (BC) 48m; Diarmuid McInerney (0-1) for Rooney 57.
Rather like senior decider, the intermediate B final was something of a slow-burner, and again, a goal was the decisive score. Aodh Ruadh went the entire first quarter without registering and by the time Dermot Slevin finally knocked over a free 16 minutes in Cloughaneely had already landed three points. Slevin landed another free two minutes later, but perhaps the key phase of play in the first 30 minutes came when Karl O'Brien made a county standard stop from a Ciaran McFadden shot on goal. As it was Cloughaneely only added another Gerard Maguire point before the interval to leave just two points in it at the turnaround, Aodh Ruadh 0-2 Cloughaneely 0-4. O'Brien's stop meant Ballyshannon were well in this game. Paddy Gillespie was a half-time sub and he made an instant impact, sending Ryan Granaghan through with a delicious pass to batter home a rasper of a goal and turn the final on its head. Two minutes later Dylan Gallagher intelligently worked his chance before curling over. Cloughaneely introduced Denis Boyle and a free and a score from play from him brought his side back level with the Ernesiders. As the game moved into the final quarter Dylan Gallagher backed himself with a tricky free from the right and sent over to edge Ballyshannon back in front. Then six minutes later Gallagher was fouled before dusting himself down to send over his second free of the game. The insurance score was delivered in some style, Kerry Ryan romping through the middle of the field before putting the laces through a thumping effort which sailed over the bar to make it 1-6 to 0-6. Declan McGarvey did hit a late free for Cloughaneely, but Aodh Ruadh were deserved victors on the day, only a magnificent save from Michael McGinley denying Dylan Gallagher an injury time goal. The combined efforts of Karl O'Brien and Dermot Slevin kept Ballyshannon in the game in the first half. In the second Kerry Ryan came into his own and ruled the roost around the middle. Further back Packie McGrath was clearly enjoying the robust exchanges with his opposite numbers, while at wing back Ryan O'Brien put the seal on a fine personal season with a good display in the final. Up front Dylan Gallagher manned up when it mattered, and Ryan Granaghan took his goal with real style. The Aodh Ruadh team and scorers were Karl O'Brien; Daniel Warnock, Packie McGrath, Conal Sweeny; Ryan O'Brien, Martin Gallagher, Christopher Goan; Cian Dolan, Kerry Ryan (0-1); Michael McKenna, Dermot Slevin (0-2f) Michael McNeely; Dylan Gallagher (0-3, 2f), Anthony Coughlin, Ryan Granaghan (1-0). Subs: Cian McGloin for Christopher Goan HT; Paddy Gillespie for Mickey McNeely HT; Ronan Drummond for Paddy Gillespie 57m.
Sunday's action brought the curtain down on the season for the senior and reserve teams and it's only proper to say many thanks to the management, mentors, back room team and our players for all their hard work and dedication across the course of the season.
Best of luck to the under 13 boys who take on Ardara in the divisional final on Tuesday, 16th October. The game throws in down in Ardara at 8pm and we'd like to see a good crowd making it down to get behind the lads.
Monday night saw the last of the Ballyshannon Shoe Company under 10 Winter League group stage games being played. Tomás Keown's team really stepped up in their game, but in the end they lost out to Jayden McGrath Clyne's team by two points. The game between Bobby Melly and Joe Gibbion's teams was a great contest with Joe's team leading by six points to three at half-time. Bobby's team out-scored Joe's team by seven scores to five in the second half, but Joe's team took the win by the minimum. Those results mean that Tomás and Jayden's teams are into the Shield final. On the evidence of Monday's encounter it will be a really close game. Bobby and Joe's teams will meet in cup final. Only a solitary point separated the side's on Monday so Friday's decider is sizing up to be a real cracker of a game. Bobby's team made it through to the Cup final on points difference over Jayden. In terms of managers it's Cavan Paul versus Rossnowlagh Seamus in the Shield final while border fox Andy versus Inishowen Nichlos in cup final.
Ladies
A compact under 16 squad made their way to Knockmore in Mayo on Saturday morning. The anticipated tournament didn't materialise, the weather taking its toll. However the girls did get a useful challenge against Knockmore and notched up a win after a well-contested game. After the game they were well looked after with refreshments by Knockmore and all-in-all had an enjoyable trip to Mayo.
Good luck to the Coláiste Cholmcille under 16 girls as they travel to Convoy for their first schools blitz this Tuesday, 16th October.
Under 13 training continues on Wednesday from 5.30pm to 6.45pm. The big focus now is on our upcoming league for the inaugural Joe Roper Memorial Cup. There's a lot of rivalry and pride at stake, and none more than that of the coaches who will each be managing one of the teams. The match schedule will be agreed and circulated after training on Wednesday.
Lip Sync Battle
Last Friday night's Lip Sync Battle in the Great Northern was an outstanding success. It was a great craic, great entertainment, and maybe most importantly, it was a great display of community spirit. The town really came out in force to get behind this initiative of Aodh Ruadh and the Ballyshannon Musical Society. The two clubs mustered 68 enthusiastic participants to stage 12 Lip Sync performances, ranging from the Spice Girls, The Bee Gees to Destiny's Child and Michael Jackson. Their efforts were rewarded by a wonderful attendance which packed into the Great Northern for the event. Running their eye over the performances on the night were Geraldine Diver, Siobhan McGarrigle and Michael Daly, while Frankie O'Donnell entertained as MC. Every contestant put an amazing amount of work into their performances, as did the committed team of organisers and mentors from both clubs to make the night such a success. This was a major fundraiser for both societies and they are immensely grateful for the support shown by the local community, from the local businesses sponsoring the event and those who donated raffle prizes. The overall champions on the night were The Mixfits consisting of Caroline McGrath, Elaine McLoone and JoJo Warnock with their performance of Pitch Perfect, but it would be fair to say Ballyshannon was the real winner.
John's on his bike
John Rooney is doing the Borderline 500 cycle for Pieta House on Friday 26th October as part of the Pieta House Feel Good Week. The cycle starts in Omeath and tracks the border round to Muff. This is a great cause and, as we all know, John is a tireless volunteer for this club. It would be great to see plenty of support for him in this endeavour. If you want to donate, you can do so via the link on John's Facebook page. You can also keep an eye out for the sponsorship cards in the usual outlets around the town.
Abbey Centre Bingo
Last week's €400 bingo jackpot was shared by Mrs McGloin of Belleek and Teresa Campbell, Ballyshannon. The stand up game prize of €120 was shared by three winners. The snowball had no winner so rolls to €375 next week. Bingo as usual this Friday at the Abbey Centre at 9pm, books cost just €10 with €2,100 in prizes up for grabs.
---
Last modified: Tuesday, 16 October 2018 at 12:42am

Read more in the club notes archive.