Welcome to Aodh Ruadh
Lotto
9 December 2018
1
5
8
9
14
16
There was no winner of the lotto jackpot of €4,100.
Next draw is Sunday at 8.30pm in Dicey Reilly's with a jackpot of €4,200
Lotto Rota:
- Reserve Footballers
- Bord na nÓg
- Senior Footballers
- Ladies
- Juvenile Hurlers
The lotto team for the McCosker's Centra on Saturday is:


Bord na nÓg.



In the lucky dip €20 went to Maura Gallagher, Woodlands; Kathleen Lawless, Dunmuckrim; Dean Gallagher, Erne Street; Philomena McGurn, Boa Island; and Frances Daly, Kildoney.

More Lotto information
---
Twitter
Tweets by @aodhruadh
What's new
8 July 2018
Senior Division 1
Deadlock again for Ernesiders


More
2 June 2018
Senior Division 1
Rooney gets Aodh Ruadh deserved share of the spoils


More
29 April 2018
Senior Division 1
Aodh Ruadh earn important win against Dungloe


More
28 April 2018
Under 12 ladies football
Aodh Ruadh entertain Letterkenny


More
15 April 2018
Senior Division 1
Economical Gaoth Dobhair take the spoils in Ballyshannon


More
14 April 2018
Under 8 football
Aodh Ruadh host Four Masters for blitz


More
7 April 2018
Under 12 ladies football
Aodh Ruadh girls get league off to a great start


More
1 April 2018
Senior Division 1
Late McGettigan strike snatches point from Ballyshannon


More
1 April 2018
Senior Reserve Division 1
Reserves chalk up first win of the new season


More
22 March 2018
Under 14 hurling
Aodh Ruadh hurlers get off to the perfect start against Setanta


More
17 March 2018
Aodh Ruadh at the Saint Patrick's Day Parade


More
20 January 2018
Celebrating a year to remember with a night to remember at the Aodh Ruadh Dinner Dance


More
28 December 2017
Annual Colman Kerr matches raise cash for charity


More
25 November 2016
Aodh Ruadh celebrates a year of underage football


More
25 November 2017
Great turn out for Billy Finn Memorial Concert


More
12 November 2017
Under 16 football
Aodh Ruadh do it at the death to take county title


More
10 November 2017
Under 10 football
Winter League finals bring curtain down on a successful season


More
5 November 2017
Under 21 Football
Aodh Ruadh well adrift of hungrier Naomh Conaill


More
5 November 2017
Under 16 football
Super second half sends Aodh Ruadh into championship decider


More
4 November 2017
Under 13 football
MacCumhaill's take county title


More
15 October 2017
Under 13 ladies football
Back-to-back titles for the Ballyshannon girls


More
1 October 2017
Senior Division 2
Division one, here we come!


More
1 October 2017
Senior Reserve Division 2
Reserves too hot for Malin


More
1 October 2017
Under 16 hurling
Easkey take Alan Ryan Cup as Aodh Ruadh claim the Seamus Grimes trophy


More
24 September 2017
Under 12 hurling
Keady claim Aodh Ó Dálaigh title


More
10 September 2017
Underage football
Euro-Shot Challenge 2017


More
2 September 2017
Under 14 football
Ballyshannon book semi-final spot


More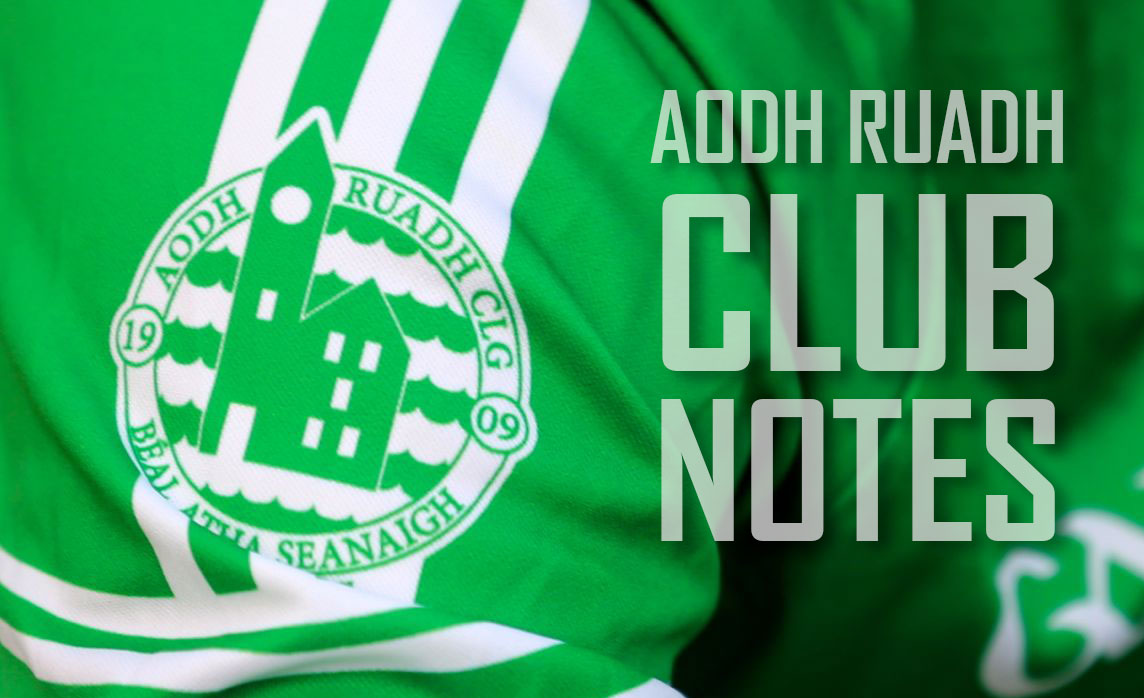 11 December 2018
National Club Draw tickets available, now with big local prizes
The club is asking all members, players, former players and supporters at home and abroad to help it maximise the sale of Club National GAA Draw tickets over the coming weeks. There is an array of wonderful prizes in the National Draw. This year they will be complimented by a fantastic array of prizes exclusively for those purchasing from Aodh Ruadh ticket sellers. Many sponsored, these include two overnight stays in a classic room and breakfast with one dinner in The Croke Park Hotel for two people; A trailer load of firewood; A pair of tickets for either 2019 hurling or football finals; Overnight and breakfast in Wellington Park Hotel, Belfast; Two tickets for the 2019 All-Ireland camogie final; A €250 his and hers hamper from Cara Pharmacy; Four tickets for the 2019 Rory Gallagher Festival; Two tickets for the 2019 All-Ireland Ladies Football Final; A White Hotel Group voucher for three nights B&B and two dinners for two people your choice of Lisdoonvarna or the Earl of Desmond, Tralee.
Tickets are €10 each with five in a book. We urgently need people to step forward and push the sale of this draw as ALL proceeds stay within the club. The funds raised will be retained to provide initial partnership funding to match the €100,000 grant aid negotiated for the provision of a new sand-based playing surface on Father Tierney Park, such a central part of GAA life in the northwest.
National Draw Committee
A meeting of the National Draw Committee will take place at 9pm this Wednesday in the Bridgend.
Football
There will be a meeting in Aras Aoidh Ruaidh on Tuesday, 11th December, at 7pm to discuss minor football for the coming season. The meeting is open to anyone eligible to play in 2019. Spread the word, the more the merrier. Contact Peter Boyle or Brian McGuinness for further information.
Juvenile Hurling
The Juvenile Hurling Committee's annual Christmas Fun Quiz takes place on Thursday 20th December in Owen Roe's starting at 9.30pm. This is always a great night's craic with lots of raffle prizes. So come along with a few friends for a great night of fun and laughter.
We're delighted to announce the launch of our annual Last One Standing competition for the upcoming National Football League. Once again Liam Gallen has come on board as our sponsor and we are very grateful for his continued support. Test out your expertise as a pundit, get your entry in and you could win €250 and the bragging rights of being the Last One Standing.
Ladies
Congratulations to Caitlin McGarrigle, Eilish Gallagher, Orla Keon and Tia McFarland who have been selected for the Donegal under 16 squad for the 2019 Ulster championship. Well deserved selection for four superb footballers.
Best of luck to the Coláiste Cholmcille under 16.5 ladies team who take on Armagh outfit Saint Patrick's High School, Keady in their Ulster final at Garvaghey this Wednesday, 11.15am.
Aodh Ruadh gear
We have a few items of Aodh Ruadh gear available to purchase at the minute. Aodh Ruadh hats in adult or kids sizes are now available to order and you can see samples on the Aodh Ruadh CLG Facebook page. These are €20 each or five €90. Orders for these can be placed with Lisa McTernan, Kerry Ryan or Alan Sweeny or on Facebook. Order now for Christmas delivery. Profit from sales of hats will go to Bord na nÓg. Coláiste Cholmcille company Tharr an mbarr Sports are also offering Aodh Ruadh socks. Kids sizes from 1-5 are priced €10 while adult sizes from 6-12 are priced €12. Place your order on the Tharr an mbarr Sports page on Facebook.
Social diary
The Millstone Reunion looks like being one of the highlights of the festive period. Dodgy music! Questionable fashion! Relive the memories in Dicey Reilly's on Saturday 29th December at 9pm. That extravaganza is followed by annual Aodh Ruadh dinner dance on January 19th in Dorrian's Hotel.
Abbey Centre Bingo
Last week's €400 jackpot was won by Mary Gallagher of Laghey. The stand-up game prize of €120 was won by Josie Lynch. Jack McCadden won €100 and Rex, the spot prize Teddy, checking out on 42. Susanna Cassidy, Florence McMenamin and Mags and Jack were also €100 house winners, with Mary Butler, Packie Johnson and Peggy Coughlin amongst the €70 house winners. There was no winner of the snowball so it rolls up to €550 this week. Bingo as usual at 9pm this Friday night at the Abbey Centre, books priced just €10. A date for the diary, the bumper Christmas Bingo will be held on Friday 21st with a €500 jackpot and all €100 houses, plus plenty of great spot prizes. Books will be just €10.
---
Last modified: Tuesday, 11 December 2018 at 12:10am

Read more in the club notes archive.