Welcome to Aodh Ruadh
Lotto
13th August 2018
2
4
8
12
15
18
There was no winner of the lotto jackpot of €2,400.
Next draw is Sunday at 8.30pm in McGinley's with a jackpot of €2,500
Lotto Rota:
- Reserve Footballers
- Bord na nÓg
- Senior Footballers
- Ladies
- Juvenile Hurlers
The lotto team for the McCosker's Centra on Saturday is:


Juvenile Hurlers.



In the lucky dip €20 went to Seamus O'Neill; Nellie Blake, Parkhill; Joe Lafferty, Saimer Drive; Mary Teresa Connell, Woodlands; James Monaghan, Pettigo.

More Lotto information
---
Twitter
Tweets by @aodhruadh
What's new
8 July 2018
Senior Division 1
Deadlock again for Ernesiders


More
2 June 2018
Senior Division 1
Rooney gets Aodh Ruadh deserved share of the spoils


More
29 April 2018
Senior Division 1
Aodh Ruadh earn important win against Dungloe


More
28 April 2018
Under 12 ladies football
Aodh Ruadh entertain Letterkenny


More
15 April 2018
Senior Division 1
Economical Gaoth Dobhair take the spoils in Ballyshannon


More
14 April 2018
Under 8 football
Aodh Ruadh host Four Masters for blitz


More
7 April 2018
Under 12 ladies football
Aodh Ruadh girls get league off to a great start


More
1 April 2018
Senior Division 1
Late McGettigan strike snatches point from Ballyshannon


More
1 April 2018
Senior Reserve Division 1
Reserves chalk up first win of the new season


More
22 March 2018
Under 14 hurling
Aodh Ruadh hurlers get off to the perfect start against Setanta


More
17 March 2018
Aodh Ruadh at the Saint Patrick's Day Parade


More
20 January 2018
Celebrating a year to remember with a night to remember at the Aodh Ruadh Dinner Dance


More
28 December 2017
Annual Colman Kerr matches raise cash for charity


More
25 November 2016
Aodh Ruadh celebrates a year of underage football


More
25 November 2017
Great turn out for Billy Finn Memorial Concert


More
12 November 2017
Under 16 football
Aodh Ruadh do it at the death to take county title


More
10 November 2017
Under 10 football
Winter League finals bring curtain down on a successful season


More
5 November 2017
Under 21 Football
Aodh Ruadh well adrift of hungrier Naomh Conaill


More
5 November 2017
Under 16 football
Super second half sends Aodh Ruadh into championship decider


More
4 November 2017
Under 13 football
MacCumhaill's take county title


More
15 October 2017
Under 13 ladies football
Back-to-back titles for the Ballyshannon girls


More
1 October 2017
Senior Division 2
Division one, here we come!


More
1 October 2017
Senior Reserve Division 2
Reserves too hot for Malin


More
1 October 2017
Under 16 hurling
Easkey take Alan Ryan Cup as Aodh Ruadh claim the Seamus Grimes trophy


More
24 September 2017
Under 12 hurling
Keady claim Aodh Ó Dálaigh title


More
10 September 2017
Underage football
Euro-Shot Challenge 2017


More
2 September 2017
Under 14 football
Ballyshannon book semi-final spot


More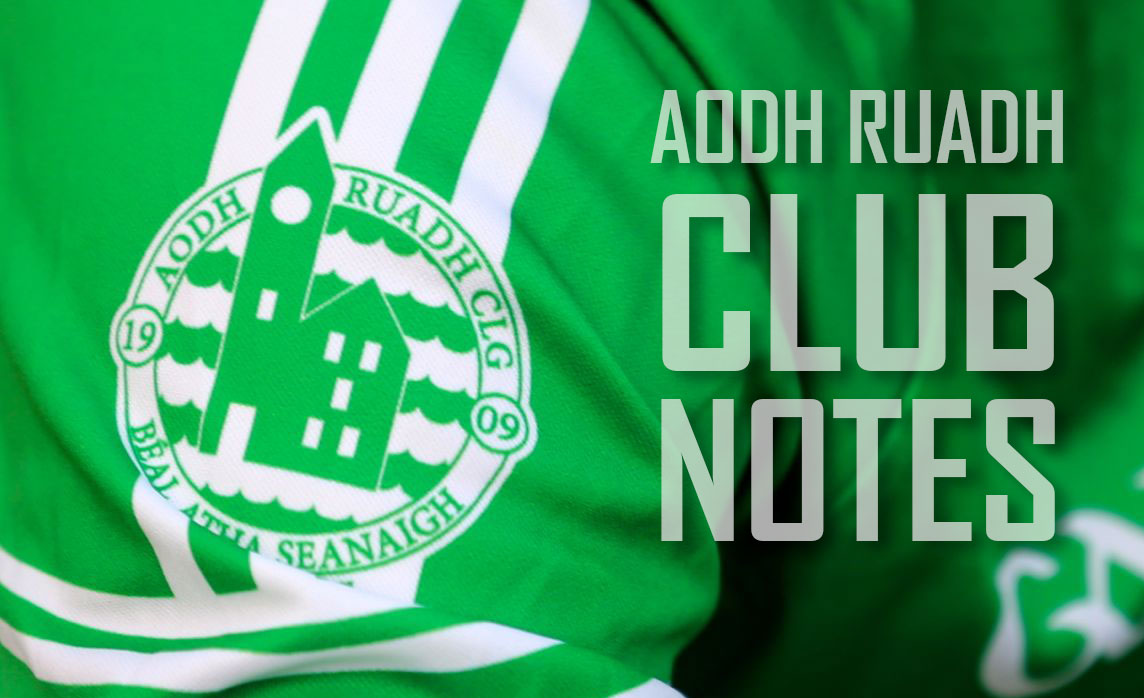 14 August 2018
Football
The reserves played their postponed fixture with Gaoth Dobhair in Father Tierney Park on Saturday evening. The homesters had the better of things in the first half with a Darren Gethins goal and points from Anthony 'Waddle' Coughlan, Aidan Murray and Dylan Gallagher helping them to a two point lead at the interval. The Gaeltacht men upped the ante in the second half and despite points from Conal Sweeny, Ryan O'Brien, Dylan Gallagher and Cian Dolan the visitors managed to eke out a 1-10 to 1-8 win.
This Sunday the seniors return to league action, with Kilcar the visitors to Father Tierney Park. The senior game throws-in at 3pm with the reserve curtain-raiser going off at 1.30pm.
Good luck to Val Murray, Packie McGrath, Kerry Ryan, Michael 'Sticky' Ward, Aidan Murray and the Donegal Masters who take on Dublin this Saturday in the All-Ireland semi-final in Lacken, Cavan at 3.30pm.
The under 14s open their championship campaign against Naomh Pádraig of Muff this Wednesday at 5.30pm in Father Tierney Park. We hope a good showing of Ballyshannon support can attend to get behind the boys.
Under 11 training continues on Mondays from 6.30pm to 7.30pm.
Under 10 training continues this Friday at 7.15pm. A date for your dairies. We are travelling to Castlebar on Saturday 25th August.
Ladies
Training for the under 13 ladies commences this Wednesday at 6.30pm, and continues on Mondays and Wednesdays at 6.30pm. We wish the players and management team of Sandra Sheerin, Thomas O'Brien and Antoin McGloin the best of luck for the coming season.
The ladies county board have sent each club five cards to sell. There are 30 lines in each card with each line €5. The seller who sells a card will automatically get a county ladies jersey and those buying the lines will, when card is full be in a draw for a county ladies jersey, so each card will have two ladies jerseys up for grabs. Please contact Patricia Hill if you wish to buy a line or sell a card.
Hurling
The under 12s made it two wins on the trot as they had a good win over Burt in Father Tierney Park on Thursday. It was a close game throughout as the lads came out on top, 3-2 to 2-1. They are at home again this Thursday against Four Masters.
The under 16s made the long trip to Hibernian Park to take on Burt. Victories for Aodh Ruadh have been scarce at this venue over the years, but on Thursday the lads recorded a comprehensive win over the famed Inishowen lads. The Ballyshannon boys are unbeaten this season and are joint top of the table with Setanta and Saint Eunan's.
On Sunday the under 16s travelled to the Centre of Excellence in Convoy to play the finals of the Division 3 Derry League. Opposition on the day were Dungloe / Gaoth Dobhair and Castledawson from Derry. The finals were played in a round robin format. We had a big victory over the Gaeltacht amalgamation in our opening game. Castledawson also defeated Dungloe / Gaoth Dobhair so the meeting of ourselves and the Derry lads was a winner take all clash. Aodh Ruadh played really well in this game and the lads' ability to take points from all distances and angles proved the difference as we ran out worthy winners 0-18 to 0-5. Captain Senan Rooney accepted the cup from Donegal Hurling Board Chairman Jason Ewing. A couple of months ago it looked like we may not have had an under 16 team this year, but these lads have put in a huge effort so far this season. With a squad of 17 players it has been hard going, but they made their own bit of history on Sunday becoming the first Aodh Ruadh team to win a Derry League title.
Training for all age groups on Sunday at 12 noon. All are welcome from 5 years upwards. For any information contact John Rooney on 086-2587793.
All-Ireland Ladies semi-final
Father Tierney Park is the venue for the Ladies football All-Ireland Intermediate Championship semi-final between Tyrone and Sligo which takes place at 4pm this Saturday. The usual key stewards are required at the Park for 2.15 pm. Please confirm availability by text to Tom Daly. This is a high standard of football and a competitive game is expected.
Schools Coaching Programme
There is a vacancy for a club coach on Community Employment Scheme arising from Stephen McGurrin's appointment as Games Development Administrator with Leitrim County Board. Text or mail Tom Daly for details. Training will be provided and duties will cover hurling, football and handball coaching in the schools in Aodh Ruadh club area.
Big Bingo back at the Abbey Centre
We were delighted to bring the bingo back to the newly refurbished Abbey Centre last Friday. The €400 bingo jackpot was won by Marian Deegan of Belleek. The stand-up game prize of €205 was won by Alison McCrea of Ballintra. The snowball had no winner so rolls to €450 on 46 numbers or less. Bingo as usual this Friday at the Abbey Centre at 9pm, books cost just €10 with a €2,200 prize fund up for grabs.
---
Last modified: Monday, 13 August 2018 at 10:33pm

Read more in the club notes archive.