Welcome to Aodh Ruadh
Lotto
20 June 2021
5
6
8
13
15
18
There was no winner of the lotto jackpot of €1,500.
Next draw is Sunday at 8.30pm with a jackpot of €1,600
Lotto Rota:
- Bord na nÓg
- Juvenile Hurlers
- Senior Footballers
- Senior Hurlers
- Reserve Footballers
- Ladies

The lotto team for the McCosker's Centra on Saturday is:


Senior Footballers.



In the lucky dip cash prizes of €25 went to David McLoone and Aran McGowan.

Play Club Lotto Online


More Lotto information
---
What's new
20 June 2021
ACFL Division 2
Cool, calm, controlled Aodh Ruadh make it two on the bounce


More
29 November 2020
Chairman's Address to the 2020 Club AGM


More
29 November 2020
Secretary's Address to the 2020 Club AGM


More
26 September 2020
Intermediate Football Championship Final
The famine is over as classy Aodh Ruadh claim IFC title with finishing flourish


More
17 September 2020
Under 14 hurling championship final
12-year-old Corey a scoring star for well balanced Aodh Ruadh side


More
5 September 2020
Intermediate Football Championship
Sprint finish takes Aodh Ruadh into last four


More
30 August 2020
Junior Hurling Championship
Aodh Ruadh book semi spot in style


More
16 August 2020
Intermediate Football Championship
Late Cloich Cheann Fhaola surge sinks Aodh Ruadh


More
16 August 2020
Ladies Intermediate Football Championship
Ladies denied at the death by Fanad smash and grab


More
15 August 2020
Under 14 ladies Division 1 Shield Final
Extra-time heart break for brave under 14 ladies


More
1 August 2020
Intermediate Football Championship
Aodh Ruadh off to a winning start


More
19 July 2020
Intermediate ladies football championship
Ladies come up short against Naul's in championship opener


More
19 July 2020
Junior Hurling Championship
Revenge for Carn in Father Tierney Park


More
8 June 2020
Covid-19: Safe return for Gaelic Games


More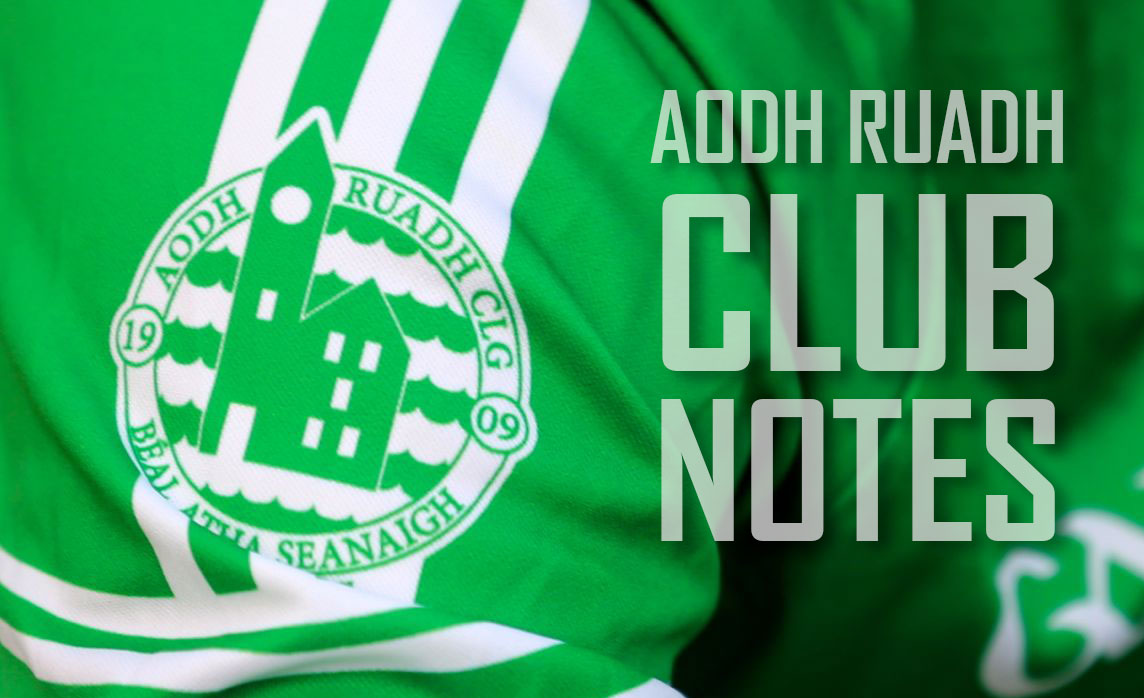 22 June 2021
Football
It was another dominant display from Aodh Ruadh in the league on Sunday as they disposed of the challenge of Glenfin in Páirc Aoidh Ruaidh. The visitors flared into life in fits and starts, but there was no disguising the dominant force here. The hosts owned the ball for sustained periods, and made very effective use of it in front of the posts. They reeled off a series of points before Shane McGrath strolled in to coolly stroke home the first goal of the game on 23 minutes. Credit to Glenfin who came right back with a goal of their own. However, Aodh Ruadh calmly continued to keep the scoreboard ticking over and by half-time they lead 1-9 to 1-2. They picked up where they left off on the resumption, putting together punchy moves and creating plenty of quality scoring chances which saw them moving ten points clear with 15 minutes remaining. Then they struck for their second goal of the game when a Michael McKenna ball in was collected beautifully by David Dolan. He was being fouled, but a good advantage was played and he was able to steer his shot to the net. Five minutes later Glenfin came back with another goal of their own, but Aodh Ruadh weren't done just yet. Four minutes from time they netted their third goal when a Darren Drummond fisted attempt at a point came back off the post into the grateful hands of Diarmaid McInerney who lashed to the back of the net. In the final analysis, Ballyshannon's combination play, incisive, purposeful running, uncompromising physicality and shooting quality were just a step above what Glenfin were able to offer as it finished Aodh Ruadh 3-16 Glenfin 2-7. Philip Patton's free taking reliability was, once again, a huge asset for Aodh Ruadh, while Michael McKenna's passing vision unlocked the door for important scores. Eamonn McGrath marshalled centrefield with authority while defensively Eddie Lynch and Conor Patton really impressed. We have a full match report and pictures from the game up on aodhruadh.org.
Despite fielding some seasoned senior players mixed with a host of promising young under 21s, Aodh Ruadh couldn't match Glenfin for tenacity. Goals were in abundance and apart from two converted penalties, one in each half despatched by Dylan Gallagher, Ballyshannon were no match for the scoring power and hunger of the Glenfin men. Best for Aodh Ruadh were Callum "Cookie" O'Halloran, Ryan Granaghan, Donagh McIntyre and Gary Carty. Final score was Aodh Ruadh 3-7 Glenfin 5-10.
The seniors and reserves are at home again this Sunday as they entertain Convoy. The seniors get the action under way at 4.30pm, followed by the reserves at XXXXpm.
The under 17s.
The under 13s.
Our under 11 internal league continues this Thursday, all teams to be in Father Tierney Park on Thursday for 5.15pm. The team are away to Dungloe on Saturday morning for round two of our Go Games, all boys to be in Dungloe for 10.30am.
The under 9s began their campaign with a successful trip to Glenties on Saturday. The boys came out on top in the three games with all of our 40 players seeing game time. It was great to see some of our younger players lining out for the first time in an Aodh Ruadh jersey. Many thanks to the Naomh Conaill club for the hospitality shown after the game.
Hurling
The final whistle at Hibernian Park in the Senior Hurling League clash between Burt and Aodh Ruadh saw it finishing 0-17 to 0-12 in favour of the homesters. It was gallant performance from an understrength Erneside outfit, and Burt finished strongly to win. Despite being short a few key players, Aodh Ruadh made light of it to head in at the interval with a 0-9 to 0-4 lead. Burt responded by introducing Donegal senior player Christopher McDermott at half time and he made a big difference for his side. The Ballyshannon lads showed plenty of character in a tough, hard-hitting encounter, and it was well into the final quarter before Burt managed to claim the lead. It's worth noting that it is over 30 years since Aodh Ruadh last kept a clean sheet in Burt. This was a good all-round performance by the 17 players who travelled. Our scorers were Garreth Sheerin (0-9f), Ciaran Kilgannon (0-2) and Senan Rooney (0-1). The lads are at home to Dungloe this Friday in Father Tierney Park at 7.30pm.
Our under 17s had their game against Burt postponed. They continue to train at their normal times.
The under 15s had an agonising loss to Easkey in the Táin Óg league last Wednesday at the Sligo Centre of Excellence in Scarden. After a very slow start our lads came back into the game after the water break and into the second half, and finally took the lead with five minutes on the clock. Unfortunately, Easkey rallied themselves, and put us away with a late goal to win by a point. The side face Setanta away in the Donegal league this Thursday.
Our under 13s continued their season with a comprehensive win over Dungloe / Gaoth Dobhair at home on Thursday evening, 3-15 to 1-4 the final scoreline. Well done to all the team and coaches. We have a gallery of images from the game live on aodhruadh.org. The squad continue in the Táin Óg league this week with a home game against Coolera-Strandhill in Father Tierney Park.
We have had a number of under 11 players link up with our under 13 team. Whilst it is great to have these youngsters training, ideally we want to see a few more under 11s join up and training as an under 11 team. For now, any under 11 player has two options, join with our under 9 training pod on a Sunday morning for a couple weeks to see how they get on, or join with the under 13 team. Any parent who has a child in this age bracket that wants to play please contact John Larkin on 086-1076883. We hope to have a "Come and give it a go" session in the first two weeks of July, for kids to come along and try hurling for an hour, learn some of the skills and hopefully come back more regularly afterwards!
Our under 7 and under 9 teams had their first outing of the year with a blitz against Four Master in Donegal town. In total we had 36 youngsters take part, and everyone had a great time. Thanks to all the parents for travelling, and to Four Masters for hosting a great morning of hurling. We are still welcoming new players for our under 5, under 7 and under 9 groups, so any parent who would like their child to join one of these age groups can contact John Larkin on 086-1076883. We continue with our Sunday morning hurling at 11.45am in Páirc Aodh Ruadh.
Ladies
The senior Aodh Ruadh ladies made it two wins in a row with a convincing win over Gaeil Fhánada. Aodh Ruadh led by seven points at the break and pushed on over the course of the second half to finish 3-18 to 1-5 victors. Up front Cáit Gillespie was in very accurate form, while out the pitch Orla Keon was always making herself available as an option. Sara Gallagher had a great tussle with Gaels danger-woman Lauren Carr, while Elaine Dorrian had an excellent return to competitive football in 2021 between the sticks.
It was an improving performance from the reserve ladies in their first ever home game. Kilcar were the guests on a lovely morning for football in Ballyshannon. There wasn't much between the teams in the first half with points from Katie Gallagher and Mary Flora Scott helping make it Aodh Ruadh 0-5 Kilcar 1-5 at the turnaround. Kilcar hit a purple patch in the third quarter, and while Aodh Ruadh came back with one of their own in the final quarter, including a well-worked goal from Mary Flora Scott and a wonder-point from an acute angle by Amanda Mahon, it was the visitors who ran out four-point winners. A very encouraging display from the Ballyshannon girls. Katie Gallagher and Ciara Gillespie were very lively in the attack. Erin O'Loughlin and Niamh Hughes both worked hard in the middle third. Defensively Ciara Buggy, Megan McGee, Nicole McCabe Rebecca Gillespie and Shauna Dolan put in a great shift, with Roisin Maguire a great asset between the posts.
The ladies now have a break from league action until Sunday 4th July.
The under 16s had a much-improved performance as they took on Grange in a challenge last week. The girls worked hard across the pitch, played as a team and delivered some fast direct football and some fantastic scores, especially in the final quarter. A good win for the Aodh Ruadh girls, who brought a great attitude to the game and showed lots of improvement in every sector.
The under 14 ladies had an entertaining challenge against Grange last Thursday in Páirc Aoidh Ruaidh. Nessa Mitchell scored a goal of the season contender, while Emily McNamee did a great job linking up play. Further out the pitch Jessica O'Mahoney was a real Duracell bunny around the middle of the park, with Orlaith Gallagher also very influential. In the defence Tara Gallagher showed great strength on the ball and Megan Murphy was once again an assured presence. We have a great gallery of pictures from the game live on aodhruadh.org.
The under 12s had two very useful friendlies in the last week against Four Masters and Saint Naul's. The girls played some brilliant football and really enjoyed the return to matches. We are playing Grange at home this Wednesday evening. All girls to be in the park for 6.20pm.
Fixtures for all underage grades have been released and are as detailed below.
Under 10 - Region 2 - Flexible throw-in times - to be agreed between club
Sunday, 27 June - Aodh Ruadh v Naomh Ultan
Sunday, 11 July - Glenfin v Aodh Ruadh
Sunday, 25 July - Aodh Ruadh v Four Masters
Sunday, 22 August - MacCumhaill's v Aodh Ruadh
Under 12 - Region 3 - Flexible throw-in times - to be agreed between club
Sunday, 4 July - Aodh Ruadh v MacCumhaill's
Sunday, 18 July - Red Hugh's v Aodh Ruadh
Sunday, 15 August - Saint Naul's v Aodh Ruadh
Sunday, 29 August - Glenfin v Aodh Ruadh
Sunday, 12 September - Aodh Ruadh v Four Masters
Sunday, 26 September - Aodh Ruadh v Naomh Ultan
Under 14 - Division 1, 1pm throw-ins

Under 16 - Division 3, 7pm throw-ins
Tuesday, 29 June - Glenswilly v Aodh Ruadh
Tuesday, 6 July - Malin v Aodh Ruadh
Tuesday, 13 July - Aodh Ruadh v Na Dúnaibh
Tuesday, 20 July - Aodh Ruadh v Urris
Tuesday, 27 July - Aodh Ruadh v Termon
Tuesday, 3 August - Saint Michael's v Aodh Ruadh
Tuesday, 10 August - Aodh Ruadh v Burt
Under 18 - Division 1, 7pm throw-ins Thursday, 5 August - Aodh Ruadh v Carndonagh

Thursday, 12 August - Termon v Aodh Ruadh
Thursday, 19 August - Aodh Ruadh v Na Dúnaibh
Thursday, 26 August - Gaoth Dobhair v Aodh Ruadh
Thursday, 2 September - Aodh Ruadh v Saint Eunan's
Thursday, 9 September - Aodh Ruadh v Killybegs
Sunday, 24 October - Saint Naul's v Aodh Ruadh
Monthly club executive meeting
The monthly Aodh Ruadh club executive meeting will take place on Thursday 24th June at 9pm. Submissions for any other business should be sent to Lisa McTernan by 3pm on Wednesday. All committee members are asked to attend.
Mizen to Malin charity cycle
We'd like to wish John Rooney the very best of luck this Thursday as he embarks on his Mizen Head to Malin Head solo cycle in aid of Little Blue Heroes and North West STOP - Suicide Prevention. It's a big challenge, but no better man for it. You can donate to this great cause at https://www.idonate.ie/JohnRooney, and thanks to all who have already donated to the fund-raiser.
Aodh Ruadh Summer Camp 2021
The Aodh Ruadh Summer Camp, sponsored by McDevitt and McGlynn Accountants, is back for its 29th year. The camp will take place in the first two weeks of July for boys and girls between six and 14.
Activities include skills training, fun and games, Gaelic football, camogie, rounders, hurling and lots more.
Week one runs from Monday 5th to Friday 9th July. Week two runs from Monday 12th to Friday 16th July. Each day there will be a morning session from 9.30am to 12.30pm and an afternoon session from 1pm to 4pm. Due to Covid restrictions each session limited to six groups of 15. The cost per session per week is €50 per child which includes a sports pack at the end of the week.
We have reduced rates available for parents or guardians sending more than one child. Two children €90. Three children €120. To avail of these discounted rates please contact Sylvester Maguire on 086-0532495. No cash will be taken on the day and places will be booked on a first come, first served basis.
Due to Covid restrictions, there will be no access to dressing rooms, so children are encouraged to come suitably attired as all activities will take place outdoors.
To book your child's place go to the Aodh Ruadh page on klubfunder.com.
Ballyshannon Bingo
We had another fine evening of bingo on Friday night, and big congratulations to all 28 winners who checked. The €500 jackpot prize was won by Carrie O'Brien, whilst Pettigo had another successful raid on the bingo with Anna McAndrews taking the €250 mini jackpot. Our other house winners included Eamonn Groarke, Sarah O'Shea, Nyoka Walker, Mary Griffin, Mary Travers, Marian McAndrews, Jason Kelly, Lesley Lynch, Kelsey Granaghan and Regina Dolan. Our new snowball (and new format) survived its first week, and will rise by €100 and a number every week until won! To continue with bingo into the summer, we will be making some adjustments to the prize fund. Watch out for the new €1,000 Jackpot Ladder Game, which will have a minimum pay-out of €400, plus our €300 snowball to play for. Also new next week will be the lucky numbers game on game eight, where prizes can be doubled or trebled! A total of €2,500 to play for and another great night of fun guaranteed! Once again we will be back broadcasting to the world from Bingo HQ via Zoom at 9pm. If you haven't already played, you can find full details on the Ballyshannon Bingo Facebook page. Books are available to buy on our Klubfunder.com page right now. Remember, if you don't have access to a printer, Mary in A Novel Idea will be happy to print your book for a small fee.
Click this link to buy a SINGLE BOOK for €10.
Click this link to buy a DOUBLE BOOK for €15.
The delivery schedule for Ballyshannon Bingo books as follows:
Books bought by 4pm on Wednesday will be emailed by lunchtime Thursday.
Books then bought by 8am on Friday morning will be emailed before lunchtime on Friday.
Books bought by Friday's final 4pm deadline will be emailed before 6pm on Friday.
It is very important players enter the email address they need the book to be sent to. Late changes are problematic and we cannot guarantee they will be facilitated. Look forward to seeing you all again this Friday evening!
Were you at the Aodh Ruadh Golf Classic?
We have a massive gallery of pictures live from the Aodh Ruadh golf classic. Many thanks to Andrea Whelan for doing the honours on a wonderful day of golf.
Boot exchange
Our boot exchange programme is now up and running. Anybody who wants to exchange boots going forward, please text Packie McGrath on 087-9794696.
---
Last modified: Monday, 21 June 2021 at 6:49pm

Read more in the club notes archive.