Welcome to Aodh Ruadh
Lotto
1 August 2022
2
4
7
11
16
18
There was no winner of the lotto jackpot of €7,000.
Next draw is Sunday at 8.30pm in Pat's Bar with a jackpot of €7,100
Lotto Rota:
- Bord na nÓg
- Juvenile Hurlers
- Senior Footballers
- Senior Hurlers
- Reserve Footballers
- Ladies

The lotto team for the McCosker's Centra on Saturday is:


Reserve Footballers



In the lucky dip cash prizes of €25 went to Eugene Perry, Annie McCready and Vincie Carr.

Play Club Lotto Online


More Lotto information
---
What's new
15 October 2021
Senior Football Championship
St Michael's prove a bridge too far


More
11 October 2021
Senior Reserve Football Championship
Ardara deny reserves at the death


More
19 September 2021
Senior Football Championship
Polished Aodh Ruadh have too much for Four Masters


More
28 August 2021
Senior Division 2
Ernesiders sign off on Division 2 in style


More
27 June 2021
ACFL Division 2
Workmanlike Aodh Ruadh see off Convoy


More
20 June 2021
ACFL Division 2
Cool, calm, controlled Aodh Ruadh make it two on the bounce


More
29 November 2020
Chairman's Address to the 2020 Club AGM


More
29 November 2020
Secretary's Address to the 2020 Club AGM


More
26 September 2020
Intermediate Football Championship Final
The famine is over as classy Aodh Ruadh claim IFC title with finishing flourish


More
17 September 2020
Under 14 hurling championship final
12-year-old Corey a scoring star for well balanced Aodh Ruadh side


More
5 September 2020
Intermediate Football Championship
Sprint finish takes Aodh Ruadh into last four


More
30 August 2020
Junior Hurling Championship
Aodh Ruadh book semi spot in style


More
16 August 2020
Intermediate Football Championship
Late Cloich Cheann Fhaola surge sinks Aodh Ruadh


More
16 August 2020
Ladies Intermediate Football Championship
Ladies denied at the death by Fanad smash and grab


More
15 August 2020
Under 14 ladies Division 1 Shield Final
Extra-time heart break for brave under 14 ladies


More
1 August 2020
Intermediate Football Championship
Aodh Ruadh off to a winning start


More
19 July 2020
Intermediate ladies football championship
Ladies come up short against Naul's in championship opener


More
19 July 2020
Junior Hurling Championship
Revenge for Carn in Father Tierney Park


More
8 June 2020
Covid-19: Safe return for Gaelic Games


More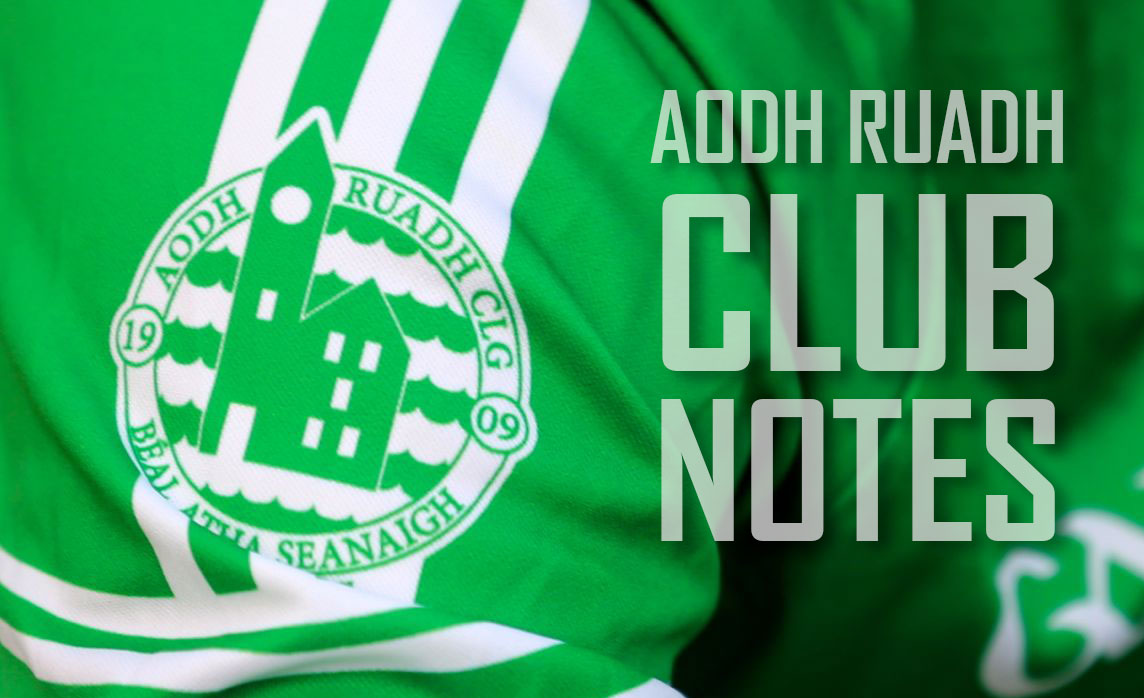 2 August 2022
Football
A couple of big dates for your diaries folks! The highly anticipated Senior Football Championship first round clash between Aodh Ruadh and Bundoran will take place on Sunday, 14th August at 4pm in Páirc Aoidh Ruaidh. The following Saturday, 20th August, Aodh Ruadh will be away to Ardara, throw-in at 5.30pm. The reserves will be making their championship bow in Ardara as they get their campaign up and running in the curtain raiser in Pearse Memorial Park at 4pm. We wish both managements and teams the best of luck in their championship preparations.
The minors earned a valuable point on the road against a hotly fancied Sean MacCumhaill's team last Friday. In tough conditions the minors showed great bottle and resolve to fight back from 0-6 to 0-3 down midway through the first half to go in at the interval leading by one. Scores were at a premium and the sides went tit for tat in an intense second half and when MacCumhaill's took a two-point lead with five minutes to go it looked like the Ballyshannon men might come home empty-handed. To their credit the Aodh Ruadh lads never gave up and continued to patiently work the ball, waiting for their chances to materialise. A huge effort from Jack Gallagher left a point in it and with time almost up Robbie Murphy nailed a crucial free off the deck from all of 53 metres to grab a well-earned point for the Shams as it finished 0-11 apiece. Corey Sheridan was excellent in goals, keeping another clean sheet and getting his kick outs away flawlessly. Jack Gallagher was in inspired form nailing seven points and was lethal from dead ball. Robbie Murphy's equalising point would not have looked out of place in the many county games played in Ballybofey down the years. The lads have a break now and are next out in competition on Friday, 19th August when Gaoth Dobhair will be the guests in Páirc Aoidh Ruaidh..
Good luck to the under 15s who have their final outing of the All-County Division 2 Cup group stages when they travel to take on Termon at 7pm this Tuesday, 2nd August.
The under 13s are in the middle of a very busy spell. Last Wednesday we travelled to Donegal Town to play Four Masters in Division 1. The Ballyshannon lads got off to a good start, taking two early points, but the home team powered through the half to take a 0-10 to 0-2 half time lead. Our boys put in a solid second half and at one stage had the deficit reduced to four points, but the hosts finished well to win on a scoreline of 1-8 to 1-16. MJ Ward had a stand-out performance leading the line and registering 1-4.
On Monday evening the under 13s hosted Ardara in Division 1 at Páirc Aoidh Ruaidh in what was without doubt the performance of the season-to-date. Aodh Ruadh won a thriller of a game by six points on a final scoreline of 6-7 to 1-16. Having lost at Ardara earlier in the season this was a big game where a result was needed as we look to qualify for the all-county league stages. Every player gave it their all from start to finish. Ethan Kerrigan had a massive game in the back line with Aaron McLoone and Marko Branley. Again, the forward line of MJ Ward and Callum Dorrian really delivered, clocking five goals and four points between them. Manus Conlon bagged a goal and two points, with Antoin Duffy the other point scorer. The first half saw a glut of goals as some sharp attacking play opened up a usually tight Ardara defence and Aodh Ruadh built up a six-point half time lead of 5-2 to 1-8. The second half was much tighter with Ardara bringing it back to within three points, but the Ernesiders rallied to restore the six-point lead with a late goal.
This Wednesday evening the under 13s host Dungloe in Division 1, while the Division 2 team travel to Bundoran after a break last week. On Saturday Aodh Ruadh are delighted to host the Willie Rodgers tournament. With Father Tierney Park closed we have decided to run a seven-a-side competition in Páirc Aoidh Ruaidh with four mini pitches in operation. There will be 10 clubs participating from Donegal, Sligo, Leitrim and Fermanagh, with some entering two teams so there will be 16 teams in total forming an A and B section. Group games get underway at 10am with the B final taking place at 1pm followed by the A Final at 1.30pm. Spectators are encouraged to come along to view what should be a great morning of sport.
Our under 10 boys played a strong MacCumhaill's side last Wednesday evening in beautiful conditions, in Páirc Aoidh Ruaidh. The boys played two games each, with nothing between the sides at the end of both games. Thanks to Val Murray and Gerard Ferguson for reffing. Training continues as usual this Wednesday from 6.30pm to 7.30pm for both under 11 squads. On Saturday our Green squad have an away game against Glencar Manorhamilton. All players should be at the pitch in Manorhamilton for 10.30am, with the action getting underway at 11am.
The under 9s put in a terrific performance in three games against Saint Naul's on Saturday morning in Páirc Aoidh Ruaidh. Training continues as normal on Friday evening at Coláiste Cholmcille from 6.45pm to 7.45pm.
Ladies
This Sunday our senior ladies teams go out in Championship action. The senior ladies will be on the road to Convoy for their opening game of the Intermediate Championship round robin stages, while Aodh Ruadh reserves entertain Buncrana in the Junior B opener. Both games throw-in at 10.30am and we wish all the players and management the very best for the championship.
It was something of a point dropped for the minor ladies in Glenties last Tuesday. The first quarter was evenly fought between the sides with a goal from Katie McGowan leaving just a point between the sides at the first water break. Aodh Ruadh pushed on in the second quarter and goals from Katie O'Brien and Annie Keon helped the Ballyshannon girls to a 3-4 to 1-4 half-time lead. In the third quarter it was the Naomh Conaill girls turn to go on the goal trail and they hit three to edge into a one-point lead, with Niamh Hughes and Cadhla Dolan getting the answering scores. The last quarter was helter-skelter stuff, but goals from Annie Keon and Emer O'Brien looked to have given Aodh Ruadh what would have been a deserved win. However, Naomh Conaill grabbed the scores to get themselves back level and so the sides had to settle for a share of the points, 5-7 apiece the final scoreline. Captain Emer O'Brien was again fantastic in this game getting through a huge amount of work in the middle third, while Lauren Foy made some fantastic saves between the sticks. Megan Murphy again showed ability beyond her years with another polished outing in the full back line. Up front Niamh Hughes and Annie Keon contributed well. The girls are back at home at long last this Tuesday when they will be hosting Dungloe at 7pm in Páirc Aoidh Ruaidh
The under 14 girls made the long trip down to Carndonagh last Thursday evening and put in a good team performance to win on a scoreline of 9-11 to 1-5. Aoife McPhelim in goals with Lily O'Donnell, Aodhbha O'Donnell and Rebecca Downey solid in the back line and Megan Murphy holding that centre back line to perfection once again. Laoise Foy and Emily McNamee were immense in midfield yet again, always winning their battles and getting in on the scores. While up front once again the magnificent duo of Ciara Larkin and Katie McGowan were unstoppable. Emma O'Donnell, Niamh Duffy and Rachel Gillespie were outstanding up front. Player of the match this week was definitely Caitlin McGuinness at wing half back who was outstanding in the defence. The next game for the girls will be a home quarter-final on Saturday, 13th August with their opponents to be confirmed as two outstanding league games remain to be played next weekend. Details of training will be circulated later this week in the team WhatsApp group. A big thank you again to David O'Donnell of Kernan's Spar who so kindly sponsored the bus to Carndonagh, the girls thoroughly enjoyed it with a karaoke session on the way up and down to the game.
Good luck to Lucy McGlynn who is in 400 metres hurdles heats action at 6pm, Irish time this Tuesday at the World Under 20 Athletics Championships in Colombia. She will also be in 100 metres heats action on Thursday at 3.05pm. The action can be followed at the World Athletics Championships website.
Hurling
Commiserations to the Aodh Ruadh Senior hurlers who were defeated in the Cú Chulainn Shield Final on Saturday afternoon. Sligo outfit Naomh Eoin emerged 5-22 to 0-12 at Páirc Aoidh Ruadh in the decider. We have a massive gallery of images from the game live on aodhruadh.org now. It marked the end of a busy competitive season for the Aodh Ruadh senior hurlers who contested 20 competitive games across four competitions - Donegal Senior League and Championship, Donegal Intermediate semi-finalists, South Ulster League and the Cú Chulainn Shield. The players and Manager John Rooney deserve great credit for committing and competing in all competitions. After the game there was a special presentation to Aodh Ruadh team Captain Brendan Gillespie who will shortly be leaving our shores. Brendan has played hurling at all age levels for Aodh Ruadh and has represented Donegal with distinction. We wish Brendan well and thank him for his services and hope he will return in the not-too-distant future! John Rooney has managed the team having led the revival of senior hurling in Ballyshannon in 2019 and despite a big number in player turnover over the four seasons and making the step up from junior championship back to senior league and championship, all the players and John Rooney deserve a lot of credit. After a busy season of competitive games against teams in Donegal, Tyrone, Monaghan, Fermanagh, Cavan and Sligo, we thank all who have supported the squad's efforts and look forward to coming back stronger and better in 2023.
Our under 15s were due to start their Donegal League campaign with a trip to Dungloe this Thursday. However, this fixture has been pushed back and instead the lads will now begin their campaign against Burt in the Donegal Centre of Excellence in Convoy. The very best of luck to all the players and management.
Our under 11s made the trip to the Cross to face Setanta in their mini-league. Again, our young team showed great grit and determination playing against an older opposition, but were competitive right to the very end of this fixture. Well done to all the players who travelled and thank you to all the parents who drove. This week we take on our neighbours, Four Masters at home, with a throw-in time of 7pm.
Our under 9s continue their training this Sunday at 11am.
Our under 5s and under 7s continue their training at 12 noon this Sunday.
As ever, anyone looking to join up and take part with our underage squads is more than welcome. Contact John Larkin on 086-1076883 for more information.
Sunrise for STOP walk
The weather might not have played ball, but that didn't stop the big numbers who turned out for the Sunrise for STOP walk last Saturday. It was so great to see the great support for this important cause and we thank all who donated to STOP and the organising team for doing an amazing job. Check out aodhruadh.org where we have a great gallery of pictures from the morning's activity. The most important aspect of our Sunrise walk was to raise awareness of the vital work STOP continue to do without any government funding across the North West. For anyone who would like to make a donation you can give it to any of the organising team and we would be delighted to pass it on. You can check out the www.northweststop.ie website for more information.
Aodh Ruadh goes totally smoke free
Aodh Ruadh is now officially SMOKE-FREE. This means no smoking on the entire club grounds, including e-cigarettes. The club is the heartbeat of our community and we believe that this type of initiative will not only raise awareness, but also protect people from second hand smoke, reduce smoking initiation rates among young people and increase the amount of people seeking help to quit. We appreciate all your support in this important initiative.
Maurice is Pick of the Pundits
The victory of the Meath ladies on Sunday saw Maurice McLaughlin taking the crown, and the €250 top prize, in our inaugural Pick of the Pundits competition. Eamonn Maguire had to settle for second place and €100, although he did amazingly manage to get the tiebreaker answer of 62 bang on. Liz McGrath was clear in third place and collects €75 for that achievement, but it took the tiebreaker to separate Siobhan McGarrigle and Kenzie Ayres, with Siobhan getting closest and securing the €50 fourth prize, while Kenzie picks up €25 for a commendable fifth place finish. Thanks to all our Pundits for taking part and everyone who helped sell cards for the competition. We're already looking forward to next year's Pundit showdown!
Clothes collection
Aodh Ruadh Juvenile Hurling committee are collecting for their annual cash for clothes fundraiser. This is a great chance to get rid of any unwanted clothes, shoes, belts, bed linen, towels, etc., and help us raise some much-needed funds for promotion and development of underage hurling in the club. For any information regarding this campaign or arrange drop off of clothes contact any of the following: John Larkin (086-1076883), Daithi Breen 087 928 7965 Paul Sheridan 087) 657 2157 Orla Bannon (086-8035316), or Gregory Gallagher (087-2210570).
Ballyshannon Bingo
We had another enjoyable bingo last Friday night, and a well done to all our winners! Emer Molloy took home the 50/50 Jackpot, with the other houses won by Packie Johnston and Olivia Campbell (Shared), Agnes Ryder, Ronan Matthews (with a line too!), Mary Reynolds, Niamh Regan, Amanda Byrne, Doreen McDonald, Caroline Murphy and Eileen McIntyre. The cash winners on the lines were Mark Newell, Gerard Cullen, Liam Doherty, Mary B Kerrigan (twice!), Cathleen McGroary, Sharon Coyle, Ailish Ward, Mary Cleary and Josie Lynch. Again over half the prizes were won by players in the hall. There was no winner on the snowball so it rolls to €950 this week as we play for a prize fund of almost €2,700. Online players are reminded we will be doing 2 book dispatches, with books bought by lunchtime Thursday emailed Thursday before 5pm, with books then bought by the 4.30pm Friday deadline emailed by 6pm Friday. Looking forward to seeing all again, please spread the word and bring along a friend! Books can be purchased online at Klubfunder.com. Players coming to the Abbey Centre can buy their books at the front desk from 8.15pm. Eyes down for first game at 9pm.
---
Last modified: Monday, 1 August 2022 at 10:18pm

Read more in the club notes archive.