Bunninadden claim the Sean Slevin
Sean Slevin Minor Tournament
30 June 2007
Bunninadden 1-14
Aodh Ruadh 2-08
The Sean Slevin Minor Tournament took place last Saturday with a game between Aodh Ruadh and Bunninadden of Sligo in Father Tierney park. On what was forecast to be a poor day, luck held and there was the blessing of a relatively clear spell to play the game. Aodh Ruadh were hampered by the loss of a number of players, in particular midfielder, Matthew Thompson, out through suspension, and Donagh McIntyre who was on senior championship duty later in the day.
Bunninadden showed no ill-effects from the long trip up the road from south Sligo and finished the first half with 1-7 to Aodh Ruadh's 0-4. The second half commenced with more of the same as Bunninadden notched up five unanswered points before Aodh Ruadh could make a pointed reply in the 41st minute. Vincent Frizzell was starring for the Sligonians, showing deadly accuracy in front of the posts. It was only with 10 minutes left of the match that Aodh Ruadh found their groove scoring 2-3 in the final phase with Hugh McNeill and Conor Thomas popping up for goals. Time had run out for Aodh Ruadh though, and, in truth, it would have been an injustice to Bunninadden had they lost the match after making the running for so long in the game. The final score was 1-14 to 2-08.
Sean Slevin's widow, Patricia presented runners up medals to the disappointed Ballyshannon side. She then presented the victor's plaque to Vincent Frizzell, the Bunninadden captain. Many thanks to Bunninadden for attending and to everyone who helped out in whatever capacity on the day.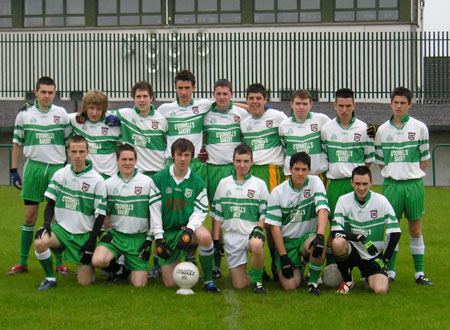 The Aodh Ruadh team that contested the Sean Slevin Final last Saturday.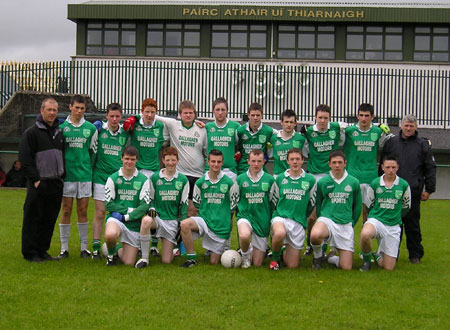 The Bunninadden team from Sligo that contested the Sean Slevin Final last Saturday.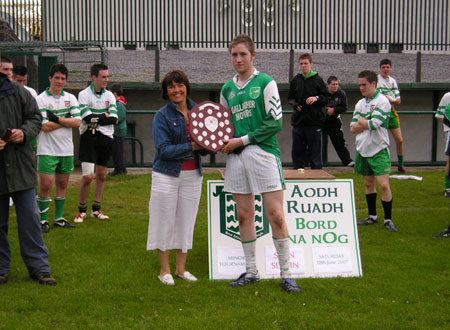 Sean Slevin's widow, Patricia, presents the Sean Slevin plaque to the victorious Bunninadden captain, Vincent Frizzell.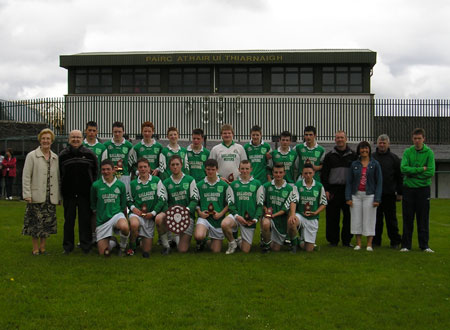 The victorious Bunninadden team with the Sean Slevin plaque. Also pictured on the left of the picture are Sean's mother, Peggy, and father, Sean senior. On far right of the picture is Sean's son Donagh and third from the right is Sean's widow, Patricia.
Report Filed: 1 July 2007