Ballyshannon take county title
Under 14 Championship county semi-final
3 October 2009
Aodh Ruadh 2-10
Saint Eunan's 0-6
Peter Campbell reports from Convoy. Pictures by Ronan Matthews
Aodh Ruadh added the championship to their league crown with a convincing win (in the end) over Buncrana in Convoy yesterday.
In very difficult conditions with a gale force wind blowing towards the road end, Buncrana were in touch until the final quarter when the Ballyshannon boys pulled away to win with something to spare.
The winners had to play against the gale in the first half and really they won the game in this period, limiting Buncrana to a three point lead - 0-5 to 0-2. Indeed, but for two great saves from Harry Doherty in the Buncrana goal, the game would have been over at the break.
The Inishowen boys were not helped by injury to their most lethal forward, Darragh O'Connor, midway through the first half and he was forced out of the game on the stroke of half-time.
Aodh Ruadh also suffered a first half injury with O'Connor's marker, Colm Kelly, picking up a gash on his knee which needed treatment, but he was able to come back on and make a contribution, albeit not his usual self.
Buncrana got the perfect start with the wind at their backs with Darragh O'Connor pointing after just 18 seconds. The lead was added to by Peter McLaughlin with two frees to stretch the lead to three points by the six minute.
At this stage Colm Kelly was forced off and Buncrana looked like causing an upseet. McLaughlin added a fourth point from a free but the injury to O'Connor stifled their attacking threat.
Aodh Ruadh came more and more into the game in the second quarter with Jamie McDonald deprived by a great save by Harry Doherty on 21 minutes after the half-forward tore through the Buncrana defence.
David McGurrin won and pointed a free on 23 minutes for the winners' first score but just before the 30 minute mark Peter McLaughlin landed his fourth free for Buncrana.
In the four minutes added on for first half injuries McDonald was deprived by Doherty again, this time at the '35' from which James Kelly pointed with a magnificent effort against the wind.
Half-time: Aodh Ruadh 0-2, Buncrana 0-5.
With the wind at their backs Aodh Ruadh hit early for two points, both by captain Johnny Gethins, the first on 47 seconds and the second on two minutes.
Peter McLaughlin pointed a free for Buncrana on 35 minutes but two quick points from play by David McGurrin had Aodh Ruadh on level terms by the 41st minute.
With Pauric Patton influential at midfield, Aodh Ruadh struck the front for the first time on 47 minutes with David McGurrin again winning and pointing a free.
The game was decided with a two goal blitz in the 52nd and 53rd minute with midfielder James Kelly involved in both. His effort from a '35' dropped short and half-time substitute Conor 'Schillachi' Gilmartin pounced to drive the ball to the net.
Within a minute James Kelly made inroads down the right side of the Buncrana defence and found David McGurrin going through the middle and he found the corner of the net to give Aodh Ruadh a 2-7 to 0-6 lead.
From there to the finish it was easy for Aodh Ruadh as they tagged on points from McGurrin, James Kelly and Johnny Gethins.
For the winners there were plenty of stand-out performances. Eamon McGrath was excellent at full-back with his clearances always finding a teammate. Matthew Maguire didn't put a foot wrong while Darren Gethins was solid.
James Kelly worked like a beaver at midfield while Pauric Patton was able to raise his game when needed especially in winning the important ball.
Up front David McGurrin was on top form (despite carrying a heavy cold). Johnny Gethins also did well with Jamie McDonald (first half) and Matthew Gethins working well throughout. Paddy Gillespie recovered well after a shaky start while Niall Harley hardly put a foot wrong
For Buncrana, spare a thought for Peter McLaughlin who worked tirelessly to keep his side in the game. Harry Doherty, Bruce Waldron, Jack O'Loughlin and Daniel Wilson also impressed while Darragh O'Connor will hope to get another day to show his wares.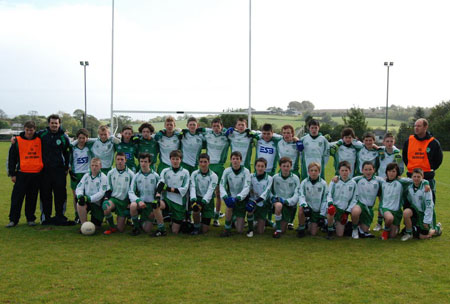 The Aodh Ruadh team pictured before the final.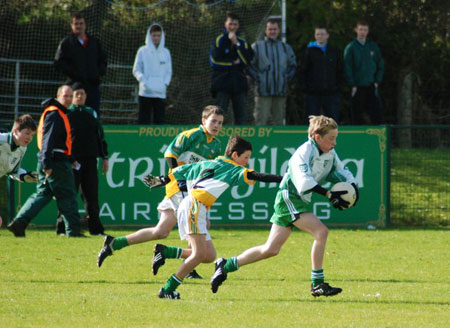 Aodh Ruadh on the break.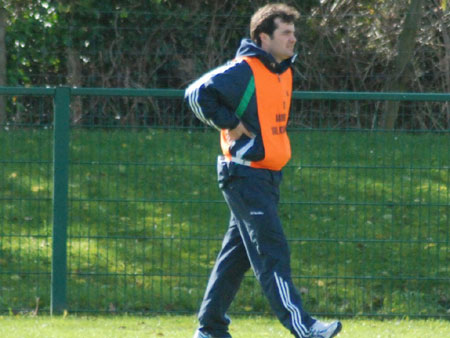 Niall McCready walks the line.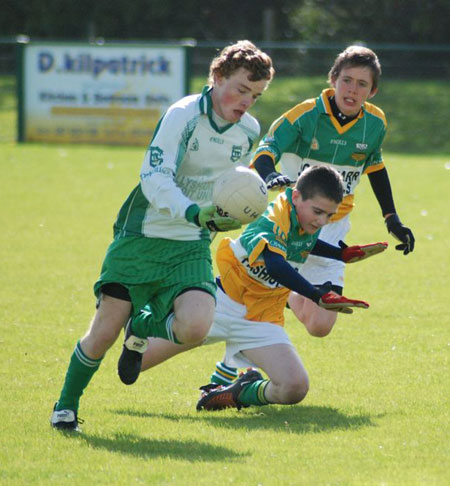 Pauric Patton on the ball.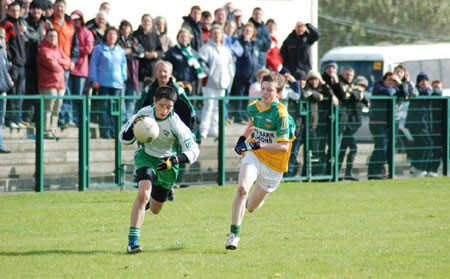 Action from the under 14 county final.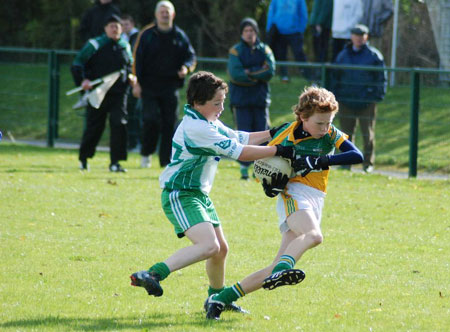 Putting in the tackles.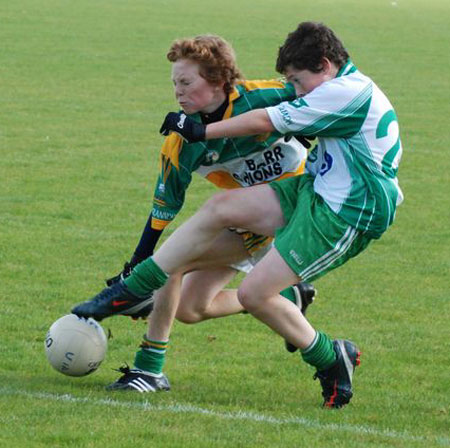 Action from the under 14 county final.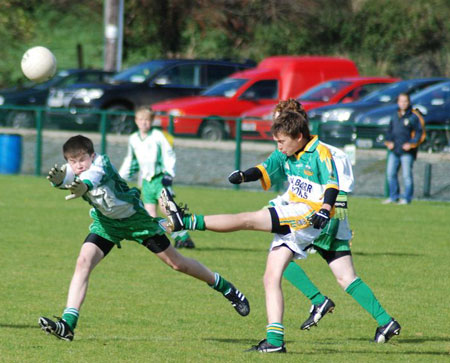 Getting a block in.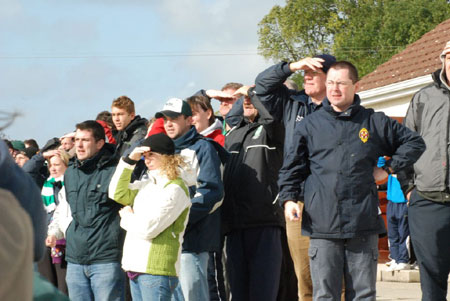 The Aodh Ruadh faithful watch anxiously.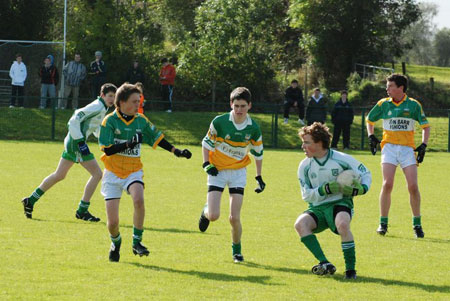 Pauric Patton on the ball once more.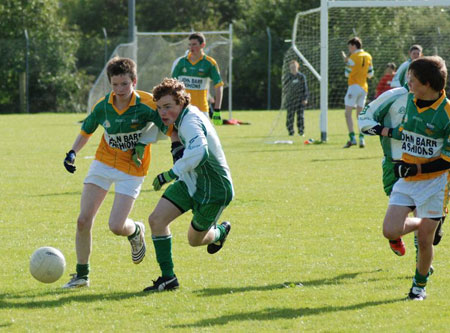 Action from the under 14 county final.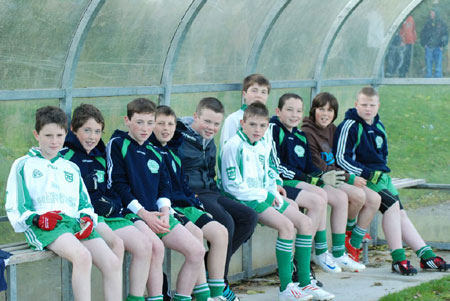 Ready and willing.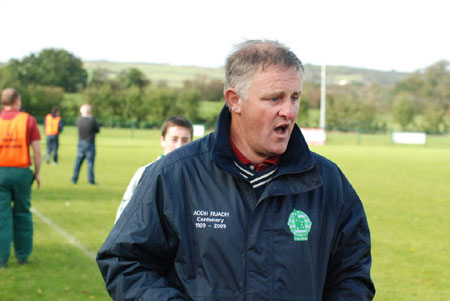 Aodh Ruadh chairman, Terence McShea, watches the game.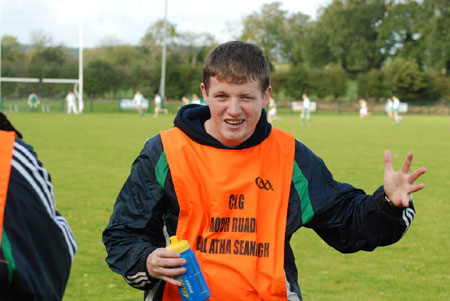 Mentor Anthony Donagher celebrates at the final whistle.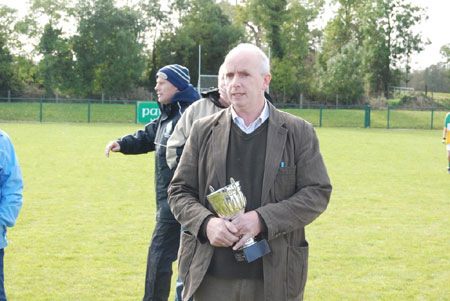 Preparing for the presentation.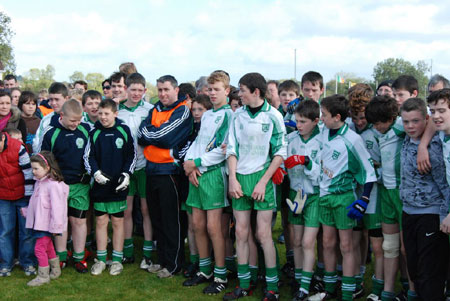 Preparing for the presentation.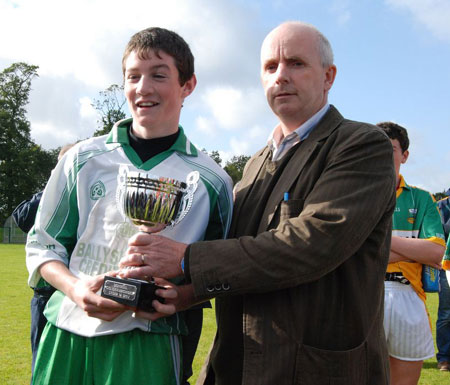 Johnny Gethins takes delivery of the under 14 championship trophy.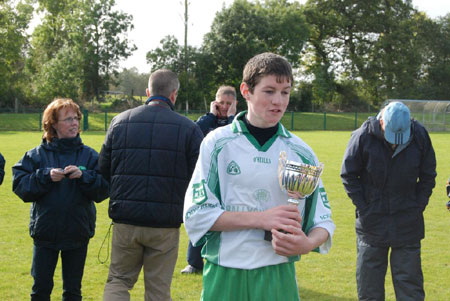 And now the hard bit Johnny. Speech!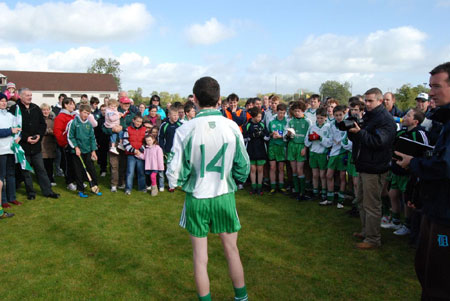 No pressure!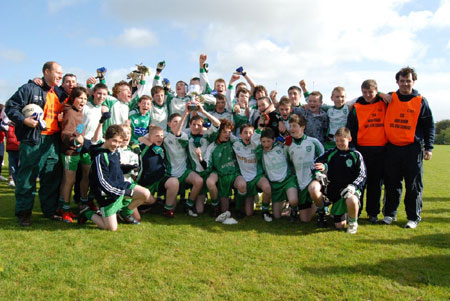 Championes!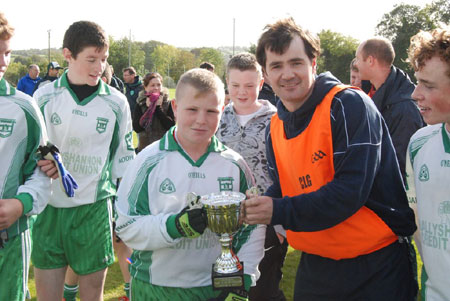 Niall McCready and John Ward.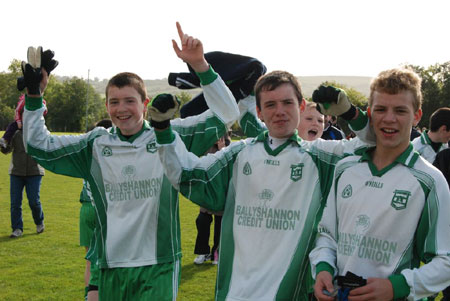 Celebrating after the presentation.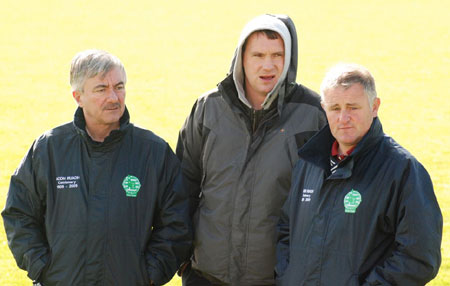 Aodh Ruadh's Mick McGrath, Paddy Kelly and Terence McShea.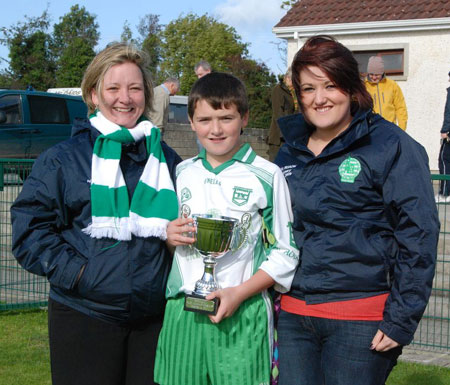 x.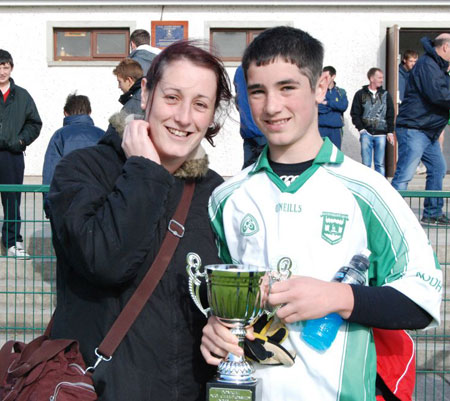 x.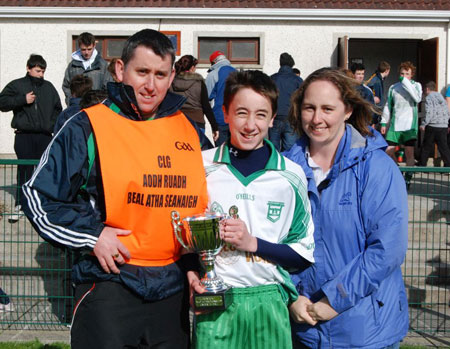 x.
Vital Statistics
Teams
Aodh Ruadh
Daniel Kelly; Matthew Maguire, Eamon McGrath, Paddy Gillespie; Darren Gethins, Colm Kelly, Niall Harley; Pauric Patton, James Kelly (0-2,1'35'); Jamie McDonald, David McGurrin (1-5,2f), Matthew Gethins; Patrick Dixon, Johnny Gethins (0-3), Eddie Lynch.
Substitutes: Conor Gilmartin (1-0), Philip Patton; Ryan Patton, Daniel McIntyre, Dominic Boyle.
Buncrana
Harry Doherty; Shane McLaughlin, Stephen Nelson, Stephen Doherty; Keelan McGonagle, Bruce Waldron, Joseph McGrory; Peter McLaughlin (0-5,5f), Daniel Wilson; Ryan Verma, Matthew Barber, Conor Grant; Darragh O'Connor (0-1), John Campbell, Jack O'Loughlin.
Substitutes: Cian Hirrell for O'Connor; Caolan McLaughlin for J Campbell; Ruairi Clerkin for O'Loughlin.
Referee: Ian Molloy (Naomh Conaill)
Report courtesy of Donegal Democrat. Report Filed: 5 October 2009