Sumptuous Aodh Ruadh set up all-southern final
Under 16 Football Championship
7 August 2011
Aodh Ruadh 1-15
Buncrana 2-5
John Hughes reports from Convoy

It was a performance for the ages from this young Aodh Ruadh team. At times Ballyshannon made football seem like a extraordinarily simple game. That did so against as accomplished and committed a side as this considerable Buncrana outfit only emphasises the excellence of their play.
Aodh Ruadh got off to the perfect start when Jamie McDonald pointed after 30 seconds. McDonald added a second before James Kelly volleyed over a possible goal chance. Kelly was on the score sheet again moments later when he gathered a pass from Eamon McGrath and fired over a super point to put Aodh Ruadh four points up with five minutes on the clock.
The Ernesiders play in this period was a joy to behold, always taking the right option and not rushing their chances.
Johnny Gethins missed a chance to make things even better for Ballyshannon when he watched his shot flash just wide of Harry Doherty's left upright. That seemed to serve as a wake-up call for Buncrana and they began playing more direct. They got on the board after ten minutes with a Peter McLaughlin free. Two minutes later another long ball in landed on top of John Campbell at full forward, he fielded well and hit a low shot past Daniel Kelly to level the game.
Aodh Ruadh thought they had got the perfect response after Michael McNeely netted when a Jamie McDonald shot came back off the post, but his effort was rather harshly adjudged a square ball. David McGurrin did post Aodh Ruadh's response on 15 minutes later though with a fine 35 metre free and a point directly from the kick-out.
James Kelly swung over a beautiful point from way out on the right wing and then great link up play was clipped coolly over by McGurrin to restore Aodh Ruadh's four point cushion. But once again Buncrana hit back with a vengeance. Darach O'Connor showed why he is such a highly rated prospect by scything through the Aodh Ruadh cover and blasting into the top left corner past Kelly.
And yet Aodh Ruadh continued to play calm and measured football. Niall Harley initiated another smooth flowing move which was pointed by David McGurrin to settle the nerves. Darach O'Connor hit the next two points, but David McGurrin slotted home a free to give Ballyshannon a slender one point advantage going into the break, 0-10 to 2-3.
The second half saw Aodh Ruadh play some scintillating football. Darren Gethins pointed from distance three minutes in to opening the second half scoring, but John Campbell, under some serious pressure, pointed well to reduce the gap to the minimum once more.
Aodh Ruadh were working like trojans and points from Jamie McDonald and David McGurrin extended the lead back out to a goal with 20 minutes left. With time ebbing, Buncrana started to take some poor options. A couple of bad wides on 43 and 49 minutes seemed to sap confidence. With ten minutes left Aodh Ruadh scented blood in the water and, characteristically, worked an opening which left Jamie McDonald one on one with the goal keeper and he clinically finished his opportunity to the net with aplomb.
McDonald linked well with McGurrin to point well four minutes later as the game started to go a little ragged. Darach O'Connor clawed back a point on the stroke of time, but the last word was left with David McGurrin who struck over a huge distance free to put a fitting seal on a marvelous performance from Aodh Ruadh.
Ballyshannon had great performances from one to 15. Niall Harley gathered a load of ball, particularly during the second half. Pauric Patton was another who imposed himself to ever greater effect as the game progressed. Michael McNeely may have, unjustly, finished without a score, but he was a very creative influence. The preternatural composure and coolness of the Aodh Ruadh forward line was quite something to behold James Kelly, Jamie McDonald and David McGurrin all complement each other and play with an almost psychokinetic understanding.
The contribution of Colm Kelly at full back and defensively was outstanding though, and his reading, physicality, intelligence and athleticism exasperated the Buncrana attack.
Vital Statistics
Teams
Aodh Ruadh
Daniel Kelly; Matthew Maguire, Colm Kelly, Ryan Patton; Niall Harley, Pauric Patton, Matthew Gettins; Eamon McGrath, Darren Gethins (0-1); Eddie Lynch, Johnny Gethins, Michael McNeely; James Kelly (0-3), Jamie McDonald (1-4), David McGurrin (0-7, 5f).
Substitutes: Paddy Gillespie for Eddie Lynch: 56 minutes, Calum O'Halloran, Stephen Thompson, Jack Dolan.
Buncrana
Harry Doherty; Stephen Doherty, Caolan McGonagle, Joseph McGrory; Sam Doherty, Bruce Waldron, Shane McLaughlin; Peter McLaughlin (0-1f), James Quigley; Stephen Nelson, Ryan Curran, Cian Hirrell; Matthew Barber, John Campbell (1-1), Darach O'Connor (1-3).
Substitutes: Daniel Wilson for Caolan McGonagle: 35 minutes, Caolan McLaughlin.
Referee: Gerard McHugh (Convoy)
Yellow cards: Jamie McDonald: 18 minutes; Sam Doherty: 41 minutes; Darach O'Connor: 53 minutes; Ryan Curran: 55 minutes.
Frees awarded: Aodh Ruadh: 19. Buncrana: 12
Wides: Aodh Ruadh: 8. Buncrana: 6.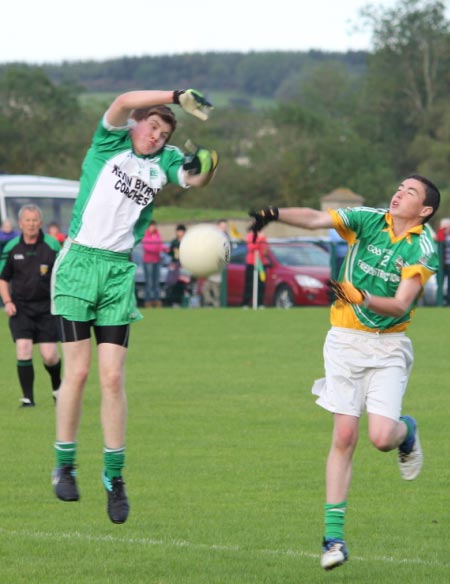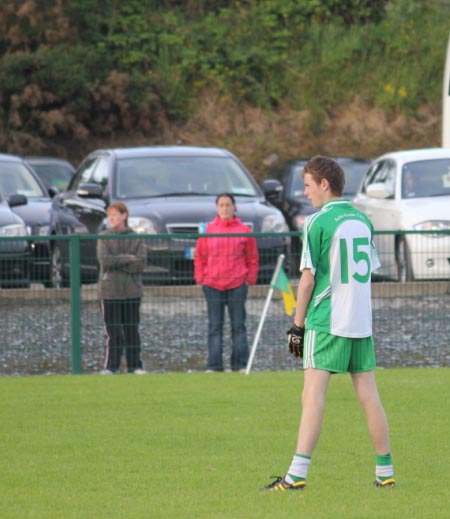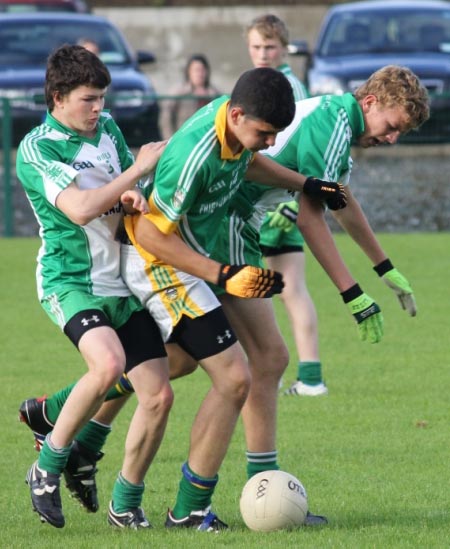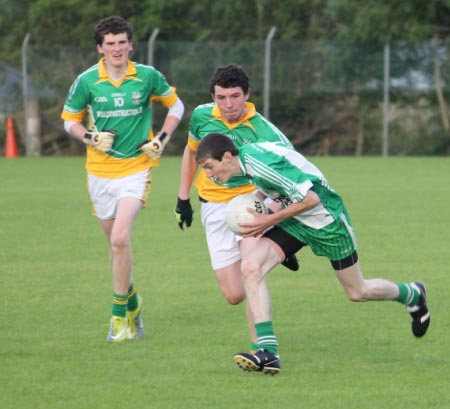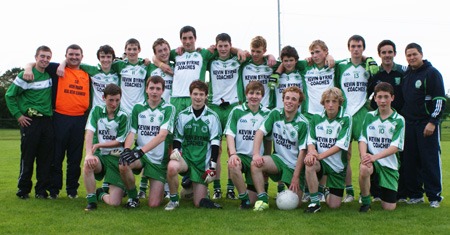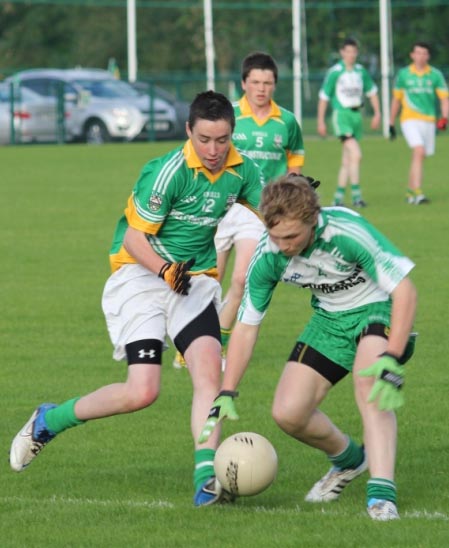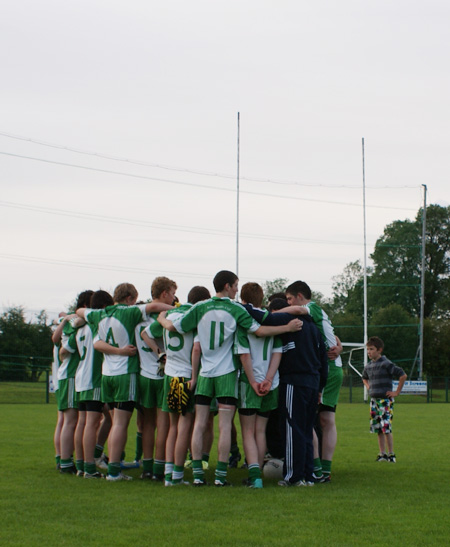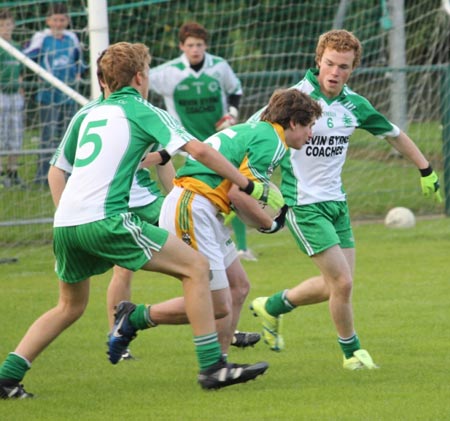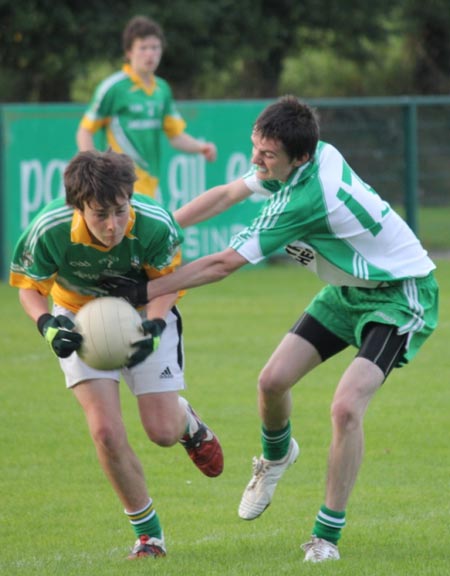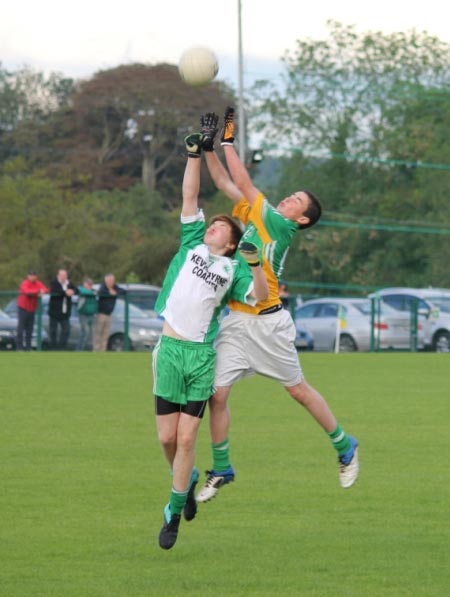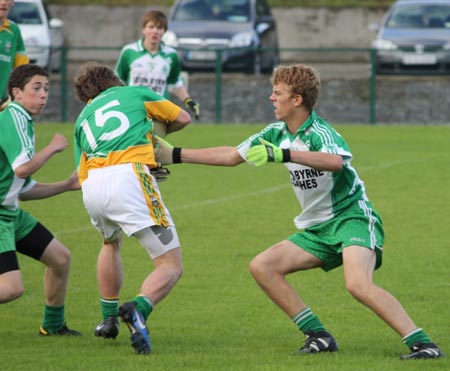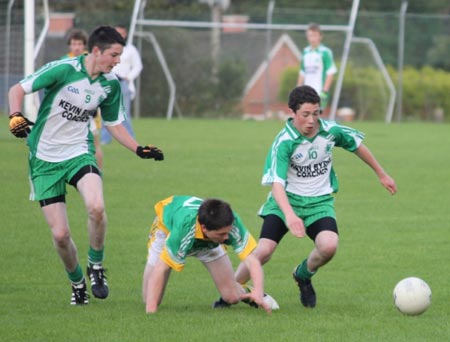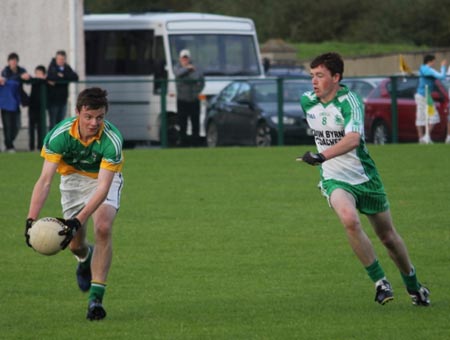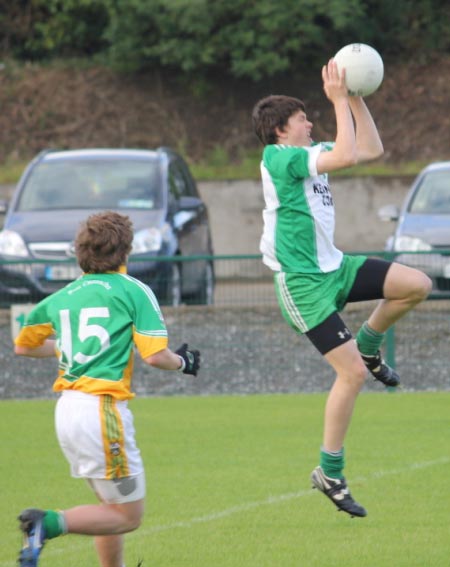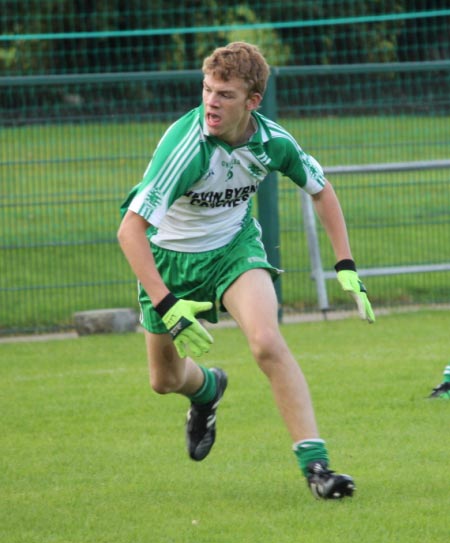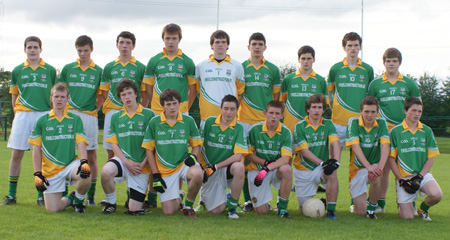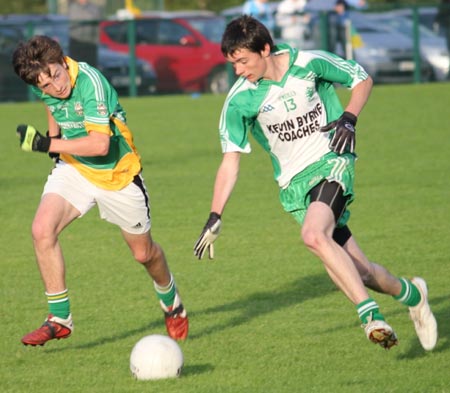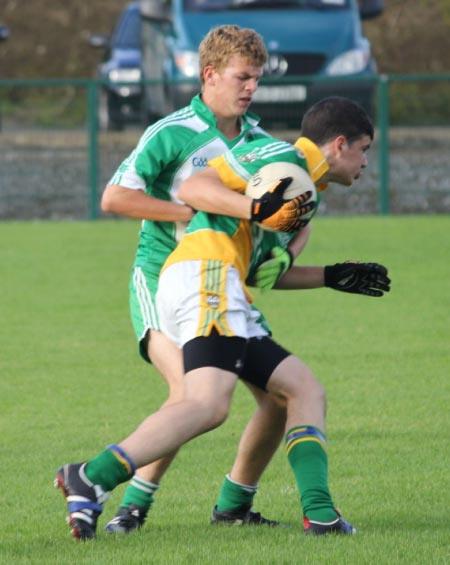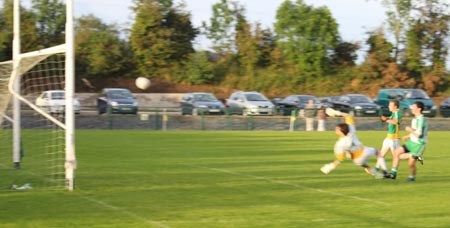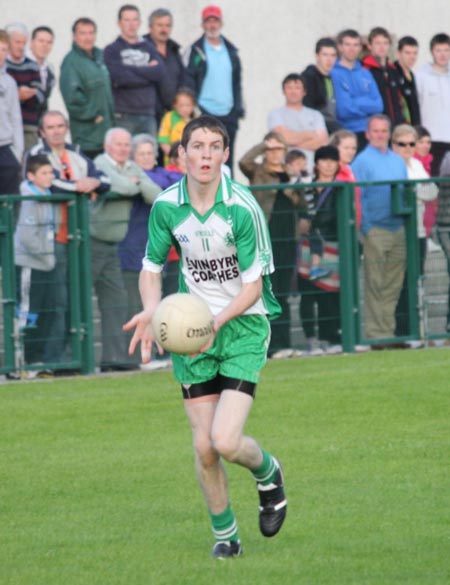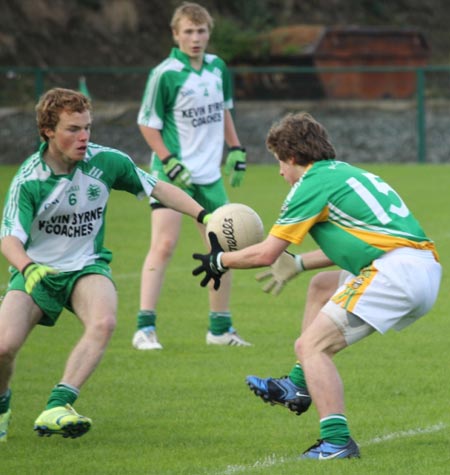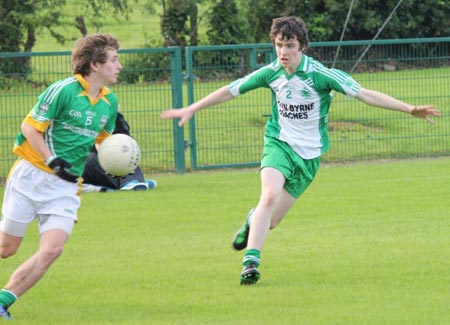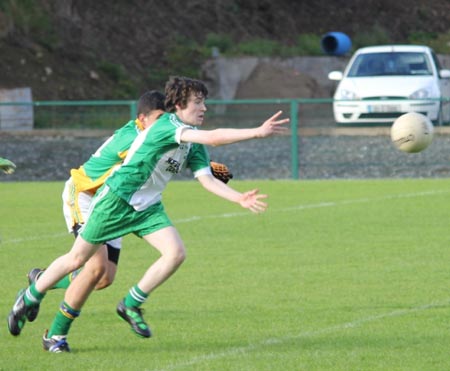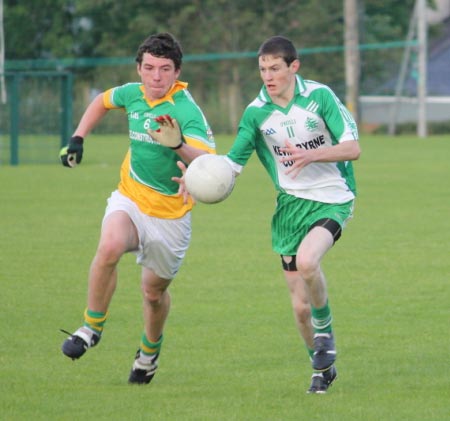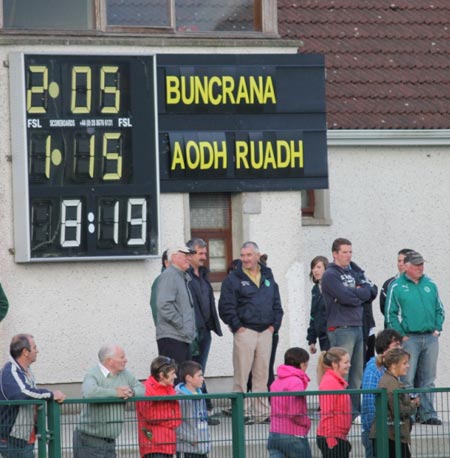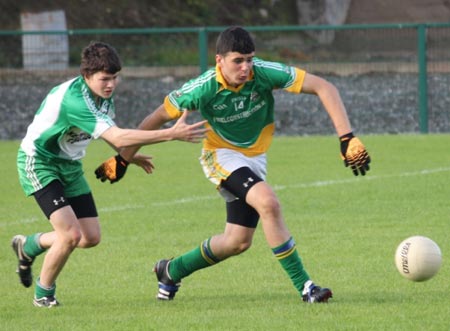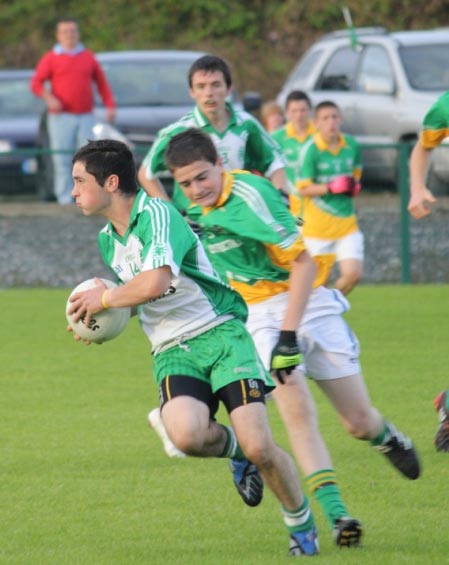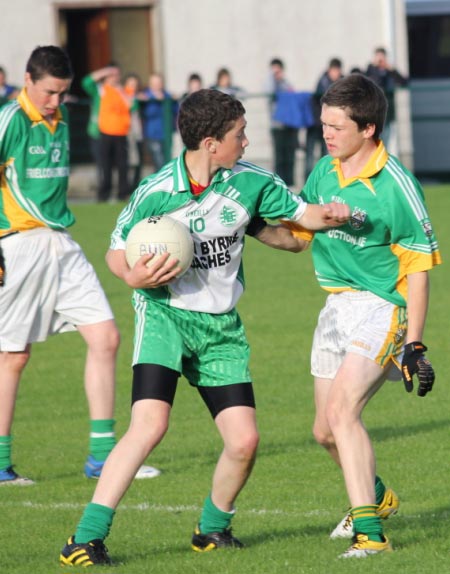 Last modified: Friday, 22 May 2020 at 2:31pm