Mountcharles host Aodh Ruadh Under 8s
The under 8s travelled to Mountcharles for a blitz hosted by Saint Naul's last Saturday. The weather wasn't great, but the lads all gave a great account of themselves on the day showing some great skills in their games against Saint Naul's and Naomh Ultan. Well done to all the players who took part: Aaron Cullen, Ben Daly, Pauric Daly, Ryan Daly, Eoin Doogan, Michael Doogan, James Gallagher, Niamh Hughes, Eoghan Kelly, Killian Meehan, James McGinley, Shane McGloin, Cian McKenna, James Monaghan, David Roper, Drew Ryan, Aengus Sweeny and Tommy Winters. We have a picture below of the team, after they got changed out of their wet jerseys. Many thanks once again to all the parents who ferried the players up to Mountcharles. Thanks also to Saint Naul's who looked after us well on the day.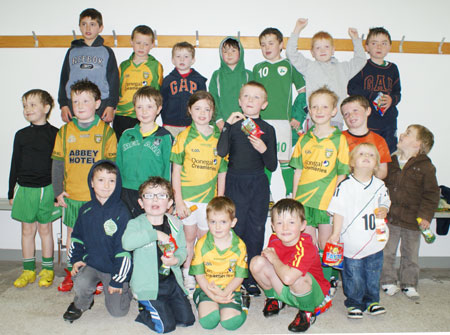 Back row: Nathan Owens-Kelly, Michael Doogan, James Monaghan, Eoghan Kelly, James Gallagher, Tommy Winters.
Middle row: James McGinley, Cian McKenna, David Roper, Niamh Hughes, Pauric Daly, Ryan Daly, Aaron Cullen.
Front row: Eoin Doogan, Shane McGloin, Ben Daly, Aengus Sweeny.
Last modified: Friday, 22 May 2020 at 2:31pm