Kieran McCready - The end of a great Donegal-Dublin link
By Padraig McGarrigle
This article appeared first in the Donegal v Dublin match programme of the 8th March, 2009, and is reproduced here by kind permission.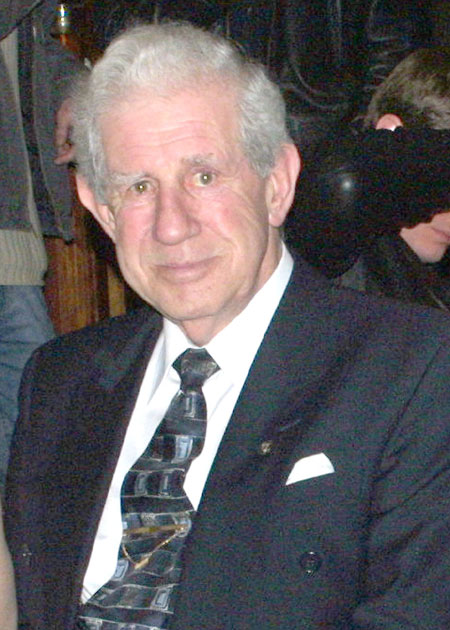 The late Kieran McCready.
Although we knew for some time that he was in poor health the news of Kieran McCready's death came as a shock. It is difficult to come to terms with the fact that a character such as he should be gone from our midst.
Kieran was the eldest son of Neil and Bridget McCready of Frosses and was reared in an environment where Irish culture was loved and fostered.
He had a lifetime association with the GAA. His first sporting success was with Aodh Ruadh, in Ballyshannon on the football fields of Donegal where he won Championship medals in juvenile minor and a coveted senior in 1951.
That was the year too that he joined the Garda Siochana and came to live in Dublin. He became involved in boxing with the Garda club and won the heavyweight championship with the Guards in 1953.
This was followed by other championship wins in 1954 1955 and 1956. Kieran won silver medals in the European Police Championships in 1955 and 1956 and represented Ireland on the Garda teams of 1954, 1955 and 1956.
By the early 1960s, he had developed a keen interest in swimming, lifesaving and high board diving winning national championships in all disciplines. By the time of his retirement from the gardai in 1987, he had won a total of 49 gold andsilver medals in garda championships, a record which is unlikely to be equalled never mind surpassed.
During this time Kieran studied and became an expert in physical fitness. In 1968 he was approached by the Donegal G.A.A. Board to take over the training of their players in Dublin. By 1972 he was appointed as chief physio/fitness manager for the entire panel. This was a significant year for Donegal as it marked their first Ulster Senior football title. Kieran was to remain with the team up to the early 1990's and during that time he built a huge reputation for himself and his advice and assistance was eagerly sought by athletes throughout the country.
In 1983 Donegal played Cavan in the Ulster senior football final and a little bit of history was created when both the Donegal and Cavan players in Dublin trained together under Kieran's supervision. This was testament to his expertise in physical training as it was to his personal integrity.
Shortly after his arrival in Dublin he joined the Civil Service GAA club. Having finished his playing career he became involved in administration and was to serve the club as chairman for several years. It was during this time that the club were to enjoy their most successful era winning Dublin senior championship and league titles.
Kieran was a member of several sporting and charitable organisations. It is no secret that he valued his association with Cumann Thir Chonaill as his favourite. He was a member for over 40 years and had the distinction of serving as chairman and later as president of the association. He was justly proud of having been made a lifetime member of the association in 1988. He was most meticulous in his preparations for each event that the association organised but on one occasion at the prestigious Donegal Person of the Year Dinner, he had requested the band to play O'Donnell Abu as he introduced the winner to the packed assembly. But the gremlins were at work and the band played Scotland the Brave. Kieran was not amused but in time the story was added to the other tales and yarns which he could relate with much hilarity.
As a raconteur he had few equals. Time spent in his company was informative and entertaining and he had the ability to tell and enjoy stories often depicting himself as the "injured party".
Kieran married Kathleen O'Donnell, from Ardara, and they had two sons, Kieran and Lochran, and three daughters Siobhan, Nuala and Grainne.
On a citation which Kieran received some years ago he was described as a sportsman, legislator, law enforcer, raconteur extraordinaire, proud Donegal man, but most of all a devoted family man.
He will be missed.