Red Jack Gallagher - An appreciation
By Sean Gallagher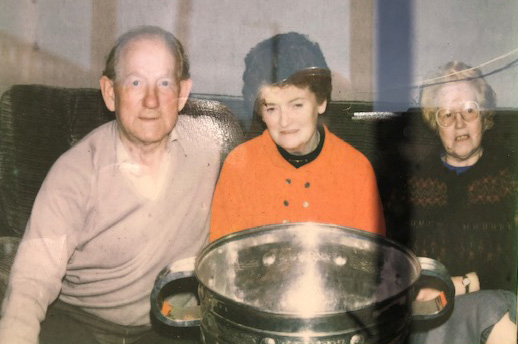 Red Jack Gallagher pictured in 1992 with Kitty Lawne, centre, and his wife Maria.
I can picture my father leaving the house that August Sunday in 1952. A, 'See you later,' to Maria and Anne Mary Goretti, the first born, he would have stepped out of number 5 to face the open fields and stone ditches of Coolcholly and beyond.
The row of 12 houses were the first to be allocated as part of the new Cluain Barron housing scheme. The completed scheme would comprise 62 houses and would become a magic place of rearing and nurturing, of caring and community.
Heading left to the corner passing Henry John and Kitty's' opposite Slate Row, onto the Donegal Road, he would have passed the Station House, the end of the County Donegal Railway line, the Narrow Gauge.
He may have been heading for the other train station at the opposite end of the town, the Great Northern Line. Its final stop was the tourist town of Bundoran which was his own destination.
He was going to a football match between the Donegal Junior Team and the Sligo Senior team, a final outing before the following Sunday's All-Ireland Junior semi-final against the mighty men of Meath, at the same venue.
His route would have taken him down the Back Street, Market Street past the great old Market House, down Castle Street, onto Lower Main Street and over the Bridge.
On crossing the new single-arch bridge with its 76-foot span I'm sure he reflected on the great 14 arch construction of many centuries, recently sacrificed in the name of progress. The mighty river Erne now made its narrow way down to the estuary and out into Donegal Bay. The new Hydro-Electrification Scheme at Cathaleen's Falls had permanently changed the character and beauty of the town.
Any misgivings he had I'm sure, were tempered by the new reality of steady employment for himself and many others, even as the boom years of construction were quickly on the wane, soon to be little more than a memory.
Over also, were his footballing days for his county. He still had some club football in his blood, hoping to add to his last county medal won the previous year against Letterkenny, a town close to my own heart.
He perhaps was reviewing his situation. Now 32, newly married, family started, new home, steady job, time to hang up the boots, or maybe not.
Dad may have reflected on the passage of time. As a 19-year old, he played at left three-quarters for Donegal on their previous appearance in an All-Ireland junior semi-final, in 1939, against Dublin in Breffni Park.
Today he was destined to be outside the line, even maybe looking forward to it,
But he was no sooner at the ground when fate intervened. For rather than spectating, he found himself in the game. Donegal were a man short, I imagine he didn't need a second asking.
And further-more he impressed in a not very impressive display and was selected on the team for the semi-final and made captain to boot. As he used to say himself in our growing-up, doesn't that beat Banagher.
The circumstances of that day came to my knowledge some 40 years after the event, and it was another 10 years before the empty house revealed the finer details.
Dad many years gone, Mother in a nursing home, the top shelf of the wardrobe coughed up old paper cuttings, yellowing and folded.
Amongst them an extract from, The Donegal Vindicator 16th August 1952. It read as follows.
---
DRAW WAS FAIR RESULT TO TOP-RATE ALL-IRELAND JUNIOR SEMI-FINAL
Donegal 2-6; Meath 1-9
'RED JACK' SKIPPERED, STARRED, SCHEMED AND SUCCEEDED
There was a record attendance at Bundoran's new Gaelic Park and despite the poor weather, the two counties served up a match that had everyone begging for, 'the same again please.' Few gave Donegal much chance following the Sligo trial match and the altogether brilliant performance was as much a shock to the many home supporters as it was to the Meath team which had concluded a special ten-day training course in preparation for the encounter.
And on that Donegal side was written another chapter to the legend that is Red Jack Gallagher.
Red Jack was the architect, engineer and skilled workman. He led, drove and encouraged his mates. Where he failed, and it wasn't often, Donegal failed; where he succeeded, scores followed.
Red Jack pulled every trick out of the bag.
---
Not a bad day's work for a spectator turned participant, I decided to look back at other papers of the day.
The Donegal Democrat report of the 15th August confirmed that the, "Three thousand plus spectators were treated to one of the best and greatest displays of crafty, high-grade football seen in Ulster for many a day.
"Donegal were led and captained by Ballyshannon's Red Jack Gallagher whose masterly and crafty football had the large following in throes of excitement at various periods during the game.
"Donegal wore the provincial colours - white jerseys with the red hand and Meath turned out in the Leinster green.
"Outstanding player afield was the Donegal half-back, Gweebarra's Dan Bonner, who manned the 'bearna baoghill' with a steadfastness that was refreshing, and an all-out display that marked him in a class by himself.
"Architect of Donegal's success was unquestionably 'Red Jack' who sold the dummies, made the openings and directed his team-mates with coolness and craft. His display all through bore a stamp of class and wizardly thrustfulness in keeping with the many former great displays of a maestro who will always be a maestro unequalled".
The Meath Chronicle of 16th August confirmed the draw, "A fitting end to a dour but sporting tussle, estimating that between four to five hundred Meath supporters from all parts of the county made the long journey; and glad to see among them the veteran Gael Mr Pat Hopkins from Kells. And 'our old friend' Mr Christy Gibney, draped in his flag, it wouldn't be a Meath match without Christy."
About the Donegal team - "They are good, very good - strong, robust, sporting, their best man Jack Gallagher, they call him 'Red' Jack, a great footballer if ever there was one."
My synopsis of these reports doesn't do justice to the fine and detailed accounts by obviously dedicated sports journalists of the day; nor, to the contributions and skills of the many great players on both teams.
For this is my father's story.
My growing up was a feast of stories, at home, in my Granny's house. Travelling to matches in the 60s, squeezed between big men in hackney cars, men with personalities, characters who had a fondness, dare I say love, for their place, their county, each other.
Could I remember half the stories, could I believe the half of them?
But this story, on the record is almost a finale, a closing chapter. It is Dad's swansong, his legacy for us to cherish and to share.
A legacy that endures and who knows better than me, John Anthony Martin; Sean from the beginning, but still to this very day so often referred to as a son of Red Jack's.
Was it Michael Harding who wrote once that he loved his father from the day he died?
Did I tell my Dad I loved him? No, but I was close one evening in January 1993. I rang the hospital ward in Dublin to wish him well before his big operation to have his left lung removed. He had visitors, background noise, no space for intimacy, it suited us both.
We never spoke again.
I came to know and love my Dad much over the years, especially when I became a husband, father and even now, grandfather. I have a wonderful pencil drawing by the talented artist Eoghan McIntyre, Letterkenny. I pass it daily in our hallway. Taken from a photograph when Tom and Frances Daly kindly visited the home house on Bishop Street. after the 1992 victory, it shows Mum and Dad on the couch with the Holy Grail that is Sam Maguire between them. The scene depicts not quite two, but certainly one, of the biggest catches of Dad's life. He looks pleased. His hand rests lightly on the famous trophy, a few short weeks before his sudden illness and passing.
A final few words from a gentleman of Kilraine, the great Columba McDyer, an All-Ireland winner with Cavan in 1947 in the Polo Grounds New York. He wrote to Dad in later years, addressing the envelope:
Red Jack Gallagher, All Star Footballer, GAA, Donegal Road, Ballyshannon.
"Words fail me to express my thanks to you and your family for the papers and cuttings and photos" ... "Now Jack and family I will treasure these and they will be well and truly catalogued by me for my family records. It is indeed a gesture of solidarity among old friends and it has renewed in me a contact with the past and our time when you and myself, while at opposition at high level in those times, still nothing but admiration, respect and pride was the order of the day. Red Jack holds a very high profile with me, and nothing will ever change that."
Thanks for the memories, Da.
Last modified: Monday, 13 April 2020 at 6:28pm