Aodh Ruadh hurlers win Fermanagh Shield
Our under 12 hurlers won the Fermanagh league on Thursday, 11th June, beating Lisbellaw in the final in Ederney. In doing so they became the first team from Donegal to win an underage county title in Fermanagh. The final was a very close run affair at a sun drenched Saint Joseph's park in Ederney. Aodh Ruadh fell behind to two quick goals from the reigning champions and the Ballyshannon boys were slow to get going and appeared nervous.
But slowly but surely they got into their stride and began to get on top of their opponents and at half time trailed by 2-1 to 1-2. Both teams played very well in the second half and provided great entertainment for the large crowd. Scores were at a premium and while the Aodh Ruadh boys were dominating the game that wasn't being reflected on the score board, Lisbellaw were clinging onto a two point lead and were hopeful of recording their first win over Aodh Ruadh in 2009.
However the Ballyshannon boys continued battling and showed the never say die attitude which they displayed throughout this league and Oisín Roper grabbed the all important goal as the game entered injury time to leave them leading by a point. There was still time for another Lisbellaw attack, but Aodh Ruadh held out and with their supporters encouraging the referee to blow the full time whistle he eventually did. There were great celebrations and the players were delighted as this was not one of their better performances, but they kept battling away and deservedly won the title. The full time score was Aodh Ruadh 2-3 Lisbellaw 2-2.
After the game Davy Bannon, the Fermanagh Hurling Board Chairman presented the Fermanagh Shield to Aodh Ruadh captain and man of the match Conor "the Rock" Kennedy. Conor made a great speech and thanked Lisbellaw who were very worthy opponents. From Ederney it was back to Ballyshannon for a victory cavalcade throughout the town and thanks to Pat Melaniff who opened Aras Aoidh Ruaidh where refreshments were provided for the victorious panel and their parents. Thanks to all the supporters who travelled to Ederney and supported the boys and helped them over the finish line.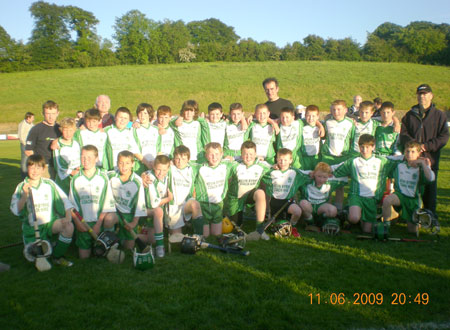 The victorious Aodh Ruadh under 12 team which defeated Lisbellaw in the Fermanagh League final with manager John Rooney and selectors Peter Horan and Billy Finn.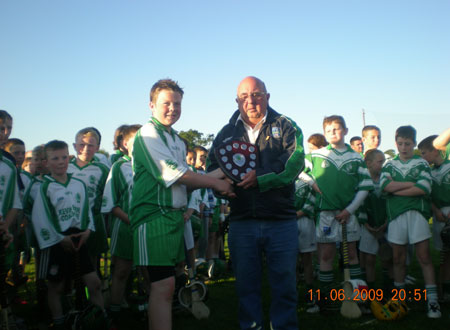 Davy Bannon, chairman of the Fermanagh Hurling Board, presents the under 12 Fermanagh shield to the winning captain Conor Kennedy.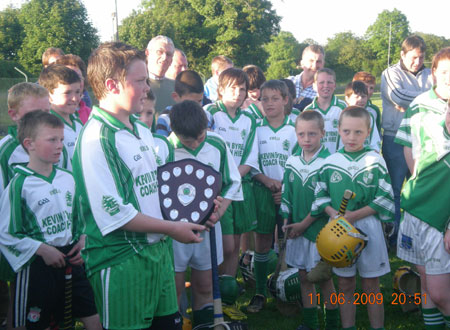 Conor Kennedy making his acceptance speech.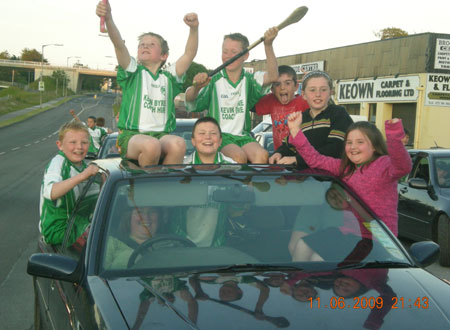 Aodh Ruadh players and supporters at the start of their victory cavalcade.
Report Filed: 17 June 2009