Aodh Ruadh feature big in Donegal's All-Ireland blitz success
Saturday last was a great day for underage hurling in Donegal with All-Ireland titles coming to the county in two age groups: under 14 and under 16. Aodh Ruadh had a major role to play in the All-Ireland under 14c title coming to the county. We had five players on the team: Adam Irwin, Ciaran Rami, Eddie Lynch, Niall Harley and Colm Kelly who also captained the team. Jamie Brennan was also on the team but missed out on Saturday's blitz due to a pre-booked holiday. The under 14 tournament took place in Annyalla, Monaghan where ten counties took part. Donegal beat Fermanagh in their opening game, they followed this up with good wins over Louth and Tyrone. In their final group game they beat Leitrim to top their group and qualify for the All-Ireland C final where they played Sligo. The Donegal boys ran out convincing winners in the final. The team was managed by John Rooney and assisted by Peter Horan and Buncrana's John O'Loughlin. Chris Kelly and Eddie Lynch provided medical back-up to the squad. It was a great achievement by our lads and shows the esteem in which Aodh Ruadh hurling is held at this age group.
The under 16 All-Ireland C blitz was held between Ballyshannon and Bundoran. Again Donegal ran out convincing winners of this blitz, beating Fermanagh in the final. We had four players on this panel: Pat Faherty, Aaron Fannon, Conor McNeely and Rory Cullen. Well done to all the lads, it's a great achievement to have ten All-Ireland medals coming to the club and to have an All-Ireland winning captain from the club. It's a recognition of the great work being done at underage hurling in Aodh Ruadh and in the county in general.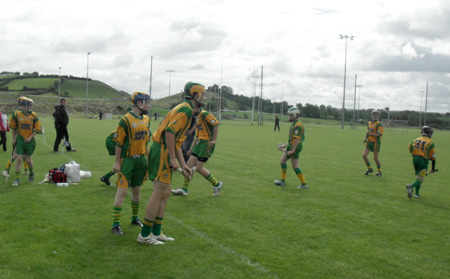 Donegal under 14 hurling team warm up before the All-Ireland blitz in Annyalla near Castleblayney.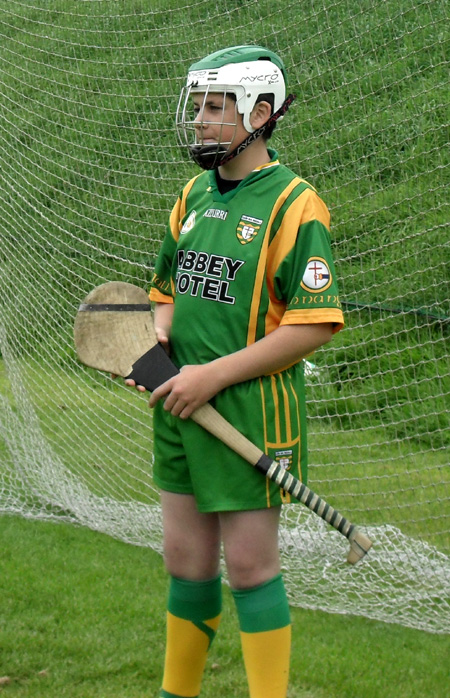 Adam Irwin in goals for Doengal's under 14 hurlers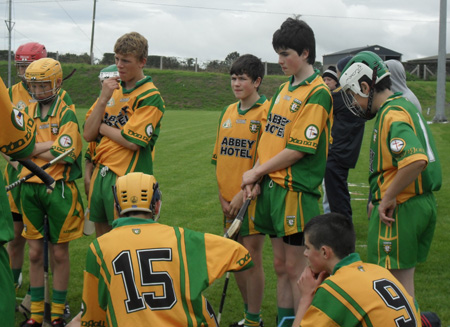 Donegal under 14 hurlers including Aodh Ruadh's Niall Harley, Colm Kelly and Adam Irwin listen attentively during the All-Ireland blitz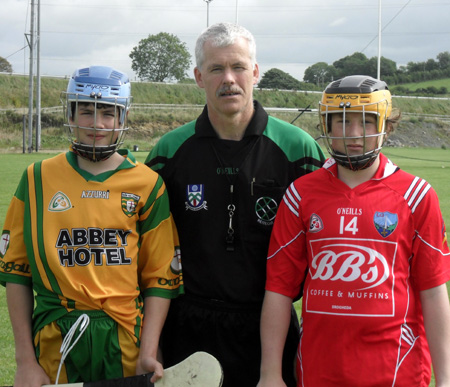 Donegal under 14 captain Colm Kelly shakes hands with his Louth counterpart before the game.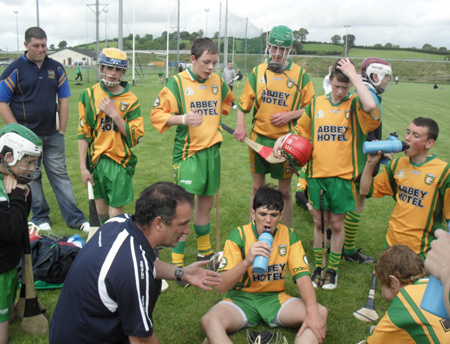 Thirsty work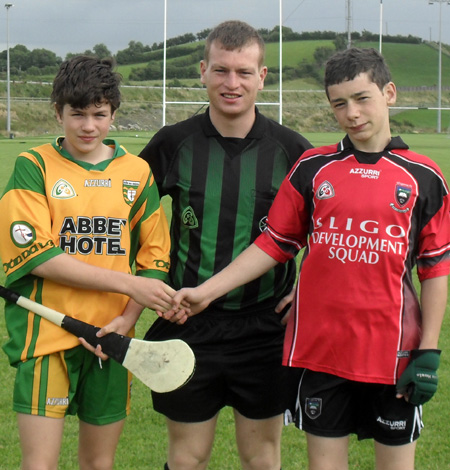 Colm Kelly shakes hands with the Sligo captain before the All-Ireland C final in Annyalla.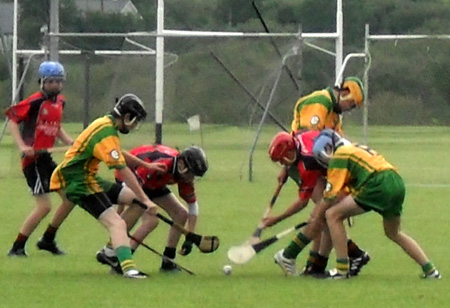 Actiona from the All-Ireland C final between Donegal and Sligo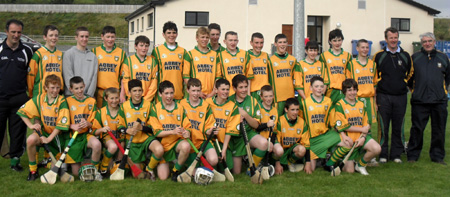 Click the image above for a larger version.
The All-Ireland under 14 C champions, Donegal, including in the back row John Rooney, manager, Niall Harley, seventh from left, Colm Kelly, 12th from left, John O'Loughlin, assistant, Donal McLaughlin, Hurling Board Chairman. Front row. Ciaran Rami fourth from left, Eddie Lynch 5th from left, Adam Irwin, eighth from left. Missing from the photo are Jamie Brennan and assistant manager Peter Horan.
Last modified: Thursday, 29 November 2018 at 2:40pm