Aodh Ruadh claim under 14 Fermanagh League title
Aodh Ruadh under 14 hurlers completed a wonderful season on Sunday, 12 September by winning the Fermanagh league. The lads made the trip to Maguiresbridge to play Fermanagh kingpins, Lisbellaw. Both these teams performed very well at Féile na nGael 2010 in Clare, so a very close game was expected. In perfect conditions for hurling the large crowd present were treated to a very competitive game full of passion and commitment.
The first half started at a very hectic pace and there were some very physical exchanges. After a slow start Aodh Ruadh gradually got into the game and began playing some very stylish hurling. The Ballyshannon boys led at half time 2-4 to 1-1. The second half turned into a very physical and hard-hitting affair with referee Jason McManus having to brandish a number of yellow cards. The Fermanagh men buoyed up by the large home support battled back and were determined that Aodh Ruadh were not going to follow up on their under 12 success with the under 14 title heading to Donegal also.
Lisbellaw got the first couple of scores of the second half to close the gap to 2-4 to 2-2. The Donegal boys, after a very long season, dug deep and the characteristics of team work and determination for which they are well known came to the fore, and they got the last five scores of the game to run out convincing winners 2-9 to 2-2.
The final whistle was greeted with a mini pitch invasion as our loyal supporters congratulated these great lads who gave them a year to remember. Fermanagh Hurling Board chairman Peter Bogue presented the Fermanagh League cup to winning captain Ciaran Rami who made a great acceptance speech. So 2010 came to an end for this very dedicated and special panel claiming something that was even beyond the great Kilkenny team - the five in a row! Our version consisted of the Donegal League, Donegal Championship, Donegal Féile, Ulster Féile and finally the Fermanagh League.
This team have put in a tremendous effort over the last number of years. They began training at the start of March and continued twice a week. They have done all that was asked of them and have represented their club proudly on a county, provincial and national stage. Their commitment, dedication and discipline are a credit to them and their families. They are great ambassadors for the Aodh Ruadh club. Well done to the entire panel and management team.
After the game the Fermanagh cup headed across the border into Donegal where it received a great welcome in Ballyshannon. After a tour of the town the lads and their fanatical supporters made their way to Aras Aoidh Ruaidh for some very well deserved refreshments.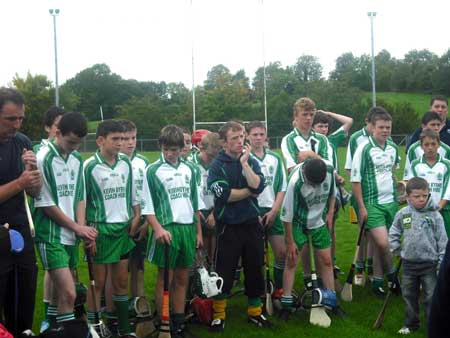 Aodh Ruadh under 14 hurlers waiting to get their hands on the trophy.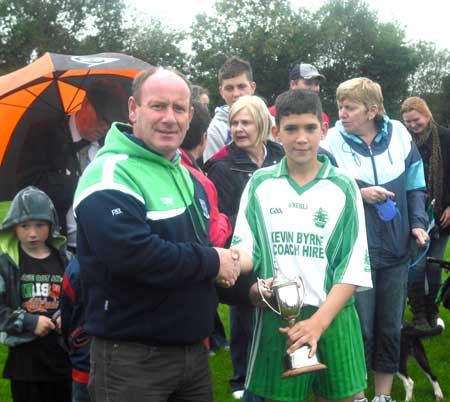 Fermanagh hurling chairman Peter Bogue presenting the Fermanagh under 14 league trophy to winning captain Ciaran Rami.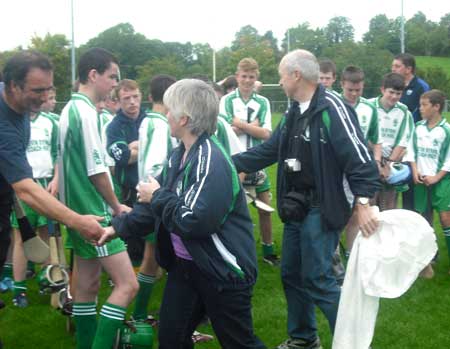 Opposing mentors and players shaking hands after a great battle.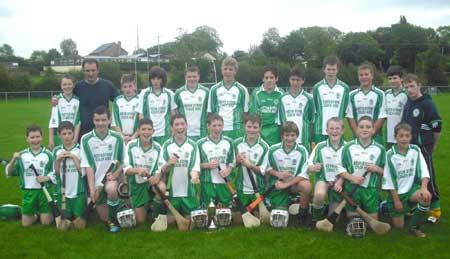 Aodh Ruadh under 14 hurlers after claiming the Fermanagh under 14 league capping a great year which saw them winning Donegal, Fermanagh and Ulster titles.
Click the picture for a larger version.
Last modified: Monday, 1 June 2020 at 1:32pm