Corrigan 3-7 gives Lisbellaw victory
Under 16 hurling
10 July 2011
Aodh Ruadh 2-11
Lisbellaw 4-9

Ciaran Corrigan and Mickey Williamson put on a masterclass of scoring they accounted for all of Lisbellaw's scores in a pulsating under 16 hurling league final.
But this was much more than a two man show with each member of the Lisbellaw team fighting for every ball and playing their part in a hard fought, but deserved win.
Corrigan in his full forward berth amassed a grand total of 3-7 points, whilst his team mate and right full forward Micky Williamson registered 1-2 points. Lisbellaw's full back Chrissy Corry was in imperious form as he blocked, stopped and parried away almost certain Ballyshannon scores.
Lisbellaw got off to a dream start, when their full forward Ciaran Corrigan twice burst through the Ballyshannon defence to blast home two superbly taken goals in the first five minutes. Eddie Lynch pucked Ballyshannon's first score from a free. But Lisbellaw hit back in devastating fashion when a flowing move down the field saw Micky Williamson placed with ball in hand and he banged home his sides third goal.
Though this game was barely from ten minutes old Lisbellaw were eight points up, but Ballshannon had not travelled to give up their trophy so easily and they hit two further from the accurate hurl of Lynch.
In quick reply Corrigan clipped over his and his side's first point.
As this match was entering its second quarter Lisbellaw's scoring star once again lit up the game when he seared through the Ballyshannon defence to fire home Lisbellaw's fourth goal.
Aodh Ruadh reorgansided their defence and prevented any more goals for the remainder of the match. Lynch kept the score board ticking over for Ballyshannon but Corrigan hit back with a free of his own.
11 points down Ballyshannon refused to throw in the towel and they swooped for their first goal which was fired home from play by Colm Kelly. The now rejuvenated Aodh Ruadh side dominated the remainder of the half and hit three further points from through Eoin O'Donnell, Colm Kelly and Jamie Brennan. St Patrick's sole score at the end of the half came from the the very predictable hurl of Ciaran Corrigan.
Whilst this game's opening half was full of scores the second half was about pure grit and determination from the Lisbellaw young guns.
They got the first score of the half with Micky Williamson pucking over a cracking score from play. With Ballyshannon laying almost permanent siege to their opponent's goals Colm Kelly scored another point for the visitors but they were going to need goals if they were to salvage this game. And Lynch provided one when he blasted home his sides second goal from a free in. Now just three points separated the sides Lynch hit two points from frees to bring the margin down to the minimum but it was to be Ciaran Corrigan who was to fittingly have the final say in this game as he the last three scores, two from play and one from a free, to secure the trophy for his Lisbellaw side.
Vital Statistics
Teams
Aodh Ruadh
Adam Irwin; Brian Ward, Tommy Gillespie, Eugene Drummond; Ciaran Rami, Colm Kelly (1-1), Aaron Breslin; Eoin O'Donnell (0-2), Eamon McGrath; Eddie Lynch (1-7), Niall Harley, Jamie Brennan (0-1); Oisin Rooney (0-1); Conor Kennedy, Ciaran Kelly.
Substitutes: Brendan Gillespie, Donal Sweeny, Deva Ayres and Sean Nangle.
Manager: Peter Horan and Johnny Rooney.
Lisbellaw
Colum McPhillips; Jack Gavin, Chrissy Corry, Conor Goodwin; David Teague, Odhran Russell (capt.), Stephen Breen; Barri Duffy, Paddy Harte; Conor Magee, Tommy Cleary, Daniel Goodwin; Mickey Williamson (1-2), Ciaran Corrigan (3-7), Conor Durnian.
Substitutes: Aaron Magee, Paul McElroy, Eoin Cleary, Aaron Kinney, Cormac Thompson and Ronan Markey.
Managers: Dermott Cleary, Sean Duffy and Fran Keenan.
Referee: Jason McManus (Lisnaskea Emmett's)
Report and pictures kind courtesy Fermanagh Herald.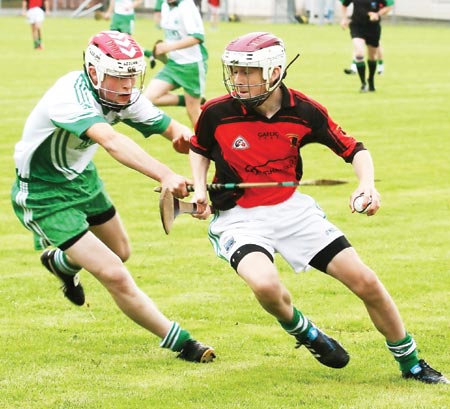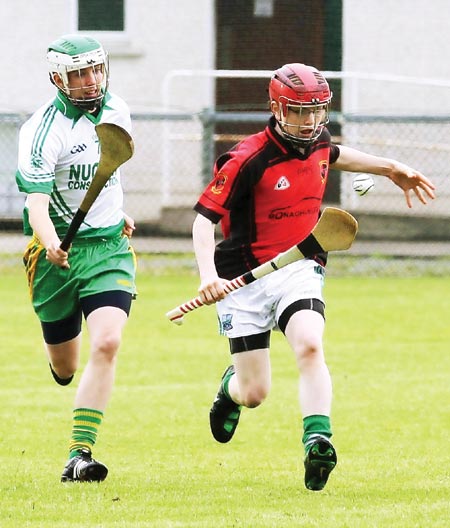 Last modified: Thursday, 29 November 2018 at 2:40pm