Four-in-a-row Kilkenny captain Michael Fennelly visits Aodh Ruadh
Friday the 6th November 2009 is a date that will live long in the memory of Aodh Ruadh for it was on that date that the Kilkenny four-in-a-row captain Michael Fennelly visited the club for the underage hurling presentation night. Michael made the 160 mile trip from Kilkenny to Ballyshannon to present the young hurlers with their medals and in doing so kept a promise he made to Aodh Ruadh hurling chairman John Rooney.
Michael brought the Lenister senior hurling trophy with him, the Bob O'Keefe cup. He also brought the national Hurling league trophy with him, unfortunately the MacCarthy cup was at the GPA awards in Dublin. Michael also brought Joe Maher of Saint Martin's an All-Ireland under 21 medal winner with Kilkenny in 2008 and Shane Power of Carrickshock a cousin of Kilkenny Senior player Ritchie Power, both distinguished hurlers in their own right with him for the visit to Ballyshannon.
Aras Aodh Ruaidh was packed to capacity when Michael Fennelly entered to huge cheers carrying the Bob O'Keefe cup. John Rooney acted as mc and began proceedings by welcoming all to Arás Aodh Ruadh especially Michael Fennelly. He spoke of his pride in welcoming an All-Ireland winning captain to Arás Aodh Ruadh especially in this the centenary year of the club. He spoke of the great success of underage hurling in the club this year and especially the winning of the Fermanagh League by the under 12s and the winning of the league and championship in the A section by the under 14s, a first for the club. He also spoke of the number of dual players now playing in the club and hoped that this would continue, he congratulated the under 14 footballers on their success this year.
He spoke of the quality of player Michael Fennelly is, a holder of four All-Ireland senior hurling medals and captain of possibly the greatest hurling team ever, the present Kilkenny team. He spoke of the fame of the Fennelly family name among hurling supporters and the respect they are held in. He thanked Michael for coming and bringing the cups with him and also for bringing an All Ireland Senior medal with him for our young hurlers to see. He also thanked Michael for coming as he is in the middle of the Leinster Senior Championship with his club Ballyhale Shamrocks and is playing the Lenister semi-final on Sunday 15th November, he also thanked Joe and Shane for coming. He then called on Michael Fennelly to speak to the young players.
Michael made a very passionate speech to the young hurlers, speaking about his own experiences with club and county. He congratulated the young hurlers on their success in winning three county titles but encouraged them to keep the work up as success won't just come automatically and they have to keep working. He pointed out that honesty is the most important thing any young player can have, honesty to himself, to his team, club and family. He congratulated Aodh Ruadh on its centenary and wished them well in the future. In conclusion he reminded the players of the role played by their parents and their coaches and never forget the sacrifices they make for them and that none of them would be there without them.
John Rooney congratulated Michael on a great speech and encouraged all the players to remember his words, he said it was a pity there wasn't more senior hurlers present to hear his speech and to understand what commitment is needed to be successful as a hurler. He then called on Terence McShea, Aodh Ruadh chairman, to say a few words, before which he stated that Terence's term as chairman is up shortly and he wished to thank him for all the support he gave the hurling committee during his term.
Terence welcomed Michael to the club and spoke of the honour it was for the club to have a players of the stature of Michael visit the club. He encouraged the boys to remember Michael's words and to always work at their games. He congratulated the hurling committee on organising the night and praised the work all the managers were doing. Terence then made a presentation of a watch to Michael on behalf of Aodh Ruadh which Michael was very taken aback with and really appreciated.
The presentations began with the under 8s and one of their managers, Eddie Lynch, spoke about their commitment all year, their great attendance at training and their success at all blitzes in which they took part. He thanked Michael Fennelly and Shane and Joe for coming up, he also thanked his joint managers Dennis Daly and Chris Kelly.
The under 10s were next up, again they were a very committed squad and took part in Blitzes in Fermanagh and Donegal John Rooney thanked Michael Ayres and Kevin McDermott for their work with the squad. Michael Ayres then called on his squad to accept their medals from Michael Fennelly.
Music provided by David 'Mojo' O'Donnell added greatly to the occasion and Hugh Gillespie showed great promise as a DJ, such was his skill with the stereo system.
The next squad to receive medals were the under 12s who won the Fermanagh league, their manager John Rooney spoke of how they went through the Fermanagh League unbeaten and qualified to play Lisbellaw in the final, he spoke of the honesty and never say die attitude of this squad who despite being two points down going into injury time in the final they kept battling away and got the clinching goal to bring the Fermanagh Shield across the border back to Ballyshannon. He also spoke of how they qualified for the Donegal Under 12 A final, but came up short against a strong Buncrana team in the final, he thanked Peter Horan for all his help with this squad. He also thanked Billy Finn who gave years to underage hurling in Ballyshannon and played a big part with this squad since they began training in 2006 and how great it was to see him at tonight's function.
John Rooney then showed the crowd two hurls Michael Fennelly had given to underage hurling in Aodh Ruadh, one was signed by the 2009 panel that had won the four-in-a-row and one that had been signed by the winning captains of each of the 4 years, and he thanked Michael for those lovely gifts.
The next manager to speak was under 14 double winning manager Peter Horan, he spoke of the great effort put in by this very youthful squad only five of which are over age next year. He spoke of them going unbeaten throughout the league and their great win over Buncrana in the league final, he then spoke of their championship campaign and meeting Buncrana again and of the great battle in MacCumhaill park where we ran out two point winners and completed a famous double in the A section at this grade a first for the club. He thanked John Rooney and Billy Finn for their help. To great applause these boys accepted their medals from Michael.
This year Aodh Ruadh had five hurlers on the Donegal under 14 development squad that took part in a blitz in Croke Park where all five boys played. To mark this achievement presentations were made to Tommy Gillespie, Colm Kelly, Jamie Mc Donald, Jamie Brennan and Eddie Lynch.
The final awards of the evening were presented to winners in the local skills competition: under 10, Barry Kelly; under 12, Oisín Rooney; and under 14, Eddie Lynch.
A number of the under 16 panel were present and John Rooney congratulated them and their manager Kevin Loughlin on getting to the county semi final after victories over Buncrana and Setanta. Despite being beaten by eventual winners Burt in the county semi-final he encouraged the boys to stick with it and up the work rate for 2010 and hopefully they can win a county championship.
Before finishing he thanked a number of people for making the night possible, he thanked Alice Watson for her contacts in Kilkenny, he thanked Sean Cassidy for his TV equipment which allowed everyone watch the photography of John Hughes, Brian Drummond and Eddie Lynch he thanked the lads for the photographs, which added to the night. He thanked Peter McIntyre and the Allingham Arms Hotel, Bundoran for sponsoring the accommodation for Michael Fennelly and the boys, he thanked Councilor Barry O'Neill for recent sponsorship. He especially thanked Pat Melaniff for his efforts in preparing the Aras for the function and Jim Kane, Fr McManus for use of chairs, and Thomas Gallagher the photographer for covering the event.
He thanked all the mothers for the help with the catering which was, as always, first class, he apologised for anyone he forgot to mention and finally he thanked his fellow mentors and their wives and partners for their commitment to the promotion of hurling. He called on under 14 captain Jamie Brennan to present Michael Fennelly with an Aodh Ruadh jersey on behalf of the players.
At this stage it was party time and everyone had a great feed of goodies provided by the aforementioned mothers. Michael Fennelly then began signing authographs for everyone and posing for photographs with all. Everyone was delighted to be able to hold and examine Michael's All-Ireland and National League medals. Nothing was too much for Michael and he didn't leave until all was signed and everyone got a photograph, all present commented on Michael's modesty and friendliness and how he made time for everyone.
Despite the horrendous weather on Saturday morning over 50 brave young hurlers turned out for a two hour coaching session conducted by Michael and assisted by Joe and Shane. It was a great thrill for all the hurlers to be trained by Michael and to hear of his experiences playing with Kilkenny and for our young hurlers to be practicing the same drills that are done by Henry Shefflin and Tommy Walsh among others was an experience that will stay with them forever.
Mentors and players learnt a lot during this session and are still finding it hard to believe that we hosted the four-in-a-row captain, After this session it was back to the Aras for tea and sandwiches and more autographs and photographs before the boys set off on the long road back to Ballyhale but not before making a surprise visit out to Tonragee and Aodh Ruadh's Mr Hurling Billy Finn!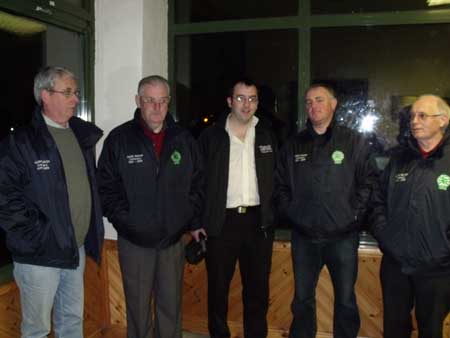 Waiting to see the four-in-a-row captain; Conal Gallagher, Pat Melaniff, Councilor Barry O'Neill, Terence McShea and John Magee.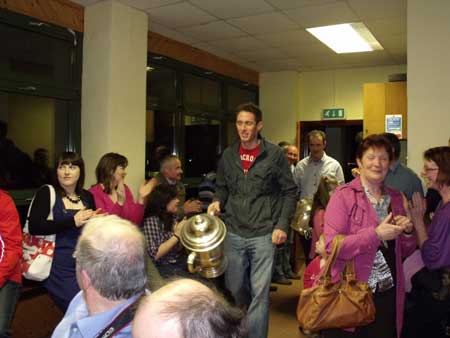 Michael Fennelly, Kilkenny's four-in-a-row captain, arriving in Arás Aodh Ruaidh with the Bob O'Keefe cup.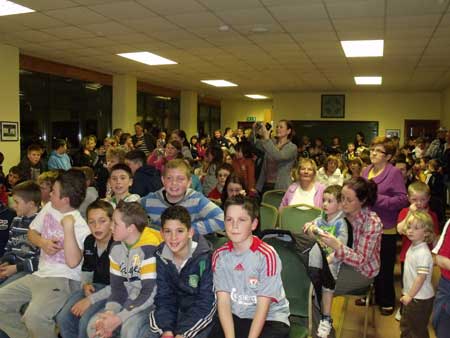 A packed Arás Aodh Ruaidh enjoying underage hurling presentation night.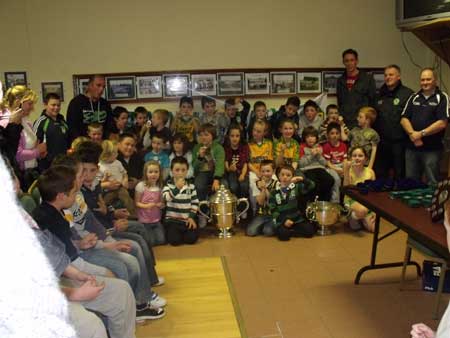 Under 8 hurling squad with managers Dennis Daly, Chris Kelly, Eddie Lynch, chairman Terence McShea and Michael Fennelly.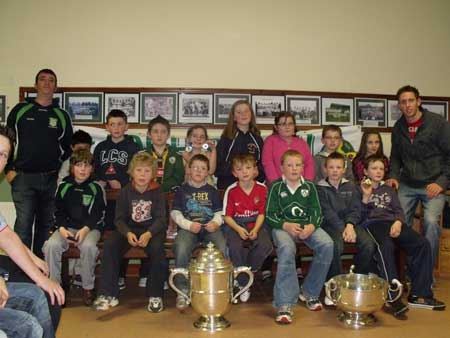 Under 10 squad with manager Michael Ayres and Michael Fennelly with Bob O'Keefe and National League trophies.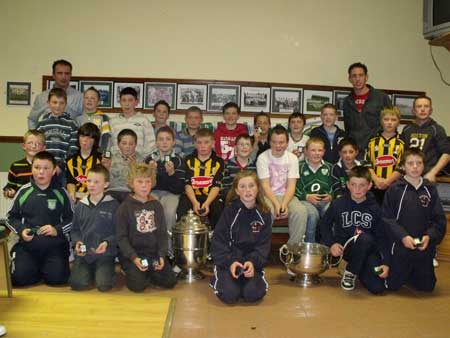 Under 12 Fermanagh league winners with John Rooney (manager) Peter Horan (selector) and Michael Fennelly.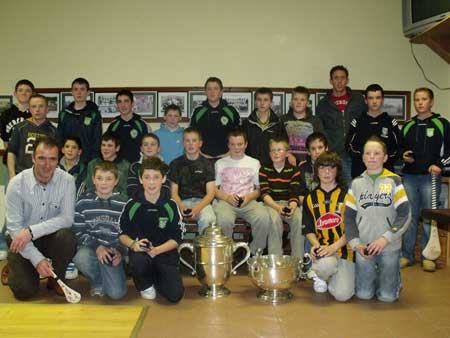 Under 14 Donegal league and championship winners with Peter Horan (manager) John Rooney (selector) and Michael Fennelly.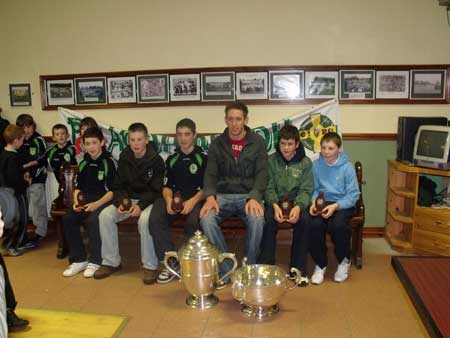 Aodh Ruadh's representatives on Donegal under 14 development squad Eddie Lynch, Tommy Gillespie, Jamie McDonald, Michael Fennelly, Colm Kelly and Jamie Brennan.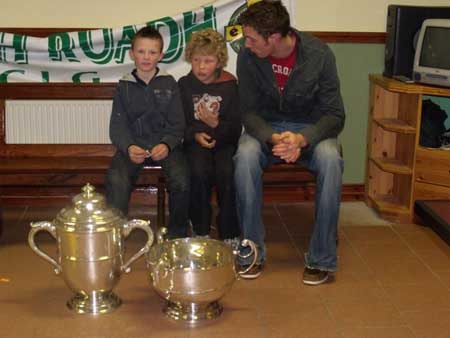 No cup for Michael! Ryan Ayres and Stephen Anderson having a chat with Michael Fennelly.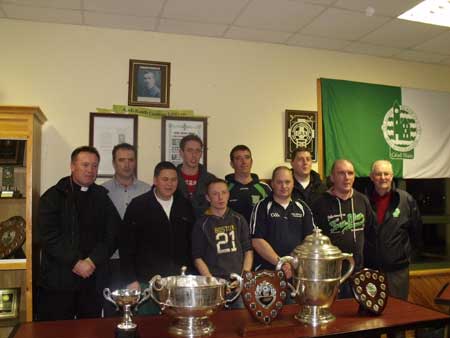 Father McManus, John Rooney, Michael Fennelly, Michael Ayres, Chris Kelly, Peter Horan, Eddie Lynch, Dennis Daly and Pat Melaniff at the Aodh Ruadh underage hurling presentation.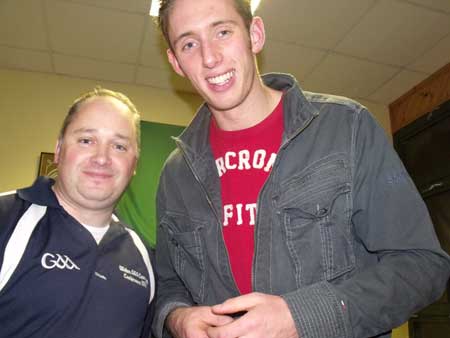 Other side of the camera Aodh Ruadh under 8 hurling manager and top photographer Eddie Lynch with Fennelly.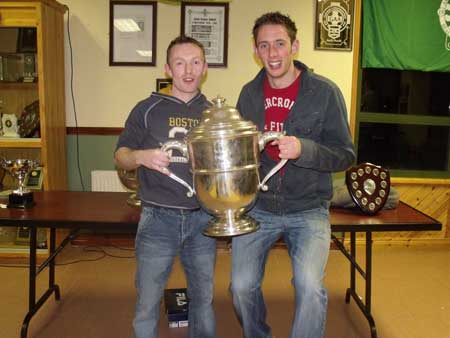 Peter Horan and Michael Fennelly holding the Bob O'Keefe cup.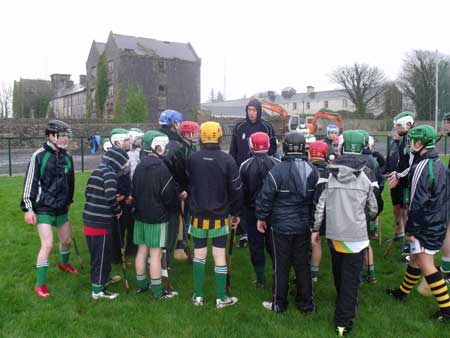 Michael Fennelly giving some tips to Aodh Ruadh's under 12 and under 14 hurlers.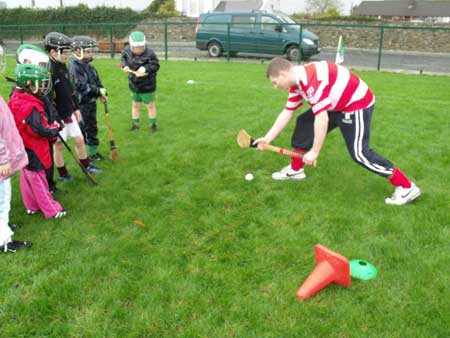 Shane Power demonstrating the roll lifts to attentive Aodh Ruadh under 8s.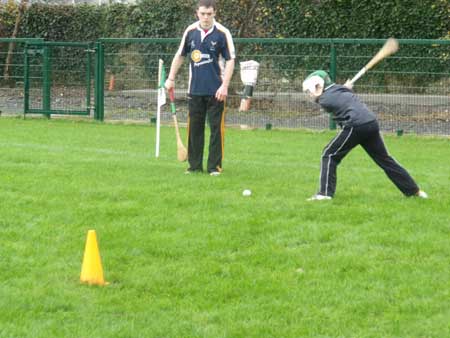 Joe Maher keeping a watching brief on Aodh Ruadh under 10s.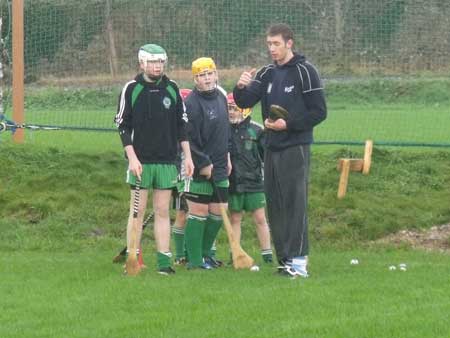 Michael Fennelly explaining even some of the Kilkenny boys have trouble with this one!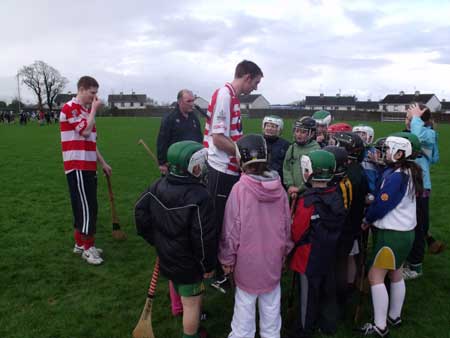 Michael taking questions from under 10s. "What's with the Cork jersey?"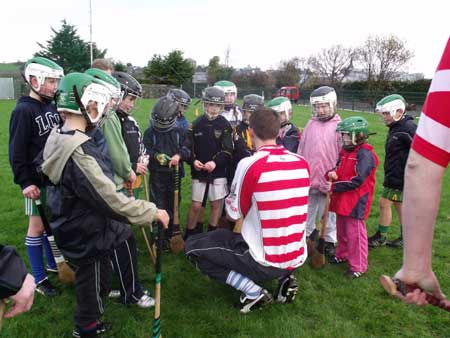 A captive audience Michael with the under 8s.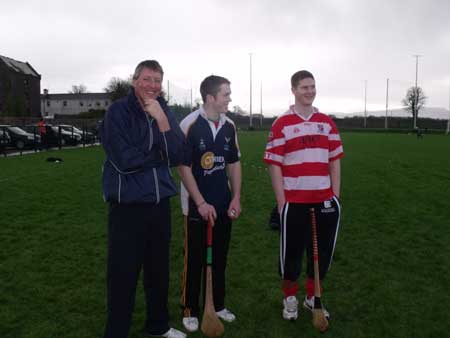 Wait till I tell the boys in Ballycastle about this! Brian McHenry still can't believe the Kilkenny captain is here.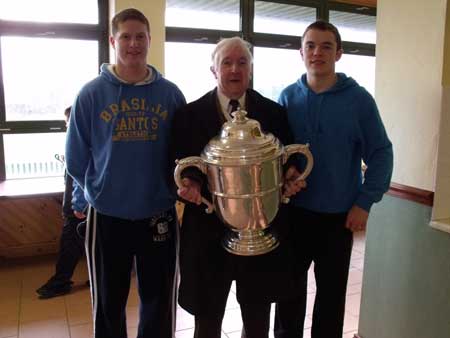 I'll hardly fill this, Shane Power, Owen Roe O'Neill, Joe Maher and Bob O'Keefe.
Report Filed: 8 December 2008