2005 Alan Ryan / Seamus Grimes Hurling Tournament
The Alan Ryan/Seamus Grimes Hurling tournament was held in Ballyshannon on the Bank Holiday Monday (2nd May). This year it was held as an under 16 tournament and seven teams attended (Tourlestrane (Sligo), Coolera (Sligo), Aodh Ruadh, McCumhaills, Setanta, St. Eunans, Burt).
The results of all the Aodh Ruadh matches are as follows:
| | | | |
| --- | --- | --- | --- |
| Aodh Ruadh | 3-4 | Burt | 0-1 |
| Aodh Ruadh | 5-3 | Tourlestrane | 0-2 |
| Aodh Ruadh | 3-5 | McCumhaills | 2-3 |
A Final - 'Seamus Grimes trophy'
After comprehensively beating both Burt and Tourlestrane in the first two matches, Aodh Ruadh beat McCumhaills in a very competitive and tough match in the 'Alan Ryan' A final.
For the first time since this Aodh Ruadh team were playing at under 12 level they beat McCumhaills on a final scoreline of 3-5 to 2-3 after being behind on a scoreline of 1-2 to 0-3 at half-time. Immediately after the commencement of the second half, McCumhaills again found the net scoring another goal after a minute and followed this up by a good point. However, this was to be their last score of the match!
Fielding nine players from the County Donegal Under 16 panel McCumhaills were clearly the team to beat. With our two county representatives Chris Kilgannon and Gary Loughlin in the middle of the pairc together with player of the tournament Diarmuid McInerney, Aodh Ruadh completely took over in the final 10 minutes.
In particular, incisive solo runs from Paul Hughes and Peader O'Keefe caused havoc in the McCumhaills full back line.
Best for Aodh Ruadh were brothers Chris and Kieran Kilgannon, Cian Dolan, Diarmuid McInerney, Gary O'Brien, Paul Hughes and Gary Loughlin. The Aodh Ruadh scores came from Liam Cullen, Gary O'Brien and Paul Hughes (1 goal each) and Chris Kilgannon 0-3, Gary Loughlin 0-1 and Diarmuid McInerny (0-1).
After the match, the Aodh Ruadh team were congratulated by the McCumhaills mentor and U16 County hurling manager, Peter Maloney who requested that a further 5 members of the Aodh Ruadh panel be added to the County U16 panel. Unfortunately the U16 Donegal League and Championship does not start until the 8th August but at least seven of the Aodh Ruadh panel will represent the county in the meantime.
Below are photographs taken at the Alan Ryan / Seamus Grimes Hurling tournament.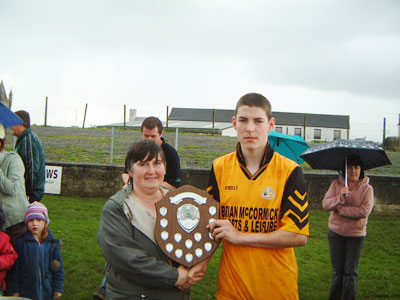 David Bradley of Saint Eunan's accepting the Ernedale Shield from Marian Breslin.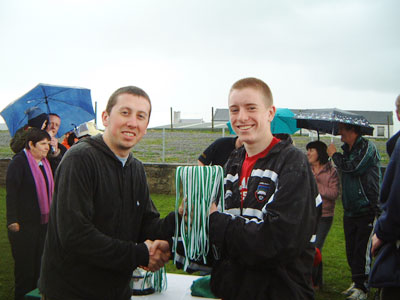 Keenan Cawley of Coolera accepting the 'Seamus Grimes' trophy from Eddie Grimes.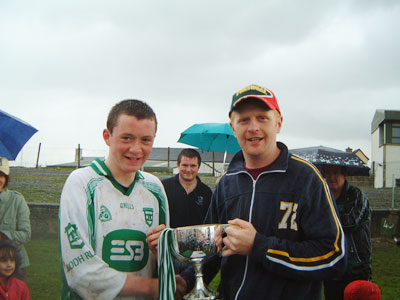 The Aodh Ruadh captain Gary Loughlin accepting the Alan Ryan Cup after
beating McCumhaill's in the final on a scoreline of 3-5 to 2-3.