2007 Alan Ryan / Seamus Grimes Hurling Tournament
On a blustery day in Father Tierney Park and Munday's field the under 16 Alan Ryan and Seamus Grimes tournament was played with Ballinamore from County Leitrim, Setanta from Killygordon and McCumhaill's or Ballybofey taking part along with Aodh Ruadh. It was to be a very competitive final after Aodh Ruadh played McCumhaill's and Ballinamore. After winning the tournament for the past two years Aodh Ruadh again succeeded in reaching their third 'A' Alan Ryan final. However, Ballyshannon lost the Alan Ryan to McCumhaill's on a final scoreline of 2-3 to 1-1. With the advantage of the strong breeze, Aodh Ruadh should have been well in front but for some unfortunate wides and missed goal chances. At half-time, the scores were level at one point apiece and Aodh Ruadh looked most likely winners after getting a great goal from David Dolan four minutes after the restart. However two minutes later McCumhaills responded with a goal of their own and when they scored another three minutes later it effectively sealed the win for McCumhaill's. Best for Aodh Ruadh were captain Kieran Kilgannon, Ashley Mulherne, Gavin Croghan and David Dolan. The player of the tournament was awarded to Adam Gallinagh of McCumhaill's.
In the Seamus Grimes final, Setanta and Ballinamore played another very competitive match before Setanta eventually got on top on a final scoreline of 2-3 to 3-1. Best for Ballinamore was Morgan Quinn whilst Richard Kee excelled for Setanta.
Below are photographs taken at the Alan Ryan / Seamus Grimes Hurling tournament.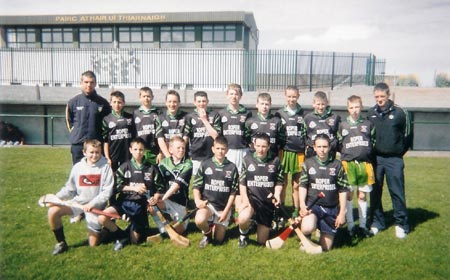 The U16 hurling Setanta team who won the Seamus Grimes memorial trophy.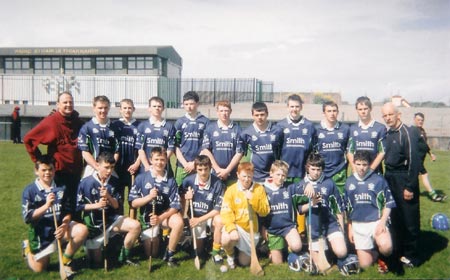 The Ballinamore team, captained by Morgan Quinn, who were runners up in the Seamus Grimes U16 hurling tournament.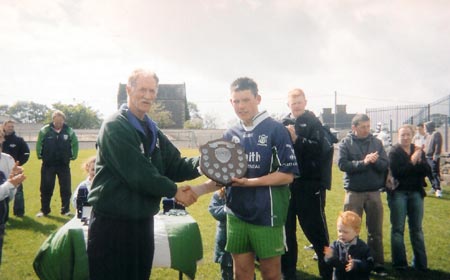 The Aodh Ruadh captain Kieran Kilgannon being presented with the Ernedale Height's Shield.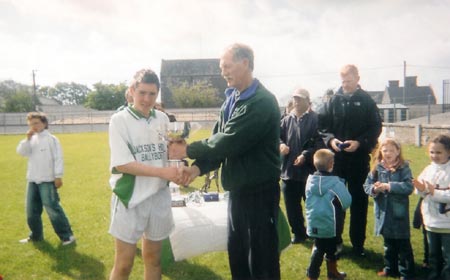 The McCumhaill's captain, Martin O' Reilly being presented with the Alan Ryan Cup by Martin 'Kerry' Ryan.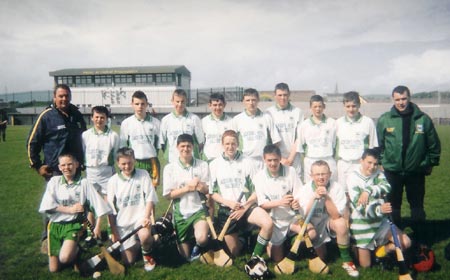 The winning McCumhaill's team in the Alan Ryan hurling tournament.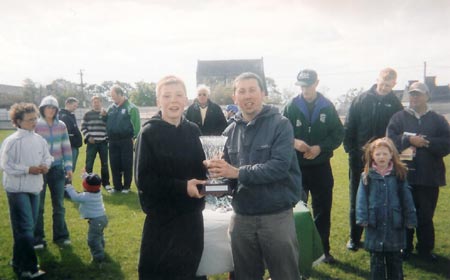 The Setanta captain, Richard Kee being presented with the Seamus Grimes memorial trophy.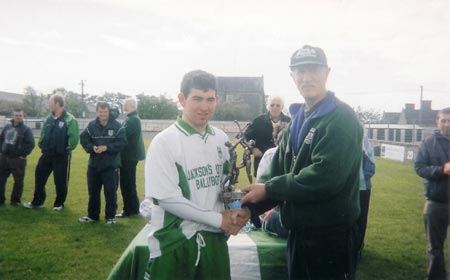 Martin 'Kerry' Ryan presenting the player of the tournament to Adam Gallinagh of McCumhaills.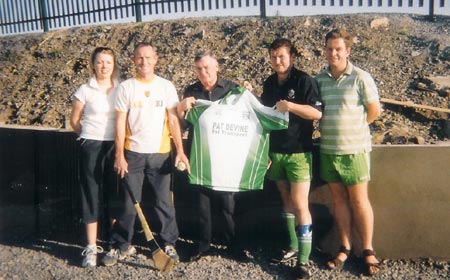 Mr. Pat Devine presenting a set of minor jerseys to the Aodh Ruadh minor huling team. Pictured is Emma Gaughan (hurling secretary), Thomas Gallagher, Pat Devine (Devine's transport), Kevin Loughlin (Minor team manager) and Dennis Doherty (hurling Chairman).
Scan 3 top: Scan 3 bottom: