Aodh Ruadh defeat gallant Downings to take county title
Ladies under 13 A championship final
5 November 2016
Aodh Ruadh 2-8
Downings 2-5
Pearse Park, Ardara
Aodh Ruadh and Downings met on a decidely chill Saturday night in Ardara to decide the destination of the county under 13 title and the identity of Donegal's representatives at Féile 2017. Downings had reached the final thanks to an under-broken sequence of double digit victories in the group and knock-out stages. Aodh Ruadh won through well from the group stages, but had to go to a replay to get the better of Termon in the quarter-finals and had a tough semi-final in Fintra against a strong Killybegs side.
Both teams came into the game with injury clouds hanging over them. Downings were without their captain through hand injury while illness meant Orla Keon was unable to line out for Aodh Ruadh.
Despite having had the longer journey to Pearse Park, it was Downings who settled the quicker with two early points. However both defences played well on a tough night for football and the rest of the first quarter elapsed without much in the way of scoring action. Downings edged three clear after 13 minutes before Aodh Ruadh finally found their shooting boots.
Caitlin McGarrigle opened her account with a good free after 16 minutes and not long after Aoibheann McGarrigle arced over an excellent point from play. With eight minutes of the half remaining Katie O'Brien powered over a point and a minute later another McGarrigle free took the Shamettes into the lead for the first time. Katie O'Brien doubled her tally with another trademark point on 26 minutes, but the referee played five minutes of first-half added time.
Right at the end of that period Downings bundled home a goal which saw them enter the break narrow 1-3 to 0-5 leaders.
Aodh Ruadh were facing into a bit of a breeze in the second half, but had shown in their contests with Termon and Killybegs that character and appetite for work were not something they lacked. They would need both those qualities in spades over the coming 34 minutes of football.
The second half was a real arm wrestle with both defences playing magnificently. Aodh Ruadh had early chances, but they went abegging and when they next score came it was a real laying down of the gauntlet from Na Dunaibh. A shot took two deflections before rolling across the line to put four in it with 41 minutes played. Caitlin McGarrigle fired over an answering point from play, but that was cancelled out not long after by Downings with 48 minutes gones.
But as the game entered the last ten minutes the Ballyshannon girls went up a gear and their opponents tired in the face of the onslaught. The revival was kick-started by a rocket of a shot from Emer O'Brien which she unleashed from the right into the top left corner of the goal.
Two minutes later Downings managed to register a point in response, but that was as good as it was to get for them. A magnificent Katie O'Brien free from out on the right pulled the deficit back to a single point and then with 54 minutes played Danielle Gallagher went on a surging run through the heart of the Downings defence before setting up Sarah Jane Keon. Keon's finish matched the build-up as her rasping shot hit the far post and crossed the line to leap Ballyshannon into the lead.
A cracking point from Aoibheann McGarrigle meant Downings needed a goal to force extra time. That made for a nervy last few minutes, but Aodh Ruadh showed all the experience earned from their hard route to the final to keep their heads through those closing moments and claim a memorable victory.
A special mention has to go to Tia McFarland who high-tailed it from the Ulster Irish Dancing Championship where she was dancing a four hand for the McCarney School and won seventh place in the teams. She showed no ill-effects from her dash across the province, but freezing rain in Ardara probably did her tan no favours!
The defence were magnificent with Eilish Gallagher giving an absolute exhibition of desire and hunger combined with great handling. Grainne Maguire's reading of the game at full back was a pleasure to watch while Aine Hill was assurance itself as Downings closed in on a late goal chance. Lucy McGlynn was fantastic in her marking assignment while Ciara Caldwell and Clodagh O'Connor were very safe on a tricky night for ball handling. Tia McFarland's midfield partner Caitlin McGarrigle was, once again, brilliant in those tough exchanges in the middle third. The pair had plenty of help from Ella Clancy who gave one of her best displays of the season. Up front Sarah Jane Keon, Katie O'Brien, Emer O'Brien, Aoibheann McGarrigle, Danielle Gallagher, Caoimhe Hughes-O'Brien and Katie McMullin all did well as Aodh Ruadh had to work for every score against a committed Downings defence.
After the final whistle joint captains Ella Clancy and Caitlin McGarrigle collected the trophy. They called for three cheers for a valiant Downings side and after that it was off to the Nesbitt Arms where the Clancy clan had set up a superb spread of food for the newly crowned county champions. Then it was back up the road to Ballyshannon where the cavalcade left the town in no doubt was to who the nights victors were. A truly deserved end to the season for a special group of players.
Vital Statistics
Teams
Aodh Ruadh
Áine Hill; Clodagh O'Connor, Grainne Maguire, Ciara Caldwell; Lucy McGlynn, Ella Clancy, Eilish Gallagher; Caitlin McGarrigle (0-3, 2f), Tia McFarland; Katie McMullin, Danielle Gallagher, Sarah Jane Keon (1-0); Aoibheann McGarrigle (0-2), Katie O'Brien (0-3, 1f), Emer O'Brien (1-0). Subs: Caoimhe Hughes-O'Brien for Katie McMullin HT; Lucy Gallagher, Caitlin McGarrigle, Danielle Gallagher, Dearbhla Hughes-O'Brien, Niamh Hughes, Caoimhe McCauley, Orla Keon, Lauren McHugh, Lucy Barden, Annie Keon, Ciara Gillespie, Cara Davitt and Niamh Gallagher.
Downings
Bronagh Blaney; Charlie Shevlin, Maria Magee, Aoibheann O'Connell; Lisa Dugera, Chloe Hay, Kacey Gallagher; Nadine Gallagher, Sinead McBride; Amy McLaughlin, Annie McGroddy, Aobha Pasoma; Erin McBride, Neesha Duggan, Keeva McBride.
Referee: Declan Callaghan (Kilcar).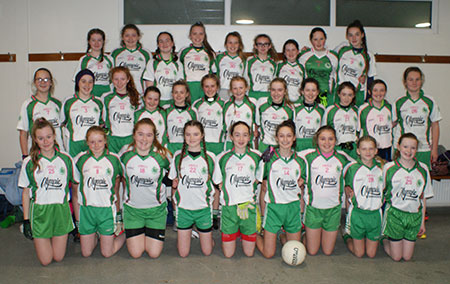 Aodh Ruadh - 2016 Donegal under 13 A county champions.
Click for larger version.
Back row: l-r, Hannah Gallagher, Rachel Patton, Dearbhla Hughes-O'Brien, Caoimhe McCauley, Orla Keon, Sarah Jane Keon, Lauren McHugh, Aine Hill, Tia McFarland.
Middle row: Eilish Gallagher, Grainne Maguire, Danielle Gallagher, Emer O'Brien, Lucy McGlynn, Ella Clancy, Aoibheann McGarrigle, Katie McMullin, Clodagh O'Connor, Lucy Barden, Ciara Gillespie, Niamh Gallagher.
Front row: Lucy Gallagher, Caitlin McGarrigle, Laoise Kelly, Niamh Hughes, Caoimhe Hughes-O'Brien, Katie O'Brien, Ciara Caldwell, Annie Keon, Cara Davitt.
Last modified: Tuesday, 2 June 2020 at 3:59pm