Brave Aodh Ruadh denied by Termon
Ladies under 16 B championship final
6 November 2016
Aodh Ruadh 1-9
Termon 2-8
Pearse Park, Ballybofey
It was to be heartbreak for Aodh Ruadh under 16s in the B county final at MacCumhaill Park on Sunday afternoon. A penalty which wasn't given, and a goal which shouldn't have been left plenty of room for ifs, buts and maybes.
Aodh Ruadh got off to the perfect start when Mary Flora Scott drilled home a precision shot to the bottom left corner from outside the penalty area to leave Ballyshannon a goal to the good with just 28 seconds on the clock. That was followed three minutes later by a super point from Saoirse McDevitt.
However in a two minute spell from the fifth to the seventh minute Mya Alcorn register 1-2 to take Termon into the lead. A Mary Flora Scott free restored parity at 1-2 apiece with 12 minutes gone, but despite their best efforts Aodh Ruadh failed to trouble the score board operator for the remainder of the half.
The Termon number 13 added three points, one from play, two from frees, to take her side back into the lead. Then a score from the full back just before the half-time whistle left Aodh Ruadh on the wrong end of a four point deficit at the turnover, 1-6 to 1-2.
Aodh Ruadh improved dramatically in the second period, but not before Termon's centre back put five in it with a minute of the new half played. The introduction of Cáit Gillespie created a bit more dynamism in the attack. One of those attacks saw Andrea McGlynn surging into the penalty area and closing in on goal. She was unceremoniously dragged down, but the whistle remained silent.
Nevertheless, a Mary Flora Scott free followed by another good score from play by Alana Ryan trimmed the margin back to a goal, but then disaster struck.
Termon's number nine was sent to the sin bin for a heavy challenge after 43 minutes, but three minutes later they built an attack down the stand side of MacCumhaill Park. It began with a kick out by Annie McLaughlin which was clearly carried across the sideline by the Termon player. With no sideline officials on duty the referee allowed play to continue. The ball went down the sideline and again was carried out over the sideline by a Termon player. This time the exit from play was so clear a number of Aodh Ruadh players stopped in anticipation of the whistle. It never came and the ball was crossed in where it was bundled home at the far post.
That was a gutting and undeserved setback, but Aodh Ruadh responded well. Three Mary Flora Scott frees in the 48th, 49th and 51st minutes erased the goal. When Ciara McElwaine sent over a point only grim determination was keeping Termon holding on.
Briana Maher forged up into the attack in the last ten minutes and was rewarded with a good score from play. Aodh Ruadh continued to hunt for the goal which would have taken the game to extra time, but it refused to come. Caoimhe Keon sent over a close range point three minutes into added time, but from the kick out Termon worked the ball up the pitch and were awarded a penalty. Bridín Maguire stood up strong to save brilliantly. The resulting 45 went wide, but from the game's last kick out Dearbhla O'Moore bravely won possession only to be very heavily challenged as the final whistle went. A hard way to end a tough match where Anna Rafferty's girls gave it their all.
Every single player in the defence was magnificent right through the game. Bridín Maguire's kicking was excellent from restarts, while Briana Maher was a class apart at number three. The half back line of Ana Keon, Síofra Hughes and Bronagh Kelly were very assured and showed they had plenty of football in them. Dearbhla O'Moore and Saoirse McDevitt could be very pleased with their displays at midfield. Up front Mary Flora Scott was, once again a great scoring outlet and had good help from the brave Tara Duffy and Caoimhe Keon.
A tough one to take, but this group of girls can be proud of what they have achieved over the course of this year and the manner in which they played their football.
Vital Statistics
Teams
Aodh Ruadh
Bridín Maguire; Rionach Sheerin, Briana Maher (0-1), Laoise Gallagher; Síofra Hughes, Ana Keon, Bronagh Kelly; Dearbhla Moore, Saoirse McDevitt (0-1); Tara Duffy, Mary Flora Scott (1-5, 5f), Caoimhe Keon (0-1); Alana Ryan (0-1), Roisin Meehan, Eva Moore. Subs: Andrea McGlynn for Eva Moore 21m; Cáit Gillespie for Roisin Meehan 35m.
Referee: Declan Callaghan (Kilcar).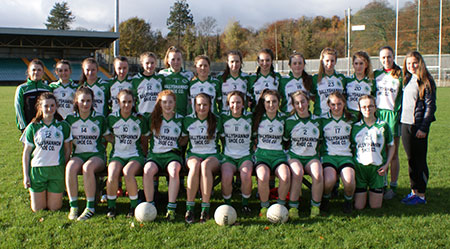 Aodh Ruadh - 2016 Donegal under 16 B county finalists.
Click for larger version.
Back row: l-r, Anna Rafferty, Saoirse McDevitt, Ana Keon, Eva Moore, Caoimhe Keon, Bridín Maguire, Dearbhla O'Moore, Briana Maher, Laoise Gallagher, Erin McGowan, Niamh Duffy, Roisin Gallagher, Andrea McGlynn, Cáit Gillespie.
Front row: Katherine McClay, Roisin Meehan, Tara Duffy, Alana Ryan, Bronagh Kelly, Mary Flora Scott, Síofra Hughes, Rionach Sheerin, Alicia Clyne, Leah Travers.
Last modified: Thursday, 29 November 2018 at 2:43pm