Aodh Ruadh 10K Run / 4K Walk.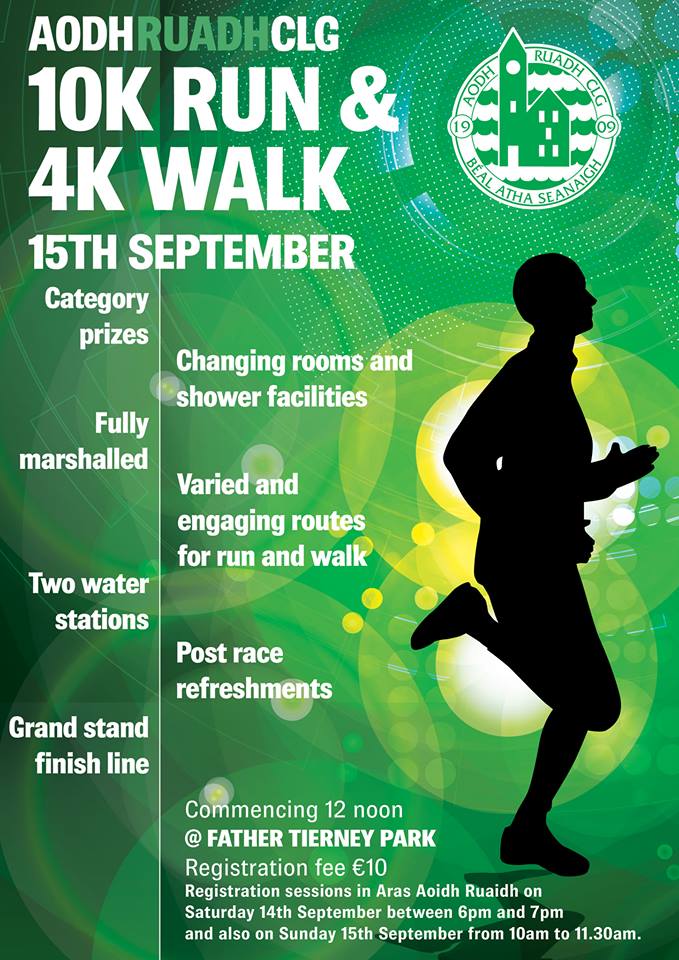 Aodh Ruadh are staging a fund-raising 10K run and 4K walk on Sunday, 15th September. The run takes in a varied and engaging course around Ballyshannon, including a few circuits of the Mall where the crowds will be gathering as the Harvest Fare celebrations prepare to get under way. The run ends with a circuit of the pitch at Father Tierney Park, so the stand is sure to be rocking when the first runners come in for their final few hundred metres. Check out the full route on aodhruadh.org.
For those who prefer a more sedate Sunday there is the 4K walk which takes the participants on a picturesque route up towards Higginstown, offering sweeping views of the local countryside.
Runners and walkers go under starter's orders at 12 noon at Father Tierney Park. The run will be marshaled professionally, with water stations at strategic points and timing to the highest standard.
All participants will have access to the first class facilities in the park, including hot showers, changing rooms with a full spread of post-run/walk refreshments being laid on in Aras Aoidh Ruaidh.
Registration for the run and walk costs just €10 and takes place on Saturday 14th September between 6pm and 7pm and again on Sunday from 10am to 11.30am.
Last modified: Monday, 1 June 2020 at 12:12pm