Centenary Celebration Night 2009
Our centenary celebration night began with a special bi-lingual mass in Saint Patrick's which was concelebrated by Father O Fearraigh, Father McManus, Father Burke, Father Daly, Father Bromley and 93-year-old Father Ambrose O'Gorman, a former playing member of club. The ceremony was opened with some tokens representative of the GAA being brought to the altar. Niamh Gallagher and Patricia Slevin read the lessons while Father O Fearraigh and Father McManus spoke of the central role played by the GAA and Aodh Ruadh in Ballyshannon.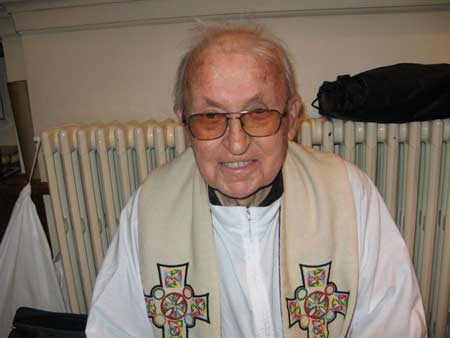 This picture was taken by Seamus O'Donnell just after the Aodh Ruadh Centenerary Mass at which Father Ambrose O'Gorman, now in his 97th year, assisted. Ambrose O'Gorman came on as a substitute in the 1932 senior County Final when Aodh Ruadh defeated Dungloe.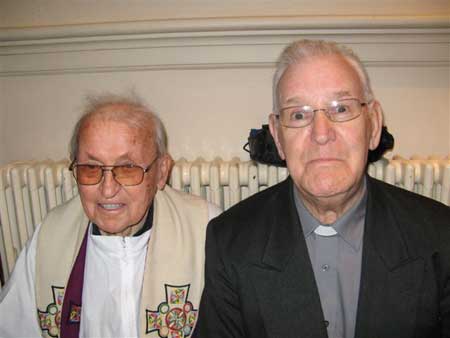 Another picture from Seamus O'Donnell after the Mass. This features Father Ambrose O'Gorman and Father Herbie Bromley OMI. Father Herbie also assisted at the Mass.
After mass it was on to the Abbey Centre for the awards presentation ceremony. That was preceded by a wine and cheese reception. There was an extensive exhibition of club history throughout the Abbey Centre with pictures, medal displays and newspaper clippings providing plenty of talking points. Below are some pictures from the exhibition in the Abbey Centre.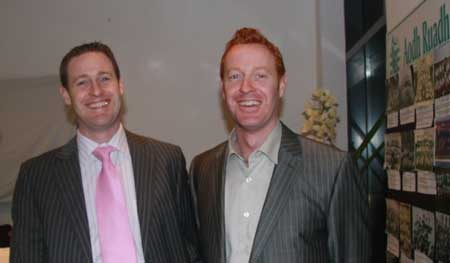 Eamon and Charlie O'Donnell.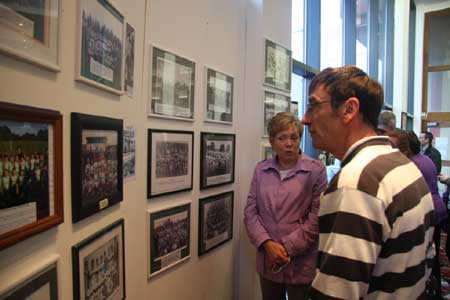 Dympna and Enda McGurrin.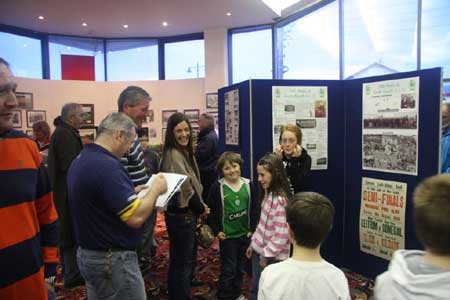 Taking in the display of Aodh Ruadh history in the foyer of the Abbey Centre.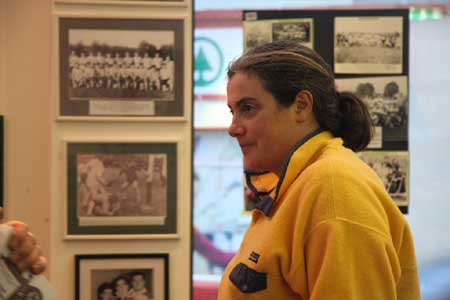 Grace Meade.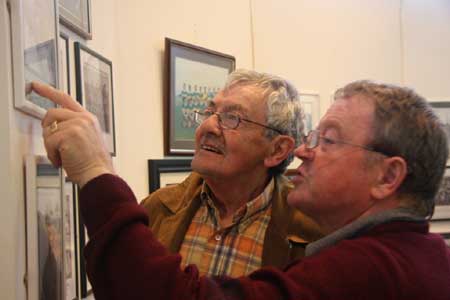 Jackie McDermott and Sean Ferguson.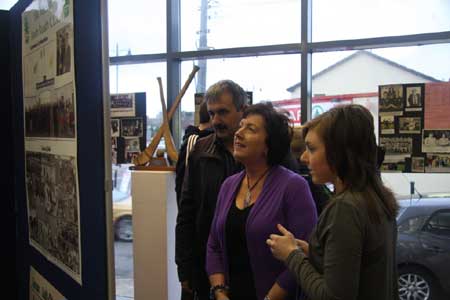 The McGrath clan.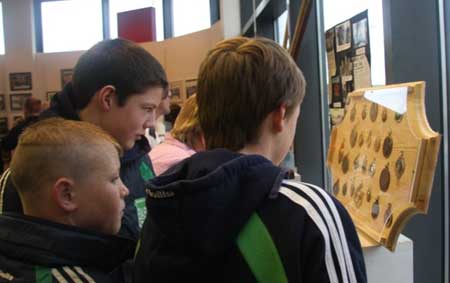 Under 14s examine Sylvester Maguire's silverware.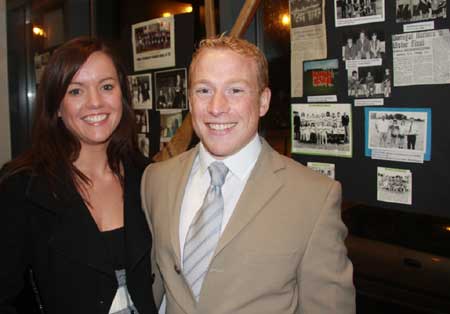 x and Philip O'Reilly.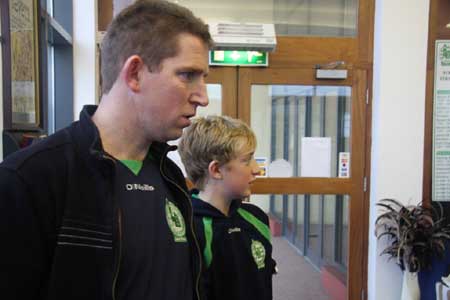 Two generations of Gillespies.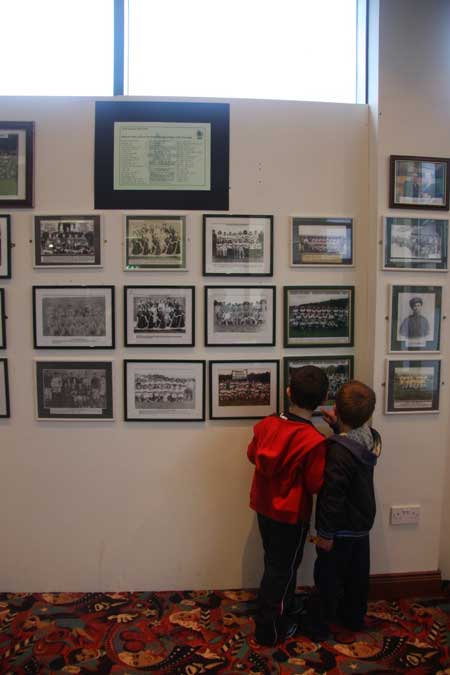 Past and future.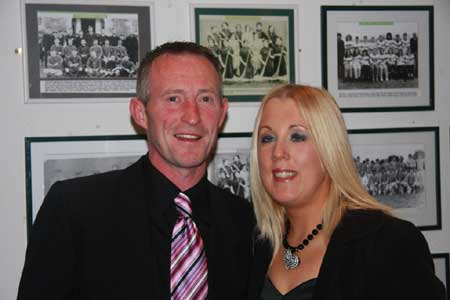 Thomas 'Scillaci' Gallagher and x.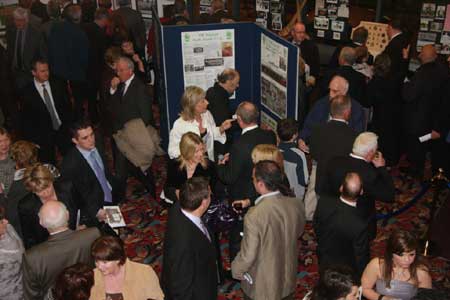 Taking in the display of Aodh Ruadh history in the foyer of the Abbey Centre.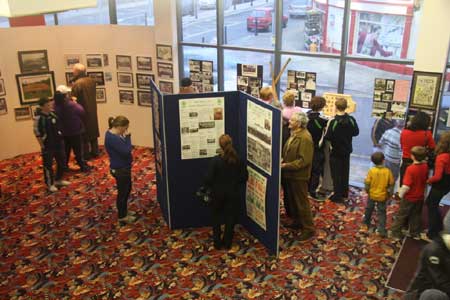 Taking in the display of Aodh Ruadh history in the foyer of the Abbey Centre.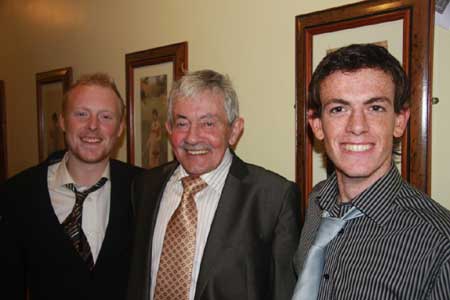 Jackie McDermott, 'The Living Legend', holds court with Simon Bradley and Michael Dolan.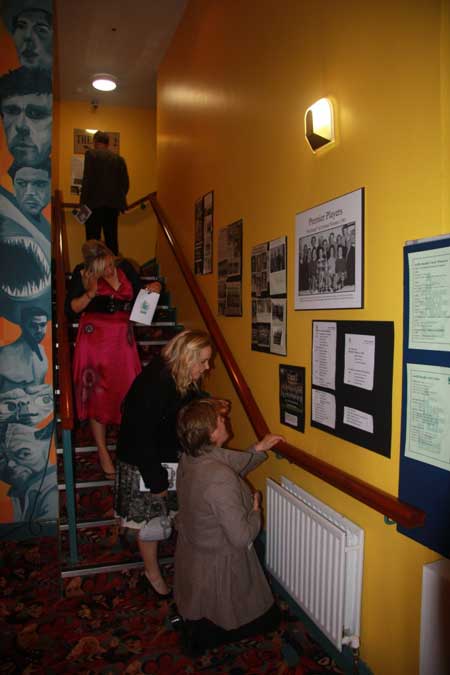 Taking in the display of Aodh Ruadh history in the Abbey Centre.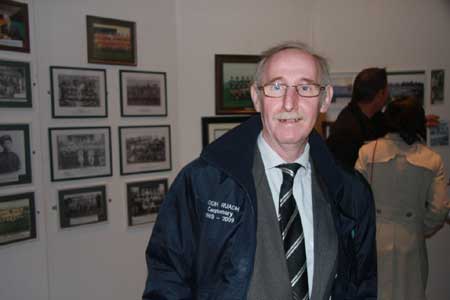 Louie Boyle.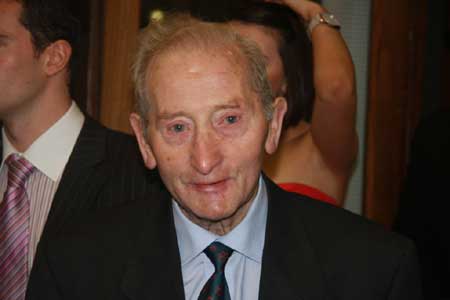 Tommy Gallagher of the 1951 championship winning team.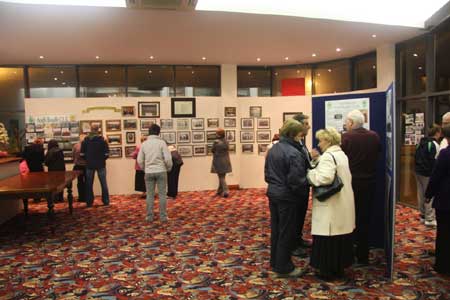 Taking in the display of Aodh Ruadh history in the Abbey Centre.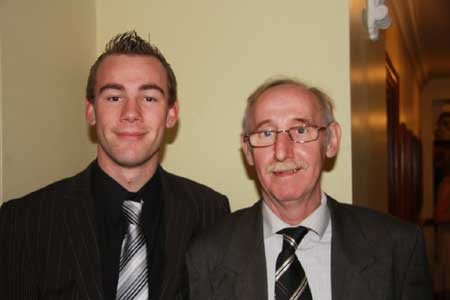 Peter Boyle, 2009 county minor goalkeeper, pictured with father, Louie.
It was 8.30pm before the 300 seats in the main auditorium were filled and Sean Perry was able to get proceedings under way. What follows is his script from the night.
Uachtaran Cumann Luthchleas Gael, Christy Cooney, Tánaiste and Minister for Enterprise, Trade and Employment, Mary Coughlan, Uachtaran Comhairle Uladh, Tom Daly, chairman of the Donegal county board, Sean Kelly, chairman of Ballyshannon Town Council, Eugene Dolan, reverend fathers, elected representatives, distinguished guests, ladies and gentlemen, friends and members of the Aodh Ruadh club, I'd like to warmly welcome you here this evening for this very special event and significant milestone in our club's history.
The Aodh Ruadh GAA Club was founded on October 24th 1909 at a public meeting called by Fr. James O'Daly a native of the Carrickmacross area. From the outset, it was established as a hurling and football club. A club had been formed in earlier years (1904), but once Aodh Ruadh was established in 1909 it maintained an unbroken existence and now celebrates its Centenary Year.
The inaugural meeting of Aodh Ruadh saw Fr O'Daly elected President, Cecil Stephens was made secretary with John Downey appointed treasurer.
The first games were played at the Workhouse Meadow, now known as Munday's Field: this property was acquired by the Club in two phases during the 1980's and 1990's for use as a training facility. A new second Club ground has been developed there known as Pairc Aoidh Ruaidh which was officially opened earlier this year.
We are proud to possess a vibrant and rich history here at Aodh Ruadh and over the course of the weekend, we'll discuss, debate and analyse the last 100 years in a social yet forensic fashion.
We do have a number of guest speakers whom I would like to introduce you to, firstly, the chairperson of the town council Clr Eugene Dolan.
After Clr Dolan spoke there was Donegal County Chairman, Sean Kelly; President of the Ulster Council, Tom Daly; An Tánaiste, Mary Coughlan; and Guest of Honour, Uachtarán CLG, Christy Cooney.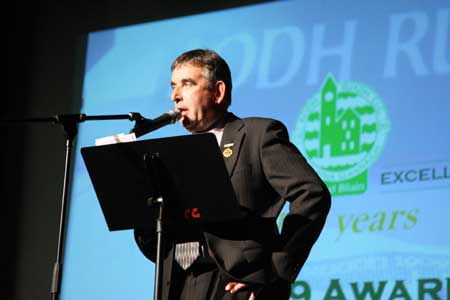 President of the Ulster Council, Tom Daly, makes his address.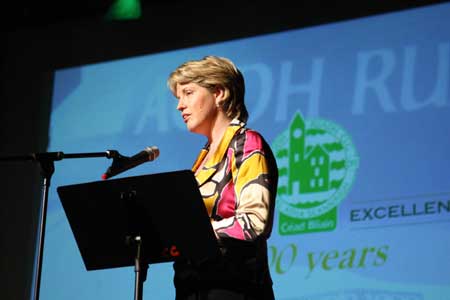 An Tánaiste, Mary Coughlan, makes her address.
Now the first of our awards this evening, the young player of the year which will be presented by the chairperson of Bord na nOg, Paddy Kelly. I'd ask Paddy, as with each of those presenting awards this evening, not to come to the stage until the award recipient has climbed the steps please.
Our young player of the year has lined out for minor, reserve and third teams this year and while he may be small in physique, he skills and pace have made him a handful for opposing defences. The young player of the year is Christopher Goan.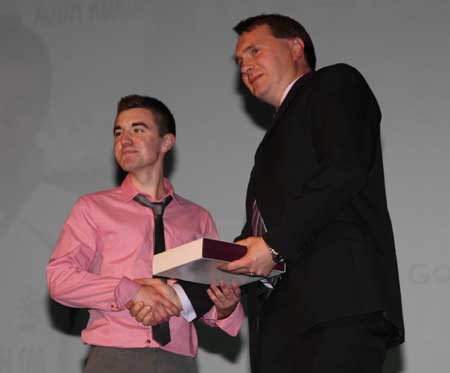 Bord na nÓg chairman, Paddy Kelly, presents Christopher 'Spanny' Goan with young player of the year award.
To present the hurler of the year award, I'd ask Brendan Whoriskey of the Traveller's Rest to be on standby, sponsor of the senior hurling team.
Now, the hurlers weren't alone in enduring quite a difficult year, consistent league and championship form eluded them in spite of a reasonable run in the Ulster league.
However, that takes nothing away from the player of the year who gave his all to the cause. While he might be a native of Ballycran in Co Down, our hurler of the year was fully committed to Ballyshannon this year and has also helped out in the very impressive work which is being done with underage hurling in the town getting involved in management with the u-10s.
Hurling guru, John Rooney described him as brave in the extreme and I think to stand in goal for the Aodh Ruadh hurlers you have to be. It can be a lonely place. Against Burt earlier this year, the club conceded almost 30 points but no sliotar went past our hurler of the year to the net. In what's been a testing week for hurling goalkeepers, our hurler of the year has managed to steer clear of the media spotlight, let's hear it for, Kevin McDermott...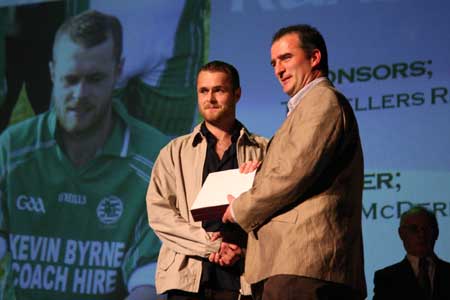 Hurling chairman, John Rooney, presents Kevin McDermott with the hurler of the year award.
The next award will be presented by Maurice McLaughlin of MV's bar, sponsors of the ladies team.
The ladies team suffered heartbreak of losing a county final this season, by the narrowest of margins to Sean MacCumhaills. It was made an even more difficult pill to swallow given the winning score came with six minutes of stoppage time having elapsed. But of course, we're not bitter.
Their fullback was very much to the fore in the fine run of form which the girls produced to steer them into the county showpiece. Last season, she featured on our television screens as part of the TG4 series, the Underdogs. Give a warm round of applause to Niamh Gallagher...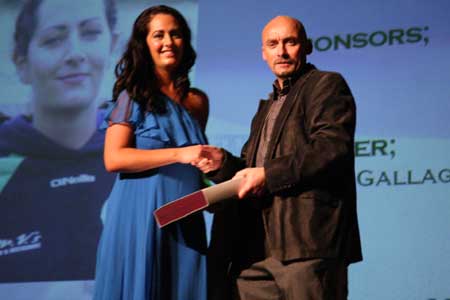 Senoir ladies team sponsor Maurice McLaughlin presents Niamh Gallagher with Ladies player of the year award.
This award will be presented by our club treasurer, the hardworking Mary Grimes.
The third team player of the year is a young man who has shown great promise in the half-back line throughout the year. He's certainly one who we'll be looking to bolster our senior team in the near future having progressed through the underage ranks with impressive speed in recent seasons. At 17 years of age, he's developed a knack of getting forward to take scores and has taken some of the roving responsibility from our 40 plus brigade in the team. He's played county u-14 and u-16 football. Third team player of the year, ladies and gentlemen, Ronan Drummond...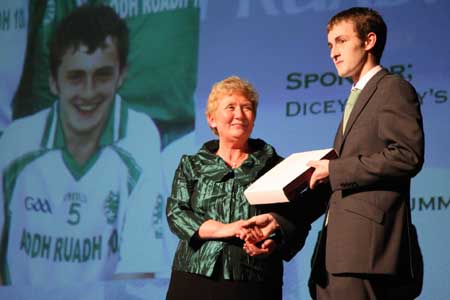 Aodh Ruadh Treasurer, Mary Grimes, presents Ronan Drummond with the third team player of the year award.
To present this award, Mick McGrath of the Bridgend Bar, sponsors of the reserve team…..
The reserve player of the year is undoubtedly a classy footballer who was pivotal to Jim Kane's bid to turn around the fortunes of the reserve side which went from being a squad which was barely able to field a team last season to stringing together an impressive run of league victories before losing out to eventual championship winners, Dungloe after a replay in the latter stages of the competition.
Unusually, we've broken with the quantitive majority voting system which saw Paul Kane and Barry Travers taken the accolade in alternate years to have a more transparent system this year, the reserve player of the year is David Dolan...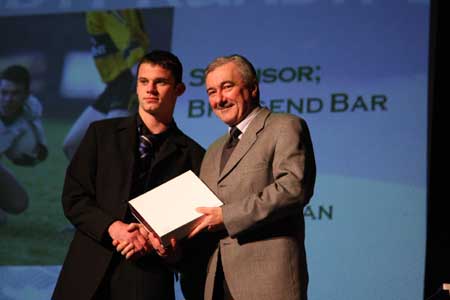 Mick McGrath presents the the third team player of the year to David Dolan.
Now to the senior player of the year which will from this night forth be known as the Ciaran Keon Player of the Year award.
The club has decided to officially name the award after our late friend, a son, father, husband and brother as well as a loyal, talented, hugely popular and humourous clubman.
Ciaran Keon was born in September 1970 into a prominent Ballyshannon GAA family. Exceptionally bright, he studied in Maynooth, Queen's University, Belfast and at University College Galway. Ciaran met his wife, Paula, at Maynooth and the couple went on to have two beautiful daughters, Caoimhe and Orla. Having worked around the country, Ciaran finally took up a post as a lecturer in IT at Sligo Institute of Technology to be closer to home.
Ciaran was a keen sportsman from a young age and football quickly took over his life. He played at all ages from under 10s to seniors for Aodh Ruadh. An early highlight was winning the 1988 county under 21 title playing alongside his brothers Colm, Diarmuid and Donagh. He lined out at midfield in the 1989 senior county final at the tender age of 18 and later captained the team. He added senior county championship medals to his collection in 1994 and 1997.
He co-managed the Aodh Ruadh senior team before taking the reins himself, ably assisted by some of his close friends. No silverware was won but he had a very proud day managing the seven-a-side team to the All-Ireland final at Kilmacud in 2004.
When not wearing the green and white of Aodh Ruadh, Ciaran represented his county at minor and under-21 level. He also enjoyed many outings playing Sigerson cup football throughout his college years.
Ciaran was a man of great character, integrity and honesty. His personality was infectious and his love for life was immense. The pain of his passing in August past is felt deeply yet. This award is but a small token of the profound esteem and respect with which our club cherishes his memory. We feel it wholly appropriate in Aodh Ruadh that our club should name the senior player of the year award after Ciaran Keon which will be presented by his wife Paula….
I would also invite the sponsor of the senior team, John Patton of Ballybookies to be ready to come on stage for the presentation of the senior player of the year award.
Our senior player of the year has been a regular fixture in the side for some years now. He's had to deal with a litany of horrible shoulder injuries but continues to show the commitment and dedication to training which makes him one of the fittest members of the side. In a very difficult season for our first team which has had more forgettable days than memorable ones, our first team player of the year has shown consistency and determination throughout, let's hear it for Philip O'Reilly.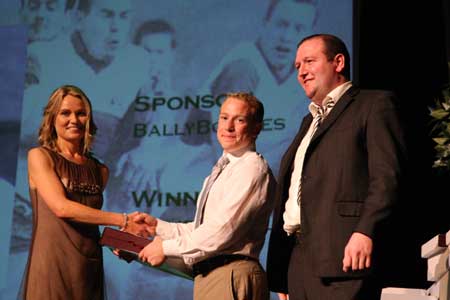 Paula Keon presents Philip O'Reilly with the Ciaran Keon senior player of the year award as senior team sponsor, John Patton watches on.
This year, Donegal captured a memorable first ever All-Ireland minor title. After a thrilling Ulster campaign, they defeated Galway in the All-Ireland semi-final before going on to outplay and outscore Clare in the final. Indeed the Banner county were red hot favourites in that showpiece which Donegal won by 5-13 to 5-5. Donegal had lost All-Ireland u-14 and u-16 finals with the majority of this group of players in recent years but they put that heartbreak to bed with a resounding eight-point success. It was a fitting reward for manager Kenny Griffin and our club were represented by three players for whom the future is bright. I'm going to call on them collectively to come forward to receive a token of recognition from the Aodh Ruadh club. Given that these are All-Ireland medals, we feel it appropriate that Uachtaran Cumann Luthchleas Gael, Christy Cooney might present these awards. One of the girls, Dearbhaile cannot be here this evening and I would ask one of the stalwarts of ladies GAA in the club, Clare Flood to come forward to collect Dearbhaile's award on her behalf. Let's hear it for Tara Khan, Dearbhaile McNeill, Anna Rafferty.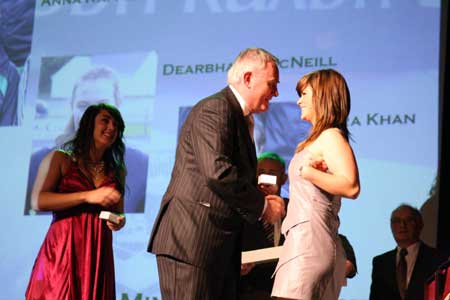 Uachtarán CLG, Christy Cooney has a word with Anna Rafferty.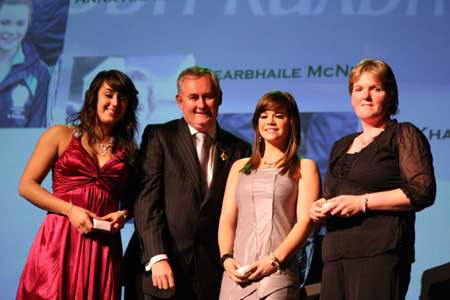 Tara Khan, Christy Cooney, Anna Rafferty and Claire Flood who received Dearbhaile McNeill's All-Ireland medal on her behalf.
Now to an appreciation award, not something which is awarded every year but given the calibre of volunteers which we possess in the club, there is always a plethora of potential worthy recipients annually, and this year is no exception.
Tonight's winner has given a lifetime of invaluable service to our club and he has absolutely no idea that we're making a presentation to him tonight. Browsing through club records of late, his name crops up time and time again in terms of Bord na nOg involvement, administration, a selector, a mentor, a fundraiser, chairman, secretary, there is no particular era of our recent club history which doesn't bear his handprint. His family have also been very active in our club on a playing level. He recently retired from his job as a Geography teacher in Colaiste Cholmcille and his familiar style and reliable advice will be missed in that school. However, it's an ill wind which blows no good, Colaiste's loss may well be Aodh Ruadh's gain.
I could wax lyrical for much longer about this man's contribution to our club but he's known to all here, he taught very many of us in De La Salle and he truly is one of those people who keeps giving, always available, always involved and always enthusiastic. He put this award in jeopardy in the last two weeks by going off to Turkey on holidays with preparations for tonight's evnt in full swing but predictably, he had matters under control and as always his organisational qualities, experience and serenity were vital in the behind-the-scenes staging of this centenary celebration. GAA aside, he maintains a huge involvement in Ballyshannon's prestigious drama festival hosted in this very auditorium and has many other interests including local history, exercise at his beloved Creevy Pier and a host of voluntary committees around town have benefited from his expertise. Accompanied by his wife, Maureen and sons, Paddy, Jack and Michael, please show your appreciation for John Travers.
Club chairman, Terence McShea will present John with a token of our deep-felt appreciation.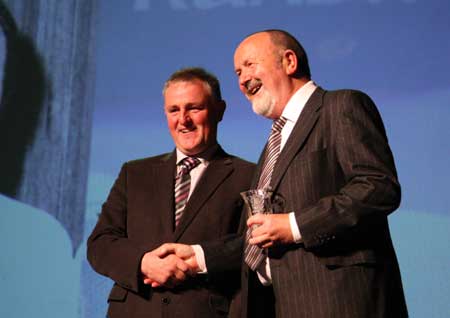 John Travers gets a suprise from Terence McShea.
Nice surprise John??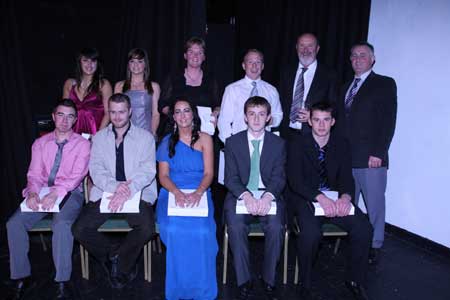 The awards winners from the first part of the night.
Centenary awards
To present the first of our centenary awards will be club registrar and assistant secretary, Mary Matthews.
In 2002, our young quiz team came of age to capture an All-Ireland Scor na nOg Trath na gCeist title in Athlone. Having won Donegal two years earlier, the team won Ulster in 2001 before reaching the pinnacle with a national title in 2002. The following year, they came agonisingly close to retaining their title but lost out narrowly. The trio were coached by the legendary PJ Buggy and Peter Campbell, both of whom I'm going to call upon to receive presentations of behalf of their absent son and daughter.
The All-Ireland winning Trath na gCeist team consisted of Pauric Buggy, Naomi Campbell and Turlough McIntyre.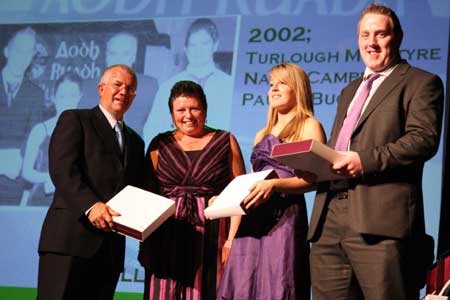 Peter Campbell who received the award on behalf of Naomi Campbell, Mary Matthews who did the presentation honours, X Buggy who collected on behalf of Pauric Buggy and Turlough McIntyre.
Now, Ballyshannon is no shrinking violet when it comes to literature and being home to William Allingham, it is fitting that the club should have won an All-Ireland title for recitation in Scor in 1991. To make the presentation to our winner, I'd like to call on Maura Logue, no stranger to these boards, herself an Ulster title winner in days gone by.
The award winner is a name synonymous with the town and the club. She performed Allingham's "The Eviction", a 58 line poem which broke the mould in terms of a male dominated role of honour and took a national title to Ballyshannon. Please show your appreciation for Pat Sweeney.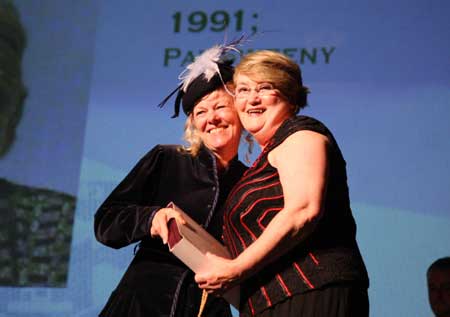 Maura Logue makes the presentation to Pat Sweeny.
Tom Daly, President of the Ulster Council is to be invited to make our next presentation.
In 1974, Donegal captured a second ever Anglo-Celt Cup with one of our own as captain. Following on from the previous and only Ulster title which was won in 1972, the club was also represented by Martin Carney, Alan Kane and Thomas Quinn. Jim 'Natch' Gallagher was a mentor on that side.
The captain of that side holds what's regarded as a record in inter-county football in the country having played on the Donegal minor football team for five consecutive years. Yes, that means he began as a 13 year old at right corner forward in the early 60's, it's a record which will most likely never be broken.
In addition to Donegal, he also served his club and indeed, province of Ulster with distinction as well as enjoying a tour with the All-Stars in San Francisco in 1973.
At club senior level, he was part of the all-conquering St Josephs side, a pivotal part of seven county championship winning teams, three Ulster club title winning sides and of course an unofficial All-Ireland club title against Galway kingpins, Dunmore MacHales.
While wearing the club jersey with distinction, his talent hadn't gone unnoticed at inter-county level and he featured on two Ulster winning Donegal u-21 sides, victorious over Down and Monaghan in those particular finals.
He played at fullback in both 1972 and 1974 but his conversion to number three was a particularly interesting move given that he had played underage as a centre half-forward and indeed in 1971 was Donegal's top scorer with a personal tally of 4-27, a full 15 points ahead of Donegal's next highest scorer.
Let's hear it for Donegal's Ulster winning captain in 1974, Aodh Ruadh's Pauric McShea...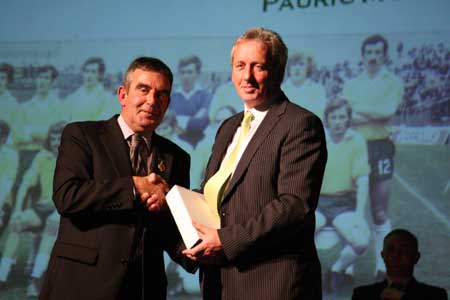 Tom Daly makes the presentation to Pauric McShea.
Christy Cooney, we'd be delighted if you'd do the honours by presenting our next two awards please.
To our next award recipient who has written himself into GAA folklore not just in his native Ballyshannon but in Donegal. Matt Gallagher, whom I believe his here this evening, had achieved a record in lining out for Donegal at senior inter-county level some 147 times. Matt, like many others, I'm sure, thought his record might have been safe but little did he think a relative neighbour from over the backroad in Corker, Rossnowlagh would be the one to poach it from him….
Earlier this year when we were taking stock of the likely Donegal team which
John Joe Doherty might be likely to select for 2009, some suggested he wouldn't have the legs for it, he might be past it. On the basis of the league matches I watched and had the privilege to commentate on, Michael Murphy aside, he was Donegal's sharpest forward in the campaign gone by, particularly in the league when he led the line against Derry, Westmeath and Dublin to name but a few. In fact the only league game he missed, was against Mayo back in Spring in Letterkenny.
He made his league debut against Clare in 1995, his championship debut under PJ McGowan followed in 1996 against Down. Now some 159 appearances not out, yes 159 senior inter-county appearances for Donegal, some of you haven't been to that many training sessions. We all have a favourite memory or moment when speaking of this man's career, it could be the man-of-the match performance against Galway in Castlebar in 2003, the three wonderful points against Mayo in the league final in Croker in 2007 or any one of a litany of other brilliant outings which he's enjoyed.
I rang him during the week to ask him whom he rated as his most difficult opponents, " Ah he told me, Martin O'Connell was tough", as if he was talking about a piece of beef, it's something of an understatement I'd say. O'Connell is long gone, so are Ciaran Whelan and Jason Sherlock who began their inter-county careers after him, very few are playing as long, Darragh O'Se and Eamonn O'Hara are among the few who spring to mind. Tony Scullion, Philip Jordan and Francie Bellew also came up for honourable mention in the course of our brief phone call.
He's tussled with the Graham Cantys, the Ryan McMenamins, Darren Fays and Marc O'Se's of this world, believe you me, I don't think we'll fully appreciate his magnificent legacy until he hangs up the boots whenever that might be.
Let's have a huge hand for the wee man, Brian Roper.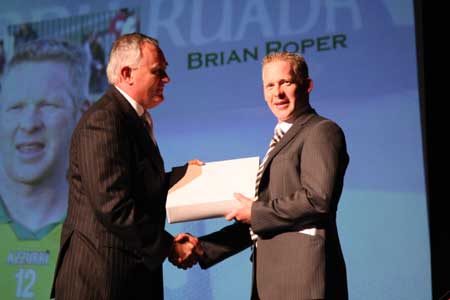 Christy Cooney makes the presentation to Brian Roper.
As the clock struck five on September 20th, 1992, Donegal Gaels far and wide pinched themselves, the euphoria, the emotion, that brilliant one-off feeling of reaching a place never visited, of tasting a taste never savoured. Donegal were on top of the world, All-Ireland champions, ousting the overwhelmingly fancied Dubs in Croke Park. Strangers hugged each other passionately, cheers and screams of adulation and excitement pierced the air and the hardest and toughest of them all allowed a salty tear or two escape. It was a brilliant rush, a surreal emotion and we'll never ever forget it.
Our club was well represented on the day, supplying three of the final panel and the fullback and All-Star, Matt Gallagher had also worn our club colours as a minor a decade earlier. The goalkeeper went on to become an All-Star, win numerous club medals in Donegal and Down, was honoured as Donegal player of the year and still lines out for our third team as a bruised young corner forward from Glenties will testify to last weekend.
The number nine enjoyed an illustrious career also, has dabbled in management in Kildare and Wicklow in recent years and only completed a marathon in Chicago in the last few weeks. A great club servant and holds an enviable record of winning four minor club championships in a row from 1979 to 1982.
While number 22, he wasn't officially nicknamed the judge but he could have been, he spent so long on the bench, is still at the helm of our senior team, has led by example in coaching underage teams, captained our club to senior success as well as proving adept with the hurl. In short, three terrific ambassadors whom we're proud to have with us and honour this evening, let's hear it for the '92 boys, Gary, Brian and Sylvester...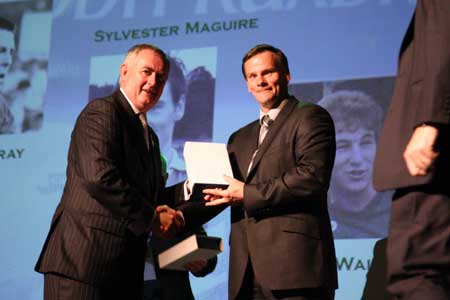 Christy Cooney makes the presentation to Sylvester Maguire.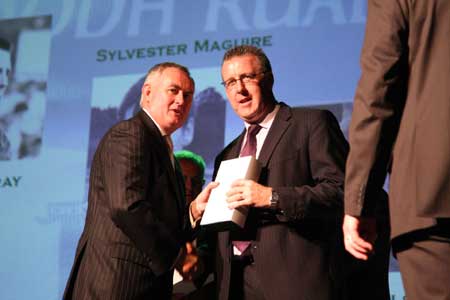 Christy Cooney makes the presentation to Brian Murray.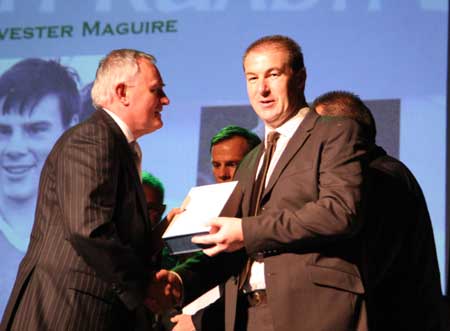 Christy Cooney makes the presentation to Gary Walsh.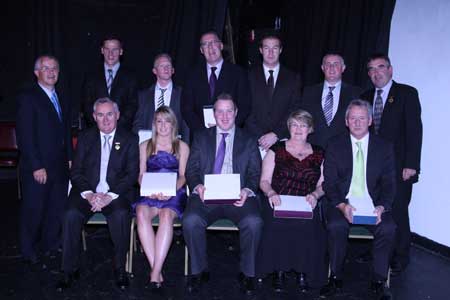 Award winners from the second stage of the night.
CLUB CHAMPIONSHIP WINNING CAPTAINS…..
Hurling
In 1924, the Aodh Ruadh hurlers achieved the club's first ever county success, they were comprehensive 5-3 v 0-1 winners over Letterkenny with a certain Garda Dan Lenihan at centre half-back and captain. Paddy Rooney and Garda John Clooney were also members of that team, the three men were part of a Donegal Ulster winning side the previous season.
The hurlers defeated Letterkenny again by 7-2 to 2-4, captained by Jim Daly in 1929, a unique championship double in Donegal. Records from the time are quite sketchy but Billy Finn's chronicles tell me that the final was played in the hospital grounds in Letterkenny. A reasonable crowd attended, players are referred to by surname only as in Sweeney the goalgetter, Devereux, Kane and Clooney, whose first name was always given as "Guard". Our captain that year was Jim Daly who is represented here this evening by his son from the Rock in the town, Fr Gerard Daly.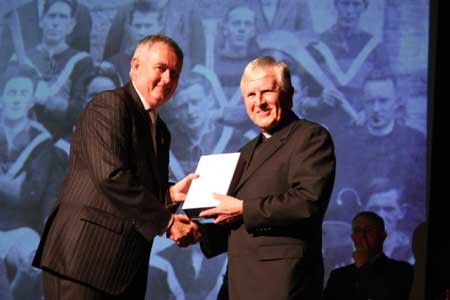 Christy Cooney makes the presentation to Father Gerard Daly.
Aodh Ruadh's next hurling championship took some time to arrive but when it did, it was an able and skilful bunch of players who secured the title.
However, a team by the name of Erne Valley which was effectively a collection of hurlers from south Donegal and featured a strong Ballyshannon representation did defeat Finn Valley to win a county title in 1964. PJ Buggy, Owen Roe O'Neill, Seamie Granaghan, the talented Des Houlahan from Laois and the free-scoring Tom Purcell from Tipperary were all members of that team.
1975 was the year which Aodh Ruadh easily dismissed the challenge of Carndonagh in the first round in Ballybofey. Kevin Burns registered 3-1 while Pat Fox, by all accounts was one of the great hurlers around town then. The county final saw the Ballyshannon boys paired against the elite of Donegal hurling, that being Burt. The Aodh Ruadh men dug deep and came from behind to win by five points.
Indeed, the Ernesiders trailed by 2-2 to no score early on but in the second half, they upped their game and crucial goals from Pat Fox and John Duggan sealed the title on a 4-3 to 2-4 scoreline. Mick Hennessy and Tom O'Keefe registered the other three pointers.
Could we have a warm welcome for the captain of that side, a wonderful dual player who graced the St Joseph's colours, donned the Donegal jersey and has given a lifetime of coaching service to Aodh Ruadh, Mr Josie Boyle...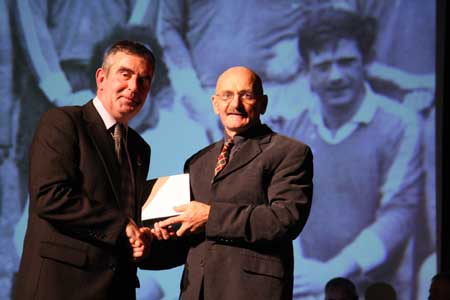 Tom Daly makes the presentation to Josie Boyle.
Two years later in 1977, Aodh Ruadh were champions again. This time, opposition in the final was provided by Roger Casements, a team drawn from the Milford area. Captain and forward from 1975, Josie Boyle lined out in goal and saved a penalty, as Aodh Ruadh dismissed their opponents. Finbarr O'Leary, Mick McCafferty, Gerry Kinnear, Pat Curran, Jimmy Carter, Seamus Grimes and Pat Fox all turned on the style as the Ballyshannon men won by 6-8 v 1-1.
Indeed at provincial level, Aodh Ruadh went on to defeat Lisbellaw of Fermanagh and Derry champions, Dungiven only to lose out to Armagh side, Cuchulainns in a special Ulster final in Omagh.
The captain of that side was one of the finest homegrown hurlers we were ever blessed to produce, the late Seamus Grimes, he's represented here this evening by his sister, Mary McSharry.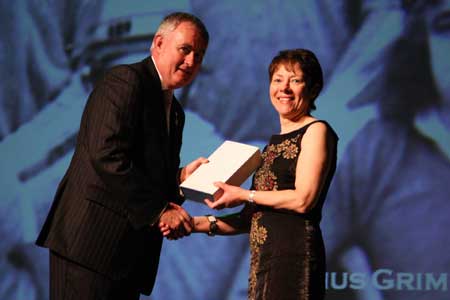 Christy Cooney makes the presentation to Mary McSharry.
Captaincy of St Joseph sides alternated between Ballyshannon and Bundoran during that golden era of Donegal senior championship dominance. Two of the captains hailed from the banks of the Teddy Kane, captain of the 1973 championship winning team and Alan Kane captain of the 1975 side. Alan is currently convalescing in hospital and, happily, well on his way to a full recovery. Tonight his award is presented to his daughter Fiona.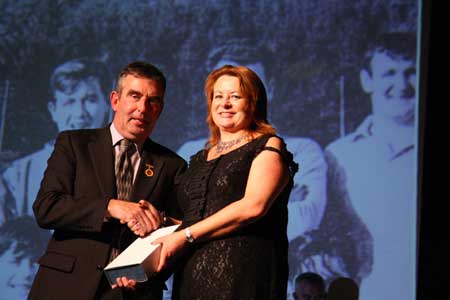 Tom Daly makes the presentation to Fiona Kane.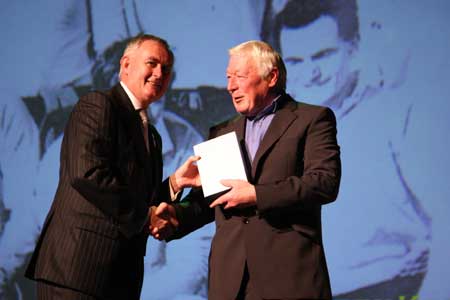 Christy Cooney makes the presentation to Teddy Kane.
Ladies football was established in Donegal in 1993 and Aodh Ruadh with people like Tracey Flood, Sylvester Maguire, Alan Kane, Malachy Cullen, Josie Boyle and Kerryman Michael Horan all becoming involved, were very quickly at the top of the pile. Having defeated the all-conquering St Eunan's in the semi-final, Aodh Ruadh marched into the final in 1995 and scored a first ever win on a 2-9 v 1-10 scoreline. A great day for players like Bernie Ferry, as she was then, Jenny McGloin, Veronica Walls, Grace Meade and others. Let's hear it for the ladies of 1995, a side which was captained by Frances Kane.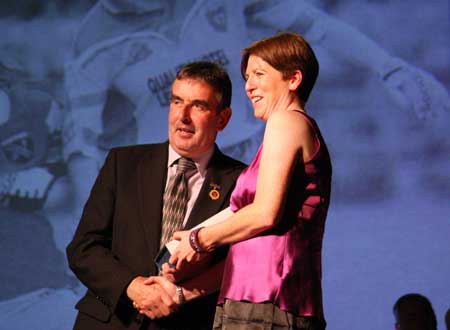 Tom Daly makes the presentation to Frances Kane.
Aodh Ruadh
1929
At last in 1929, the holy grail was reached. Our first senior football championship, our first Dr Maguire Cup. The competition began in early March 1929 and didn't finish until July 27th, 1930. A full seventeen months to comp lete, the longest campaign in the history of the competition although we came close to bettering it in 2002. Anyway, enough said.
A sweet victory over Bundoran in the first round saw "Ballyshannon and its wife" travel to the seaside resort according to newspaper reports from the time. Rivalry as pronounced as ever, a man's game which the official referee, was unavoidably absent for, Brother Lucien of the De La Salle Brothers deputised.
Subsequent victory over Ardara saw Aodh Ruadh qualify for the final but following an almighty dispute with Killygordon about the dimensions of the field in Glenties on October 6th, 1929, the game wasn't played as a result of objections, from the Killygordon club of course.
The county board awarded the game to Aodh Ruadh, the Ballyshannon club sportingly declined the trophy and offered Killygordon a chance to play the game in Ballyshannon, that failing at any venue in Donegal if travelling expenses were allowed. And Dessie Farrell nor the GPA didn't arrive for almost another 80 years...
The final went ahead in Erne Park on the Belleek Road near Ballyhanna on November 3rd, 1929, Killygordon won comfortably on the scoreboard, an actual fact, they won twice when the referee awarded the game to Killygordon when Ballyshannon's Patrick Rooney was sent off for kicking but refused to leave the playing field. The referee, McClintock from Castlefinn was clattered and back to the boardroom on November 24th, an objection and both clubs mutually agreed to try again the following June.
Aodh Ruadh trundled to Ballybofey by rail and by bus and won the cup on a scoreline of 7 points to 5. Match reports on the actual game are hard come by, the media had perhaps become fed up of the 17 month campaign.
In any event, captain, Aiden Sweeny brought the Dr Maguire Cup, valued at £60 home, mounted O'Donoghue's steps and addressed the large crowd as Gaeilge.
His grand nephew, Alan Sweeny is here this evening, let's hear it for the Aodh Ruadh team of 1929.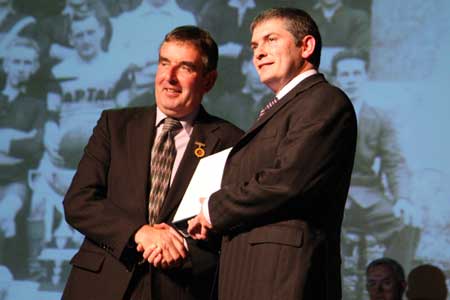 Tom Daly makes the presentation to Alan Sweeny.
Let's hope that calmer waters lie ahead after the 1929 17 month saga….
Onto 1932 and abandoned matches were again order of the day. In the south of the county, Donegal entered the competition along with Bundoran, Ballyshannon and Cashelard. Ballyshannon won the division with McShea, McDermott, Higgins and Gallinagh all to the fore in the scoring charts. In the semi-final, Aodh Ruadh met Ardara in a thrilling contest which finished 1-6 to 1-4.
That set up a dream final, the champions of 1929 against the champions of 1930 and '31, Aodh Ruadh versus Dungloe.
Ballyshannon was deemed at the time to be and I quote, a mixture of old and young and budding college stars."
Fr Gerry Leydon at corner forward set Aodh Ruadh on the way to a half-time 1-4 to no score lead, the champions were reeling and with John McDermott and Aiden Sweeney pointing, the Ernesiders won out on a scoreline of 1-7 v 0-1, the Dungloe score coming late on.
The traditional melee ensued, the cup was knocked to the ground but the captain and midfielder did manage to get it back and bring it safely to Ballyshannon.
That captain was the great Terry McDermott, we're delighted that his daughter, Eileen Kennedy is with us here this evening...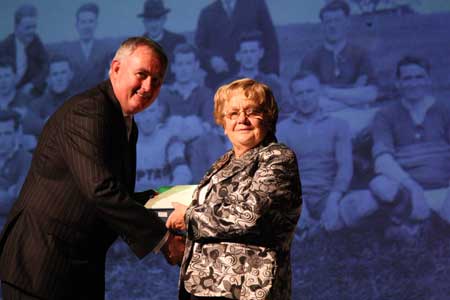 Christy Cooney makes the presentation to Eileen Kennedy.
Title number three arrived in 1937, Ballyshannon emerged from the Southern division beating Bundoran comprehensively by 2-13 to 3-2. Terry McDermott and John Gallinagh goaled, it was a red flag which was raised then as opposed to a green, Terry's brother, John helped himself to seven points.
In the semi-final, Aodh Ruadh edged out Glenties in Killybegs by four points and therefore, qualifed for another final, this time against Gweedore.
The final on August 29th in Hollymount Park in Glenties was attended by a huge crowd when the O'Flaherty Memorial Band from Castlefinn providing the musical entertainment.
The records differ in terms of the starting 15 which lined out that day, the game finished 3-8 to 4-2 with Ballyshannon's young guns to the fore, a certain O'Gorman and Melly, familiar names to many, were the goalscorers for Aodh Ruadh.
The captain, distinguished guests, was John McDermott, his son, the one and only Jackie McDermott is with us this evening...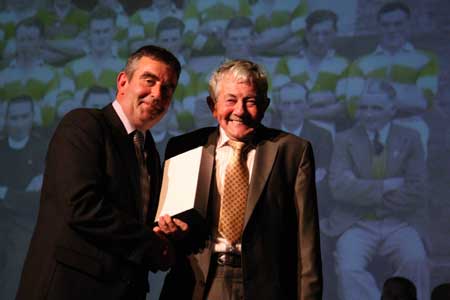 Tom Daly makes the presentation to Jackie McDermott.
Onto 1939 and with the threat of World War lurking in the background, there was some controversy with the format of the championship being changed with many clubs struggling financially. Only six teams entered the senior football championship, Aodh Ruadh defeated Glenties and St Eunans rather comfortably.
Then came a five game saga against Gweedore between league and championship. Both sides went at it hammer and tongs. The decider was played in Ardara on October 22nd with a late Gweedore goal being disallowed, proving the source of huge controversy. Six points to four, Aodh Ruadh victorious. In the true spirit of the game, the Gaeltacht boys took the cup from the county secretary after the final whistle had sounded, Gweedore delegate to the county board stated, "you will have to come down and get it, otherwise you wil have to go to the civil court for it. I do not believe there is any cup at the moment..."
Alas.
The captain in 1939 was again captain in 1942 and '43. Ballyshannon were the only senior club in the south and advanced to the semi-final without a game. An army team at Rockhill had begun establishing itself and with petrol shortages as a result of the war, the Ballyshannon men took to their bikes and seemed to revel in long cycles to games.
On August 30th, they cycled to Stranorlar to play St Eunans in the semi-final with John McDermott, Mick Slevin, Jack Gallagher, Sean Slevin, PJ Goan and Mick Melly all contributing healthily in a 5-8 to 1-7 final scoreline.
The venue for the final was Ardara, the opposition, Glenties. Seamus Kane struck two goals as Ballyshannon won out by 2-8 to 1-4, huge crowds awaited the victors who paraded the trophy though Bridgetown, Laghey and Ballintra among other locations en route home.
The Dr Maguire was defended in 1943, World War was forgotten as the benefit of tough challenge matches against the army, stood Aodh Ruadh in good stead for their semi-final against Downstrands, a team also referred to as Ardara in some quarters. Ballyshannon won rather easily and it was back to Ardara for the final with Convoy the opposition.
The evergreen John McDermott was aiming for a record sixth senior championship medal having been involved since that first win in 1929. Mick Melly was trying to win a fourth.
PJ Goan and Jack Gallagher were lively with Mick Slevin goaling as Aodh Ruadh won through by 1-9 to 2-1.
The captain of all three of those sides, 1939, '42 and '43, the great Mick Slevin is represented by his cousin, Barney Drummond.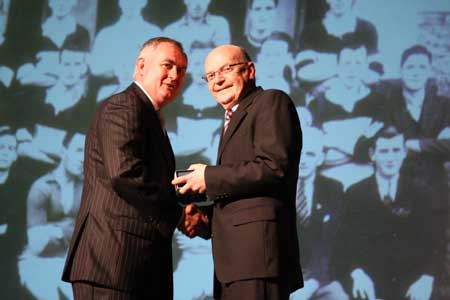 Christy Cooney makes the presentation to Barney Drummond.
Onto 1951 and Aodh Ruadh edged out Ardara, Glenties and Carndonagh to secure a place in the final against St Eunans.
It was a tough contest, a first meeting of the sides in a county final which was played on August 26th in Glenties.
At half-time, the scoreboard read four points each before Mick Slevin struck a wonderful goal in the second half. Slevin pointed once more with Dermot Moriarty tagging on an insurance point to secure a 7th county title for Aodh Ruadh. The annals state that Sean Slevin, Red Jack, Moriarty, Mick Slevin, Eddie John Gonagle, Tommie Martin and the captain all starred for the victors.
The captain, a past manager of the club, a mentor with various Donegal sides, an inter-county and provincial player of some renown one of the toughest of his generation and an accomplished and very effective centre half-back, a man steeped in Aodh Ruadh tradition, he is here this evening, captain in 1951, let's hear it for Jim Gallagher.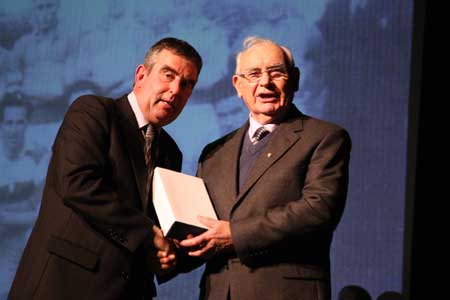 Tom Daly makes the presentation to Jim Gallagher.
Little did we think when Jim Gallagher brought home the cup in 1951 that we'd have to wait a further 35 years to see the coveted silverware again.
We did alas.
A certain inspirational PJ Buggy took over the senior team in January of 1986 and he brought the wily Michael McLoone in as coach of the side along with the late Sean Slevin junior, a selector. Many of the crop of talented young players had become accustomed to winning with the club having secured a historic four in-a-row of minor titles from 1979 to 1982.
However on the other side of the coin, the club were minus Kieran Tinney, Frankie Gallagher, Dermot Slevin, Conor Carney and Eunan Doyle as a result of emigration.
Sean MacCumhaills were accounted for in the first round although a crossbar in Ballybofey was also a casualty that day with the twin towns keeper breaking the woodwork trying to save a point. It took a replay to beat Ardara in the quarter-final, Gerry Curran hitting a wonderful '45 in the last minute to snatch Aodh Ruadh a draw in rainy Kilcar. The semi-final was essentially the key moment in the campaign, aristocrats Kilcar complete with the mighty McHugh brothers, Martin having returned from America for the game, were walloped in the semi-final and Aodh Ruadh were through to a final against Red Hughs, who relied heavily on the stylish Marty Carlin.
Sunday, August 24th were the day and date, the sun shone and green and white adorned practically every part of Ballyshannon. The team watched the Kerry v Meath All-Ireland semi-final in Kelly's Kosy Korner before setting off to MacCumhaill Park for the final. PJ Buggy tells me that there was huge nervousness in the dressing room, Aodh Ruadh were expected to deliver a first title in 35 years and the pressure was starting to tell on some of his players.
Full-forward Paschal McTiernan goaled to send Aodh Ruadh in leading at half-time by 1-3 to no score, Gerry Curran helped himself to 0-5 and the Ernesiders were champions on a scoreline of 1-8 v 0-5. The stuff of dreams.
The captain of Aodh Ruadh in 1986 was the peerless Tommy McDermott...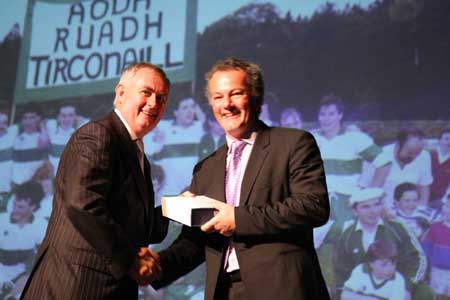 Christy Cooney makes the presentation to Tommy McDermott.
In spite of bowing out of the Ulster club championship to All-Ireland champions, Burren of Co Down, Aodh Ruadh regrouped for 1987 with the same management team and lofty ambitions once more. MacCumhaills were the victims in round one again.
Gerry Curran hit six of the best to break John Joe Doherty and Naomh Columba hearts in the wind to send Aodh Ruadh back to a semi-final against the previous year's final opponents, Red Hughs. Sean Boyle bagged two goals and the Ballyshannon men were back in the final, Kilcar this time.
The papers said it was the best final in years. Joe Curran stuck diligently to Michael Carr, Conor Carney was like glue on James McHugh, Ciaran Tinney was majestic on brother Martin. Gary didn't put a foot wrong in goal and Maguire and his midfield partner and captain were Herculean i lar na pairce.
Val's eye for goal was wonderful and Aodh Ruadh won out by 2-10 to 1-7 for one of our sweetest victories ever.
Having suffered the heartbreak of missing the previous final through suspension he lifted the Dr Maguire in 1987, let's hear it for the man who led Aodh Ruadh to a ninth senior football title, Brian Touhy.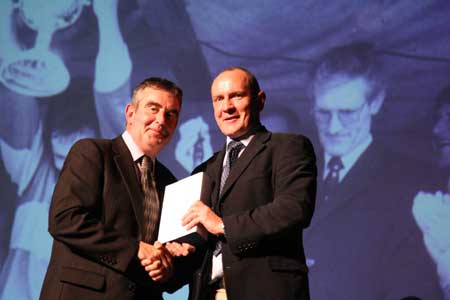 Tom Daly makes the presentation to Brian Tuohy.
The iconic image of 1994 is of a grinning captain being held aloft, a man utterly consumed by the GAA, a man for whom everything that mattered was in his grasp with the Dr Maguire in his hands and his team mates by his side. Ladies and gentlemen, our club is full of wonderful people, we truly have a wonderful brand name and while success hasn't been as plentiful as we might like in recent seasons, these are the defining years, these are the years when we do something about it, when we put structures in place to be triumphant again, these years are arguably more important than those when you are winning. You might remember Tyrone's Mickey Harte expressing similar sentiments at a club dinner dance in 2004.
If that is the case, no man has led by example more than our captain of 1994.
When I phoned the captain during the week to ask him his abiding memories of 1994, he told me in no uncertain terms that it was Ciaran Keon's physical presence resulting in two Red Hughs boys leaving Pairc Naomh Brid on the half door. That, translated into English, means that two of our quarter-final opponents from Killygordon came out second best in challenges with the late Ciaran Keon and had be transported from the field of play on stretchers. The talent at the disposal of manager Sean Boyle and his assistants, Joe Doherty and Conor Carney meant county u-21 players like Barry Ward, Gary Brennan and past players, Diarmuid Keon and Damien Conlon weren't on the first 15.
Killybegs were going for five finals in a row before they met Ballyshannon in the semi-final. John Duffy hit 5 and Val helped himself to 4 points, no marching behind the band for the fishermen.
Glen were the opposition in the final, a scintillating opening half from Ballyshannon with Charlie O'Donnell and Maguire brilliant in midfield, saw the green and white in front by 1-7 to 0-2. Glen fought back, Val stuck home a penalty and knocked over a '45, Pauric Gillespie was doing it at the other end though. Diarmuid Keon put in a brilliant last 20 minutes to shore up the defence in the face of a Naomh Columba onslaught and Aodh Ruadh won out by 2-10 to 1-10. Title number 10 in the bag.
The skipper was a leader on and off the field and when Aodh Ruadh did defeat Naomh Columba to win the Dr Maguire that Autumn, there were none happier than captain, Sylvester Maguire.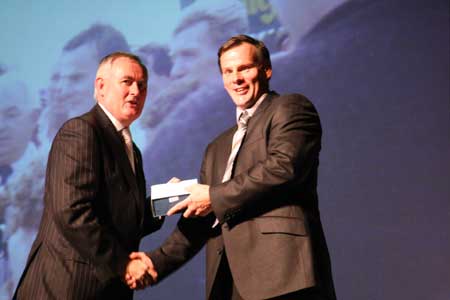 Christy Cooney makes the presentation to Sylvester Maguire.
Onto 1997, a difficult year to put in perspective. It will forever be known as the final we won in the boardroom as a result of St Eunan's fielding Leslie McGettigan.
The championship year began as planned, a first round win over Ardara. James Gallagher could have sent Aodh Ruadh packing in the quarter-final but hit the post, Maguires men made Gweedore pay in the replay. Naomh Conall and Jim McGuinness were easily beaten in the semi-final before the mouth-watering final pairing of Ballyshannon and Eunans was arrived at.
Letterkenny captain, Sean McEwen cried off through injury at the 11th hour, Charlie Mulgrew was dismissed in the game but Eunans held out to win by a point on the scoreboard, 1-11 v 2-7, a certain Brendan Devenney arrived on the big stage with a personal tally of 1-7.
The captain of Aodh Ruadh in that turbulent year of 1997 was a long-serving midfielder who wore the jersey with pride, let's hear it for Charlie O'Donnell.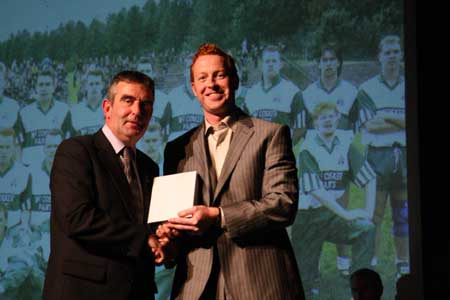 Tom Daly makes the presentation to Charlie O'Donnell.
1998 began with many eager for a rematch between St Eunans and Aodh Ruadh. However, that couldn't materialise when the Letterkenny men were shocked by Naomh Columba in the semi-final.
Newly promoted Burt was a potential banana-skin in round one but the Ballyshannon men successfully navigated a path through to a quarter-final against Kilcar. Played in Ballintra, it looked as if Roger McShane and the McHughs were about to turn back the clock with a vintage performance but with the ship starting to take-in water, manager Maguire brought on himself and the injured Brian Roper. The wee man bagged 1-1, Sylvester got 0-2, a managerial masterstroke.
Jonathan Boyle and the classy Damian Diver were the key men for Ardara who provided Aodh Ruadh's semi-final opposition. The game was played in rain in Tir Chonaill Park in Donegal Town, a point separated the sides at the end as John Duffy excelled for Ballyshannon as Ardara squandered some glorious chances at the death.
It was Naomh Columba who were looking to break an awful run of losing four finals in the '90's who most neutrals would have been cheering for on final day, September 20th, 1998. Aodh Ruadh were seeking to match Gweedore's record of 12 titles, the best in the county.
The demons of '97 had to be laid to rest and Sylvester's boys were determined to prove they were the best in Donegal. Liam Browne refereed and a young man called Michael Ward stole the show. 1-4 from Sticky and Aodh Ruadh were almost home. Heartbreak for John Joe, Noel Hegarty and Noel McGinley, the Dr Maguire goes back to Ballyshannon on a 1-11 to 0-11 scoreline, the joyful captain on that day was Val Murray...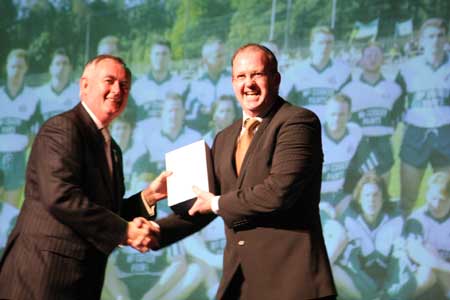 Christy Cooney makes the presentation to Val Murray.
It has been decided that our next award, the clubperson of the year award, will be known as the Sean Slevin senior award. This is in memory of a true servant of Aodh Ruadh. Sean played for the club with distinction before going on to render decades of unstinting service to Aodh Ruadh. Sean was taken from us at the very end of 2008 and in naming this award after him we aim to not just to perpetuate his name, but the memory of his enormous legacy in the club.
Down through the years, Ballyshannon has been blessed to be able to draw on a wide range of people from outside the town to boost our playing population, to strengthen our support base and quite simply, to get involved in club activity which we are always more than willing to facilitate. Our border location has meant large numbers of guards and soldiers being stationed here, the ESB has been responsible for bringing substantial manpower to the town in times of old. We welcome very many of you back to town this evening. Our clubperson of the year is a non-native of the winding banks of Erne but what a contribution he's made to Aodh Ruadh in a relatively short space of time.
Amicable, helpful, professional and diligent are four adjectives which spring to mind when describing our club person of the year. Many of you living locally and particularly those living elsewhere are aware of our very informative and user-friendly website which has been designed, edited and updated by this man. He first arrived in our town in 2001, we think, and is married here with three daughers... He mixes business and pleasure at present, employed as a sub-editor in Omagh with Ulster's only dedicated GAA weekly, Gaelic Life.
From Middletown in County Armagh, he has relished his involvement with our club and we have been very fortunate to benefit from his expertise and willingness. He first became involved with Bord na nOg in 2003/04 season, took over as club PRO in 2005 and is at the coalface whenever work has to be done, notably in the preparation for tonight's event when he has scanned more than 1000 photographs to put on the display on the screen here behind me. Mercifully, he decided to hang up his boots some years ago and wasn't asked to reconsider... Ladies and gentlemen, a true gentleman, our club person of the year in this centenary year, 2009, let's hear it for the quiet and unassuming John Hughes.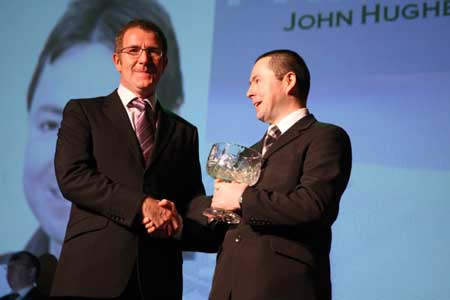 Leo Slevin makes the presentation to John Hughes.
HALL OF FAME
Now to our final presentation of the evening ladies and gentlemen if I could have your attention please. The Hall of Fame. Well, traditionally inductees into the Aodh Ruadh Hall of Fame come with a proud pedigree and distinguished CV and I can assure you that tonight's recipient is no exception.
There is a terrible cliché which we presenters tend to over-use: We say, our next speaker, our next winner, our next award recipient, "needs no introduction" and we usually tend to go on for five minutes introducing the man or woman who 'needed no introduction'. However, the recipient of our 2009 Hall of Fame Award, does need an introduction -- not because you don't know him -- but because he deserves that introduction for his contribution to this club, this county, this province and to the GAA nationally and indeed internationally.
They say a week is a long time in politics - and it is - but the last seven days has seen tonight's recipient of our Hall of Fame have another typically long and busy week, covering 30,000 miles,on behalf of the GAA! Last Sunday night he was in slightly different surroundings, promoting Gaelic games among Ireland's 800 strong ex-pat community in Thailand, attending the Asian Gaelic Games Festival. Tonight, while the setting may not be as exotic and the temperature not quite so hot, here he is with his own and the welcome is no less warm in terms of both the esteem and admiration for this man's huge work ethic for the local and national GAA family.
But this is a CLUB award, and while our awardee has given himself to the GAA at all levels, we felt it was time we recognised his contribution to Aodh Ruadh.
Having played hurling and football with De La Salle and Aodh Ruadh, doing so until 1984, he has made his mark as a GAA administrator. His first major GAA speech in 1974, was at the graveside of his late father, Hugh Daly, where, on behalf of his family he returned thanks to the then GAA president Donal Keenan following the unveiling of a commemorative GAA headstone to his late father.
A keen club footballer with senior championship, senior reserve championship and league medals, he would be modest about his football ability but those who played with or against him would agree that he was a fine and fiercely competitive club hurler in particular - winning senior shield and junior championship medals in Donegal.
Working in the Committee of Agriculture he was instrumental in re-launching Lifford GAA club. In 1980, on a chance post-Christmas walk down the town he happened on a notice in the window of Dorrian's hotel declaring that inside the Aodh Ruadh GAA club were holding their AGM. He walked in to see what was happening. Two hours later he walked out, the new chairman of the club. A leader, he was and is an administrative colossus. He identified funding and galvanised club colleagues, new developments that brought major infra-structural changes to Fr Tierney Park were to begin. In 1981 the revitalised Aodh Ruadh club quickly made its mark, winning, for the first and only time to date, the AIB County Club of the Year Award. His involvement with the club's park committee remains to this day and is of critical importance to him, despite his testing schedule.
His uncanny knack to locate and deliver funds ensured major capital projects were started and completed - projects such as the stand at Fr Tierney Park, the new Aodh Ruadh Centre of Excellence at Munday's Field and the impressive Aras Aodh Ruadh, all of them ambitious and expensive projects to undertake by a club with very limited finances.
Our Hall of Fame recipient has served as chairman of this club for two terms - 1980 to 1983 and 1990 to 1992 where he combined club, county and provincial roles. He has over 25 years' continuous service with this club as chairman of its park/development committee.
On top of that he is a GAA National Vice President, the President of the Ulster Council and at 55 years of age, the youngest ever recipient of this club's Hall of Fame.
Ladies and gentlemen, the man who needs no introduction, Tom Daly.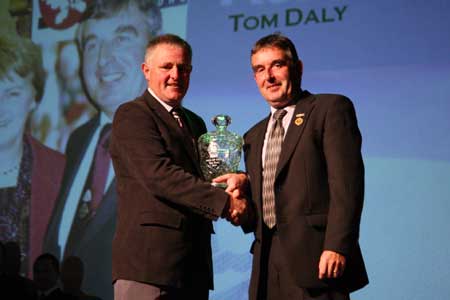 Terence McShea makes the presentation to Tom Daly.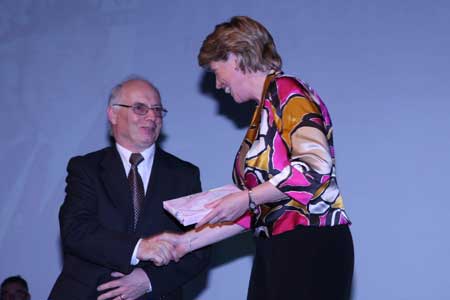 Club Secretary, John Magee, presents the Tánaiste, Mary Couaghlan, with a token of appreciation.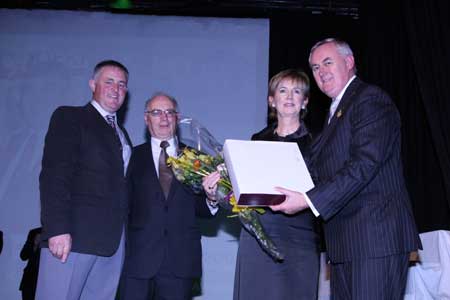 Club Chairman, Terence McShea, and Club Secretary, John Magee, presents Uachtarán CLG, Christy Cooney and wife Aine with a token of appreciation.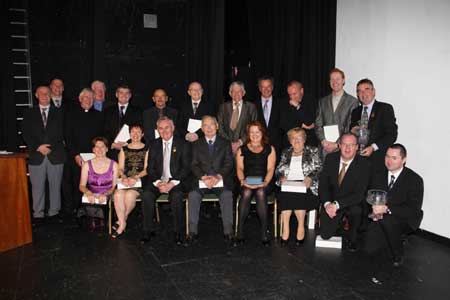 The final group of winners on the night.
The ceremonials in the Abbey Centre concluded with speeches from President of the GAA, Christy Cooney, President of the Ulster Council, Tom Daly, and club chairman, Terence McShea. The magnificent Sean Perry drew the curtain down on yet another suave and polished performance and then it was on to Dorrian's. In Dorrian's there was a little food and a lot of drink and bonhomie. There was fine entertainment from the Mucky Ducks while the non-dancers were able to view some vintage images from Aodh Ruadh history on the plasma screen in the small function room, while in the foyer a video of the 1984 GAA centenary dinner dance revived many happy memories. The revelry continued long into the night, a night that will surely endure long in the memory.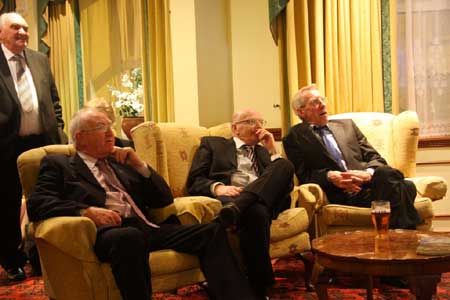 Sean McCormack (standig) keeps a close eye on proceedings as John 'Spud' Murphy, Barney Drummond and Gerry Lappin watch the video of the 1984 dinner dance.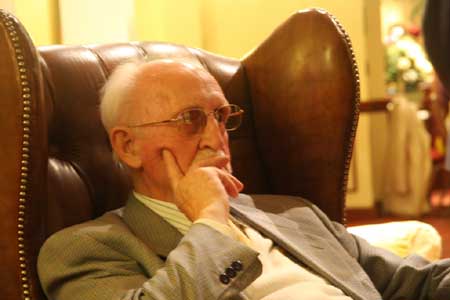 Peter Daly watches the video of the 1984 dinner dance.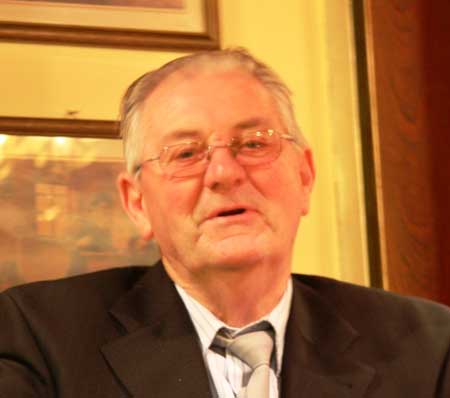 The inimitable Pat Melaniff.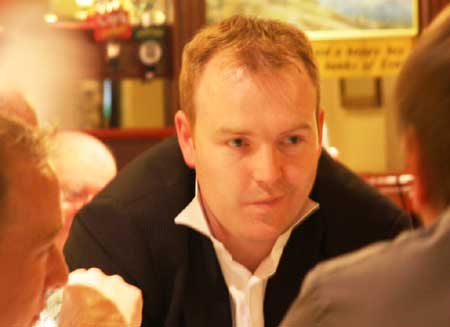 Sean Perry unwinds after another bravura performance.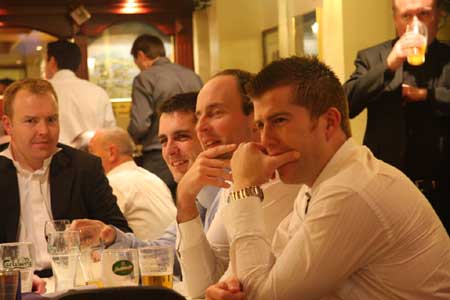 Sean Perry, Gerard Ferguson, John Muldoon and Michael Gurn.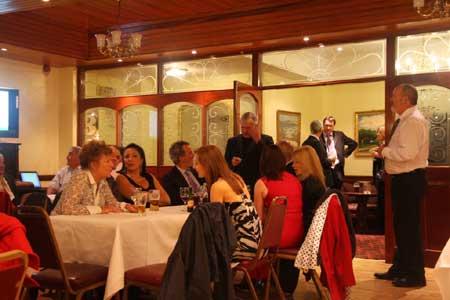 Enjoying the craic in Dorrian's.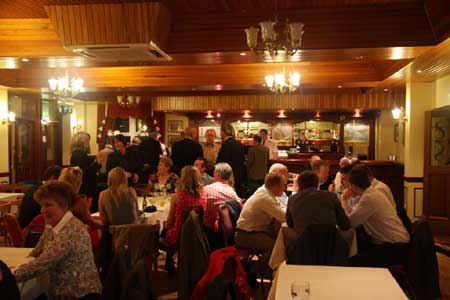 Enjoying the craic in Dorrian's.
Photography by Brian McDaid, Seamus O'Donnell and Brian Drummond.
Report Filed: 8 November 2009