Centenary Congratulations
Here's a message Tom Daly received Robert Lawn in the United States wishing the club well on its centenary. If you're a Ballyshannon exile and have a message you want to share with the club on our centenary, why not e-mail it to info@aodhruadh.org and we will publish it on aodhruadh.org for you.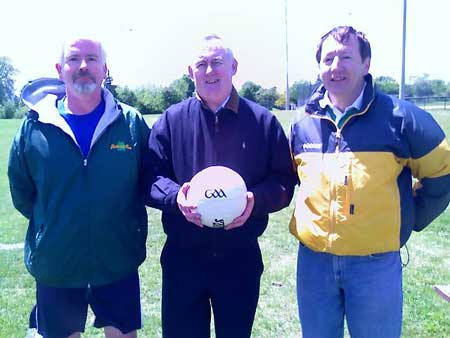 Robert Lawn with Christy Cooney, Uachtaran CLG, and another Buffalo coach.
On behalf of Robert (Bobby) Lawn and all the Lawn families formally of Donegal Road, Ballyshannon and at this end Buffalo, New York. I want to wish you all every success with the centenary festivities and all the goings on with the celebrations. I have been trying to keep the gaelic games alive here in Buffalo with coaching the youth team and also playing and coaching the senior players. It has become a case of trying to teach players of different ethnic backgrounds who join our club how to play gaelic football.
I hope to return to Ballyshannon in the near future and this time maybe I will stay. I only wish I could be there to celebrate with you all but the timing does not suit me at the moment. I am enclosing a picture of Christy Cooney, the other coach of the Buffalo team and myself which was taken in Toronto, Canada summer 2009. Give my regards to Martin Carney if you see him Owen Roe O'Neill, Jim 'The Natch' Gallagher, Jim Kane and your brother Pauric to name but a few. There are so many I can not mention them all at this time. Take care for now and enjoy the celebrations
Robert (Bobby) Lawn
Report Filed: 16 November 2009