For Ciaran, to Ciaran
The following is the eulogy read at Ciaran Keon's graveside by his brother Donagh after the funeral mass on 8 August 2009.
Where do you start, when there is so much you can say about Ciaran?
He was born on the 9th of September 1970, a bundle of joy for our parents - a blonde-haired, brown-eyed boy with the good looks of an angel. Ciaran was a teachers' favourite - a good student, quiet, mannerly, with a great sense of humour and remarkable good wit. He excelled at school, doing his Leaving Certificate at just 16 years of age. From there he paraded the Halls of Maynooth to gain his 1st class honours degree in Science. It was there in Maynooth that he first met his wife Paula. After Maynooth he completed a Masters degree in Computer Science in Queens University Belfast and a further Masters degree in Information Technology in Universty College Galway - not bad for a boy who was advised to repeat his Leaving Cert because he was too young!
From there he had a spell working in Information Technology in the banking sector and later in Gallaghers in Dublin, before deciding to return closer to home by taking up a post as a lecturer in IT in Sligo Institute of Technology.
To his friends, staff and management of Sligo IT, we would like to say thank you for your compassion, help and support shown to Ciaran throughout his illness.
A keen sportsman, Ciaran was a great swimmer at a young age before Gaelic Football took over. He played at all ages from under 10s to seniors for his club, lining out at midfield in the 1989 Senior County Final at the tender age of 18 and later Captained the team.
A seriously strong man, renowned for his tough hitting, many players probably still remember some of his well-timed shoulder challenges. Many more players and supporters probably remember his not-so-well-timed challenges too!
He represented his county at Minor and Under-21 level. He co-managed the Aodh Ruadh senior team before taking the reins himself, ably assisted by some of his close friends. No silverware was won but he had a very proud day managing the 7-a-side team to the All-Ireland Final a few years ago. He also enjoyed many outings playing Sigerson Cup football throughout his college years.
He was an able golfer and enjoyed skiing holidays with his friends, family and his wife Paula.
Ciaran had a beautiful singing voice. You would hear a pin drop if he was singing any of his old favourites like "The lakes of Ponchartrain", "Moondance" or "It's a working man I am"
Ciaran was a man of great character, integrity and honesty. He was a link man to many a group of people. So many things were organised by Ciaran or through Ciaran. His personality was infectious and his love for life was immense.
He was lucky in love as he found a real treasure in his wife Paula. Paula was Ciaran's rock, a true inspiration to him, the driving force behind him, helping him and encouraging him to keep fighting his cancer all the way. Ciaran's life was complete by Paula's love and he will live on in his two beautiful daughters, Caoimhe and Orla. Thanks to Paula, Ciaran had fitted so much into the time they had together. Ciaran and Paula were soul-mates.
Ciaran had many friends from near and far, local friends, college friends, work colleagues and lifetime friends.
This is a very difficult time for our family and parents. Ciaran loved, idolised and respected his parents and was a true friend to us all. He was a devoted husband, a loving son, a doting father and a brilliant brother. To his family and close friends he was affectionately known as "The Cub" - probably because of his cuddly nature. Ciaran will be sadly missed and always loved.
We would like to thank so many people for their help - everyone who sent good wishes and said prayers or just asked after Ciaran. We would like to thank the teams in St. James Hospital Dublin and Sligo General Hospital, his medical specialists Professor Hollywood, Professor Timon, Professor O'Byrne and Dr. Ed Cotter, local doctors, Sligo Hospice staff and carers. Thanks also to Aodh Ruadh GAA club for all their help over the past few days, it is greatly appreciateed
We would ask God to bless Ciaran on his onward journey until we all meet again. We thank God for allowing us to share in and be part of Ciaran's life.
May he rest in peace.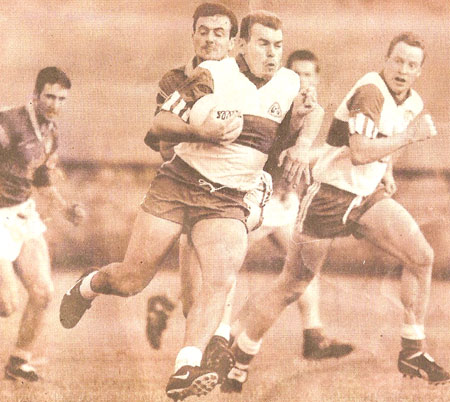 Ciaran breaks out with the ball against Naomh Columba during the 1997 Senior Championship.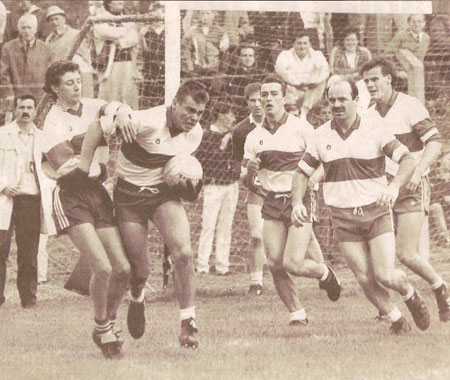 A young Ciaran on the ball against Killybegs in the 1989 senior championship. Pictured, from the right, are Sylvester Maguire, Sean Boyle, Ciaran's brother Diarmuid, Gary Walsh and Killybeg's Mark Boyle trying to make a tackle on Ciaran.
Report Filed: 9 August 2009