Dinner Dance 2008
Some may have rather hazy memories of the evening, but here, reproduced in all it's glory is the inimitable Sean Perry's script for the night. All photos are by Paul McGinty of ghormstudio.ie. If you'd like a print of any of these pictures give Paul a call at 087-6422189 or e-mail ghormstudio@gmail.com.
Reverend fathers, distinguished guests, fellow Gaels, you're very welcome to this, our annual club dinner dance, a night when we honour and acknowledge those who have played a vital role on and off the field of play in our proud club.
Some of you may have checked the calendar when you learned we were breaking with recent tradition to hold this function in November as opposed to after Christmas. The reason being is that next year, 2009, marks the 100th anniversary of our club and a series of more substantial events are organised to commemorate the Aodh Ruadh centenary, a very significant milestone for our fine club.
Unfortunately, we find the trophy cabinet not as full as we would like in Ballyshannon this year when compared with our high standards of recent decades, however, as Tyrone manager Mickey Harte told us here a few years ago, these years are rendered even more important than the glory years, this is a time when the work must be put in at underage level to lead to success on the playing field in the future and through our excellent coaching structures and progressive mindset, this is being achieved.
We begin this evening with our young hurler of the year, a man with Tipperary blood in his veins which is an obvious help when it comes to hurling! Aodh Ruadh have made huge strides in hurling in recent years claiming silverware at u-16 and minor level and this young man had a major role to play in much of that success
Our young hurler of the year, 2008 is Stephen Ryan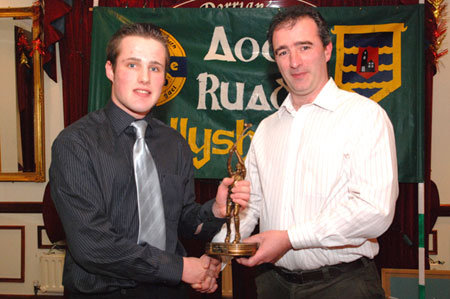 Stephen Ryan recieves the Young Hurler award from John Rooney.
Now to our young footballer of the year. Every year our minor footballers seem to produce a Herculean effort providing an upset in the championship. This year, we were paired with Bundoran and having been beaten by a cricket score in the first leg of the championship in Fr Tierney park our minors beat the confident seasiders in the second leg in Gaelic Park, Bundoran. Our young player of the year was to the fore in that as a tenacious half back with pace and skill which saw him come very close to getting a place on the county minor panel. Ultimately, Bundoran did get the better of us in the playoff but it was nonetheless a great year for our tonight's recipient, let's hear it for Barry Leonard.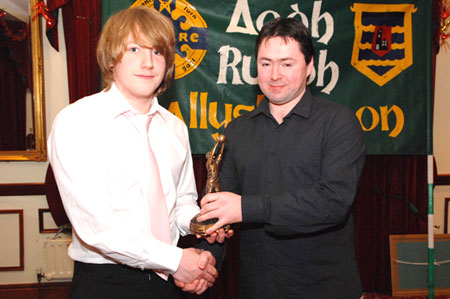 Barry Leonard recieves the Young Footballer of the year from John Hughes.
Our next award goes to our ladies player of the year. Again, there has been a great deal to commend about the strong turnaround in the fortunes of ladies football in Ballyshannon in the last few years, much of it down to a strong coaching structure from under 10s up which has produced many young players proud to compete for the first team. One of those players is being acknowledged this evening, she has played for Donegal at under 16. In spite of coming so close against St Michaels in the county final in MacCumhaill Park in the Autumn, it was a year of high achievement and consistently impressive performances for this player. The ladies player of the year, equally at home at midfield or in the half forward line, show your appreciation please for Sarah Patton.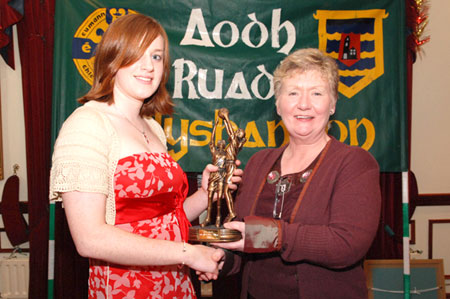 Sarah Patton recieves the Ladies player of the year award from Mary Grimes.
Now to our third team player of the year who this time last week was polishing his boots, taking plenty of water on board and preparing to go to bed early preparing for a league final. I'm sure all his teammates were too. Well it worked and they managed to finish very strongly to deny St Eunan's yet another adult football title this year. It's taken a huge level of effort and commitment from the third team to maintain training sessions and levels of fitness right into November from very early in the year but it worked. Their no nonsense defender who is being honoured as player of the year did indeed enjoy a great year, let's hear it for Swampy, Brian Dorrian.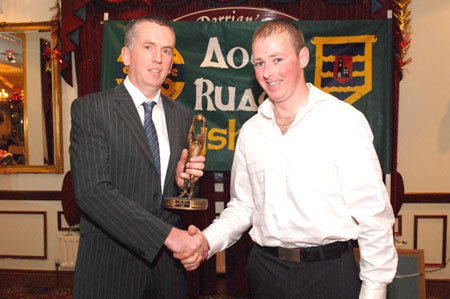 Gerard McGloin presents Brian Dorrian with the Third team player of the year award.
Next to the most environmentally friendly team in the club... the reserves. The Green Party would be proud of this team's almost non-existent carbon footprint having failed to travel to so many matches this season, indeed, during Minister John Gormley's visit to Ballyshannon a few weeks ago he is reported to have met manager, Paul Kane with a view to contesting next Summer's local elections for the party. Anyway, the selection process for reserve player of the year is about as transparent as the Zimbabwean presidential elections. Robert Mugabe can't be with us this evening, but he would be proud if he was here. Our reserve player of the year is making the proud march to the stage here for the third time in his career and there's a few more miles left in him yet. To be fair and frank, in a very difficult year, he was the one player whose level of effort couldn't be questioned and who gave his utmost every time it was needed and expected. Fell foul of administrators a few times in 2008, but our reserve player of the year, soon to be married, the one and only, Barry Travers.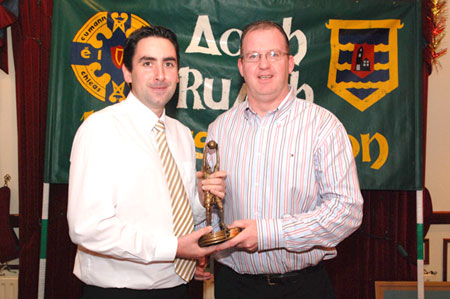 Barry Travers receives the Reserve Player of the year award from Val Murray.
Our senior player of the year was ranked a doubtful starter at the beginning of the year. It may have taken some persuasion from Sylvester and Brendan Drummond to keep him in club colours, but no club could afford to be without a player of this quality. He's been manning the centre field position for Aodh Ruadh for approximately 10 years now, much of it spent, partnering his brother, Barry. He's won the full complement of underage medals including an All-Ireland community games medal in 1990 under the tutelage of Jim Kane and the late, great Willie Rodgers. Ulster medals in the peerless De La Salle College followed but a series of great performances, particularly against Termon in our last must win league match in October makes him a worthy winner tonight. Ladies and Gentlemen: our senior player of the year is Stephen Ward.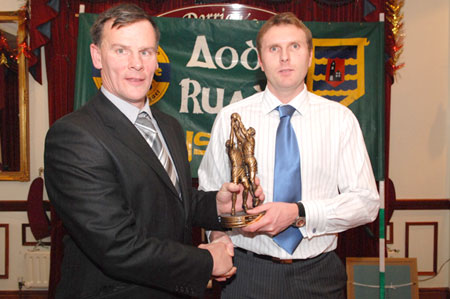 Stephen Ward receives the Senior Player of the year from Sylvester Maguire.
Our club is run by a series of top-quality volunteers and it is only right that we should show our gratitude for what they do here this evening by presenting an appreciation award. We are blessed to have so many fine people who are willing to give up their time to play sport, to coach, to sell tickets, to steward, to contribute at meetings, to help out, to be available, willing and able. The recipient of this award ticks all the boxes, particularly when it comes to contributing at meetings! Truly one of our great club stalwarts who is never found wanting when it comes to lending a hand and he has been taking charge of football teams since I was u-10. He's a valuable asset to our club and we present him with our appreciation award tonight, let's hear it for Jim Kane.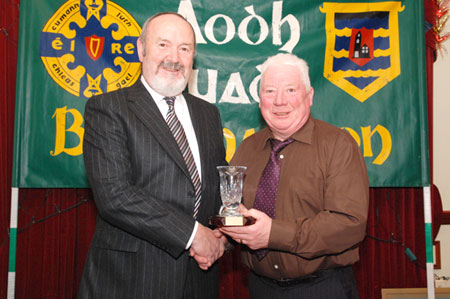 Outgoing Bord na nOg Chairman Jim Kane receives an appreciation award from John Travers.
Now, while hurling in Ballyshannon has been on the up of late, the closely knit hurling fraternity and the club as a whole was shocked and saddened to learn of a cruel twist of fate last September when one of our most respected clubmen suffered a serious stroke depriving him of many of his faculties. Billy Finn had just retired from a long history teaching career and was looking forward to life outside the classroom and continuing his contribution to his great passion for hurling. Billy was a regular fixture at our club dinner dance and will be again soon we hope. He sends us his good wishes from St John's hospital in Sligo this evening where he is making a slow but steady recovery. A native of Callan in County Kilkenny who came to Ballyshannon in 1973, Billy hurled with Aodh Ruadh and was comer forward on the famous team of 1989 which was beaten by two points to Burt. Speaking to John Larkin earlier this evening, he tells me that Billy's sense of humour and fun remain strong and he would welcome a visit from anybody who might be in Sligo and able to pop in and see him. His daughter Aisling is with us this evening, to receive an appreciation award for services to hurling for Billy Finn.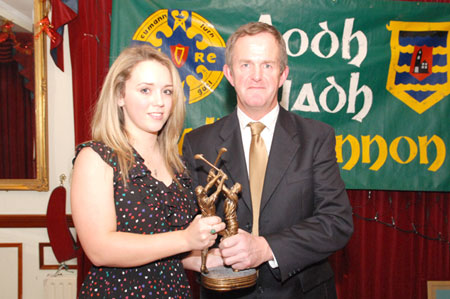 John Larkin presents Ashling Finn with the services for Hurling award, on behalf of her father, Billy.
Now to our next big award, the club person of the year. He's from the small club of Eyrecourt in East Galway, home to the great Brendan Lynskey and Sean Silke. Tonight's recipient came to Ballyshannon in 1991 via Pettigo where he worked for a time. Currently stationed here as a detective Garda, he has contributed a huge amount to the development of hurling in the area. Earlier, we alluded to our success at u-16 and minor level in recent seasons, this man was instrumental in mentoring many of those young hurlers to become the players they have become. He's given up a colossal amount of time, particularly on Sunday mornings when u-8, u-10, u-12 and u-14 hurlers are a common sight around Fr Tierney Park and Munday's Field before that. A man who always calls a spade a spade and commands the respect of the youngsters and his peers at adult level for his dedication to the game and the way in which he goes about promoting the game through coaching. He still hurls for the senior team generally taking the number 3 or 14 jersey, somewhere that doesn't involve too much running. Married to Eleanor from County Down, they have two boys and one girl, ladies and gentlemen, please give a huge hand to our club person of the year 2008, the unassuming and ferociously committed, John Rooney.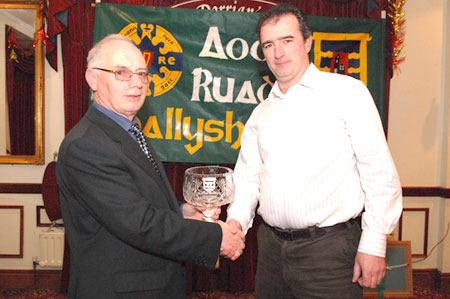 John Magee presents John Rooney with the Club Person award.
Now, we prepare to induct another one of our own in the prestigious Aodh Ruadh Hall of Fame. This man has been synonymous with Aodh Ruadh for as long as most of us can remember and has earned a reputation for being a great underage manager who played a major role in shaping the careers of players such as Gary Walsh, Tommy McDermott, Brian Touhy, Brian Murray, Brian Roper and Sylvester Maguire.
Before that, he also played the game at a decent standard lining out for the Donegal minor hurlers and footballers. He also served as comer back for the great St Joseph's before leaving Ballyshannon to gain employment. Needlesss to say the GAA would always have a major role in his life and while away from the winding banks of Erne, he became involved with well-known clubs such as Cavan Gaels and Ballymun Kickhams. He returned to our town in the mid-seventies to work for the Department of Social and Family Affairs as it is today.
He immediately became active in Aodh Ruadh again serving as manager of a range of underage teams. In the centenary year of the GAA, 1984, he established the first ever Bord na nÓg in Co Donegal which became the benchmark for all other clubs in the county. He served as its chairman for its first three years. His love of nurturing young talent didn't end there and along with Martin McHugh, he was instrumental in setting up the first ever school of excellence in Donegal in the 1990s.
He went on to manage our senior team, with the greatest success in 1986 and 1987 during what could be accurately described as a golden generation of Aodh Ruadh football. The arrival of the Dr Maguire Cup to Ballyshannon bridged a 35 year famine. In the '87 championship, a 57 day gap between matches against Naomh Columba in that campaign didn't amuse the manager too much but courtesy of wins over MacCumhaill's, Naomh Columba, Red Hugh's and Kilcar in the final, Aodh Ruadh retained the Dr Maguire in style. Indeed, the team came within a whisker of defeating the best club team in Ireland at the time, Burren in the Ulster club championship.
Just for good measure, our Hall of Fame inductee also managed the u-12s in 1987, a team which won divisional and county titles. Ten years later, he was back in charge of a county championship winning u-12 team backboned by his son, Pauric.
He became club chairman in '99 and 2000 and his direct no-nonsense style became a hallmark of many meetings but with efficiency and forward thinking never sacrificed. Scor is also one of his pet projects and his encyclopedic knowledge of GAA matters means he's feared and respected as much on the quiz circuit as he was patrolling the GAA fields. He reached an All-Ireland final in Scor Trath na gCeist in 1998 along with present secretary, John Magee and senior team manager, Sylvester Maguire. His love of Scor didn't end at participation level, he coached a young team to All-Ireland success in 2002. Further appearances in the final followed in '03,'06 and '08.
His family name is very much part of our club his wife, Ann and family, Grainne, Donal, Sinead, Ashling, Pauric, Ciara and Aoife have all donned the Aodh Ruadh colours in various codes with most also having represented Donegal. His colleagues, friends and club mates all agree that his greatest legacy is getting and making other people feel involved in Aodh Ruadh. Affable, committed and always proud and loyal, we're truly delighted to have him receive our Hall of Fame award here this evening, the great PJ Buggy.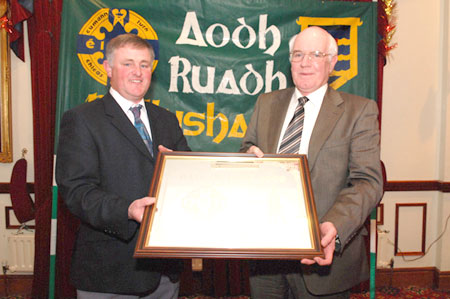 Terence McShea presenting the Hall of Fame award to PJ Buggy.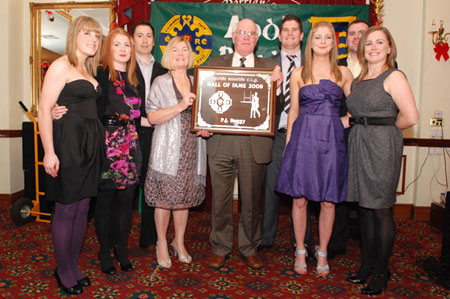 PJ Buggy and his family after receiving the 2009 Hall of Fame award.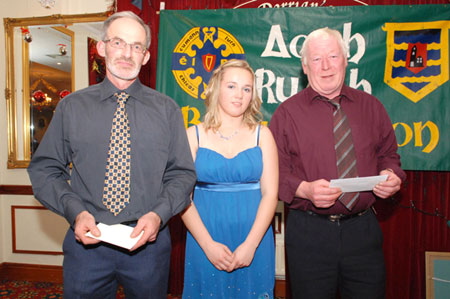 Katie Flood presents Teddy Kane and PJ Patton with an appreciation award.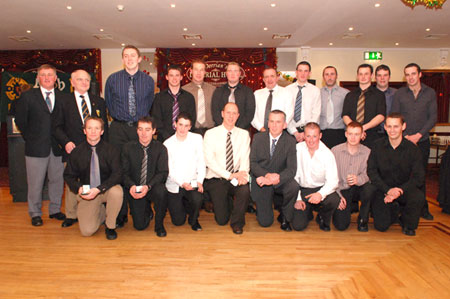 The Aodh Ruadh third team which won back-to-back Division 4 titles were presented with their medals on the night.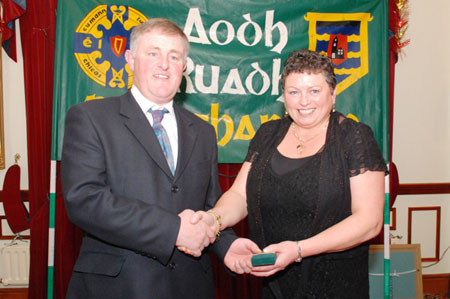 Mary Matthews receives an appreciation award from Terence McShea.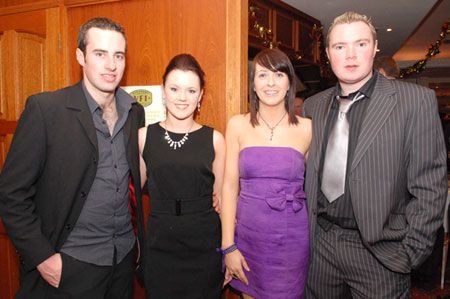 Pierce Laughlin, Pauline Flood and Kirsty McElhinney and Joseph Watson.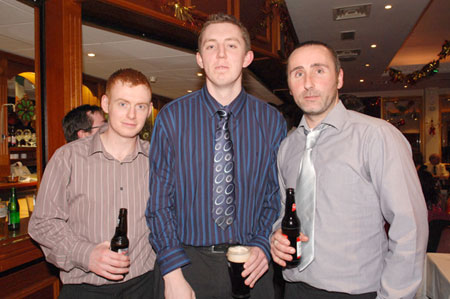 John Roper, Joe Mullaney and Dermot Slevin enjoying the Dinner Dance.
Report Filed: 12 December 2008