Dinner Dance 2011
Some may have rather hazy memories of the evening, but here, reproduced in all it's glory is the inimitable Sean Perry's script for the night.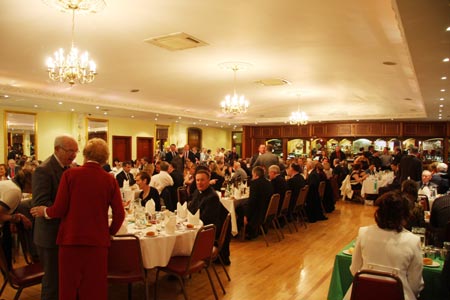 The crowd takes their seats for the meal
Reverend fathers, distinguished guests, ladies and gentleman, players and members of the Aodh Ruadh club. Welcome to this, our annual club dinner dance 101 years after we were founded. Well, our club continues to cater for a huge range of footballers and hurlers, young and not so young, with our impressive new facilities at Páirc Aoidh Ruaidh, formerly Munday's field to the fore in allowing us the best facilities in which to train and showcase our many teams.
Tonight is about celebration, socialising and recognising and acknowledging those who have excelled on the field of play in the year just past.
First we turn our attention to our adult hurlers. With much progress being made at underage level, the first team powered to junior championship honours for the first time since 2003 to secure the club's second county title in Donegal Town on August 2th last. Inspired by senior Donegal players Chris Kilgallon and Johnny Dolan, Ballyshannon put in a fine display to defeat MacCumhaill's by 6-7 to 2-1 in the decider.
Captained by Michael Bowering and wearing the unfamiliar yellow and red of Colaiste Cholmcille and playing with the advantage of a stiff breeze, Aodh Ruadh raced into a 3-6 to no score lead at the interval with both Kilgallon and Dolan among the goals.
Chris Kilgannon top-scored with 3-4, but Peter Horan was man of the match with an all-action game that MacCumhaill's struggled to contain.
To present their county medals to the Donegal junior hurling champions of 2010, I'm going to call on our special guest here this evening, a former senior team manager here in Ballyshannon, county board, PJ McGowan.
Let's hear your appreciation, ladies and gentlemen for the junior hurling side: Kevin McDermott; Kieran Breslin, Thomas Gallagher; Stephen Sheerin, Darren Gillespie, Liam Coughlan; Paul Sheridan, Kieran Kilgallon; Peter Horan, Gary Loughlin, Mickey Bowering; Johnny Dolan, Chris Kilgallon, Thomas 'Schillaci' Gallagher. Dominic Gillespie, Patrick McGarrigle, Paul Cassidy, Gary O'Brien, Ryan O'Brien, Peadar O'Keeffe, David Downey and Aidan Begley.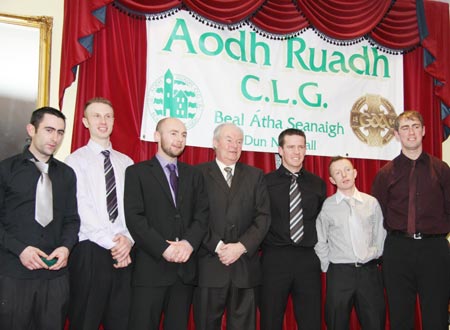 The 2010 junior championship winning hurlers.
Well next it's the Ladies who enjoyed a remarkable league and championship double in 2010 after heartbreak in a number of previous seasons. They ended the 2010 season on a high note on a sunny Saturday evening in October when they captured the Intermediate League with a convincing win over Naomh Conaill in Glenties. They finished with a flourish with a 5-11 to 2-6 win.
Before that in August, the ladies claimed the Intermediate title at the third time of asking with a tenacious performance which saw them defeat Malin. Having defeated Glencolmcille along the way, the Aodh Ruadh girls had more than earned their right to be in the county decider.
Played in Killygordon in the sunshine, Donna Martin, Anna Rafferty, Dearbhaile McNeill and Elaine Dorrian were all on the mark to give Aodh Ruadh a commanding eight point to three lead at half-time
Goals from Dorrian and Sarah Patton in the second half ensured that Aodh Ruadh wouldn't be denied winning out on a score line of 2-15 to 2-5.
I might ask county board chairman PJ McGowan to remain with us for the presentation of medals to the girls.
The captain of the side, Niamh Gallagher, is now in sunnier climes in Melbourne, Australia so I will call the side forward in the order in which they lined out on county final day. Marita Maguire; Catherine Lloyd, Grainne McCosker, Aoife Buggy, Annette Lloyd, Tara Khan, Sarah Patton, Tanya O'Shea, Marita Leonard, Donna Martin, Emma McPhelim, Anna Rafferty, Dearbhaile McNeill, Elaine Dorrian, Seana Slevin, Clare Breslin, Donna Rogers, Katie Flood, Fionnuala Gill, Andrea Rogers, Lorraine Roper.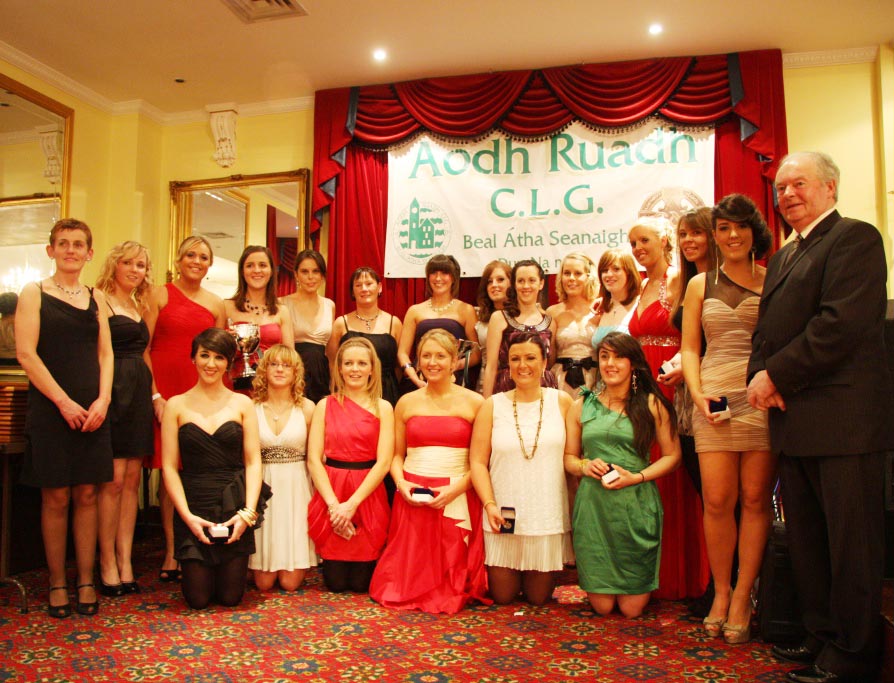 The 2010 intermediate championship and league winning ladies.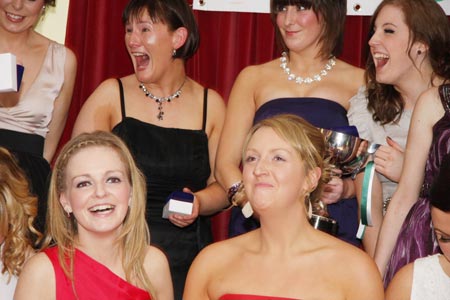 Smiles all around.
U-21 football has been under the microscope on a national and county level for some time now with many pundits suggesting the very future of the grade is in jeopardy. When Glenties clubman, Jim McGuinness took the helm of the county u-21 s in Donegal, few could have envisaged the adventure which lay ahead. Coming through Ulster in a steady if not spectacular fashion, full-forward and captain Michael Murphy had showed the sort of form which made him Young Player of the Year in 2009 and a very special talent.
The win over Cavan in the provincial decider was annexed with a victory over Tipperary in Parnell Park in the All-Ireland semi-final.
Then the final and who'll forget it. The width of a crossbar denying the gallant Murphy a penalty goal which would have won Donegal the All-Ireland in Kingspan Breffni Park. Well, Aodh Ruadh were proud to have two members of the club on that squad, let's hear it for the superb goalkeeper, Peter Boyle and Donagh McIntyre.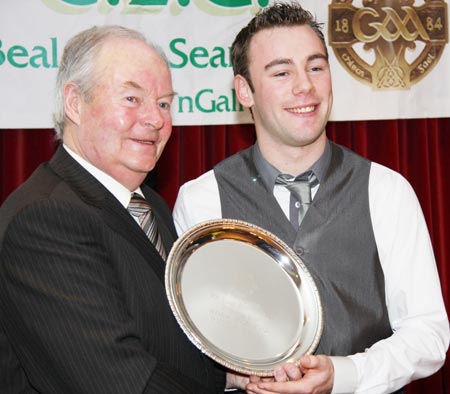 Peter Boyle recieves his presentation from county chairman PJ McGowan.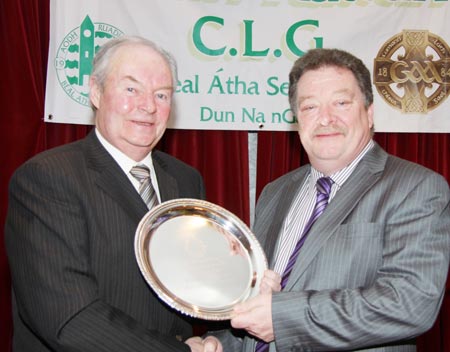 Gerry McIntyre recieves his presentation from county chairman PJ McGowan on behalf of his son, Donagh.
Next to our young footballer of the year, the presentation will be made by the hard-working and enthusiastic chairman of Bord na nÓg, Paddy Kelly. Thanks Paddy. Paddy is a Roscommon native and rumour has it that since the controversial disbandment of the third team, Paddy is now setting his sights on a return to inter-county football with the Connacht champions to keep his boots in use.
In any event, our minors managed by Barry Ward won three out of five league games before scoring a good win over Four Masters in the championship. They were then drawn against a Naomh Chonaill side but in spite of giving it their all in Towney, Kilcar, an understrength Aodh Ruadh side lost out.
The young player of the year was a member of that minor panel but was unfortunately injured for the Naomh Chonaill match, having come through all the underage grades and will still be a minor next year if I'm not mistaken, he has earned a reputation as a no-nonsense defender who marks tightly and does his job efficiently and effectively. He comes from a townland which produced many a fine footballer, Lisahully out there near the border. Let's hear it for young player of the year 2011, Gary Carty.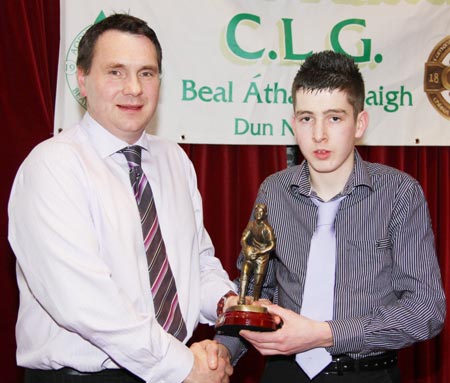 Gary Carty receives his young player of the year award from Bord na nÓg chairman Paddy Kelly.
Earlier we alluded to the successful year which the hurlers enjoyed and our player of the year was to the fore in that particular campaign, he played at midfield for that team and gave some tremendous displays throughout the year when leadership was needed. He's a native of Mullahoran in County Cavan and has hurled for the Breffni blues and indeed, his province. He also has the dubious honour of having won an intermediate football championship medal with Bundoran last year, nothing to be proud of.
Let's hear it for our Hurler of the Year, Paul Sheridan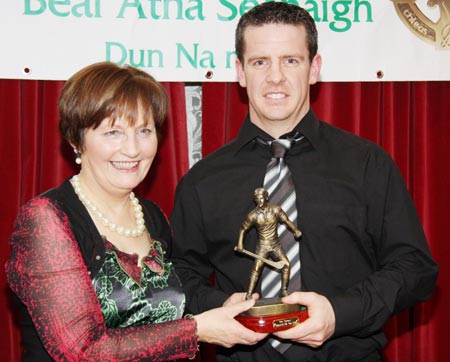 Hurler of the year Paul Sheridan receives his award from club chair person, Betty McIntyre.
Now to our Ladies Player of the Year. I'd call on the chairman of the ladies sub-committee, Teddy Kane to make the presentation. And again we're going for a corner back here. She had a wonderful year in a tight-knit defence which gave little away. Committed and has developed into a fine footballer with a good brain for the game, please welcome Ladies Player of the Year, Grainne McCosker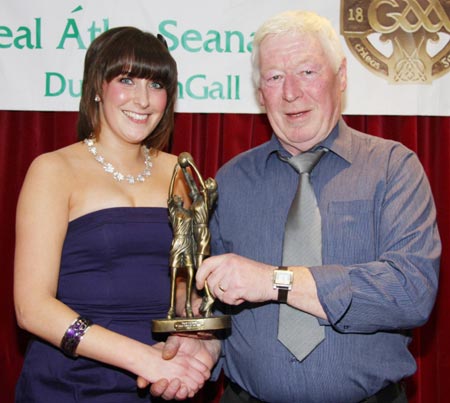 Grainne McCosker recieves her ladies player of the year award from Ladies chairman, Teddy Kane
Now to a species soon to be extinct, the third team. I was dreading a massive walk-out there but yes, they've abolished the auld third team ladies and gentlemen. I hear that Age Action Ireland are suing the club and that there isn't a bed in a nursing home to be had from here to Sligo. Ken Monaghan is here this evening to make the presentation.
So for the last time, it's the third ream player of the year. Unsurprisingly, they've gone for a forward given the talent that played in that particular unit. And I think we have a mistake here, the surname is correct but Steven seems to have been inserted in error. Robbed again - Ladies and gentlemen, I think I can graciously say that he had a great year in attack, it helps when you're playing with good forwards, the third team player of the year, Steven Perry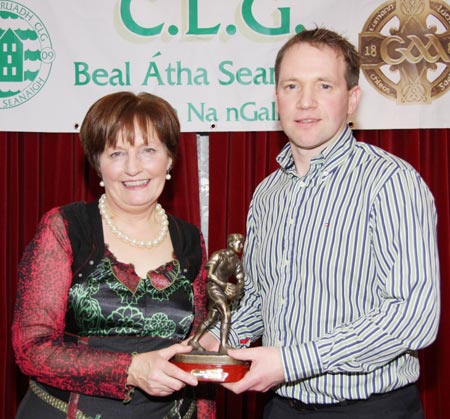 Ken Monaghan receives the third team player of the year award from Betty McIntyre on behalf of Steven Perry.
Presenting the reserve team player of the year will be the ever-willing Jim Kane who has given huge service to so many teams in the club. It was a tough year for the reserves; many weekends resulted in a struggle for numbers with Jim relying on too small a number of regular players. One man who could be relied on and ironically, he was third team player of the year last year was one of the half-backs. Ladies and Gentlemen, your reserve player of the year, Ronan Drummond.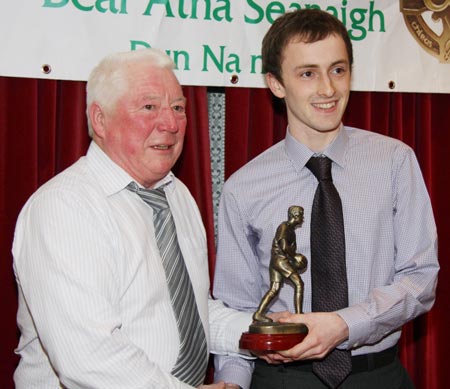 Ronan Drummond receives his reserve team player of the year award from reserve team manager Jim Kane.
I'm calling on senior manager, Val Murray to come forward to present the Ciaran Keon senior player of the year award. Well the seniors had a particularly difficult year, but aren't making excuses for how things panned out. In spite of a plucky display against St Eunan's in both the home and away legs, Aodh Ruadh bowed out with bitter disappointment following in the shape of relegation following a play-off against Fanad Gaels.
However, adversity is designed to bring out the best in us and hopefully, there'll be an immediate promotion this season. The player of the year did lead the line impressively, generally tucked in at number 14. Now a sprightly 33, your senior team player of the year ladies and gentlemen, Michael Ward.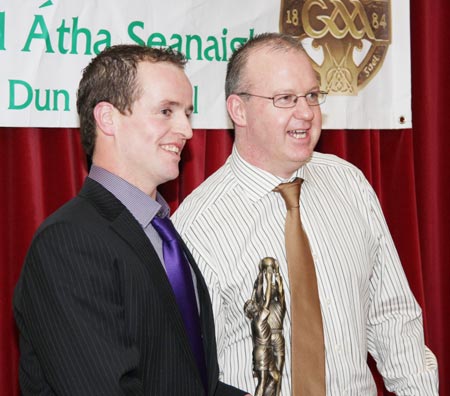 Senior team player of the year, Sticky Ward receives his award from senior team manager Val Murray.
This time, it's a very prestigious award, not for playing, rather for service to our fine club. Club chairperson, Betty McIntyre will present the award. We've been blessed with wonderful administrators and officials as well as players, referees and coaches down through the years. Hopefully, one of those officials might aspire to the office of Uachtaran Cumann Luthchleas Gael at Congress in the midlands in April, Tom, we wish you well.
Our club person of the year has been a permanent fixture at games throughout the year, helping out with teams and playing a major role along with the ever professional and enthusiastic John Hughes in keeping our excellent website up-to-date with fine photos.
Available, willing and ready, he's given a huge amount of time and assistance to Aodh Ruadh for many a year and we're particularly grateful to him for it and tonight we acknowledge that with thanks. In an age when volunteerism became more the exception rather than the rule, Aodh Ruadh still draws on tremendous goodwill from so many tremendous people.
Tonight he follows in the footsteps of Kerry Ryan, Jim Kane, John Rooney, Terry McShea, John Hughes, Claire Flood, to mention but a few, let's hear it for our club person of the year, Brian Drummond.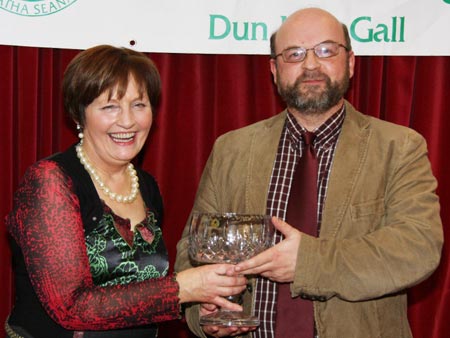 Brian Drummond is presented with the club man of the year award by club chair person, Betty McIntyre.
Now to our hall of fame recipient this evening, a very prestigious award indeed to be inducted into a group of distinguished Aodh Ruadh names who are etched firmly in our club history. Well, I understand that on his debut for Aodh Ruadh back in the late 1940s in a Democrat Cup match against Glenties he was knocked out and spent the night in the old Glenties hospital. In fact, such was the nature of the injury and the lack of medical assistance at the game that he was supposed to have been anointed on the sideline! Perhaps, he'll confirm that for us later this evening.
Our hall of fame inductee was a member of the team that won the 1951 county final, playing throughout the championship and lining out at right corner forward in the final against St Eunan's, Aodh Ruadh of course won by 1-6 to 1-5. We honoured the surviving members of that side here a few years ago. When Aodh Ruadh next won the championship in 1986, some 31 years later, his two sons Thomas and Seamus were involved continuing the lineage between fathers and sons with Tommy McDermott and Eunan Gallagher, whose fathers, Jackie and Jim played in 1951 also involved.
He also played in the 1955 league final victory over St Eunan's. Unfortunately, St Eunan's were to emerge victorious in the championship final of 1956 with our hall of fame inductee also involved. He remembers the 1956 final as he was dropped on the Saturday night before the game in favour of the late Mickey Cooney. He came on as a sub during that game. Brother Raphael, who was chairman, saw him going into a pub where Finn McCool's now stands just down the road, and although he only drank a mineral he was dropped on the spot! A policy which could thin out the adult football playing panel if applied today.
I'm afraid playing music took over after that, and he followed this passion through his involvement with the Brass and Reid Band, as well as various other local groups and bands and the Musical Society.
He remains a most avid supporter of the club to this day and became known as the man with the camera who always left each game with a wealth of photos which have proved most useful to the club on many occasions.
He has always been willing to help both the club and park committee and has been a great help collecting Lotto in the Shopping Centre always being willing to assist at short notice.
Ladies and Gentlemen, please give a huge hand to this year's inductee into the Aodh Ruadh Hall of Fame, Mr Tom Gallagher.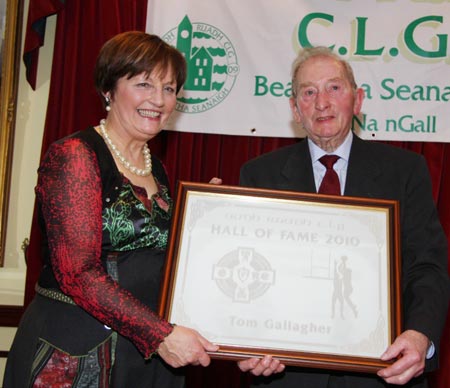 Tom Gallagher is inducted into the Aodh Ruadh Hall of Fame by club chair person Betty McIntyre.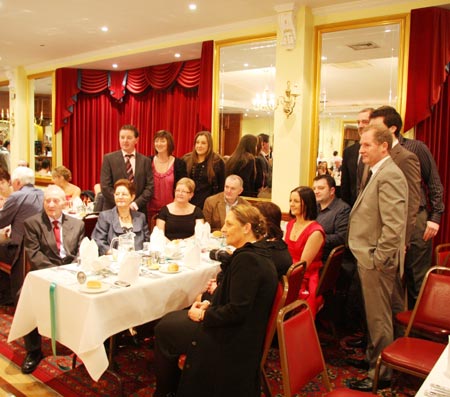 Hall of fame inductee Tom Gallagher and his proud family pose for a picture.
The first meeting of this fine group of players who were county champions 25 years ago, whom we honour as our special guests tonight, took place in the Holy Family School. PJ Buggy took over as manager with mentors Michael McLoone, who was also trainer, and Sean Slevin Jnr. Tommy, McDermott was made captain by management and this proved to be a brilliant decision.
After defeats in three successive semi-finals there was a common purpose to leave no stone unturned to bring back the Dr. Maguire cup for the first time since 1951 - an absence of a full 35 Years. There was some disappointment that Conor Carney, Ciaran Tinney, Dermot Slevin and Eunan Doyle were emigrating but the arrival of Brendan Martin, who had won two county Championship medals with Four Masters was a very welcome addition to the panel
And so the campaign began, defeating MacCumhaill's by 1-17 to 1-2 in Ballyshannon and then by 0-17 to 0-6 in Ballybofey in the first round, second leg.
The most memorable thing about these games apart from Aodh Ruadh's excellent performances was the breaking of the crossbar by Seamus Faulkner in Ballyshannon as yet another Aodh Ruadh point was scored. However in true Aodh Ruadh fashion, Pat Sheils and the ground staff had another crossbar erected in no time and the game continued.
It took two games to overcome Ardara in the quarter final. We only earned a draw as a result of a brilliant Gerry Curran free from 55 yards which had been brought on because an Ardara player disputed the ref's decision. Aodh Ruadh were comfortable winners in the 1-9 to 1-4 in the replay.
The semi final against our old rivals, Kilcar was tight in the first half with one of their many stars, James McHugh scoring an early goal. However goals from Sean Boyle and Brian Murray and a good defensive display made us comfortable winners. Brian Tuohy who was one of our best players was sent off late in the game and it cast a shadow over day as he was due to miss the final.
This proved to be a disappointing Final for the spectators as Red Hugh's our opponents had not contested a final since 1929 and we ourselves were off the stage since the great victory in 1951 and both teams were nervous. However the Aodh players were equal to the occasion and won by 1-8 to 0-5, the goal coming from Pascal McTiernan from a Sylvester Maguire pass. The final whistle resulted in celebrations and joy that had been missing for so many years. It was fitting that Tommy McDermott should have been presented with the cup as he had proved to be an excellent leader throughout the campaign.
And so to the Ulster Club Championship. We were unlucky to come up against the all Ireland club Champions of the time Burren from Down. We played them in Fr Tierney Park and kept with them for 40 minutes, and actually led by two points at that stage, but their experience told in the end to win comfortably. Alan Murray and Eunan Walsh scored the goals.
Moving on to 1987 and we welcomed back Conor Carney, Seamus Flynn, Ciaran Tinney Dermot Slevin and Eunan Doyle and Joe Doherty transferred from Moy Davitt's and so we set out in confident mood and high hope for the new year. Brian Tuohy was made captain and this proved to b another inspired decision. We again met MacCumhaill's in the first round and beat them comfortably in both legs.
A 57 day gap to the quarter final on July 26th created problems for players and management alike and it took a lot of bravery and experience to overcome a dogged Naomh Columba on a windy day in Fintra. We were down two points with 10 minutes to go. We drew level and points by team captain Brian Tuohy and Brendan Martin gave us a two point win.
The semi final was a repeat of the 1986 final and on this occasion we won by 3-9 to 2-8 playing well but Red Hugh's really put it up to us. The Aodh Ruadh machine was upset by injuries to Brian Tuohy. We needn't have worried as Brian Tuohy led out his team in the final and gave a sterling display wile Ciaran Tinney was man of the match in the final holding Martin McHugh to four points from frees. However he missed the celebrations as he ended up in Letterkenny hospital due to concussion.
The final was won by 2-10 to 1-7 and this proved to be a sweet victory against a team that had foiled us on so many occasions. A feature of this game was the fact that Sean Boyle scored 2-1 and would have had a hat trick but for a disallowed first half goal.
Everyone looked forward to another crack at Burren who we drew again in the Ulster Club Championship, but on this occasion we had to, travel to the Mourne County. We looked like we would be overrun by a slick Burren machine early in the game but we settled down and were leading by four points on the stroke of the full 60 minutes. However referee Michael Greenan miraculously managed to play 8 minutes additional time. I suppose we lost our concentration somewhat but Shorty Traynor of Burren didn't and in the dying seconds he hit a miracle free from 40 yards on the sideline over the bar. The replay took place in Fr Tierney Park the following Sunday when a Tony McArdle inspired Burren won by 2-7 to 1-7. Another feature of this replay was that an Aodh Ruadh u-10 team powered by yours truly (Sean Perry) and this year's senior player of the year, Michael Ward defeated Four Masters in the Divisional Final.
Sadly this great run ended in a windswept Fintra in June 1988 when Naomh Columba beat us in the controversial third game of the championship. The less said about the match officials on this occasion the better.
Still involved in active club service, at least until the decision to disband the third team two weeks ago, now domiciled in Co Derry, former All-Star, All-Ireland medal winner, Railway cup player, please welcome the one and only Gary Walsh.
Ladies and Gentlemen, your left corner-back on the 86 side, tough-tackling and tenacious and never found wanting, let's hear it for Pauric McLoone.
Another of our defensive stalwarts who registered a point in the 86 final from centre half-back, coming from a family immersed in Aodh Ruadh tradition, please welcome Eunan Gallagher.
Also a member of the 85 Ulster winning minor side at 17 years of age, lined out as a rookie corner back in both championship winning sides, please welcome Diarmuid Keon.
He went on to captain the side in 1994 to county success as well as becoming a championship winning senior manager, a man who needs little introduction having given so much to our club at a coaching and playing level, please welcome Sylvester Maguire.
Now to a link with the great St Josephs sides of the 70s and one of the senior figures of these great championship winning sides, chipping in with 2-1 as you heard in the 87 final, please welcome Sean Boyle
Brother of outstanding net minder Gary, our next award recipient was deployed in many positions over the two campaigns. Ever-willing and hard-working, committed to the cause, let's hear it for Eunan Walsh.
Having moved to Ballyshannon to work here, our next recipient was known for a sweet left foot and chipped in with many vital scores in those halcyon championship campaigns, a native of our neighbours in Donegal Town, please welcome Brendan Martin.
Next to a man who actually played inter-county football with Sligo having moved to Cliffoney before returning to Aodh Ruadh, he reached the Holy Grail with his native club, colleagues and friends, please welcome Colm Herron
One of the stars of 87 who unfortunately was on a world tour in 86, his shadow marking of household names like Martin McHugh and Shorty Treanor became the stuff of legend, an athlete to the core please welcome Ciaran Tinney
Now to a man who gave sterling service to the club, switching between roles in defence and attack, let's hear it for Pauric Daly.
Another family steeped in club tradition, donned the county jersey for a short time and was widely regarded as a great man to take a score from play, please welcome Alan Murray
Having missed the 86 campaign when he played with Tir Chonaill Gaels in London, he returned and added a fresh dimension to the slick attack, one of the characters of that group of players; let's hear it for Eunan Doyle.
Having just watched his father be inducted into the Hall of Fame, next a man whose passion for Aodh Ruadh knows no bounds, he gave great service throughout both league and championship campaigns, the amicable Thomas Gallagher
Now to a man hewn from Mayo stone but who was Donegal and Aodh Ruadh to the core, a fitness fanatic who gave all to the cause in a solid backline, please welcome Conor Carney
The Mayo connection continues now a Garda inspector in Ballina, he often revisits the town and club where he enjoyed his greatest playing successes, deployed as full-forward and a student of the Willie Joe method of fielding, please welcome Joe Doherty
One of the quiet men of the campaign, a lethal forward in his own right who was deadly accurate from placed balls. He played for Donegal in an Ulster final in 1979 when just 19 years of age, please welcome Seamus Flynn
Now to a man with his sights set on Dail Eireann but one of the greats in both a green and gold and green and white jersey. Often referred to a mercurial, undoubtedly a brilliant talent, who contributed greatly as a teenager to the 87 campaign, Please welcome John Duffy.
Went on to lift the Dr Maguire in 1998, then a fledgling forward on a fast learning curve. A deadly score getter who went on to play many senior championship campaigns as well as being the current senior manager, please welcome Val Murray
Next a man who needs no introduction, Tom Daly
When they talk about tough defenders they don't come much tougher than our next recipient, Dermot Slevin
He wore the green and white of Fermanagh at minor level, but he also wore the green and white of Aodh Ruadh with great distinction. It's Gerry McManus.
Now we have a man who has taken the managerial reins of the club in the past, as committed as they come, on the field and off, it's Peter Gallagher...
Sean winged it from this point, so here are the remaining names presented on the night Paul Tuohy, Tommy McDermott, the 1986 captain, Brian Tuohy, the 1987 captain, John McCadden collected the award on behalf of his late father, the team physio Jack McCadden. Michael McLoone was trainer and mentor while team manager PJ Buggy was the last to be brought to the stage.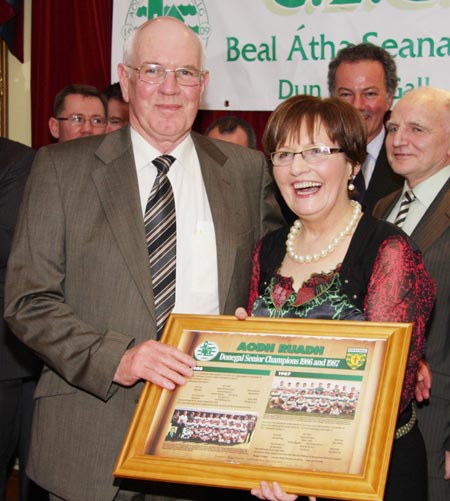 Manager of the 1986 and 1987 teams, PJ Buggy receives his memento from club chair person Betty McIntyre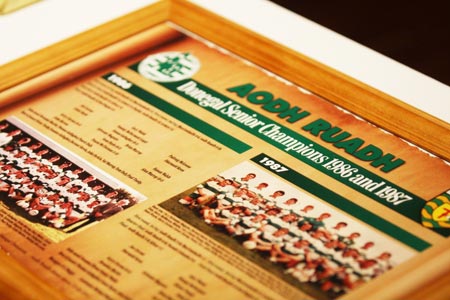 A close up of the memento specially put together for the occasion by Peter Campbell.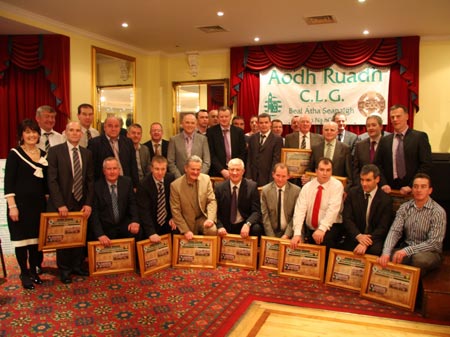 The heros of 1986 and 1987.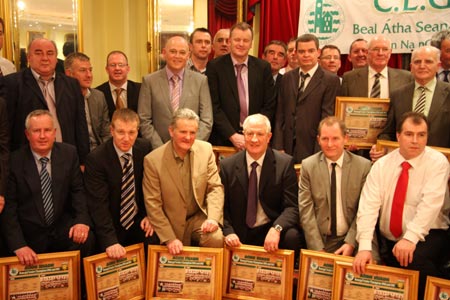 The heros of 1986 and 1987.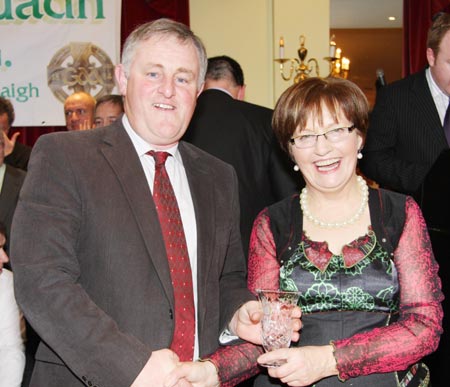 Club chairman between 2007 and 2009 Terence McShea receive a token of the club's appreciation from club chair person Betty McIntyre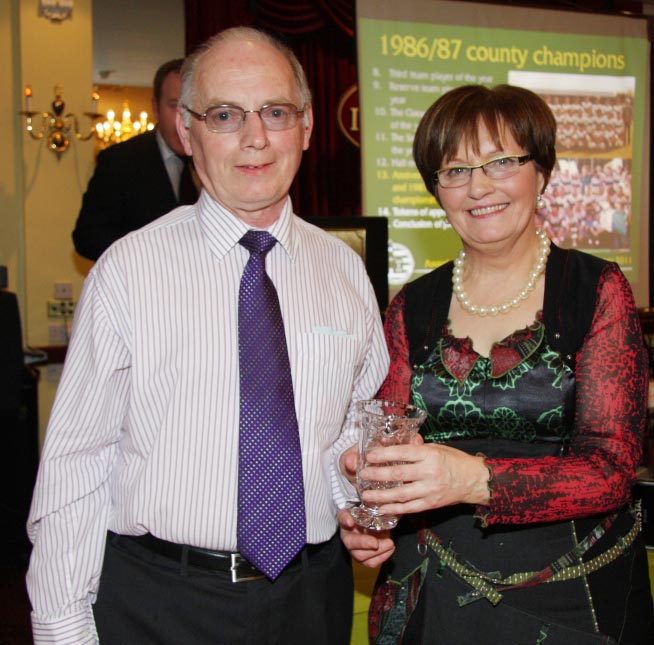 Club secretary between 2007 and 2009 John Magee receive a token of the club's appreciation from club chair person Betty McIntyre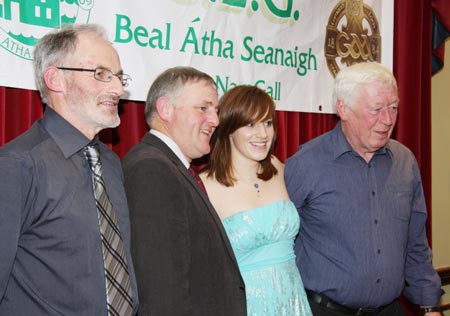 Sarah Patton presents a token of the ladies' team's appreciation to the management team of PJ Patton, Terence McShea and Teddy Kane.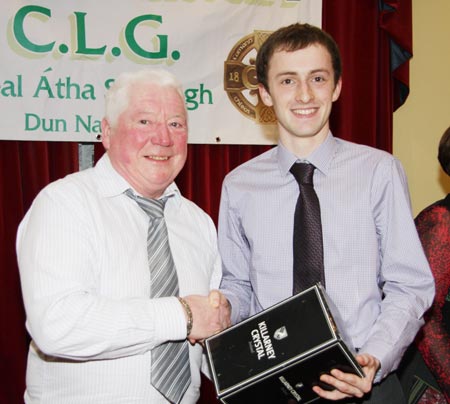 Ronan Drummond presents a token of the reserve team's appreciation to manager Jim Kane.
Last modified: Monday, 1 June 2020 at 1:14pm