Dinner Dance 2012
There was an excellent crowd of 160 in attendance for the annual Aodh Ruadh Dinner Dance in Dorrian's Imperial Hotel for the 2012 Dinner Dance. Below we have the full text of Sean Perry's script from the night, although a few of the more libellous remarks may have hit the cutting room floor. As well as the great pomp and pageantry on the night it is important to recognise the extraordinary generosity of our raffle sponsors who gave us an outstanding selection of prizes. The winners were as follows: 1st Prize: €500 L'Oreal Hair Hamper. Teresina Barrett Hair Design; Won by John Magee. 2nd Prize: Two Nights B&B in White Hotel Group; Won by Rionach McKee. 3rd Prize: €100 E&J Oil Voucher; Won by Niall McCready. 4th Prize: A Pair of Lamps worth €180; Stock House Furniture; Won by Patrick McIntyre. 5th Prize: Zuba Clothes Shop €50 voucher. Sharon Keon; Won by Rionach McKee. 6th Prize: Shannon's Corner Lunch Voucher. Mary Mathews; Won by Jessica Gallagher. 7th Prize: Mother's day dinner in Dorrian's; Won by Pauline Kane. 8th Prize: Family swim voucher for two adults and two children - Ballyshannon Leisure Centre; Won by Megan Fenton. 9th Prize: Box set of wine. The Mall Bar; Won by Imelda McLoone. 10th Prize: Mace mystery prize; Won by Tracey Flood. Many thanks also to Teresina Barrett for the €10 euro voucher left at each place setting. And now, on to the main event...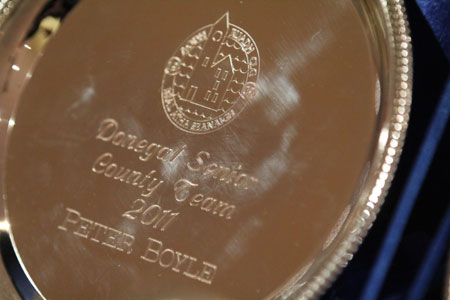 Peter Boyle's award for being a member of the Ulster title winning Donegal squad.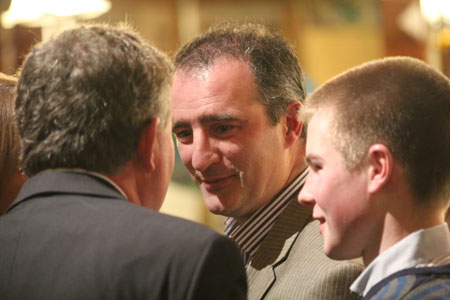 John Rooney and Tommy Gillespie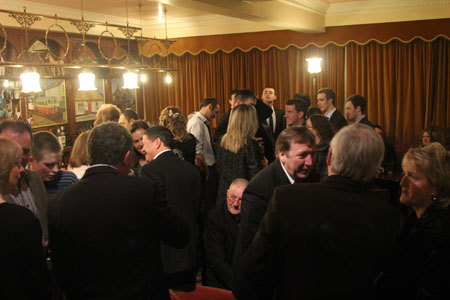 The scene in Dorrian's bar beforehand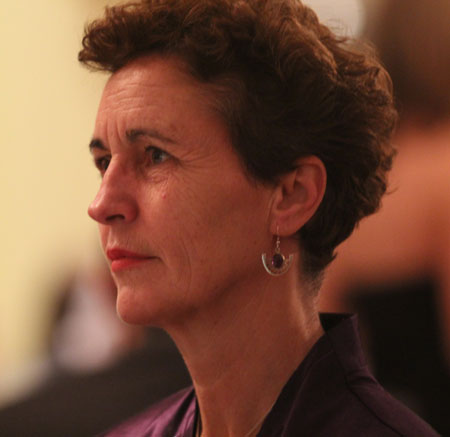 Faces in the crowd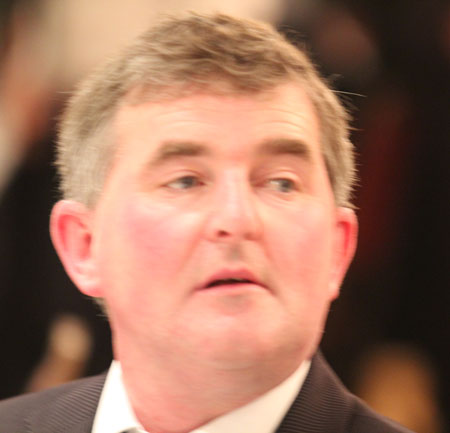 Faces in the crowd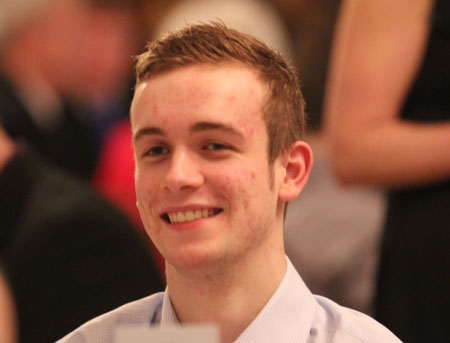 Faces in the crowd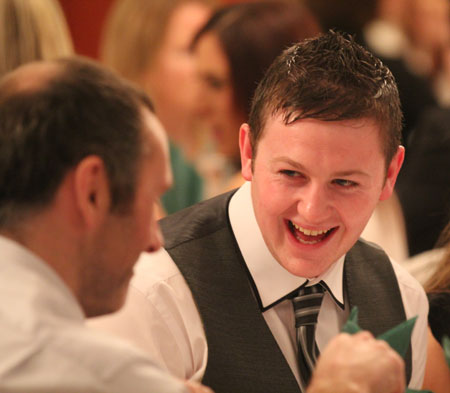 Faces in the crowd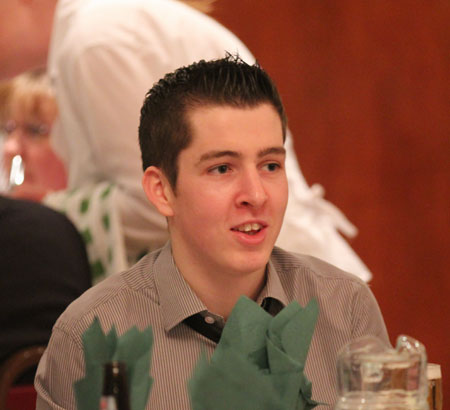 Gary Carty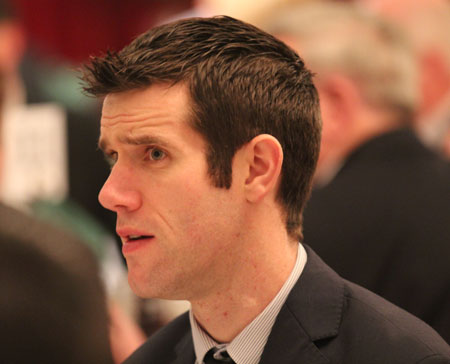 Martin Gallagher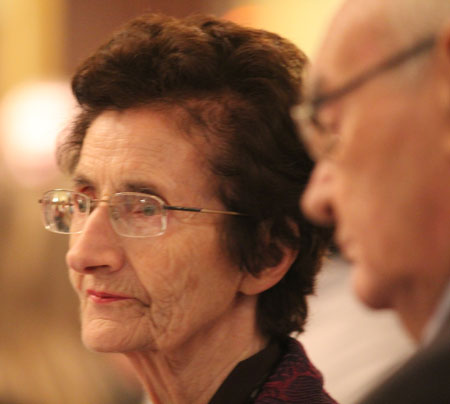 Faces in the crowd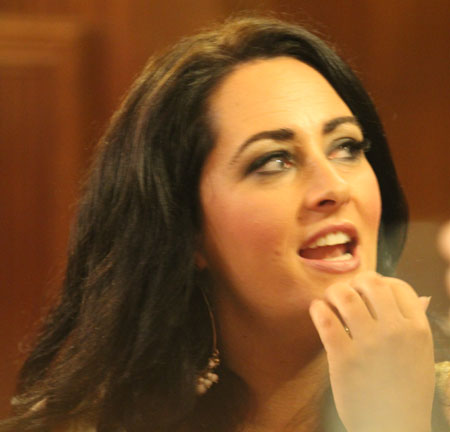 Niamh Gallagher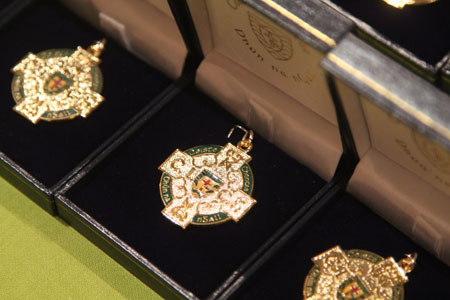 Medals presented to the 2011 Donegal Intermediate Reserve championship winners.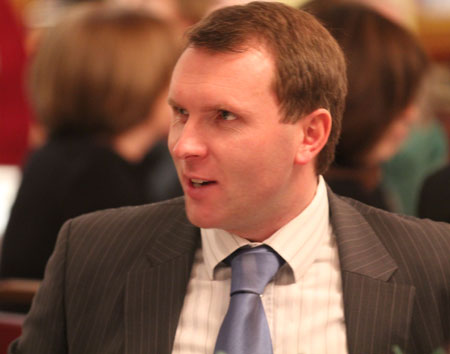 Stephen Ward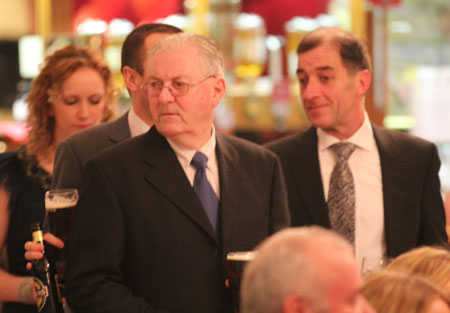 Pat Malaniff leads the way to the grub.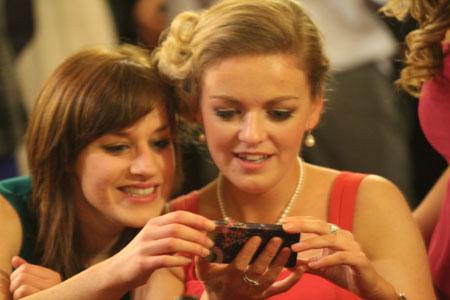 Sarah Patton and Fionnuala Gill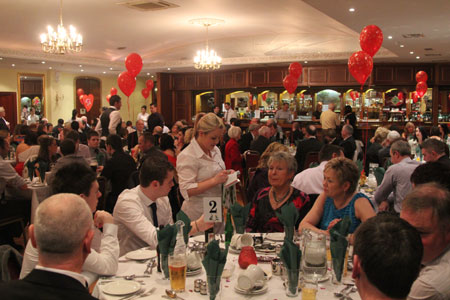 Taking Dinner orders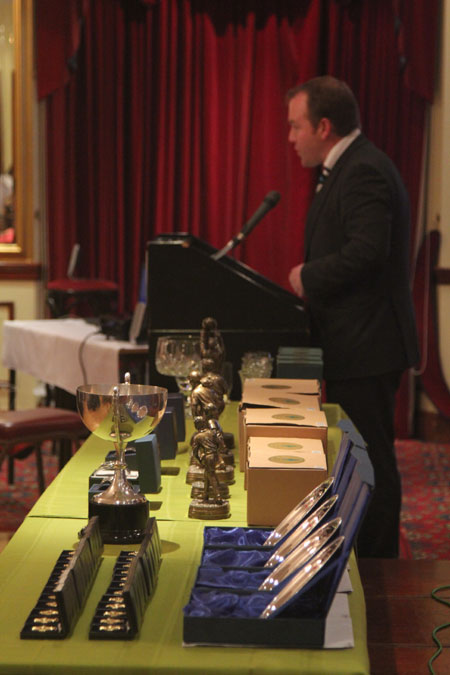 Sean Perry takes charge of proceedings.
Reverend Father, club officials, distinguished guests, players past and present and friends of the Aodh Ruadh club, it's that time of the year again when we draw the curtains on the achievements of the year past while looking forward to the year ahead.
Our town and therefore our club is not unique in that it faces many challenges on many different fronts, some of them new and daunting, some of them more familiar. Players are leaving to try and carve out opportunities elsewhere as we weather a deep recession, the clubs finances are bleak and we are struggling to find our feet and establish ourselves as genuine championship contenders in many codes and grades.
We are always keen and in the market for new members and new people to get involved in our club be it selling lotto, helping out with coaching, playing or merely supporting our teams where if we're to be honest, adult level, the support we enjoy is pretty pathetic.
However, having struck that very jolly note, it could be worse, you could be stranded in freezing Paris this evening with no match. Aodh Ruadh has been around for 102 years and there will be Aodh Ruadh after us. Therefore, we'll continue to wear our club colours with pride and do what we can to restore the club to former glory.
Firstly we'll honour our championship winning side at reserve level. Dropping to the intermediate grade in 2011, Aodh Ruadh were always going to be one of the fancied sides in this competition. With rookie manager, Stephen Ward at the helm, the reserves, benefiting from the disbandment of the third team, showed excellent league form and surged to the top of the table with an unbeaten run.
A settled side applied themselves well and carved out convincing wins over Naomh Brid and Milford in the league. In the championship, it was always going to be different however and with St Nauls first up, it took a Herculean effort from the Ballyshannon boys to win out in a play-off in Bundoran with Diarmaid McInerney still dining out on a point he kicked from a sideline to force extra-time.
Victories over Fanad and Urris followed, with the subject of one of the most roughest challenges in the Urris game being the referee who was comprehensively clothes-lined by an over zealous and rather angry little forward from the Inishowen outfit.
Then came the county final and a tussle with Carndonagh. Undoubtedly, the player who had the greatest influence on the outcome of this game, and it's a pity he cannot be with us this evening, was Carndonagh corner-forward, Stephen Doherty. With his side a point behind in the last minute, he managed to blaze over the bar from two metres with our goalie, Paul Kane having gone walkabout and the county title there to be won. Stevie Wonder would have bagged it.
I'd now like to call on our club chairperson, Betty McIntyre to present medals to the victorious Aodh Ruadh reserve panel and appropriately enough, we'll being with number one. He's minded nets for Ballyshannon teams for many a long time now following in the footsteps of his uncle Alan. A great servant to the club for nearly half a century, let's hear it for Paul Kane
At corner back, making a return to the club colours after a few years in the wilderness and boy, were the defence glad to have him. Tenacious in the tackle with pace and always ready to drive forward, please welcome Riain Treanor
While Jim McGuinness developed a reputation for having a mean defence at inter-county level, his protégé, Stephen Ward was doing the same at club level. The rock on which that defence was built had some experience of senior football and marked brilliantly all year showing commitment and discipline, your fullback ladies and gentlemen, Michael Ward
In the other corner on county final day but equally comfortable in the half-back line was another graduate from third team football. Please welcome a man who has honed his skills telling ghost stories and toasting marshmallows while defending Ireland from terrorist threats in the army, the supremely fit and tough, David Finnerty
At number five was a man in his maiden season in adult football and he took to it like a duck to water. From the pristine playing fields of Lisahully where many a fine footballer plied his trade, please welcome Gary Carty
Our centre-half back has overcome his many difficulties with settling on a colour for his hair and his football is all the better for it. A former player of the year who enjoyed a great season at number six, ladies and gentlemen, Ronan Drummond
On the other wing was our very own Martin Shovlin. Not one for the finer skills of the game but effective and honest nonetheless. He had a great year and played the county final with his partner days away from giving birth, the shy and retiring Brian Dorrian
At centre-field , bainisteoir Ward went for a mixture of youth and experience. For number 8, 2011 was the year of the wedding and the year of the reserve medal. Supremely athletic and enjoying his football in midfield, let's hear it for Martin Gallagher
His partner there, wearing nine had to cover a lot of ground to make up for Gallagher's aging legs. That he did with grace and determination when he wasn't on the beer in Sligo, please show your appreciation for Matthew Thompson
Captaen na foirne anois, a man who looked more at home at Strictly come dancing than during the first half of the county final when he kicked enough wides to win any other match. Nonetheless he gave a fine display when it was needed capped with a great second half goal and led the side by example, please welcome Pauric Loughlin
Pauric's strong running helped make up for the holding role adopted by the centre half-forward. In golf, they talk about non-playing captains and the like. Our centre-half forward gave an exhibition of how to conduct an orchestra, albeit a rather out-of-tune one. Booked in almost every game, his retirement from the game in recent weeks put Lar Corbett's news in perspective and was a serious blow not just to the reserves, but to the game as a whole. Now a father and juggling so many commitments in a demanding life, the one and only, Barry Travers
Stepping up for the final, the baby of the team and still a student in Colaiste Cholmcille and only turned 17. Made his own little bit of history by making the team ahead of his father and played a storming role in the county final, please welcome Ryan Granaghan
Next to the man who's fine point against St Naul's, we eluded to earlier. Undoubtedly prospered from that extra bit of time on the ball than at senior level, he emerged with some serious tallies for the year gone by. Managed to combine life on the ocean with life on the playing field very effectively, poaching fish was easier than goals, please welcome the Lonesome boatman, Diarmaid McInerney We're hoping he won't be sick tonight but if he is, Stephen Ward has a change of clothes with him.
Our full-forward made a return to club colours having won a cabinet full of honours in years gone by. Now domiciled in Sligo, his skill and know-how proved a valuable addition to the attack, what a pity he didn't produce it in the county final, please welcome Garret Blake
At top of the left was another fine goal-getter for the year past. All the jokes about his brother being a fine player etc are wearing a bit thin so I'll drop them. He did manage one miss in the second half of the county final which wouldn't be out of place on "What happened next?" on a Question of Sport though but bagged some vital scores during the campaign. Let's hear it for Steven Perry
Next to a man who along with Paul Kane helped push up the average age of the team by 15 or 20 years. Kicked some nice points of a sweet left foot and played a key role in the team's march to success, please welcome Dermot Slevin
Now to one of the quiet men of the side. Hard to know if he's more comfortable on the terraces or the pitch but did land some big scores in 2011, some beauties from placed balls. Saw action in the county final, our honorary Scotsman, Joseph Watson
Now to the Peter Stringer of the side. A giant he ain't but he managed to cause trouble in opposing defences during the year and played a Paul Galvin type role minus the tattoos, aggression and ability. Nonetheless a key man, please welcome, Christopher Spanny Goan
Our next recipient has spent more time on the bench than a High Court judge but he'll tell us that was down to injury and perhaps justifiably so. He has endured his share of difficulty with shoulder problems and we hope that the season ahead will allow him show us what he's made of, let's hear it for Stephen McGrath
Next to the second part of the father/son double act and truly one of the gentlemen of the squad and the senior figure. Showed remarkable commitment all year and his experience was valuable to younger squad members, please welcome Raymie Granaghan
While on the subject of familes, our next medal winner had his younger brother on the panel alongside him. Emma McPhelim is still receiving counselling having had to suffer the part of being his dance partner in Strictly come Dancing. Played his part in defence during the campaign which ended in success, if we can get him away from the bar for a minute now, let's hear it for Aidan Murray
Well if Aidan plays in defence, the younger lad poses as an attacker. Likes the solo dummy and the swanky pass with a good eye for goal, I wonder where he got it from. One of the younger squad members, welcome Niall Murray
Next to a dual player and indeed strutting his stuff on the rugby pitch of late. Played his part in the course of a hectic league and championship campaign and enjoyed the social aspect of the game, the apres match as well, do welcome Anthony Coughlan
Next to another of the more junior panel members, a promising underage player who we hope to see a lot more of in years to come. Athletic and able, let's hear it for Alan Finan
And to another man finally dogged by shoulder injuries, was enjoying a great season at wing back until injury forced him out of the action for the closing stages of the championship. Played his part nonetheless, please welcome Brian McGuinness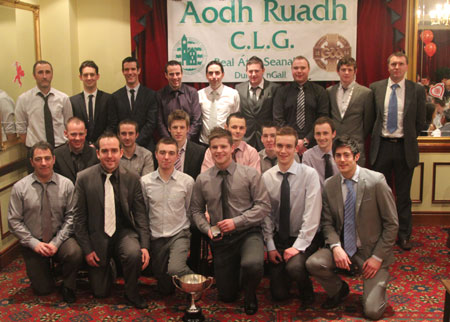 The 2011 intermediate reserve championship winning side.
Our club here in Ballyshannon has always had a proud record when it comes to supplying exceptional players to various county teams. We need only cast our mind back a couple of years when the teak-tough Brian Roper set a record number of 159 appearances in the green and gold of Donegal, there was also Niall McCready competing at the highest level and of course, Gary, Brian and Sylvie in '92.
It has always been a source of great pride to the Aodh Ruadh faithful to have one of their own, or even a few of their own, to cheer, on when going to support the county team.
As a result of quite phenomenal support and dedication to the wonderful art of hurling here in Ballyshannon - which we've recognised at dinner dances in recent years by honouring a host of championship winning underage sides - Aodh Ruadh has been well represented on county hurling teams of late. Breaking the stranglehold which Burt and Setanta enjoyed on the county set-up, the sterling work of John Rooney and a band of loyal committed hurling men means that our youngsters are getting the best support and coaching available and are enjoying the game as it should be enjoyed here in Ballyshannon.
Appropriately enough, I'm going to call on the afforementioned John Rooney to make our next series of presentations to our county hurlers who were part of a very successful side in 2011. The claimed the Lory Meagher trophy in Croke Park in the most dramatic of circumstances with a last gasp goal to deny Tyrone.
So if John could come forward, by the way if anybody is on a vodka and red bull later, John will be collecting the cans as part of his latest drive to fundraise for our club.....
Part of that Donegal squad was a man who we've regrettably lost to emigration last month. He's gone to Perth where there's a growing Ballyshannon diaspora, unfortunately some of our finest and brightest young talents are now over there in Western Australia.
Obviously he cannot be here this evening but his fiancee, Ellen Cullen, will collect an award on behalf of a man who we all miss, Peter Horan....
Next to a man who preceeded Michael Cavanagh, John Dalton, Eddie Brennan and Cha Fitzpatrick in a long list of high profile Kilkenny men to hang up the hurl. He may not have got as much media attention as the afforementioned quartet but his hurling knowledge has served Donegal and Aodh Ruadh well and he was a member of Donegal hurling manager, Andrew Wallace's backroom team, in fact the assistant manager in Croke Park on June 4th last and indeed throughout the season. Please show your appreciation for Aidan Begley
The third Aodh Ruadh representative on the successful Lory Meagher panel was a pivotal member of the side plying his trade in many positions, among them centrefield. An accomplished footballer but plays for our neighbours and Division two outfit, Bundoran, a native of Cavan, let's hear it for Paul Sheridan
Next I'll call on Mr Aodh Ruadh, a man who has given more to our club down through the years than most people will manage in a lifetime. Sylvester Maguire please come forward.
Well, Jim McGuinness's Donegal sides fortunes have been well documented in 2011. A first Ulster title in 19 years followed a division two league title, an unforgettable August victory over Kildare after extra time and that point from Cassidy and a roller-coaster semi-final which saw us just edged out by eventual All-Ireland champions, Dublin. What a season, here's hoping that 2012 is as good again.
Aodh Ruadh were represented by a young goalkeeper who we know very well, surely his chance has to come soon. Please welcome, Peter Boyle.....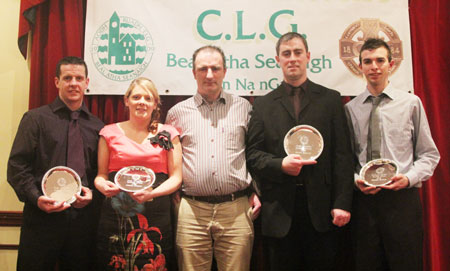 John Rooney pictured with some of those who represented the club for Donegal this year
Now I'm going to call on Bord na nOg chairperson, the affable Paddy Kelly to make our next presentation, that of young player of the year.
While still a minor and an exception talent, our young player of the year is at this stage an established member of the senior side where he's entering his third season as a regular fixture. A polished wing back, wing forward or midfielder, he has been chosen as a Donegal county minor for the last two years and a bright future is surely in the offing.
His younger brother, David is also showing glimpses of being a fine player, older cousins, Barry and Stephen Ward when free of injury also gave fine service to the club.
His parents, Enda and Dympna, both very loyal supporters of our club, are here with him this evening. Please welcome, the unassuming Ronan McGurrin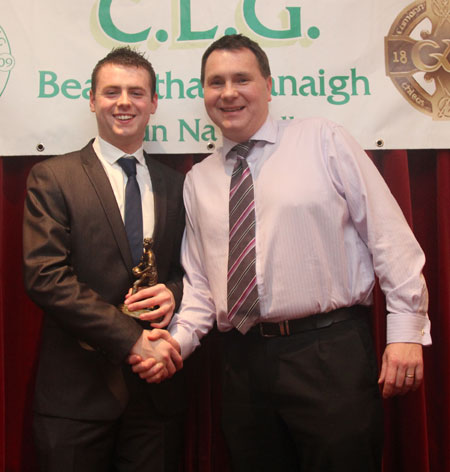 Bord na nÓg Chairman Paddy Kelly presents Ronan McGurrin with his young player of the year award.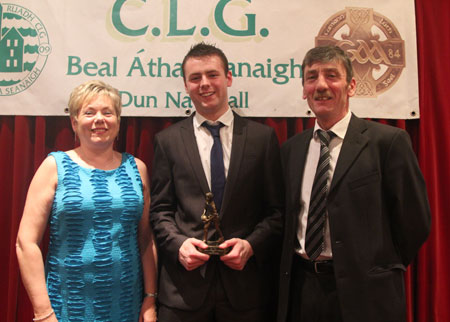 Ronan pictured later with his parents Dympna and Enda McGurrin.
Next to our young hurler of the year who began hurling with Aodh Ruadh in 2005. He has played at u/10,12, 14, 16 minor and won county titles at u 14 and u 16 in hurling and also won county titles in football.
Two years ago he decided to concentrate on hurling and he has become one of the best backs in the county. This year he captained the under 16's to a league and championship double from full back. A quiet lad who lets his hurling do the talking and who gives 110% in every game.
Son of PJ and Fionnula Gillespie from Wardtown, Tommy's grandmother Mary Devlin from Tyrone scored the winning goal in the ulster camogie final for Antrim in 1952 so there is undisputed pedigree there.
He has represented Donegal at u 14 and u 16 level competing in All Ireland u 16 b series with Donegal in 2011. A regular starter with Donegal hurling teams something to be very proud of as county selections would tend to favour the Inishowen clubs. He is part of the Donegal minor panel this year and there is no doubt, he will play senior hurling for Donegal and he is one of a breed of hurlers we are now producing here which hopefully will see us fielding at senior level in the near future.
Not unlike Ronan McGurrin, his great attitude has marked him out. He's as hard as nails on the field and has already taken his foundation level coaching course, one to watch ladies and gentlemen, lets hear it for our Young Hurler of the Year, Tommy Gillespie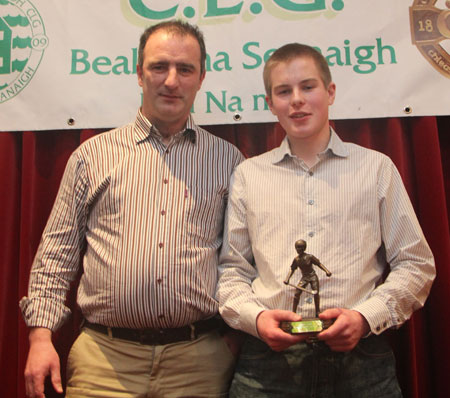 Juvenile Hurling Chairman John Rooney presents Tommy Gillespie with his young hurler of the year award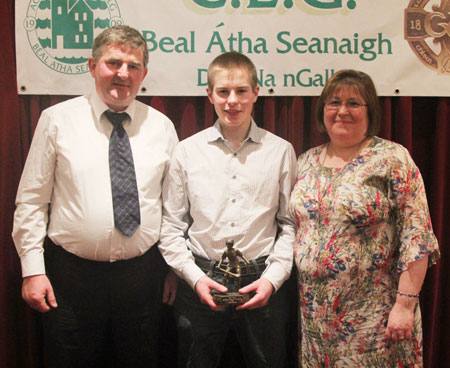 Tommy pictured later with his parents.
We've gone West for our ladies player of the year. She came to us from a county where the women are generally more used to winning than the men, that being Mayo. She's one of eight siblings and rekindled her GAA career her in Ballyshannon having not played since she was a child.
She arrived in Ballyshannon to teach in the local Gaelscoil in September 2005 and has given a great deal to the club since coming to live here. Committed to the club, she won an intermediate medal in 2010 and has recently begun to help out on the underage coaching side of things.
She cites Conor Mortimer as one of the big influences on her career but in all seriousness, she has been a breath of fresh air in Ladies GAA circles, let's hear it for the ladies player of the year, Fionnuala Gill.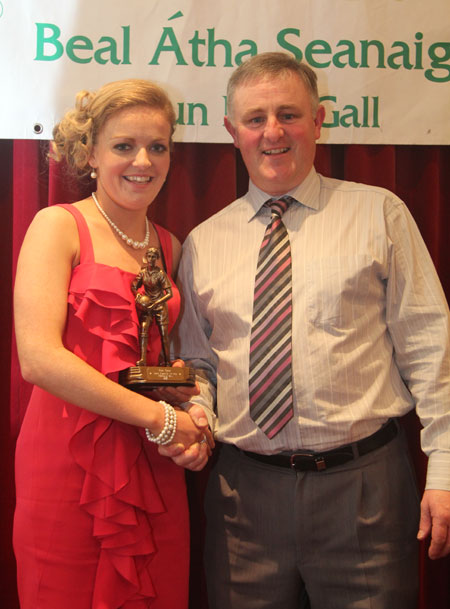 Fionnuala Gill receives her ladies player of the year award from Terence McShea.
Next to our reserve player of the year. We've met the players earlier. We've selected a defender and justifiably so given the stand-out performances which our defence produced during the year. Our recipient picked up many underage honours early in his career being part of a fine young team which lifted many titles. After a sabbatical from football, he proved his worth throughout 2011 and kept dangerous opponents scoreless on numerous occasions. A worthy recipient of the 2011 reserve player of the year in a championship winning season, please show your appreciation for Rian Treanor. (soon travelling to Brisbane)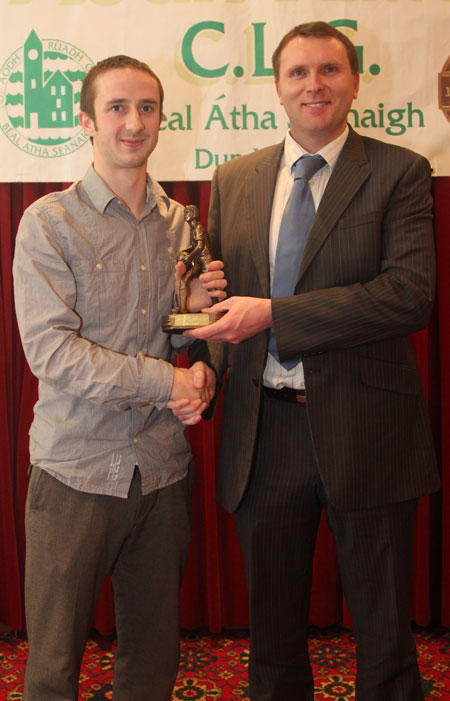 Rian Treanor receives his reserve player of the year award from Stephen Ward.
Next to our Ciaran Keon senior player of the year named after a wonderful club servant who was called long before his time.
Our senior player of the year is an exceptional young talent and a young man who will be pivotal to turning around the club's adult footballing fortunes. As a championship debutant, he was forced to face experienced talents like Brendan Devenney, Rory Kavanagh and Conall Dune when we faced St Eunan's in 2010.
When you follow names like Brian Roper, Niall McCready, Michael, Barry and Stephen Ward onto the roll of honour on this award, it says a lot for the quality required to be our senior player of the year.
Still a student in Colaiste Cholmcille, his quality marked him out by being selected as the county minor centre half back in the Ulster championship last year. Please welcome the steady, sure-footed and super fit, Conor Patton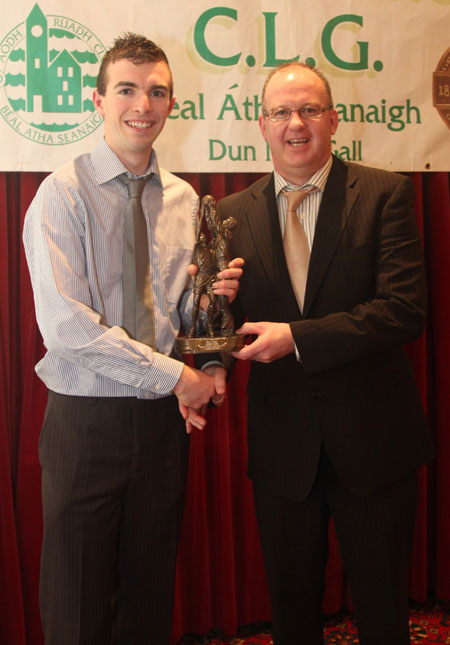 Conor Patton receives his senior player of the year award from Val Murray
Now to our Sean Slevin clubman of the year award named after our former club great, the late Sean Slevin.
Our clubman of the year began playing hurling and gaelic football for Aodh Ruadh more than 20 years ago. Gradually, he began to focus more on hurling with county titles being reaped at under 12, 14, 16 and intermediate. He also won underage football titles.
He has represented Donegal at u-16, minor and senior level and was part of the Donegal Senior panel in 2011 which claimed an historic Lory Meagher All-Ireland title. Always a tenacious defender who really exempified the saying, its not the size of the dog in the fight but the size of the fight in the dog.
Since 2006, he began coaching and managing teams along with friends like John Rooney and Billy Finn who would prove to be huge influences on him. It started with the u-10's in 2006 and stayed with them winning league and championship doubles at u-14 in 2010 and u-16 in 2011.
He managed our u-14's to the club's first Feile title in 2010 and this side represented Donegal with great pride winning their group in the National Finals in Clare only going out of the tournament after losing the All-Ireland division 4 semi final, the highest placing by a Donegal team up to that year. He managed under 16's to the double this year and assisted John Rooney with the u-14's in winning fermanagh league. He has coached all his teams to play like himself full of honesty and to play hard but fair, and had the respect of all the lads.
Again with John Rooney, he has helped in managing county teams, the last 2 years winning All-Ireland u 14 c in 2010 and winning the inaugural Peter O'Keefe u 15 Ulster/Connacht tournament in 2011.
Off the field, he has always been on hand to help with all club fundraising events such as Lotto, the hurlathon Scrap Saturdays and the Saturday before he emigrated to Perth in early January he was busy collecting aluminium cans for recycling.
Engaged to Ellen Cullen they have one son Aaron who is proving himself as a fine hurler and lines out for our under 8s and 10s and has a great eye for goals. Economic conditions dictated he emigrated to Perth but we have no doubt he will be back working away at under age hurling and all club activities in the near future. We're joining him on Skype this evening in a first for Aodh Ruadh, a true sign of the times.
Ladies and gentleman, our Sean Slevin club person of the year is Peter Horan.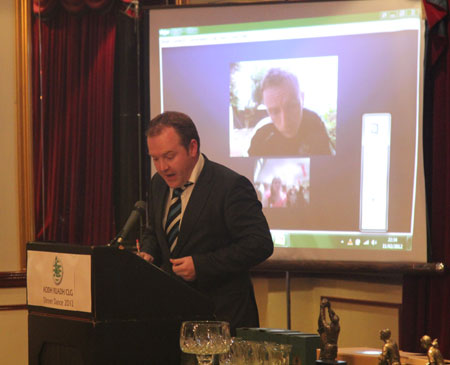 Sean Perry speaks to Peter Horan via a Skype link-up with Perth.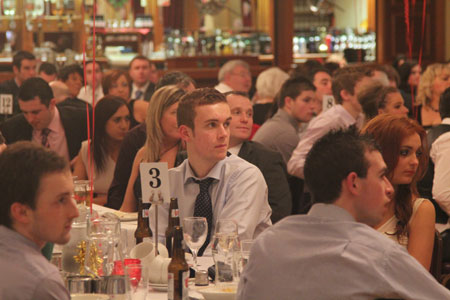 The crowd watches Peter receive his club man of the year citation via Skype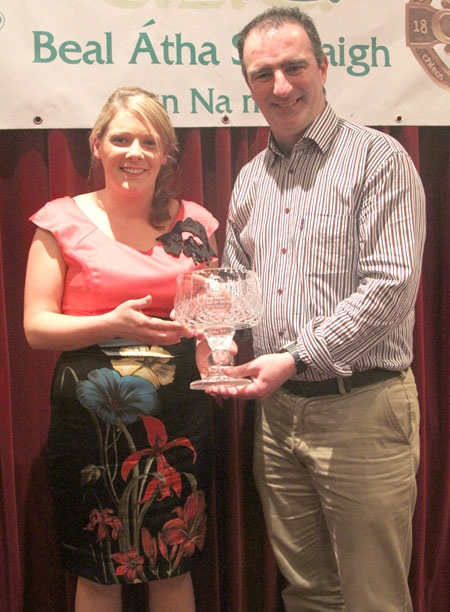 Ellen Cullen receives the Club person of the year award on behalf of Peter Horan
A Fermanagh native, played his football with Devenish, before moving to Belfast, where he played with St Comhgall's just outside Bangor, before emigrating to Canada. Returned to Ballyshannon in early 1970s and played with Aodh Ruadh and St. Joseph. Most notable service to club was as manager, mentor and office holder. Manager of reserve team in 1980s, won two Reserve League titles in 1986 and 1987; reached Junior B Championship decider in 1986, losing out to Gaoth Dobhair after replay, made famous for the 'hand ball' goal by Hughie McGowan. Office holder. Was treasurer of club from 1977 to 1984; served as secretary from 2007-2009 but a continuous club member for all his years involved. Was a senior selector alongside PJ Buggy in the 1980s. Member of the Park Committee and an important member of the Bingo Committee. An active member of the Lotto team since its inception, John has been an ever present on Sunday and Monday nights. In Scor, won numerous county titles as part of different quiz teams - mostly involving Sean Slevin, PJ Buggy and Sylvester Maguire. Won an Ulster Scor title in 1998 and represented Donegal and Ulster in the All-Ireland final with PJ Buggy and Sylvester Maguire, he is unassuming, diligent, thorough and utterly committed to our club in everything he does, we're delighted to have him here tonight along with his wife Mary, daughter Olivia and members of his extended family.
The Aodh Ruadh inductee into the hall of fame tonight ladies and gentlemen is John Magee....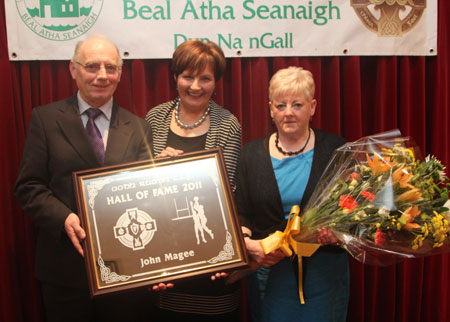 John Magee receives his Hall of Fame award from Betty McIntyre. John's wife Mary was also presented with a bouquet of flowers.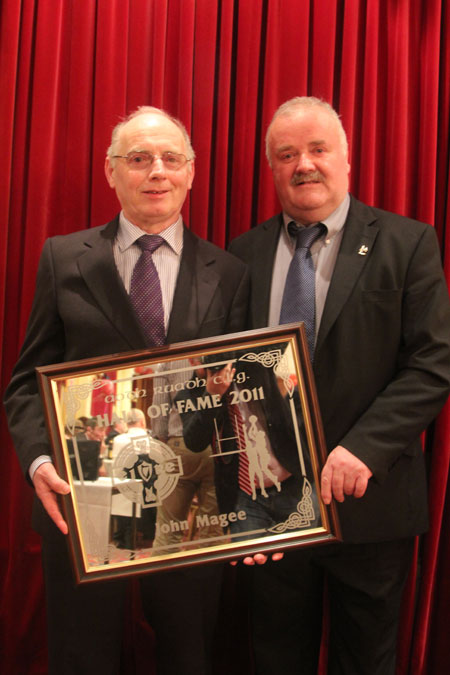 John Magee poses with Mickey McMahon with his Hall of Fame award.
We now have some tokens of the clubs appreciation to outgoing officers and I would like to collectively thank each of these officers for their selflessness and commitment to our fine club.
Firstly I'll call on Shane Toolan to make a presentation to outgoing Bord na nOg chairperson, Roscommon native, Paddy Kelly
Next I'm going to ask our newly elected club treasurer, Catherine McKee to make a presentation to her predecessor who gave us four years of committed service as cisteoir, Mary Grimes. Here's hoping that Angela Merkel isn't making that presentation next year with the Troika in tow.....
Our club chairperson, the inimitable Betty McIntyre will make the next presentation to outgoing assistant secretary, Marita Maguire.
Next incoming secretary, Emma Gaughan will make a presentation to our outgoing secretary who in spite of being from Armagh, managed to make himself quite a popular guy in our club in the last decade. Aodhruadh.org is testament to his drive, management and hard work, thankfully he remains our PRO but was also a wonderful club secretary, let's hear it for John Hughes.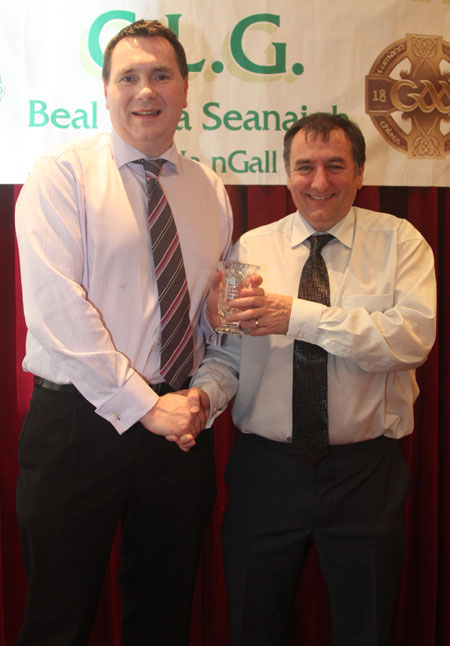 Outgoing Bord na nÓg chairman Paddy Kelly is presented with a token of appreciation by Shane Toolan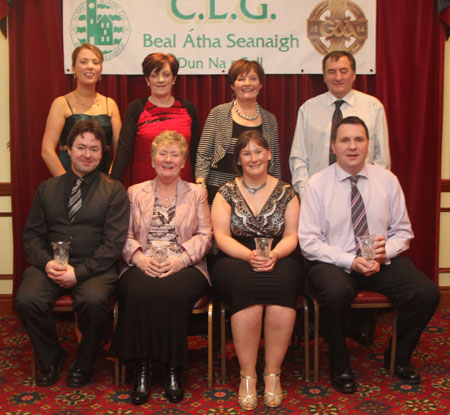 Outgoing officials, seated, John Hughes, Mary Grimes, Marita Maguire and Paddy Kelly. Standing are Emma Gaughan, Catherine McKee, Betty McIntyre and Shane Toolan.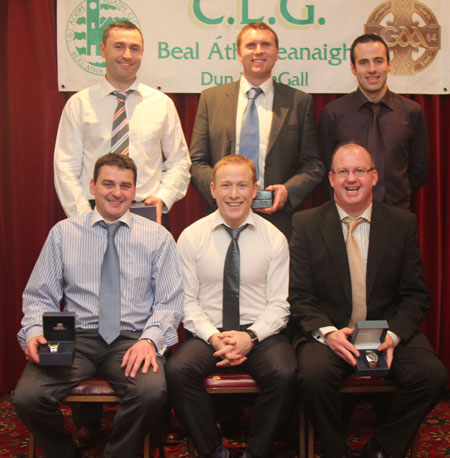 Senior and reserve managers are presented with tokens of appreciation. Seated Donagh Keon, Philip O'Reilly and Val Murray. Standing Barry Ward, Stephen Ward and Pauric Loughlin.
Val, Donagh and Barry Ward – Presented by Philip O'Reilly Stephen Ward – Presented by Pauric Loughlin Terence McShea / Teddy Kane – Presented by Sarah Patton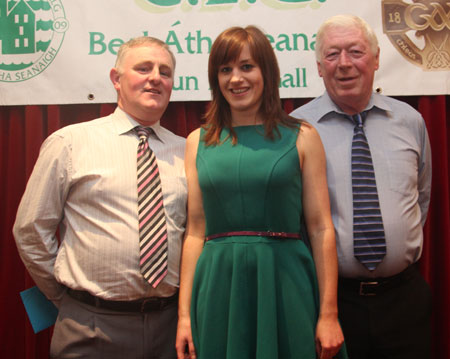 Sarah Patton presents a token of appreciation to the ladies management, Terence McShea and Teddy Kane.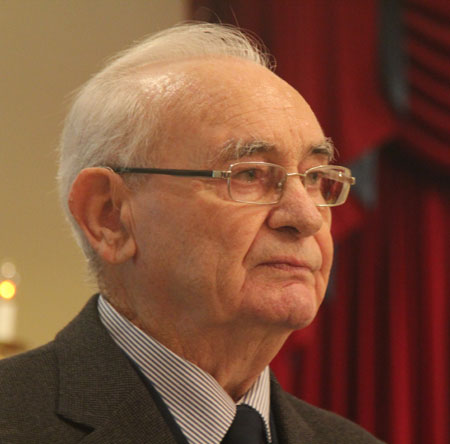 Jim 'The Natch' Gallagher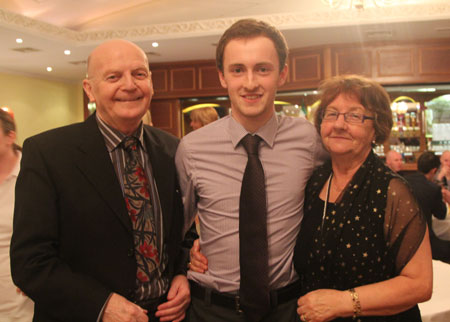 Ronan Drummond and grandparents.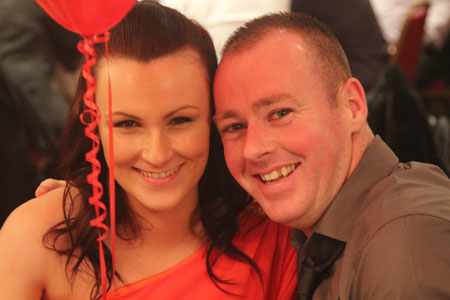 Brian Dorrian and his better half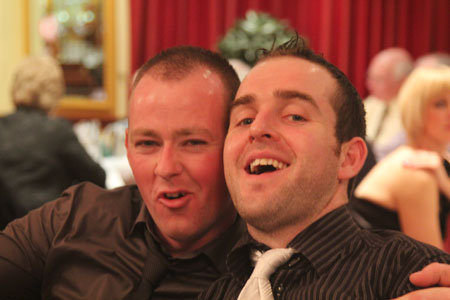 Brian Dorrian and Steven Perry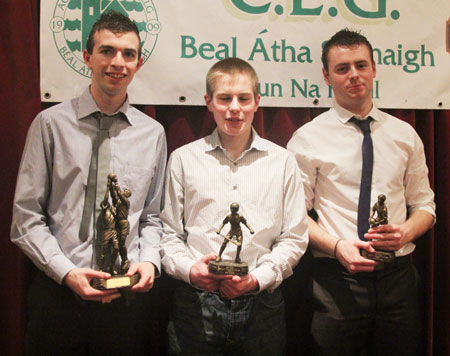 Rising stars: Conor Patton, Tommy Gillespie and Ronan McGurrin.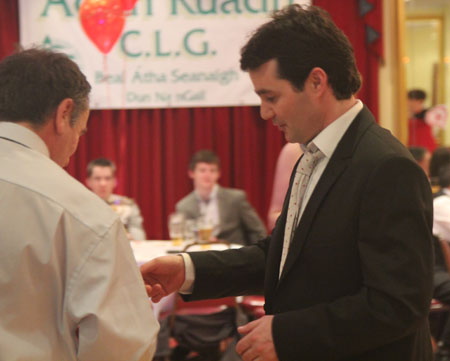 Shane Toolan takes Niall McCrady to task over a dodgy raffle ticket.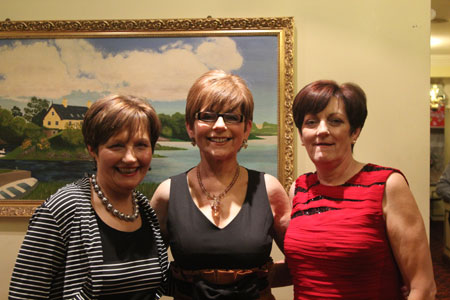 Without doubt, Clare's finest exports.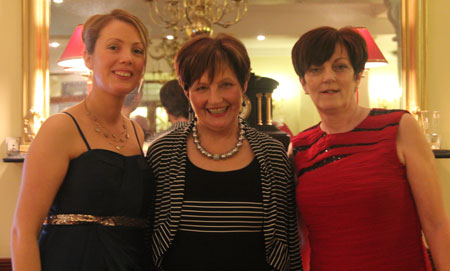 Aodh Ruadh's history making all woman executive. Secretary Emma Gaughan, Chair Betty McIntyre and Treasurer Catherine McKee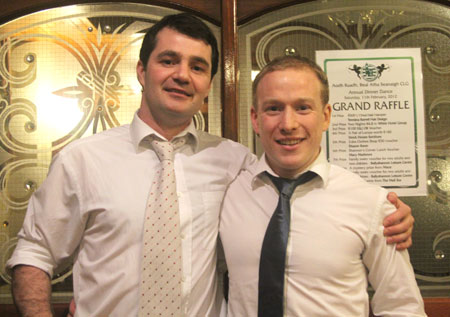 Senior stars Niall McCready and Philip O'Reilly
Last modified: Monday, 1 June 2020 at 1:14pm