Sports Memorabilia Auction to feature at Aodh Ruadh/Killybegs Big Fight Night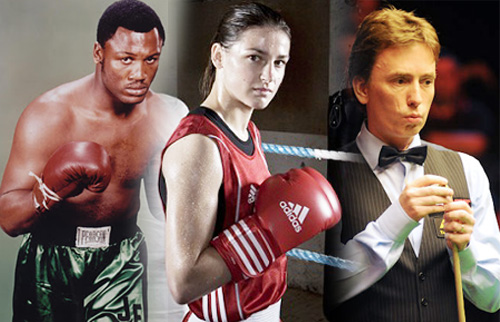 Boxing gloves personally autographed by two Olympic medalists, from different eras, together with a World Champion autographed snooker cue and a hurl signed by the Kilkenny team will be auctioned during the Aodh Ruadh/Killybegs Fight Night in the Great Northern Hotel, Bundoran on Friday, March 8th.
Huge interest is expected in a Boxing Glove, autographed by the late Smokin' Joe Frazier, the American professional boxer, Olympic Gold medalist and undisputed World Heavyweight Champion, whose professional career lasted from 1965 to 1976, with a one-fight comeback in 1981. The glove has been donated to Aodh Ruadh by Tom Daly and was acquired in Frazier's home city of Philadelphia in 2008 when the legendary boxer gave an audience to a young boxer from West Belfast who was in the City to play hurling with the Belfast Cúchulainn's cross-community hurling team. Daly, who was then Ulster GAA President, led the GAA delegation on the visit to the USA's Continental Youth Championships.
Special interest will also be generated by the auction of a Boxing Glove signed by 2012 Olympic Gold Medallist, Katie Taylor who took the world of women's boxing by storm with her world-beating performances in the London Olympics. The glove has been donated by Mary and Stephen from Novel Idea, Castle Street, Ballyshannon. Stephen is a club hurler and treasurer of the Hurling Committee.
The third item of sports memorabilia for auction is a beautifully presented and boxed snooker cue, autographed by Ken Doherty, the Irish professional snooker player who is the only player to have been World Amateur (1989) and World Professional Champion (1997). Again, the item has been donated to Aodh Ruadh by Tom Daly.
The final item is a hurl signed by the great Kilkenny Hurling team, kindly donated by John Rooney.
The Big Fight Night involving both clubs is set to be a super night's entertainment. Event co-ordinator, Conal Gallagher is pleased with the response to the event and has again applauded the efforts and commitment of the boxers who have volunteered their time.
"All the preparations have been made and a big effort has gone into this. We are appealing to all Aodh Ruadh Club members who are selling tickets to get their returns back to Mary Matthews, Margaret Peach or any committee member without delay. That bit of extra effort from everyone can make this a real success".
The Floodlighting of the Prunty Training Field at Park Aodh Ruaidh will be the main beneficiary of this event. The Chairman of the Club's Park/Development Committee, Tom Daly, stated that work on that project would commence in the days before the Fight Night.
"Those who are giving their time to participate in this event, either as boxers, fund-raisers or supporters on the night, will directly contribute to a much-needed new facility for Aodh Ruadh, which will be up and running quickly. They will see that their money is being well spent to provide a top-class facility for all Aodh Ruadh players and teams as they prepare for the new season and for the future," said Daly.
ENDS
Contacts:
Tom Daly - 0872390410
Conal Gallagher - 0862112812
David McLoone - 0877761172
Last modified: Tuesday, 2 June 2020 at 3:59pm