The late Jackie McDermott - A Ballyshannon character at rest
JACKIE McDERMOTT
1931-2015
Words and pictures kind courtesy of the Donegal Democrat.
Jackie played his part for club and county an was instrumental in local success at club and school level.
By Peter Campbell
One of the best known characters in the GAA world was laid to rest in Ballyshannon on Sunday with the funeral of Jackie McDermott.
Jackie, just short of his 84th birthday, passed away on Thursday afternoon last. Even though his health was not great in the past few years, his outward disposition never changed and he was always willing to engage in banter where his wit and humour were always to the fore. The expression 'young at heart' was very apt when referring to Jackie.
From a well known GAA family, Jackie was a larger than life character with an easy going manner, but he was also serious about his football when it mattered.
The McDermott family name is synomous with the GAA in Ballyshannon and they were known throughout the county. His father, John, widely known as The Dodger, was an inter-county footballer and later an administrator, being county chairman for two years in the late 1940s.
Jackie followed in his footsteps, playing for Donegal and that line continued when his son, Tommy, went on to play for Donegal at all levels and achieved much success, winning an Ulster Senior Championship medal, before winning a Railway Cup medal in Centenary year, 1984.
Jackie's involvement in GAA with Aodh Ruadh and Donegal stretched back to the late 1940s when he was part of the Donegal minor team.
He soon progressed to the Donegal senior team and played for them in numerous position throughout the 1950s, even in goals. He was keeper with Donegal, and won Ulster junior titles in 1952 and 1954.
With Aodh Ruadh he won a Donegal Senior Championship in 1951 playing at midfield, while his other success with the club was a Democrat Cup league win in 1955. He was renowned for high fetching on the field of play.
At the end of the 1950s Jackie emigrated to Newport in Wales. While there he got married to Bernie and their son, Tommy, was born in Newport.
The family came back home in 1969 and the family lived for short period in Portmarnock in Dublin before they returned to Ballyshannon in 1971 with Jackie securing a position with the ESB at Cathaleen's Falls.
It was around this time that Jackie began coaching at underage level and it was his initiative that led to the great success that Aodh Ruadh began to achieve towards the end of the 1970s.
He managed the club under 12 team to county success in 1974 and that team was the backbone for the club and De La Salle teams. Indeed it was said at the time that Jackie had the boys for the summer and Tom Cullen in the De La Salle had them for the winter!
Jackie also got involved at county level, taking over as minor manager, achieving Ulster minor league success with Donegal in 1982, and he was under 21 manager in 1983.
His involvement with young footballers left a lasting impression and even those outside of the Aodh Ruadh club have lasting and fond memories of his respect for them.
His great catchphrase when coaching or talking about football was, "It's all about the wee white thing!"
Away from the football field, Jackie was a great socialiser who enjoyed conversation.
Among his pastimes were badminton and table tennis and he was heavily involved in neighbour watch.
He also took a great interest in drama, working behind the scenes at Saint Joseph's National School and with the Premier Players in Ballyshannon.
Jackie was laid to rest at The Rock on Sunday after Requiem Mass celebrated by Monsignor Vincent Connoll, assisted by Father Cathal Ó Fearrai, Canon Ramon Munster and Father Herbie Bromley.
A guard of honour was provided by the Aodh Ruadh club and the large attendance at the Mass and during the wake reflected the esteem in which Jackie and the McDermott family are held.
Predeceased by his brothers Tommy and Seamus, Jackie is survived by his wife, Bernie, son Tommy, daughter Maura, granddaughter Aoife, sister Gertie as well as a host of relatives and friends.
Ar dheis Dé go raibh a anam uasal.
Click on images for larger version.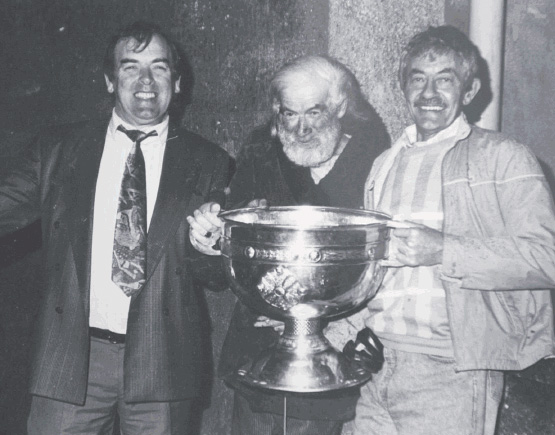 Sam Maguire in Ballyshannon, November 1992...Pictured from left, PJ Ferguson (RIP), Pat Murray (RIP) and Jackie McDermott with the Sam Maguire Cup on the Bridgend Ballyshannon. Photo: Thomas Gallagher.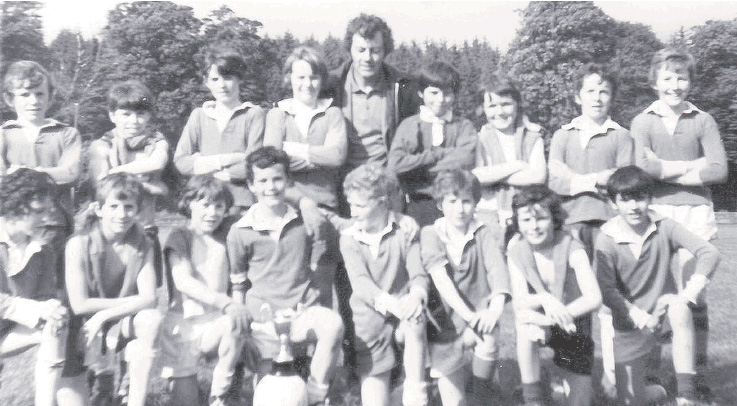 Aodh Ruadh under 12 champions 1974. Back row (l-r) Kieran Gorman, Eunan Doyle, Edward Patton, Paschal McTiernan, Jackie McDermott (Manager), Martin McGann (RIP), Matt Gallagher, Brian Tuohy and Leo Slevin. Front row, Tom McMahon, Paul Tuohy, Pauric Bromley, Tommy McDermott, Thomas Gallagher, Pauric Malaniff, Joe Spratt and Eunan Gallagher.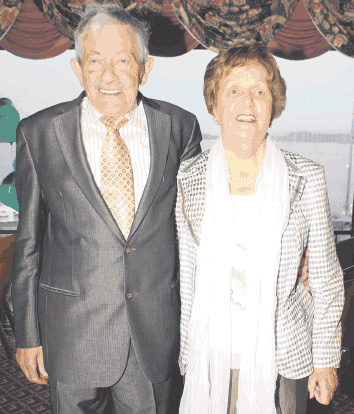 Jackie McDermott with his wife Bernie at his 80th birthday. Photo: Thomas Gallagher.
Last modified: Monday, 1 June 2020 at 1:14pm