Jim The Natch Gallagher - An appreciation
JIM 'THE NATCH' GALLAGHER
1929-2013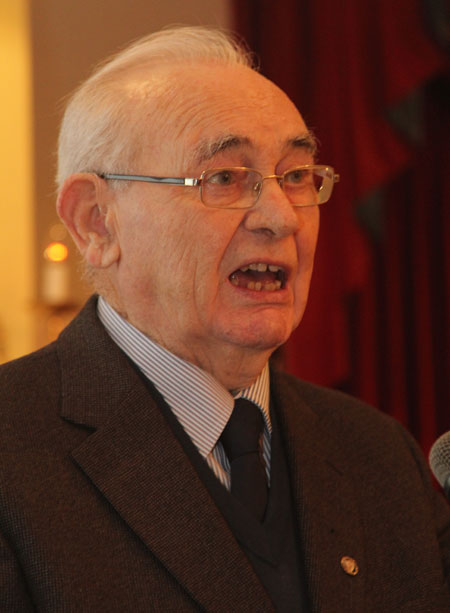 On November 30th. 2013, Ballyshannon lost a football legend in Jim 'Natch' Gallagher. However, Jim was much more besides - a loving husband, father, grandfather, a hard worker, loyal friend and a man fiercely committed to all aspects of life in Ballyshannon and Donegal.
My first memory of Jim goes all the way back to 1960. He was a work colleague of my father Henry John Travers in Irish Life Assurance Ltd. My birthday present was my first trip to Dublin with my father and Jim where we stayed in Barry's Hotel and went to a show in the Theatre Royal. Jim was an almost daily visitor to our house and I still remember him jumping onto the top of a tar barrel from a standing start. For the next 53 years, our paths crossed in a number of ways.
When Jim served as Chairman of the Aodh Ruadh Club from 1975 to 1980, I was Club Secretary. During my teaching career in De La Salle College, I had the pleasure of teaching his sons Eunan, Brian and Turlough. Jim was a tireless worker for De La Salle and served on the Board of Management for many years.
He was a life long member of the Pioneers, a member of Vincent de Paul, Brass and Reed Band, the Church Choir and Bundoran Golf Club. He had a fine singing voice and one of his party pieces was Goodbye, from the White Horse Inn, made famous by Josef Locke. When my father died, Jim and his late wife Eithne remained loyal friends, always bringing my mother to Irish Life functions and gatherings.
The Gallagher house on Tir Chonaill Street was part of the Drama Festival for over 50 years. Jim and Eithne were great supporters of the Drama Festival and his late sisters Maureen and Helena made a huge contribution to drama in Ballyshannon both on and off stage.
The Gallagher association with Gaelic games dates back to the foundation of the Aodh Ruadh Club. His father Hughie played hurling and football for the club and played senior football for Donegal from 1919 to 1922. Jim himself won senior championship with Aodh Ruadh in 1951, sealed with a 1-6 to 1-5 victory over Saint Eunan's in the final, and a senior league in 1955.
Jim first played at senior level for Donegal at 16. His championship debut was against Antrim in 1948 and his last game was against Cavan in 1959. He was also captain when Donegal won their first major trophy, the Dr Lagan Cup in 1952. Later he would captain the county when they first played at Croke Park. His son Eunan went on to play for Donegal in the mid 1980s.
The Natch was also a renowned warrior with Ulster in the Railway Cup and his selection for the province was a vindication of his status as one of the finest exponents of the game of his generation.
He was a key figure in the management of Saint Joseph's, the amalgamation of Ballyshannon and Bundoran. Saint Joseph's won seven county titles from 1965 to 1976, two unofficial Ulster club titles - against Saint John's, Belfast in 1965 and Crossmaglen Rangers in 1967, an unofficial All-Ireland title against Dunmore McHales in 1968 and the Ulster club in 1975 beating Castleblayney in the final. They were runners up in 1968 to Bellaghy and in 1973 to Clan na Gael of Armagh. He led Saint Joseph's on overseas trips to Glasgow in 1971 and USA/Canada in 1976. Jim was a mentor with Brian McEniff when Donegal won Ulster titles in 1972 and 1974.
When his playing and management days were over, his contribution was acknowledged when he was inducted into the Aodh Ruadh Hall of Fame and Donegal Hall of Fame in 2000. In 1984, he was chosen on the Donegal Centenary team.
Having travelled with him to matches on a number of occasions, I can only imagine the fun that Jim had with PJ Ferguson (Elvis), Joe O'Neill and Anthony O'Malley-Daly in the legendary 'ambulance'. It seems so poignant that Jim, Joe and Anthony have, in the space of eight short weeks, gone to join PJ. in the great 'ambulance in the sky'.
Despite failing health and the tragic death of Eithne, Jim maintained his interest in the fortunes of Aodh Ruadh and continued to perform his role as Club President. He was delighted to see Donegal win their second All Ireland in 2012.
Undoubtedly, his greatest achievement was as a husband to Eithne for 53 years, a loving father to Fiona, Eunan, Brian and Turlough, a father-in-law to Eileen and Christina and grandfather to Alannah, Maria, James and Aisling. The love, admiration and respect that his children had for him was clearly evident from Fiona's moving eulogy at the funeral mass.
It will be a long day before we see the likes of Jim 'Natch' Gallagher again.
John Travers - a friend.
Last modified: Wednesday, 20 May 2020 at 4:18pm