A tribute to Sean Drummond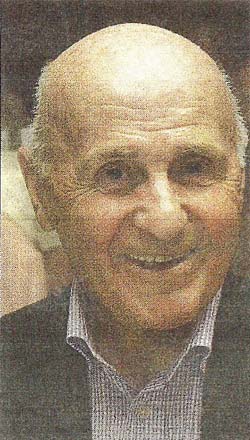 It is an aspect of any GAA club to honour its members those who contribute on and off the field. From the fund raisers, the players, the committee men and women, everyone who kicks a ball, hits a sliotar to those who make the tea.
These days, where the challenges off the pitch, seem to be greater than those on, the poor economy nationally, its effects on local business and employment, puts the pressure on the club member and ultimately the club, ironically we are inclined to forget that its not the first time we have faced these challenges.
Sean Drummond was born and bred on the rock, in the 1930/40s, not the best of times in our history, a kick of the ball from Father Tierney Park, a gifted sportsman, he was playing Gaelic football from an early age and became a club stalwart, playing for his club at all ages, and playing minor and junior football for Donegal.
Sean, in true Ballyshannon style, was nicknamed Fanty and would have still been known to friends at home and abroad as this. His heyday was in the 1950s, he played with Jackie McDermott, Sean Kane and John Murphy, to name a few, evidence of his prowess on the field of play can be seen in the Democrat archives, with numerous mentions of this gifted forward opening up many a defence to find the net for his club.
Times being hard and work not available locally, in late 1950s, Sean moved to Derry, to work in a James Doherty's butchers, but true to his community spirit, became involved with the beginnings of the credit union movement in Derry, eventually becoming manager of Derry Credit Union. Philomena Deery, President of Derry Credit Union, described Sean as a man of, "incredible talent", he was, "the inspiration and strength, behind the growth of Derry Credit Union in his role as manager from 1966 to 1999, and in latter years as a volunteer". Such was his standing with the members of the credit union that he picked up his second nickname, "the loan arranger". The Derry Journal described his passing as the passing of "Mr Credit Union", with tributes being led by Mark Durkan MP, John Hume, and on BBC Radio Foyle, this modest and discreet man will be missed by many.
Sean never forgot his roots and was a regular at county games, always wearing his Donegal colours, even when facing Derry. On his return visits to Ballyshannon conversation would always drift to football, the club and recent games be they league or championship.
Sean 'Fanty' Drummond passed away after a long illiness on Sunday 26th June 2011. The Club extends its sympathy to his wife, Bebe, and children, Sean, Gavin, Mairead, Marc and Emmet, and to his family and friends in Ballyshannon.
BD
Last modified: Wednesday, 20 May 2020 at 1:39pm