Tom Cullen passes to his reward
TOM CULLEN
1948-2014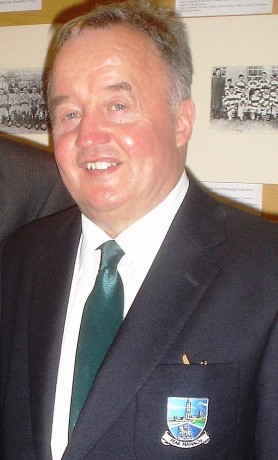 There was great sadness in the Belleek, Ballyshannon and surrounding areas on Wednesday evening last when the news was announced of the passing of Tom Cullen.
Over the years Tom held various positions within the Ulster Council, Fermanagh GAA County Board and his club Erne Gaels, Belleek.
He was deeply involved in the GAA from his earliest days. A pen pic in the Fermanagh Herald ahead of the 1974 county final described the 26 year old Cullen as follows.
"Secondary teacher and Club Secretary, Tom is not only one of the county's most efficient club officials, but also one of the toughest marking backs in the county."
He enjoyed all of the Association's codes and picked up a trio of senior hurling titles between 1973 and 1975
Tom served as club secretary for ten full years between 1972 and 1982 and was club chair from 1985 to 1988 and on a number of occasions subsequently.
He was a driving force in the development of the playing infrastructure in Erne Gaels, most notably the GAA centre which was opened in 1990.
His tireless efforts on behalf of his native club were recognised when he was presented with the Ulster club man of the year in 1987 at a special reception in Dublin. Tom was Erne Gaels President at the time of his passing.
The native tongue was one of Tom's great passions and he was an ardent advocate for the language, serving as Fermanagh Irish Language Officer for many years.
He had a lengthy tenure as a member of Ulster GAA's Coiste Oidhreacht agus Gaelige and for over 20 years he was central to the Ulster GAA's Irish hugely successful course in Downings every July, both as a tutor and organiser.
Tom wrote extensively on GAA history. He penned the club history, A History of Erne Gaels, in 2001 and more recently edited A Gaelic Tradition - A history of the GAA in Fermanagh. That 400 page book was published for the GAA's centenary in the county in 2005.
Tom was a key member of the Ulster GAA committee charged with marking the 125th anniversary of the Association, bringing the History of the Ulster GAA up to date.
He didn't confine himself to prose, publishing a well-received book of bilingual verse, The Stream, in 2003. That was followed by Rhymes and Reasons in 2007.
His working life was spent in the schools of Ballyshannon where he taught first in the football nursery of the De La Salle before moving Colaiste Cholmcille when the schools of the area were amalgamated.
Tom managed many great teams from De La Salle and his success in the Ulster Colleges MacLarnon Cup was extraordinary, considering the school was the smallest competing in the competition. His most famous triumph came in 1980 when De La Salle defeated
Portlaoise CBS to win the All-Ireland Colleges Senior B Football title, becoming the first ever Donegal Football Team to win an All-Ireland title in Croke Park.
Tom always played a full part in community life and was chairman of the Belleek and District Development Trust which saw major investments brought into the area.
A true Gael, a decorated footballer and hurler, a great team manager and an accomplished GAA administrator at club, county and provincial level, an author, poet, teacher, scholar and friend to many.
Tom was laid to rest on Saturday after funeral mass in St Patrick's Church Belleek, with burial in the adjoining cemetery.
He is survived by his sons, Niall, Rossa and Conleth and by his grandson, Jarlath, his sister, Mary and his brothers, Barney, Robbie and Charlie.
He was pre-deceased by his brothers, Malachy and Hughie. Tom will join his wife Elizabeth, who passed on in December 1995, in his eternal reward.
Ar dheis Dé go raibh a anam uasal.
Last modified: Thursday, 29 November 2018 at 2:45pm