Four Masters get first leg advantage
R.T.E Radio na Gaeltachta Senior Football Championship
15 May 2005
Four Masters 2-09
Aodh Ruadh 1-08

Peter Campbell reports from Tirconaill Park.
A superb first half display paved the way for Four Masters to take a first leg advantage in the preliminary round of the Donegal Senior Championship when they triumphed by four points in Tirconaill Park.
Before a fairly small attendance, it seemed that it was going to be a stroll in the park for the Donegal Town team in the opening stages as they stretched into a 1-7 to 0-1 lead after 23 minutes and led at half-time by 1-7 to 0-3.
And even when the margin was reduced by a couple of Aodh Ruadh points at the start of the second half, a second Four Masters goal on 37 minutes put them back in control. However, Aodh Ruadh showed great fight to reduce the margin to three points with a few minutes left and they will be kicking themselves for some poor shooting which could have left them much closer.
Aodh Ruadh were without Brian Roper, who is presently in Australia, while Four Masters started without goalkeeper, Paul Durcan, who damaged an ankle in the previous day's warm-up.
The pattern of the first half was set by Michael Doherty in the opening minute, winning the ball near the sideline before turning and thumping it over the bar for from some 35m. Benny Cassidy increased the lead before Pauric Buggy had the first Aodh Ruadh point from a free on seven minutes.
Thereafter it was one-way traffic as Four Masters took full advantage of the breeze with the impressive Benny Cassidy, Gareth Brogan, Michael Doherty ('45), Cassidy again and Shane Carr with the outside of his right boot finding the range for Four Masters to lead by 0-7 to 0-1 after 20 minutes.
It was to get better for the home side as a long ball was allowed to bounce in the Aodh Ruadh defence and Shane Carr found himself free in front of goal. Niall McCready got back to put in a block but referee, Robbie O'Donnell, adjudged that he had impeded Carr and pointed to the spot.
Michael Doherty with a two-step run-up, fired the ball to David Greene's left and Four Masters were ahead by by 1-7 to 0-1.
Aodh Ruadh had a sniff of a goal chance on 28 minutes when Thomas McPhelim found Pauric Buggy, who for once got around Don Monaghan, but his shot went just over the crossbar. Then in the third minute of added time in the first half Buggy pointed a free to leave Four Masters ahead by 1-7 to 0-3 at the short whistle.
Two Buggy frees in the opening five minutes of the second half gave Aodh Ruadh some hope, but those hopes diminished when Shane Carr was involved in a move that saw Gareth Brogan breaking the ball to Karl Lacey and he drove to the corner of the Aodh Ruadh net.
Moments later David Greene made a great save in the same goal and maybe that was the spur which kick-started an Aodh Ruadh comeback. John Muldoon came in at full-forward and made an impact, breaking a ball for Buggy, who found Damien Conlon in space, but is effort went wide when under pressure shooting. The Aodh Ruadh players surrounded Robbie O'Donnell, claiming the incident was similar to the Carr penalty but it would have been a harsh call.
The much-needed goal arrived five minutes later when a long ball by Michael Ward was again picked up by Buggy, who provided the intelligent pass to Martin Gallagher to slide home.
A minute later Barry Ward won possession to set up Val Murray for a point and the margin was down to four points.
Four Masters needed a score and it came with a Derek McGinty point, but that was cancelled at the other end when a Val Murray free never got elevation, but fell to Seamus Kane, who pointed.
They had two chances to get within a point but Pauric Buggy's 30m free and subsequent '45' failed to hit the target, but then Barry Ward showed the way, finding the range from near the sideline.
There were three minutes left but that was as close as Aodh Ruadh got, with Michael Doherty sealing the Four Masters victory with an injury time free. There was plenty for both John Joe O'Shea and Ciaran Keon to ponder before the sides meet on Saturday, 28th in Ballyshannon. The return of Brian Roper will be welcome for the Aodh Ruadh manager, while Four Masters will be happy in the knowledge that they travel with a first leg advantage.
Damien Cassidy was particularly sound for Four Masters while Karl Lacey and Barry Dunnion were the launch pad for much of their attacks. Up front Benny Cassidy had a very good first half while Michael Doherty was clinical when needed.
Aodh Ruadh probably won the midfield battle. Niall McCready had a good second half and Barry Ward showed up well in the final quarter, but they could rue the missed chances when the crunch time comes.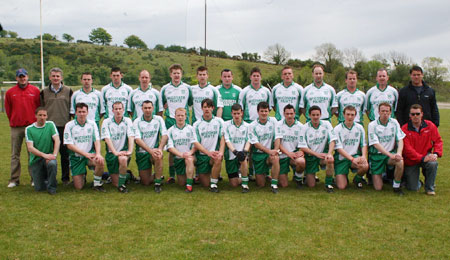 The Aodh Ruadh team that took on Four Masters in the preliminary round,
first leg game of the senior championship.
Photograph by Thomas Gallagher
Vital Statistics
Teams
Four Masters
Martin Cassidy; Damien Cassidy, Don Monaghan, Lee Gorman; Barry Dunnion, Shane Browne, Karl Lacey (1-0); Niall Cassidy, Charlie Gallagher; Derek McGinty (0-1), Barry Monaghan, Benny Cassidy (0-3); Gareth Brogan (0-1), Shane Carr (0-1), Michael Doherty (1-3, 1f, 45, pen.)
Sub
Gareth Britton for Browne 53 mins.
Aodh Ruadh
David Greene; John Gillespie, Packie McGrath, Johnny Gallagher; Niall McCready, Martin Gallagher (1-0), Thomas McPhelim; Conor Gurn, Michael Gurn; Philip O'Reilly, Barry Ward (0-1), Mickey Ward; Damien Conlon, Pauric Buggy (0-5, 4f), Anthony Boyle.
Subs
Seamus Kane (0-1) for O'Reilly 27 mins; Val Murray (0-1) for C. Gurn 36 mins; John Muldoon for Boyle 40.
Referee
Robbie O'Donnell (Naomh Mhuire).
Man of the match
Karl Lacey was central to most of what Four Masters did and also scored their vital second goal when it was needed. There were other contenders but he is a worthy winner.
Turning point
That second goal as well as a point from Derek McGinty with seven minutes left kept Four Masters' noses in front. Those scores along with poor Aodh Ruadh shooting decided the game.
Ref watch
Robbie O'Donnell made a few calls which could be questioned but overall he kept a reasonable good handle on a game that was played in a fairly good spirit. He brandished the yellow a few times but in truth it was an easy game to referee.
Report Filed: 18 May 2005