Aodh Ruadh shade it against Cloughaneely
RTE Raidio na Gaeltachta senior football championship
First Round, Second Leg.
23 June 2007
Aodh Ruadh 0-09
Cloughaneely 0-08
John Hughes reports from Father Tierney park.
Ballyshannon will be reflecting that it is the result that counts as they weathered a determined challenge from Cloughaneely. The Ernesiders played well within themselves for much of the game, whilst Cloughaneely will rue a number of squandered goal chances as; once again, the loss of John Paul Gallagher was sorely felt.
With the conditions largely dry, but humid, Aodh Ruadh started much the brighter with Garret Blake and Michael 'Sticky' Ward putting them two points up within three minutes. Cloughaneely took time to shake off their early nerves and it was only with a point by county panelist Denis Boyle on seven minutes that the Gaeltacht side began to play more composed football. Despite beginning to enjoy more possession in the Aodh Ruadh half, Cloughaneely were guilty of some profligacy in front of the posts, a problem that blighted them throughout the match. Two frees were badly missed by Denis Boyle on the ninth and 11th minutes. Meanwhile two promising Cloughaneely moves were also snuffed out by timely interceptions by Darren Drummond and Philip O'Reilly.
Ballyshannon rallied briefly but a bad miss by Garret Blake after a sustained Aodh Ruadh pressure was punished by a point from Liam Coyle on 18 minutes. Cloughaneely won the subsequent kick out and Sean Maguire did well to draw a free which was duly pointed by Denis Boyle. With the Gaeltacht side a point to the good Aodh Ruadh put their shoulder to the wheel. Sticky Ward used his craft to draw a foul. Pauric Buggy's free dropped short but Garret Blake was the one most alive to the situation and he shot a great opportunistic point. Wides by Sticky Ward and Garret Blake were followed by the score of the first half from Seamus Kane. Kane received the ball in a central position just past the forty and under pressure and on the turn took a shot which sailed high over the Cloughaneely bar to put Aodh Ruadh back in the lead with 27 minutes on the watch. Cloughaneely tried manfully to restore parity before the half time whistle, but it was Aodh Ruadh who got the last score of the half with Pauric Buggy pointing a free won by the industrious Barry Mulligan. The score at half time: 0-5 to 0-3 in favour of the Ernesiders, with the gathered crowd of around two hundred generally happy with proceedings.
Cloughaneely began the second half with considerably more intent, but again poor finishing was to prove costly. A wide by Sean Maguire in the third minute of the second period was followed by a gilt-edged goal chance. Ciaran Scanlon broke through on goal, but his rasping effort was brilliantly parried away by Buddy Greene and Aodh Ruadh successfully cleared their lines. The ball came to Barry Ward who hit a wonderful raking pass from his centre half back position right into the chest of Barry Mulligan. Mulligan still had work to do but he hit a sensational shot to put the ball over the bar for score of the match. Ballyshannon then broke through for a goal chance of their own from the Cloughaneely kick out. Niall McCready was one on one with the keeper but Paddy Doohan, who was impeccable throughout, managed to flick the ball away from the county man just as he was about to pull the trigger.
Cloughaneely managed to claim the next kick out and Sean Maguire escaped his marker to take a good point on the 36th minute. Things had turned a bit scrappy at this stage though. Some decent plays by Ballyshannon failed to produce anything and Liam Coyle was carded for a sliding tackle on Stephen Ward. It was in this unpromising backdrop that Cloughaneely managed to work a fabulous opening on the 44th minute. Sean Maguire was put through with only Buddy Greene to beat, but his poor effort ended up in the right-hand side netting when a more clinical finisher might have been celebrating a goal.
Aodh Ruadh pounced on Cloughaneely's moment of weakness as they reeled from the effect of two golden chances wasted. The Ernesiders entered their best phase of the game with Ciron Whoriskey frustrating Cloughaneely at every turn, Stephen Ward well on top at the middle of the park and Barry Ward spraying precision passes around with aplomb. The effervescent Sticky Ward was first up with a point on the 45th minute and this was quickly followed by a crisp interplay between Niall McCready and Seamus Kane that saw Kane clip over a fine effort off his right boot. Mulligan pointed his second of the match in the 48th minute. Amazingly that was to be Aodh Ruadh's last score of the game as the Ballyshannon side took their foot off the pedal with the apparent intention of coasting it to full time having seized a five point advantage.
Cloughaneely's revival began with a point from Ciaran Scanlon from the right. Sean Maguire then had a disappointing miss from a free, but Aodh Ruadh's attempts to clear the ball broke down and Denis Boyle took possession and sent in a high arcing shot across the posts. One umpire signaled for a point, whilst the other simultaneously signaled a wide. Liam Browne had to call on his linesman on the right-hand side who was behind the shot. He advised Browne to give the point.
With a goal in it, Cloughaneely got the bit between their teeth and Kevin Mulhern forged up from half back to slot a fine point after some good work by Michael Lynch. Within the minute Declan McGarvey was able to set up Denis Boyle who was afforded acres of space by Darren Drummond and Cloughaneely had cut the deficit to the minimum with four minutes to go. Aodh Ruadh finally woke up to the threat, but despite managing to win more possession scores were at a premium as Kerry Ryan and Sticky Ward both failed to convert scoring prospects.
With the seconds ticking away Cloughaneely piled on the pressure, hunting for the goal needed to save their championship campaign, but it was Barry Ward who burst out of the defence carrying the ball forty metres from the Aodh Ruadh goal with an inspirational run. He was fouled by Joe Gallagher, who saw yellow for his troubles. There was no time for Ward to take his free as time had run out for the men from the Gaeltacht. It is Ballyshannon who progress to the quarter finals of the championship with Naomh Conaill or Saint Eunan's the opponents. Either way, Aodh Ruadh will have a real challenge on their plate and they'll be looking for a much more committed performance the next day out. Cloughaneely, meanwhile, will have set out on their long trip home contemplating a catalogue of missed opportunities and a return to the hard graft of Division Two football.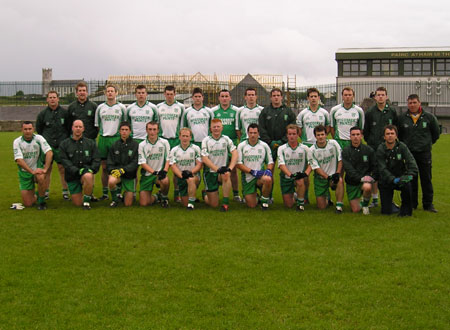 The Aodh Ruadh team that defeated Cloughaneely to progress to the quarter final stage of the senior football championship.
Vital Statistics
Teams
Aodh Ruadh
David Greene; Darren Drummond, Eamon O'Donnell, Ciron Whoriskey; Michael Gurn, Barry Ward, Philip O'Reilly; Stephen Ward, Kerry Ryan; Garret Blake (0-2), Pauric Buggy (0-1f), Niall McCready; Barry Mulligan (0-2), Michael Ward (0-2), Seamus Kane (0-2).
Subsitutes used
Donagh McIntyre for P. Buggy @ 44 minutes, PJ McGee for G. Blake @ 46 minutes.
Substitutes not used
Damien Conlon, John Duffy, Conor Gurn, Paul Kane, Brian McCafferty, Diarmuid McInerney, James O'Donnell, Brian Roper.
Cloughaneely
Lee McFadden; Donal Coll, Paddy Doohan, Ciaran Greaney; Kevin Mulhern (0-1), Joe Gallagher, Michael Lynch; Kevin Scanlon, Ciaran McFadden; Joe Boyce, Liam Coyle (0-1), Ciaran Scanlon (0-1); Denis Boyle (0-4 1f), Sean Maguire (0-1), Declan McGarvey.
Subsitutes
Eamon Curran, John Joe McGeever, Joe McGarvey.
Referee
Liam Browne (Four Masters)
Report Filed: 30 June 2007