Termon profit from Aodh Ruadh profligacy
Senior Football Division 2
9 August 2009
Aodh Ruadh 0-11
Termon 2-8
John Hughes reports from Father Tierney Park.
Strange to say, in a game where Trevor Alcorn and John McCafferty ran up nine wides between them, but Aodh Ruadh really kicked this game away. Three good goal chances were allowed to go begging by the Ernesiders, while Termon were much more clinical when the opportunity arose to shake the net.
Be that as it may, it was Termon who spurned the first goal chance. Team manager and captain Paddy McDaid, who had a powerful game throughout, set-up Trevor Alcorn up for a tricky shot on goal but the wee man drove her wide with three minutes on the clock. A second Alcorn shot was screwed wide 40 seconds later from 30 metres out as he attempted to atone for the miss.
Ballyshannon's county veteran, Brian Roper, was to attract special attention from the Termon rearguard and Bernard Alcorn earned himself an early yellow for a foul on him. Pauric Buggy took the resultant free and pointed brilliantly from outside the 45 metre line to level matters up with five minutes gone.
Johnny McCafferty had a hot and cold day hitting some bad wides interspersed with fine points. He started with a fine point off the right boot on seven minutes, but followed that up with an awful wide from miles out a minute later.
Aodh Ruadh's Kerry Ryan was next into the book, but the carding of the rambunctious red head was a sign that the Ernesiders were coming more into the game. They dropped a high ball in on top of the Termon defence, but Barry Ward used his guile to get up and palm the ball on to Anthony Boyle who was in on goals. Michael Boyle made himself big and the persuasive sight of the county net-minder was enough to make Boyle to go for a fisted point rather than the potential goal chance.
Termon were given the chance to restore their lead by sloppy Aodh Ruadh play. On 14 minutes the Ballyshannon 'keeper, Paul Kane, took a short kick out, but it was collected by a Ballyshannon man before it made it past the 20 and Liam Browne awarded a handy free in which Trevor Alcorn tapped over.
Barry Ward, Trevor Alcorn and Pauric Buggy exchanged wides, before Aodh Ruadh's next gilt edged goal chance came around. Once again it was created by a deft Barry Ward flick, to Anthony Boyle. This time Boyle fisted to Michael Ward, but his driven shot whistled just wide of Michael Boyle's right post.
Brendan Robinson made his first meaningful impression on the game with ten minutes left in the half when he came roaming from a deep position to drive over a great point. Termon began to turn the screw on Aodh Ruadh and John McCafferty won a free off Philip O'Reilly. Trevor Alcorn took it short to Brendan Robinson who dinked over from the 20 metre line and just in front of the posts to make it 0-4 to 0-2 in favour of Termon.
Aodh Ruadh had the best of it from there to the half time whistle. Michael Ward fired over a wonderful individual point on 25 minutes before Donagh McIntyre came on for the injured Philip O'Reilly. McIntyre made an instant impression, finding his way into Browne's book along with Anthony McGrenra. With two minutes left in the half Pauric Buggy struck over an ambitious free from a tricky position to level the game up at four points apiece. It was Termon who had the last chance of the half though. Great work by Trevor Alcorn saw the ball go to Daniel O'Donnell who set up John McCafferty, but his goal chance went wide.
Half time score Aodh Ruadh 0-4 Termon 0-4
It was Ballyshannon who started the second half the livelier. Donagh McIntyre hit a wide before Michael Ward won a free which was brought up to the 20 metre line for dissent. Pauric Buggy was right to hold his head in horror after striking the placed ball wide. Ollie Doherty was next into Browne's notebook with a yellow card before Buggy made up for his howler with a sublime lofted point to give Aodh Ruadh back the lead.
Trevor Alcorn was Termon main threat all day and it was his creative play that set Brendan Robinson up for a wonderful effort that just crept inside Paul Kane's right post to level the match once again.
However, following that great play, Termon went walkabout for the next few minutes. Sloppy attacking work by Termon was capitalised on by Aodh Ruadh, who galloped up the field and engineered Donagh McIntyre into a great position to slide the ball into the net. Incredibly his left foot effort came back off the bottom of the upright, but Michael Ward was first to react and he fired over from close range to restore Aodh Ruadh's one point lead with eight minutes gone in the half.
Incredibly, more fumbling and futhering in the Termon attack allowed Ballyshannon to counter with Michael Ward again heavily involved. He fed Donagh McIntyre who struck over from range to make it 0-7 to 0-5 in favour of the Ernesiders.
Termon collected themselves after that and Ollie Doherty rocketed the ball over from distance on 43 minutes to cut the gap to the minimum. That was followed by another Termon wide but a quick ball in saw Brendan Robinson clear on goal and he made no mistake with a clinical strike past Paul Kane. Ballyshannon were rattled and they hit a number of nervy wides from Buggy, Lawless and Roper.
With the game in the melting pot Paddy McDaid finished a great Termon move after slick link play with Daniel O'Donnell to make it 0-8 to 1-7. The decisive moment came five minutes from time. Packie McGrath had a good game in the corner for Aodh Ruadh, but he found himself isolated in a ruck of Termon players as he came out of defence with the ball. He fisted backward to where he expected to find a green and white shirt, unfortunately all he found was a ravenous Trevor Alcorn who was away like a shot. Within five paces Alcorn was one on one with the keeper and buried the ball in the net. Two minutes later McCafferty drilled over a fine free to put two goals between the sides and effectively finish the game.
Aodh Ruadh fought on gamely though. With the sixty played Brian Roper won a free which was brought forward for dissent and pointed by Gareth Blake. That was rapidly followed by a wonderful Michael Ward point off the right boot. Two minutes into injury time Paddy McDaid executed a majestic dispossession on Roper, but Browne adjudged it a foul and Blake pointed to leave just a goal in it. But it all came too late for Ballyshannon, as Browne whistled up shortly after.
For Termon the result resurrects their promotion hopes, while for Aodh Ruadh it was a chance missed to get back in the division two driving seat.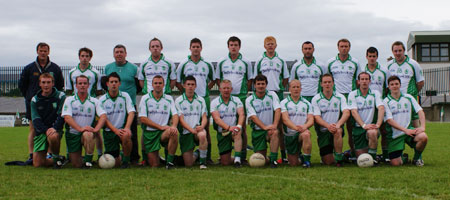 The Aodh Ruadh team ahead of division two encouter with Termon.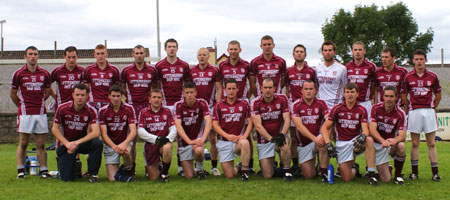 The Termon team ahead of division two encouter with Aodh Ruadh.
Vital Statistics
Teams
Aodh Ruadh
Aodh Ruadh: Paul Kane; Philip O'Reilly, Conor Gurn, Packie McGrath; Michael Lawless, Niall McCready, Johnny Gallagher; Stephen Ward, Fiachra McIntyre; Kerry Ryan, Brian Roper, Pauric Buggy (0-3, 2f); Anthony Boyle (0-1), Michael Ward (0-3), Barry Ward.
Substitutes: Donagh McIntyre (0-1) for Philip O'Reilly - 26 minutes, PJ McGee for Pauric Buggy - 52 minutes, Gareth Blake (0-3, all frees) for Anthony Boyle - 46 minutes, Barry Travers, Simon Gillespie, Darren Drummond for Barry Ward - 39 minutes, James McIntyre, Turlough McIntyre.
Termon
Michael Boyle; Sean O'Donnell, Jimmy McElwaine, Paul McDaid; Jamie Gallagher, Kieran McGettigan, Paddy McDaid (0-1); Ollie Doherty (0-1), Bernard Alcorn; Barry Nelis, Daniel O'Donnell, Anthony McGrenra (0-1); John McCafferty (0-2), Trevor Alcorn (1-1, 1f), Brendan Robinson (1-2).
Substitutes: PJ McFadden, Padraig Halferty for Anthony McGrenra - 52 minutes, Kevin McElwaine, Kevin McDaid, Stephen McElwaine for Halferty - 59 minutes, JR McDaid.
Referee: Liam Browne (Four Masters)
Report Filed: 9 August 2009