Ballyshannon blow-up gifts Naul's draw
Senior Football Division 2
26 September 2009
Aodh Ruadh 2-15
Malin 3-12
John Hughes reports from Father Tierney Park.
An amazing game for all the wrong reasons from an Aodh Ruadh perspective. Sitting on a 12 point lead with 10 minutes left on the clock Liam Browne could have been forgiven for blowing up early to spare Saint Naul's any further punishment. Instead Browne elected to award the Mountcharles men a soft penalty and a lifeline back into the tie.
Aodh Ruadh dominated for vast swathes of this game, but the opening quarter was an evenly balanced and absorbing contest. The Ernesiders were first on the scoreboard with Michael 'Sticky' Ward pointing from the throw-in and Buggy converting a free six minutes in. The lively Cathal Lowther opened Naul's account with a deft point and Gavin Maguire leveled matters, before county man Stephen Griffin edged Mountcharles in front with a free after 12 minutes.
Following another Buggy free, Barry Ward miraculously emerged from a forest of Saint Naul's jerseys to feed Sticky Ward who chipped over to give Aodh Ruadh a 0-4 to 0-3 lead. Andrew Gallagher and Kerry Ryan exchanged points, before Ballyshannon really imposed their authority on the game. The Mountcharles full back line had been having a nightmare under the dropping ball all game and an excellent lofted ball from Garreth Blake was fisted to the net by Barry Ward. That goal came on 17 minutes and four minutes later Ward was causing havoc again. This time a rifled shot on goal prompted a great save from Sean McCready, but Sticky Ward was able to point the rebound.
A Buggy free kept the scoreboard ticking over nicely for the Ernesiders. Griffin cut the deficit with a free only to see the six point gap restored by a fisted Anthony Boyle point characterised by slick build-up play.
It was Griffin who got the score of the half though. As the game moved into first half injury time he stepped up to a free 30 metres out and close to the right hand sideline. Griffin swung his right boot at it and, despite the very unfavourable angle, drifted it sweetly over the bar. There was just time for Paul Kane to pull off a super save from Cathal Lowther before Liam Browne whistled up for half time.
Half-time score Aodh Ruadh 1-8 Saint Naul's 0-6.
The opening 20 minutes of the second half were owned by Ballyshannon. Barry Ward gave notice of Aodh Ruadh's bullish intentions with a muscular point after two minutes. It was Naul's who got the next three scores though, with Gavin Maguire pointing and Griffin adding two more to make it a one goal game at 1-9 to 0-9.
The Ernesiders however, were entering their best period of the game. Garreth Blake started it off with a nice point, before Sticky Ward came charging through the Mountcharles rearguard with goal on his mind. His blasted shot ricocheted off the crossbar and went over for a point. An elegant free from Buggy put Ballyshannon two goals ahead once more.
At this stage Aodh Ruadh were slicing through Saint Naul's at will and it was looking ominous for the Mountcharles outfit. A long ball in from Kerry Ryan was well gathered by Barry Ward and dished off to Sticky Ward who drove the ball emphatically to the net. Naul's looked a beaten side and points from Ciron Whoriskey, Sticky Ward and a Buggy free put a 12 point gap between the sides. Only a magnificent McCready save from Sticky Ward prevented it being a 15 point margin.
A Griffin point on 20 minutes looked like little more than plastering over the cracks, but first Cathal Lowther fisted with a goal with a suspicion of square ball around it and then Naul's won a penalty. The incident itself looked like an innocuous tangle, but Browne spread the arms and substitute Paul McGourty stood up to take the spot kick. Paul Kane has had a fine season for Aodh Ruadh in nets, but he was given absolutely no chance by McGourty who took his penalty with panache.
Incredibly Mountcharles were now only four points behind at 2-15 to 2-11 and Aodh Ruadh were palpably rattled. With only five minutes left and the momentum with Naul's it was game on.
McGourty completed a dream appearance from the bench with a slickly taken goal on 58 minutes and Andrew Gallagher fired over a point to complete a remarkable comeback.
As the seconds ticked away it was Saint Naul's who were on the offensive and the final whistle came almost as a relief for the Aodh Ruadh faithful. The result is a heavy blow to Ballyshannon's promotion prospects, while Saint Naul's have given themselves some hope of making a relegation play-off.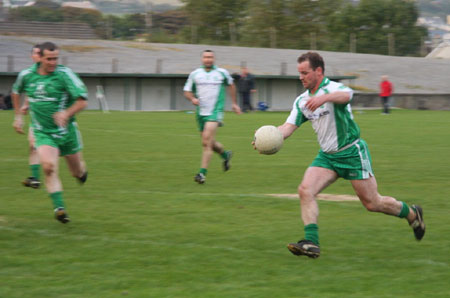 Action from the Aodh Ruadh v Saint Naul's division two league game in Father Tierney Park.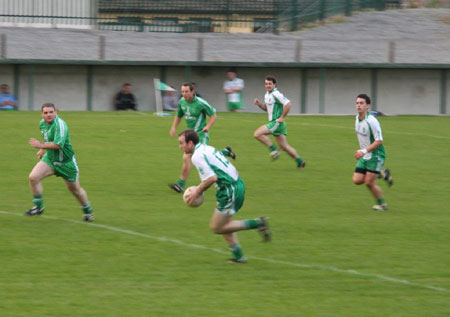 Action from the Aodh Ruadh v Saint Naul's division two league game in Father Tierney Park.
Vital Statistics
Teams
Aodh Ruadh
Paul Kane; Darren Drummond, Conor Gurn, Packie McGrath; Michael Lawless, Niall McCready, Johnny Gallagher; Fiachra McIntyre, Kerry Ryan (0-1); Ciron Whoriskey (0-1), Pauric Buggy (0-5, all frees), Garreth Blake (0-1); Anthony Boyle (0-1) Michael 'Sticky' Ward (1-5), Barry Ward (1-1).
Substitutes: Donagh McIntyre for Fiachra McIntyre, PJ McGee for Garreth Blake, Philip O'Reilly, Stephen Bradley, Turlough McIntyre.
Saint Naul's
Sean McCready; Conor McBrearty, Brian McMonagle, Aidan Kennedy; Danny McDyre, Mark Ward, Daniel Friel; Conal McGinley, John 'Cookie' Meehan; Brian McCabe, Gavin Maguire (0-2), Fiachra McGinley; Cathal Lowther (1-2), Andrew Gallagher (0-2), Stephen Griffin (0-6, 5f).
Substitutes: Paul McGourty (2-0, 1 penalty).
Referee: Liam Browne (Four Masters)
Report Filed: 27 September 2009