Extra endeavour earns points for Ernesiders
Senior Football Division 2
4 April 2010
Aodh Ruadh 1-9
MacCumhaill's 1-5
John Hughes reports from Páirc Aoidh Ruaidh.
On a day when neither side was particularly firing on all cylinders, Ballyshannon just showed enough quality to earn the points. They did so against a MacCumhaill's side that could simply never find their rhythm.
Fielding in the unfamiliar surroundings of Páirc Aoidh Ruaidh, Ballybofey played into the teeth of a strong wind in the first half. The first meaningful action of the match came when Michael 'Sticky' Ward collected a ball and picked out a cross field pass to the unmarked Ciron Whoriskey who slotted over from 30 metres out. After that opening score MacCumhaill's enjoyed a short period of dominance. First Shane Duffy hit a wide before some loose Aodh Ruadh tackling earned Ballybofey a free. That was duly converted by Darren O'Leary to level matters on six minutes. It turned out to be MacCumhaill's only score of the half and the last score of the game from the normally reliable place kicker, O'Leary. The Finnsiders continued to control matters for a few more minutes, but had only wides from O'Leary and Gavin Gallagher to show for their efforts.
Good tackling from Niall McCready in the half back line saw the ball fed into Sticky Ward who was fouled. Ward hit the resultant free to edge the Ernesiders in front with 11 minutes gone. Donagh McIntyre was a forceful presence at half forward for Ballyshannon and it was his efforts that helped push Aodh Ruadh clear midway through the first half. He hit a wide before shortly after picking out PJ McGee who slotted over a stylish point.
Seconds later fine half back work from Johnny Gallagher saw the ball shunted on to Ciron Whoriskey who picked out PJ McGee on the end line. McGee advanced with menace before fisting the ball to Sticky Ward who palmed the ball back across the goals and into the net past Rory Patton's left flailing left glove. A mere minute later Donagh McIntyre drove over a powerful point to make it 1-4 to 0-1 with 15 minutes gone.
After that flurry of activity the remainder of the half rather petered out. There were two Aodh Ruadh wides before MacCumhaill's Stephen Reilly was well put through on goal. With Ciron Whoriskey hanging out of him he did well to get a decent shot on target, but Paul Kane made a quality reaction save with his legs. On 21 minutes Brian Roper and Packie McGrath combined to supply Sticky Ward who, with time and space to spare, composed himself and dinked over from in front of the posts. With five minutes left in the half Shane McNulty and Johnny Gallagher got involved in a bit of an altercation which got a little heated. Connie Doherty stepped in quickly to calm matters and yellow carded the pair.
As the half drew to a close Sticky Ward was back in action completing some more unruffled build-up play by Aodh Ruadh with another silky point. The half ended with Aodh Ruadh pushing hard for scores in the knowledge that they were going to be very hard bought playing against the breeze in the second half. However the best they could manage was a shot off the post and a wide, while Darren O'Leary also added a wide for MacCumhaill's from a 45.
Half-time score: Aodh Ruadh 1-6, MacCumhaill's 0-1
With the wind at their backs Ballybofey began the second half in businesslike demeanour. An opening Shane Duffy wide was soon made up for by good work from Gavin Gallagher. He won the ball well and drove a long ball into Chris McDaid who fired over a neat point. The homesters continued to present a lively attacking threat though and the effervescent Johnny Gallagher made a slashing drive into the Ballybofey rearguard. He lashed off a shot for a point, only for it to come back of the post and land in David Dolan's hands. Dolan swiveled and rifled the ball, but his shot flashed millimitres wide of the Rory Patton's left upright.
With 36 minutes on the clock MacCumhaill's lost their underage inter-county star Andrew McCluskey to injury and Garvin Mulligan was pressed into action. The sides exchanged wides before good play In the middle of the field saw Gavin Gallagher put clear through on goals. Although he was still 40 metres out, Gallagher carried the ball well before hitting a low, hard shot to Paul Kane's left and lifting MacCumhaill's back into the tie at 1-6 to 1-2. A minute later Paddy McNulty had the opportunity to hit a point that would have had the homesters well and truly rattled, but his shot went badly wide and Ballybofey's challenge wilted after that.
Kerry Ryan came on as a sub for Donagh McIntyre on 47 minutes and his introduction helped bolster Aodh Ruadh. A minute after Ryan's introduction Sticky Ward won a free which was converted by David Dolan. Immediately after that Barry Mulligan won the ball and hit a wide. He made up for that by once again claiming the ball and driving into the Ballybofey defence, drawing men on to him and flicking the ball out to the unmarked Kerry Ryan who calmly pointed from the right.
That score put two goals between the sides and with ten minutes to go MacCumhaill's were desperately trying to claw their way back into the game. They did so thanks to two towering individual scores. First off Shane Duffy hit a massive soaring effort from miles out on the right. Then a minute later Darren McGowan, patently fed-up with the lack of attacking enterprise MacCumhaill's were showing, drove forward and took a wonderful score, again from the right wing.
However with Barry Mulligan restored the five point margin with a beautiful left footed free hard into the wind from 40 metres out with eight minutes of normal time remaining. From that point on the Ernesiders circled the wagons and alternately played keep-ball or defended in depth. Aodh Ruadh's 21-year-old corner back, Michael Ward, had a fine game, but he was fouled in front of the Ballybofey dugout as he tried to bring the ball up the field. The MacCumhaill manager Barney Laverty and Connie Doherty had a disagreement over the incident. It seemed innocuous enough from distance, but Doherty was evidently upset by what he heard and banished Laverty to the other side of the fence.
The final score of the game came with a point from Pat McNulty on 28 minutes, the sensible option as Aodh Ruadh had parked the bus in front of the goals and there was no goal on. That score was bookended by yellow cards for Barry Mulligan and Darren O'Leary.
So after an opening round defeat to Kilcar, Aodh Ruadh are off the mark with two valuable league points. After earning a home draw with Glenfin the first day, MacCumhaill's will be disappointed with this performance and reflect that with a bit more bite in their game they could have made this more of a contest for the Ernesiders.
Vital Statistics
Teams
Aodh Ruadh
Paul Kane; Philip O'Reilly, Darren Drummond, Michael Ward; Johnny Gallagher, Packie McGrath, Niall McCready; Stephen Ward, Ciron Whoriskey (0-1); Donagh McIntyre (0-1), Brian Roper, Barry Mulligan (0-1f); David Dolan (0-1f), Michael 'Sticky' Ward (1-3, 0-1f), PJ McGee (0-1).
Substitutes: Joe Watson for PJ McGee (42 min.), Kerry Ryan (0-1) for Donagh McIntyre (47 min.), Anthony Boyle for David Dolan (52 min.), Michael Dolan, Stephen Bradley, Pauric Loughlin, Diarmaid McInerney, Fiachra McIntyre.
Manager: Val Murray
MacCumhaill's
Rory Patton; Darren McGowan (0-1), Joe Dunnion, Mark Connolly; Andrew McCluskey, Pat McNulty (0-1), Shane McNulty; Paddy McNulty, Stephen Reilly; Gavin Gallagher (1-0), Chris Gallen, Shane Duffy (0-1); Chris McDaid, Paddy Kelly, Darren O'Leary (0-1f).
Substitutes: Garvin Mulligan for Andrew McCluskey (36 min.), Benny McLaughlin.
Manager: Barney Laverty
Referee: Connie Doherty (Naomh Conaill)
YELLOW CARDS: Aodh Ruadh: Johnny Gallagher (26 min.), Barry Mulligan (58 min.). MacCumhaill's: Shane McNulty (26 min.), Joe Dunnion (28 min.), Stephen Reilly (45 min.), Darren O'Leary (62 min.)
RED CARD: MacCumhaill's: Barney Laverty (57 min.)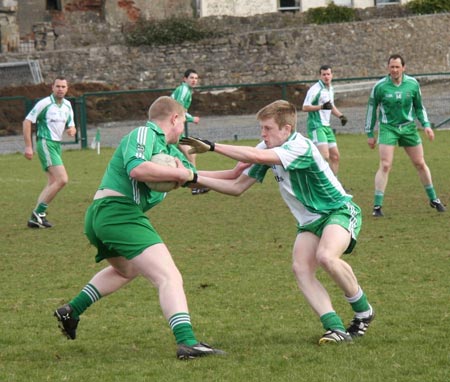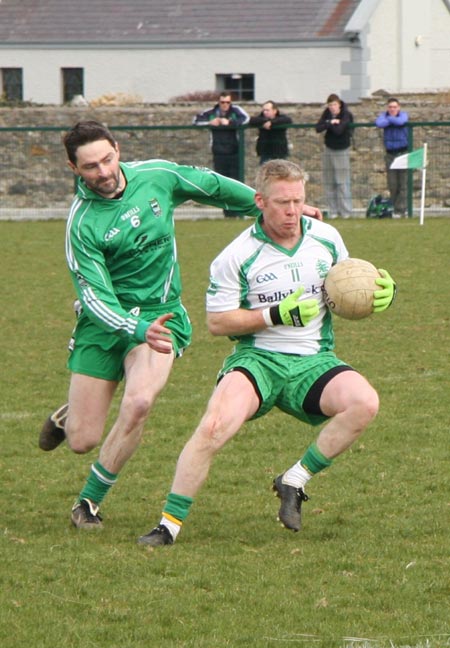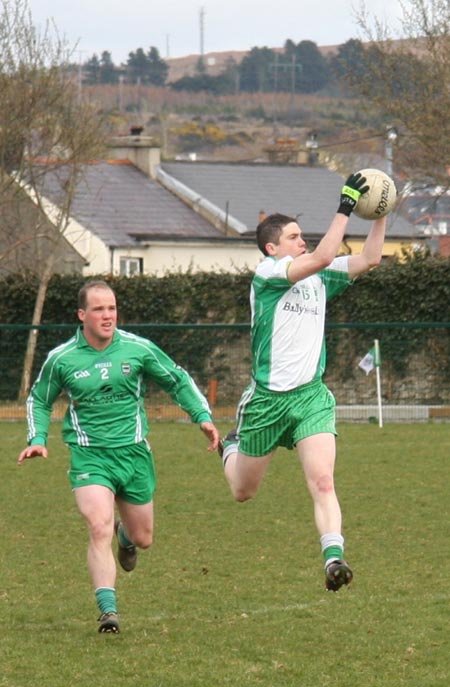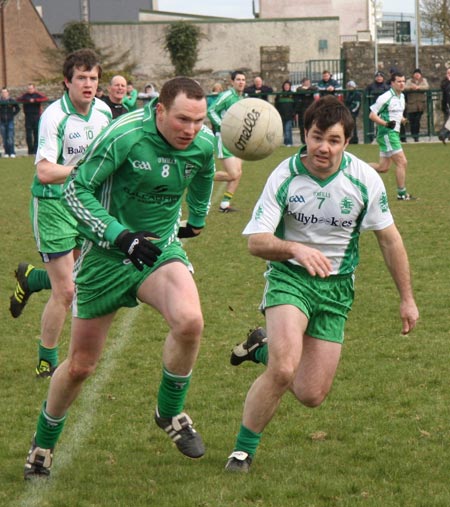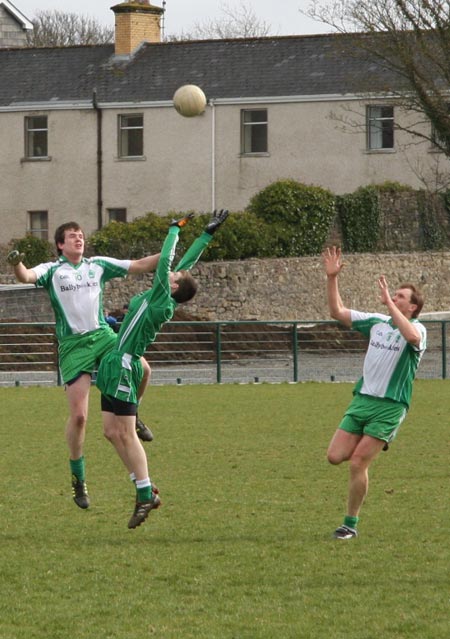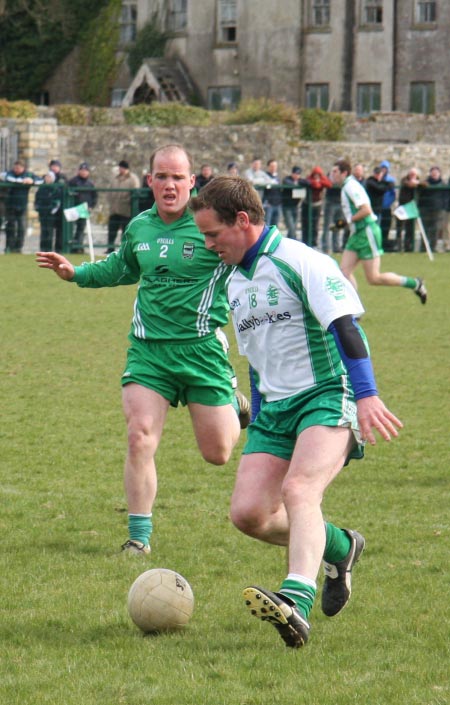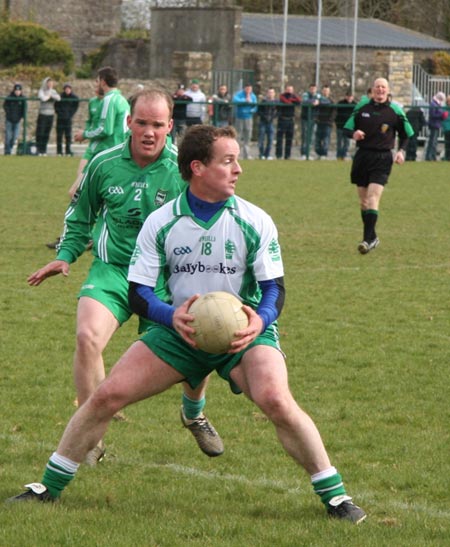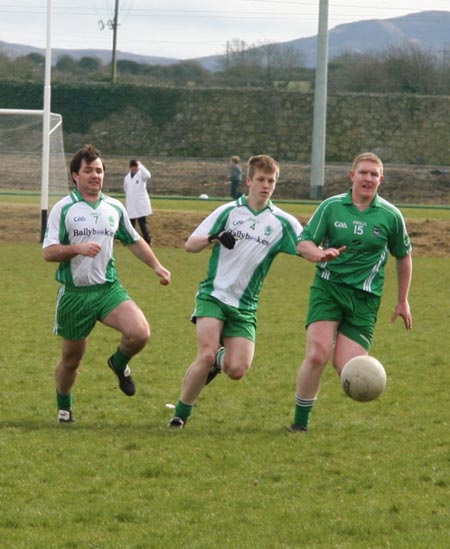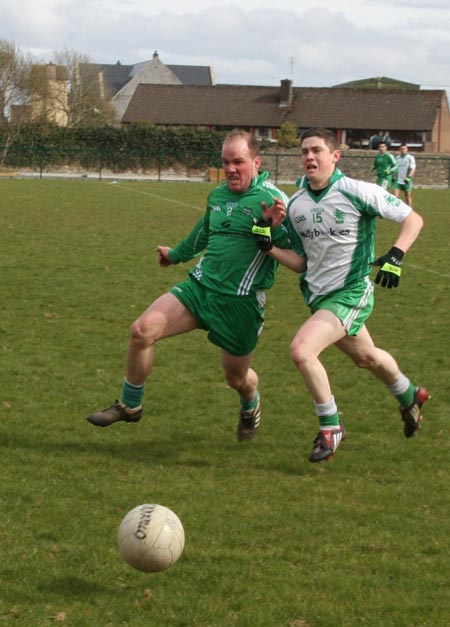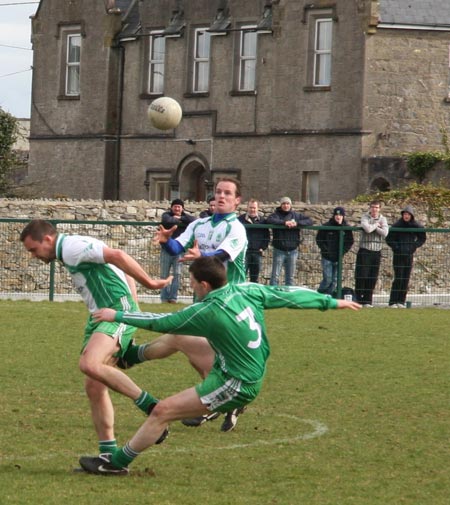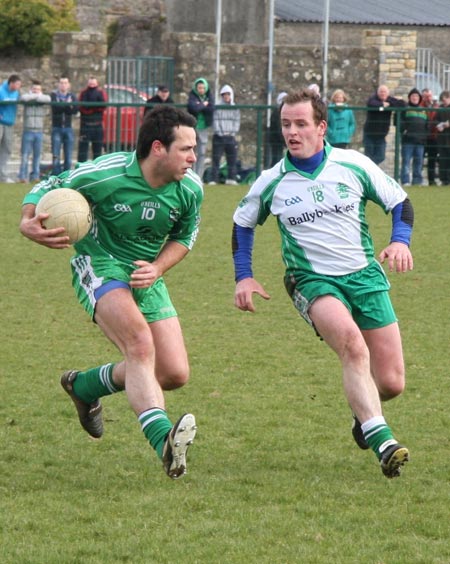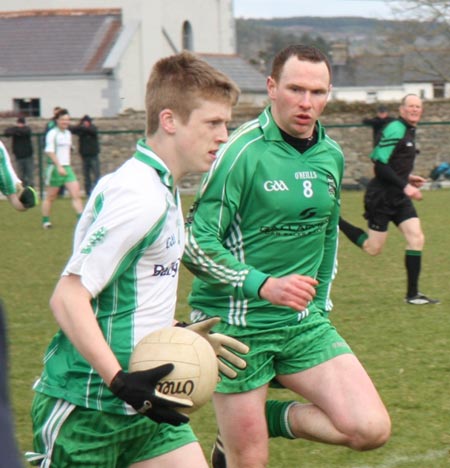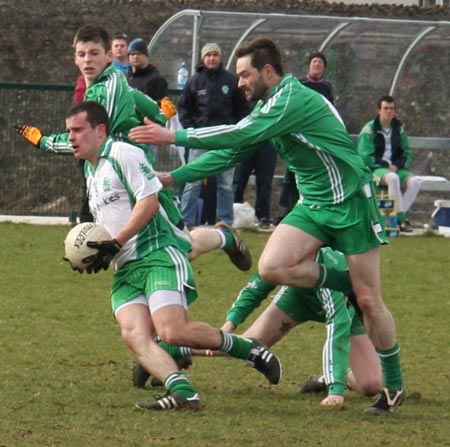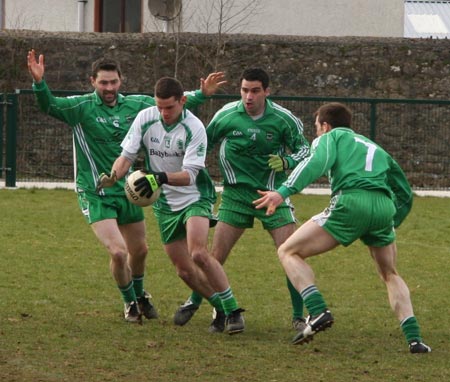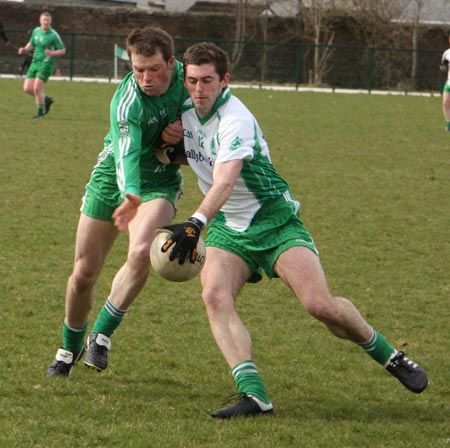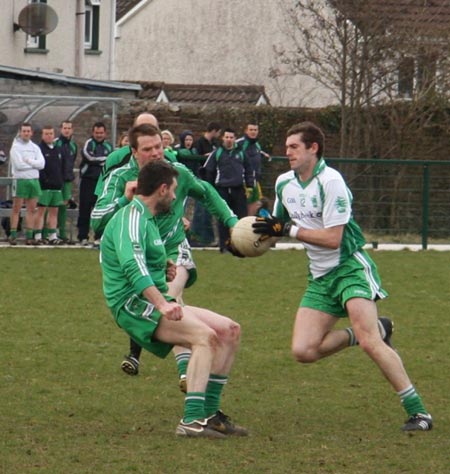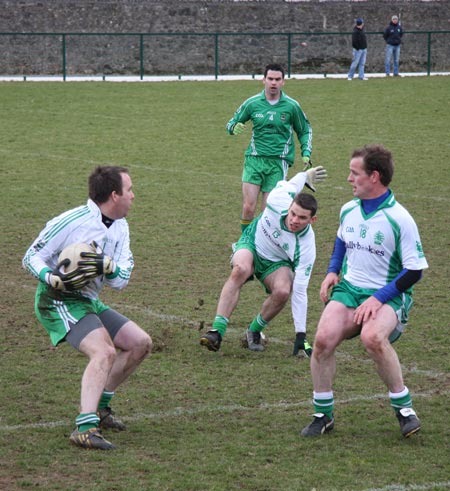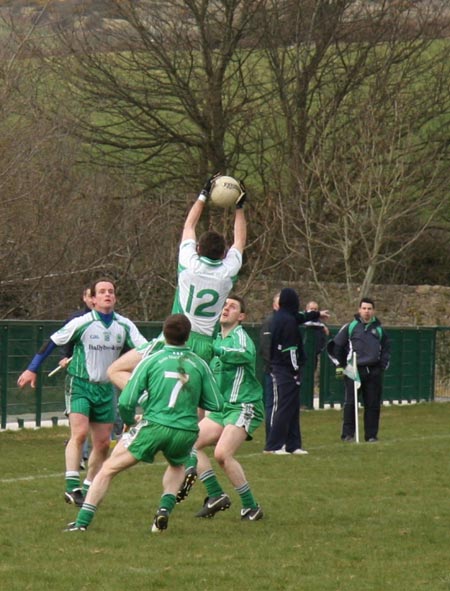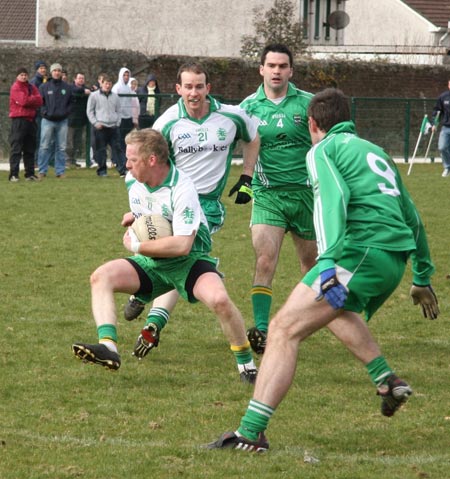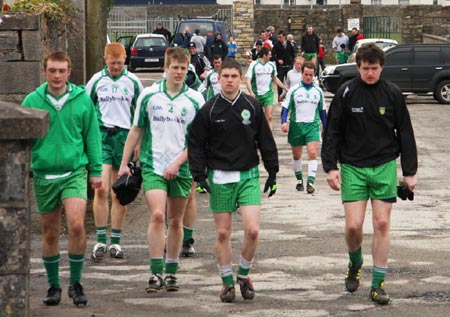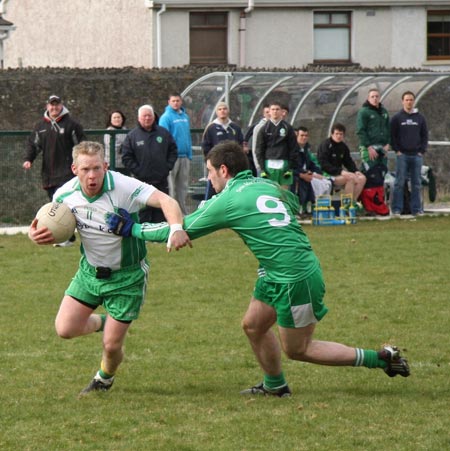 Last modified: Monday, 1 June 2020 at 12:13pm