Aodh Ruadh edge it in a thriller
Senior Football Division 2
25 April 2010
Aodh Ruadh 3-11
Killybegs 3-10
John Hughes reports from Father Tierney Park.
Sometimes you wonder if you should go back to the turnstile and pay a bit extra for the entertainment you've just seen. That was the kind of game it was in Father Tierney park on Sunday afternoon. In sweltering conditions, both sides served up a buccaneering, full-blooded contest that was in the balance right up to the last whistle.
It was Ballyshannon who got the scoring under way after three minutes when rangy Barry Mulligan carried the ball up to within 30 metres before off-loading to Packie McGrath who had made a supporting run from half back. McGrath curled a lovely effort over the bar off the right boot to give the homesters first blood. That score was followed by a wide for Aodh Ruadh before David Dolan clipped over to notch a second point.
After allowing the Ernesiders to dominate the opening exchanges, Killybegs got their first shot at the target on seven minutes, but Padraig Gallagher pulled his shot wide. A couple of minutes later Ciron Whoriskey was done for charging and Kevin Martin did an impressive job of opening the Fishermen's account, sweeping the ball over sweetly from a distance free. Moments later Christopher Murrin won the ball well for Killybegs and Jason Noctor danced through a number of Aodh Ruadh tackles before feeding Louis McNern who fired over the levelling point on ten minutes. A minute later Noctor was in action again, this time firing the Fishermen in front with a splendid score from well out on the right wing.
A key pattern in the match was Aodh Ruadh's ability come by scores just when they needed them and that owed much to Michael 'Sticky' Ward, who was serenity personified throughout. Stephen Ward made a fine catch from the Killybegs kick out and he sent the ball into Donagh McIntyre who had come out hunting for the ball. McIntyre advanced with menace before feeding the ball into Sticky Ward who shook off his markers before looping the ball in just under the cross bar from close range. A minute later Donagh McIntyre was out in front again. This time he romped through the wide open spaces of the Killybegs defence and drew men onto himself before passing out to Packie McGrath who fired in low, hard shot that Michael Mullan could do nothing about.
Killybegs were struggling to find their tempo as illustrated by a Kevin Martin wide from a difficult free. Just after the quarter of an hour mark. Johnny Gallagher collected a ball over the top from Roper. He was one-on-one with the keeper, but Mullan smothered his shot. Gallagher kept his feet and was able to right-foot volley the rebound over the bar for a point. That put the homesters six points to the good at 2-3 to 0-3 and seemingly cruising.
The Fishermen were not bested just yet though and while Aodh Ruadh battled hard to keep them out Killybegs recycled the ball intelligently before Ciaran Tully launched over a fine point from 43 metres out to settle the red and white.
On 21 minutes one of Killybegs most gritty and effective competitor on the day, Christopher Murrin, got on the end of a flowing move to float over a point from out on the right. A couple of minutes later a delightful Ciaran Conaghan ball opened up the Aodh Ruadh defence and Kevin Martin pointed with a quality finish. With five minute left in the half, it was Killybegs who were dominating. A speculative ball in could very well have ended up in the back of the Ernesiders net , it didn't, but Ciaran Tully made the Aodh Ruadh defender cough up possession as he was coming out and pointed to cut the deficit to two.
Just as Killybegs were starting to look menacing, Sticky Ward was allowed to ghost through the Fishermen's defence and drive over a point against the run of play. Kevin Martin pulled that back with a free from 30 metres out, but it was Aodh Ruadh that finished the half the stronger, despite Killybegs making much of the running. A minute into added time Sticky Ward pointed after good build-up work from Barry Mulligan, then two minutes later Ward pointed again from close range after a give and go from a free on the 20 metre line.
Half time score: Aodh Ruadh: 2-6 Killybegs: 0-8
Killybegs could have been excused for wondering how they were four behind at half time and they came out determined to set the score board to rights. Aodh Ruadh were served a warning when an early free was floated into the box and came back off the inside of Paul Kane's upright and Jason Noctor's follow-up flew wide.
Nevertheless, it was Ballyshannon who notched the first scores of the half. Firstly, Stephen Ward made a superb catch in the middle of the field and let it on to Kerry Ryan. Ryan was given time and space to carry the ball and lifted over a great point. Once again Stephen Ward collected the ball directly from the kick out and driving forward himself took a magical individual point to put two goals between the sides.
The Fintra outfit upped the ante considerably, with Christopher Murrin in the heart of it. Four minutes into the half Killybegs launched a serious attack on the Aodh Ruadh goals and Shane Boyle finished emphatically to the net to leave just a goal in it. That was cancelled out four minutes later when yet more visionary running and distribution from Donagh McIntyre saw the ball into the chest of Brian Roper. Roper was in the square and about to pull the trigger when he was dragged to the floor in such an ostentatious manner it was clear even to referee, Tony Gallagher, on the 40 that it was a penalty. From the subsequent penalty Barry Mulligan sent Mullan the right, while his shot slipped in neatly to left. A minute later Niall McCready did well to get to ball to Donagh McIntyre. The goal was on, but he collected himself to loft over a point under some pronounced pressure.
Things, however, were about to swing in Killybegs favour. James Noctor cut over a free to restore the two goal deficit, before Daniel Breslin was introduced for Padraig Gallagher. And Breslin was to make quite a difference to the Fishermen's netfinding efforts. His first touch of the ball came after Shane Boyle and Mark Boyle had linked up. Shane had put Mark through on goal, but he flicked the ball across the square and Breslin palmed deftly home to make it a one goal game.
With Killybegs horsing on the pressure it fell once again to Sticky Ward to lift the siege. Ciron Whoriskey won the ball and set up Sticky. Ward composed himself before firing over a badly needed point for the Ernesiders. Kevin Martin clawed back a point on 19 minutes to make it 3-10 to 2-10, but Aodh Ruadh's four point cushion was restored just two minutes later when Johnny Gallagher burned through the Killybegs defence, got the ball to Sticky Ward who, once again under some pressure, gathered himself before elegantly lofting over the bar.
As time wore out and the humidity resulted in tired legs all over the pitch the last ten minutes were a war of attrition. Aodh Ruadh defending their lead, Killybegs desperately trying to work an opening. With four minutes left Daniel Breslin won a long ball in behind Darren Drummond a few brisk strides took him to the edge of the Ballyshannon box and he fired home a blistering goal to make it a one point game. Seconds later Killybegs tried the trick again only for Drummond to win that particular aerial duel. The dying moments were helter skelter, back and forward, but the last genuine chance fell to Shane Molloy. Unfortunately for Killybegs his shot tailed off to the right and wide.
A fine game of football where the attacking arts were more to the fore than the defensive ones. Aodh Ruadh add another hard fought win to their points tally, while Killybegs can reflect on a battling away performance and a handsome contribution to an enthralling sporting spectacle.
Vital Statistics
Teams
Aodh Ruadh
Paul Kane; PJ McGee, Darren Drummond, Michael Ward; Johnny Gallagher (0-1), Packie McGrath (1-1), Kerry Ryan (0-1); Stephen Ward (0-1), Ciron Whoriskey; Barry Mulligan (1-0, penalty), Brian Roper, David Dolan (0-1); Donagh McIntyre (0-1), Michael 'Sticky' Ward (1-5), Niall McCready.
Substitutes used: Conor Gurn for Packie McGrath (42 minutes), Philip O'Reilly for Michael Ward (46 minutes).
Substitutes not used: Ronan McGurrin, Michael Dolan, Ronan Drummond, Anthony Boyle.
Manager: Val Murray
Killybegs
Michael Mullan; Ciaran Conaghan, Kevin Fallon, David Conwell; Christopher Murrin (0-1), Shane Boyle, Ronan Boyle; Ciaran Tully (0-2), Padraig Conaghan; Mark Boyle, Shane Molloy (1-0), Jason Noctor (0-2, 1f); Kevin Martin (0-4, 2f), Padraig Gallagher, Louis McNern (0-1).
Substitutes used: Daniel Breslin (2-0) for Padraig Gallagher (41 minutes), Barry Cannon for Padraig Conaghan (46 minutes).
Substitutes not used: Charles Tully, Paul McGinley, Shane Murrin, Sean Conaghan, Anthony O'Hara.
Managers: Peter McGinley and Joe McBrearty
Referee: Tony Gallagher (Red Hugh's)
YELLOW CARDS: Aodh Ruadh: Packie McGrath (40 minutes), Conor Gurn (48 minutes).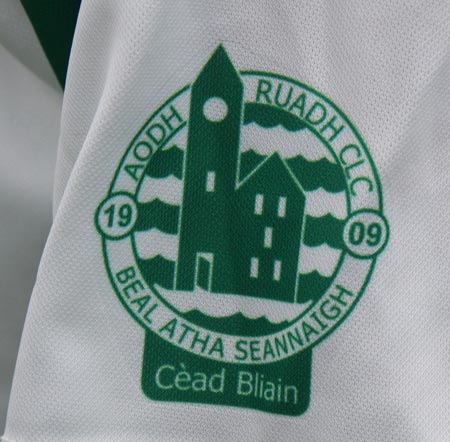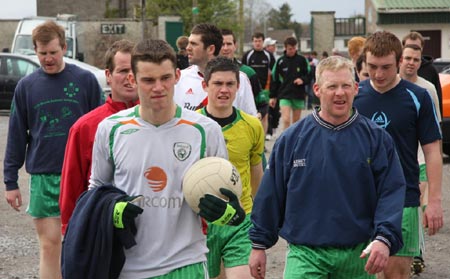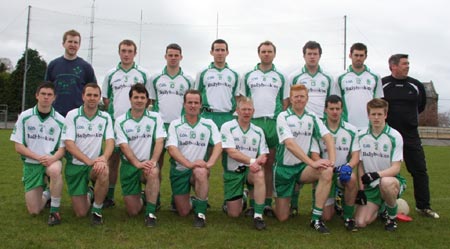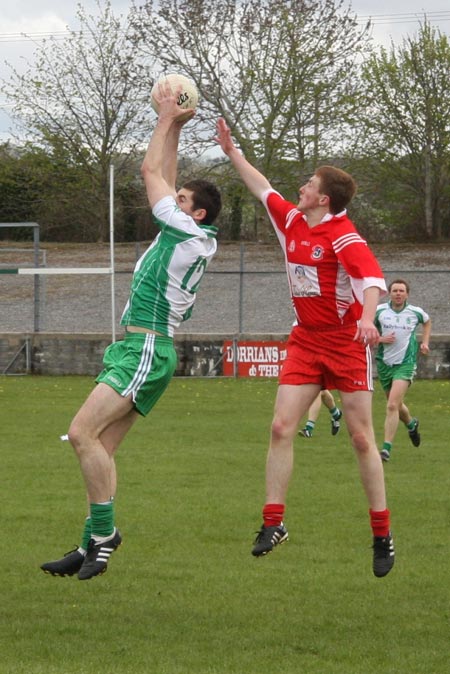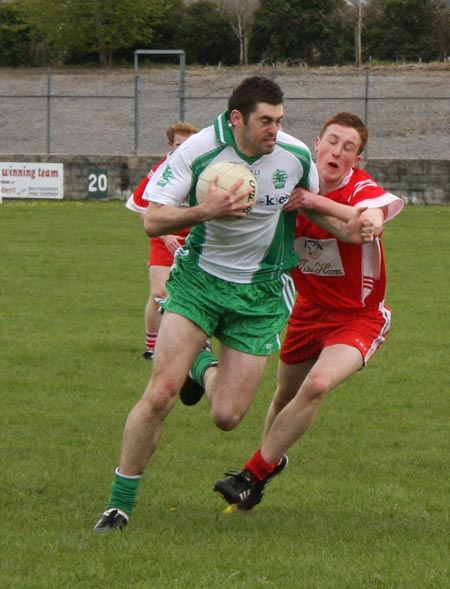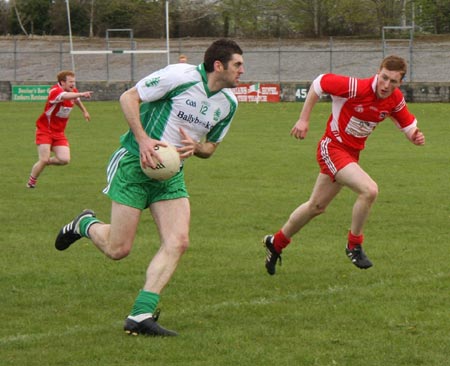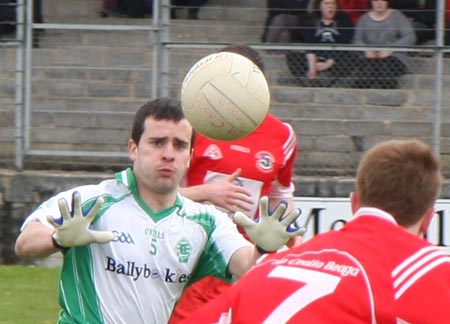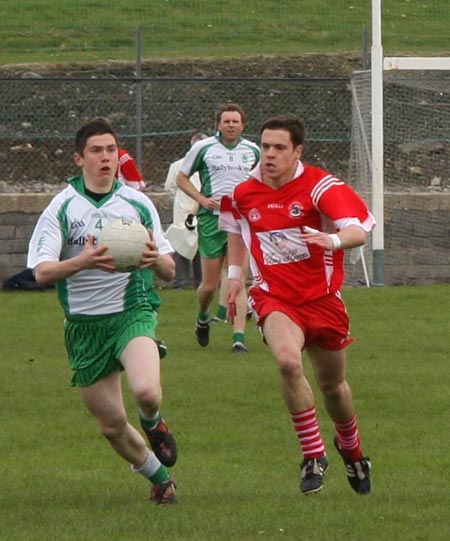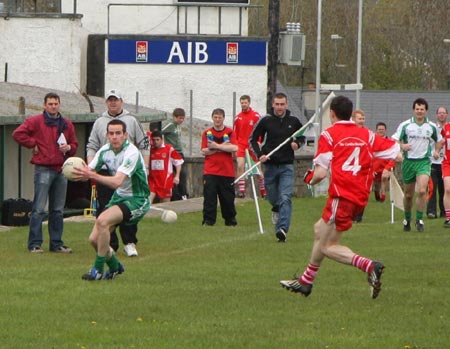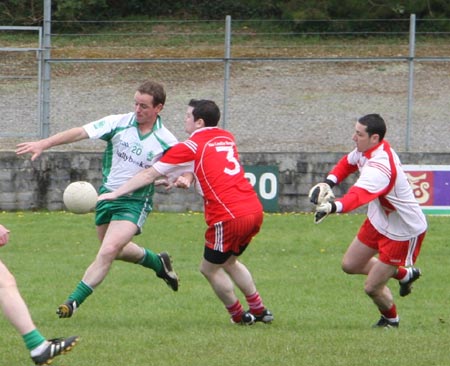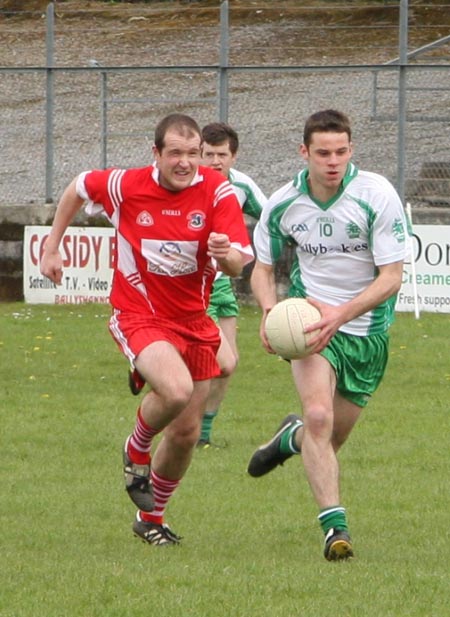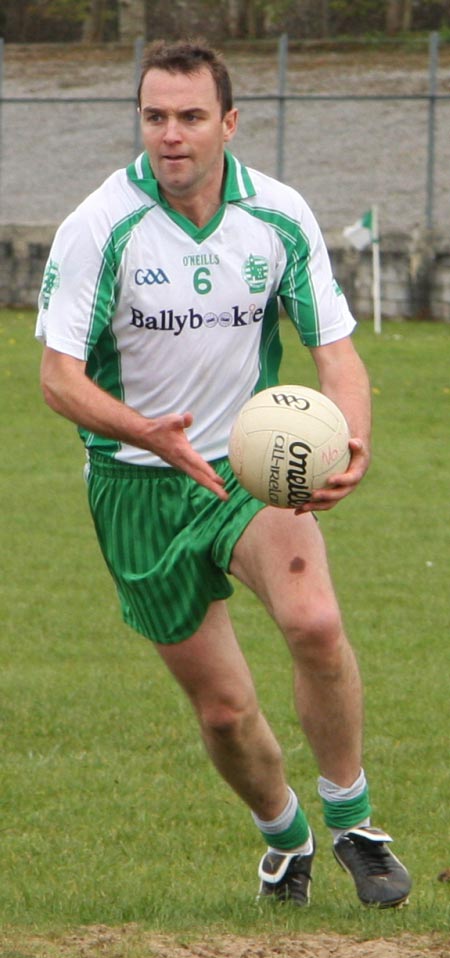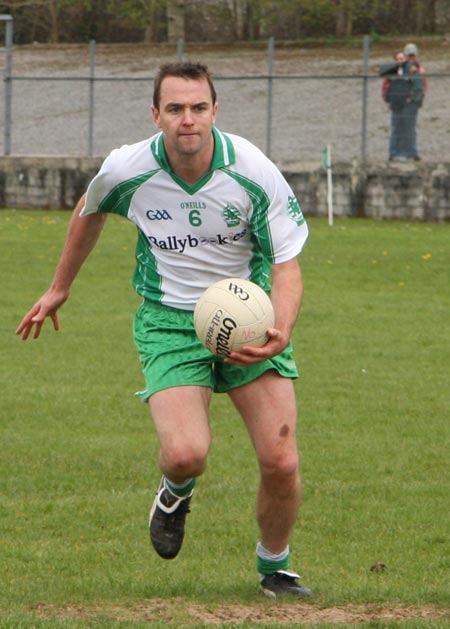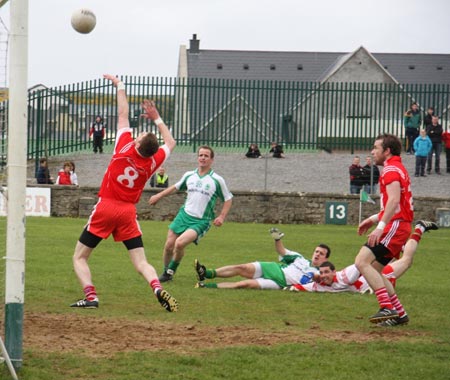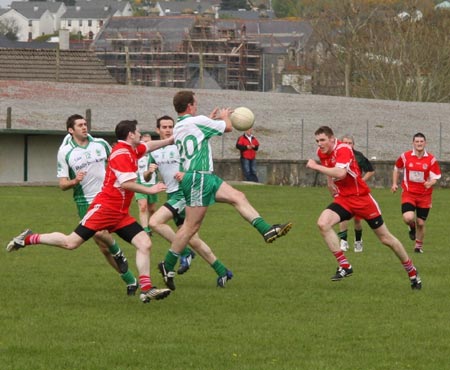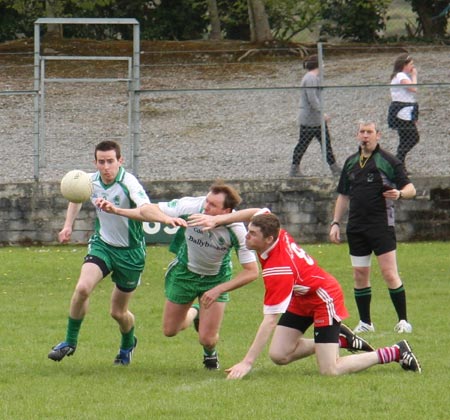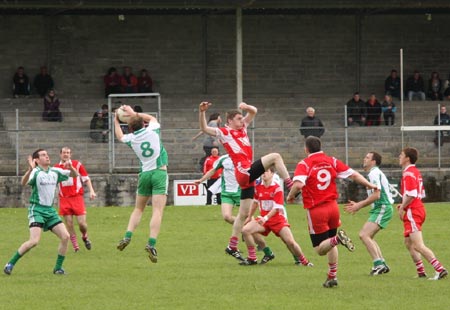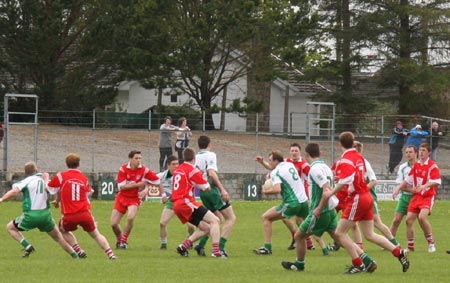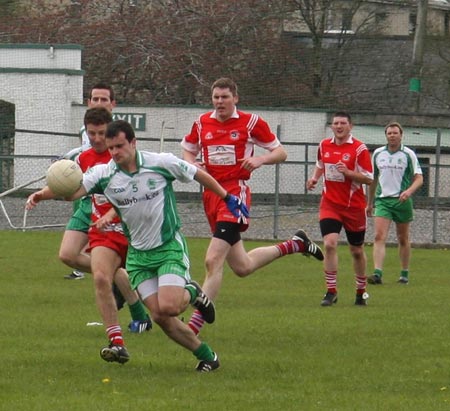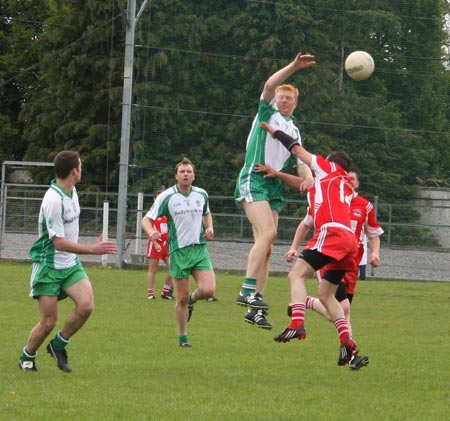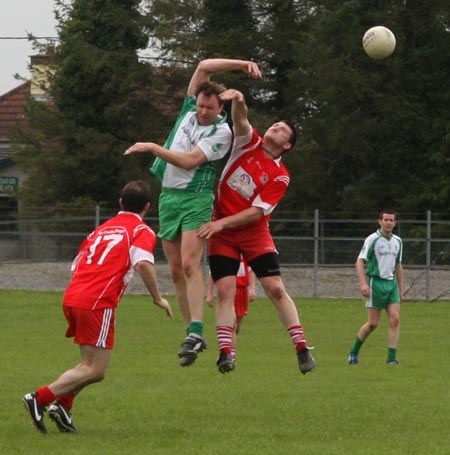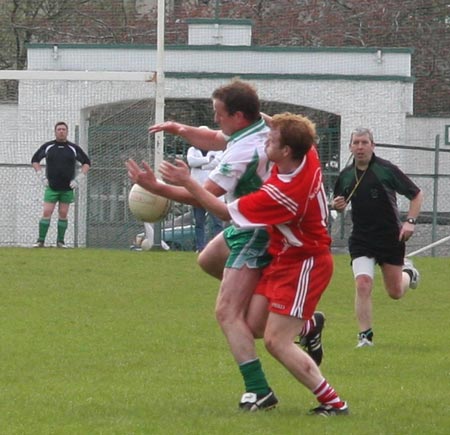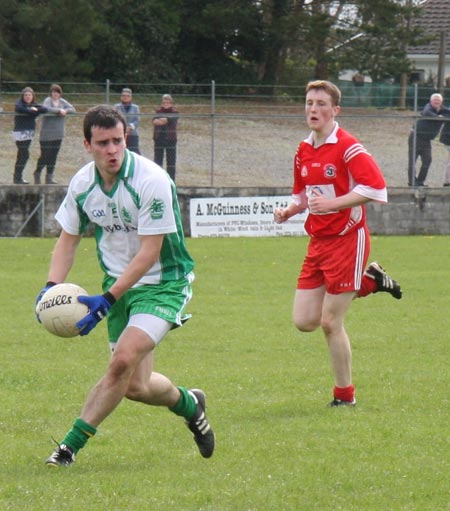 Last modified: Thursday, 29 November 2018 at 8:43pm