Aodh Ruadh deeper in relegation dogfight
Senior Football Division 2
9 October 2010
MacCumhaill's 1-13
Aodh Ruadh 1-11
John Hughes reports from MacCumhaill park.
Although there wasn't much between these teams, the final score is one which sends the sides spiralling in very different directions. MacCumhaill's are now firmly in the promotion mix-up, while it will take a remarkable dose of good fortune for Aodh Ruadh to avoid a relegation play-off.
MacCumhaill's victory hinged on the introduction of Benny McLaughlin as a 26 minute substitute for Chris Gallen and a remarkable two minute purple patch in the middle of the second half where they hit the Ernesiders for 1-2.
Brian Laverty started a profitable 60 minutes with a quick-fire point from the throw in. It took Aodh Ruadh some time to find their feet and five minutes had gone before Michael 'Sticky' Ward stroked over a free to level matters only for Chris Gallen to point and put MacCumhaill's back in the lead a minute later. Sticky Ward restored parity on 11 minutes striking over a point, but failed to see Anthony Boyle who was in a goal scoring position.
Darren McGowan was yellow carded for a challenge on Sticky Ward a minute later and Ward easily pointed the resultant free. MacCumhaill's went very ragged after the Ernesiders took the lead for the first time, hitting some very bad wides. David Dolan compounded their problems with an well-struck left footed free to make it double scores. MacCumhaill's continued to threaten though, and went close to a goal on 21 minutes, Johnny Gallagher reacting sharply to collect the ball on the line. Ballybofey turned the ball over on the way out and Brian Laverty hit a point to leave the minimum in it.
The first of the game's turning points came five minutes later when Chris Gallen was stalked and tackled by PJ McGee, strongly and fairly. Gallen needed treatment after the tackle and left the field with his arm in a sling. His replacement, Benny McLaughlin, radically improved the demeanour of the MacCumhaill's attack with his vim and invention. Darren McGowan pointed to level matters, before McLaughlin gave notice of intent with a wonderful sliced right foot shot which put the Twin Towns men back in the lead. Aodh Ruadh closed the half looking the more dangerous though. The ever-predatory Sticky Ward collected the ball level with the last man and had a momentary sniff of goal before being unceremoniously fouled. Ward, made short work of the resultant free to send the sides in level.
Half time score: MacCumhaill's 0-5 Aodh Ruadh 0-5
The Ernesiders struck immediately after the break with the PJ McGee showing great speed, confidence and accuracy to edge Aodh Ruadh back in the lead with only 50 seconds gone. Bernard McGeehan levelled it up once again before Ronan McGurrin restored the visitors lead with a sublime distance point from the right. Brian Laverty had the ball in the net a minute later, but the whistle had already gone for drag back. Laverty sniped over the free, to level the game once again.
Brian Roper had a decent game in Aodh Ruadh's yellow and red away jersey, and it was he who won a close range free which Sticky Ward pointed to put Aodh Ruadh in front once more. MacCumhaill's then won a free which saw PJ McGee carded for his troubles, and Brian Laverty easily levelled things again. Benny McLaughlin another super point from play before David Dolan hit his second quality free from the left to make it level pegging on nine points apiece. Aodh Ruadh continued to press and Ronan McGurrin got in with a great opportunity for a goal. Chris Patton kept the ball out with a great save, sending the ball out for a 45 which saw Patton's opposite number, county minor and u-21 keeper Peter Boyle step up to take the shot. He had the distance, but the swirling wind in MacCumhaill park carried it wide.
The games second turning point came on 44 minutes when Aodh Ruadh corner back PJ McGee was substituted off as MacCumhaill's had a line ball on the stand side of the ground. As Conor Patton was still making his way onto the field MacCumhaill's took a quick line ball which Benny McLaughlin collected. He ripped through the Aodh Ruadh defence before off-loading to Brian Laverty who hit a thunderbolt of a shot past Boyle to the top right corner. That had Ballyshannon reeling and while they were punch-drunk MacCumhaill's landed two more hammer blows in the next two minutes with points from Darren Leary and Stephen Reilly to put five between the sides.
When Aodh Ruadh did eventually lift the siege Sticky Ward showed commendable composure to settle himself before stroking over a free to settle the visitors frayed nerves. Anthony Boyle then got in for Aodh Ruadh's second significant goal chance of the half. Once again Patton was equal to the shot, again scrambling it out for 45, although the Ballyshannon players argued that he had done so with a foot block. Niall McCready collected a yellow card when Robbie O'Donnell took exception to the manner of his representations on the matter. Once again Peter Boyle stepped up, but again the shot was carried wide.
It fell again to the polished Sticky Ward to restore Aodh Ruadh's composure with a free which put a goal in it. That score came on 49 minutes, and with time ebbing away Ballyshannon got the breakthrough they were looking for. Another Ronan McGurrin distance effort came back high off the upright into the grateful arms of Brian Roper. The wee man still had a bit of work to do, particularly with the form Chris Patton was in, but his dancing feet took him around the net minder and he buried the ball in the net to put the sides level for the ninth and final time.
With five minutes left it was anyone's game. However it was MacCumhaill's who reacted the stronger. Aodh Ruadh seemed exhausted by their fight-back and frees from Laverty and man of the match, Benny McLoughlin, sealed the deal for the Finnsiders.
A tough, well fought battle, with some esoteric refereeing, both sides can take positives from the game. Aodh Ruadh played well, despite losing and although they will probably be in the relegation mix-up, they showed the kind of character and quality that should keep them in division two for 2011. MacCumhaill's positives meanwhile were of a more concrete kind. A win on the final day could see them promoted. Ironically though, they now need Aodh Ruadh to do them a favour and beat Malin in the final round of games.
Vital Statistics
Teams
MacCumhaill's
Chris Patton; Shane Duffy, Shane McNulty, Mark Connolly; Darren McGowan (0-1), Joe Dunnion, Pat McNulty; Paddy McNulty, Sean McGowan; Chris Gallen (0-1), Bernard McGeehan (0-1), Chris McDaid; Brian Laverty (1-5, 3f), Darren Leary (0-1), Stephen Reilly (0-1).
Substitutes: Benny McLaughlin (0-3, 1f) for C. Gallen 26mins, Gary Dunnion for B. McGeehan 48mins, Paddy Kelly, Patrick Gallen, John Lynch.
Yellow cards: Paddy McNulty 5mins, Darren McGowan 12mins, Darren Leary 59mins.
Aodh Ruadh
Peter Boyle; PJ McGee (0-1), Johnny Gallagher, Niall McCready; Ciron Whoriskey, Conor Gurn, Kerry Ryan; Michael Gurn, Stephen Ward; Ronan McGurrin (0-1), Brian Roper (1-0), Philip O'Reilly; David Dolan (0-2f), Michael 'Sticky' Ward (0-7, 5f), Anthony Boyle.
Substitutes: Conor Patton for PJ McGee 44mins, Donagh McIntyre, Michael Ward, Packie McGrath.
Yellow cards: PJ McGee 39mins, Brian Roper 44mins, Niall McCready 47mins.
Referee: Robbie O'Donnell (Naomh Mhuire).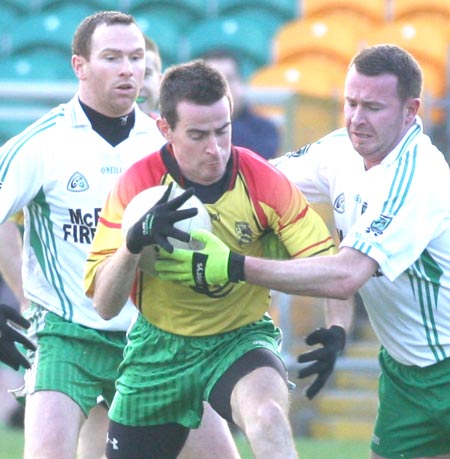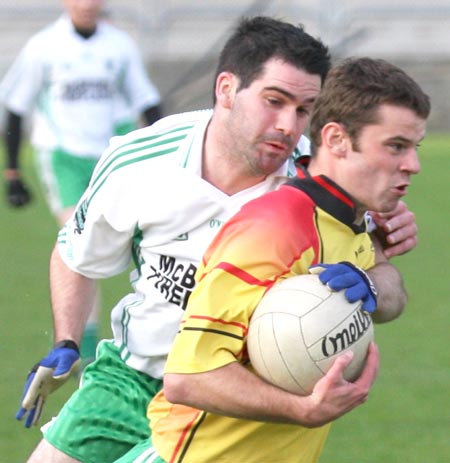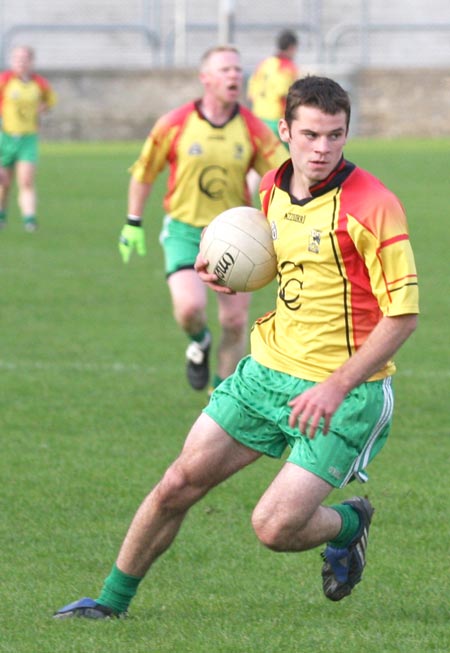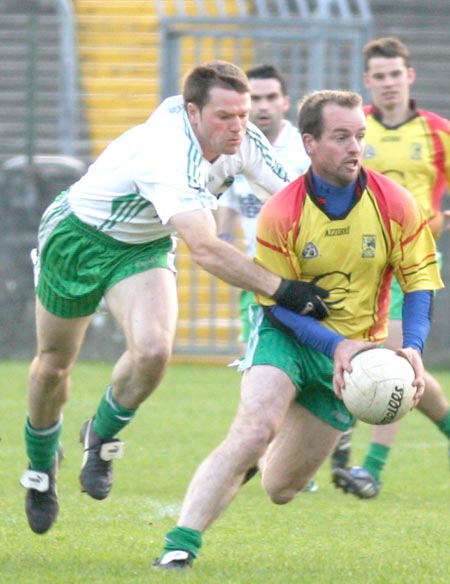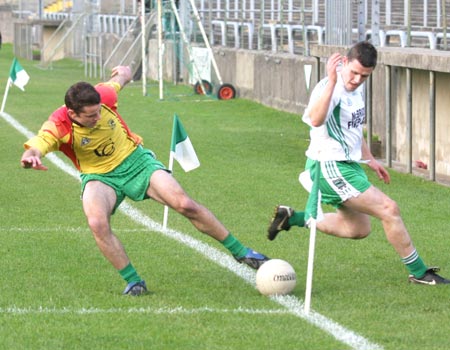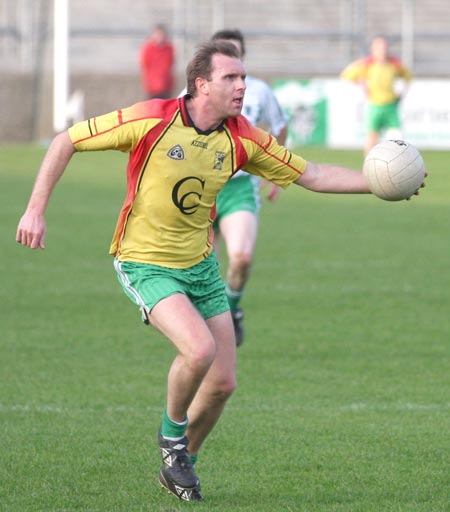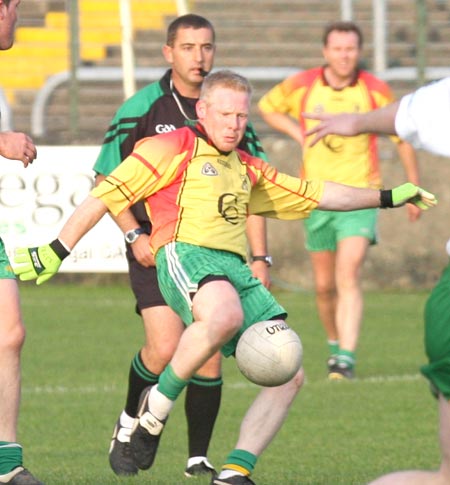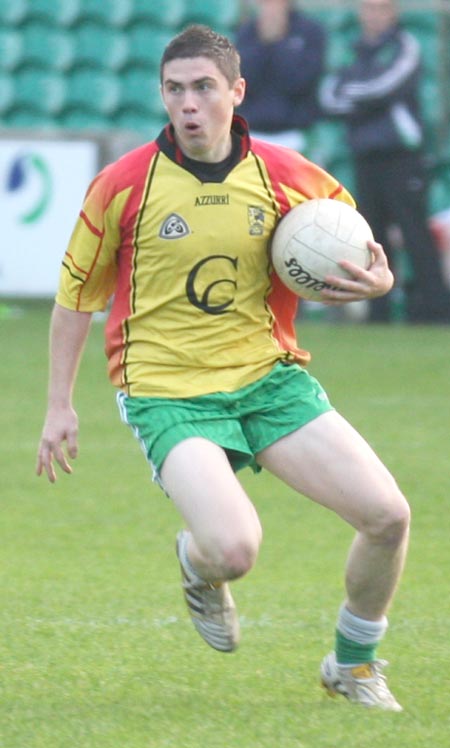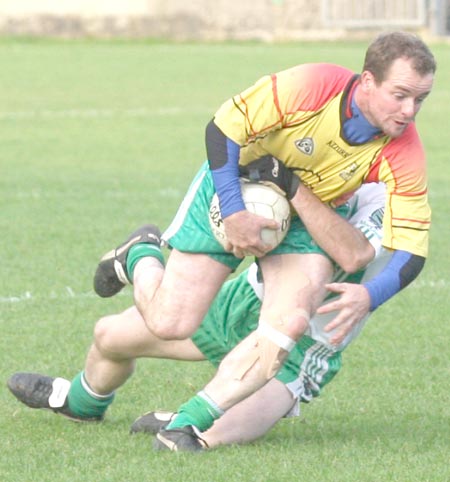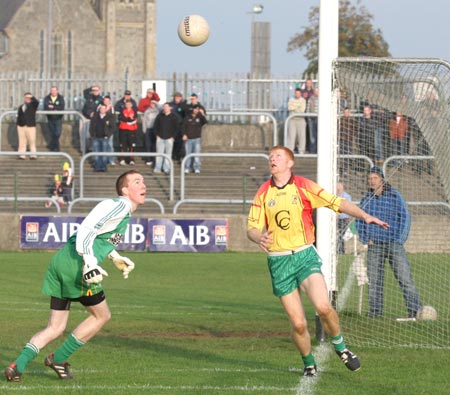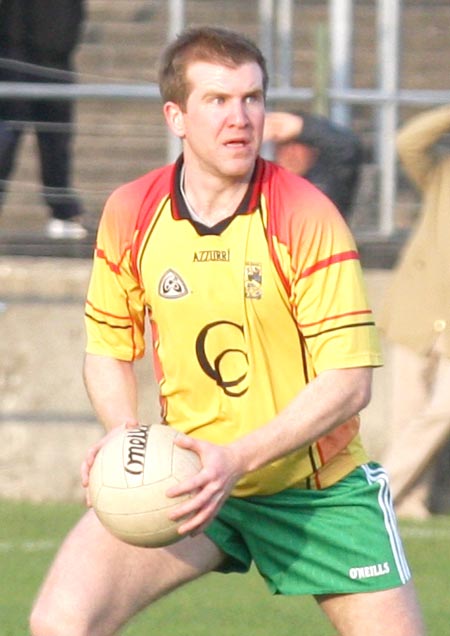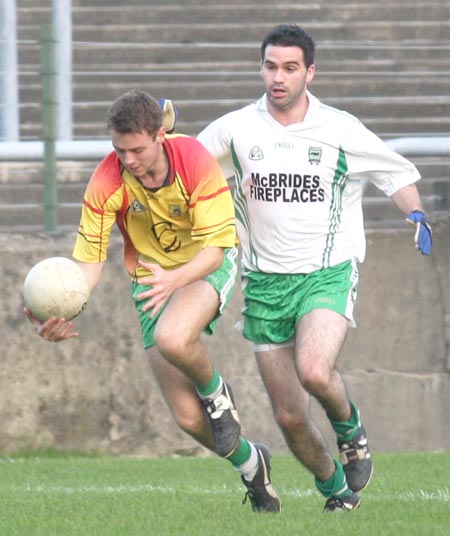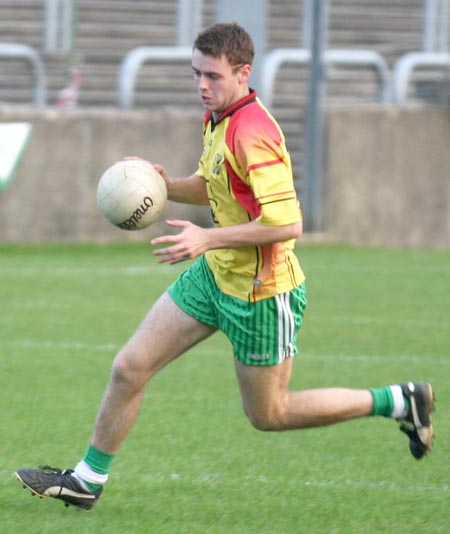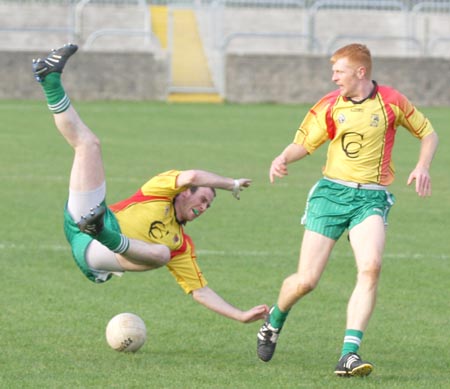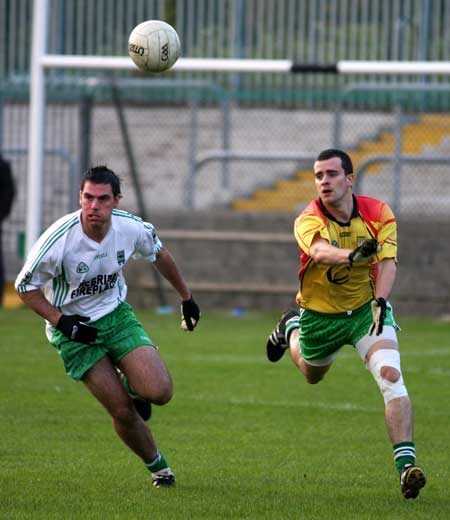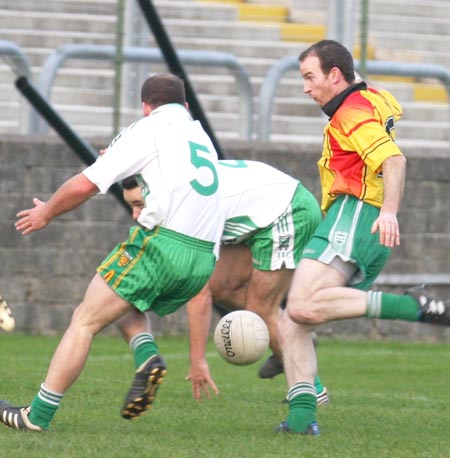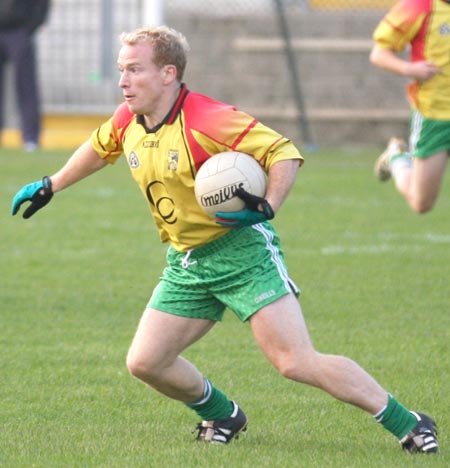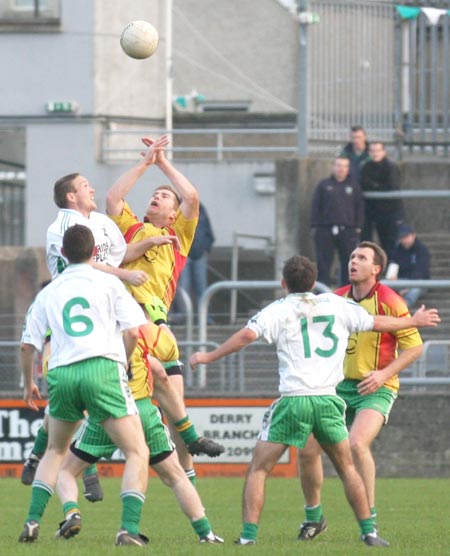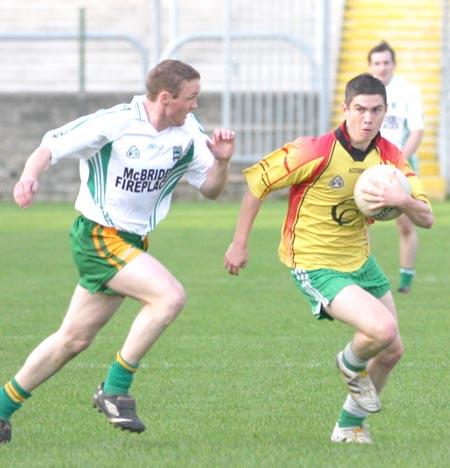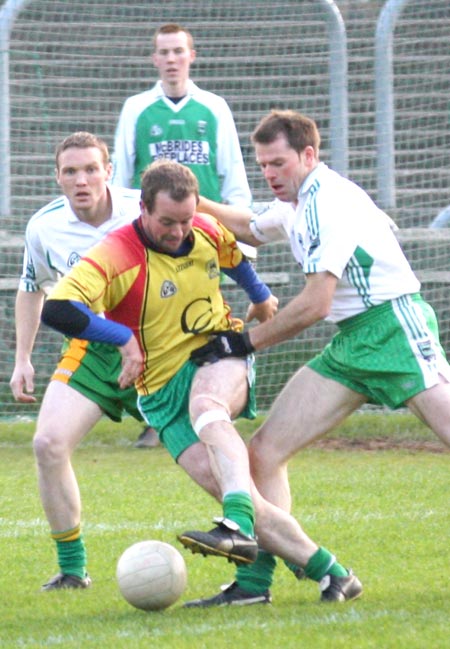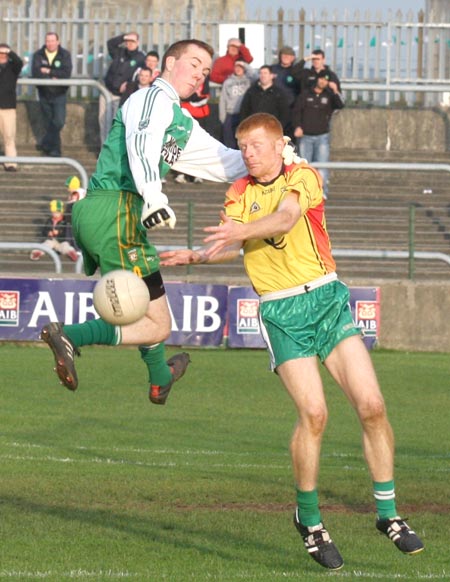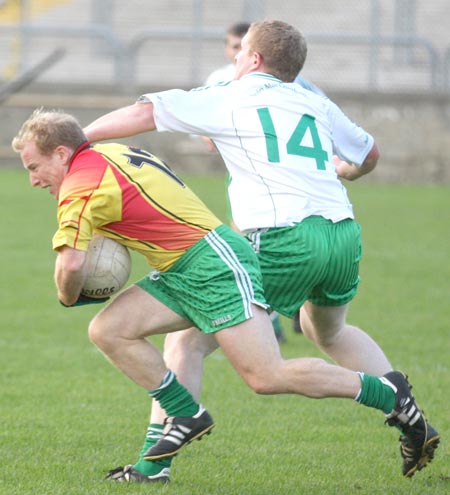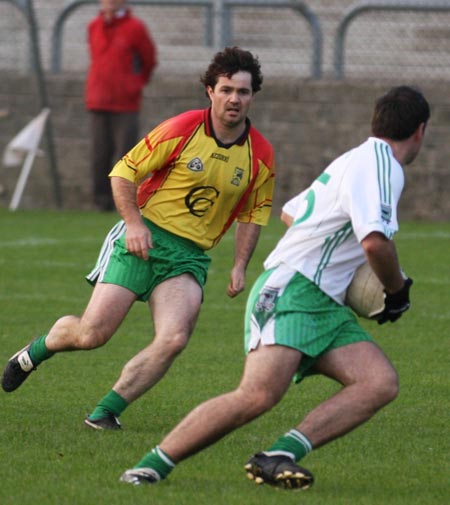 Last modified: Thursday, 29 November 2018 at 8:45pm