Dolan does the business for Aodh Ruadh
Senior Football Division 3
2 April 2011
Aodh Ruadh 1-9
Downings 0-11
John Hughes reports from Páirc Aoidh Ruaidh.
A thunderbolt of a goal from Ballyshannon's David Dolan in the middle of a six minute second half purple patch proved the turning point of tough, tense, but fair game in Páirc Aoidh Ruaidh on Saturday.
Downings approached the game with great positivity and Gary McClafferty was both their creative and scoring focus. Aodh Ruadh found it very difficult to deal with him in centre field and his accuracy from dead ball meant every Ballyshannon mistake was punished to the full.
Indeed it was McClafferty who got the first score of the game before there was a minute on the clock with a point more or less from the throw-in. The homesters were slow to settle against Naomh Bríd last week and that pattern was replicated once again. Michael 'Sticky' Ward hit two wides before finally finding his range with a point on seven minutes.
Downings were very solid defensively and Colin Gallagher ended up having to go off for a blood sub after bravely staunching a Ballyshannon attack. Thankfully it wasn't long before he was back into the action.
As the game moved into the second quarter it was clear that Downings were dominating in the central third, but converting possession into scores was problematic as the Ernesiders were in good defensive form also. Oisín Boyce drifted over a fine right foot point before Downings threatened for a goal. Desperate Aodh Ruadh defence saw the door shut, but they gave away a free which Andy Connor tapped over to extend the gap to two points.
David Dolan clawed that back with one of his speciality left foot distance frees before a Ronan McGurrin shot which looked like it had gone over was given as wide. Suffice to say Hawkeye would have been more useful in Páirc Aoidh Ruaidh than Páirc an Chrócaigh tonight.
Thereafter Downings upped the ante, John Duggan came on for Andy Connor and he brought an air of urgency to the Downings attack in the closing ten minutes of the half. A Gary McClafferty free was followed by a great goal chance for Paddy McGroarty. Peter Boyle produced a fantastic save, but Aodh Ruadh were dispossessed as they tried to clear their lines and Oisín Boyce fired over a point to put the visitors a goal to the good.
Downings emphasised their superiority as Brendan McGee extended the margin to four with his only point of the match on 25 minutes.
Aodh Ruadh looked a little shell-shocked, but managed two badly needed scores before the break. The first was another soaring left foot free from David Dolan. The second came of a surging from Ronan McGurrin. He fumbled the ball at the critical moment but managed to get a boot to ball and knock it to Brian Roper who made no mistake with his shot.
Half time score Aodh Ruadh 0-4, Downings 0-6
The Ernesiders started the second half with great purpose. Michael Gurn made a great catch from the throw in and drilled a ball in to the fielding machine, Turlough McIntyre, he off-loaded to Sticky Ward and he converted from close range. McIntyre was provider again five minutes later as Sticky Ward struck a lovely long range point to level the game at six points apiece.
Downings engineered the score of game to go back in the lead. A promising attack seemed to have petered out near the end line, but John Duggan, who had played the reserve game, hit a sweet point from a tight, tight angle to give the Rosguill men the advantage.
Ten minutes into the half Michael Gurn sustained a nasty head injury, but won his free, unfortunately it was a good five metres past the 45 metre line. Up stepped the 'keeper, Peter Boyle. He hit a supreme shot which was still rising as it billowed into the ball catch. A great score to restore parity.
And it was about to get better again for Ballyshannon. Philip O'Reilly initiated an attack, firing a ball into the right corner where Brian Roper won it. Roper fisted the ball over two Downings defenders into the waiting arms of David Dolan. Dolan was off and running with only one object on his mind. His rasping shot didn't give David Baxter a hope of stopping it. To make matters worse for Downings, as the game entered the final quarter Michael Ward roved up the field from corner back to clip over a beautiful point from range.
With six minutes left Gary McClafferty hit his only point from play to put one score in it once again. Niall McCready hit back though, when he was allowed to travel for an eternity before striking over a point to put the homesters four points up with four minutes left on the clock.
The Rosguill men didn't lose their composure though. They won a close range free as regulation time elapsed. The free taker opted to go short to Colin Gallagher who finished an immense performance with a thoroughly deserved point. Two minutes into injury time Gary McClafferty struck a soaring free to make it 1-9 to 0-11 and set up a nerve-jangling closing few moments. However, the nerves seem to manifest themselves most profoundly in the visitors as they took a number of wrong options in the closing stages.
Right at the death Downings won a 45, but it was out on the right. Oisín Boyce was given the responsibility of hitting the free to level the match and give the visitors a share of the points.
Boyce's shot was accurate, but it lacked distance and there was a roar from the Aodh Ruadh supporters as a man in white a green fielded the ball. Michael McShane's whistle sounded immediately to signal Aodh Ruadh's first win of the league campaign and Downings first defeat, a scenario which puts both sides level on two points in division three.
Vital Statistics
Teams
Aodh Ruadh
Peter Boyle (0-1f); Michael Ward (0-1), Ciron Whoriskey, Philip O'Reilly; Ronan Matthew, Niall McCready (0-1), PJ McGee; James O'Donnell, Michael Gurn; Ronan McGurrin, Michael 'Sticky' Ward (0-3), David Dolan (1-2, 2f); Ruairí Drummond, Turlough McIntyre, Brian Roper (0-1).
Substitutes: Donagh McIntyre for Ruairí Drummond: 33 minutes; Michael Dolan for Ronan Matthews: 48 minutes; Kerry Ryan for PJ McGee: 51 minutes; Conor Patton for Michael Ward: 57 minutes; Ronan Drummond, Diarmuid McInerney, Anthony Boyle.
Yellow Cards: None.
Wides: 7; Ronan McGurrin: 2; Sticky Ward: 2; David Dolan: 1; Michael Gurn: 1; Philip O'Reilly: 1.
Downings
David Baxter; Seamus Gallagher, David Hay, James McFadden; Colin Gallagher (0-1), Shea Coyle, Declan McBride; Sean McBride, Gary McClafferty (0-5, 4f); Oisín Boyce (0-2), Andy Connor (0-1f), Sean Boyce; Shane McClafferty, Paddy McGroarty, Brendan McGee (0-1).
Substitutes: John Duggan (0-1) for Andy Connor: 19 minutes; Gerard Coyle for Brendan McGee: 45 minutes; Paul Coyle, Aaron McClafferty, Brian Boyce.
Yellow Cards: Oisín Boyce: 18 minutes; Brendan McGee: 23 minutes.
Wides: 4: Colin Gallagher: 1; Gary McClafferty: 1; Oisín Boyce: 1; Shane McClafferty: 1.
Referee: Michael McShane (Kilcar)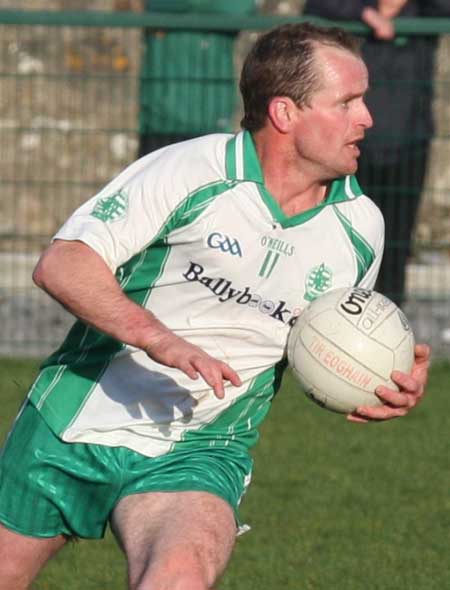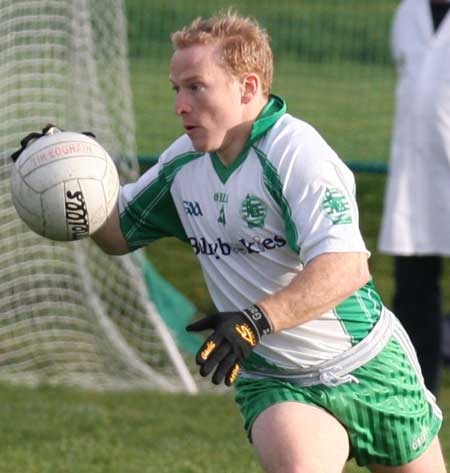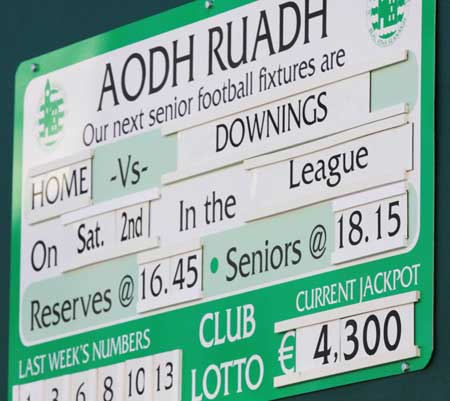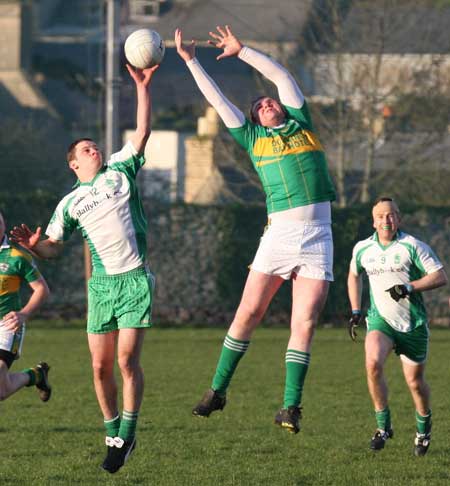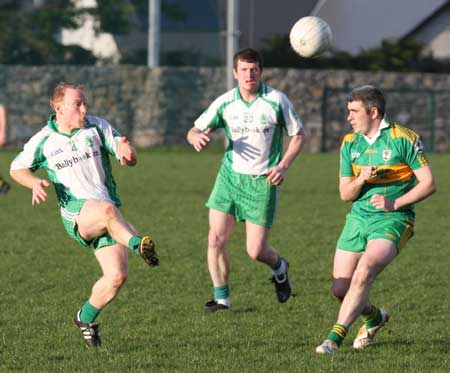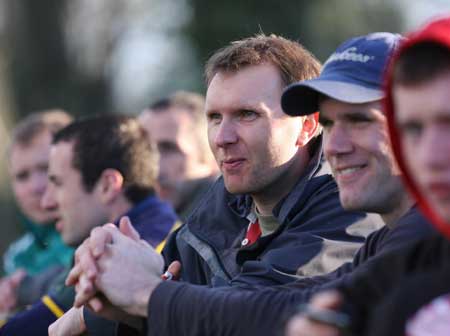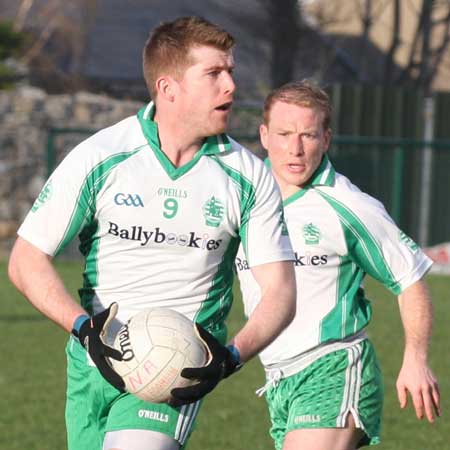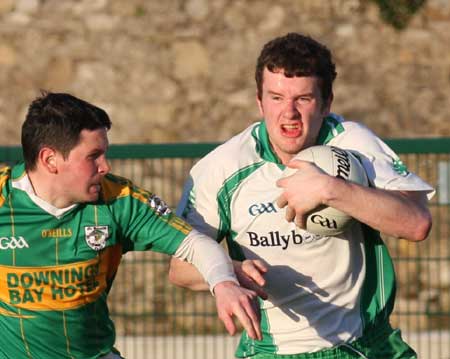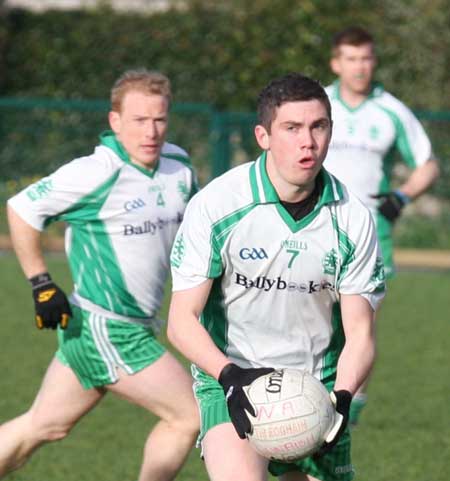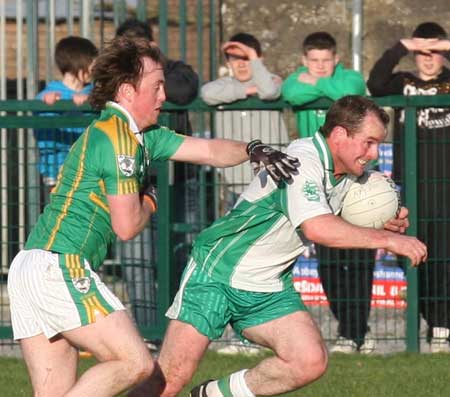 Last modified: Monday, 1 June 2020 at 8:44pm