12 man Naomh Bríd make Ballyshannon work for win
Intermediate Reserve Football Championship
7 October 2012
Aodh Ruadh 1-10
Naomh Bríd 0-8
John Hughes reports from Father Tierney Park
Naomh Bríd went out of the reserve championship, but their 12 men made Aodh Ruadh fight every inch of the way to book their passage into the semi-finals.
Ballintra were first off the mark on what was a superb day for football, midfielder Padraig Gormley drilling over a shot off the outside of the boot. However Naomh Bríd weren't allowed long to enjoy their lead. Johnny Gethins was unleashed on the goals and where there might have been the temptation to tap over, Gethins showed no mercy, slamming his shot past Christy Price.
Dermot Slevin and Kevin Timoney exchanged frees before Stephen Walls lofted over an excellent long range point to put the minimum between the sides.
David McGurrin and Brendan Griffith exchanged further frees, before Kevin Timoney again found the mark for the visitors to leave the scores at level pegging, 1-2 to 0-5.
Good work from David McGurrin saw the robust James Barron edge Aodh Ruadh into the lead with four minutes to go to the break, but the key moments of the half were yet to come.
Ronan Matthews won the ball in the Naomh Bríd defence. He was fouled awkwardly by Sean Rooney who was already on a yellow card. Kevin Timoney over-reacted to the incident and hit Matthews a dig in the ribs which sent him to the deck. All this happened in close proximity to referee Paddy McKeever who was left with little option, but to send Rooney off on a second yellow and Timoney off on a straight red for striking.
The half time whistle offered Naomh Bríd the chance to effect some running repairs and, as so often happens, the side with the extra personnel struggled to make them count.
It was five minutes into the half before Christopher 'Spanny' Goan added to the Aodh Ruadh tally. It was a audacious score from Goan, struck sweetly over the bar off the outside of the right boot. Three minutes later Dermot Slevin put the goal in it from a placed ball.
Following this score Richard Walsh saw the line for a second bookable offence, seeing Ballintra reduced to 12 men.
Ryan Granaghan was introduced at this point to add some bite to the Aodh Ruadh attack. This he duly did, but not before Brendan Griffith, now ploughing a lonely furrow at the point of the Naomh Bríd attack, converted a close range free to cut the deficit to two points.
Granaghan got the first of his points on 41 minutes, a peach of an effort from out on the right. A second Granaghan point followed two minutes later before Brendan Griffith struck another free for the visitors to make the scores 1-8 to 0-7. Two minutes later and Griffith was on the mark again with a sumptuous free to leave just the goal in it once more.
With 49 minutes gone there was another beauty of a point from Ryan Granaghan, followed four minutes later by the last score of the game, a free from Granaghan.
There was still some life left in the game though. With five minutes remaining there was the dismissal of Anthony Coughlan for his overly exuberant reaction to some close Naomh Bríd tackling. With time ebbing away Johnny Gethins drew a magnificent save from Christy Price which went out for a 45.
For Naomh Bríd Padraig Gormley impressed at midfield, winning pretty much every high ball that went into the centre, while Padraig Rooney at full back had craft to go with his graft.
For Aodh Ruadh the second half introduction of Ryan Granaghan proved the winning of the game. Granaghan's five points happened to equal the margin of Ballyshannon's victory, but it was efficiency in front of the posts when denied Naomh Bríd the hope they would have otherwise have nourished of springing a win against the odds. The Aodh Ruadh full back line of Damien Cleary, Ryan Patton and Gary Carty were impressive, particularly when Naomh Bríd still had the full compliment. James Barron was highly effective at the edge of the square, fielding with assurance and generally making a nuisance of himself, his point was well deserved.
Vital Statistics
Teams
Aodh Ruadh
Karl O'Brien; Gary Carty, Damien Cleary, Ryan Patton; Stephen McGrath, Kieran Keown, Ronan Matthews; Ronan McGurrin, Aidan Murray; Niall Murray, Dermot Slevin (0-2f), Christopher Goan (0-1); Johnny Gethins (1-0), James Barron (0-1), David McGurrin (0-1f).
Substitutes: Michael Ward for Stephen McGrath: 22 minutes; Ryan Granaghan (0-5, 1f) for Niall Murray: 37 minutes; Steven Perry for James Barron: 41 minutes; Darren Gethins for Aidan Murray: 43 minutes; Anthony Coughlan for David McGurrin: 45 minutes; Daniel Kelly, Matthew Thompson, David Finnerty, Raymond Granaghan, Jamie McDonald, PJ Gillespie.
Yellow cards: Niall Murray: 35 minutes; Kieran Keown: 60 minutes.
Red cards: Anthony Coughlan: 55 minutes.
Wides: 9
Frees conceded: 18 (7 in 1st / 11 in 2nd)
Management: Val Murray, Shane Ward and Greg Sweeney.
Naomh Bríd
Christy Price; Alan Quinn, Padraig Rooney, Conall Rooney; Liam Duffy, Michael Quinn, Richard Walsh; Stephen Walls (0-1), Padraig Gormley (0-1); Stephen McDaid, Donal 'Skimmer' Martin, Eoin 'Squeak' Harron; Brendan Griffith (0-4f), Sean Rooney, Kevin Timoney (0-2, 1f).
Substitutes: Steven Doherty, Cian Gallagher, Mark Quinn, John O'Brien, Conor McNulty, Micheal Travers, Ronan Cassidy, Ryan Kerrigan, Padraig Rooney, Gareth McMurray
Yellow cards: Alan Quinn: 12 minutes; Richard Walsh: 21 & 36 minutes; Sean Rooney: 24 & 29 minutes; Padraig Rooney: 54 minutes.
Red cards: Sean Rooney: 29 minutes; Kevin Timoney: 29 minutes; Richard Walsh: 36 minutes.
Wides: 2
Frees conceded: 15 (9 in 1st / 6 in 2nd)
Management: Tony Walsh and Eamon Murphy
Referee: Patrick McKeever (Glenfin)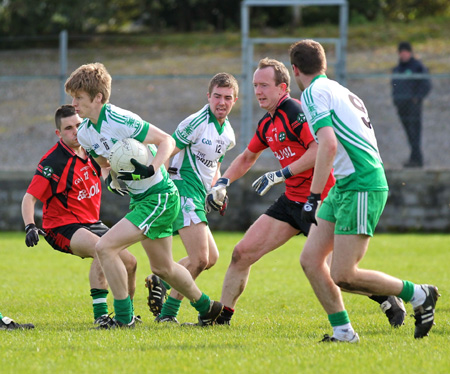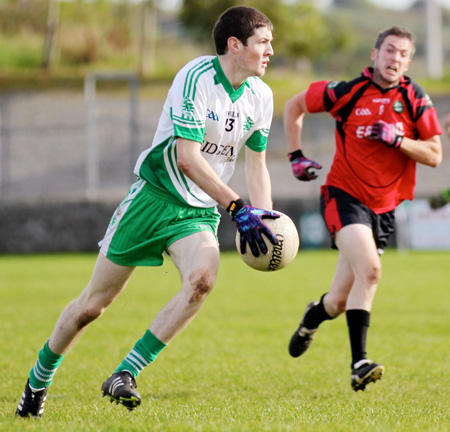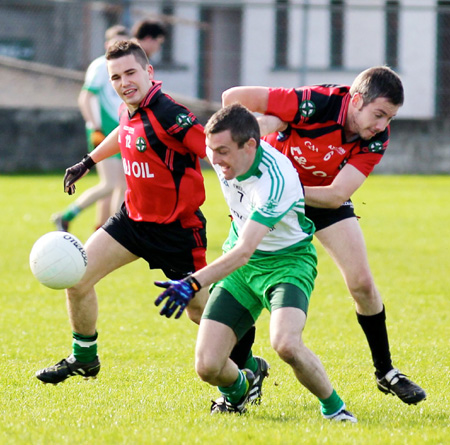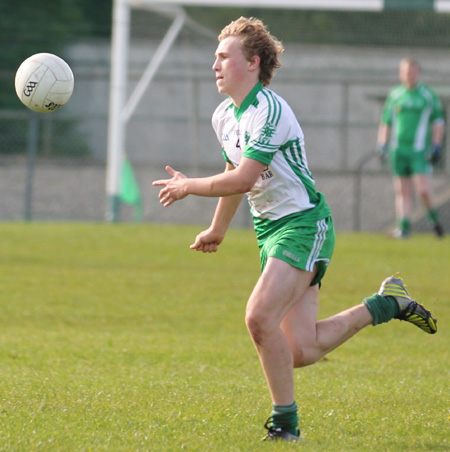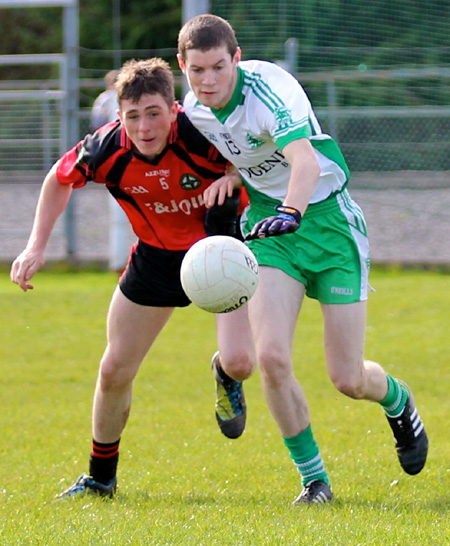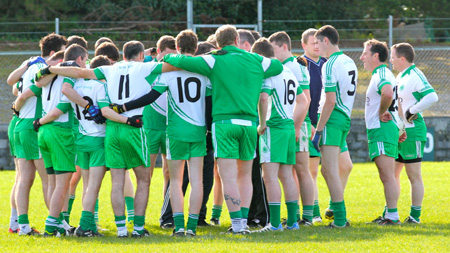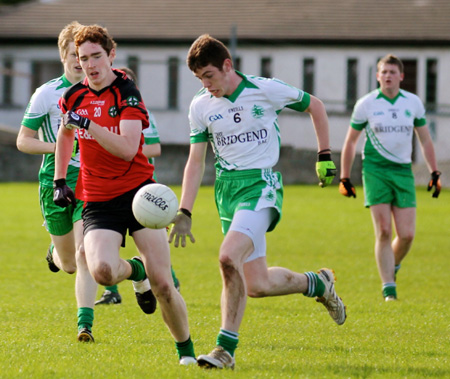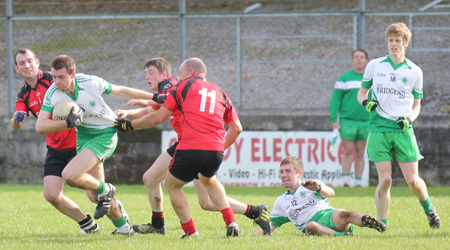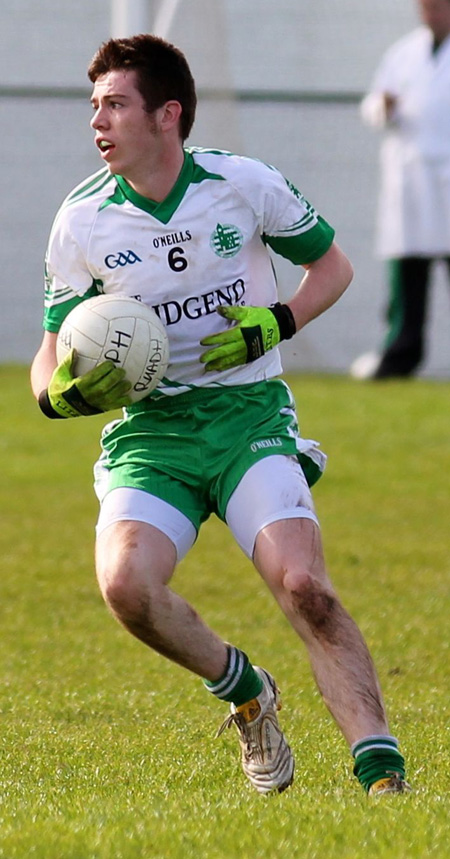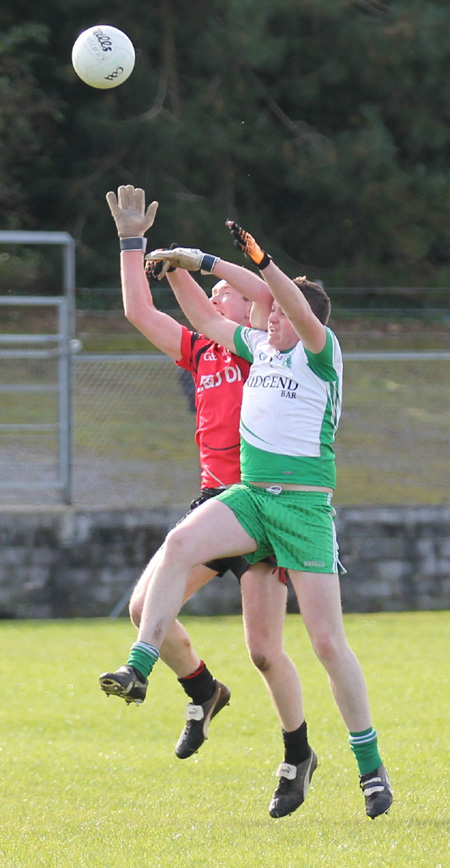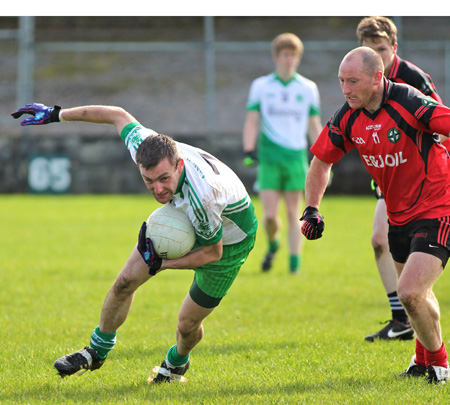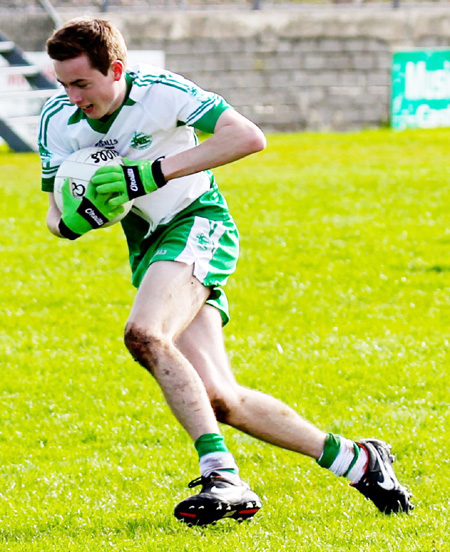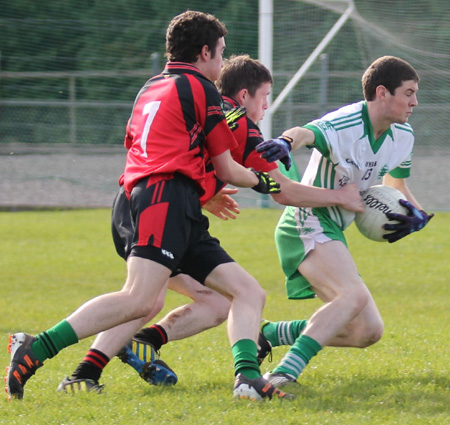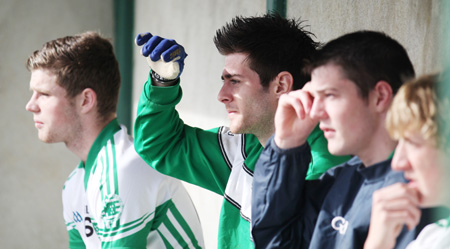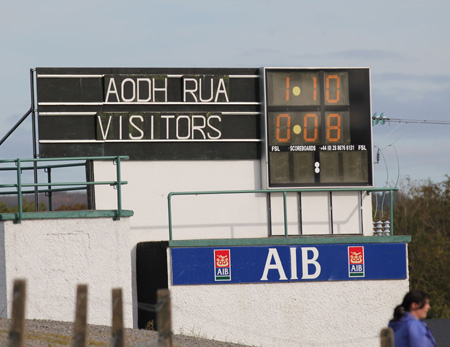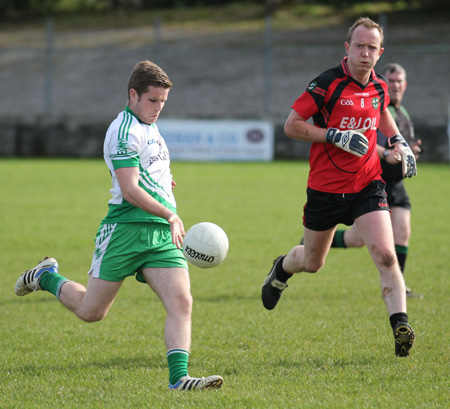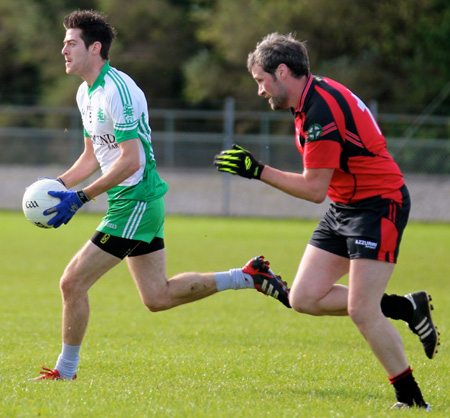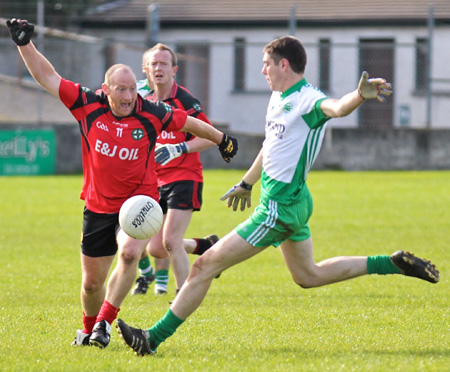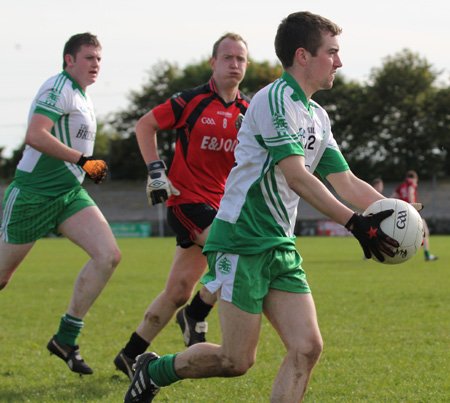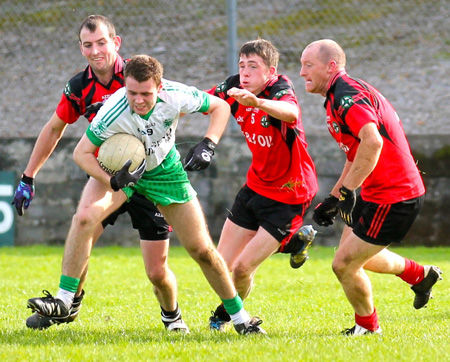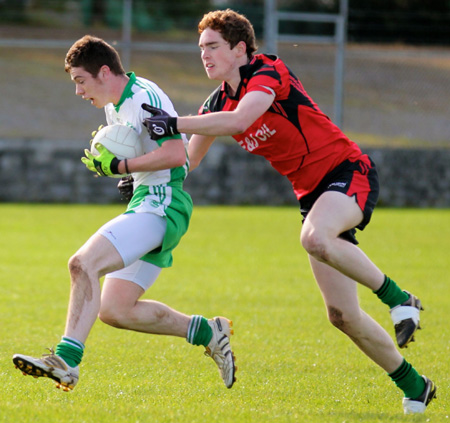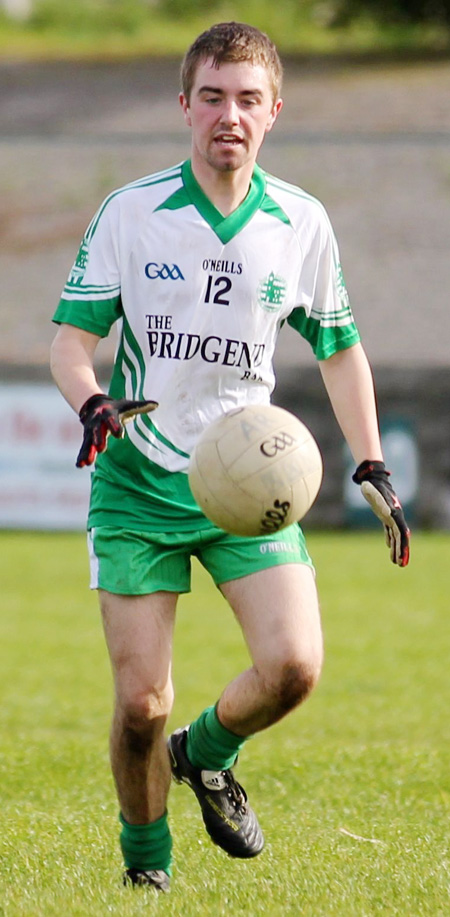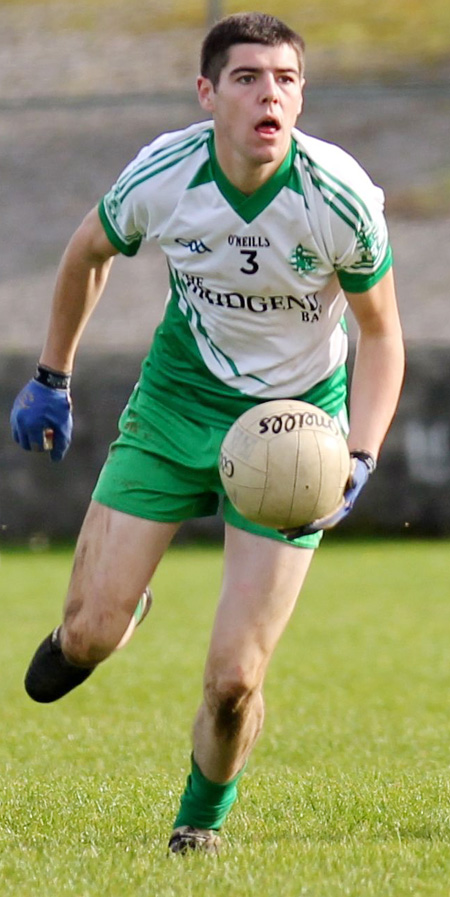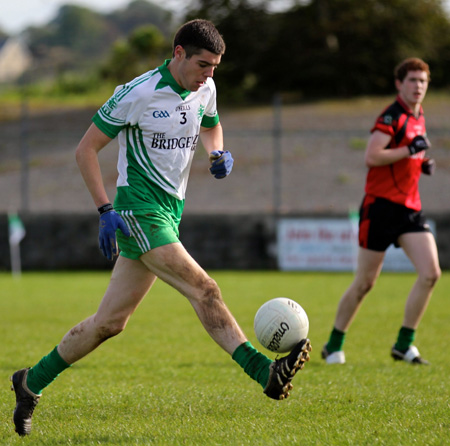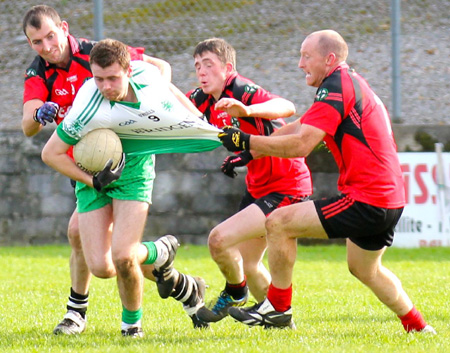 Last modified: Monday, 1 June 2020 at 1:11pm