Aodh Ruadh get no change from Naul's
Senior Footfall Division 3
30 March 2013
Saint Naul's 1-11
Aodh Ruadh 1-8
John Hughes reports from Páirc Gearoid Ó Gallchoir, Mountcharles
Played in foundering conditions throughout and a strong, biting wind in the first half, Saint Naul's turned in a powerful and effective performance to see off the challenge of a young Aodh Ruadh outfit. The homesters had the considerable assistance of the first half breeze and they set the tone from the off when their most dangerous attacking outlet Cathal Lowther split the post with just 50 seconds on the clock.
Mountcharles ability to create turnovers high up the pitch was notable and their second score came after good harrying in the sixth minute caused Aodh Ruadh to cough up the ball as they attempted to clear. A chance was rapidly engineered and Lowther on the mark once more.
Michael 'Sticky' Ward opened Aodh Ruadh's account in the eighth minute, calmly popping over after Kerry Ryan burst through with the ball.
The next point exemplified the best qualities of Saint Naul's. Again they robbed the ball from Aodh Ruadh before stitching together a number of quick passes which was crisply finished by Stuart Johnston.
David McGurrin got on the ball for his first spell of sustained possession in the 13th minute and he was able to feed Ryan Granaghan who snapped over a excellent shot to make 0-4 to 0-2.
Naul's put a goal in the game as it moved into the second quarter. Another turnover ball was tapped over from close range by John Rose. On 20 minutes the homesters proceeded to put two goals between the sides. Yet another turnover ball saw Cathal Lowther put through one-on-one with Karl O'Brien and he made no mistake, slotting low and hard from close range.
Aodh Ruadh clawed back two points before the break with David McGurrin at the end of both of them. First he squeezed over an excellent free from distance against the breeze, before linking up with Ryan Granaghan before fisting over to take the scores to 1-5 to 0-4.
However, just before McGurrin's point Adrian Kennedy was stricken with a locked back injury which required the attendance of the ambulance. The ambulance took a while to arrive and some time elapsed before Kennedy, clearly in a lot of pain, could be removed to hospital, which meant that the second half was significantly delayed. The delay meant the second half was played in rapidly diminishing light and a significantly softened breeze.
Aodh Ruadh needed a good start to the second half, but it was Mountcharles who came through the extended break more sharply focused and they got the first point two minutes in from Barry Rose. Naul's were back on the ball from the kick out and midfielder Daniel Friel hoisted over a handsome point to give them back their two goal cushion. The introduction of Niall McCready served to give Aodh Ruadh some much needed fizz around the centre of the pitch and it was good work from him that set up Ryan Granaghan for his second point and Ballyshannon's fifth of the game.
Saint Naul's continued to manifest their facility for generating turnovers in the second half and despite a wonderful block from Conor Patton, Cathal Lowther collected the rebound and was able to slot over.
With 20 minutes remaining David Dolan got his first score of the game, a typical artisan effort. A minute later David McGurrin did well to win his own ball and point from 30 metres. Ten minutes after that the dangerous McGurrin was alive to a quick free and snapped the ball over to make the scoreline 1-8 to 0-8 and with that point Aodh Ruadh finally seemed to have got a little momentum going with the game just into its final ten minutes.
Saint Naul's reacted assertively, showing that bit more experience and craft to see out the game. They hit the next three points to effectively take the game beyond the Ernesider's reach.
That triptych of points from Cathal Lowther, James Flynn and Barry Griffin arrived in the space of three minutes. Griffin's came in the 54th minute and left the scores at 1-11 to 0-8. Aodh Ruadh applied most of the pressure in the closing five minutes and it reaped some reward when David Dolan was foot blocked in the penalty area with 56 minutes gone. Leo McBrearty guessed the right direction, but David McGurrin's sumptuous spot kick was never going to be stopped.
Aodh Ruadh kept playing to the end, but Saint Naul's had the hard work done and the visitors couldn't break had limited joy against their rearguard action in the closing moments.
There was much for Aodh Ruadh followers to take encouragement from. David McGurrin's 1-4 in his first game of senior football heralded the emergence of a major new talent for the club, while right across the pitch there were promising displays from young Ballyshannon men. Game time will do much to bring this group of players on. Aodh Ruadh had seemed well set to push on at half time, but Saint Naul's handled the unusually long break better and that is the kind nous that has to be earned.
Spectators thoughts will be with Saint Naul's Adrian Kennedy who sustained that nasty back injury and Conor McDevitt who also went to the line with what looked like a bad hamstring injury.
Vital Statistics
Teams
Saint Naul's
Leo McBrearty; Conor McDevitt, Adrian Kennedy, Edward Kane; John Rose (0-1), Pauric Coyle, Barry Griffin (0-1); Daniel Friel (0-1), Fiachra McGinley; Stuart Johnston (0-1), Mark Ward, Cathal Lowther (1-5); James Flynn (0-1), Paul McGroarty, Jamie White.
Substitutes: Eddie Gallagher for Adrian Kennedy: 20 minutes; Barry Rose (0-1) for Conor McDevitt: 27 minutes; Brian McCabe for Paul McGroarty: 48 minutes
Manager: Brian McCabe.
Aodh Ruadh
Karl O'Brien; Gary Carty, Conor Patton, Ryan Patton; Kieran Keown, Ronan McGurrin, Ronan Drummond; James O'Donnell, Kerry Ryan; Ryan Granaghan (0-2), David Dolan (0-1), Niall Murray; David McGurrin (1-4, 1 pen, 1f), Donagh McIntyre, Michael 'Sticky' Ward (0-1).
Substitutes: Niall McCready for Kieran Keown: 33 minutes; Niall Harley for Kerry Ryan: 35 minutes; Anthony Boyle for Ryan Patton: 40 minutes.
Management: Maurice McLaughlin
Referee: Martin Coll (Gaoth Dobhair)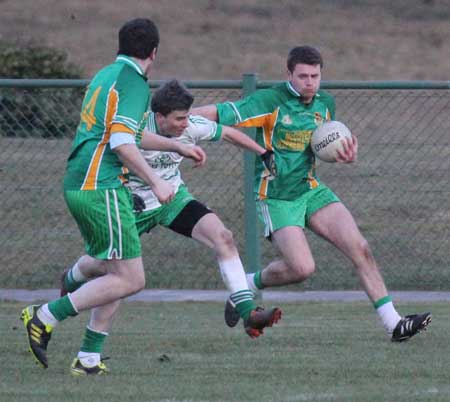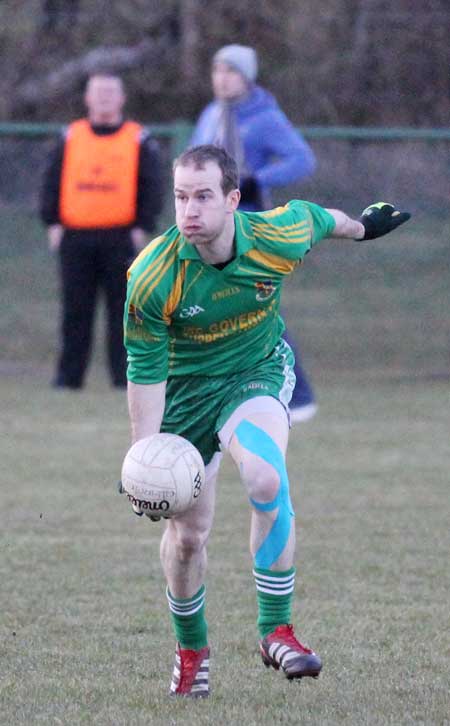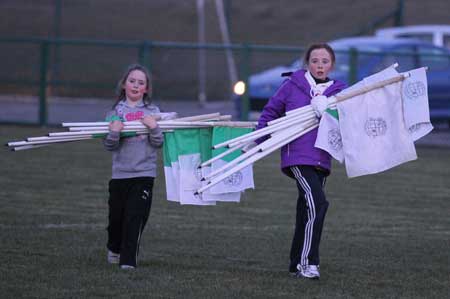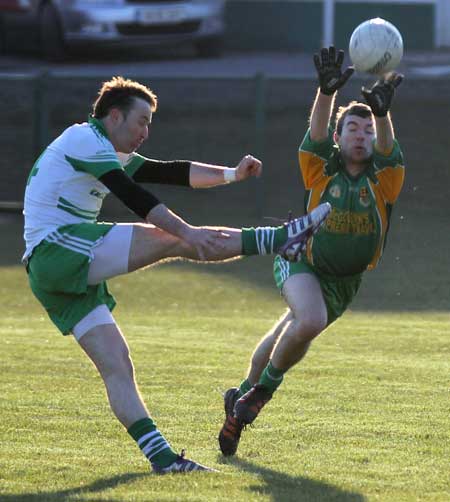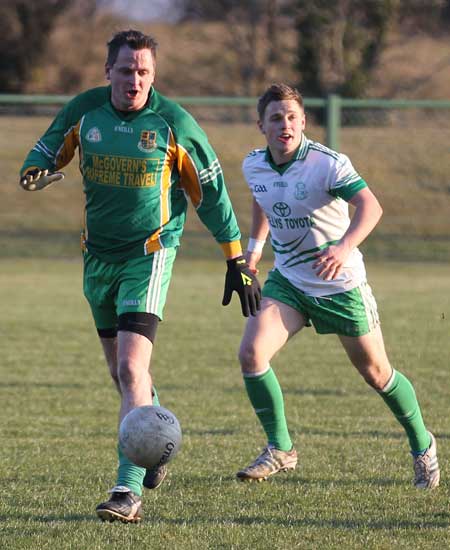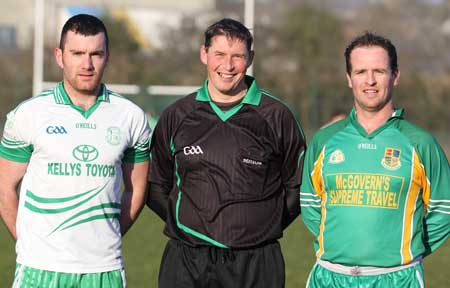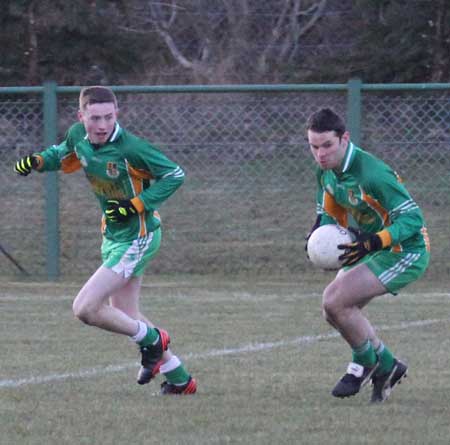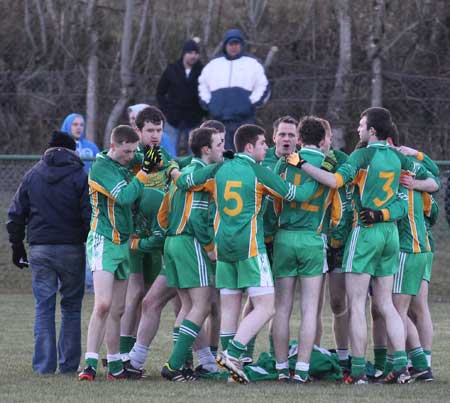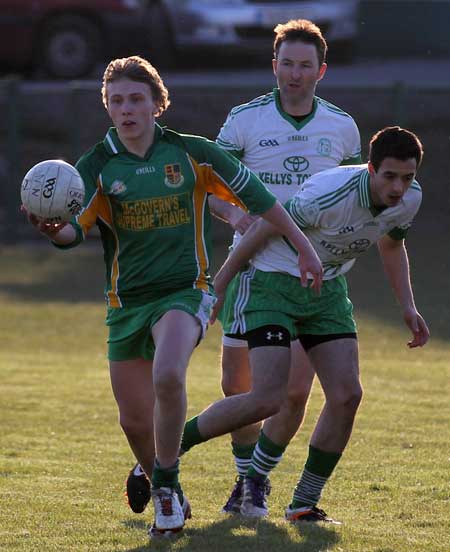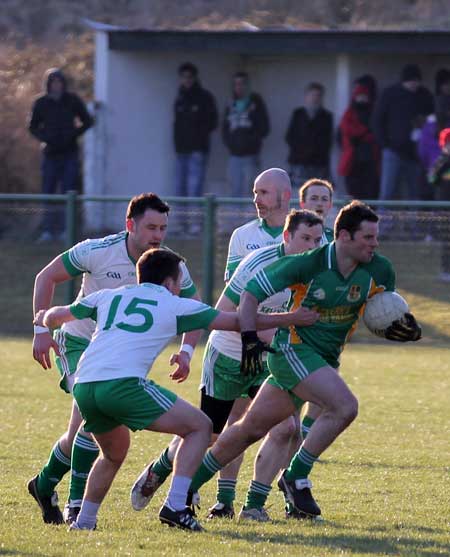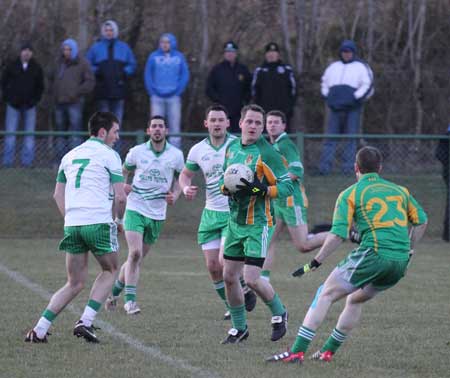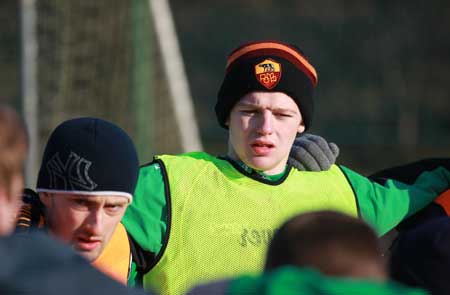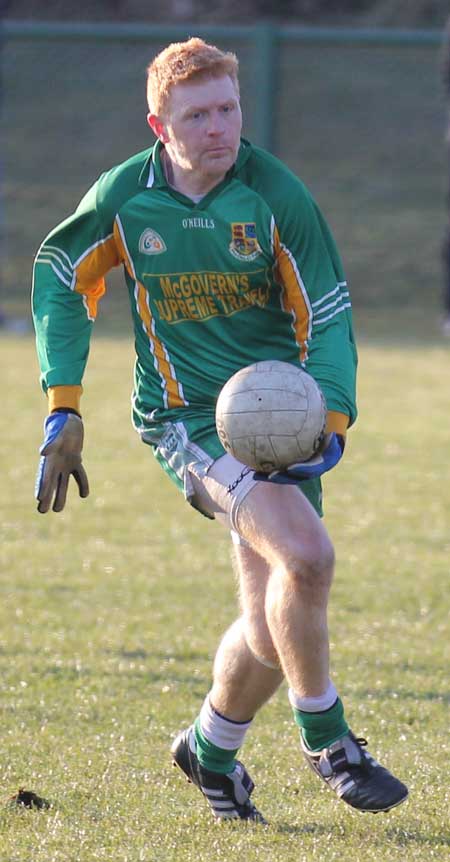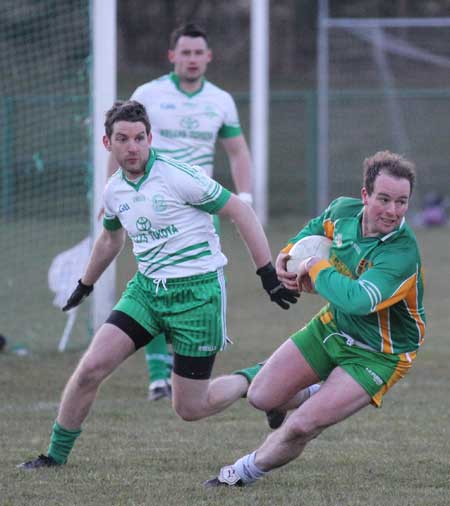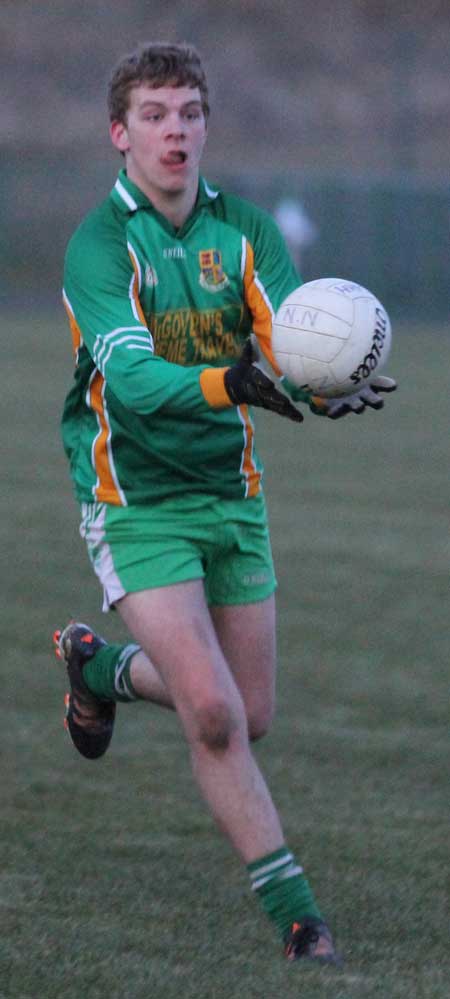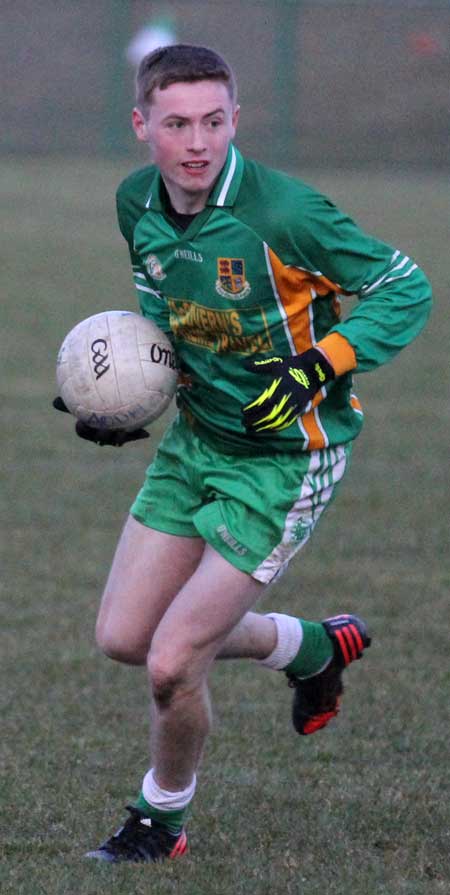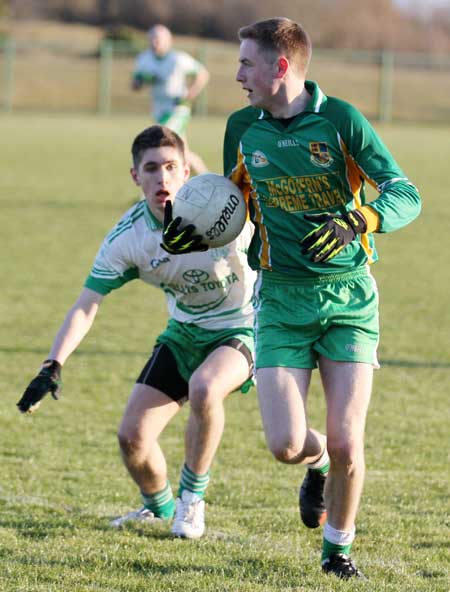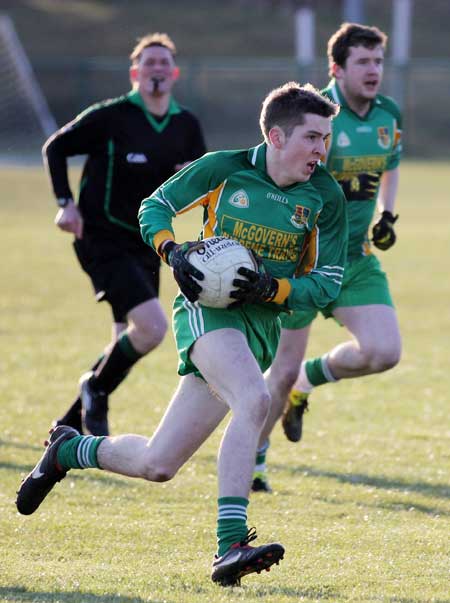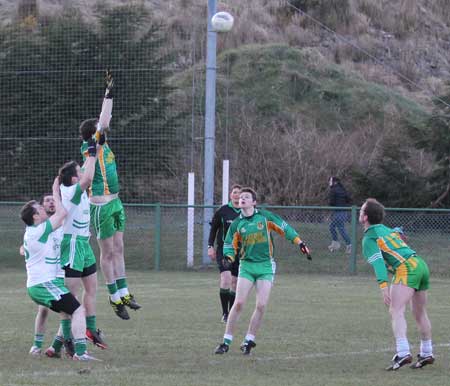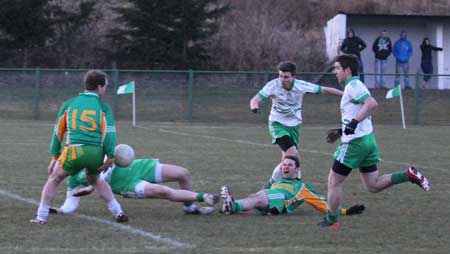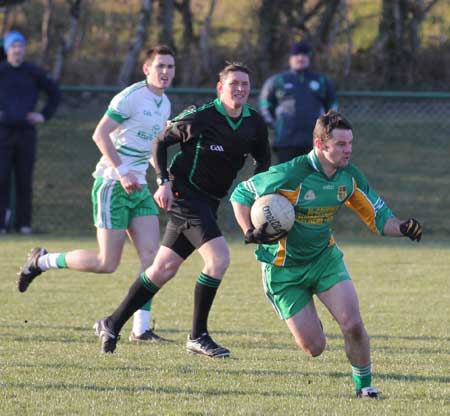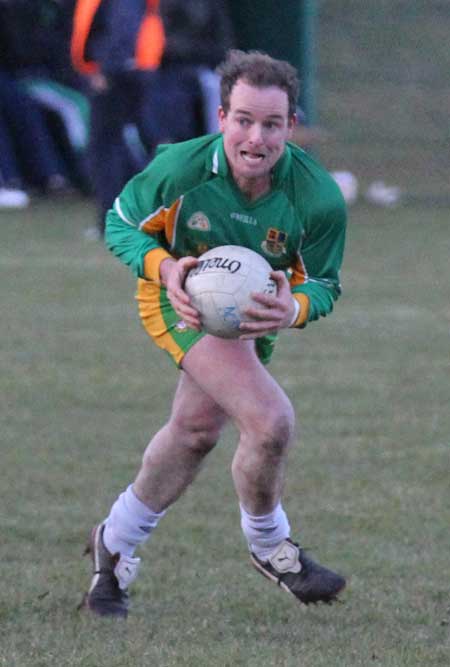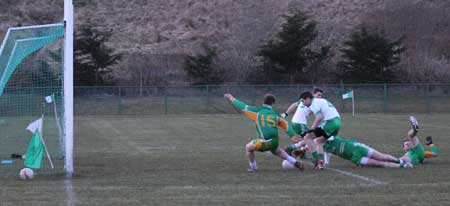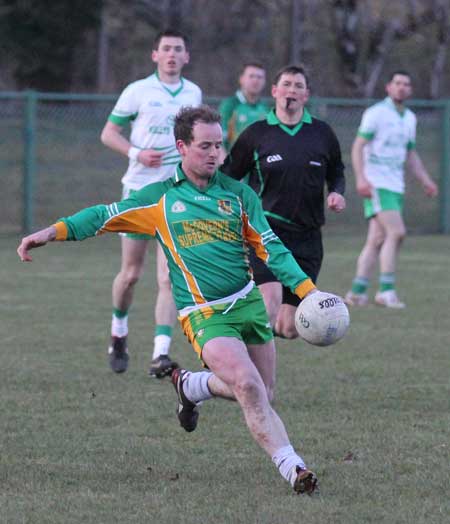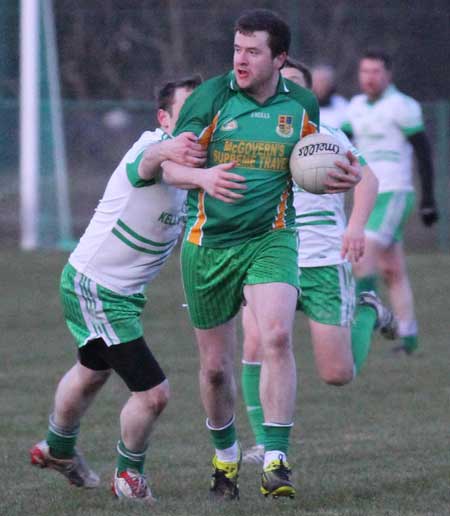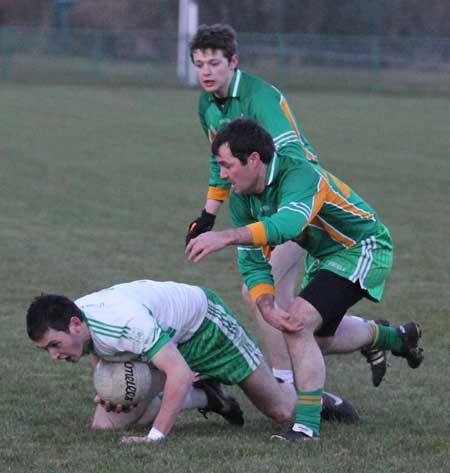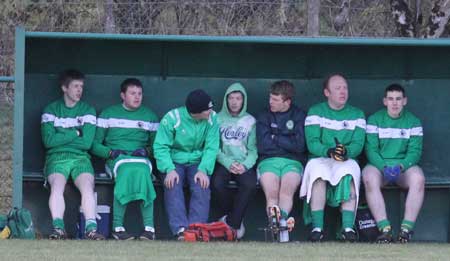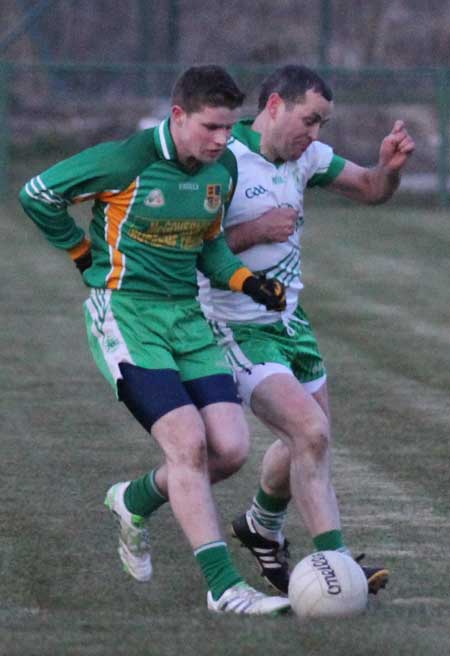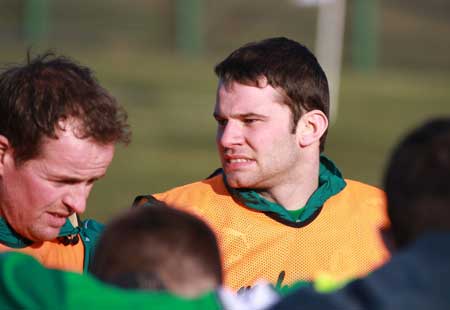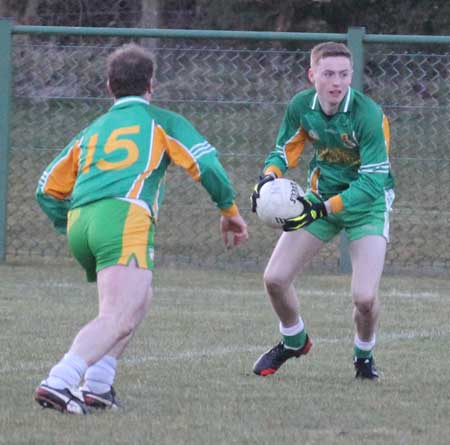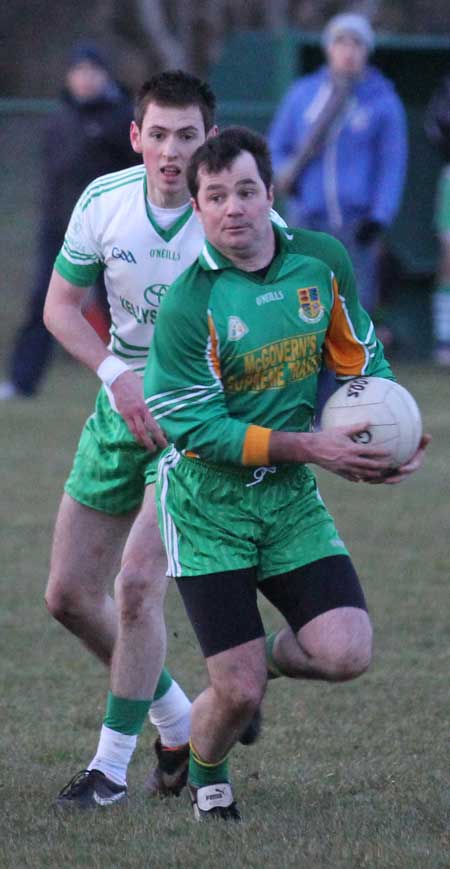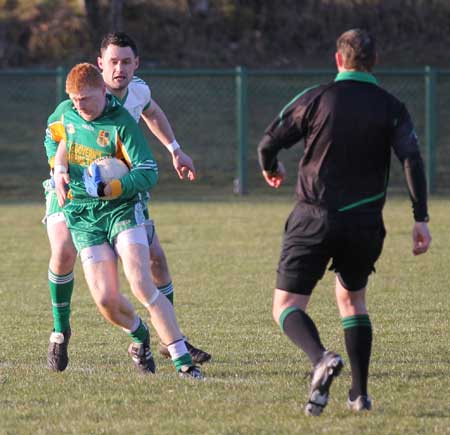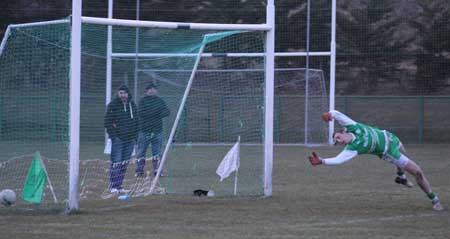 Last modified: Monday, 1 June 2020 at 1:13pm