Chairman's Address to Club AGM - 27 November 2005
It is an honour to chair and address this Annual General Meeting.
While our adult footballers and hurlers didn't capture any silverware, Aodh Ruadh C.L.G. had a very active, eventful and successful year.
I wish to thank all who presented reports today, detailing the huge amount of acitivity and participation which will be a true history to look back on.
The capture of the County Intermediate Championship by our girls football team, the Under 16 A championship by our hurlers and the winning of the Ulster Under 16 medals and runners up in the All Ireland C Hurling Final by 4 from Aodh Ruadh were among the highlights of the year. Our third football team were unfortunate in the Junior B Final. The third team continue to attract big numbers of players for training and games
While we have no management in place for out senior and reserve teams, I think the ideal situation would be a management team taking control of both teams and treating them as one big squad.
The fortunes of our hurlers are improving with every year. Whtne the senior championship draw was made we set a target to beat Four Masters. This we achieved, so for 2006 let us set the county final as a goal. The great work at underage is now paying off. No longer satisfied to participate at B level we entered the A competition and won the Under 16 Championship and also won our own annual tournament. The imminent transfer of Denis Doherty in mid 2006 will be a massive loss to us. Denis has been tremendous to the development of our under age hurlers.
At the commencement of 2005 our ladies committee were pondering about entering an adult team. They are now County Intermediate Champions with basically an underage team. The future is bright.
Bord na nOg is on the march. They now have got a taste of winning and the reports from the management teams are more encouraging than 12 months ago. Now with the appointment of full time coaching co-ordinators in hurling and football in the county, I hope that we will see in next year's report statistics regarding the involvement of county coaches in Ballyshannon.
The Park Committee had another very active year providing facilities for all the club activity, also for the local schools and county activities. It was nice to be selected for two league finals recently. At least not everyone thinks like Tom Comack. After all we are the secondary county ground and we are part of Donegal.
The Park Committee reports clearly outline our position regarding development work. We will be embarking on a major fundraiser in the New Year and I am asking all members and sub-committees to pledge their support and assistance.
The Bingo Committee had a very successful year and their contribution is greatly appreciated. We are not happy how our agreement with the Folk Festival Committee panned. There was a major breach of the agreement and it does not auger well for 2006.
A big highlight for year was our dinner dance with special guests being our four in a row Minor team from the early 80s. I must congratulate Mary Matthews for despite the large number of complementary tickers the dinner dance still managed to make a small profit.
2005 saw the launch of a new design strip for our club teams. McCosker Paints (Senior Fooball) Owen Roe O'Neill (Senior Hurling). ESB Fisheries (Underage Hurling) and Ballyshannon Credit Union (Bord na nOg) sponsored new strips. Hopefully our senior reserve team will be sorted out before the commencement of the new season.
The sponsors night in Aras Aoidh Ruadh was very successful giving us the opportunity to thank our sponsors and also give them some profile locally.
The lotto still remains the life-blood of the club and it is important that everyone supports it to the full. The commencement of a direct debit system for former players and friends away from Ballyshannon should be considered.
Finally I wish to thank everyone for their support and co-operation during 2005, also all our sponsors and supporters. Supporters are important and this was bourne out at the relegation play-off in Donegal Town recently. I particularly thank Mary Matthews, Alan Sweeeny and Ciaran Keon for their contribution in 2005. Despite their difficulties and personal commitments they their all to Aodh Ruadh in 2005
I wish all a successful year ahead and hope to see everyone at our Annual Dinner Dance and presentation of awards in Dorrian's Imperial Hotel on Saturday 14th January where Mickey Harte, Tyrone Manager will be guest speaker.
Conal O Gallachoir
Cathaorleach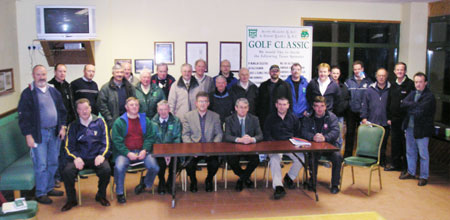 Attendees at the Aodh Ruadh Annual General Meeting held on 27 November 2005

Report Filed: 2 December 2005