County Champions 1942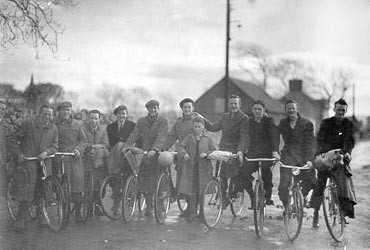 Due to a shortage of petrol, the 1942 champions had to cycle to Glenties to play Gweedore in the County league final. This photo was taken on the Donegal Road, Ballyshannon.
Paddy O'Neill, Dan Doherty, Mick Slevin, Ritchie Bromley, Micky Murray, John McGuinness, 'Red' Jack Gallagher, Seamus Cleary, Bob Gallagher, James Daly. The child photographed is Dan McGettigan.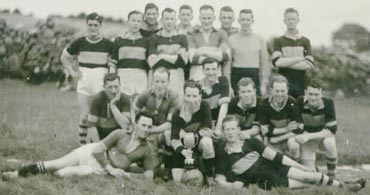 Front row: John "The Dodger" McDermott; Mick Slevin (captain), "Red Jack" Gallagher.
Second row: Seamus Kane, Seamus Slevin, P. J. Goan, Dan Doherty, Paddy O'Neill (Frank's nephew), Sean McGettigan, the brother of Pat and Dan.
Standing: John McGarrigle, Sean Slevin, Liam Slevin, Mick Melly, fullback and anchor of the defence; Hugh McGuinness, "Big Bob" Gallagher.
Back row: Mickey Murray, Johnny McGuinness, James Daly.
The report of the final can be read in our 1942 Donegal Democrat archive section.
This image is used kind courtesy of John Ward. His site is Vindicator.ca