Welcome to Aodh Ruadh
Lotto
18th August 2019
3
4
8
9
12
16
There was no winner of the lotto jackpot of €7,700.
Next draw is Sunday at 8.30pm in Pat's Bar with a jackpot of €7,800
Lotto Rota:
- Reserve Footballers
- Bord na nÓg
- Senior Hurlers
- Senior Footballers
- Ladies
- Juvenile Hurlers
The lotto team for the McCosker's Centra on Saturday is:


Ladies.



In the lucky dip €20 went to Michael Melly Jr, c/o Melly's Bar; John Cunningham, Killybegs; PJ Feely, Lough Eske; Daniel McGullion, Station Road; and Mary O'Malley Daly, College Street.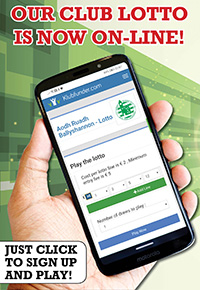 More Lotto information
---
Twitter
Tweets by @aodhruadh
What's new
25 July 2019
Senior Division 2
Aodh Ruadh burn off Glenfin with sprint finish


More
20 July 2019
Senior Division 2
Aodh Ruadh see off Four Masters with sensational second half


More
7 July 2019
Under 18 football
Decider proves a bridge to far for Aodh Ruadh


More
2 July 2019
Under 16 ladies football
Under 16 girls make it two from two


More
25 May 2019
Senior Division 2
Aodh Ruadh see off determined Termon challenge


More
6 May 2019
Under 14 hurling
Ballinascreen take Finn Larkin title back to Derry


More
3 May 2019
Junior Hurling League
Ernesiders too strong for Letterkenny Gaels


More
30 April 2019
Under 14 ladies football
Three on the trot for under 14 girls


More
19 April 2019
Senior Division 2
Good Friday for Ballyshannon as they get the better of Naul's


More
7 April 2019
Senior Division 2
Aodh Ruadh up and running with convincing win


More
8 July 2018
Senior Division 1
Deadlock again for Ernesiders


More
2 June 2018
Senior Division 1
Rooney gets Aodh Ruadh deserved share of the spoils


More
29 April 2018
Senior Division 1
Aodh Ruadh earn important win against Dungloe


More
28 April 2018
Under 12 ladies football
Aodh Ruadh entertain Letterkenny


More
15 April 2018
Senior Division 1
Economical Gaoth Dobhair take the spoils in Ballyshannon


More
14 April 2018
Under 8 football
Aodh Ruadh host Four Masters for blitz


More
7 April 2018
Under 12 ladies football
Aodh Ruadh girls get league off to a great start


More
1 April 2018
Senior Division 1
Late McGettigan strike snatches point from Ballyshannon


More
1 April 2018
Senior Reserve Division 1
Reserves chalk up first win of the new season


More
22 March 2018
Under 14 hurling
Aodh Ruadh hurlers get off to the perfect start against Setanta


More
17 March 2018
Aodh Ruadh at the Saint Patrick's Day Parade


More
20 January 2018
Celebrating a year to remember with a night to remember at the Aodh Ruadh Dinner Dance


More
28 December 2017
Annual Colman Kerr matches raise cash for charity


More
25 November 2016
Aodh Ruadh celebrates a year of underage football


More
25 November 2017
Great turn out for Billy Finn Memorial Concert


More
12 November 2017
Under 16 football
Aodh Ruadh do it at the death to take county title


More
10 November 2017
Under 10 football
Winter League finals bring curtain down on a successful season


More
5 November 2017
Under 21 Football
Aodh Ruadh well adrift of hungrier Naomh Conaill


More
5 November 2017
Under 16 football
Super second half sends Aodh Ruadh into championship decider


More
4 November 2017
Under 13 football
MacCumhaill's take county title


More
15 October 2017
Under 13 ladies football
Back-to-back titles for the Ballyshannon girls


More
1 October 2017
Senior Division 2
Division one, here we come!


More
1 October 2017
Senior Reserve Division 2
Reserves too hot for Malin


More
1 October 2017
Under 16 hurling
Easkey take Alan Ryan Cup as Aodh Ruadh claim the Seamus Grimes trophy


More
24 September 2017
Under 12 hurling
Keady claim Aodh Ó Dálaigh title


More
10 September 2017
Underage football
Euro-Shot Challenge 2017


More
2 September 2017
Under 14 football
Ballyshannon book semi-final spot


More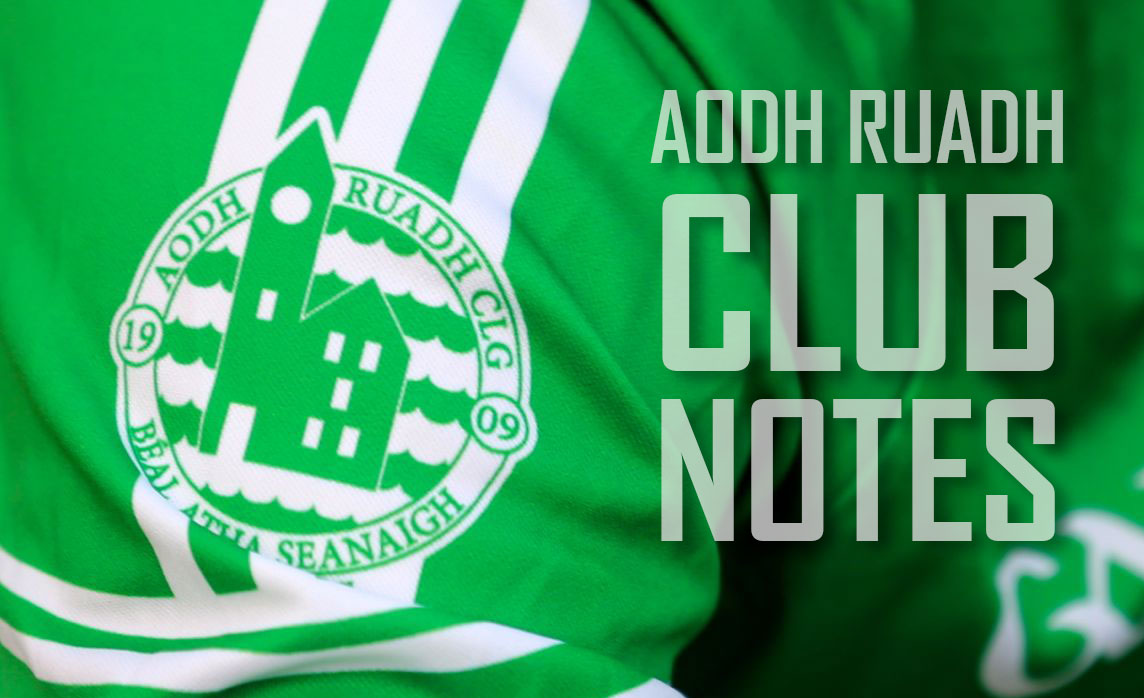 20 August 2019
Football
Aodh Ruaidh have shown much grit this season, but none more so than in Sunday's victory over Killybegs, a result which catapults the Ernesiders right back into the promotion hunt. They defeated the visitors 1-14 to 1-10 on Sunday to secure a deserved victory in Father Tierney Park on Sunday. Aodh Ruadh had the wind in the first half, but Killybegs worked hard to minimise that advantage and went in trailing by 0-6 to 0-3. The third quarter was tensely fought stuff, and with the game into the final ten minutes there was just two points in it at 0-10 to 0-8 in favour of the hosts. Ballyshannon pushed hard for the tape with Michael McKenna putting Oisin Rooney through to hit the net and Shane Gillespie following up with a quick point. Hugh McFadden did notch a goal for the visitors, but with Rooney and Darren Drummond pointing again two precious league points were secured for Barry Ward and Philip O'Reilly's side. The team and scorers were: Peter Boyle (0-2, 45, 1f); Callum O'Halloran, Colm Kelly, Johnny Gethins; Shane Gillespie (0-1), Conor Patton, Sean Taylor; Chris Dolan, Eamonn McGrath; Philip Patton (0-4, 3f), Michael McKenna (0-1), Diarmuid McInerney; Nathan Boyle (0-3), Oisin Rooney (1-1), Shane McGrath (0-1). Sub: Darren Drummond (0-1) for McInerney 55m. Aodh Ruadh are now in a group of three on 19 points chasing the last remaining promotion slot to Division 1, Saint Naul's and Killybegs. Saint Naul's and Ardara are the last remaining opponents.
The reserves made it double joy on Sunday by claiming a 0-11 to 0-9 win over the Fishermen.
Sunday is now a huge day for the club as the seniors travel to Mountcharles looking to take a big step back to the top flight. Throw-in against Saint Naul's is at 3pm, with the reserve game getting the action under way at 1.30pm. This is sure to be a hard fought contest with so much on the line, so we really urge all Aodh Ruadh supporters to get along and be a 16th player for the team at Páirc Gearóid Ó Gallachóir this Sunday.
The minors are down to play Killybegs in the championship this Wednesday, at 6.45pm in Tir Chonaill Park. We would encourage a good showing of Ballyshannon support to make their way to Donegal Town and get behind the team.
The under 11s have a busy week coming up with a game against Grange on Wednesday evening at 7.15pm in Páirc Aoidh Ruaidh being followed by the Willie Rodgers Tournament on Saturday at 10.30am.
The under 8s had a squad of 32 as they travelled to Dungloe last Saturday, putting on a great display of football in all games. This Friday at 6pm, they host Four Masters. All boys to be in Pairc Aoidh Ruaidh for 5.30pm. The team are away to Naomh Columba on Friday 30th August. Their final fixture of the year is a home blitz on 7th September, with Glenswilly, Four Masters, Saint Molaise Gaels, Naomh Bríd and Bundoran joining Aodh Ruadh in the season finale.
Ladies
Aodh Ruadh's senior ladies return to championship action on Sunday when they face Buncrana. This will be at a neutral venue with time to be fixed.
The minor girls won their opening game of the season against Termon last Tuesday on a scoreline of 5-13 to 2-10. The game got off to a slow start, but Aodh Ruadh took the first score of the contest with Emer O'Brien finishing a fantastic point from play. Termon responded with a long range free which just dropped into corner of the net. Aodh Ruadh answered with a goal of their own, a penalty which was expertly dispatched by Caitlin McGarrigle, low and hard into the corner. Ballyshannon pushed on from there to take a deserved win. Best for Aodh Ruadh was Cáit Gillespie and Caoimhe Keon who covered every blade of grass. Grainne Maguire and Ciara Caldwell gave a great defensive performance, while Orla Keon played extremely well despite the attentions of a tenacious Termon marker. Eilish Gallagher also did well in her duel with Jodie McFadden. The Aodh Ruadh team and scorers were: Cait Gillespie (2-3), Caitlin McGarrigle (1-0), Demi McFarland (1-0), Emer O'Brien (0-3), Caoimhe Keon (0-2), Ciara Gillespie (0-2), Eva Moore (0-1), Grainne Maguire (0-1), Chantelle Timoney (0-1), Aoibhínn McGarrigle, Clodagh O'Connor, Ciara Caldwell, Bridín Maguire, Orla Keon, Eilish Gallagher, Ana Keon, Katie O'Brien, Sarah Jane Keon, Caoimhe McCauley. The team's next outing is on Tuesday 27th August away to Ardara.
The under 16s are in action this Tuesday when Killybegs are the guests in Ballyshannon at 7pm for the last game of the group stages.
Our under 13s will take on Four Masters in the opening game of their league programme in Ballyshannon this Saturday. All players to be at training this Tuesday, on the pitch for 5.45pm to 7pm.
Well done to our under 10s girls who attended a blitz in Ardara and played in sunshine, rain, hail and wind, acquitting themselves really well.
Hurling
The under 12s finished their league campaign with a good win away to Setanta last Thursday. The lads finished in fourth place in the ten team league and have qualified for the B final. Their opponents have yet to be decided.
The under 16s are back in action this Thursday making the trip to Scarvey to take on Buncrana.
Underage hurling training continues on Sunday for all teams at 12 noon.
Pitch bookings
Confirmed pitch bookings this week are as follows.
Tuesday
Father Tierney Park, 7pm. Under 16 ladies football league - Aodh Ruadh v Killybegs
Wednesday
Father Tierney Park, 7pm. Under 12 football challenge - Aodh Ruadh v Grange
Friday
Páirc Aoidh Ruaidh, 6pm. Under 8 football - Aodh Ruadh v Four Masters
Saturday
Páirc Aoidh Ruaidh - both pitches, 10.30am to 3.30pm. Willie Rogers Football Tournament.
Abbey Centre Bingo
Last week's €400 jackpot was won by Amanda Byrne of Ballyshannon. The stand-up game prize of €125 was won by Teresa Campbell. Noelle Gillan won a house and two lines. Winners of the €100 houses were Patricia O'Reilly, Molly Kerrigan, Sofia Coulibaly, Lee Smyth, Mary Gallagher and Mary Ferguson. The summer snowball remains unclaimed and rolls to €1,150 this week. Bingo as usual this Friday at 9pm in the Abbey Centre, books just €10.
Our club lotto is now online!
We have just launched our online lotto to make it easier for Aodh Ruadh faithful near and far to support their club. Play on your computer, laptop, tablet, phone and make a difference to your club. You chose when you support; How long you support; How much to support. Draws take place weekly on Sunday for a rolling jackpot of up to €10,000. If the jackpot doesn't go, you are in with a chance of winning one of five €20 lucky dips. To play it's €2 per entry or three entries for €5. It's as easy as 1, 2, 3. 1. Log onto klubfunder.com .2. Search for and select Aodh Ruadh Ballyshannon. 3. Play, support and be in with a chance to win ALL monies raised go to Aodh Ruadh. Your details are not shared with third parties. Your account registration details are fully secure.
---
Last modified: Thursday, 22 August 2019 at 5:20pm

Read more in the club notes archive.