Welcome to Aodh Ruadh
Lotto
6th September 2019
1
2
4
5
8
10
There was no winner of the lotto jackpot of €8,400.
Next draw is Sunday at 8.30pm in Dicey Reilly's with a jackpot of €8,500
Lotto Rota:
- Reserve Footballers
- Bord na nÓg
- Senior Hurlers
- Senior Footballers
- Ladies
- Juvenile Hurlers
The lotto team for the McCosker's Centra on Saturday is:


Juvenile Hurlers.



In the lucky dip €20 went to Carrie Patton, Ryan Neilan, Ann Kelm, Dee Dee Gallogly, and Caoimhe McCauley, c/o Margaret McCauley.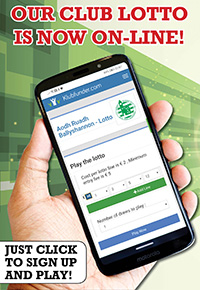 More Lotto information
---
Twitter
Tweets by @aodhruadh
What's new
25 July 2019
Intermediate Football Championship Group B
Brilliant Boyle drives Aodh Ruadh to victory


More
6 September 2019
Under 14 football
Aodh Ruadh take under 14 title


More
5 September 2019
Under 12 hurling
Aodh Ruadh and Gaoth Dobhair hurlers serve up a cliff-hanger


More
31 August 2019
Junior Hurling Championship
Aodh Ruadh claim Junior Hurling crown


More
25 July 2019
Senior Division 2
Aodh Ruadh burn off Glenfin with sprint finish


More
20 July 2019
Senior Division 2
Aodh Ruadh see off Four Masters with sensational second half


More
7 July 2019
Under 18 football
Decider proves a bridge to far for Aodh Ruadh


More
2 July 2019
Under 16 ladies football
Under 16 girls make it two from two


More
25 May 2019
Senior Division 2
Aodh Ruadh see off determined Termon challenge


More
6 May 2019
Under 14 hurling
Ballinascreen take Finn Larkin title back to Derry


More
3 May 2019
Junior Hurling League
Ernesiders too strong for Letterkenny Gaels


More
30 April 2019
Under 14 ladies football
Three on the trot for under 14 girls


More
19 April 2019
Senior Division 2
Good Friday for Ballyshannon as they get the better of Naul's


More
7 April 2019
Senior Division 2
Aodh Ruadh up and running with convincing win


More
8 July 2018
Senior Division 1
Deadlock again for Ernesiders


More
2 June 2018
Senior Division 1
Rooney gets Aodh Ruadh deserved share of the spoils


More
29 April 2018
Senior Division 1
Aodh Ruadh earn important win against Dungloe


More
28 April 2018
Under 12 ladies football
Aodh Ruadh entertain Letterkenny


More
15 April 2018
Senior Division 1
Economical Gaoth Dobhair take the spoils in Ballyshannon


More
14 April 2018
Under 8 football
Aodh Ruadh host Four Masters for blitz


More
7 April 2018
Under 12 ladies football
Aodh Ruadh girls get league off to a great start


More
1 April 2018
Senior Division 1
Late McGettigan strike snatches point from Ballyshannon


More
1 April 2018
Senior Reserve Division 1
Reserves chalk up first win of the new season


More
22 March 2018
Under 14 hurling
Aodh Ruadh hurlers get off to the perfect start against Setanta


More
17 March 2018
Aodh Ruadh at the Saint Patrick's Day Parade


More
20 January 2018
Celebrating a year to remember with a night to remember at the Aodh Ruadh Dinner Dance


More
28 December 2017
Annual Colman Kerr matches raise cash for charity


More
25 November 2016
Aodh Ruadh celebrates a year of underage football


More
25 November 2017
Great turn out for Billy Finn Memorial Concert


More
12 November 2017
Under 16 football
Aodh Ruadh do it at the death to take county title


More
10 November 2017
Under 10 football
Winter League finals bring curtain down on a successful season


More
5 November 2017
Under 21 Football
Aodh Ruadh well adrift of hungrier Naomh Conaill


More
5 November 2017
Under 16 football
Super second half sends Aodh Ruadh into championship decider


More
4 November 2017
Under 13 football
MacCumhaill's take county title


More
15 October 2017
Under 13 ladies football
Back-to-back titles for the Ballyshannon girls


More
1 October 2017
Senior Division 2
Division one, here we come!


More
1 October 2017
Senior Reserve Division 2
Reserves too hot for Malin


More
1 October 2017
Under 16 hurling
Easkey take Alan Ryan Cup as Aodh Ruadh claim the Seamus Grimes trophy


More
24 September 2017
Under 12 hurling
Keady claim Aodh Ó Dálaigh title


More
10 September 2017
Underage football
Euro-Shot Challenge 2017


More
2 September 2017
Under 14 football
Ballyshannon book semi-final spot


More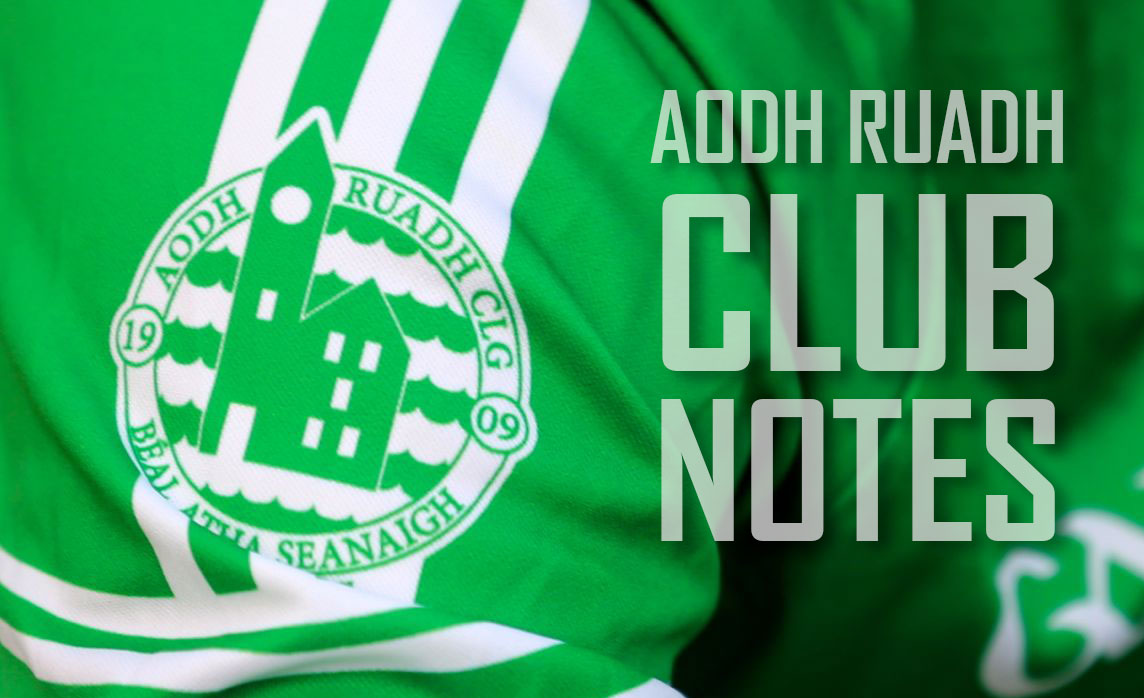 8 October 2019
Football
Extra time couldn't separate Aodh Ruadh and Cloich Cheann Fhaola in Saturday afternoon's IFC semi-final at Glenfin. Conditions weren't exactly conducive to great football, but both side's served up an entertaining encounter which finished at 0-14 apiece. The sides went score for score over the course of the first half with Philip Patton, Oisin Rooney, Shane Gillespie and Diarmuid McInerney on the mark for the Ernesiders, but Cloich Cheann Fhaola nicked the last score of the half to take a slim one point advantage in at the break. Four more Philip Patton points kept Aodh Ruadh in the game over the course of the second half. Then as the game moved into added time Peter Boyle landed a free to put Ballyshannon into the lead, only for the Gaeltacht men to grab an equaliser three minutes later from another dead ball. Aodh Ruadh carried their momentum into extra-time and two points from Philip Patton and one from Oisin Rooney put them three clear. Cloich Cheann Fhaola owned the ball in the second half of extra-time though and went into a one point lead with two minutes left to play. It looked like curtains for Barry Ward and Philip O'Reilly's men, especially when Cloich Cheann Fhaola passed up a great goaling chance. However Aodh Ruadh got the lifeline their efforts deserved after a silly foul. Up stepped the superb Philip Patton to loft over the tricky late free to tie the game up and send this semi-final to a replay. Sean Taylor had an absolutely magnificent game for Aodh Ruadh and was a contender for man of the match. Elsewhere Nathan Boyle was a real a hive of positive energy and Philip Patton was cool when it counted. The Aodh Ruadh team and scorers were Peter Boyle (0-1f); Johnny Gallagher, Colm Kelly, Johnny Gethins; Shane Gillespie (0-1), Conor Patton, Sean Taylor; Cian Dolan, Eamonn McGrath; Nathan Boyle, Philip Patton (0-8, 7f), Oisin Rooney (0-3); Shane McGrath, Niall Murray, Diarmuid McInerney (0-1). Subs: Darren Drummond for Niall Murray 44m; Niall Murray for Johnny Gallagher 70m; Paddy Gillespie for Shane Gillespie 75m.
The semi-final replay will take place on Wednesday evening in Convoy at 7.30pm. This is a huge game for the club. We know the massive prize on offer, and we know how narrow the differences are. With that in mind we would really urge everyone who can make it down to Convoy on Wednesday evening to make a special effort to make the trip and get behind our lads.
Earlier on Saturday the reserves bowed out at the championship semi-final stages against Red Hugh's. The weather was atrocious even at that early stage of the day, the rain not relenting at all during the reserve fixture. The first half started with two early David McGurrin points being answered by Red Hugh's frees to level it at 0-2 apiece. Further points from Michael 'Sticky' Ward and Dermot Slevin sent Aodh Ruadh in with a 0-4 to 0-3 lead. There was little separating the sides over much of the second half too, points from James O'Donnell and Conal Sweeny just about helping to keep Ballyshannon's noses in front. Heading towards the last ten minutes Sticky Ward pointed again to put the Ernesiders into a 0-7 to 0-6 lead. It was at this stage Red Hugh's went up through the gears and hit an unanswered 1-3 to book their place in the reserve decider. This brings the reserve season to an end. It has been a relatively successful one and we pay tribute to the players for their efforts and to the diligent work of Anthony 'Waddle' Coughlin and Aidan Murray in ensuring that Aodh Ruadh not only fielded consistently, but chalked up some impressive results over the course of the year. Not forgetting Anthony Donagher who provided first rate logistical support to the team.
The under 14 season came to an end with the 2019 Bakery Cup Final on Friday evening as Kian Duncan's team prevailed in a tight final against Cian McKenna's team. The game was nip and tuck the whole way and finished with a single point between the teams on a final score of 10-3 to 9-5. The semi-final teams who lost out were captained by Drew Ryan and Eoghan Kelly. Over the group stages and on Friday's finals the standard of football was very high and played with great sportsmanship. Many thanks to everybody who helped with organising this year's tournament and to those who brought goodies and helped with the hospitality during the presentations. Well done to all players who were involved.
The under 13 season came to an end last Wednesday when the lads lost out in their play-off against Dungloe by a narrow margin, 2-8 to 3-7. It was a hard fought game the whole way through, but perhaps the pivotal moment came ten minutes in. Aodh Ruadh had hit an early 1-2 to take a good lead, but Ted O'Donnell, who had been magnificent at full back, had to go off with an injured knee. Dungloe were able to rally and lead at the break 2-3 to 2-2. Ballyshannon battled manfully over the second half, but they just couldn't reel Dungloe back in. Barry Campbell was probably man of the match, capping a fine performance with two lovely goals. Oran Gillespie wasn't far behind with a big haul of points to his credit. Brothers Rian and Caolan McCauley did well, mopping up a lot of ball and counter-attacking with real purpose, while Jun Hui Lin was powerful once again around the centre of the field. Find of the season for the under 13s has been Killian Bradshaw who has really found his calling in nets. He was a great foundation to build the team on and a fine shot-stopper too. Thanks to Paul Gillespie, Diarmaid McInerney, David O'Donnell, Rory McGloin and Ken Monaghan for all their work with the team over the course of the season.
Ladies
Aodh Ruadh minors claimed a hard earned win against Ardara on Sunday morning in their last game of the league stages. Played 13-a-side with the going soft in Father Tierney Park, it was a challenging 60 minutes for both teams. There was little between the sides at any stage, Ardara getting a couple of early points, but Aodh Ruadh coming back with a Roisín Daly goal. Tia McFarland added a point shortly after, but Ardara continued to chip away and it took a brilliantly taken individual goal from Caoimhe Keon to send Aodh Ruadh in with a slight lead at the break, 2-2 to 0-6. Ballyshannon worked the bench over the second half, but still found it difficult to get on top of a determined and persistent Ardara side. Further points from Tia McFarland, Andrea McGlynn and Cáit Gillespie helped the Shamettes keep their noses in front, but there was just three points between the sides going into the last five minutes. It was only when Cáit Gillespie finished a well worked goal that Aodh Ruadh were really able to breathe easy. If finished Aodh Ruadh 3-6 Ardara 0-8, a results which puts the Shamettes into an A county semi-final. It was a real hard-working shift from the Ernesiders, Caoimhe Keon probably the stand-out performer on show. Her goal was superbly engineered and taken, and she flogged herself for the cause around the middle third. As ever the defence put in a massive amount of work. Ana Keon, Eva Moore and Síofra Hughes were really steady and helped keep Ardara chances to a minimum, especially in the second half. Bridín Maguire dealt well with the dropping ball and was clever with her kick outs. Caitlin McGarrigle and Andrea McGlynn were both effective links between defence and attack and McGlynn scored a great point. Up front Tia McFarland lead the line tirelessly. There is minor training this Tuesday from 4.30pm to 5.30pm.
The under 13 girls game against Ardara has been rescheduled to this Saturday at 12 noon. The team train this Tuesday from 5.30pm to 6.45pm.
Pitch bookings
Confirmed pitch bookings this week are as follows.
Tuesday
Páirc Aoidh Ruaidh, 9am to 1pm. Cumann na mBunscol seven-a-side hurling.
Páirc Aoidh Ruaidh, 7.15pm. Under 10 boys Ballyshannon Shoe Company football league.
Wednesday
Father Tierney Park, 1.30pm. Under 16 colleges football - Coláiste Cholmcille v Saint Columba's College.
Thursday
Páirc Aoidh Ruaidh, 7.15pm. Under 10 boys Ballyshannon Shoe Company football league.
Saturday
Páirc Aoidh Ruaidh, 12 noon. Under 13 ladies football - Aodh Ruadh v Ardara.
Wednesday, 16th October
Father Tierney Park and Páirc Aoidh Ruaidh, 10am to 2pm. Senior Colleges Ladies Football Blitz - Coláiste Cholmcille, Magh Ene and Abbey VS.
Saturday, 19th October
Father Tierney Park and Páirc Aoidh Ruaidh, 10.30am to 3pm. Mick Shannon Memorial under 10 football tournament.
Diary dates
The underage football awards evening for boys and girls takes place on Saturday, 26th October, in the Abbey Centre. The Bord na nÓg AGM will take place on Friday 1st November at 8pm in Aras Aoidh Ruaidh. The club dinner dance will take place on Saturday, December 7th.
Christmas Quiz
The annual club Christmas Quiz which has proved a great meeting point over the years for locals at home and away will take place in Dicey Reilly's on Friday, December 27th. This is a quiz format that everyone can enjoy. Organised by the club's Park / Development Committee the proceeds will help defray the heavy costs incurred in developing the new Fitness Trail / Walking Track at Páirc Aoidh Ruaidh which is being so well used since it was completed earlier this year.
Abbey Centre Bingo
Last week's €400 bingo jackpot was shared by Anne Granaghan of Bundoran and Breege Barrett of Ballyshannon. The snowball again survived so rolls on to a massive €1,500 this week on 51 numbers. Karl O'Loughlin won the stand-up game prize of €130. Winners of the houses included Rita McGullion, Celia Byrnes, Sinead Watters, Monica Quinn, Eileen Maguire and Kevin O'Connor. Bingo as usual this Friday at 9pm at the Abbey Centre with a monster €3,200 prize fund. Books just €10.
---
Last modified: Monday, 7 October 2019 at 11:00pm

Read more in the club notes archive.