Welcome to Aodh Ruadh
Lotto
17 January 2021
2
5
8
9
15
18
There was no winner of the lotto jackpot of €5,700.
Next draw is Sunday at 8.30pm with a jackpot of €5,800
Lotto Rota:
- Bord na nÓg
- Juvenile Hurlers
- Senior Footballers
- Senior Hurlers
- Reserve Footballers
- Ladies

The lotto team for the McCosker's Centra on Saturday is:


Reserve Footballers.



In the lucky dip prizes of €25 went to Gus Culkin and Bryan McGuinness.

More Lotto information
---
What's new
29 November 2020
Chairman's Address to the 2020 Club AGM


More
29 November 2020
Secretary's Address to the 2020 Club AGM


More
26 September 2020
Intermediate Football Championship Final
The famine is over as classy Aodh Ruadh claim IFC title with finishing flourish


More
17 September 2020
Under 14 hurling championship final
12-year-old Corey a scoring star for well balanced Aodh Ruadh side


More
5 September 2020
Intermediate Football Championship
Sprint finish takes Aodh Ruadh into last four


More
30 August 2020
Junior Hurling Championship
Aodh Ruadh book semi spot in style


More
16 August 2020
Intermediate Football Championship
Late Cloich Cheann Fhaola surge sinks Aodh Ruadh


More
16 August 2020
Ladies Intermediate Football Championship
Ladies denied at the death by Fanad smash and grab


More
15 August 2020
Under 14 ladies Division 1 Shield Final
Extra-time heart break for brave under 14 ladies


More
1 August 2020
Intermediate Football Championship
Aodh Ruadh off to a winning start


More
19 July 2020
Intermediate ladies football championship
Ladies come up short against Naul's in championship opener


More
19 July 2020
Junior Hurling Championship
Revenge for Carn in Father Tierney Park


More
8 June 2020
Covid-19: Safe return for Gaelic Games


More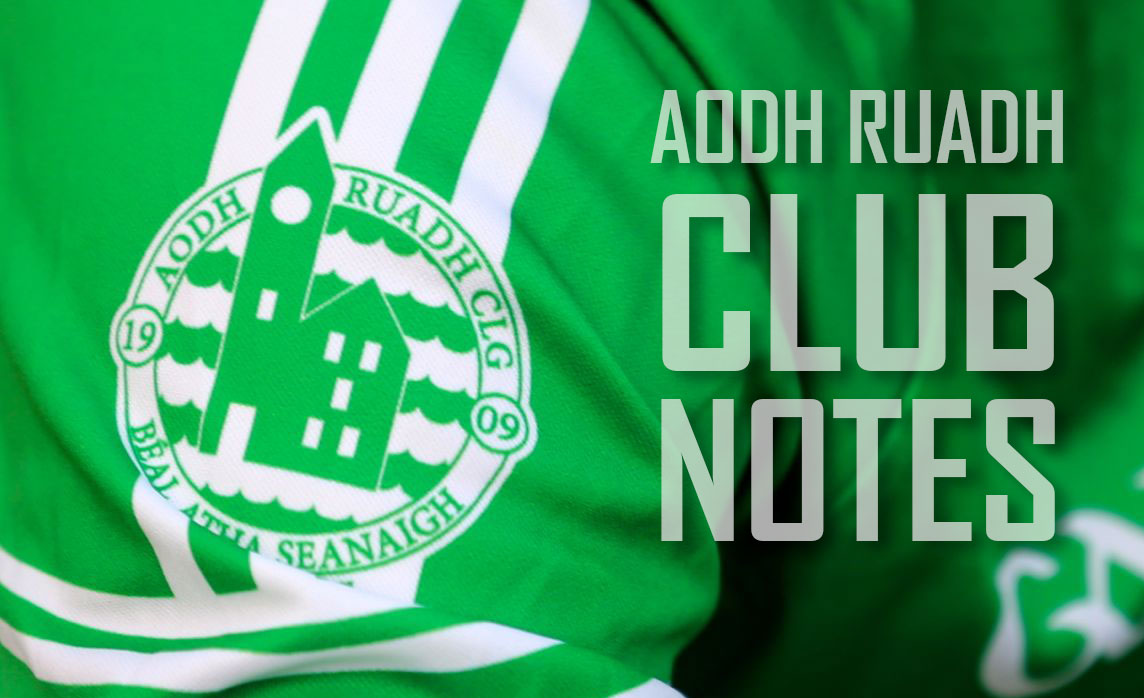 19 January 2021
Father Tierney Park Playing Surface Development
The central focus of the club's infrastructural development this year will be the renewal of the playing surface at Father Tierney Park. The hope is that construction of a new sand-based playing surface will commence in early 2021. This will be the first time the pitch has been renewed since 1954 and will resolve a number of on-going issues with the playing surface. The proceeds of the National Club Draw will be going directly to this project and we strongly encourage all Aodh Ruadh members to show their support for this investment by purchasing a ticket.
The National Prize fund is underwritten by the GAA at National level, with an impressive array of prizes including a car and All Ireland Final packages. Our Park Development Committee have put together an attractive array of prizes for a Local Draw which is also included in the €10 ticket price, with a further chance to win a cash prize in a draw at County Board level. All of these local prizes have been generously sponsored by supporters of the Father Tierney Park project from our area. Please support those who support us. Because the prizes are fully underwritten all income from the draw stays locally and helps to build the match-funding required to draw down the €100,000 grant aid already sourced by our Park / Development Committee.
Club members selling the draw are asked to redouble their efforts over the next few weeks. Those with tickets sold are asked to make their returns to Tom Daly, David McLoone or Michael Daly by this weekend to help assist the administration of the draw. Those with unsold tickets are asked to intensify their selling effort over the next two weeks. We are really asking everyone in the club to 'up the ante' on this over the coming weeks, to make their returns quickly and if you haven't got a book to sell yet, contact any of the three organisers mentioned above. For those not living locally, a call or e-mail to any one of the organisers or a purchase online via our Klubfunder page is an option. Now is the time to put your shoulder to the wheel so that this ambitious project, with all that it offers for the future of our players and our games is delivered with works commencing in 2021.
Club Workshops
As discussed and approved at the club's AGM at the end of 2020, two workshops are to take place over the coming week.
The first is a workshop this Wednesday at 7pm on the subject of dual players, and player welfare via Zoom. Our guest speakers are Kevin Hinphey of Dungiven and Ulster GAA, and Brendan Rodgers of Slaughtneil. This is an excellent opportunity to get advice from other clubs on how best to facilitate dual players who want to participate in both codes for our club. The Zoom call will last about an hour and a half. If you are interested in joining the call, please contact Lisa McTernan for a link to the workshop.
The second is a workshop on the Club Constitution, Club By-Laws and Outstanding AGM Motions which will take place on Thursday. Links for the current Club Constitution and By-Laws, as well as the suggested amendments, will be sent to all those who have taken part in discussions thus far, as well as to all the main club officers.
Sympathies
Aodh Ruadh would like to extend our sincere condolences on the passing of Mai Walsh today. Our thoughts are with her husband Gordon, sons Declan, Gary and Eunan and daughter Clodagh, as well as her wider family and friends.
The club also extends our deepest sympathies to Anne Buggy and her extended family on the death in Dublin recently of her brother, Seamus Lydon. Seamus was originally from Moycullen, Galway, where the family have had a long association with the local GAA club.
Ar dheis Dé go raibh a anam uasal.
Club Workforce
With the halting of construction activity during the current phase of Covid 19 restrictions our Community Employment Schemes have been suspended. In the absence of these personnel our Park / Development Committee have a rota of volunteers who are undertaking a daily check on our facilities. If any issues in relation to our grounds or buildings come to your attention during the current lockdown, please make direct contact with an officer of the Park / Development Committee. All GAA grounds must stay closed, including changing rooms. No indoor meetings can be held. No advance bookings can be taken for any of our facilities until further notice. All club members are asked to take note of these requirements.
Fitness Trail at Páirc Aoidh Ruaidh
Despite broader access restrictions imposed due to the ongoing Coronavirus pandemic, we are delighted to be able to keep our fitness trail at Páirc Aoidh Ruaidh open for the present during daylight hours. This is subject to the facility being used only for individual exercise and with appropriate observance of social distancing. There are hand sanitisers available at fixed points which must be used on entrance and exit. The club hope to maintain this facility open for as long as it is safe to do so, as it is used regularly now by many in our community. All users are asked to turn to their RIGHT when they enter the fitness trail as you should always exercise there in an anti-clockwise direction. Some people who are unfamiliar with the fitness trail are entering to their left. In the interest of everyone's health and safety we ask ALL users travel in the same direction, turning right as they enter and maintaining that direction throughout their exercise. We also ask users stay to the right-hand side of the trail to allow plenty of space for fellow users who may wish to overtake them.
The distance markings on the track have been laid out accordingly. Travelling in that direction, just short of 1.5 circuits is 1 kilometre and just short of eight circuits is 5k. These distances are all marked for your convenience. This would be an ideal place and a great way to put in your miles for the Aodh Ruadh Coast to Coast virtual challenge promoted currently by our Club Health and Well-Being Officer Philip McLoone. Please exercise caution in this area over the next two weeks or so as our Park/ Development Committe are completing work to provide a small all-weather training area adjacent to the Hurling Rebound wall and there will be some machine works taking place.
---
Last modified: Monday, 18 January 2021 at 8:46pm

Read more in the club notes archive.