Welcome to Aodh Ruadh
Lotto
4 April 2021
4
8
9
11
14
16
There was no winner of the lotto jackpot of €6,800.
Next draw is Sunday at 8.30pm with a jackpot of €6,900
Lotto Rota:
- Bord na nÓg
- Juvenile Hurlers
- Senior Footballers
- Senior Hurlers
- Reserve Footballers
- Ladies

The lotto team for the McCosker's Centra on Saturday is:


Senior Hurlers.



In the lucky dip the Centra hamper went to Donagh McIntyre while the Spar Hamper went home with PJ Buggy. Meanwhile the Centra shopping voucher was won by Niall Murray and Shane Coughlin claimed the Spar shopping voucher. Thanks to Centra and Spar for their continued support for the club.

Play Club Lotto Online


More Lotto information
---
What's new
29 November 2020
Chairman's Address to the 2020 Club AGM


More
29 November 2020
Secretary's Address to the 2020 Club AGM


More
26 September 2020
Intermediate Football Championship Final
The famine is over as classy Aodh Ruadh claim IFC title with finishing flourish


More
17 September 2020
Under 14 hurling championship final
12-year-old Corey a scoring star for well balanced Aodh Ruadh side


More
5 September 2020
Intermediate Football Championship
Sprint finish takes Aodh Ruadh into last four


More
30 August 2020
Junior Hurling Championship
Aodh Ruadh book semi spot in style


More
16 August 2020
Intermediate Football Championship
Late Cloich Cheann Fhaola surge sinks Aodh Ruadh


More
16 August 2020
Ladies Intermediate Football Championship
Ladies denied at the death by Fanad smash and grab


More
15 August 2020
Under 14 ladies Division 1 Shield Final
Extra-time heart break for brave under 14 ladies


More
1 August 2020
Intermediate Football Championship
Aodh Ruadh off to a winning start


More
19 July 2020
Intermediate ladies football championship
Ladies come up short against Naul's in championship opener


More
19 July 2020
Junior Hurling Championship
Revenge for Carn in Father Tierney Park


More
8 June 2020
Covid-19: Safe return for Gaelic Games


More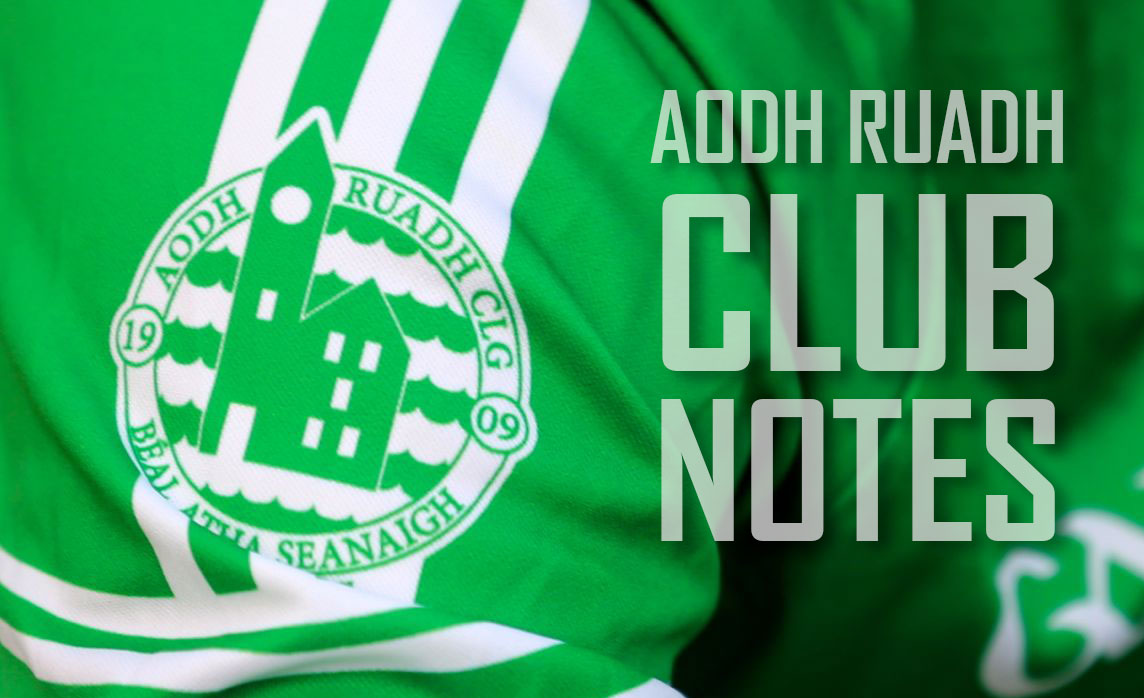 6 April 2021
Give the ladies a lift with your Lidl shop
Massive thanks are due to everyone who has supported the Lidl club rebate initiative using the Lidl Plus app. We have secured three sets of jerseys and are close to securing some significant cash funding too. The scheme finishes this coming Sunday, so it would be great to have one last big final push. If you haven't already signed up, it works like this. You download the app on to your mobile phone, follow the prompts, and then select the club you want to support - in our case Aodh Ruadh Atha Seannaigh. Then whenever you spend over €30 in store and scan your Lidl Plus card you earn a stamp. Spend over €60 you earn two stamps, and so on. Collect six stamps and submit your completed stamp card by Sunday, April 11th. Users can submit multiple completed stamp cards.
Ballyshannon Bingo
Our special Easter Bunny Bingo went with a real bang last Friday. We had massive 37 different winners with a cool €3,000 going home in prizes! Congratulations to our house winners on the night: Conal Sweeny, Delores McDonagh, Lisa Coughlin, Michelle Bergin, Agnes Ryder, Michelle Oates, Louise Keegan, Grainne Hoey, Peggy O'Driscoll, Gail Matthews, Corena McCormack and Marion Matthews. The prize pot will be back over the €2,100 mark this coming Friday! Our €750 snowball survived and will rise to €800 next week. Once again we will be back broadcasting to the world from Bingo HQ via Zoom. If you haven't already played, you can find full details on the Ballyshannon Bingo Facebook page. Books are available to buy on our Klubfunder.com page right now. Remember, if you don't have access to a printer, Mary in A Novel Idea will be happy to print your book for a small fee.
Click this link to buy a SINGLE BOOK for €10.
Click this link to buy a DOUBLE BOOK for €15.
A reminder of the overhauled the delivery schedule for Ballyshannon Bingo books. They will be now be delivered in line with the following schedule:
All books bought before 3pm Wednesday will be emailed early on Thursday morning.
All books then bought up to 3pm Thursday will be emailed early Friday morning.
All books bought before noon on Friday will be emailed after lunch.
Remaining books sales by 3.30pm will be emailed by 6pm on Friday evening.
It is very important players enter the email address they need the book to be sent to. Late changes are problematic and we cannot guarantee they will be facilitated. Look forward to seeing you all again this Friday evening!
Upcoming coaching courses
Donegal Coaching workshop webinars for coaches continue this week. The goal of these webinars is to provide support to coaches for planning their sessions when they return to on-field activity, both football and hurling. This week's webinar takes place on Thursday, 8th April, at 8pm via Zoom. The focus of week one is under 11 and under 13 coaches and includes:
Return to play skills, games and activities
Coaching session framework for future sessions
Sample sessions for coaches to take home and use
Registration for week two is open now.
The programme wraps up next week with the spotlight on under 15s and under 17s. Registration links for those events will be posted in due course.
National Club Draw deadline
We need all draw tickets back, sold or unsold by this Friday April 9th. Thanks to all who have put in an effort. If you wish to have your tickets picked up from one of the local shops let Tom Daly, David McLoone or Michael Daly know and they will look after it. As there is a lot of work to be done to prepare for the actual draw your co-operation in returning tickets without delay would be greatly appreciated. Remember, you can still make a purchase online via our Klubfunder page
Return to play preparations
We are working on a programme to accommodate underage teams returning to training after April 26th, as announced by Government recently. The schedule will be available for next week's notes.
Supporting North West Hospice
A donation will be made from this coming week's lotto sales to North West Hospice in memory of our recently deceased Vice President, Alan Kane, and all those members of our club who have passed on in the past year. Ar dheis Dé go raibh a anam uasal.
Good luck Brian
Best of luck to Brian Patton, who has departed for Syria on peace-keeping duties for six months. We will miss Brian's involvement with the hurlers this year, we wish him a safe trip and look forward to seeing him home again in a few months.
Garda vetting reminder
Our Children's Officer, Paul Tuohy, reminds all club members involved with the club's teams in any capacity that they must complete their Garda Vetting as soon as possible in order to be permitted to undertake their role in 2021. The vetting system has now gone online and is more streamlined. It can be accessed at gaa.flowforma.com. Two forms of identification are requested during the vetting process. People can either scan and upload direct their documentation directly or they can take a picture on their phone and send this to Paul Tuohy or Lisa McTernan, who will then process this as appropriate. If you have any other issues or would like assistance, please contact an executive member of your relevant sub-committee.
---
Last modified: Monday, 5 April 2021 at 9:44pm

Read more in the club notes archive.